Articles by:
Meleah Maynard
CG artist and filmmaker John Robson on developing the skillset today's studios want.
Faced with the assignment to make a short film based on the question, "What's the best thing you've ever eaten?" Los Angeles-based CG artist John Robson opted to put the question to a friend's three-year-old son and film the kid's response. The result is Supper Time! from John Robson on Vimeo. And, well, let's just say you'll never look at spaghetti the same way again.
Supper Time! from John Robson on Vimeo.
In addition to filming and directing Supper Time! Robson created all of the VFX using Maxon's Cinema 4D and Next Limit's RealFlow, and he did it all in one week. "MoGraph allowed me to create new ideas without being bogged down by technicalities and slow processing times," he explains. "So I was able to work almost as fast as I could think." (See more of Robson's work here.)
A freelance designer and CG artist who works for a variety of well-known houses such as Blind, Troika, Mirada and Royale, Robson made the film as part of Frame Society. Organized by Blind creative directors Chris Do and Greg Gunn, Frame Society is basically a group of filmmakers, writers, animators, directors and other creative people who meet after hours to share ideas and talk about everything from camera work and lighting to VFX. "Almost everyone in the group has been in the industry a long time by work or by hobby," Robson explains. "So we understand how to tell a story just because we're living in that world."
Evolving With the Industry
Like many creative people, Robson didn't plan the career he is currently pursuing. Instead, cinematography studies at the University of California-Santa Barbara led to curiosity about how to create special effects for film, and pretty soon he was learning Final Cut Pro and After Effects. By 2003, Robson got his first job doing motion graphics. He taught himself how to use Autodesk's Maya, and that's where his real education began. "I learned everything on the job, so that was really college for me," he recalls.
Describing himself as more comfortable following a creative path rather than a technical one, Robson says his skills took him down yet another road when, at the suggestion of other artists he knew, he taught himself how to use Cinema 4D. "All the big teams were using Maya, but when MoGraph came out it completely revolutionized my workflow and that of the other artists, too," he says. "Suddenly, we could pretty much do anything in real time and experiment on the fly, sort of like being in the kitchen with unlimited ingredients."
As a freelancer, Robson is well aware that in order to stay busy, he must evolve with the industry. Over the years, he's watched as artists who have insisted on specializing in just one area either create a reasonable niche for themselves, or wind up without enough work. So, knowing that studios are always looking for artists who understand a variety of software, he splits his time between directing his own projects, design, 3D and 2D work, and compositing. "No matter what job I'm on, I'm almost always using C4D, especially MoGraph," he says.
Meeting the Need
Robson's remembers really putting his C4D skills to the test as a freelancer working on a project for Mirada. Finding himself waiting for assets from the rest of the team, he decided to play around and see what he could create in Cinema 4D. "I was working and one of the art directors came by and couldn't believe I had created what I had in one day, so they asked me to do another and another, and soon we had a huge Cinema farm going," he says, explaining that Mirada often uses C4D, Maya and Houdini in combination.
For this particular Mirada project, Robson and others on the team were asked to create photo-real popcorn and Coke in stereoscopic 3D for Carmichael Theaters. Robson was the C4D lead on the job, and the team used a combination of C4D, MoDynamics, RealFlow, Houdini, NUKE and Next Limit Technology's Maxwell Render engine. "Mirada brought me in on the project because they knew Cinema had the power and efficient dynamics for the project, but it was before C4D R13, so I had to build my own stereo rig," he says.
With the help of fellow artist Casey Hupke, Robson created the popcorn by emitting Thinking Particles from above the screen and linking them to a MoGraph matrix object. "This bridged the gap between modules and utilized the best and most efficient features for the job," he explains. Rigid body MoDynamics were added to all of the pieces, so the popcorn fell, accumulated in a funnel just above camera, and then spilled into the tank. Coke appeared to pour over ice and fill the screen thanks to RealFlow.
Pursuing a Passion
Even when he's crunched by deadlines, Robson always makes sure he finds time to do some personal work. Recently he finished a short film called Infinite Loop,which is based on the idea of what it would be like to be stuck in kind of hall of mirrors. "It all starts with a guy at a party who starts messing around and plugs a cable into a TV," says Robson, who directed the film and created all of the VFX using Cinema 4D and After Effects.
"The film kind of shows you what would happen if you pointed a video camera at its own image," Robson says, adding that although he had an idea of what the footage would look like when it was shot, everything changed when it came time to animate. "I was coming up with all kinds of new ideas in post," he continues.
"I camera tracked some shots and brought data into Cinema and created expression that I applied to a MoGraph cloner with a step effector to create a delayed process." The goal was to create a retro feel, something simulating what would happen if you attached a cable from a video camera to a TV screen, "but didn't want that screen to be too intrusive visually," he says.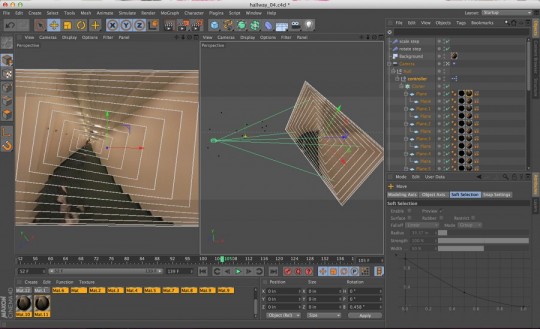 For the hallway tunnel shot, Robson tracked the plate in SynthEyes and created an expression that compensated for the XY position and Z rotation of the camera while applying the values inversely to a step effector's parameters. "This replicated the effect that a camera has when it views a screen with its own image on it," he says. The step effector also scaled down each concurrent screen to create a forced perspective of what looks like a long tunnel, but is virtually flat. Each clone's video footage had to be manually offset to simulate the delay of transmission between iterations of the screen down the tunnel.
The end credits were made by applying a step effector to a cloner object and creating iterations of the type and border that were rotated, scaled, and positioned over the course of several clones to create a spiraling tunnel effect that gradually shifted from clone to clone. "I created a series of user data sliders driven by Espresso that influenced the intensity of the values of the step effector and allowed a simpler control for randomizing movement," Robson recalls. Each clone was rendered out with a different object buffer so he could randomize opacity for each object buffer in After Effects to create a flicker effect.
"I'm really proud of how it turned out," says Robson, pointing out the film's "urban legend-like spin" in which pointing a camera at its own image means the party guy gets immediately transported into the TV, a fate from which he cannot escape. "All through the film you see him running away, thinking he's outsmarted technology, but in the end he's still stuck in the TV and his friends forget about him." Interestingly, after the screening of the film, some people wondered aloud whether the film's subtext had something to do with a fear of technology. For Robson, though, it would seem the opposite is true.
Royale's animated, collage-style opener sets the tone for award show honoring groundbreaking films.
Film Independent considered ideas pitched by several design/animation houses before choosing Los Angeles-based Royale to create the show opener for the 2012 Spirit Awards. Of all the ideas they offered, Film Independent most liked Royale's suggestion to create a collage of 2D and 3D elements based on some of the films being honored at the ceremony, including 50/50, Drive and The Descendents. "We were really excited about this project because we love independent film, and we know that so many great films and artists are below the radar," says Royale's Senior Producer Sean Sullivan.
Kyle Smith, Royale's art director, worked closely with Film Independent's Diana Zahn-Storey and Shawn Davis, to come up with a narrative theme that conveyed the message that independent films come from everywhere, not just Hollywood. Using Maxon's Cinema 4D, Autodesk's Maya and Adobe's After Effects, they created a montage that takes viewers from New York's East River to the beaches of Santa Monica where the ceremony is held each year. (Watch it now.)
The collage-style look harks back to show openers created for previous Spirit Awards ceremonies, Smith says. "Film Independent likes the attitude of the collage look because people sometimes poke fun at the production value of the Spirit Awards because everything isn't paved in gold; it's about having fun and celebrating."
The warm lighting throughout the spot was achieved using the linear daylight system from Nick Campbell's Light Kit, and was meant to convey the feel of that golden hour in the evening when "everything looks pretty," Smith says.
 From east
After winning the pitch, Royale had about two months to finish the show package. The creative team often included as many as 10 people, including animator Renzo Reyes, who uses both Cinema 4D and After Effects. "I knew that people would probably change their minds about which films would be featured in different shots, so I was careful to structure my Cinema and After Effects projects so the titles could be easily swapped without having to re-render things" Reyes recalls.
With Royale's storyboards as a reference, Reyes used C4D to create some animations that looked semi-photorealistic and others that more closely resembled sketches. Set elements in different scenes were usually created in Photoshop, and everything was comped in After Effects.
"I used Sketch and Toon a lot, and we usually got things right in a couple of tries," he says acknowledging all the help he got from Royale designer and animator, Anthony Madlangbayan. "Anthony created all of these really nice looking cell animations and I would take those and bring them into my After Effects comps and then put them in 3D space to see how they worked."
In keeping with the theme that independent films are made everywhere, Royale created a map of the U.S. using the names of every film that was nominated for a Spirit Award. Smith made the original map in Illustrator, and Reyes brought the Illustrator paths into Cinema 4D and brought the map to life using Extrude Nurbs.
For a scene in which rows of yellow taxis cover a New York bridge, Reyes used C4D to texture some low-quality models of taxis Royale bought online. Madlangbayan used Photoshop to enhance the quality of the low-res model of the bridge, which they also purchased. And the city, seen in the background, was generated with Nick Campbell's City Kit.
"Anthony did all of the lens flares on this, and we've got that nice, orange glow on the bridge," says Reyes. Madlangbayan also created the cartoon-like arm sticking out of the window of one of the taxis by making a cell animation in Photoshop, which he comped in After Effects.
To west
Far from New York's crowded streets, a bicyclist makes his way across a seaside boardwalk in another shot created by the Royale team. After originally opting for a photo-realistic bicyclist, they opted to switch gears and use Maya to create a character with a hand-drawn look using a model Reyes made in C4D. City Kit came in handy again for the buildings in the background, as well as other shots of Santa Monica. Cartoon-like rolling green hills behind the boardwalk were designed to resemble actual elements of the ceremony's set.
The opener ends with a sweeping pullback that reveals the end of the cross-country journey, and the Spirit Award trophy atop the event site in Santa Monica. Taking advantage of FBX files, Royale was able to send camera data and geometry from Cinema 4D to Maya, so their in-house Maya artists could animate the bird on the trophy. At the same time, Reyes worked on populating the rest of the shot using C4D.
"The key to working on heavy scenes like this is to take advantage of features such as the layer browser," he explains. "Throughout the opener, all of the elements were carefully sorted into layers to allow us to isolate certain objects so we could work faster and more efficiently."
Visual artists David Hobizal and Josh Johnson explain how a film nerd and a gamer/cartoonist collaborate successfully on a wide range of projects.
David Hobizal is a self-described 'film nerd' and Josh Johnson is a gamer and cartoon enthusiast. Both rely primarily on Maxon's Cinema 4D and After Effects, and together they are collaborators in the truest sense of the word. After meeting at 1080, a production house in Austin, Texas, Hobizal and Johnson worked together for three years before Hobizal moved to Brooklyn, New York, while Johnson went freelance in Austin.
These days, though they are separated by more than 1,000 miles, the two artists continue to work together as often as they can. Some of their recent collaborations include: "Last Known Surroundings," a music video for the band, Explosions In the Sky; Feckly, an animated epic fantasy/comedy for adults; and A Movement, an animated short the two of them created to promote the motion graphics capabilities of Austin-based design house, Ptarmak.
Curious about how two very different artists come together to make a successful team, I sat down with Hobizal and Johnson to find out more about their work, their creative process, their egos and inspirations. Here's what they had to say.
Strohmaier: What was it like to work with Explosions In the Sky on "Last Known Surroundings?"
Hobizal: Our talks started on the tennis court in the summer. It was hard to concentrate on those first serves when your mind was off dreaming about what kind of story you were going to tell. After a few months, we showed them motion tests and style frames and then, you know, we locked ourselves in a room for four months because the project really took creative stamina. I mean, the video is eight and a half minutes long. The band was great. They came up with the first visual idea, and the rest happened after a lot of listening to the song and sitting down and writing what we wanted to happen next. We didn't shoot down any ideas until we had it all laid out in front of us. (Learn more about how they made the music video here).
Strohmaier: How did you use C4D to get certain looks and effects that you wanted for the video?
Hobizal: I used the MoGraph module along with Thinking Particles a lot for "Last Known Surroundings." I used everything I could think of, except character animation. Josh helped out with some of the dynamics and I used MoGraph and Thinking Particles for the snowflakes and outer space scenes. We started with snowflakes made in Photoshop and Illustrator and then ran a basic Thinking Particles emitter with the snowflakes as particles and, boom! Out comes a snowstorm.
Strohmaier: Do you use matte paintings for a lot of your backgrounds?
Hobizal: Yes, we do. For A Movement, we built the geometry roughly how we wanted it, very low polygon, and then we had two highly talented illustrator/painters, Sissy Emmons and Luke Miller, paint over that. That's really how we started the process.
Johnson: With Feckly which was influenced by a combination of video game characters, Adult Swim and anime, we used a collection of terrain objects. We limited their color palette and rendered it out in passes, running it through some action scripts in Photoshop, which gave us our starting point. From there, we added in brush strokes where we wanted them, and loaded the background with a gradient tool. Then, we established our highlights and shadows.
Strohmaier: Where do all of your 3D models come from? Do you make them all yourselves in C4D, or are they a combination of models created from scratch and purchased online?
Johnson: We create most of our models, but some are modified using ZBrush. Occasionally, we buy smaller models from TurboSquid.
Strohmaier: Tell me a little bit about how A Movement came to be.
Hobizal: We were working at Ptarmak in Austin, Texas, when we made that. The designers and illustrators there were print people primarily, and they saw our motion capabilities as a great chance to expand their offerings while giving us an opportunity to work with some really talented folks.
Strohmaier: Music clearly plays an important role in A Movement, as well as your other work. What comes first, the music or the visual idea?
Hobizal: When it's possible, I like to start with music before I edit. For A Movement, a bandmate and friend of mine, Peter Stopschinksi, produced, recorded and performed his first symphony in Austin. His CD came out and we thought it would be a perfect fit.
Strohmaier: What makes you successful as creative collaborators?
Hobizal: We have each other's back. And it's rare to find someone who's as excited about the process and learning as you are.
Johnson: That's the other important thing. It's like, 'I can't leave this guy hanging.' I don't care if it means another weekend or a night working; I want to help David out.
Strohmaier: Can you talk a little bit about your collaborative creative process?
Johnson: First, we get on Skype together and talk about the project. And then we open Google Docs and start hacking out ideas, talking back and forth. We pick at each other quite a bit.
Hobizal: There's definitely a lot of disagreements and arguments about what the project should be, which is a positive part of working together. We laugh 90 percent of the time when we're working, but the arguing and checking each other's ideas ensures that we don't get complacent or too happy with any of our ideas. We're at a similar skill level, but we go off in different directions to figure out problems and we come together as soon as we find the answer, which makes problem solving and learning go much faster.
Strohmaier: Artists often have their own way of doing things. How do you keep your own egos in check when you're working together?
Hobizal: I think we both recognize our strengths, and we like finding out what we're each good at and what we can offer. I come from more of a filmmaking and editing background, so my strengths are pacing, shot composition and design. I'll bounce ideas off of Josh and ask him if an idea is possible. He'll say, let me think about it for a second, and then he'll tell me how it can be done three different ways.
Josh: David brings a lot of focus to the whole thing. And he has a better sense of design. While I like designing, and I feel like I can do it on my own, David is stronger than I am. I do more technical lifting when it comes to motion and 3D. I like Cinema because it's easy, and robust. You have all the features there, so if you want to dive into something complicated, have at it.
Strohmaier: What's next for you guys?
Johnson: Make more stuff!  Eventually Feckly will go on Kickstarter. But the workflow isn't finished. I am making some new tools to help the process, including a few scripts for After Effects and Cinema that tighten the final bolts in the pipeline. Those will soon be available to anyone who's interested.
Hobizal: The only plan is to keep on making motion and music as much as possible, and continue to collaborate with my family and friends. Recently, my wife Sissy and I finished up a video for TED-Ed, about the advancement of ship navigation using logarithms. Indulging in serious nerdiness is one of the best perks of being an animator.
Scott Strohmaier is a writer living in Los Angeles with his wife and son.
Barton Damer dreamed of working with Street League. So he sent out a bunch of "cold" emails trying to guess Rob Dyrdek's email address until one, finally went through.
ESPN 2's Street League Skateboarding
Barton Damer describes getting the opportunity to create the show open for Rob Dyrdek's Street League Skateboarding on ESPN 2 as a dream gig, and that is no doubt the case for the award-winning motion graphics designer and digital artist. But the whole truth is, this dream project didn't just materialize as dreamlike things often do. Damer made it happen by taking a chance and just going for it in a way that few people ever have the courage to do.
As a longtime skateboarder, Damer immediately saw Street League Skateboarding, the top professional street skateboarding series worldwide, as an opportunity for the sport to be better marketed to the mainstream. Curious about the possibilities, he and John Davidson, a friend and fellow skateboarder, flew out as fans to see a Street League event in Los Angeles during its first season three years ago.
Standing in the crowd, Damer thought about how he'd been doing live production and motion graphics for live production for years. "I started dreaming about how one day I want to do some cool stuff for Street League and help take them to the next level," he recalls. (Check out Damer's site here.)
Back home in Dallas, Texas, Damer, who primarily relies on Cinema 4D and After Effects for his work, typed up a proposal explaining his credentials and outlining why Street League "needed to be branded by skateboarders for skateboarders". He took some guesses about what Rob Dyrdek's email address might be, and then he hit send. Unbelievably, the legendary professional skateboarder and MTV reality show star responded.
With the exception of needing to reflect ESPN's brand, Damer was free to follow his own vision for the Street League Skateboarding project.
Damer followed his own vision
"Within a couple of hours Rob wrote me and said: 'Let's do this,'" Damer says laughing. "I thought, 'What does that mean?' I just suggested a year's worth of work to Dyrdek in an email that I blasted off to a bunch of addresses, so someone must be messing with me.'" The next day, the general manager of Street League called Damer to get things going. Turns out, Dyrdek, a self-made entrepreneur known for using the phrase "make your own luck", was impressed that Damer had a good strategy and had pursued him.
So Street League hired him to do a series of animated intros for events, and Davidson, whose talents lie more on the business end of things, got the job of accounts manager for Street League. It wasn't long before making a few intros grew into creating the motion graphics package for the 2012 season of Street League Skateboarding.
Getting the skateboarding vibe right
Creative direction for the show open was limited to a request that the look be consistent with the ESPN brand, so Damer was in the enviable position of executing his own vision. Departing from the typical skateboarding route, he created an arena environment with a skateboarding vibe," Damer explains.
His style boards, which depicted a stadium completely in the round and packed with skateboard standards like handrails and concrete textures, were quickly approved.
(Watch the show open here. Or watch the open and rebroadcasts of Street League events here.)
The stadium was created in the round as a subtle way to represent a skateboard wheel.
To give the arena's centerpiece the rounded look he wanted, Damer applied one, big spline wrap all the way around it to form a circle. "It wasn't hard," he says, "in fact it's an easy way to go about getting something that looks challenging accomplished." One of the things he liked most about creating the arena's environments in Cinema 4D was finding all kinds of abstract camera angles that offer different effects. "There's one shot, from the top view, that I really like where the stadium looks like a skateboard wheel," he adds.
Reflections seen in the centerpiece's skateboard and other parts of the arena were created using Greyscale Gorilla's HDRI Studio Pack.
Damer used Greyscale Gorilla's Texture Kit to create the centerpiece's brick surface and created the concrete texture himself using photographs for reference. "I was able to create patterns in Illustrator and Photoshop to get some cool grids and gradients for that sports graphics feel, and then I applied the textures in Cinema," he explains. Reflections in the arena were created using Greyscale Gorilla's HDRI Studio Pack and can be seen most clearly in the centerpiece's skateboard and in the monitor towards the bottom of the screen.
Damer updated video clips on the centerpiece's console for each stop on the Street League tour without having to rerender each one.
Some elements of the opener, including the information screens on the arena's centerpiece, had to be updated for each of the four stops on the Street League tour. Damer used external compositing tags to make updating the screens easier. Updating the video files on the larger centerpiece's larger screens was trickier because the rounded surface made it harder to use external compositing tags. "There's a way to do it, but I don't know what it is," Damer admits.
Luckily, the renders were so fast that it wasn't an issue to update in Cinema 4D. "It's a beautiful thing that I was able to have that entire area render so quickly," Damer recalls. "I was blown away."

For 3D artist Mike Winkelmann (aka Beeple) every visual has a corresponding beat
By day Mike Winkelmann is a graphic designer who works mostly on projects for the Web. Outside of his day job, though, he is better known as Beeple, the ingenious filmmaker and self-taught 3D artist who offers all of his source files for free through Creative Commons to anyone who would like to use them. You might know him from the Kill your co-workers video:
After earning a degree in computer programming from Purdue University and then realizing that's not at all what he wanted to do, Winkelmann became Beeple in 2003. He got the name from a stuffed bear-like toy that was sold briefly in the 80s. The creature was cute, but what Winklemann liked was how it made a noise in reaction to light. "I thought it was great that whoever made the toy related sound and light in terms of visuals," he explains.
Winkelmann's interest in pairing images with sound is evident in his work, particularly the instrumental video series, which he's been working on for the past nine years. His latest music video IV:10 (Instrumental Video Ten), was animated using Maxon's Cinema 4D and, as always, he composed the electronica score himself.
The result is a brightly colored, upbeat world teaming with turquoise blobs and other oddball shapes against a backdrop of blue sky and rainbows. Everything is timed to the beat of the music, including the moment when a brief storm rolls in turning everything dark and bleak. Still, the beat goes on and all ends well. Watch IV:10 down below:
When he adds up all the off-work hours he spent working on IV:10, Winkelmann figures it took about a year to complete the instrumental video. He spent close to the same amount of time on IV:9, a short film in which a robotic drummer seemingly churns out a perfectly timed percussive set of sounds on some snare drums as miniature helicopters sputter by. Check out IV:9 down here:
instrumental video nine from beeple on Vimeo.
Videos 9 and 10 were the first in the series for which Winkelmann used Cinema 4D. When he started the series in 2003 he used Sony Vegas before moving on to After Effects. Making the leap to C4D gave Winkelmann the opportunity to create 3D visuals to sync with the instrumental sounds that he composes.
There's just one simple rule: Whenever something happens in the audio, something has to happen in the video. "Everything is animated," he says. "Every kick drum, every hi-hat, every snare is animated, which is why it takes so long to create these videos."
Winkelmann's process for creating instrumental videos is not as simple as composing a piece of music and then creating animations to correspond to particular beats. Asked to explain, he points to a part in IV:10 where a "cute little cube guy" comes down into the scene. After first spending a couple of months modeling the cube guy and all of the other instruments in the scene, as well as a stray octopus arm with a hammer, Winkelmann took all of those pieces and made unique sound effects for each of them. Next, he used those sound effects to create a whole song.
The camera never moves in IV:10. Instead, it is the world that rotates. Winkelmann brought each instrument into Cinema 4D so he could line up key frames with the wave form in order to sync the music and animation. The trick was making sure that as the world moved the key frames were right in front of the camera. "So, technically, I guess you could say that I started out in Cinema and then made pieces of music and then went back into Cinema to make all those tiny things sync up with the music," he says.
Winkelmann has no formal training in music. He creates the compositions for his videos out of necessity because everything is so intertwined it wouldn't work to have someone else create the audio. He does, however, encourage others to build on his work. All of his 3D animation source files are available for use by filmmakers, electronica artists, VJs and anyone else who would like them. Component files can be downloaded at his website. Beeple VJ clips are also available for free here.
IV:10  looks like one long cut, and it is. But Winkelmann had to break it into two Cinema 4D files because the video was huge and there was so much geometry in the scene. "Even with this much geometry Cinema never crashed and I was pushing it to its absolute limits in terms of how much information was in the scene file," he recalls.
Winkelmann is often asked about why he gives his files away for free. The answer is simple, he says. "I've learned a lot from tutorials people post so I feel like this is a way to give back and, anyway, I'm not going to use the files once I've rendered them out so it's cool to see somebody else do something with them."
Winkelmann's generosity has definitely paid off in terms of good karma and increased public exposure. "I would say only good things have happened from sharing my files," he says. "Tons and tons of people email me on a regular basis from all around the world thanking me for the files and I get job offers too." For now, though, the Wisconsin artist plans to stay put in Wisconsin with family and friends.
Written by: Scott Strohmaier
Advertising a car in these hard economic times can be very challenging, so creating a magazine ad that will effectively sell an ambulance might be deemed an impossible task. That is, unless you're Vetor Zero — an award-winning commercial animation studio in São Paulo, Brazil.
When Vetor Zero got the job of helping Fiat sell their ambulances, they knew the ads had to be something special. The car company's ambulance line was about to be announced in a Brazilian magazine and it was Vetor Zero's job to help them do it in a way that grabbed people's attention. Daniel Sian, a 3D generalist/illustrator with Vetor Zero brought the ads to life using a combination of software. Maxon's Cinema 4D was used for modeling, lighting and rendering. Sculpting was done with Pixelogic's ZBrush and Photoshop was a key post-production tool.
Layouts created by Leo Burnett's Brazilian office made clear the benefit of Fiat's ambulance line with the slogan: "You never know how big the problem will be."
After receiving the original conceptual layouts from Chicago-based Leo Burnett's Brazilian office, Marco Furtado, the illustrator working with Vetor Zero on the project, developed new concepts based on the original idea and proposed improvements. With both ambulances and hospitals not being particularly funny, the creative team opted to focus on ways to convey the benefits of ambulances, says Sian, who joined Vetor Zero in 2010 after being the lead Cinema 4D instructor at Brazil's CAD Technology Sistemas, (a Maxon distributor) for several years. (See more of Sian's work here)

Illustrator Marco Furtado expanded on the agency's original ideas and enhanced the look with color and detail.
"The illustration and advertising market in Brazil is promising for good professionals and after some years of studying, I decided to venture into the market, combining 3D techniques with my previous experience as an artist focused on drawing and painting," he says.
Base meshes for each concept were modeled in C4D and exported to ZBrush, where they were sculpted.
The making of an award-winning campaign
As the team mulled over the possibilities for the Fiat campaign, they started asking themselves what some of the funniest examples of mishaps and accidents that could possibly happen in real life might be. A guy gets his outstretched tongue stuck to a giant slab of ice. Another guy somehow jammed his head into a cannon, and a kid (going after a ball) gets his head stuck in the bars of a metal fence. Artfully drawn, modeled and executed, the project's humorous outcome earned Vetor Zero one silver and two bronze awards and Cannes Lions, as well as one bronze Clio Award in 2011. (Check out Vetor Zero's site)
Once the artwork was approved by the agency, Sian led the CG creation while Furtado handled art direction. (See more of Furtado's work here). In order to match the modeling to the original concept art as closely as possible, a locked-off camera was used in conjunction with the concept images in the actual Cinema 4D viewport. "The modeling was all done by switching between the fixed camera and the editor view to assure a good match to the art," Sian explains.
Vetor Zero CG artist Daniel Sian used Cinema 4D for modeling, lighting and rendering on the Fiat project. ZBrush was used for sculpting, and Photoshop for post-production.
Sian used ZBrush intensively for the first time while working on this project. "That was biggest challenge because I had to generate a texture for the models as if they were handmade of clay or something," he says.
But before moving the mesh to ZBrush for refinement, Sian created the basic polygon models in C4D and prepared the quality UV maps that ZBrush requires. Sian had some experience with Headus' UVLayout, since it is widely used by VetorZero. But for this project, BodyPaint's UV tools proved to be the best choice.
ZBrush was used to create the soft clay-like surfaces Sian used to match the concept artwork.
Because the models were high resolution, each one was broken into sections to make working with them easier. Models were then exported to to ZBrush where the complex surfaces were refined and sculpted. Once back in Cinema 4D, Sian started experimenting with Displacement and Normal values so the models would be exactly the same in appearance as they were in ZBrush.
In the final image,  ZBrush texturing and C4D's global illumination work together to create the illusion of a real-life clay model.
Finally, the scene was rendered with Global Illumination at very high resolution, and C4D's multi-pass render feature was used to get the various passes necessary to have broad latitude in the post work done in Photoshop.

Final compositing was done by Sian and Furtado with colorization by Andre? Souza and Claudio Di Bernardo.
Because there was literally no scenery, Sian's only choice was to enhance the lone character in each ad. To make the absence of scenery irrelevant and heighten each character's highlights, he enhanced the lighting that Furtado proposed in the rough. When talking about the attention the campaign has received, Sian is quick to emphasize that it was only possible through great teamwork. In particular, he credits Furtado with whom he worked closely for the duration of the two-month project. "I'm very happy we won the awards, which were the result of a lot of hard work and dedication," Sian says.
Scott Strohmaier is a writer living in Los Angeles living with his wife and son.

How Imaginary Forces brought the Science Channel's "Morph" logo to life
Like a tadpole that becomes a frog or a caterpillar that transforms into a butterfly, the Science Channel rebrand began with a fledgling logo designed by Discovery Communications that had a lot of potential. Fittingly, they called it "Morph." And, they wanted Imaginary Forces to orchestrate the metamorphosis of the little black oval-shaped logo into a character with a shape and personality that could literally morph in different ways to correspond with Science Channel's programming.
Imaginary Forces gave Discovery's black, egg-shaped Morph logo a wide array of characters and personalities to correspond to different network programming.
The idea, says Ronnie Koff, creative director on the project and the designer responsible for a long list of titles and trailers, including "Transformers: Revenge of the Fallen", was to make Morph visually compelling, but also imperfect. "We wanted the science robot, for example, to have scratches, and look worn and dented," he explains. Confronted with the design challenges of the project, Imaginary Forces opted to use Maxon's Cinema 4D, "because it's fast and allows artists to work in an intuitive way."
The robot-like Morph character looks menacing but retreats into its shell when it gets scared.
It becomes robot-like for Popular Science's "Future Of" and other science/technology shows — Morph is funny, bouncy and full of energy for sports programming. Changing again into something more organic in an amoebic way for sci-fi shows, Morph can also become a mechanized-looking nautilus shell, a jellyfish, an urchin-like creature and the universe. At some point, though, Morph always turns back into its original, black, egg-like shape. (You can see the network rebrand on the Imaginary Forces website.)
Koff says the unconventional rebrand is meant to "take the edge off science a little bit" and give the Science Channel a fresh, new look that appeals to wider audiences who appreciate offbeat offerings like 'The Idiot Abroad.' "Science doesn't traditionally have popular connotations, so we wanted to do something that turns science on its head and offers the perfect storm of elements that make a really good brand," he explains.
IF's creative team used Cinema 4D's displacement maps to create the urchin character's many spines.
From the start, the network embraced the idea of creating a wide range of Morph characters for promos, network IDs and logo bugs. "They were in it to make it good and they were great to work with," Koff recalls. "I would throw ideas by them and they would love them or we would work together to change them until we all loved them." All told, very little actually changed between initial concepts and final execution. If anything, he says, some ideas became simpler and more iconic "for the immediacy of TV."
Not just eye candy
There is a fine line between making eye candy and making something clever, Koff and his team believe. That meant nothing they created was arbitrary. The robot, for example, was based on a pillbug or (or roly-poly bug). "He has the same kind of shell and exoskeleton and we designed him so when he gets scared, he can roll up inside his shell," says Koff. (Check out the robot clip here.)
Modeled from propane tanks and auto parts, the nautilus shell was hand-animated in C4D.
And though the nautilus shell is designed to look more mechanical than natural, it is based on an actual nautilus shell found in nature. Made from car mufflers, lawnmower engines and propane tanks that they cut into pieces, the shell is meant to look as if it were built in someone's garage by backyard hobbyists. "Throughout the brand we tried to give Morph more layers of meaning, aside from just looking cool," Koff explains. "So it's mechanical in content but rooted in science."
Imaginary Forces used The Pixel Farm's PFTrack to track the motion of the hand in the universe-themed spot. Data was brought into C4D where they created the universe, which includes a destroyed planted, modeled with ZBrush.
With just two months from start to finish to complete the project, Koff and two other designers had to work fast to design the 200 elements that made up the final rebrand. He credits C4D with helping them make their deadlines. "We did have some time to craft things," he says. "But in TV you do something and they show it to 15 people and you have to redo a lot, so nothing can take an hour per frame."
The urchin's spikes, for example, were all done with displacement maps in Cinema 4D. (Click here to see the urchin clip.) "We didn't have to model it all out first we just used deformers," Koff recalls. "Same thing with the robot and other characters: we just modeled, textured, animated and rendered in Cinema and we were able to do so much so fast." For depth of field Koff's team relied on the Frischluft's Lenscare plug-in (Learn more at the Frischluft website.)
The jellyfish, which was used for programming about unusual hobbies and creatures, retains the jelly-like aesthetic of Morph, says Koff. "And by taking it out of the water it becomes an oddity."
C4D's noise shaders also came in handy when the team needed to layer many different textures for things like the meteors in the universe network ID. "When we made the universe Morph we thought it might be intriguing to put this tiny alien universe in the palm of someone's hand," recalls Koff. That way, the logo could connect more directly with shows like "Through the Wormhole" by marrying human investigation and space.
Making space feel miniature was a unique point of view for the design team to take on, he says. In contrast, the urchin Morph, which should logically have been small, was scaled as if it were a huge building. "So we were able to go from micro to macro in a single network package," Koff adds. Watch the universe ID here.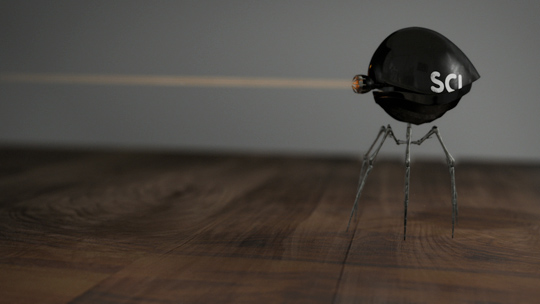 No longer bound by static, print conventions, the Morph logo is free to move around and assume many forms. This, IF says, is the future of logos.
While final compositing is done in After Effects, Koff usually has everything go through Imaginary Forces' Flame department before delivery to be sure everything is good to go. "I like to do final color correction in the Flame and in this case, with so many elements to deliver, it really helped to just pull them all into our Flame to keep them organized."
Logos for the future
Imaginary Forces describes Morph as the logo of the future. No longer grounded by the constraints of print design, the logo is free to move around, making it suitable for the motion-graphics-driven media of today.
"Static logos are a thing of the past," says Koff, who has a graphic design background. "It's not that I don't understand the logic behind print design. It's that things have changed and now every time you see a logo it's usually in some form of moving media, so there's no reason to have print design be the foundation for logos anymore." Not surprisingly, this stance has drawn some critics. But that's okay with Koff.
"People are polarized about this network branding and whether it's the future and that's what makes it worthwhile," he says. "It's fun to kind of pull at those strings and stir people up. We're supposed to evoke emotions."
As the demand for motion graphics grows, more and more print designers and illustrators are adding motion to their skill sets. Barton Damer would know—he's one of them.
It's fairly common for filmmakers, videographers and animators to become motion designers, but Barton Damer has noticed a growing trend toward print designers getting into motion work, too. He knows because he's part of that trend, having moved into motion graphics over the last five years after more than thirteen years as a print designer and illustrator. "I wasn't even familiar with the motion graphics industry a few years ago, but it was obvious people didn't want tri-fold brochures or static websites anymore, they wanted infographic-based videos about their companies or their products," he says.
Damer often draws on his print work for motion graphics inspiration. This shot builds on a concept he did for Computer Arts Projects magazine (pictured below) in which a flat screen appears to have real-world depth.
At first, Damer used After Effects for his motion design, but he felt his work lacked a level of professionalism he saw in others' projects. So he tried different types of 3D software before sticking with Maxon's CINEMA 4D. "From the people I talked to, it seemed like C4D was the most friendly to a designer like me who wasn't looking to do code," he explains. "I really wanted something that could add depth to my design and motion work, so at first I didn't worry about trying to animate anything."
One-man shop gets Android spot
Fast-forward just a few years and Damer, who lives in Dallas, is not only proficient at using C4D for motion graphics, he's getting increasingly high-profile jobs. Recently, he created a spot for a new Android smartphone, the Huawei M835 (pronounced "wah-way"), which was being introduced by MetroPCS, a local wireless provider. (See the spot here: http://greyscalegorilla.com/blog/2011/07/new-android-spot-uses-light-kit-pro-and-city-kit.)
Nick Campbell's City Kit allowed Damer to overcome time and budget constraints and create an entire city that was extremely detailed and easy to animate. The result far exceeded client's expectations
Damer was asked by the Firehouse Agency in Dallas to bid on the project. He had worked with Firehouse previously after an artist with the ad firm saw him speak at a conference three years earlier. "He followed my work ever since, and when he became the art director he contacted me," Damer recalls. "That definitely changed my perspective on the value of public speaking." (Check out Damer's 2011 motion reel here: http://www.alreadybeenchewed.tv/motion/2010-2011-motion-design-reel.)
With the goal of appealing to young, urban consumers in mind, Damer asked his 8-year-old daughter for advice. She insisted turntables be used in the spot. Fortunately for both of them, Firehouse's art director, Ryan Smith, loved the idea and so did the client.
Firehouse gave Damer some basic directives for the spot. The Android character needed to fly around a colorful, new world; the spot needed to appeal to young, urban consumers looking for affordable Android options; and, the video needed to educate MetroPCS sales reps about the phone's key features. Beyond that, Damer worked alongside Firehouse's art director, Ryan Smith, who gave him a good amount of creative freedom.
"I based my ideas on solid design and color theory," he says. Mindful of his deadline and the fact that client changes had to be made quickly, he made animation a secondary concern poring his energy into design, instead. "I'm not trying to compete with Psyop; I'm just one guy and I have to be sure I can deliver what I say I'm going to do."
Creating screens that appeared to have real- world depth was an important part of this project. In this shot, the Android was simply highlighting a Facebook status, but MoGraph made it easy to animate the interface using effectors.
Though he does work on his own for the most part, Damer is quick to add that he does often hire others to help. For this spot, he sends a shout out to Joe Myer of Sketchbook, Inc., whom he hired to model the phone. (See Myer's work here: http://www.sketchbookinc.com.) He also got some worthy advice from his 8-year-old daughter who saw him working on a scene where the Android grabs a mic makes like he's about to sing. "She said, 'Dad, you really need to do turntables instead.'" He thought she was right, so he ran it by the art director and they agreed.
Damer collaborated with Firehouse's art director, Ryan Smith, on the Android project.
Damer used Nick Campbell's Light Kit Pro for C4D for the entire spot and was happy to see how much time the lighting presets saved him. Light Kit Pro also made it easier to drop a scene in with seamless background "because I could turn the camera whatever direction I wanted to and never find a corner," he explained. Damer used City Kit for his scenes where cities pop up out of nowhere. Because it was created with MoGraph, it was easy for Damer to get the animation he wanted using effectors.
Moving from print to motion
Damer started out using C4D as a "testing ground," by doing simple, basic renders of 3D objects to incorporate into his print work. Even now, when he does 3D and animation, the connection with 2D illustration and design remains strong. "I love doing illustration work, so you'll usually see something in my illustration before I figure out how to do something with motion," he explains.
Damer used CINEMA 4D to create a two-page spread for a feature story in Computer Arts Projects magazine. "The idea was that there is an endless world of possibilities when you use your iPad for your digital portfolio," he explains.
C4D opened up "a whole new world of creativity" for Damer, who was often frustrated by how difficult it was to make ideas he had in his head a reality. "So often I had to find the exact photograph with the exact perspective I needed to make something work," he says. "Now I can just model it myself or buy a model and use it in a creative way."
Damer created this cover for Answer magazine's "Best of Five Years" issues, which featured stories ranging from creation to evolution.
The organization Malaria No More uses this Damer design to raise awareness about the deadly disease, as well as funds to help prevent it.
Though he still does some print work, as well as smaller motion design projects, the move to motion graphics has allowed Damer to get work with agencies and post-production studios. "I'm cranking out work at a much more professional level now," he says. "I can offer clients something very high-end that wasn't necessarily more work on my part; it's just a different type of work and now I have the tools I need to do it."