Articles by Month:
April 2013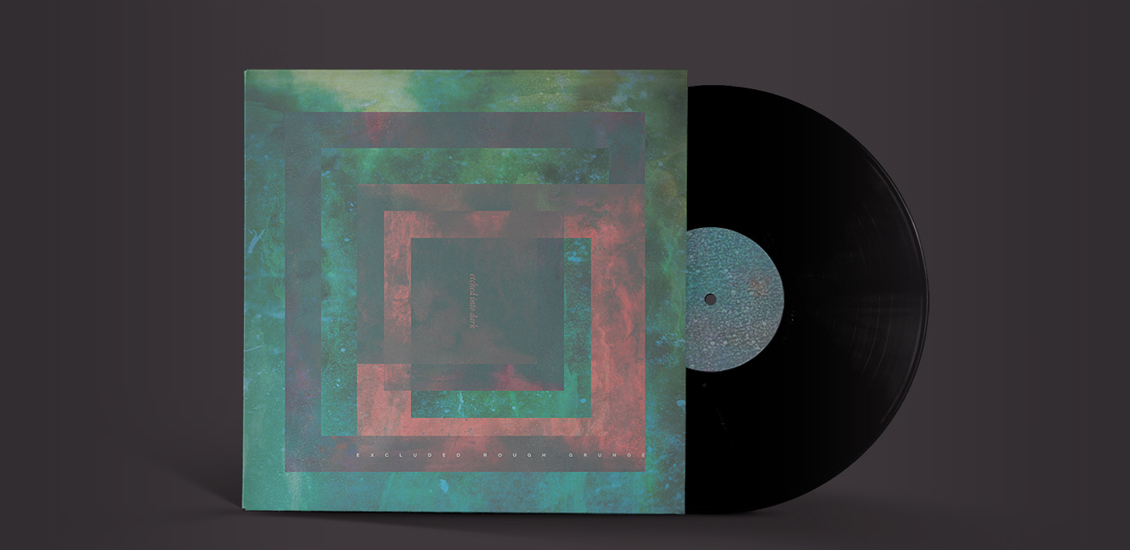 Excluded Rough Grunge and Etched Into Dark Texture Pack Tutorial with Maarten Kleyne
Maarten Kleyne, a freelance graphic designer from the Netherlands, feels music. Kleyne believes wholeheartedly that music is a key element in the creation of his final product. Inspired by the works of Steven Wilson and Lasse Hoile, his portfolio is filled with images including cd packaging, posters and collaboration artwork. Recently, WMC Fest alum Maarten cranked up his stereo, picked up his camera and created some texture packs for Go Media's Arsenal. We are so proud to add his texture packs into our resource library.
We've asked Maarten to create a tutorial based on these textures, in order to demonstrate how you might like to apply them.
— Heather, GMZ Editor
---
Thanks for the introduction Heather and hey everyone! A while back I was wearing my crazy ear-to-ear grin the entire day, because the lovely people from Go Media asked me if I was interested in doing "some stuff" for them again. It's no secret that I'm a huge fan of everything Go Media so I obviously said yes.
The first parts of my work have recently launched on Go Media's Arsenal as the two texture packs: "Excluded Rough Grunge" and "Etched Into Dark". Now – like the introduction said – I'd like to show you one way to apply these in a design through a quick and simple-to-follow tutorial. There are many other ways you can utilize the textures we'll be using. This tutorial simply highlights one of those; a way I personally use textures quite often when creating a design.
Note: If you want to follow along with this tutorial, you will need to purchase the new packs. If you don't you will probably still get something out of the tutorial, because I'll try to keep it general. You will, however, get the best results from using textures from the set(s). Grab the "Excluded Rough Grunge" and "Etched Into Dark" texture packs while they're still hot!
For this tutorial I chose to go for a 12 inch vinyl cover format. I'm truly stoked to see the vinyl record make something of a comeback, if only for the bigger canvas space we designers have! Now, back on-topic: In order to keep a focus on the texture usage, we'll be creating an abstract – perhaps somewhat psychedelic – front cover. Here's a preview of the final design we'll be creating in this tutorial:
Good to know: Throughout this tutorial you can click on most of the images to enlarge them.
We'll take our time and go through this step by step. Don't worry, I've kept it a simple-to-follow tutorial. (I just use a lot of words, sorry. It really is simple though.) There's a whooping total of 10 steps we'll go through.
Some steps only cover the essential basics because I advocate experimentation, I want you to go beyond just following the steps if you don't mind. Just try and experiment with the things that'll pass along and I'm sure you'll get a truly amazing and unique design because of it.
Feeling reluctant to experiment? You can still create the same thing by following the steps. I would, however, like to emphasize that you should try and experiment with things to create something different. It's one of the best ways to learn, in my opinion.
Ok, so here it goes:
Step 1: Set up your Photoshop document
Open Adobe Photoshop. I'm using version CS6, but I'm sure any version will do for this tutorial. Now go to File > New and setup your new vinyl sleeve document with the following dimensions: 12½ x 12½ inch on a 300 DPI resolution. The ½ inch is just some safety bleed space I'm keeping. You can use CMYK or RGB color mode for now. I find RGB easier to work with at first, you can always convert it to CMYK at a later point. If you go to print that's obviously something you shouldn't forget.
Step 2: Purchase and download one or both new packs
If you haven't already, take a minute to purchase and download the texture packs we'll be using from Go Media's Arsenal. Download the "Excluded Rough Grunge" and/or "Etched Into Dark" packs. We'll use both, so in order to get the best results I'd advise you to get both too. You can skip this step if you already have some textures you want to use. However, this tutorial is meant to show you a way to apply those from the Arsenal.
The benefit of using the premade textures from the Arsenal is that it saves you time and can help you achieve professional results. I frequently use textures myself.  Basically, there's not a single design that I make without the use of textures. Sometimes I'll use textures in a very subtle way and sometimes quite heavily to form a complete design. That first case will be the thing I will highlight in this tutorial; the subtle addition of textures. What you'll hopefully come to see is that the vinyl sleeve we're making couldn't go without those subtle additions. They're essential.
Step 3: Create a 'foundation'
Before we actually start using textures we'll need to make a basic 'foundation', or 'composition' if you will. First, fill the background with a color of your liking. I chose to go for a darker greenish (#5f7463) color.
Next, place or paste a photo/texture of clouds on a new layer and have it fill the entire canvas. Then use the filter: Filter > Distort > Polar Coordinates > Polar to Rectangular (yes you can actually find a use for this).
Place or paste the same original photo/texture of clouds on another new layer. This time flip it a 180 degrees before applying "Polar Coordinates".
Set the blending modes of these two cloud layers to: Overlay.

Step 4: Add the "Excluded Rough Grunge" textures
In this step I've used "Excluded Rough Grunge" textures 7 and 13. Place them into the document and have them fill the entire canvas. Add texture 7 first and set its blending mode to: Screen.
This is something I often do with greyscale/black and white images. It only pops the whites. This way we quickly start adding roughness to the artwork.
Add texture 13, canvas filling and blending mode set to Screen as well. Duplicate the texture 13 layer and rotate it 180 degrees. Perhaps move these 3 layers around a bit to find a suitable spot for the white rough spots. Add other/more textures if you feel like your design needs them.
Step 5: Bring in another color
Next, add a contrast color, something truly opposite from the green you have chosen. I used some orange colored clouds. Don't worry, this color will not be seen later. The point of that will become obvious.
Add this color in whatever way you prefer, just make sure it's not a solid color. It has to have a bit more variation to it. A good choices here could be to use water color, lens flare or colorized clouds textures. Or you can go mad with a brush yourself. Just make sure it has some dynamics to it. Don't overthink it though, because like I said: it'll be used in such a way that the colors itself will not be shown.
Place this new color layer on top of the others and set its blending mode to: Difference. (Doing this will directly show you why the color did not appear)
Step 6: Add the first "Etched Into Dark" textures
In this step I've used "Etched Into Dark" textures: 1 and 10. Place them into the document and have them fill the entire canvas. Add texture 1 first, invert its colors by pressing CTRL/CMD+I or by going to Image > Adjustments > Invert. After that set its blending mode to "Overlay" and its opacity to 30%.
Now add texture 10 and invert that as well (CTRL/CMD+I). Set its blending mode to "Divide" and its opacity to 35%.
Try experimenting with other/more textures and opacity levels to see which result you like best.
Now we're going to add a ton of minor details by placing texture 1 all over the canvas, multiple times. See those little dotted spots on this texture? Add this texture with inverted colors to your document again. Set its blending mode to: Overlay.
Add a layer mask to it and brush away all the white parts until only those dotted spots show.  In order to make it blend into the background well, remove all the white stuff surrounding it. You can also try using different opacity levels.
Now scale it down a large bit to make those spots turn into little dots, or stars if you will. I call them "sparks," and I've added them about 25 times all over the canvas.
Step 7: Transform the 'foundation' to several blocks
Ok, so now we have quite a nice 'foundation', right? Let's copy it around and transform it into "something more". Merge a copy of all visible layers into a new layer by pressing: Ctrl/CMD+Alt+Shift+E.
Now you have a new layer that's an exact copy of what you've (visibly) made so far. Resize that layer to about 80% of the canvas size by pressing CTRL/CMD+T and changing the width to 80% at the top menu bar. Be sure to check the chain icon to have the transform maintain the aspect ratio. After that set the blending mode of this layer to: Exclusion. (Yes, this can also turn out pretty neat for a change. Right?)
Duplicate this newest layer (CTRL/CMD+J). Transform the duplicated layer to 80% of its original size as well. Re-select the original block layer, the one you made before this newest one. Now make a selection of the duplicated layer by holding CTRL and pressing on it in the layers panel. (Still following? I do hope so.)
Invert the selection (CTRL/CMD+I) and add a layer mask to the original block layer (that you should've selected). This should cutout the duplication layer from the original.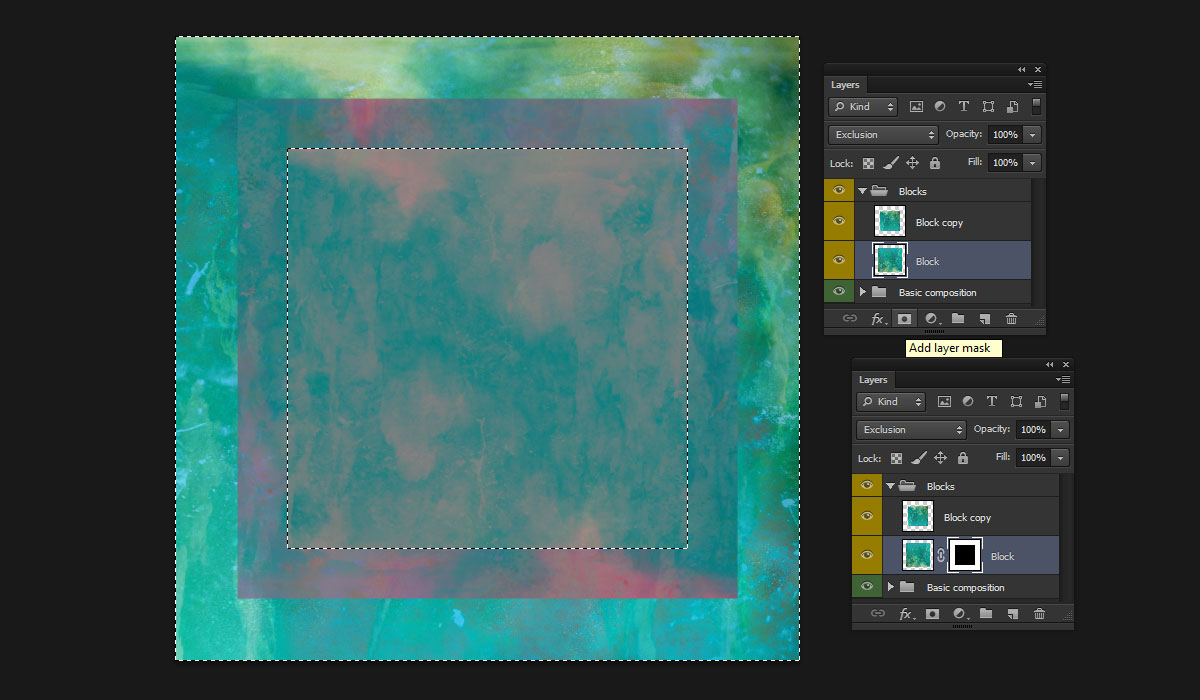 Now invert the colors of the duplicated layer by (selecting it and) pressing CTRL/CMD+I.
Go through this process a few times. Duplicate the duplication, cutout a part of it that's smaller and invert it or not. Why "or not"? Well, sometimes the non-inverted results look better. I'll leave that up to you to judge.
While going through this process be sure to rearrange the duplicated blocks here and there. Or not. Also, don't cutout all the blocks. Keep some of them entirely visible. You can also try and delete the first duplication after you've cut it from the original. Then, you can duplicate the cutout version and re-size it as you see fit. Also, try different percentages to decrease the layers with.
There are plenty of ways to go here, all resulting in different compositions. Play with it, experiment!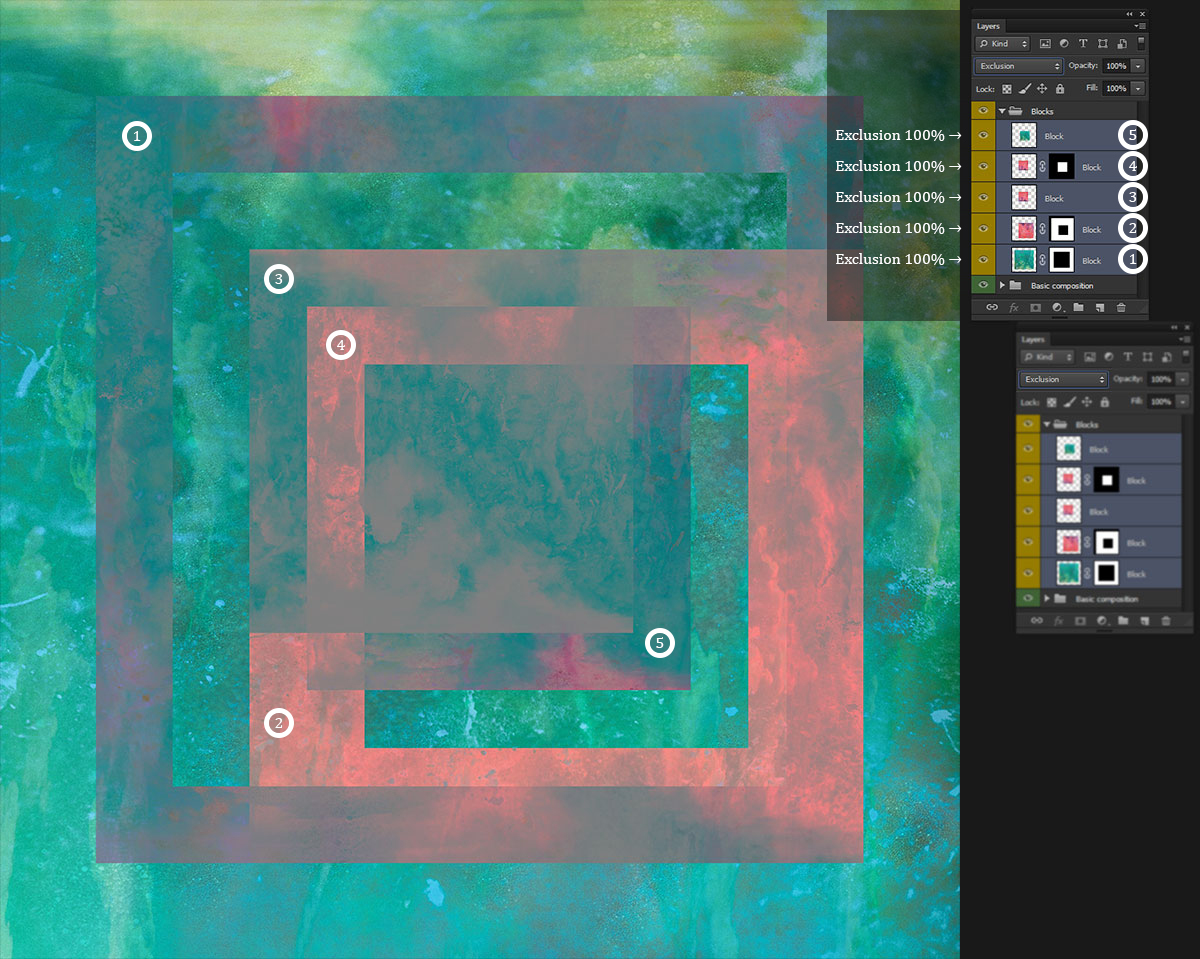 Step 8: Add even more "Etched Into Dark" textures
Remember those spots/stars/sparks/whatever we added back in step 6? Well, if you like things "rich with details"; add a whole bunch more. Add them on top of all the rest though. So not inside the basic composition, but on top of the block copies. By doing so you'll enhance the blocks themselves some more as well.
Here's about 25 more of them added, however subtle they may be: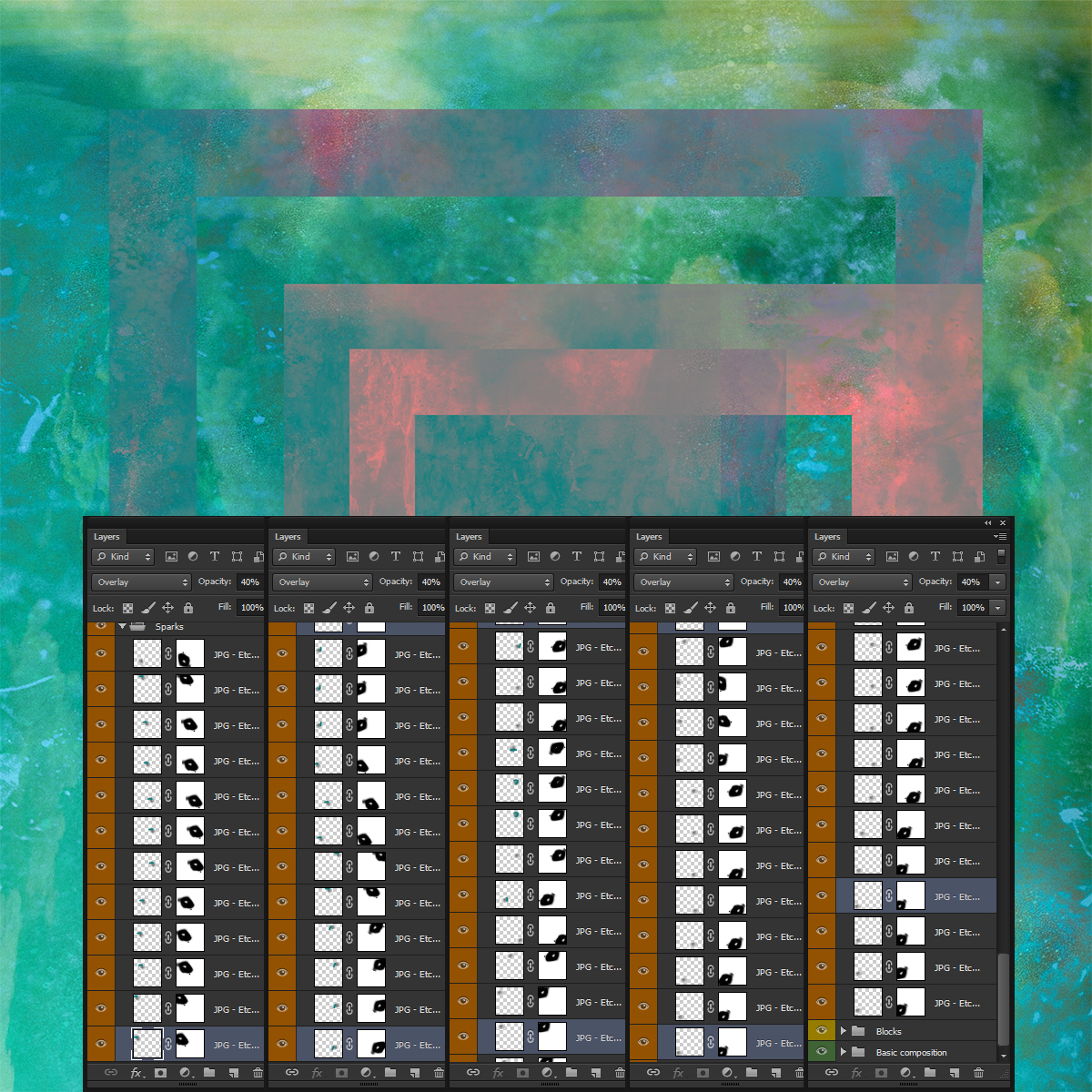 Step 9: Add some final touches
Most of the time I use adjustment layers to add a certain "final touch" to a design. In this case I added three to enhance the artwork an extra bit. The adjustment layers I added were: "Curves", "Gradient Map" and "Vibrance". See the image below for the settings I used.
Now, add some text to it in whatever way and font you see fit. It will be a vinyl cover after all! Of course you don't have to do this. When you've done that (or not) and you deem the design ready, do one last thing. This is something I always do to bump up the sharpness of a sleeve and to make all the little details pop out just a wee bit more. In print that might be lost a bit, which is exactly the reason why I do the following:
Merge a copy of all visible layers into a new layer by pressing: Ctrl/CMD+Alt+Shift+E. Use the filter: Filter > Other > High Pass with a radius of 5,0 (or any other value). Set the blending mode of this layer to "Overlay" and change the opacity to something more of your liking. I changed it to 50%. Try experimenting with this little technique. Try different radius values and opacity levels.
Step 10: Present it
To help place this vinyl sleeve into context, try creating a mockup for it in order to make it look like a physical sleeve. You can easily do this via Go Media's vinyl record mockup templates or their online mockup creation tool at MockupEverything.com!
Creating a mockup preview is an awesome way of presenting your design for a lot of reasons not stated here. It could even help you persuade clients about a design. It gives them an idea of how their product will look like as a real-world product, in this case the vinyl sleeve.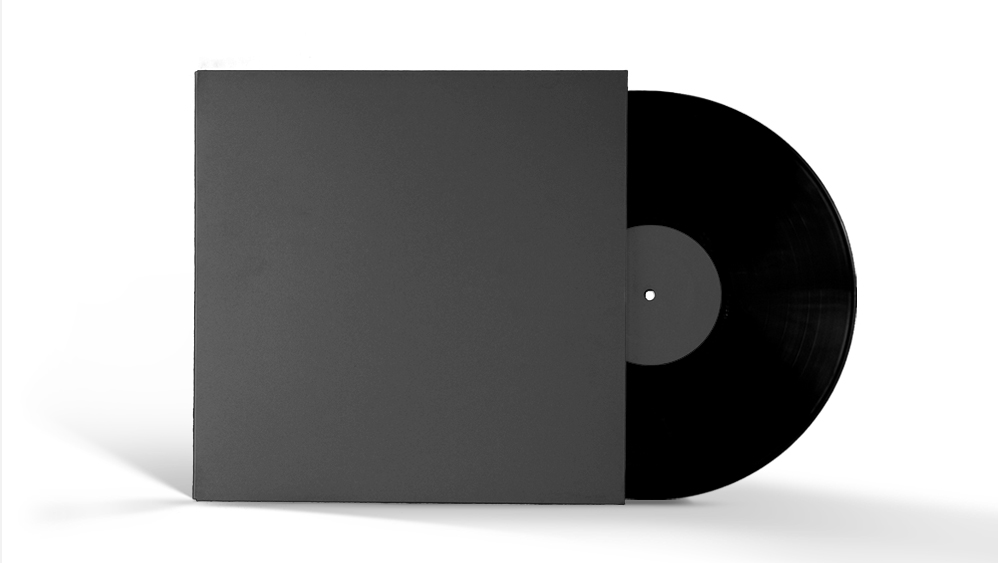 So what should you use, templates or the web tool? It's a personal decision, yes. On one hand, the vinyl record mockup templates will give you a (near) print-ready image. You could print it out and show it to a client while meeting. If you're sending the preview over via email or a website then http://mockupeverything.com/ is probably best for web-ready presentation. It also keeps the file size lower. Clients might like that. It saves them some space, and makes sure it won't max out their inbox quotas (and yours!).
In case you don't know how to use Mockup Everything or the templates, Go Media has put some neat demo material together on how to use Mockup Everything.
Mocking up the artwork we just made – in my case – results into this:
That's it, you're done!
You should now have applied some quick techniques while using the textures from the new "Excluded Rough Grunge" and "Etched Into Dark" texture packs to create an abstract 12 inch vinyl sleeve.
Hopefully this tutorial was simple to follow, helpful and even inspirational. Aside from that, I hope the textures will prove of great use to you in many designs. If you create(d) your own sleeves, or something else, using these textures, I'd love to see it. I'm very curious to find out and see how you apply them, so feel free to share those designs. There's actually a special Go Media place for that!
Show off your results
On the Arsenal Facebook Page, you can post the images you created using Arsenal vectors, textures, fonts, etc.  Please show me how you've used these products in the real world. It's not often that we – as in Go Media – see the work you create with Arsenal products, so take this as a call to action to share it with us on the Facebook page.
For even more exposure, you can post your image in the GoMedia User Showcase on Flickr and/or comment on this tutorial below and link us to it!
Thanks for your attention and time! It's much appreciated.
— Maarten
CG artist and filmmaker John Robson on developing the skillset today's studios want.
Faced with the assignment to make a short film based on the question, "What's the best thing you've ever eaten?" Los Angeles-based CG artist John Robson opted to put the question to a friend's three-year-old son and film the kid's response. The result is Supper Time! from John Robson on Vimeo. And, well, let's just say you'll never look at spaghetti the same way again.
Supper Time! from John Robson on Vimeo.
In addition to filming and directing Supper Time! Robson created all of the VFX using Maxon's Cinema 4D and Next Limit's RealFlow, and he did it all in one week. "MoGraph allowed me to create new ideas without being bogged down by technicalities and slow processing times," he explains. "So I was able to work almost as fast as I could think." (See more of Robson's work here.)
A freelance designer and CG artist who works for a variety of well-known houses such as Blind, Troika, Mirada and Royale, Robson made the film as part of Frame Society. Organized by Blind creative directors Chris Do and Greg Gunn, Frame Society is basically a group of filmmakers, writers, animators, directors and other creative people who meet after hours to share ideas and talk about everything from camera work and lighting to VFX. "Almost everyone in the group has been in the industry a long time by work or by hobby," Robson explains. "So we understand how to tell a story just because we're living in that world."
Evolving With the Industry
Like many creative people, Robson didn't plan the career he is currently pursuing. Instead, cinematography studies at the University of California-Santa Barbara led to curiosity about how to create special effects for film, and pretty soon he was learning Final Cut Pro and After Effects. By 2003, Robson got his first job doing motion graphics. He taught himself how to use Autodesk's Maya, and that's where his real education began. "I learned everything on the job, so that was really college for me," he recalls.
Describing himself as more comfortable following a creative path rather than a technical one, Robson says his skills took him down yet another road when, at the suggestion of other artists he knew, he taught himself how to use Cinema 4D. "All the big teams were using Maya, but when MoGraph came out it completely revolutionized my workflow and that of the other artists, too," he says. "Suddenly, we could pretty much do anything in real time and experiment on the fly, sort of like being in the kitchen with unlimited ingredients."
As a freelancer, Robson is well aware that in order to stay busy, he must evolve with the industry. Over the years, he's watched as artists who have insisted on specializing in just one area either create a reasonable niche for themselves, or wind up without enough work. So, knowing that studios are always looking for artists who understand a variety of software, he splits his time between directing his own projects, design, 3D and 2D work, and compositing. "No matter what job I'm on, I'm almost always using C4D, especially MoGraph," he says.
Meeting the Need
Robson's remembers really putting his C4D skills to the test as a freelancer working on a project for Mirada. Finding himself waiting for assets from the rest of the team, he decided to play around and see what he could create in Cinema 4D. "I was working and one of the art directors came by and couldn't believe I had created what I had in one day, so they asked me to do another and another, and soon we had a huge Cinema farm going," he says, explaining that Mirada often uses C4D, Maya and Houdini in combination.
For this particular Mirada project, Robson and others on the team were asked to create photo-real popcorn and Coke in stereoscopic 3D for Carmichael Theaters. Robson was the C4D lead on the job, and the team used a combination of C4D, MoDynamics, RealFlow, Houdini, NUKE and Next Limit Technology's Maxwell Render engine. "Mirada brought me in on the project because they knew Cinema had the power and efficient dynamics for the project, but it was before C4D R13, so I had to build my own stereo rig," he says.
With the help of fellow artist Casey Hupke, Robson created the popcorn by emitting Thinking Particles from above the screen and linking them to a MoGraph matrix object. "This bridged the gap between modules and utilized the best and most efficient features for the job," he explains. Rigid body MoDynamics were added to all of the pieces, so the popcorn fell, accumulated in a funnel just above camera, and then spilled into the tank. Coke appeared to pour over ice and fill the screen thanks to RealFlow.
Pursuing a Passion
Even when he's crunched by deadlines, Robson always makes sure he finds time to do some personal work. Recently he finished a short film called Infinite Loop,which is based on the idea of what it would be like to be stuck in kind of hall of mirrors. "It all starts with a guy at a party who starts messing around and plugs a cable into a TV," says Robson, who directed the film and created all of the VFX using Cinema 4D and After Effects.
"The film kind of shows you what would happen if you pointed a video camera at its own image," Robson says, adding that although he had an idea of what the footage would look like when it was shot, everything changed when it came time to animate. "I was coming up with all kinds of new ideas in post," he continues.
"I camera tracked some shots and brought data into Cinema and created expression that I applied to a MoGraph cloner with a step effector to create a delayed process." The goal was to create a retro feel, something simulating what would happen if you attached a cable from a video camera to a TV screen, "but didn't want that screen to be too intrusive visually," he says.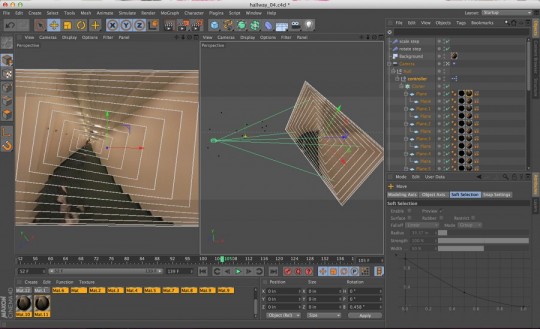 For the hallway tunnel shot, Robson tracked the plate in SynthEyes and created an expression that compensated for the XY position and Z rotation of the camera while applying the values inversely to a step effector's parameters. "This replicated the effect that a camera has when it views a screen with its own image on it," he says. The step effector also scaled down each concurrent screen to create a forced perspective of what looks like a long tunnel, but is virtually flat. Each clone's video footage had to be manually offset to simulate the delay of transmission between iterations of the screen down the tunnel.
The end credits were made by applying a step effector to a cloner object and creating iterations of the type and border that were rotated, scaled, and positioned over the course of several clones to create a spiraling tunnel effect that gradually shifted from clone to clone. "I created a series of user data sliders driven by Espresso that influenced the intensity of the values of the step effector and allowed a simpler control for randomizing movement," Robson recalls. Each clone was rendered out with a different object buffer so he could randomize opacity for each object buffer in After Effects to create a flicker effect.
"I'm really proud of how it turned out," says Robson, pointing out the film's "urban legend-like spin" in which pointing a camera at its own image means the party guy gets immediately transported into the TV, a fate from which he cannot escape. "All through the film you see him running away, thinking he's outsmarted technology, but in the end he's still stuck in the TV and his friends forget about him." Interestingly, after the screening of the film, some people wondered aloud whether the film's subtext had something to do with a fear of technology. For Robson, though, it would seem the opposite is true.
Howdy Readers!
Welcome back to the 9th edition of the "Go Media Guest Pinner Gallery Showcase." If you aren't a fan of ours on Pinterest click this link to start following what we pin. This showcase features the best pins from our Go Media Guest Pinner Gallery, so these images are the ones that you all found and shared with us. If you would like to be added to the gallery send me an email at [email protected] Happy Pinning!

The Showcase
In this episode, Jeff Finley and Bill Beachy sit down with WMC Fest speaker Troy DeShano from The Old and New Project.
Listen to the Podcast
[powerpress]
Show Notes
We want to hear what you have to say about the podcast.
Sponsor of this Episode
This episode is sponsored by WMC Fest 4. WMC Fest is the premier art, design, and music festival in the Midwest. Uniting creative dreamers and doers since 2010. WMC Fest takes place from August 16th through 18th at Cleveland Public Theatre. 20 speakers, 20 designers, and 30+ bands.
Go Media Quick Tip: Don't Over Think Things
Be a little naive, jump in, and figure out how to swim later.
A common theme we've seen after interviewing a lot of the WMC Fest speakers this year is that they didn't always know how to do what they wanted to do. They just knew that they wanted to do it and worked out the kinks as they ran across them.
Take advantage of your naivety.
Dive in, take a risk, and don't get bogged down by the details.
What's Go Media Been Up To?
Bill is now finished with the first draft of his book. It's in the hands of the editor.
It's Spring, which means some office reorganization. The design and Arsenal team moved their desks around. Plus, our storefront restoration project should be beginning soon. Most have moved away from the center of the office.
Heather Sakai also worked on cleaning up our storage areas, which allowed us to store all of the new WMC Fest merch coming in.
Bryan and Bill have been interviewing the new group of interns that are coming in over the Summer to work with the best small business website designers in Cleveland, Go Media.
Customer Retention: A chapter from Bill's new book "Drawn To Business: Designed For Success"
If you can keep the customers you already have, you'll save yourself time, energy, and money. Historically, we were always seeking new leads instead of being proactive on retaining those who were already here.
You can only make a first impression once. How you come out of the gate with that customer will dictate how well things can move forward. The initial steps and deliverables are so powerful. If you stumble out the gate, you create a sense of wariness. It can cause negative feelings towards the project, which could result in work being looked at with a far more critical eye.
Know what expectations you need to meet by setting those expectations with the client.
Under promise and over deliver. Over promising outrageous expectations will cause disappointment if you can't meet those expectations. It will also put you in a position where you no longer enjoy doing the project because you've put yourself under a lot of unnecessary stress.
Being realistic to a client, by giving them some news that they don't want to hear, allows you to set realistic expectations that both sides can agree upon. And, if you set the bar too high, the client will expect that kind of turn around the next time, and that's not necessarily a client you want to retain.
The relationship is key to customer retention.
Be an advisor, not just an order taker. If you see an opportunity for your client to do something better, offer that advice.
Stay in touch with your customers. It doesn't matter how or why, give them a call, or shoot them a quick email, to let them know you're thinking about them. Watch a movie or read a blog post that reminded you of your client, tell them. You reaching out to them could spur conversation about new projects and opportunities.
Give your best customers your cheapest rates.
Links
Credits
Hosts: Jeff Finley and Bill Beachy
Producer: Bryan Garvin
Recorded at: Go Media
Sponsorship Opportunities
Interested in sponsoring the Go Media podcast, either episodically or exclusively? Well, hit us up at [email protected] if you are interested in advertising your business.
What Do You Think?
We want to hear what you think about the latest episode of our podcast and what topics you would like to see covered in upcoming episodes. Comment below with your suggestions.
Ready for More?
Keep learning and listening to more Go Media podcasts!
The Old & New Project
For many of you this isn't the first time you have heard of the Old & New Project. You may remember a post we did about the project last May which included an interview with the founders. Check it out here if you missed it.
Old & New – Round 3 Trailer from Sprink on Vimeo.
Old & New Project returns this month with another round of religious contemporary graphic art. This time, contributors span both the globe and the current spectrum of design celebrity—with artists both well-known and up-and-coming invited to participate.
Earlier this year the creators, Jim LePage and Troy Deshano, opened a public call for portfolio submissions and several artists from round 3 are from that public call.
According to the site's creators, the new round of designs is focused on "Turning Points" in various biblical stories, "single moments in each character's narrative that changed the trajectory of their own lives, or even human history."
A new design will be posted Monday-Friday beginning April 22 and will feature work from the following artists:
About Old & New Project
Old & New provides a platform for contemporary graphic artists to exhibit works themed on Biblical stories and passages. It also aims to introduce a new online audience to Biblical art, attempting to replace popular, yet sometimes low-quality, contemporary Biblical artwork with the kind of accessible and honorable work that has historically been associated with the Bible.
The website is a curated collection of single designs by a variety of international illustrators, artists and designers. The collections are released in an indefinite series of rounds. The goal of these rounds will be to bring new light to well known Biblical passages as well as introducing less familiar (or comfortable) content.
There are a few things that make this project unique.
Inclusion: Old & New is not an attempt to convert folks or create religious propaganda. In order to take a new look at this old book, we want, in fact we need, artists from all types of faith perspectives. That may include different religious backgrounds, those who have had a really negative experience with the church, agnostics and atheists.
Accessibility: If you want to learn more about the Bible, there are a lot of complex theological books written for that reason. With Old & New, our goal is that both the art and writing are accessible to all types of people, regardless of how much they may or may not know about theology.
Reaching Out: We're honored to partner with Blood Water Mission, an organization that focuses on empowering communities to work together against the HIV/AIDS and water crises in Africa. Prints of designs are available to purchase and proceeds go to Blood:Water Mission (over $1000 during the first 2 rounds).
Links
Who is Parafina?
Carlos of Parafina Co. is a longtime fan of Jeff Finley's book, Thread's Not Dead. Recently he reached out to us here at Go Media, and we were so impressed by what he's doing we decided to feature an interview with him, right here on the GoMediaZine!
Since he was a kid, Carlos of Parafina Co. has dreamt of that one project that would allow him to do what he loves, blurring the line between leisure and work. He'd like to find that balance. Parafina is the materialization of that feeling of cohesion.
Parafina has two distribution centers. The first one is located in Southern California (USA) and the second one in Southern Europe (Spain). He believes that creating eco-friendly products is the way to go. This is what he always wanted to do. To create quality, cool, and fun products with a strong meaning and a correct philosophy. He stands behind his products with pride.
The Interview
Go Media recently had the opportunity to converse with Carlos about his company and we would like to share it with all of you, our readers.
GoMediaZine:
Who are you and what is your company name?  Tell us a bit about yourself and your brand.
Carlos of Parafina Co.:
My name is Carlos Sáez but all my friends call me "Carletes". I'm working in a little startup called "Parafina". I didn't have any business experience with t-shirts. I spent nearly two and a half years doing a lot of research around T-shirt forums, bought a couple of books (yours was one of them), started a visual blog, made mood-boards, and nearly broke my head trying to create my own voice, style and story.  I was looking for something that resonated well with all the things I love and that people will connect with. I started selling at selected stores in California, just contacting them through email, being nice and polite and showing them some off the stuff I have put together. I try to tell a story of my love for the ocean and the outdoors, in a fun way and focus in hand drawn art, eco inks and organic garments. It has been a super fun and rewarding experience so far… Loving the community response, I am so thankful for that.
GoMediaZine:
What made you want to start a clothing company?
Carlos of Parafina Co.:
After I finished university, I got to travel the world with my back pack for almost 8 years (I was a judge in the kiteboarding world cup). It was a dream job especially the first 7-8 years… Then I fell in love and had to be away from her. I always had the idea of starting my own little surf/mountain/outdoors/travel inspired brand, and it was the right moment to follow that dream.  I am a hard worker, always put a lot of passion in everything I do, so once I decided to do it, I pushed as hard as I could to learn and bring the project to life.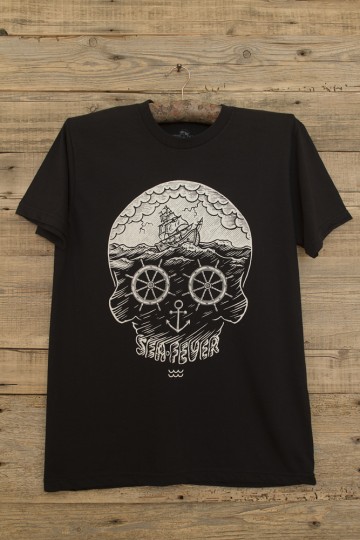 GoMediaZine:
In the world where everyone starts a clothing company, how is yours different?
Carlos of Parafina Co.:
I guess the coolest thing of Parafina is that each t-shirt has a story behind it. Each design fits into a bigger picture, a story of love for the ocean and the outdoors. I think consumers are demanding richer, more authentic connections to the products they use. That is what I expect from the products I buy, and this is what I try to deliver. I think the handmade and eco-friendly approach is really cool too. We are puting love into everything we are doing with the brand. I am really into less computer and more into artist hands on the designs. I think combining both with the right balance is the way to go.
GoMediaZine:
You said you read the Thread's Not Dead, how did that help or change your plans?
Carlos of Parafina Co.:
When you are starting you don't know where to look for answers. I noticed it was pretty difficult to get others to share answers and advice. I understand it now, it is a trial and error thing, you have to spend a lot of money learning the right steps. I was on IATT (IAmTheTrend) and I think I saw a link or something so I bought your book and it helped a lot, especially on the very first steps. Then you have to stop reading and start acting and that is where the real learning happens, because you have to go real deep into every step.
 GoMediaZine:
Launching a clothing brand is the easy part, how do you plan on growing your brand?
Carlos of Parafina Co.:
Once I decided to start the project, I started writing on famous surf websites and blogs for free, just to be able to get to know people, I have built a network of sites that are now helping to spread the word. Being in some of the best surf shops also helps, Thalía Surf Shop in Laguna Beach, for example. I don't make a buck out of that, but I see it as free advertising and brand recognition in some of the best alternative indy surf stores. I started not only with t-shirts and also got to make some other products that go hand-in-hand with the same philosophy the brand wants to share. Since our launch a couple of weeks ago, our facebook has gone from 150 (basically friends) to 800 people, and we have received a lot of emails saying hi, and telling us how they liked our vibe. Such a great feeling after all the hard work. At the end customers are our reason to be and who will make this succeed.
GoMediaZine:
What was the hardest or most challenging thing you've overcome thus far with your brand?
Carlos of Parafina Co.:
Every step has been hard, picking the name took me almost 2 years, I wrote down hundreds of names. And all the good ones were taken, when the name was available, the website wasn't. I picked "Parafina" because it is one word, because is easy to write and spell, because I like its sound and because of its meaning (surf wax in Spanish.) Also parafina oil is what you use as fuel for the mountain men lamps, so it has that connection to sea and land. Besides that, I think the financial part is the most difficult, at least for me. I like the soul and creative side and not so much the accounting side, but hey, this is business and you have to be good at everything so I had to work extra hard to get all the puzzle pieces together.
GoMediaZine:
What is your favorite part about your brand?
Carlos of Parafina Co.:
Creating concepts and ideas, doing the little details, hanging out with my customers to listen and learn from every single one of them. Above everything my favorite part is making people get stoked and happy.
GoMediaZine:
If there was one thing you wish was answered in Thread's Not Dead, what is that?
Carlos of Parafina Co.:
Overall, I think the book was really aimed at designers trying to start their own thing. Everything is told from a designer's point of view (I can understand it because you [Jeff Finley] are one of them). Maybe, it would have been good to outline how to deal with designers and how the process actually worked for entrepreneurs. But I found the 2nd part had a lot of the info that I was actually looking for as a entrepreneur. It's a good book and I recommend everyone who wants to start a clothing line to get it and study it.
GoMediaZine:
What kind of advice would you give our readers?
Carlos of Parafina Co.:
Research, all the time, everywhere. Make mood boards on Pinterest. Connect with people, get in the forums. Do your own thing, look for a style that is not overdone (this is actually very difficult and will take a lot of time) and the most important, read this post!
Parafina Co. Links
And You Say Print Is Dead!
For years, we've heard people say "print is dead" and "it's all about the web," but as far as we can tell, print design isn't going anywhere. From business cards to postcards, from invitations to menus, print design is far from dead, it's alive and thriving. Just check out the showcase below if you don't believe us.
The Showcase
Inspired by vintage scary movies and Goosebumps children's books, Atlanta, Georgia artist Aaron Crawford's art could be described as horror with a sense of humor.  Aaron is setting himself apart from the pack with his diligent hard work, intelligent detailed line art, vibrant mixed media colors, and constant social media hustle.
Aaron Crawford and his successful apparel/print company Cavity Colors have 25,000+ followers on Instagram, over 6,000 likes on Facebook and nearly 40,000 followers on Twitter… impressive numbers that even President Obama would be proud of.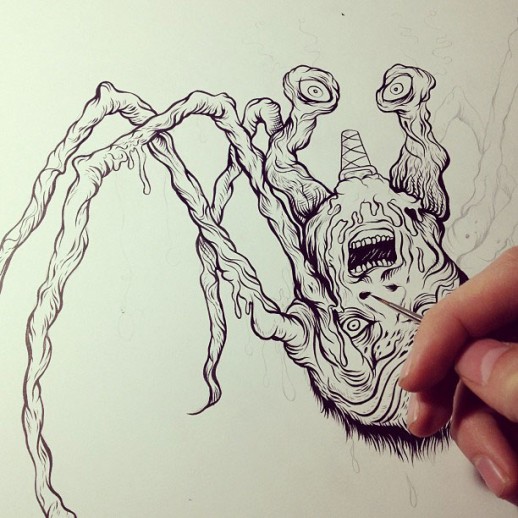 I had the privilege of catching up with Mr. Aaron Crawford over the phone a few weeks ago to discuss his art, his process, and his goals.  Take a listen to our conversation:

Created by Simeon Hendrix who is a professional graphic artist, documentarian, journalist, and father living in Wichita Falls, Texas.  Simeon also toured the US for 10 years (from 2002 – 2012) as the frontman for the experimental rock band DOWN-STARES for videos click here.  For more information please visit:  http://simeonhendrix.com
Future Insights
Last week we posted about the incredible design conference happening in Las Vegas called Future Insights. And they have graciously offered all you lovely readers a 10% off discount code for their annual conference.
Just click here to register and enter in the code: GoMedia10 
The Deets
THE VENUE:
MGM GRAND, LAS VEGAS
3799 S Las Vegas Blvd
Las Vegas, Nevada 89109, United States
(702) 891-1111
mgmgrand.com
DATES:
April 29th – May 2nd
The Interview
Go Media recently had the opportunity to converse with Davin Wilfrid the Product Director & Community Manager of Future Insights Live and we would like to share it with all of you, our readers.
GoMediaZine: 
What is Future Insights?
Davin of Future Insights: 
Future Insights is a team of web lovers who produce great conferences for web designers and developers. We used to be called Carsonified events.
GoMediaZine: 
Why Las Vegas for the conference city? Any fun you have planned outside of the conference?
Davin of Future Insights: 
Las Vegas is a great place to have Future Insights Live. Not only is it a fun destination with plenty of activities, but there is a blossoming tech community there that is doing amazing things. The Downtown Project, spearheaded by Zappos founder Tony Hsieh, is a great example of civic innovation, and we're happy to support the local community in any way we can.
GoMediaZine: 
How many people do you expect to attend?
Davin of Future Insights: 
Last year we had about 800 people, and I'd expect about the same this year. We usually draw a healthy mix of designers, developers, and entrepreneurs.
GoMediaZine: 
What sort of speaker topics can our readers expect to see at the conference?
Davin of Future Insights:
We recruit speakers who are at the cutting edge of their fields, whether that's HTML5, CSS3, animation, tooling and frameworks, or anything else. No matter how many years you have in the industry, we aim to leave you inspired to make your next project better than ever.
GoMediaZine: 
What speakers are you most excited to see and why?
Davin of Future Insights:
I'm really excited to meet Brad Frost, who has been one of the strongest (and funniest) advocates for responsive web design lately. I'm sure he'll blow some minds. We're really lucky to have trailblazers like Jeff Atwood (founder of StackOverflow) and Cameron Moll (founder of Authentic Jobs) on hand, and I'm really excited to hear Ashley Carroll's talk on A/B testing, which is criminally neglected in many projects.
GoMediaZine: 
What topics do you think will be most valuable for 2013?
Davin of Future Insights:
HTML5, CSS3, and responsive web design. Browser support for cutting-edge techniques is exploding right now, and to stay current designers should get ahead of the game and really understand how to future-proof their sites and apps. We're also reaching a tipping point where having a non-responsive, fixed-width site is no longer acceptable. Designers who really understand RWD will have an awful lot of opportunities in the next few years.
GoMediaZine: 
For our print designers, are there speakers or topics that would be of specific interest to them?
Davin of Future Insights:
Absolutely. A lot of our top design speakers started as print designers, and understand that the differences between print and web design techniques and aesthetics are melting fast. All designers will soon live in a world where "design" could mean designing a print ad that is also the front of an interactive page of an e-reader, a web-enabled poster at a bus stop, or a platform for augmented reality viewing (think of Google Glass). Erik Loehfelm, Joe Stewart, Meagan Fisher, and Jon Setzen are all good examples of designers who live at the intersection of all of these things.
GoMediaZine:
For those who are unable to attend the conference, can they see the talks online or hear any of the information remotely?
Davin of Future Insights:
We won't be live-streaming the event, but we are recording the sessions, and will make the entire conference available as a video package a few weeks after the conference ends. It's also a good idea to follow #FILive on Twitter to soak up the goodness via social media.
GoMediaZine:
Any last minute words?
Davin of Future Insights:
GERONIMO!
How It Began
I'll never forget the text.  "Sakai, I have a crazy idea…"
It was late on a Tuesday evening when I sat upright out of a dead sleep to reply, intrigued. Considering the source was my brilliant partner-in-crime, whatever hair-brained scheme he had conjured up, I knew that I wanted in.
So only days later it was decided, my friend Bill Beachy and I were going to make our own music video.  Inspired by a Beastie Boys video shot by Jeff and Kim Finley on a Nikon D90, our motivation, too, was pure random ridiculousness.
Beastie Boys "Nonstop Disco Powerpack" fan video from Jeff Finley on Vimeo.
What's Next
The first task we had on the job at Sakeachi Productions (after, of course, giving ourselves this kick-ass professional name) was to find our track. We quickly decided on the kitschy 70's throwback  "Any Which Way" by The Scissor Sisters, a band relatively unheard of at the time.
Since the song screamed "disco!", the ideas started flowing like Farrah Fawcett's long locks.  We traveled back to the 70's, by way of YouTube, Google searches, and area vintage stores, to really start to get a feel for what we wanted to capture in our video.  At The Cleveland Shop, one of Cleveland's coolest and oldest vintage stores, I first laid eyes on Bill in a sleazy leisure suit and golden aviators. Glancing at the tags on these must-have items, it was here we realized that our ridiculously fun project was going to be an expensive one.
While we were willing to cough up our own money for our disco dreams to be realized, we decided to try our luck with the creative arts fundraising platform, Kickstarter.  After completing an online application and creating a video introducing ourselves and our project, we managed to raise $1,095 in one month thanks to the generous donations of family and friends.
Now that we had our budget, we really felt like our project was coming together.  We next met with the brilliant minds at Purple Films, who helped us to further our vision of the video and storyboard.  We planned to film for two days and set to tape at five different locations including an area vintage store called Sweet Lorain, a local bar, Bad Racket Recording Studios, Brookpark Skateland and the Elyria Roll Arena. Casting our own family and friends, we spent countless summer hours in the offices of Go Media, teaching and reviewing one minute of choreography for a dance sequence in our video.
The first day of filming came quickly and the excitement in the air was palpable. I realized that our disco dreams were coming true as I glanced over and saw Beachy's badly combed wig flopping in the breeze outside of the roller rink we rented for the day, as videographer Brett Vance captured his every move.  Hours and hours of filming flew by. Though we smelled of moth balls, we felt like rock stars for the day.
When the filming was finally over, the work had only just begun. Beachy and I decided that we wanted to try our hand at editing, so our friends at Purple Films handed the amazing footage they captured over to us. We sat at Go Media and opened Final Cut Pro for the first time with fingers crossed. Every Tuesday night for a few months, we poured over all of the footage, story-boarding, cataloging each clip, rating its value and carefully piecing together our vision.
A week before our premiere party was scheduled, we opened up Final Cut Pro to finish up our last minute effects and were met with an unexpected horror. The hard drive, on which we had saved our finished project and all of our files, had crashed. A visit to the Best Buy Geek Squad confirmed our worst nightmare: we had lost it all. Luckily, as the Purple crew still had all of our footage and we had a rough cut on Vimeo to reference, we had a second chance to create our masterpiece. Thirty hours, 5 trips to Starbucks, and 20 bags of Cheetos later, we finished our video, part deux.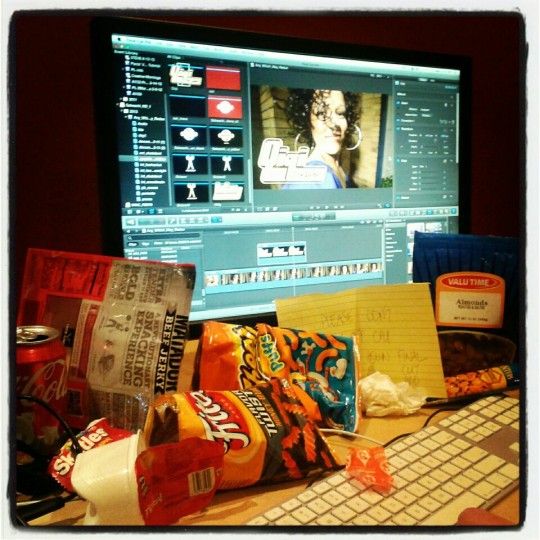 Our big premiere party and the video's subsequent release on Vimeo a few days later, were moments of pride for Bill and I, as we received numerous cheers, likes and praise for a job well done. The biggest success, though, for me, was that my friend and I had accomplished exactly what we set out to do: to have a ridiculous amount of fun, as always, together.
Any Which Way from William Beachy on Vimeo.
Inspiring Poster Designs Selected by your friends at Go Media
Who doesn't love poster art? Whether it's for a band, a foreign locale, or a conference/event, a well designed poster can attract attention and much deserved praise from peers and laypersons alike. We peel them off the walls at concert venues, grab copies strewn around our favorite coffee shops, and even purchase them from our favorite designers and bands.
Our love of poster art is even evident in the popularity of GoMediaZine posts. Over a year ago, designer Tom Booth created the ebook, The Wall: Modern Day Music Posters and a post along with it called, "Modern Gigposter Design: 100 Stunning Examples" and to-date it is still one of our most popular posts. So we know that you will love the collection of some of the most inspiring posters we love. From vintage to modern, national to international, these posters showcase some of the best designs to inspire you!

Poster Showcase
Why Future Insights?
Go Media was recently contacted by Future Insights about offering all you lovely readers a 10% off discount code for their annual conference. And how could we deny y'all such an amazing offer!
Just click here to register and enter in the code: GoMedia10 
What is Future Insights?
What makes Future Insights Live different from other conferences is that they've gathered the best insights from a decade of ground-breaking web technology conferences and put them to work for you. You've told them what you need to learn — and how — and their ready to deliver.
Their multi-track event means you always have a choice — you're not locked into one room and one track. And they record every session for all attendees, so you'll never miss a thing. Events for designers and developers is all they do, and they take their job seriously. As always, content is king.
What you can expect
Full-day workshops on HTML5 & CSS3, UX, entrepreneurship, Node.js, and real-time event handling.
Three days of sessions grouped into five tracks: Pure Design, Front-end Dev, Back-end Dev, Business, and Mobile.
World-class speakers delivering future-focused sessions.
App It Out: A web and mobile app contest, but much better.
Hands-on labs so you can apply your learning right away!
Videos of all conference sessions.
Hack, hack, hackathon!
Fun, relaxed networking activities.
Ask the Experts — your chance to get personal advice from the best in the business.
Coffee Shop Chats: Lighthearted discussions led by you!
Catered breakfast, awesome lunch, and yummy snacks.
Exclusive hotel deals at the MGM Grand, and discounts on flights and car rentals with United and Avis.
Fun social events with FREE DRINKS. Mingle with speakers and colleagues in a relaxed environment.
Giveaways, competitions, and prizes!
The Deets
THE VENUE:
MGM GRAND, LAS VEGAS
3799 S Las Vegas Blvd
Las Vegas, Nevada 89109, United States
(702) 891-1111
mgmgrand.com
DATES:
April 29th – May 2nd
They are also offering tons of discounts on hotels, car rental, and airfare so check out this page to get more info on the conference amenities.
The Schedule
Their lineup of speakers includes heavy-hitters like Cameron Moll, Brad Frost, Carl Smith and so many more.
Discount Tickets
So what are you waiting for? Snag some discounted tickets. All you have to do is click here and enter in the code: GoMedia10 for 10% off.