Articles by Month:
September 2011
As the demand for motion graphics grows, more and more print designers and illustrators are adding motion to their skill sets. Barton Damer would know—he's one of them.
It's fairly common for filmmakers, videographers and animators to become motion designers, but Barton Damer has noticed a growing trend toward print designers getting into motion work, too. He knows because he's part of that trend, having moved into motion graphics over the last five years after more than thirteen years as a print designer and illustrator. "I wasn't even familiar with the motion graphics industry a few years ago, but it was obvious people didn't want tri-fold brochures or static websites anymore, they wanted infographic-based videos about their companies or their products," he says.
Damer often draws on his print work for motion graphics inspiration. This shot builds on a concept he did for Computer Arts Projects magazine (pictured below) in which a flat screen appears to have real-world depth.
At first, Damer used After Effects for his motion design, but he felt his work lacked a level of professionalism he saw in others' projects. So he tried different types of 3D software before sticking with Maxon's CINEMA 4D. "From the people I talked to, it seemed like C4D was the most friendly to a designer like me who wasn't looking to do code," he explains. "I really wanted something that could add depth to my design and motion work, so at first I didn't worry about trying to animate anything."
One-man shop gets Android spot
Fast-forward just a few years and Damer, who lives in Dallas, is not only proficient at using C4D for motion graphics, he's getting increasingly high-profile jobs. Recently, he created a spot for a new Android smartphone, the Huawei M835 (pronounced "wah-way"), which was being introduced by MetroPCS, a local wireless provider. (See the spot here: http://greyscalegorilla.com/blog/2011/07/new-android-spot-uses-light-kit-pro-and-city-kit.)
Nick Campbell's City Kit allowed Damer to overcome time and budget constraints and create an entire city that was extremely detailed and easy to animate. The result far exceeded client's expectations
Damer was asked by the Firehouse Agency in Dallas to bid on the project. He had worked with Firehouse previously after an artist with the ad firm saw him speak at a conference three years earlier. "He followed my work ever since, and when he became the art director he contacted me," Damer recalls. "That definitely changed my perspective on the value of public speaking." (Check out Damer's 2011 motion reel here: http://www.alreadybeenchewed.tv/motion/2010-2011-motion-design-reel.)
With the goal of appealing to young, urban consumers in mind, Damer asked his 8-year-old daughter for advice. She insisted turntables be used in the spot. Fortunately for both of them, Firehouse's art director, Ryan Smith, loved the idea and so did the client.
Firehouse gave Damer some basic directives for the spot. The Android character needed to fly around a colorful, new world; the spot needed to appeal to young, urban consumers looking for affordable Android options; and, the video needed to educate MetroPCS sales reps about the phone's key features. Beyond that, Damer worked alongside Firehouse's art director, Ryan Smith, who gave him a good amount of creative freedom.
"I based my ideas on solid design and color theory," he says. Mindful of his deadline and the fact that client changes had to be made quickly, he made animation a secondary concern poring his energy into design, instead. "I'm not trying to compete with Psyop; I'm just one guy and I have to be sure I can deliver what I say I'm going to do."
Creating screens that appeared to have real- world depth was an important part of this project. In this shot, the Android was simply highlighting a Facebook status, but MoGraph made it easy to animate the interface using effectors.
Though he does work on his own for the most part, Damer is quick to add that he does often hire others to help. For this spot, he sends a shout out to Joe Myer of Sketchbook, Inc., whom he hired to model the phone. (See Myer's work here: http://www.sketchbookinc.com.) He also got some worthy advice from his 8-year-old daughter who saw him working on a scene where the Android grabs a mic makes like he's about to sing. "She said, 'Dad, you really need to do turntables instead.'" He thought she was right, so he ran it by the art director and they agreed.
Damer collaborated with Firehouse's art director, Ryan Smith, on the Android project.
Damer used Nick Campbell's Light Kit Pro for C4D for the entire spot and was happy to see how much time the lighting presets saved him. Light Kit Pro also made it easier to drop a scene in with seamless background "because I could turn the camera whatever direction I wanted to and never find a corner," he explained. Damer used City Kit for his scenes where cities pop up out of nowhere. Because it was created with MoGraph, it was easy for Damer to get the animation he wanted using effectors.
Moving from print to motion
Damer started out using C4D as a "testing ground," by doing simple, basic renders of 3D objects to incorporate into his print work. Even now, when he does 3D and animation, the connection with 2D illustration and design remains strong. "I love doing illustration work, so you'll usually see something in my illustration before I figure out how to do something with motion," he explains.
Damer used CINEMA 4D to create a two-page spread for a feature story in Computer Arts Projects magazine. "The idea was that there is an endless world of possibilities when you use your iPad for your digital portfolio," he explains.
C4D opened up "a whole new world of creativity" for Damer, who was often frustrated by how difficult it was to make ideas he had in his head a reality. "So often I had to find the exact photograph with the exact perspective I needed to make something work," he says. "Now I can just model it myself or buy a model and use it in a creative way."
Damer created this cover for Answer magazine's "Best of Five Years" issues, which featured stories ranging from creation to evolution.
The organization Malaria No More uses this Damer design to raise awareness about the deadly disease, as well as funds to help prevent it.
Though he still does some print work, as well as smaller motion design projects, the move to motion graphics has allowed Damer to get work with agencies and post-production studios. "I'm cranking out work at a much more professional level now," he says. "I can offer clients something very high-end that wasn't necessarily more work on my part; it's just a different type of work and now I have the tools I need to do it."
Go Media president Bill Beachy sits down to give you some daily inspiration and advice. Bill shares his years of experience building Go Media into the company it is today. Topics in this video series include Getting Started, Happiness, Humility, Patience, Flow, Focus, Productivity, Business Systems, Courage, Eating Well, Obstacles, and Creativity.
For more information about Bill Beachy, check out his bio on gomedia.us. Bill is currently accepting opportunities to speak at your event, university, or business.
View all episodes of Daily Inspiration here
Sponsored by Prooflab
The Daily Inspiration video series is brought to you by Prooflab – a client and project management app built and used by Go Media for designers.
Hope you enjoy the video!
Or download the podcast
[powerpress]
Categorized:

Design Community, Graphic Design, Graphic Design, Graphic Design Inspiration

Tagged:

advice, art, cleveland, complacent, courage, focus, happiness, help, humility, leadership, lull, patience, podcast, productivity, starting out, strategy, tips, Video, video blog, William Beachy
Sometimes, you just need some grass. It can take a design from blah to brilliant, especially when you need a natural and organic look. Grass can be a subtle nuance, or the key piece of your design.
We have lots of options for Photoshop, but your designs may need to work in many different mediums, so you'll eventually need vector images. No problem. Illustrator is your best friend, so let's jump in and kick some grass.
Getting Started
1. Open a new Illustrator file using a width of 500px and a height of 250px.
2. Get some grass!
You have three options for getting grass: (a) download what we have provided for you (recommended for this tutorial, (b) use the built in grass in Illustrator, or (c) make your own. It's your decision, but for this tutorial we will be using the files provided below:
If you want to use the built in Grass in Illustrator (CS5), open the Windows -> Symbols pallette -> Symbols Library Menu -> Nature.
3. For this tutorial, place the Grass.ai or Grass.pdf file from above. File -> Place -> select the Grass.ai/.pdf where you saved it. Resize the image as needed.
4. Head to Windows -> Links -> fly-out menu and select "Embed Image". This will allow you to directly edit the contents of the Grass file. This technique is nice for bringing a Placed image into projects you have already started.
5. Lastly, using the Selection Tool, CTL (Right) – Click any of the grass designs and select "Ungroup".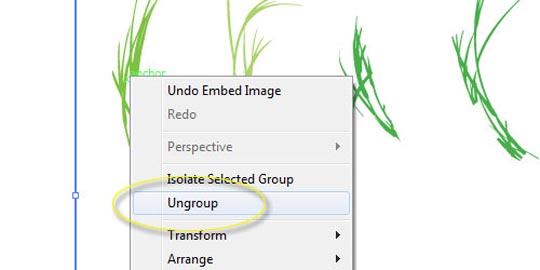 6. Now, we're ready to really get going! Using the Selection Tool, click the top left grass design -> Windows -> Symbols -> click the New Symbol button.
7. Name it Grass01, or whatever you like,  and make sure it's set to "Graphic" just in case you want to import into Flash later. If it's just for illustrator, it doesn't matter if it's Movie or Graphic. Repeat this for the other symbols, or for any grass you create on your own.
8. Create a new layer and hide the layer with the Grass.ai/.pdf file by clicking the eye symbol in the Layers window.
9. Grab your Symbol Sprayer Tool, select Grass01 in your Symbols pallette, and spray away!
10. Now, you need to edit your new lawn with the grass you just sprayed selected, go to your Symbol window and click the Break Link button.
11. If you want to reduce the amount of repetition, grab the Warp Tool, select a group, and move some of the grass around until it looks less like a pattern.
12. To add some definition to your grass, we are going to make a new set of grass using the Symbol Sprayer tool again. We used Grass02 for this example.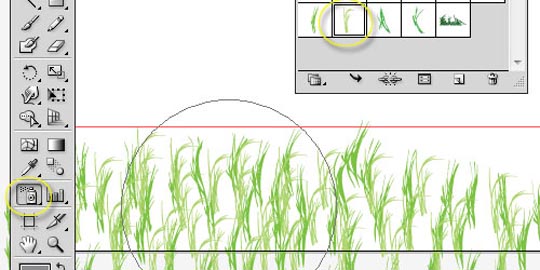 13. Now grab the Symbol Stainer tool, choose a brown foreground color, and spray over the Grass02 symbols you just made.
Project Notes
Notice that we bled off of the artboard. The nature of the Symbol Sprayer tools is that they're a bit messy, so just make sure that you move your groups around to position them appropriately.
Using the above tools, you can keep adding layer after layer until you have your final concept. Between creating symbols and editing with the Warp Tool and the Symbol Stainer, you can quickly design a textured field of grass and retain the vector qualities you need.
What techniques have you been using for grass?
An introduction
These days, more and more designers do side projects, which is fantastic for the community. Between works like André Meca's Make Something Cool Every Day, Luke Beard's almost complete ALAD, Even Stremke's Invitation to an Assassination… Inspiration keeps flowing our way. And, it also helps to work within the universe of some of the people that are part of our personal pantheon, and maybe to even get noticed by them.
With that said, I came across Tobias' series while browsing either through the Go Media Flickr pool, or when going through some of the design blogs frequently haunted (Daily Inspiration, Abduzeedo, Blkfrmt, Fudgegraphics…). What struck me in the series was its quality, but also the time constraint Tobias included in the exercise. Time is one of the 'real world' top constraints for designers. Adding it in a self-initiated project can give that little extra kick to transform a fun self-initiated project into a still fun learning experience.
Without any further due, my interview with Tobias.
The interview
Hello Tobias, could you introduce yourself for the readers that would not know your work?
Hi! I´m a simple swede living in Stockholm. I just graduated from Hyper Island through the Interactive Art Director program, and I´m just started working as a designer at a web agency called Oakwood Creative.
Can you talk a bit about that "15 minutes" series of yours?
My "15 Minutes of Design" is a small side project I have been doing for a few months. In 15 minutes I try to create some graphic design which I then later put up on my Flickr. It´s my "do something every day" thing.
What pushed you to start a project like this?
Why I started this was because I felt I didn't had the energy or time to be creative. But, I am always stressed when I´m not being productive. So "15 min of design" started as a small experiment for me just to start doing stuff. You always have 15 min to spare and it doesn't feel like a big effort. It´s also my place where I just experiment and try to have fun.
How do you feel about the time constraint? Is it helping or deserving the final result? Is it a good exercise to hold a deadline tight?
I don't know if the time constraints help the design; but, I do think that if I had worked on it for two more hours the final result would not be so much better.
The time constraint started as a laziness thing for me but it´s also a comfort because there is no pressure involved. When it comes to designing, it´s easy to put a lot of pressure on yourself. You want it to be good. But, with only 15 minutes you can't really expect awesomeness, and that helps to be more creative. Nothing is wrong, everything is OK.
One key to becoming a better designer is to design a lot. I'd rather do 50 smaller pieces than one big project. Don´t put all of the eggs in one basket, as they say.
Do you have any favorites in the series? Is there a specific piece that has a special meaning to you?
Not really, maybe the horse picture and "Evas keramik." It could be a logo for a Ceramics company :)
Any last words before we part?
"15 Minutes of Design" is only a small project with no ambitions to be anything more than just a small project. But, it is a good exercise which has pushed me to do other "bigger" projects. I'm happy with it.
The (selected) works
Remember, you can go through all the series installments on Tobias' Flickr stream. You should also check his personal work portfolio.
A little introduction
Genis' poster series on various philosophical movements struck my eyes when he first released it earlier this summer. I think I mentioned it on the Go Media Facebook page, and then didn't think about it anymore. Last week, someone linked to them on twitter again. Since the series was deemed officially completed, I decided to reach out to Genis to see if he would be interested in a feature of them here. He was kind enough to accept and to answer a few questions.
The interview
Hello Genis! Could you introduce yourself for our readers?
I'm a 23 years old graphic designer from Catalonia living and working in London at an agency called Mint Digital. I read Thus Spoke Zarathustra at the age of 15 and since then I loved philosophy. Design came earlier; I think I loved it since the first time I drew. I graduated first class in Graphic Communication this year and previously in Multimedia Design in Spain. I created a project called Philographics, which is the reason why I'm being interviewed here.
Can you present the "Philographics" series? What spark the interest in the project?
Philographics is all about explaining philosophy through basic shapes, using geometry and color. This means that the outcome can work as both pieces of design and educational resource. My purpose was to turn something complex into something simple, allowing people to understand it quickly and almost instinctively.
Can you talk a bit more about the visual identity you developed for the series? There's a strong sense of unity that emerges. What were your constraints?
The goal was to create a new language to communicate philosophy visually, sometimes illustrating metaphors and others reinventing existent symbols. Using the same structure and negative space and just changing the shape or the color increased the sense of unity. That's why the outcome works better as an ensemble rather than individual pieces. To answer your question, my constraints were to use the simplest shape and just one or two colors to communicate, to be precise with the concept to communicate but still allow some interpretation by the viewer. For instance, some people associate the pink triangle of Hedonism with an homosexual icon while others see a part of the female body… There's not a correct or incorrect answer to me, the viewer creates his own meaning according to his own experience and knowledge.
Is that work feeding your current work as a designer?
Yes and no. Right now I'm working as a creative designer for Mint Digital in a research team named Foundry, where we're exploring the connection between physical objects to the web through digital technology (you can see what we're doing here: foundry.mintdigital.com). At the same time, I'm receiving some freelance offers more connected with Philographics, while I'm looking for a publisher for the journal and a place to exhibit the project.
Note: there's an animated presentation of the journal on Genis' website.
Any last words to share with our audience before we show them the pieces?
A lot of people create beautiful things, and a lot of people create useful things. I think there's a gap in-between that is the playground for us, the designers. I'm glad about how people are responding to this project and the feedback given, it gives me strength to create more! It's awesome how people are spreading the word and helping me to find a publisher for the journal.
If you want to help me to pay the rent, feel free to get some of the posters via Society6!
The posters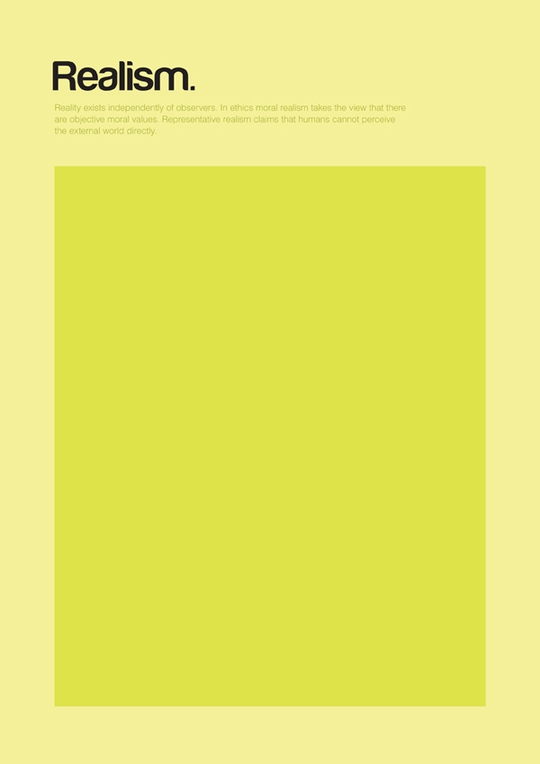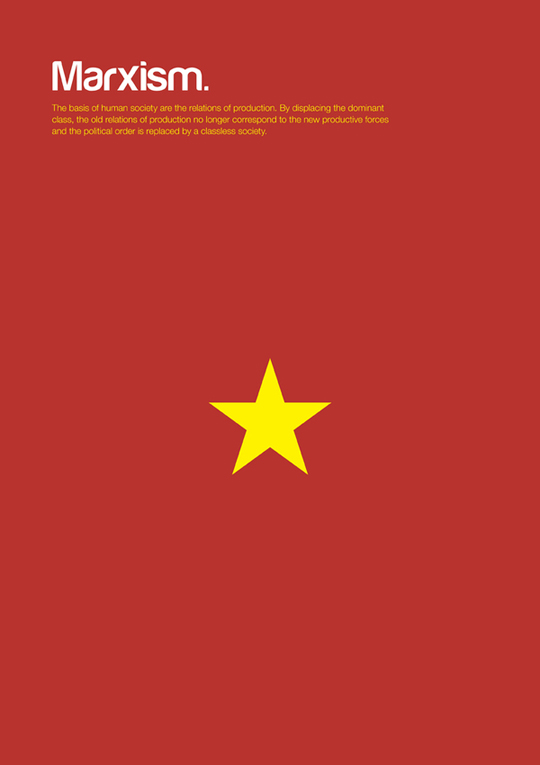 Hello Go Media readers!
André Meca is a Portuguese graphic designer and illustrator. He currently studies at the ESAD. During 2011, he's having his own take on the Make Something Cool Everyday Project.

We've been following his work for quiet a while, and this seemed like the perfect opportunity to show you his work and some of the behind the scene stuff of his process. Enjoy!

This specific piece is the 183rd he made. You can view it better on Flickr. André has been kind enough to include the PSD of his experiment (see at the end of the post), so you can understand better his way of constructing the piece and the various ways he uses the elements composing the final image.

— Simon H.
Today, I'm demonstrating how to make a cool, vintage Argus camera come to life!
So, lets get to it.
STEP 1: Draw basic shapes
First, grab an image of the Argus C3 here. Open a vector software, in this case Adobe Illustrator, and create a new document file and place your camera image. Now, using the Shape Tool, start drawing the basic shapes and elements of the camera.
Now to make the needed 'Zig Zag' effect, draw a circle, and go to Filters>Distort>Zig Zag and play around with value to develop the desired look. You can see my settings below.
Now, draw a nice circle again, and with the Line Tool, draw a small line in the up center of the circle. With the Rotate Tool, point to the middle of the circle and while pressing ALT move the line as much as you want. Now, the secret is to use the "CMD/CTRL + D" shortcut to repeat the same step as before, duplicating and rotating the line in equal distances.
When you have all the lines in place, it's time to expand them, becoming shapes, not simply line strokes. Select the lines and go to Object>Expand, and click OK.
Now that they're all shapes, select all shapes(lines and cirlce) then on Pathfinder it the "Intersect shape areas" button to achieve that effect. Simple.
At this point, continue to draw and arrange the various shapes over the image. Soon, it will start to look like an Argus camera.
For the numbers, repeat the same steps as above. Select the number, and while using the Rotate Tool, point to the middle of the circle to and move and rotate them.
STEP 2: Add some color
With all of the shapes looking cool and in place, it's time to add some nice colors to our camera. I decided to give it brown, earthy colors; but, feel free and add as much color as you want.
STEP 3: Textures
The coolest part &emdash; texturing &emdash; is always great to experiment with. You can grab some textures similar to these or these to play around with. You can also find awesome texture made by yours truly at www.PSDFAN.com. Feel free to have a look at those, too.
STEP 4: Finishing touches
Now with all shapes, colors and textures in place, open Photoshop and copy the entire vector file from Illustrator, and then paste it into Photoshop as a "Smart Object File." At this point, we have the whole illustration in a single layer. Since we inserted it as a Smart Object, it is still in vector mode meaning that you can so you can scale it up or down losslessly without rasterizing it. So, start by adding a little bit of shapeliness to the illustration by playing around with Levels, Curves and Color balance in Photoshop!
I encourage downloading the entire .psd file of this tutorial, provided below, and give it a look. Edit the layers and settings to achieve almost any desired result.
That's it, folks! Thank you all for reading and for your time!
If you have more available time you should take a look at my work at www.heymeca.com, check out my Flickr, fav this image on Flickr, or follow my Dribbble page!
Additional pieces from MSCED
Simon here again. I wanted to share with you more pieces from the project, as they're really sweet and inspirational.

Written & Designed by: Raji Purcell
Edited by: Jon Savage
Photography by: Pablo Contreras
This summer, I had the pleasure of being one of Go Media's design interns. This, of course, is why I've been given the privilege to write the Weapons Declassified articles. During my internship I had the honor of being guided, influenced, and instructed under Adam Wagner, Jeff Finley, and William (Bill) Beachy. Each guided me in their own ways; however, it wasn't until Bill Beachy sent me an email asking me to take a crack at a client logo revision that I got some of my hardest hitting real-world experience and advice. There is a unique amount of care that Bill takes when speaking with you, even through email, where he pulls no punches or subjects you to brevity, making you feel like he is too busy or too important for you. He has told me many of things I've needed to hear as a young designer. Some being:
Young designers are slow, and need to learn to work faster.
You are not a design God. Learn to collaborate with the client.
Be extremely humble in all aspects of your career.
Measure twice and proof read. Basically, make sure you are following directions.
Be proactive, self-motivated, and assertive.
Bill's design and illustration are indicative of this same level of care and attention. While guiding me on the branding project that we double-teamed, he consistently pushed me to take care at the smallest levels of details. He always paid attention to detail. He asked pertinent questions, like, "Is this distance around this shape or letter form the same as that one?" rather than a simple, "Looks good, Bro."
Now, when I met Steve Knerem at WMC Fest, I realized that he was a mirror image of Bill; he provided the same care and attention to detail to all of his work. Steve took the time to talk to me, as did many others at WMC Fest, asking me about my schooling, giving me the advice of finishing strong, and humbly thanking me for watching their talk, noting the important quotes, and tweeting them. All of this was icing on the cake as I was drooling over his intricate illustrations. His work demonstrated beyond a shadow of a doubt that this same extreme focus and attention to detail was vital to quality work. This common ground in work ethic and living made Bill and Steve the perfect duo of speakers at WMC Fest.
Who are Bill Beachy & Steve Knerem?
Bill Beachy is founder of the creative agency Go Media in Cleveland, Ohio. He worked to build an amazing collective of illustrators, designers and coders into an extremely well-recognized, design-community-serving  creative machine. Though I've been following Go Media for years, I just recently learned that up until only a couple years ago it was run in Bill's house. This speaks for itself.
Bill is basically a design Iron Man, who, when isn't illustrating using his background in comic books, creating finely crafted designs, and making inspirational posts on the GoMediaZine, is probably running a marathon. Seriously.
Steve Knerem is a masterful illustrator, who, when isn't illustrating — well, honestly, I don't really understand how he'd have time to spend on much else with such intricate work.

Here's what happened:
Sitting in my front row seat, I was excited to watch the first panel discussion at WMC Fest. With my experience of Bill's expertise and recent exposure to Steve's work in my head, I was in for a great talk. Unlike the previous talks, Bill and Steve set up to have an open discussion where they would take questions about the various topics they'd discuss.
They started the talk out with their own brief bio's. Bill explained that he has been a life long artist and that he had artists for parents.
"They basically handed me a box full of crayons, and I thought every kid on the face of the planet just laid on the ground and drew all day long."
He explained that he would be miserable being dropped off for art classes, but then not want to leave by the end of it. Following this course of life-long artistry, he became the guy in class that would always draw stuff for people, a title that I am familiar with. He then went to Ohio State and switched from fine art to industrial design, explaining that he knew how to draw but didn't know how to use a computer for artistic purposes. This is a great example, in my opinion, of challenging yourself to do something unfamiliar instead of something you know how to do. He launched his first studio afterwards, but found no financial success in just being an illustrator. So, he began doing design work, building GoMedia starting in 1999.
Steve Knerem then echoed Bill stating that he also started young, but in high school was more into sports than art. However, an injury changed his future goal from athlete to artist. He then went into school at the Cleveland Institute of Art for Illustration. Upon graduating, he worked at American Greetings for 10 months before deciding it wasn't for him. He started searching, developing a style, and trying to figure out what he wanted to do with his art. Knowing he didn't really want to do cartooning or character conception, he began, little by little, taking on freelance projects and the launching his own t-shirt line.
The talk then turned away from the average talk at WMC into a very personal discussion about whatever the audience had questions about. Bill briefly went over some suggested talking points from how to prepare your portfolio, to what is cheating. Immediately following the recommendation of the cheating talking point an audience member—in a timing that was almost comedic—exclaimed she wanted to hear about that. With a laugh, Bill began to explain that when he first started he had the misconception that the comic book artists he admired were able to draw everything out of their head, the same going for any of his favorite master painters like Norman Rockwell. He later discovered that most of them utilized people as models, photographs, and even tracing paper to composite imagery into a masterful illustration or work of art.
Appropriately, this lead into the consideration of a client's budget. Bill explained that if a client needs something really elaborate in a short amount of time for a couple hundred bucks, he doesn't have the time to create everything from scratch. He has to find a process that will get him to the end result. He then gave this important insight:
"I don't think anything in particular is wrong or cheating, so long as you are being to true to the process and the passion behind what you are creating. And that you are transparent about what it is that you are doing."
Steve, complementary, chimed in, refocusing the discussion on stylistic cheating. He pushed the thought that taking another person's style and calling yourself 'creative' is just lame. However, it's a different matter entirely to learn from someone. Citing art nouveau and the work of Alphonse Mucha as an examples of influence, he said that he takes what he learns and integrates it into his own style. He further encouraged the audience to branch out and learn from what's inside themselves. Describing his own creative mantra:
"Close the books, close the internet and everything — what's in here? Pull from my heart, gut and mind and say 'What is me'?"
Steve continued by saying that he likes to draw everything by hand to make it as original as possible, but reference materials are still important. Bill continued by saying that even veteran artists use references and props in order to get the right perspective and look, and he had to learn over time not to put so much pressure on himself to draw something out of his head. Steve echoed this by emphasizing the importance of learning fundamentals. The repetition of learning how to draw various things will give you a personal arsenal of things you can draw in your own style straight from your head.
Bill then discussed his views on keeping true to your concept regardless of what reference materials you find. Not letting the fact that you didn't find what's in your head change your idea, and sticking to the concept. He also discussed his technique of making a sort of reference collage or Frankensteining as he calls it, in order to save time and money for clients.
William Beachy and Steve Knerem at WMC Fest 2011 from Weapons of Mass Creation on Vimeo.
"How do you react when someone says I want work that looks like Shepard Fairey's or Ed Hardy's?"
Bill responded by saying that usually, the case is more of "Make it look like Affliction or Tap Out" — it made me cringe to think about a request like that. Steve said that he has actually gotten the opposite request of no Affliction look, or no wings in the illustration. Steve's solution for such a request was to simply do 'your take' on 'that look'. Also, never be mean about it, but just push originality and your skill set to the client as much as possible. Saying "They did this, lets make you better or different than that."
Bill gave a great insight about the fruitlessness of copying some other style, at the end of the day its not going to look as good, and probably is just going to look like what you draw anyway. It's more important to be transparent about your skill set and say, "This is what my style looks like," and if they don't care for it, then you can redirect them to a friend or coworker with a different style. Bill talked about the importance of bringing the client along for every step of the illustration, making sure it's what they want before you go ahead and fully render and complete it.
Bill then briefly touched upon consistency of branding, a point I found very important. If you are an individual designer or illustrator, with a business, t-shirt line, fine art career etc., it is important to brand them all the same because there is only so much time you have for branding, and it lets everyone know that you are doing all of these different projects. Sell yourself as an artist.
An audience member then asked about boredom, and how they deal with it. Humorously, Steve gave an anecdote about a recent project illustrating a t-shirt with skulls and roses where he felt burnt out.
"I didn't want to say I'm so tired of skulls, but there is a check coming, so I have to push through."
Steve gave the advice of looking at many different types of artists in order to get inspired for your own type of work.
Bill confessed his emotional feeling about illustrating has ranged across the spectrum from loving it to never wanting to touch it again. He gave the example of it being like a relationship you have to work at in order to gain success with. That's just the way it is. You are never going to feel great about anything 100% of the time.
Bill then again discussed reoccurring style and how it relates to branding yourself. The people that get the most work and remembered are those that have a distinct recognizable look to their work. From a business aspect as well as a recognizability aspect, if your style is always different you won't be as recognizable.
Bill finished the talk off by telling the audience to find time to draw every day, and that he finds time at the office to do illustration because he knows it will get them more work. Explaining further, he said that sometimes he sacrifices high pay for illustration work at Go Media because they want to work on them. This is beneficial because it gets them better clients on their résumé, better projects in the future, and portfolio pieces. I felt like this was important advice to take on as a young designer/illustrator that is constantly taking projects for lower pay, and free in some cases while I'm in school. I know in the end it will pay off, get me more exposure, and diversify my portfolio. This same sentiment would be reinforced by many of the speakers at WMC.

Listen to the Talk
As I watched every talk, I kept Garage Band open on my MacBook and recorded everything I could. So the quality of the mp3 below may not be the best, but you can get an idea of what it was like from my perspective in the front row. Bootleg version!
[download#74#nohits]