Articles by Month:
December 2015
Jewelry Brand and Packaging Inspiration: Bunny Paige by Go Media
Every day here at Cleveland graphic, web and logo design firm Go Media, my understanding of what this company does grows. And everyday I am amazed by what we accomplish.
I am lucky enough to have my hands in much of the company. I work as social media manager, on Mockup Everything, Shirt Mockup and the Arsenal, as well as Weapons of Mass Creation Fest. My duties, however, lay outside the design services side of Go Media – so I view it from afar and admire it from the outside. The past couple of months, however, I was treated to a view from inside the world of design services.
I was able to be a part of the Bunny Paige Branding Process.
Bunny Paige Rebranding
Bunny Paige, a handmade jewelry and accessories company from the heart of Cleveland, reached out to Go Media to help fine tune the company's current brand. Owner Lauren Tatum and her team have done an amazing job of building brand recognition and gaining loyal fans. Now that the business has successfully grown, Lauren is ready to take the brand to the next level. The goal of the project is to refresh the current identity to create a more sophisticated, refined, and professional brand.
Here's what she came to us with:
A huge fan of Lauren Tatum's jewelry line, Bill and Lauren here at Go decided to pull me in to the project. After all, I have an investment in Lauren's brand and obsessive knowledge of all things related. (Think Tokidoki, Japan, Kawaii, skulls, loads of sparkle!)
Let's Rebrand!
Kick-Off
First, we met with Lauren to nail down her needs. We had a lively kick-off, where we got down to the nitty gritty with Lauren. We learned about the inspiration behind her intricate designs, where she came up with the name Bunny Paige (her childhood nickname), the incredible audience supporting her, and where she wants the Bunny Paige brand to go.
Lauren also shared her Pinterest board with us, which gave us a feel for her aesthetic – some textures she enjoys and her dream packaging.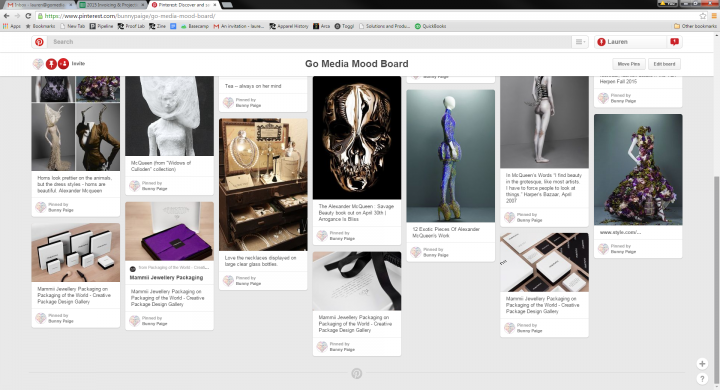 Brand Direction
The meeting with Lauren was enlightening and exciting for all of us. We were ready to get down to business. The next step in our process was the brand direction included in Lauren's package – a proof including thoughts and visual examples to explain the ideas behind the aesthetic.
I immediately got down to business to compile this style board. The images I pulled together emphasized the sense of dimension we wanted to bring to the Bunny Paige character – as well as the color and texture we imagined playing with.
Design Exploration
The style board was sent to the client, who gave an enthusiastic thumbs up. This cued Bill, the designer on this project, for take off. Bill referenced the style board when creating Lauren's logo. He also contributed his own very specific ideas to the concept. So, off he went.
Design Refinement / Feedback
After cautious exploration and illustration, Bill sent over his first round of proofs to Lauren for her feedback. This included a logo redesign, type treatments, logo/type lockups, color scheme + textures, rabbit head (logo) redesign with color scheme and textures, business card design and gift bag design.
Feedback Round Two
Lauren was thrilled about the direction Bill was headed in, but had some feedback regarding the proofs. We decided to get together for another face-to-face meeting for so that we could clearly communicate what she wanted to move forward with and what she would like to see modified.
Lauren loved elements of Bill's design, including –
The tuft of the rabbit's ears
The small stitching of the rabbit's mouth
The oval shape of the rabbit's face (option 2)
The chosen color schemes
The fonts
Here is what Lauren wanted Bill to further explore:
Harder textures
The angle of the rabbit's face
The emotion (or lack of emotion) the rabbit may project upon the viewer
A cat eye shape
With that, Bill got back to the drawing board with much enthusiasm. Here he is seen trying to focus on the direction of the cat eyes shapes Lauren was referring to.
After working up about 20 new and different looks, narrowing those to about 10, then 3 finalists, Bill put the new eye shape in a new and improved face shape (akin to a masquerade mask motif), added a new nose and POOF! Magic happened!
A Few More Revisions!
Bill continues to refine the bunny and font, according to a few more bits of feedback. Here are his next round of revisions –
Getting Close!
Lauren's last email proved Bill's design almost hit the mark. A few emails back and forth lead to final revisions, which include the final touches – smaller cheek bones, slimmer eyes, modifications to the chosen deco type treatment. New textures also emerged.
Final Design Approval
We were so thrilled when Lauren gave us final approval on the designs. She wrote, "I love it ALL! The font, logo, texture – they all feel cool, cohesive, and very Bunny Paige. I'm so in love with how this whole process turned out! :) Thank you so much for all of your hard work, dedication, and passion, Bill. You, Heather, and Lauren have made this whole process a really enjoyable and exciting experience and I sincerely can't wait to continue working with you in 2016!"
Last Stop…Pulling it all together!
Fellow Cleveland printing company, Jakprints, got involved to print Lauren's business cards. We also connected Lauren to local packaging company Tap to work on her packaging. Lastly, Lauren's business partner Dan integrated the logo into her website, bringing the branding process full circle.
Over the coming months, you'll see the branding process reveal itself, so stay tuned to Bunny Paige's official website and Instagram. Until then, here's a peek at the reveal!

To get the full Go Media branding experience yourself, please contact us!
Great Bouncing Icebergs!
Can you believe the year is almost over?
We've really enjoyed working with you, our clients, customers and new-found friends, throughout 2015 and feel incredibly grateful to have had the opportunity to do so.
Thanks to each and every one of you for inspiring our lives and work. Here's to new year filled with hope and happiness!
Ugly Sweater Mockup Template
We're really getting into the Christmas mood here at Go Media. How do we express that? We create an ugly Christmas sweater mockup template, of course! We want to spread some joy, so please spin some soothing holiday jams and download this freebie with a hot cup of cocoa in your hands. Enjoy it and have a wonderful, safe and happy holiday season.
Learn out our Arsenal Membership, which offers you unlimited downloads for only $15 per month. No, we promise it's not a Christmas miracle. It's real life.
Design Conference Podcast
In this edition of the Go Media Podcast, we sit down with Todd Radom to talk about his extensive experience designing for the sports industry.
How to Use an Opacity Mask in Illustrator (A Newbie's Guide)
Hey Fans of Go Media's Arsenal, the best resources for designers on the planet. We're here for a quick guide to using your new Brink Design Co. Industrial Vector Brushes, just released a day ago! These 100 handmade vector brushes were created with an unparalleled level of detail, made using a variety of different mediums and techniques to give your work that dirty, grungy, industrial look so many of you, our loyal customers, have been requesting.
Hop on this train, as the pack is 21% off through Monday, December 21st. And these vector brushes are exclusive to the Arsenal, so you won't find this detailed work elsewhere
Or, if you love the Arsenal products in general, you could join our Membership and gain access to our huge product library ($10,500+ in products) for only $15 per month. No strings attached, cancel at anytime. And yes, we're totally serious.
———-
Now, let's get to the tip!
Skill Level: Newbie
Tools Needed: Cool Illustration, Brink Design Co. Industrial Pack and Adobe Illustrator
1. Install your Brink Design Co. Industrial Pack Vector Brushes (or, as I like to call, 100 handmade brushes from the heavens)
Instructions are included with the pack.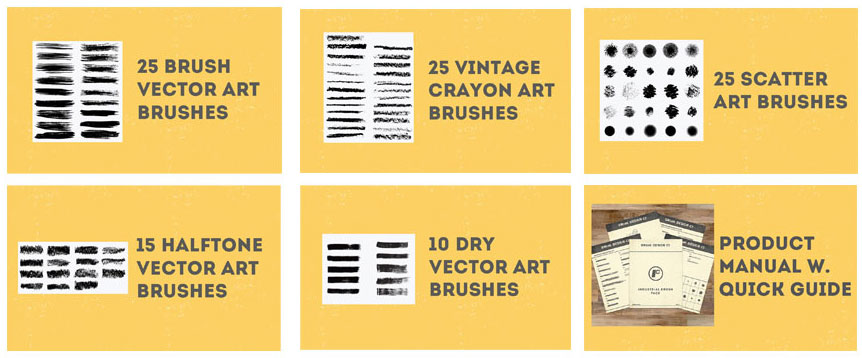 2. Open your illustration in Adobe Illustrator. We chose this cute little monster guy.
3. Start going crazy with some brush strokes. This is the fun part. Soak it all in.
4. Group your brush strokes all together. Ensure that your monster is left out of the mix.
5. Object > Expand Appearance
6. Using your Pathfinder Tool (Window > Pathfinder), select the first option – Merge
7. "Control C" to copy this element. Next, go into your Transparency Window. From the drop-down, select "Make Opacity Mask"
8. Click on the small black box within the window.
9. Click "Invert Mask" and BOOM.
10. Click on the masked area if you'd like change where your mask is placed.
11. You're done! We hope you've enjoyed this tip. Make sure to pick up the Brink Design Co. Industrial Pack and create something great everyday.
Categorized:

Illustrator, Tutorials

Tagged:

Adobe Illustrator, Ai, brink design co, design tip, how to, Illustrator, illustrator tutorial, opacity mask, tip, tut, tutorial, vector, vector brushes
Quotes on Authenticity, Creativity, and Kicking Ass…
Sometimes we all need that extra boost to inspire our work. Here are some of our favorite quotes on art, creativity, and authenticity. May they inspire some vulnerability in your day today!
"What would happen if we left our heart on stage every time we created anything? It's a bust your ass to shine, honest to a fault, no bullshit, zero apology performance. If you look at the work of some of the most successful people in the world, you'll see it as the undertone. It isn't just something they do, it's who they are. It's the kind of performance where your heart and soul bleed." — Srinivas Rao, The Art of Being Unmistakeable
"You can only become truly accomplished at something you love. Don't make money your goal. Instead, pursue the things you love doing, and then do them so well that people can't take their eyes off you." —Maya Angelou
"Nothing is original. Steal from anywhere that resonates with inspiration or fuels your imagination. Devour old films, new films, music, books, paintings, photographs, poems, dreams, random conversations, architecture, bridges, street signs, trees, clouds, bodies of water, light and shadows. Select only things to steal from that speak directly to your soul. If you do this, your work (and theft) will be authentic. Authenticity is invaluable; originality is non-existent. And don't bother concealing your thievery – celebrate it if you feel like it. In any case, always remember what Jean-Luc Godard said: "It's not where you take things from – it's where you take them to." — Jim Jarmusch
"Start copying what you love. Copy copy copy copy. At the end of the copy you will find your self." — Austin Kleon"
"I believe that you're great, that there's something magnificent about you. Regardless of what has happened to you in your life, regardless of how young or how old you think you might be, the moment you begin to think properly, there's something that is within you, there's power within you, that's greater than the world. It will begin to emerge. It will take over your life. It will feed you. It will clothe you. It will guide you, protect you, direct you, sustain your very existence, if you let it. Now, that is what I know for sure." — Michael Beckwith
"The advent of Google+ and the emergence of the personalized web means this is more true than ever. Brands, and their advertising partners, must wake up to this challenge and define themselves with clarity, consistency and authenticity. Otherwise they just might find themselves shouting in a ghost town." — Simon Mainwaring
"I cannot say this too strongly: Do not compare yourselves to others. Be true to who you are, and continue to learn with all your might." — Daisaku Ikeda
"You want to be popular? It's easy to do. Just be a total weirdo and love yourself for it." — Dan Pearce
"Vulnerability is the birthplace of innovation, creativity and change." — Brené Brown
"If you think dealing with issues like worthiness and authenticity and vulnerability are not worthwhile because there are more pressing issues, like the bottom line or attendance or standardized test scores, you are sadly, sadly mistaken. It underpins everything." — Brené Brown
"The keys to brand success are self-definition, transparency, authenticity and accountability." — Simon Mainwaring
"No one loves authenticity like a graphic designer. And no one is quite as good at simulating it." — Michael Bierut
What is your favorite quote on art, creativity, authenticity or building a life you love?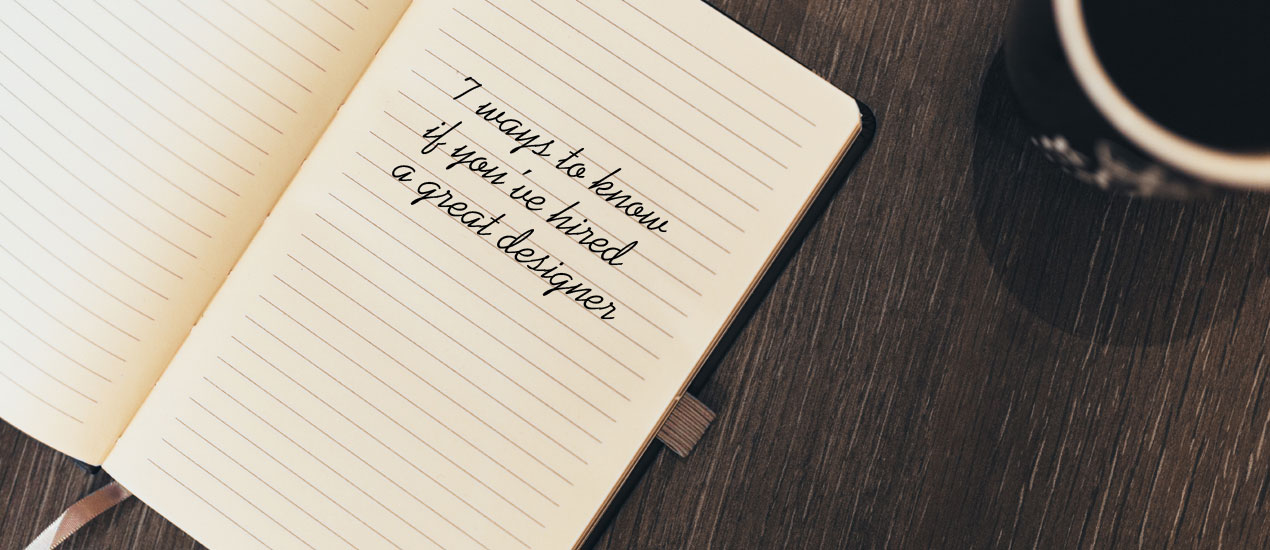 Looking to Hire a Great Designer?
You'll know you hit the money when you find they have these traits:
1. They have excellent use of color
After hiring designers online, I kept getting designs that felt 7 out of 10. I couldn't put my finger on why the designs seemed awkward. Eventually, I realized: The problem was the use of color.
Many self-taught designers skipped studying basic color theory. They didn't understand the importance of using an accepted color scheme structure (like tetradic or triadic) and sticking to it. Once a color scheme is chosen, all colors on your website- with almost no exception- should be inside that color scheme, or be a color derived from it, called a "swatch".
Before a designer starts working on a new project, I now always ask for the color scheme and explain that I'm looking for a good use of color. This is to ensure that the designer spends time thinking about color, and because related work (such as blog sites or marketing materials) needs to use the same color scheme.
2. They are likely not programmers.
It's nearly impossible for one person to be a master of both programming and design. There are exceptions, but it's extremely rare. Often, a good designer will have another person in their firm (or an external company) which converts their design to responsive HTML. It's important that they've worked with this person in the past so that they can vouch for their quality. I've found it's better and cheaper to use that combination, rather than have 1 person who does both. The reason: In this case, both parties specialize in a small area, and do it very quickly and professionally. A "jack of all trades" has not spent all day in PhotoShop, nor spent all day implementing the latest coding frameworks. He or she will be slower and lack quality in both areas; in my experience, project failure is higher in this case.
3. They openly admit when they are too busy.
When I pitch a project to a designer and they respond, "Sorry, I have too much work from other clients to make this proposed deadline," then I am 100% okay with that. It demonstrates that they are realistic and committed to quality. The worst is when a designer takes on too much work, and then returns garbage or is unresponsive to my emails.
4. They can work with a short deadline, but are brutally honest about what that means.
The best designer I know is someone I'd only hire under special circumstances. His work is incredible, but I can't use him for any of my projects, because he cannot work within deadlines.
I rarely have that advantage. When a project comes up, it needs to be out the door yesterday.
The best designers are ones who will be honest, and say, "Here's what I can do between now and then".
5. They are religious when it comes to choosing fonts.
The right fonts make a huge difference. I'm not sure how they do this, but the best designers have a knack for finding the perfect fonts to fit the feel of the page. It's also critical to ensure your front-end developer properly implements the fonts, using Google Fonts or possibly Cufon.
6. They add subtle details, and it makes the site better, not worse.
For example, if your business is selling nuts, then a great designer might add little squirrel characters in a subtle way. It's pretty hard to do this without ruining the site.
It's easy to make something plain with a simple "web 2.0" look. However, once you have a design that feels clean, but on close inspection, is quite detailed, you know you've found a great designer.
7. They admit when something is outside their specialty.
I once needed an icon done, and I asked my best designer to take on the task. He refused: "Icons are really hard, and not my specialty." That really impressed me. Sure, he could have accepted our money and tried to learn on the fly (as way too many contractors do). But that would have put our project at risk. I really appreciated that. In the end, we got a great icon done by someone who specializes in icons.
Extra tip: Conversion to HTML is just as important
There's nothing worse than getting a great design, and then having a front-end developer ruin it. This is extremely common. As I stated above, use someone recommended by your designer. Make sure that you see their work and test it in a tablet and mobile format, to ensure it's responsive.
What do you find to be great traits in designers you know? Please share in the comments section below!
By being named one of Inc. Magazine's 30 Coolest Entrepreneurs under 30, Zach Spitulski (Enplug) has been grouped with the likes of Mark Zuckerberg, Elizabeth Holmes of Theranos, Hayley Barna and Katia Beauchamp of Birchbox, and Drew Houston and Arash Ferdowsi of Dropbox. Not a bad crowd to run with, right?
So what is Enplug?
Enplug is a revolutionary digital signage software company. Because it uses a universal operating system and app marketplace, businesses can showcase engaging content real-time, integrating social media with ease. This means that businesses using Enplug can essentially turn their displays into a giant smartphone, making their content approachable, relevant, and engaging.
Go Media was excited to sit down with Zach, Creative Director at Enplug, to learn about how Enplug did it. What worked? What didn't? What tips did he have on becoming an entrepreneur?
Go Media: So tell us about how you started your Enplug journey:
Zach, Enplug: I was at attending UCLA at the time. I was on a Southwest flight (open seating) to San Francisco to see Pink Floyd–I tripped over a bag and ended up sitting next the the guy's bag that I tripped on. His name was David Zhu, an original founder of Enplug. I showed him some things I was working on at UCLA and he asked me to join his team. It was the summer between Junior and Senior year at school, I had to decide: school versus dropping out.
Go Media: So, goodbye UCLA?
Zach, Enplug: In school, I thought I wasn't doing enough. I remember being unhappy just doing school. I was preoccupied with wanting to do something else…something that utilized what I was capable of. I was always itching to do more. It was a simple decision for me–I just decided to believe. Convincing my parents that it was going to be okay was tougher.
Go Media: So, what happened next?
Zach, Enplug: UCLA ended up being accommodating and said I could come back if it didn't work out. So, I started working with Enplug. Through David, I met Nanxi, Enplug's CEO and Navdeep, but I call him Petey…Enplug's CIO. After I decided to leave school, we all pooled our cash and lived in Koreatown in a 1 bedroom. It was cozy living–there were 4 of us and an engineer. We worked the whole summer and then pitched to Start Engine.
Go Media: Out of all the incubators out there, why Start Engine?
Zach, Enplug: We applied to a few: Y-combinator and others, but Start Engine had Howard Marks. He knew interactive space and seemed savvy in the industry. We thought he would have the guidance and the opportunities to raise a good base.
…And he did. We moved out of the 1 bedroom at the end of 2012 and then rented a house in Bel Aire. It's actually the same house we still have. About a dozen people still live there, but now we have offices in Culver City.
In the beginning, we were trying to convince people to find organic growth. But now we're a leader in the space, especially in the LA space. We're very prominent, and it's really exciting to see. My friends, or even just other people will say, "Hey, I saw the Enplug software running here," to me most of the time. We're locally relevant with big goals. We're not just in LA–our software is used across the world.
Go Media: Let's talk more about your evolution of sorts–what are your company's goals now? Have you changed them since you started?
Zach, Enplug: When first started, we wanted to rework the space. When we looked at what the space was offering, it seemed prehistoric. "Where do we start?" Was our biggest question.
Well, we had to start over. "Let's rebuilt this," we thought. "Let's make it interactive, scalable, and reliable with a software development kit." Essentially, we wanted to show people we could tap into social media and make it work.
In that respect, we have similar goals. Now we're modifying our own product and making sure we stay ahead in the space.
Go Media: Let's talk about your team. It started with a small, core group, and now you have a team of over 50 people across the U.S, Africa, and Europe. How do you build a successful team?
Zach, Enplug: It starts and ends with the people. You have to trust each other. Honestly, you have to get along with one another. We're strong on having a good vibe. With David, I trusted him. I believed it. I was willing to take the risk. People who join now have the at similar trust and belief.
Go Media: So far, it all sounds like rainbows and roses. Let's dig deeper. Can you tell us about a mistake that you've made on your entrepreneurial journey?
Zach, Enplug: Personally, I always should trust my gut. A few times, I ignored it. Whether when I was hiring staff or a making a decision on the product–the decision seemed logical and rational, but my gut didn't like it. For hires, for example, there have been qualified hires with previous success at various companies. But my gut said that maybe they weren't a cultural fit. We've done it a few times, and it's always been a mistake and always causes more problems than it's worth. Trust your instincts.
Learn more about Enplug here and
connect with them on Twitter | Facebook | Instagram and Google +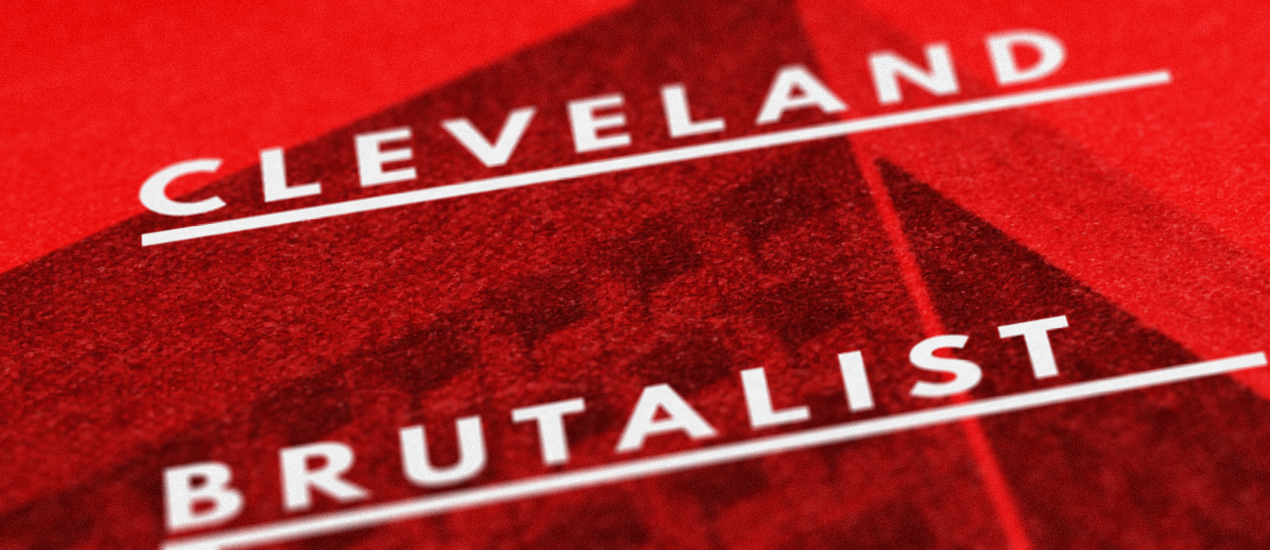 Conference Poster Tutorial
Hello there! It's Simon on this end of the keyboard. I'm very happy to make my return to the Zine with a poster design tutorial, that will explore the possibilities offered by Jason Carne's Texture Lot One. The tutorial will have us explore texture use tips and tricks, but also customized black and white conversion, large scale sharpening, type pairing, layout building, and more.
I'll be using Photoshop CC for the tutorial, but any version of Photoshop past CS3 should be fine. Note also that I'm working on a Windows-based system, but other than visual appearance and slightly different keyboard shortcuts, that will not have any impact on the process we'll go through.
Introducing Jason Carne's Texture Lot One
As the hero shot image tells us, the set contains 30 "finely crafted" textures, that will help us to give a wide array of artifacts to our flat, digital art. They come from a multitude of source material: burlap, cork board, a scratched cutting board, stone, and more.
The textures come in the form of high resolution, black and white textures.
The level of detail is superb, and gives us plenty to leverage to add substance to our compositions.
And one more for the road, just because we can.
Go pick Jason's Texture Lot One up now at the Arsenal!
The brief
Let's talk some more about the piece we're putting together here. It's a poster for a (fake) architecture lecture, focusing on Cleveland's brutalist landmarks.
What is brutalism? Glad you asked:
Brutalist architecture is a movement in architecture that flourished from the 1950s to the mid-1970s, descending from the modernist architectural movement of the early 20th century. The term originates from the French word for "raw" in the term used by Le Corbusier to describe his choice of material béton brut (raw concrete). British architectural critic Reyner Banham adapted the term into "brutalism" (originally "New Brutalism") to identify the emerging style.
So, what does a brutalist building look like? There's this amazing Tumblr called F**k yeah brutalism out there, and it'll help me to answer that question:
(Education Wing, Cleveland Museum of Art, Cleveland, Ohio, 1971 -Marcel Breuer & Associates – via)
(State Historical Center, Columbus, Ohio, 1970 – Ireland and Associates – via)
There is something monolithic, synthetic, and minimalistic at times.
Now, why choose Cleveland as the focal point of the fake lecture? It happens that Cleveland has its share of brutalist buildings. A 2007 article from the Plain Dealer lists the major local representative landmarks of the movement: Cleveland State University, Cuyahoga Community College Metro Campus, Cleveland Justice Center Complex, Crawford Hall (Case Western Reserve University), and more.
Assembling the free assets needed
It happens that there is a CC-licensed image of the Cleveland Ameritrust Building, one of these major landmarks, available on Flickr for us to use as the base of our poster. We'll need to grab the biggest size available (4028 x 2704 pixels), through the all sizes page.
Other than the high resolution version of the image, we'll also need to have two (free) typefaces accessible to us: League Spartan Bold, and League Gothic.

The last asset we'll need to have at hand is this beautiful, free aged paper texture, courtesy of our very own Dustin Schmieding:
Got it all? Then it's time to get started!
Preparing our Photoshop document
We'll use is a "standard" 18″x24″ canvas for our piece. For the readers outside of the USA, feel free to use an A3 format. Note the fact that we're using an RGB document, as some of the filters we'll use require that color space to function.
Next, we need to setup a grid. It'll help us when building the composition. First, we'll leverage Adobe CC's New guide layout functionality to build a six columns by 8 rows main grid (View > New guide layout).
The result is a grid based on squares of 3″x3″.
Note: if you don't have the CC version of Photoshop, you can leverage the power of GuideGuide to accomplish the grid-related tasks quickly. The current version isn't free, but older versions are.
The next set of guides are going to help us establish the boundaries of the center column. We need vertical guides at 4.5″, and at 13.5″.
Finally, we need horizontal guides at 11.5″, and at 12.5″.
And with that, our document is ready to go. It's time to get started for real.
The background
Background color
The first thing we need to do is give a solid color to our background layer. It's going to be the base for the effects we'll build up through the tutorial. We'll be using a very light gray, #ededed. If we were using pure white, the contrasts would be too strong, and some of the texture effects we'll apply later would be "washed out."
Photographic manipulations
Next, we need to place the photo in our composition. We'll place the photo as a smart object, in order to maintain a lossless workflow. It will also guarantee us access to the untouched original file. To do so, we have to use File > Place (or File >Place embedded in Photoshop CC), and navigate to the photo file.
Once the image is included in our file, we will give it its final positioning and size using the absolute positioning tools at our disposal. The center point of the image should be at X: 2.55″, and Y: 26″. The image is scaled up to 125%.
With that done, we need to sharpen the smart object, since we scaled it up. We'll use the high pass filter for that. The Zine archive features a short article about the technique already. Let's start by duplicating the smart object.
Next, we need to run the high pass filter (Filter > Other > High pass). We'll use a radius of 100 pixels.
The result doesn't look like much. To obtain the desired effect, we need to change the copy's blending mode to soft light @ 100% opacity.
Next, we are going to clip the copy to the original layer (CTRL/CMD+ALT/OPTION+G). This contains the high pass effect to the layer it's clipped on.
With that done, we can change the blending mode of the original layer to multiply @ 100% opacity. This will make the photo adopt the soft gray we've used as background color as its main color once we've converted it to black and white.
Black and white adjustments
Desaturating a picture IS NOT a proper way to convert it to black and white. We are going to use a black and white adjustment layer for that. The preset we'll use is called blue filter. Cyan, blue, and magenta hues in the original image will be light, while greens, yellows, and reds will be untouched or dark. For a higher contrast, the greens, yellows, and reds could be purposefully set to darker (using a negative value in the sliders).
The next step is a curve adjustment layer, set to the lighter preset. This allows us to soften the black and white conversion.
Finally, a levels adjustment layer allows us to push the contrast up.
It's time for some layer organization.
A hint of texture
We are going to add one of Jason's textures above the background. It will help us to generate a subtle grain effect. The texture is Corkscrewed – Light.
Go pick Jason's Texture Lot One up now at the Arsenal!
It's placed centered in our canvas, rotated of 90°, and scaled up to 225%.
After converting the texture layer to a smart object (Filter > Convert for smart filters), and sharpening the texture (Filter > Sharpen > Sharpen), we can change its blending mode to soft light @ 75% opacity.
That texture concludes our work on the background. Before switching gears and attacking the content columns, here's a look at our layers so far.
Content columns
Setting up the columns backgrounds
Back when we set up the grid, we created a set of special guides that we'll now use to delimit central column for our text. The column is split in two parts, one with a red background, and one with an almost-black background.
Let's start with the almost black. It sits at the bottom half of the canvas. Here's the area we have to delimit.
After creating a new layer, we need to fill it with a very dark gray, #040404.
Finally, the blending mode of that layer should be multiply @ 98% opacity. This will allow us to bring a hint of translucency in the shape.
The next shape will be its pendant at the top of the composition, and will be filled with a very bright red, #eb1d1d.
The blending mode of that layer should be multiply @ 50% opacity.
The shape's translucency is too high (we need to remember that it will be the background to text later on). In order to address this, we'll duplicate the layer, and change the blending mode of that copy to normal @ 50% opacity.
Layer organization
A quick note about layers, as we're about to add type elements in there. Here's what they should be organized into. The background elements have their layer group, and each half column elements have their dedicated layer group. From there, it'll be easy to add the type in the proper group, so everything stays organized.
It's time to talk about typography
As announced at the beginning, we'll be using two type families: League Spartan Bold, and League Gothic.

The main title
The main title reads "CLEVELAND / BRUTALIST / LANDMARKS," and is set in all caps League Spartan Bold, colored in #ededed, that is 48 points tall, and with tracking set to 250. Each line is its own text object, and they are aligned to the grid lines within the column.
In order to further ground the title element, we are going to add horizontal dividers underneath each line of text. The dividers will be colored in #ededed, and measure 6″x0.125″. The dividers are positioned underneath each text line, 0.125″ under the text line. We'll use shape layers to generate the dividers.
And here's what the layers look like.
Additional information
We are not creating a proper conference poster if we don't add the secondary information like the lecturer's name, a date, a location, and a URL. The information is broken down as follows:
"NOVEMBER 20TH 2015 AT 07.30 PM / CLEVELAND MUSEUM OF ART / A LECTURE BY DR RYAN G. BRAVIN / www.clevelandart.org"
The individual type objects are aligned in a similar fashion as before, on the grid lines. "NOVEMBER 20TH 2015 AT 07.30 PM" is set in League Gothic Condensed Regular, that is 72 points tall, colored in #ededed, and with kerning set to optical.
"CLEVELAND MUSEUM OF ART" is set in League Gothic Regular, that is colored in #ededed, that is 60 points tall, and with kerning set to optical.
"A LECTURE BY DR RYAN G. BRAVIN" is set in #ededed colored League Gothic Condensed Regular, that is 72 points tall, and with kerning set to optical.
Finally, the URL to the site of the Cleveland Museum of Art, www.clevelandart.org, is set in #ededed colored League Spartan Bold, that is 24 points tall. The text object is located at X: 9″, and Y: 22.8″.
Here's what the layer organization looks like:
And with our type in place, our piece is almost complete.
Now, it's time to layer some more textures to polish the piece!
Textures and artifacts
Here's a theory: one of the motivations to add textures to our work is to help us to add depth to our digital art, and to break away from their flat, clean, and precise origins. At this point in the process, the photo is pretty gritty, but the type above it is very clean. Adding more textures will allow us to weather that type and the column backgrounds.
The first texture we'll add is PackingFoam.
It's placed centered in the composition, rotated 90° clockwise, and scaled to 55%.
After sharpening the texture (Filter > Sharpen > Sharpen), we can change the blending mode to screen @ 15% opacity.
The next texture is the freebie we grabbed at the beginning, BB_AntiqueEnvelope_04.jpg.
It's placed at X: 18″, and Y: 19.9″, rotated 90° counterclockwise, and scaled up to 1,150%.
After sharpening, we'll use a clipped hue/saturation adjustment layer to desaturate the texture.
A clipped levels adjustment layer will help us to enhance the texture further.
Blending mode: soft light @ 35% opacity.
The next texture is from Jason's set, and is called Corkboard.
Go pick Jason's Texture Lot One up now at the Arsenal!

It's placed centered in the composition, rotated 90° clockwise, and scaled to 55%.
After sharpening, the blending mode should be changed to soft light @ 25% opacity.
The texture levels are coming together nicely. We've added grain, light noise, and small artifacts to the piece with a few layers of substance. Let's have a look at the layers before the ultimate polishing touches.
Last details
Lossless vignette effect
There is a way to create a lossless vignette effect in Photoshop, thanks to shape layers. The first step is to draw an ellipse that fits the canvas. It should be colored in #040404.
Next, we need to use one of the tools accessible via the direct selection tool (A), in the toolbar. It will allow us to display the ellipse inverted, getting closer to the vignette. Once the active tool is the direct selection tool, we need to change the path operation button's setting to subtract front shape.
The result is a very sharp edged ellipse, almost ready to be a vignette.
Next, through the layer's properties panel, we need to feather the layer mask to 350 pixels. This creates the fuzzy edge for the vignette.
Finally, the blending mode for the vignette can be switched to soft light @ 50% opacity.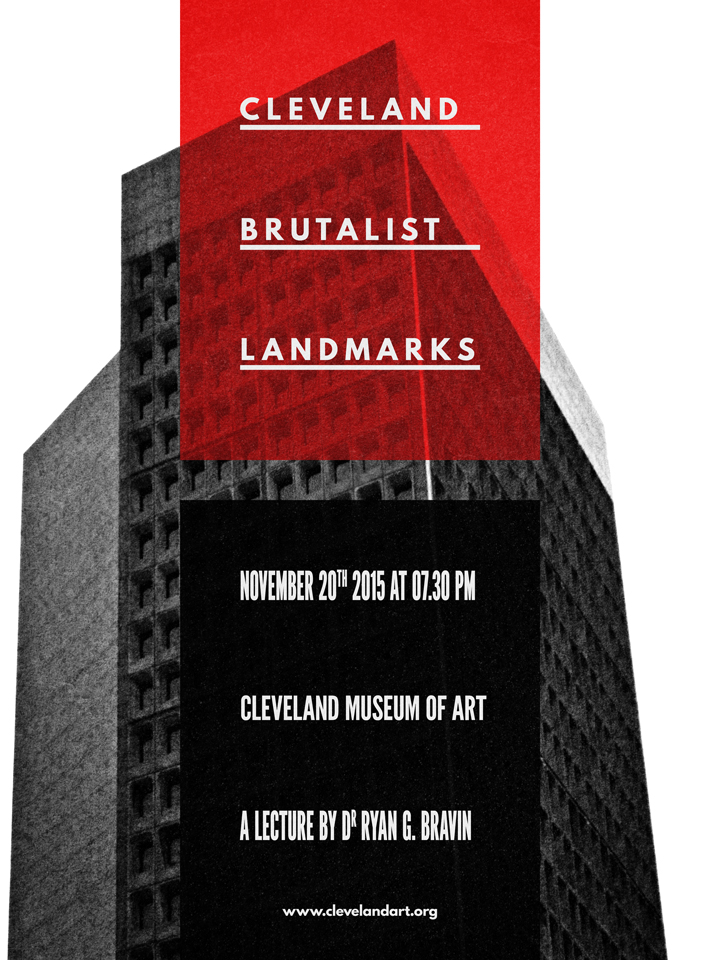 Last but not least: halftones
The last piece of the puzzle is a halftone effect. First step, to create a merged copy of the piece so far. We'll use the CTRL/CMD+ALT/OPTION+SHIFT+E shortcut for that. It'll create a layer containing a merged copy of the piece so far. I called it Halftones.
Once the layer is generated, it needs to be converted to a smart object.
After resetting the color palette to default (D), we'll use the filter gallery's halftone effect (Filter > Filter Gallery > Sketch > Halftone pattern). We're using a size value of 8, and a contrast value of 50.
Then, we need to change the effect's blending mode to soft light @ 100% opacity.
After that, we can change the layer's blending mode to soft light @ 50% opacity.
And our piece is now done! Here's a look at our final layer stack.
Wrapping things up
Phew, that was a long tutorial! I hope that you enjoyed it, learned a few tricks here and there, and that your outcome matches the goals you had at the beginning.
Did I leave anything unclear? Any suggestions? Don't hesitate to reach out in the comments below! I'll be happy to help out.
Mockup your poster using the free sample below from our Poster Mockup Templates Pack and please share your work with us in the comments, by tweeting at us at @go_media, or sharing them on our Facebook page.
Free Download: Free Poster PSD Sample from Go Media
If you already purchased Jason's texture set, I hope you enjoy them, and that this tutorial gave you a sense of what you'll be able to accomplish with them. If not, go grab them while they're hot!
Go pick Jason's Texture Lot One up now at the Arsenal!
And on that note, that's it for me! Until next time, cheers!
Categorized:

Go Media's Arsenal, Photoshop, Tutorials

Tagged:

architecture, brutalism, how to, Jason Carne, League Gothic, League Spartan Bold, Photoshop, poster, poster design, SBH, texture, The Shop, tutorial