Try this Opacity Mask Tip with your New Vector Brushes for a Tattered, Torn Effect
How to Use an Opacity Mask in Illustrator (A Newbie's Guide)
Hey Fans of Go Media's Arsenal, the best resources for designers on the planet. We're here for a quick guide to using your new Brink Design Co. Industrial Vector Brushes, just released a day ago! These 100 handmade vector brushes were created with an unparalleled level of detail, made using a variety of different mediums and techniques to give your work that dirty, grungy, industrial look so many of you, our loyal customers, have been requesting.
Hop on this train, as the pack is 21% off through Monday, December 21st. And these vector brushes are exclusive to the Arsenal, so you won't find this detailed work elsewhere
Or, if you love the Arsenal products in general, you could join our Membership and gain access to our huge product library ($10,500+ in products) for only $15 per month. No strings attached, cancel at anytime. And yes, we're totally serious.
———-
Now, let's get to the tip!
Skill Level: Newbie
Tools Needed: Cool Illustration, Brink Design Co. Industrial Pack and Adobe Illustrator
1. Install your Brink Design Co. Industrial Pack Vector Brushes (or, as I like to call, 100 handmade brushes from the heavens)
Instructions are included with the pack.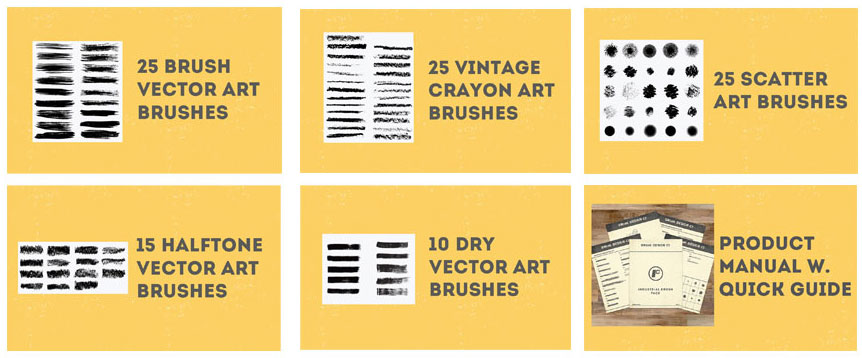 2. Open your illustration in Adobe Illustrator. We chose this cute little monster guy.
3. Start going crazy with some brush strokes. This is the fun part. Soak it all in.
4. Group your brush strokes all together. Ensure that your monster is left out of the mix.
5. Object > Expand Appearance
6. Using your Pathfinder Tool (Window > Pathfinder), select the first option – Merge
7. "Control C" to copy this element. Next, go into your Transparency Window. From the drop-down, select "Make Opacity Mask"
8. Click on the small black box within the window.
9. Click "Invert Mask" and BOOM.
10. Click on the masked area if you'd like change where your mask is placed.
11. You're done! We hope you've enjoyed this tip. Make sure to pick up the Brink Design Co. Industrial Pack and create something great everyday.