Articles by Month:
November 2015
Time taken: 1 hour 10 mins
Difficulty: Beginner to mid-level
Resources used: Blobs font
The assigned project was to create cool and fun gig poster prints for a student union nightclub event – a big campus shindig before the kids go back for the holidays. Out of ideas and inspiration, I thought I'd raid my sketchbook for inspiration – something that I often do when faced with designer's block. I happened upon a couple of doodles and sketches that I figured would be ideal for a winter, holiday design with a bit of an edge to it.
A few character sketches that I figured would make fine subject matter –
The doodle that gave me the main idea for the piece –
After scanning the sketched page, I brought the first sketch into Photoshop .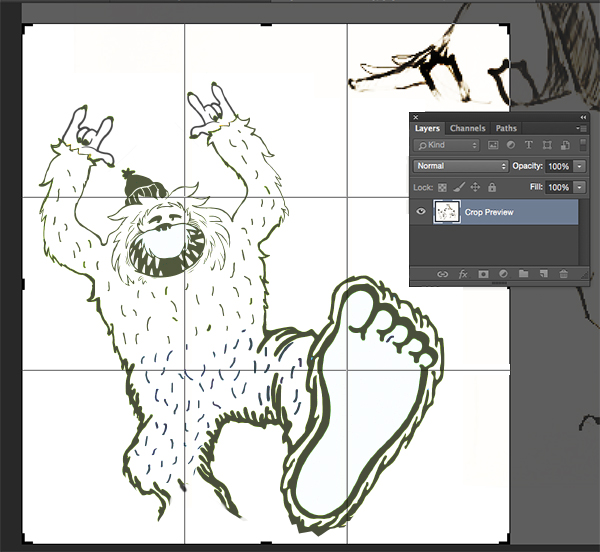 I cropped the scan, selecting the character I wanted to use.
I painted out the unwanted areas, cleaning up any loose pixels. Using the (⌘M, Ctrl M) curve function, I created contrast and more consistent blacks, while whitening the negative space.
I opened up the doodle sketch in Photoshop and repeated the curve clean up of the scanned image (⌘M, Ctrl M). I then created a new work path (path menu, new path) and pathed out with the pen tool (Option-click + P, Alt-click + P) the specific area I wanted to use.
After selecting the chosen path layer (path menu, make selection, "0" feathering) I cut and pasted this path into my original scanned layer.
After joining the two sketches into one file, I applied a darken mode (layers menu) on my overlapping layer. I then used the eraser tool to notch out some of the pixels to join the two sketches together.
To prepare the sketch for Illustrator, it was important to close off any open pixels.
Choosing the brush tool, I meticulously closed off any open areas. Once this was completed, I merged all layers (⌘E, Ctrl E)
The next step was to bring the cleaned-up file into Illustrator. After creating a new file in Illustrator, I pasted the sketch image into my workspace and using the live trace function (choose "image trace" in head menu) I chose the "3 colors" setting. I chose this because although it picks up the odd gray areas in a black and white image, it recognizes details that default tracing often ignores. In this sketch that was highly–contrasted, it generated a pretty even and solid image result and it wasn't difficult to tidy up the odd grey path at a later stage anyway.
(It should be noted, that the live trace feature doesn't work with all sketches and it's sometimes better to path out the sketch, this particular sketch happened to be pretty "loose" and "sketchy" in appearance anyway, so it lends itself to live tracing, plus I made sure that it was correctly prepped for live trace in Photoshop.)
Once the sketch had finished tracing, I expanded the object and fill (object, expand, expand appearance).
Once the file had been expanded, I went into the image with my Direct Selection Tool (A) and deleted the background white and inner-white areas (for the purposes of this tutorial, I have illustrated this using a grey background).
After taking out all unwanted white areas, the sketch was ready for more detailed clean-up. The image actually required little clean-up. There were a couple of paths that needed closing and merging but no need for anything super-accurate due to the sketchy nature of the artwork. To clean up the missing line-work on this sketch, I used my favorite brush the "blob brush" to replace any incomplete and broken lines with clean black lines.
With all paths closed, it was easy to select areas with the Direct Selection Tool (A) and fill with a specific Pantone color (swatches, open swatch library, color books, Pantone + CMYK Coated).
Upon completion of the character coloring process, I created a new layer and drew a rectangle (M).
Using the eraser tool (Shift+E) and choosing a rounded shape, I notched out the rectangle to give it a "snowy" look.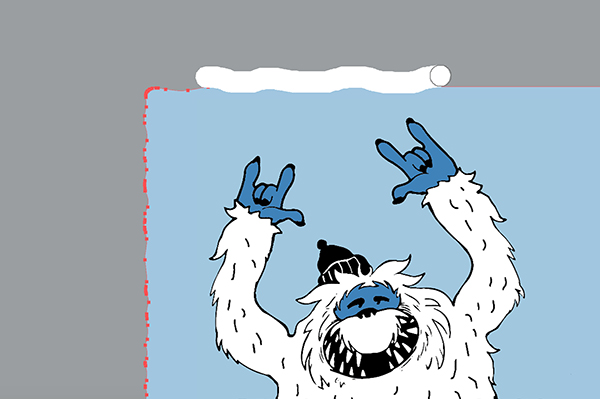 This is a very easy trick to do and creates a nice illustrative effect.
To add some snowdrops to the design, I selected my blob brush with a left- angled brush.
After adding some snowflakes, I went into the blob brush again, and selected the opposite brush angle and added the rest of the snowflake effect.
Getting to this stage of the design gave me a better idea of how I could integrate the copy. I think in design there's often a "natural order" when it comes to composition and by trying things out, opportunities for copy placement often arise naturally and without meticulous planning.
Having seen the design evolve, I also saw an opportunity to add some dynamic copy without having to resort to simply picking a font from a hat! So, I went back to the drawing board and sketched out some copy elements to place into the design.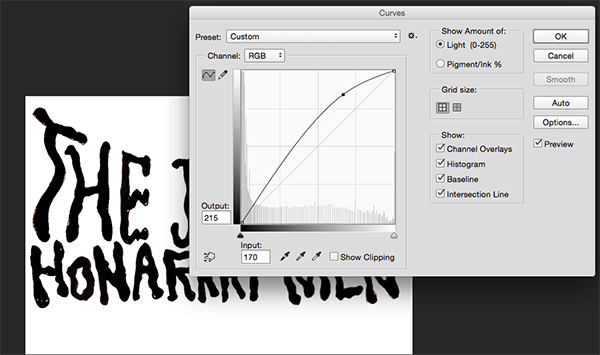 After scanning the design into Photoshop, I repeated the curve adjustment process to prep them for bringing into Illustrator.
I brought the copy sections into Illustrator and live-traced each one, expanding and removing the white areas.
I added color to the copy-shape paths and roughly re-sized it to fit the space, then repeated this process with the other copy elements
I planned this design to include copy in the central area of the composition. After discovering the perfect font online called "Blobs", I drew a simple curve shape with my pen tool (P) to add copy along the path.
Using the "type on a path" tool in the pen tool sub-menu, I added copy to the path.
After laying the central copy down, I used the pen tool to draw simple triangle shapes as word-dividers.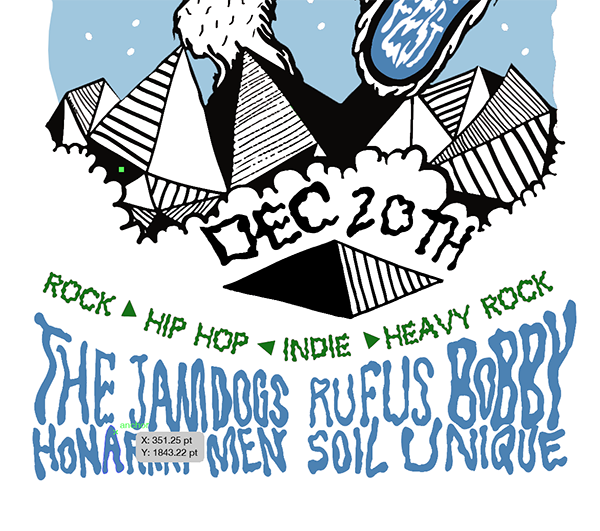 The copy was working out well, but I wanted the copy to fit the design shape better.
Using the free distort tool in the head menu (effect, distort and transform, free distort) I added distortion to the copy segments – expanding the appearance after each distortion (object, expand, expand appearance).
I repeated this process with other copy areas.
Once the main copy areas were finished, one of the final design touches was to add footer copy with social media info.
After creating the footer copy in white, using the Blob font, I copied and pasted the green rectangle shape I created earlier, transforming the scale and shape.
With the design almost complete, I just needed to add the club's logo to my design.
The design was complete.
A quick checklist I always make sure I do before taking the illustrator file to large format print:
Ensure that my artwork/artboard is cropped specifically sized for my poster requirements with plenty of bleed clearance around the edges between edge and artwork
Convert all font elements into shapes (object, expand, expand/fill)
Ensure all paths I want spot-colored are attributed a specific Pantone color (swatches, open swatch library, color books, choose swatch color specific to your printers requirements)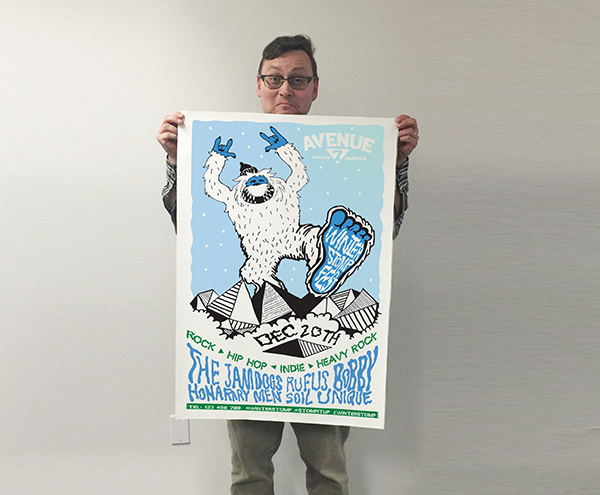 How the finished and printed poster design, printed for Roland DGA, looked.
Share your designs with us on our Flickr Pool Showcase and as always, feel free to leave any comments and questions below!
One thing I've come to learn about myself is just how easily distracted I can be.
Up until recently, I could barely continue to write a blog post without checking the email that pops into my inbox, or create header imagery without stopping to favorite a tweet from one of our Twitter followers. I used to think I was extremely efficient, always crossing tasks off of my checklist. But now I know that my scrambling was far from effective. I've found some better ways to drown out the noise. I hope they'll serve you well, too. (Please share yours in the comments below!)
1. Prioritize based on the big things.
Once you've recognized that you need to bring focus into your life, take a look at your responsibilities. What is highest, not on your small task list, but that list of annual goals you wrote – with high hopes – at the beginning of the year? Start restructuring your priorities based on these. Write your year's goals and post them up right next to your monitor. Now that you've reframed things, you may find a much more efficient way of getting those tiny tasks done. After all, those are the items that are getting in the way of leaving your job to freelance full-time (or whatever that dream may be).
Speaking of the little tasks, try David Allen's famous 'Two-Minute Rule.' When faced with a task that can be completed in two minutes, go ahead and complete it right away. The others can wait.
2. Block Out Your Next Day's Activities
Here at Go Media, we use Google Drive for everything. One productivity hack that has helped me tremendously is planning out my day the day before in my calendar. Something about creating those blocks makes me feel like I should stick to my word. Yes, it sounds obvious, but you can only roll your eyes if you stick to it. And bonus points if you stick to your plan and leave by 5:00 pm. (You need to go home and recharge).
3. Just Say No.
Bill, the President of Go Media, encourages us to jump out of a meeting if we're swamped with work or fighting a monstrous deadline. He respects us and knows we're serious when we do so. I'm not sure about your boss, but if you show her or him that you really mean it, it just may work for you too. The overall message is, dedicate time to what you really need to be doing. Time is money.
4. Vow to Respond to Email at only 1 to 2 points in the Day
As mentioned, I used to respond to my emails at the drop of a hat. I've stopped that. Unless something is incredibly urgent, I will wait until it's time to check – usually right when I get into work and mid-afternoon. This gives me more time to concentrate on bringing more success to our Arsenal, the home to the world's very best design resources (my goal).
5. Get in the Mood
My ideal creative environment and atmosphere involves a warm blanket, dim lighting and perfect Spotify playlist. The pen seems to flow most steadily from 8:30 to 10 am, when you can hear a pin drop here in the office. Where and when are you most creative? Capitalize on that.
This isn't always possible, so when you're not in your ideal environment, attempt to get back to that spot. I've found that some apps will help.
Turn off the Noise.
The very thought of using an online app to block distractions gave me a bit of a panic attack, but this is the very reason I needed it. If you're the same way, it's time to face the music. Try Freedom or Focus Booster.
Turn on the Noise…for a bit.
I manage our social media here at Go Media, so I have to spend time scouring the web for cool stuff, posting on Twitter and Facebook, tumbling, pinning, stumbling. I can't be forever blocked from the fun stuff. Using an app like Stay Focused keeps me on track; it gives me a start and stop time – then redirects me back to the rest of my daily work.
6. Jot Down Brainstorms for a Rainy Day.
While you're in no-distraction mode, head to a to-do app like Google Keep or Teux-Deux. If you're a blogger, like me, jot down at least one possible story subject a day. If you have a really brilliant idea and the ideas keep flowing, open up a Google Doc and begin your stream of consciousness. Allow yourself to write for a few moments and leave it there for a rainy day. These brainstorms will definitely come in handy on those days when distraction is at an all time high and we might otherwise spend a very frustrated hour staring at the screen.
Oh, and speaking of to-do lists, I used to think it was fun to keep a whole list of them, due to the joy of crossing them out. Then, I compiled a list like this.
Familiar?
This never-ending list completely overwhelmed me, brought me to a point where I didn't know where to begin.
In order to save myself from the to-dos eating me alive, I started following the 2 minute rule, mentioned above and began plowing through the tiny tasks during scheduled, short breaks in my day (usually around email-checking times).
So, those are my suggestions for bringing focus into an otherwise distraction filled day. What are yours? Please share with me in the comments section below. I'd love to add some new tools to my collection.
Free Fonts for Designers
Another free font post for my fellow font junkies. Shout-out to the artists who created them. And a note: make sure to check the licenses before using.
\
Improving Relationships with Clients & Customers
Whether you're the head of an advertising agency, the president of a design firm, or a freelance designer exchanging emails with a customer, you need to be educated in the world of customer service. After all, we are dealing with people – customers or clients – always. And whether we want to admit it or not, they're always keeping score. Their opinions can drive – or destruct – your business – so make it a global issue.
We talked with Zappos, a company who's rocking the customer service world, to see what lessons we could learn about improving relationships with customers and clients ourselves here at Go Media. Find their quotes throughout the article, as well as our thoughts on the matter below.
Be Available
Recently, we added customer chat to our sites – the Arsenal, Mockup Everything and Weapons of Mass Creation Fest. The ability to connect with clients, fest attendees and customers has been extremely refreshing and has conversions as well. The best part is being able to talk one on one with the people that visit our sites day to day. We learn more about who they are, what they are looking for and how we can fulfill their needs. This has taken a lot of the guess work out of the question: "How do we make our clients and customers happy?" Because, well, they can just tell us.
| We recommend Olark |
Ensure Your Entire Company is Focused on Customer Service
We've established the fact that customer service is at the very foundation of your business. It should not simply relegated to those folks answering the phones or on chat. Customers and clients do call or connect with other employees, you know. Gasp! Are those other employees equipped to serve your customers with as much knowledge, love and care?
Cassie from Zappos recommends, "1. Hire the right people – those that are in alignment with your company culture. 2. Train them well – make sure they fully understand and are immersed in your company culture and expectations of the culture. All of our new employees, regardless of dept or job, goes through 4 weeks of new hire training where they learn about our culture and what we mean by Delivering Wow through Service. Everyone learns how to do the job in our call center and takes customer calls. 3. Treat them like adults and let them do their job."
Integrate Customer Service into Company Culture
When your client or customer calls, or walks into your office, how will they know they're at ( > your office here < ) ? What will make your call, your visit stand out? Will it be the enthusiasm in your voice and sense of humor combined with your unparalleled customer service? Or the way you ask your customer silly questions to fill the silence?  Make it memorable, instead of as dry as when you call the cable company…
"Zappos customer service is all about the culture and the people who drive it. The idea is, anyone can be taught how to run a computer or answer phone calls, but we go through several interviews to make sure we're a fit with the culture here. Part of that culture is making the experience of contacting us more personable and not so robotic. We like to chat it up with customers even it doesn't have anything to do with our site, or products. We call it, the Zappos experience. We want to make customer feel good about contacting us and not the "Oh man, I gotta call the DMV" feel."​ – Miggs El Rudo, Customer Service Representative, Zappos
Encourage, Allow Time Personal Connection
Many times, customers feel rushed off the phone, client meetings are cut short. Cutting a meeting off at the end of an hour or hurrying off customer chat can be seen as cold, uncaring. What if you gave the other party the time they needed to be heard?
"We try to be more personable here so that we can connect with the customer a deeper level than just your average customer / rep relationship. We show empathy and are more caring. We try to relate to a customer on any level they feel comfortable with and often times, it ends in us sending them a card or small gift. We call it PEC, or Personal, Emotional Connection. For example, before I came to Live Chat, I answered phones. My longest call was 4 hours. This customer needed to swap out her jeans because the were too small. She was talking about how her husband was on her case about gaining weight and then I expressed to her my weight issues as well, and that was it. We just went on and on for hours.​" – Miggs El Rudo, Zappos
Call Them Before They Call You
Clients reach out regularly in order to see to it that their design needs are getting fulfilled. Customers call or chat to ask questions about a product, it's ins and outs, or with feedback. All of this is well and good. But being pro-active means you'll knock it out of the park. Call your clients and customers, from time to time, and with no reason or motive, to check in on them. Send them a holiday card or show up with a Valentines Day gift in hand. This unexpected call or visit will blow them away (and up your chance at return business, should you be upping your game all around – and we trust you are).
"At Zappos, we are empowered to make all decisions when we are assisting customers, notes Zappos customer service representative Pamela. "We have many gifts we can send customers for special occasions and just because. I have sent customers flowers for a wedding, sympathy and just for being a great customer and making a great connection."
Above all, connect with your clients and customers authentically and with kindness, and you'll be ahead of the game.
What are your rules for excellent customer service?
Social Networking 101
Even if you are living under a rock, you know that you can't escape social media. As a small business owner, you simply a) shouldn't live under a rock, and b) should embrace the powers that be…social media.
Networking via social media can be a tricky feat, however. You don't want to come off as a creeper. But how do you connect with people when you aren't face-to-face?
Facebook
Facebook may be the easiest place to start since it's a platform that most people are on. First, make sure you have nothing to hide on the platform (remove embarrassing photos, etc). Then, think of an influential friend you may have. We're not saying that this "influential" person needs to have 1000 friends. Instead, when we say "influential," we mean that this person shows meaning in a field of interest. Take a look at that person's friends (yes, this is stalker-esque. Deal with it). Do any of these friends show value to you in a business capacity? See if you have friends in common, and then, simply ask the mutual friend for an introduction! If you're feeling full of gumption, you can take matters into your own hands and message him/her. If you don't want to come off that strong, start interacting with the person of interest via their business page and see where that takes you. You should also take a look at the groups your influential friends have joined. Perhaps there's something that will resonate with you and help you with your networking journey.
Summary:
DO clean up your profile. DON'T post last night's escapades.
DO (lightly) stalk your influential connections. DON'T be afraid to ask for an introduction.
DO search for groups to join (via influential connections, a simple search, etc). DON'T join "Yelling at Inanimate Objects" or any other group with similar embarrassment factor.
LinkedIn
LinkedIn is the most traditional social networking tool out there. It's more formal than Facebook and, we find that people usually connect on LinkedIn only in a business capacity (whereas Facebook connections are usually much more social). Their groups can be extremely useful–you can search by keyword or even search for specific people. Join groups, soak up the wisdom within the groups, and start messaging people to see if you can connect in a business capacity. You can also play the "friend-of-a-friend" game mentioned in the Facebook blurb above. However, make sure you are making meaningful connections. Be prepared to explain why you are interested in connecting (i.e. do you research!). It also goes without saying that your profile should look and feel professional.
Summary:
DO create a professional, current profile. DON'T be as casual as you would be on Facebook.
DO utilize LinkedIn groups to network. DON'T join groups without understanding the group's dynamics, expectations, or purpose.
DO your research. DON'T randomly ask to connect with people.
Twitter
Twitter all starts with your bio–make sure it's crafted succinctly to demonstrate your rock-star status. Your business interests should be apparent. Make sure you are keeping your own content fresh, as people won't want to follow-you if you only offer stale nuggets here and there. We also recommend using a #FollowFriday, retweet often, and ask questions–these methods may help you get more people to notice you on what can seem like a deep abyss of information and contacts.Then, take some time to find the right people to follow. Start by using Twitter's own search platform–simply search for a person or handle! We also find that these sites to be helpful, thanks to the all-knowing people at Mashable.
Summary:
DO craft an amazing, compelling bio. DON'T try to be cute if cute doesn't fit your job description.
DO ask questions and seek advice. DON'T YELL FOR ATTENTION VIA CAPS DURING YOUR TWEETS or tweet the mundane.
DO find interesting people to follow. DON'T spam them by tweeting at them all day long, thus becoming the horrible "super-fan."
Instagram
Instagram has this awesome blog to help you figure out how to get oriented on this very visual (and awesome) social networking site. Definitely take some time to sift through their wisdom. Then, focus on using imagery to tell your story. Post imagery that helps elevate your brand and makes potential contacts want to know you. Follow relevant industry peeps, and unleash the power that is the hashtag.
Summary:
DO figure out what instagram is on a personal level before using it on a professional level. DON'T jump right in if you've never used it before.
DO treat Instragram as part of your social media strategy. DON'T simply treat it as a place for "pretty pictures."
DO utilize smart, effective hashtags. DON'T use endless hashtags that make us wish we had never found you on insta. #stopthehashtags #besmart #youcandoit
There are so many different social media platforms that can help you network–these are the top ones out there, in Go Media's opinion. Go forth and conquer! Still nervous? Social media is all about testing things out–so try a few things, analyze what you've learned, and then reassess your methods. Good luck!
Design Conference Podcast
In this edition of the Go Media Podcast, we sit down with Kimika Hudson to talk about how creatives can "thrive, profit and have fun by being themselves online."