Parafina Co. Interview
Who is Parafina?
Carlos of Parafina Co. is a longtime fan of Jeff Finley's book, Thread's Not Dead. Recently he reached out to us here at Go Media, and we were so impressed by what he's doing we decided to feature an interview with him, right here on the GoMediaZine!
Since he was a kid, Carlos of Parafina Co. has dreamt of that one project that would allow him to do what he loves, blurring the line between leisure and work. He'd like to find that balance. Parafina is the materialization of that feeling of cohesion.
Parafina has two distribution centers. The first one is located in Southern California (USA) and the second one in Southern Europe (Spain). He believes that creating eco-friendly products is the way to go. This is what he always wanted to do. To create quality, cool, and fun products with a strong meaning and a correct philosophy. He stands behind his products with pride.
The Interview
Go Media recently had the opportunity to converse with Carlos about his company and we would like to share it with all of you, our readers.
GoMediaZine:
Who are you and what is your company name?  Tell us a bit about yourself and your brand.
Carlos of Parafina Co.:
My name is Carlos Sáez but all my friends call me "Carletes". I'm working in a little startup called "Parafina". I didn't have any business experience with t-shirts. I spent nearly two and a half years doing a lot of research around T-shirt forums, bought a couple of books (yours was one of them), started a visual blog, made mood-boards, and nearly broke my head trying to create my own voice, style and story.  I was looking for something that resonated well with all the things I love and that people will connect with. I started selling at selected stores in California, just contacting them through email, being nice and polite and showing them some off the stuff I have put together. I try to tell a story of my love for the ocean and the outdoors, in a fun way and focus in hand drawn art, eco inks and organic garments. It has been a super fun and rewarding experience so far… Loving the community response, I am so thankful for that.
GoMediaZine:
What made you want to start a clothing company?
Carlos of Parafina Co.:
After I finished university, I got to travel the world with my back pack for almost 8 years (I was a judge in the kiteboarding world cup). It was a dream job especially the first 7-8 years… Then I fell in love and had to be away from her. I always had the idea of starting my own little surf/mountain/outdoors/travel inspired brand, and it was the right moment to follow that dream.  I am a hard worker, always put a lot of passion in everything I do, so once I decided to do it, I pushed as hard as I could to learn and bring the project to life.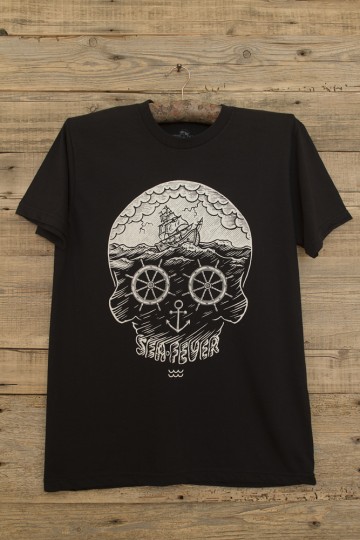 GoMediaZine:
In the world where everyone starts a clothing company, how is yours different?
Carlos of Parafina Co.:
I guess the coolest thing of Parafina is that each t-shirt has a story behind it. Each design fits into a bigger picture, a story of love for the ocean and the outdoors. I think consumers are demanding richer, more authentic connections to the products they use. That is what I expect from the products I buy, and this is what I try to deliver. I think the handmade and eco-friendly approach is really cool too. We are puting love into everything we are doing with the brand. I am really into less computer and more into artist hands on the designs. I think combining both with the right balance is the way to go.
GoMediaZine:
You said you read the Thread's Not Dead, how did that help or change your plans?
Carlos of Parafina Co.:
When you are starting you don't know where to look for answers. I noticed it was pretty difficult to get others to share answers and advice. I understand it now, it is a trial and error thing, you have to spend a lot of money learning the right steps. I was on IATT (IAmTheTrend) and I think I saw a link or something so I bought your book and it helped a lot, especially on the very first steps. Then you have to stop reading and start acting and that is where the real learning happens, because you have to go real deep into every step.
 GoMediaZine:
Launching a clothing brand is the easy part, how do you plan on growing your brand?
Carlos of Parafina Co.:
Once I decided to start the project, I started writing on famous surf websites and blogs for free, just to be able to get to know people, I have built a network of sites that are now helping to spread the word. Being in some of the best surf shops also helps, Thalía Surf Shop in Laguna Beach, for example. I don't make a buck out of that, but I see it as free advertising and brand recognition in some of the best alternative indy surf stores. I started not only with t-shirts and also got to make some other products that go hand-in-hand with the same philosophy the brand wants to share. Since our launch a couple of weeks ago, our facebook has gone from 150 (basically friends) to 800 people, and we have received a lot of emails saying hi, and telling us how they liked our vibe. Such a great feeling after all the hard work. At the end customers are our reason to be and who will make this succeed.
GoMediaZine:
What was the hardest or most challenging thing you've overcome thus far with your brand?
Carlos of Parafina Co.:
Every step has been hard, picking the name took me almost 2 years, I wrote down hundreds of names. And all the good ones were taken, when the name was available, the website wasn't. I picked "Parafina" because it is one word, because is easy to write and spell, because I like its sound and because of its meaning (surf wax in Spanish.) Also parafina oil is what you use as fuel for the mountain men lamps, so it has that connection to sea and land. Besides that, I think the financial part is the most difficult, at least for me. I like the soul and creative side and not so much the accounting side, but hey, this is business and you have to be good at everything so I had to work extra hard to get all the puzzle pieces together.
GoMediaZine:
What is your favorite part about your brand?
Carlos of Parafina Co.:
Creating concepts and ideas, doing the little details, hanging out with my customers to listen and learn from every single one of them. Above everything my favorite part is making people get stoked and happy.
GoMediaZine:
If there was one thing you wish was answered in Thread's Not Dead, what is that?
Carlos of Parafina Co.:
Overall, I think the book was really aimed at designers trying to start their own thing. Everything is told from a designer's point of view (I can understand it because you [Jeff Finley] are one of them). Maybe, it would have been good to outline how to deal with designers and how the process actually worked for entrepreneurs. But I found the 2nd part had a lot of the info that I was actually looking for as a entrepreneur. It's a good book and I recommend everyone who wants to start a clothing line to get it and study it.
GoMediaZine:
What kind of advice would you give our readers?
Carlos of Parafina Co.:
Research, all the time, everywhere. Make mood boards on Pinterest. Connect with people, get in the forums. Do your own thing, look for a style that is not overdone (this is actually very difficult and will take a lot of time) and the most important, read this post!
Parafina Co. Links