Articles by Month:
April 2019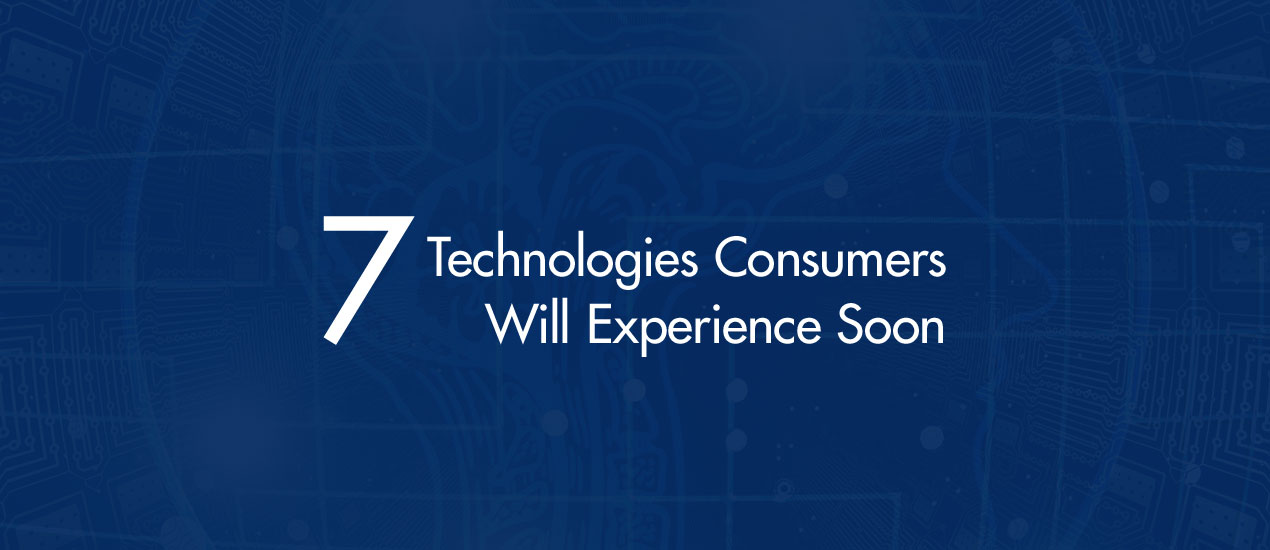 Technology has more of an impact on our daily lives than at any other time in history. Smart houses and smartphones are the first interactions most people have when they wake up and the last interaction they have before they go to bed. Doctors use technology for complex medical problems, teachers use technology in the classroom and businesses embrace new trends to attract customers.
The rise of the iPhone is an excellent example of how rapidly technology advances. Apple released the iPhone in 2007. At last count, 2.2 billion people own an iPhone just over a decade later. That is one little example of technology taking off and people embracing the smartphone.
In the coming years, some emerging technologies will become more common. Here are seven likely to take off and become a part of everyday life.
1. Speech Recognition
Speech recognition has advanced in the last few years due to the use of devices such as Alexa and Google Home, as well as advances in the way Siri and Cortana respond to voice commands. Consumers are already using this technology here and there, but expect it to become a more integral part of your day. There's no need to navigate to Amazon and click on an item to order. Instead, users will tell their phones or smart devices to place the order.
Speech recognition will start to appear in the ways we navigate our vehicles and interact with devices such as smart refrigerators and washers and dryers. Knowing how to program a device will become a thing of the past, as speech recognition advances and a simple verbal command makes technology work.
2. Cryptocurrency
You've probably heard of Bitcoin and other cryptocurrencies, but may not have used them. As business continues its march toward a global market, expect to see more and more use of cryptocurrency. Already, people are much more likely to use Apple Pay or a virtual credit card than cash. In a study by the German bank Bundesbank, researchers shared that for the first time in the bank's history, cash made up less than 50 percent of all transactions.
As more hackers perfect their skimming techniques, people are reluctant to use debit and credit cards for purchases. Cash isn't always convenient to have on hand, and it's bulky to carry around. Expect to see cryptocurrency rise, both for the convenience and the ability to use it across different monetary exchanges.
3. Driverless Cars
There is already quite a bit of buzz about driverless cars. Could the future of driving be one where humans don't even need a driver's license or the knowledge of how a vehicle operates? Fully automated cars would reduce traffic accidents, allow people to make better use of their time commuting to and from work and save money on fuel use. Liquid silicone rubber (LSR) is one area where advances impact the driverless car industry specifically. Autonomous cars use LSR parts while reducing the cost and increasing the performance of the vehicles. This tech will help make driverless cars affordable for everyone.
4. Artificial Intelligence
The driverless vehicles mentioned above may make you think about the novel-based movie I, Robot with Will Smith, where the computers try to take over the world — and the car he's driving in one scene. Advances in artificial intelligence (AI) mean there are fewer menial tasks for humans to do, and people can focus more on creative and management-based endeavors. Through 2020, expect to see a push toward transparency in how AI functions. People still don't fully trust AI — perhaps because of movies where computers turn on society — and developers are working to figure out how to expose the specific algorithms used for computer decision-making.
As people begin trusting AI more, the technology will take over more and more physical tasks. Although the day where a robot lives in your home and cooks dinner for you may be a decade or more away, the changes are coming. In the future, we may have everything from a robot nanny to a machine which cleans the entire house instead of merely a vacuum.
5. Internet of Things (IoT)
The Internet of Things is growing by leaps and bounds. A few years ago, the idea of connecting all our devices to "talk" to each other may have seemed almost impossibly futuristic, but today, the average home might have a smart thermostat and lights, programmed to turn on minutes before residents arrive home from work. Smart devices range from garage door openers to door locks to ways of interacting with your pets while you're away.
As 5G Internet speeds hit more areas and more devices enter the market, expect to see an expansion of IoT in nearly every field. One significant issue with all of these devices, however, has been that they all run separately, meaning users must keep track of a lot of different things. As Google Home and Alexa improve and expand which products they work with, expect automation of all devices to become simpler.
AI will also begin working with IoT so that devices can automatically set your preferences based on past behavior and best guesses. Imagine a day where you don't even have to set your coffeemaker to turn on. Why? Well, your smart home already knows you get up at 6 a.m. and sets the device for you.
6. Eye-Controlled Technology
Advances in facial recognition and eye-tracking software allow people to interact more easily with electronic devices. Already, the iPhone XS Max recognizes the user's face to open without using a passcode or fingerprint. The user looks at the screen, and the device unlocks, but only for the user through facial recognition. Expect to see more devices using this type of technology in the future. Imagine a car that's impossible to steal because the vehicle recognizes a list of pre-programmed faces before starting.
In the next age of technology, gestures and facial expressions may operate all types of devices, particularly computers and smartphones.
7. Smart Fabric
Imagine wearing a shirt which adapts to your body temperature, keeping you warm or cool based on comfort level. A team of researchers produced a wearable fabric with sensors embedded inside. Solar receptors could capture the power of the sun and heat the material on a cold day. Multiple sensors might track health metrics and notify someone before they have a stroke or heart attack. It could be used to better track the effectiveness of a workout.
The applications for smart material are limitless, such as bedding that maintains an ideal body temperature while sleeping and tracks sleep patterns. Smart fabric might help airlines ensure their passengers are more comfortable and alert flight attendants about any severe health complications, such as blood clots on long flights.
Impact of Technology
Changes in technology impact people's lives. As artificial intelligence advances, jobs will disappear — computers will replace people. Either new jobs that use more human intellect will replace old ones, or people will feel an economic impact. Freeing our time from menial tasks will giving citizens additional hours to read, study, learn new skills — or waste more time on social media than ever before.
Technology changes so rapidly that you may not even notice the shifts. Do you remember a time when you didn't carry your cell phone everywhere, and you went out to dinner with friends instead of sharing a photo of what you had for lunch on Instagram? Technology changes not only the physical aspects of life, but our social interactions. While most technology will make life easier, you must also be aware of potential negatives and work to counteract them for a fulfilling life.
How to launch and run a thriving design business has nothing to do with righting, write? Wrong! These days brand identity designers, logo designers, game designers, graphic designers, and even flash designers need to be able to spot the spelling mistake in the first sentence of this article. Designers can no longer be the master of their own dream world, where they choose and decide when, where and how they interact with the design project. It is highly crucial today more than ever that corporate design solutions align with client objectives from the largest corporation to the smallest enterprise. To become a successful designer, you must be able to cope with writing skills.
Why Writing is Important for Designers
Writing has its own worth regardless of the profession. From a technician to a designer, everyone needs writing abilities in order to communicate in a better way. However, for designers, it is far more important than just to communicate. Mentioned below are some of the reasons that elaborate on the importance of writing for a designer.
1. Writing Helps You Describe Your Design
"If you can't explain it simply, you don't understand it well enough."
Albert Einstein
Very often, designers are required to explain the perspective and intentions of their design. Failing in the practice can lead to an ultimate thought that designs are not intuitive. Excellent writing skills enable you to think as a writer rather than a designer, which could help you finding the lacks in design if any. Writers usually do not hesitate to point out when the designs do not make sense as it could lead to a wrong description of a particular design. Searching for the mistakes in your own plan will allow you to manage an improved outcome.
Simply, it can be said that writing skills for a designer not only help him with literature but also helps improve as a designer.
2. Content First Designs are Trending
Gloria Tillison – A front-end developer at Crowd Writer illustrates during a seminar,
"Designers need to realize that the market is competitive, and every single person is focusing towards SEO with their designs and contents."
She further said: "Content-First strategy is adopting widely in the world and we as a designer needs to cope with it as early as possible."
Words are powerful and essential in any content of the website which cannot be ignored at any cause. As Biz Sanford from Shopify content team explains,
"Words are essential for helping users accomplish their tasks, and by thinking about them while you sketch, you'll uncover problems early and be able to move faster later."
Consider this page, by designer Justin Jackson, puts on the importance of words in a webpage.
3. Writing a Better Title, Body & Meta Tag Improves SEO
A designer is always focused on the SEO of any site he is designing for. In this regards, different tags have their own role and importance. Every tag has some particular requirements as well e.g.
A good Title tag is below 60 characters and includes a keyword or synonym.

Similarly, Meta tag lies in 150 to 160 characters and of course with a focused keyword.
Sometimes clients provide you with these tags; otherwise, a designer himself put the efforts. Designers with writing abilities will not find it difficult to manage these tags.
Despite the fact, the body content is always provided by the customers. However, usually, they are unaware of SEO. Good designers take care of SEO by modifying the given content with little changes.
They might need to add some transition words, convert passive sentences to active, shorten the sentences' length and add focused keywords for better SEO and readability of the page. All of such work requires a good understanding of literature and excellent writing skills.
4. Sharing Your Ideas Help the Design Community
Many designers resist to share their work and have a feeling that someone may steal their idea or come up with a similar one. But they need to understand that what they have been creating is not coming all alone from their mind. There must be some inspiration and motivation from other works and designs.
Writing about your work, therefore, can be beneficial for you and others as well. It serves as the best tool to share your work and ideas which can help other designer feel inspired with and understand your design or your prototyping process.
5. Build an Audience & Start Business
With regards to looking for some kind of work, it can in some cases be hard to come up with new opportunities. Why not thinking about people coming to you rather than you approach them? All you need is to make it simpler for individuals to get an understanding of what you do and how you work. Writing allows you to do this efficiently through blogs, as it can enable you to build an online presence and become join communities to showcase your talent.
Once, you have developed your audience, it will be more convenient to launch your very own business. There are many businesses which were started just in a similar manner with writing blogs and building networks. They created their connections using their content, and people started recognizing them. So, this scenario is best for you to kick start a business when you already have a market and people know where to go for designing.
6. Let You Communicate With The Client In A Better Way
With the world being so fast, effective communication has become a primary skill to understand your client and make them understand your points. Since the market is growing vast, more professional seeking work and more communication happen in writing.
Remember the time when a confusing email from your colleague or customer left you uncertain, what to do with this. Such a gap in communication slows the process of designing.
Quick Tips For Getting Started With Writing
Now, since you are familiar with the necessity of writing for you as a designer, why not try some resources that can improve your skills. There are numerous tools and software that can help you to find a writer within you or assist you in different regards.
Grammarly: It is the software having several characteristics. It supports you to improve your writing by correcting grammar issues. It's premium features allow you to check for plagiarism if by chance your piece is duplicated. It also lets you check the work with human proofreaders.
AustralianMaster: This is a human proofreader and editor. It can help you check your written material for errors, may it be structural or grammatical. They will correct it for you and add value to your written piece.
Writing Ocean: One of the most enriched hubs with different kind of composition marks. You will find here the best dictionary, easy to understand grammatical rules and a lot more.
Accurate Cite: When you will start writing, you will realize the importance of referencing. Accurate Cite can help you understand all these rules and regulations in a free flow manner. It also provides you with automated citation.
MHR Writer: They have professional and skillful authors who can assist you in any every type of composition. They will help you to make your cover letters and resume which can get you more work.
These tools will surely help you to develop a better scripting ability to benefit from the facts that I have described previously.
Seeking employment in the field of graphic design? When you're looking for a new start, LinkedIn, Indeed, Simply Hired, Glassdoor, and Monster aren't your only options. There are several sites that can connect you to your next freelance gig or running into the arms of an agency that will appreciate your talents. But where do you start looking? We are here to help!
Here are some sites you may find helpful:
AIGA Design Jobs: Professional Jobs and Internships courtesy of our friends at AIGA.
AngelList: Positions offered by Tech and StartUp Companies
Authentic Jobs: Design opportunities for graphic designers, developers and other creative professionals
Behance: Design Jobs, Internships and Freelance Work
Coroflot: Jobs in the areas of Graphic Design, Product Design, Creative Direction and more
Creative Hotlist: A creative job-board featuring categories like design, illustration, art direction and more
Design Milk: Design, Art and Architecture positions
Dribbble: Jobs for Designers
Higher Ed: Graphic Design Faculty Positions
How Design: Graphic, Web and Interactive Design opportunities
If You Could: A site covering a myriad of creative jobs
Krop: A multitude of creative positions
Media Bistro: Creative Jobs in areas like Graphic Design, UX & UI, Video, Web Production and more
Smashing Magazine: Jobs for Designers and Developers
The Dots: Creative jobs covering a range of roles. Some prestigious companies list here.
The Drum: Jobs in Marketing, Design and Creative Position, as well as a range of others associated with this field.
For Freelancers Specifically:
DesignCrowd: Freelance Design Jobs in areas including logo & branding, web design, print design, graphic design, product & merchandise, art & illustration
Freelancer.com: Post your skills/capabilities and get hired.
The Creative Loft: A premium job listing website for jobseekers and professionals of creative industries.
Upwork: The largest & most trusted freelancer site. Post your skills and clients will find you.
Make sure to check out our other posts related to job hunting!
The Magic Element to Include in the Best Graphic Design Cover Letter Ever
An Open Letter to Student Designers
Please Avoid Making These Mistakes We Often See on Design Resumes
How to Land the Design Job of your Dreams
Graphic Design Portfolio Examples to Inspire You + Important Tips
How to Have the Best Graphic Design Portfolio on the Block: 3 Tips
Good luck everyone!
Determining Your Marketing Budget
Every business, no matter if it's a startup, a small business or a large enterprise, has difficulties setting aside a budget for anything, let alone marketing. The main reason is that you can never truly predict the exact amount of funds you'll need to invest in something important.
Costs may vary and unexpected expenses may arise practically anywhere. Therefore, you can estimate a best-case-scenario budget and set aside a bit more than you've planned just in case. But what about the digital marketing landscape today?
In 2019, digital marketing is as dynamic as it ever was. Technological and market trends still shape consumer behavior, which in turn influences how marketers develop their strategies, as well as their campaigns.
All of these activities can have an impact on your marketing budget. So figuring out how much and where to invest when it comes to marketing in 2019 may be a daunting task. With that in mind, here are a few ways you can determine how much should you budget for marketing this year.
How much do companies spend on marketing?
If you're trying to answer the question of how much to spend on marketing, the answer is always "It depends". Your goals may differ from other companies on the market, which means you may need to budget more or less on marketing efforts alone.
You can compare how much other companies spend on marketing, on average, in order to gain an approximate estimation of how much you should budget. As an example, here's average spending of companies on marketing in 2018.
Marketing budget as a percentage of a company's budget:
B2B product – 9.2%

B2B service – 8.9%

B2C product – 16.0%

B2C service – 14.9%
Marketing spending as a percentage of a company's revenue:
B2B product – 6.3%

B2B service – 6.9%

B2C product – 9.6%

B2C service – 11.8%
Invest in marketing research
Marketing research should be one of the most vital factors in your budgeting efforts. Research can help you determine the audience's preference, needs and expectations, as well as the trends they're currently following.
In addition, you can determine which marketing channels are best suited to your campaigns, as well as decide whether to consider both digital and traditional marketing in your campaign. Aside from all that, you can conduct a competitive analysis to determine which marketing efforts your competitors opt for and how much they're investing in their strategies.
Your marketing budget depends on the approach you'll implement, and research can help you develop such an approach. Even research requires investment, so it may be a good idea to keep the research budget separate from the marketing budget. That way you can clear out any confusion regarding spending and allow research to guide you in developing a budget for your marketing efforts.
Keep the cash flow positive
As mentioned before, digital marketing is quite a dynamic landscape. Things may change sooner than you think and they may change quite often. In such cases, additional and unexpected costs are quite common.
You may have to pour funds out of other business operations to make up for marketing costs that exceed your budget. That being said, it's very important to maintain a positive cash flow in order to avoid a negative impact on your bottom line. There are various ways you can maintain a positive cash flow, such as by reducing operational or overhead expenses.
Moreover, you can consider various debtor finance options, they can help you manage your accounts receivable and thus help you maintain a positive cash flow. The fact of the matter is that it's always better to have good financial health when unexpected expenses arise than it is to go into unnecessary debt to cover such expenses.
Consider return on investment (ROI)
Marketing efforts will eventually yield some kind of a return on investment. How much and how long that will take depends on the effectiveness of your marketing efforts. That begs the question of where to invest, in the first place. Again, that depends on your goals and what you want to achieve with your marketing efforts.
As an example, you should consider both digital and traditional marketing methods. In 2018, the majority of companies invested 42% of their marketing budget to online efforts. Digital marketing is oversaturated these days which leaves traditional marketing with untapped potential for ROI. In addition, consider both inbound and outbound marketing.
Inbound marketing, such as SEO (Search Engine Optimization), PPC (Pay-Per-Click) and social media may be more efficient at tracking ROI because you can use metrics to measure results from owned and earned media. On the other hand, outbound marketing, such as called call, trade shows and email promotions may be high-cost-low-gain efforts in some cases, but they may prove effective if your goals align with such methods.
Determining how much to budget for your marketing efforts can be a daunting task. However, if you make an effort to research relevant information, as well as leverage data from your previous marketing budgets, you'll be able to set aside enough funds for your marketing efforts in 2019.
Must Have Apps for 2019 to Download Before Your Next Trip
Seasoned travelers know you can do a lot of little things to make being away from home more comfortable. You can follow tips to pack lighter, such as rolling your clothes and using hotel laundry services and certain credit cards accepted everywhere. What you may not have considered are the apps you should download before your next journey.
Experts predict that U.S. domestic business travel will reach 483 million trips a year by 2020. By the year 2021, experts predict business travel spending will reach $1.7 trillion. If you aren't already traveling as part of your work, you're likely to at some point in your career.
Figuring out which apps are worth downloading and which are a waste of time isn't an easy task. Dozens of travel and business apps are available. We've done the work of sifting through them and figuring out which are most beneficial for business travelers. Here are seven of them.
Skyscanner offers a mobile app that allows you to sort through the different prices for flying to and from various destinations utilizing business class. Some airlines offer discounts at specific times of the year, so pushing your meetings a week or two out might save you as much as 50 percent or more on your business class fare.
The app also notifies you of any specials, helps you track which airlines have the best deals and offers a chart which shows the cheapest months and days to fly. If your company makes travel arrangements for you, you can still offer input to the assistant making plans by looking at your Skyscanner app for the best dates before asking them to book your travel.
Have you ever headed out on a business trip that ran a bit longer than expected due to intense negotiations or a sudden added meeting or two? In large cities, the hotel you were already in may be booked up for a conference or other event. There are times when you suddenly have to find a hotel room at the last minute.
Enter Hotel Tonight, a way to find a hotel in any city with a few filters. The app has a partnership with some of the best hotels in the largest cities. They offer their unsold rooms at a discount. You can book rooms in advance or look for something at the last minute. The app includes a full description of each hotel along with ratings from other travelers.
This app is the perfect tool for syncing your travel itinerary and work calendars. If you plan to do a little sightseeing at the end of a work day, then you can also plan side trips around important meetings, meshing the best of both business and leisure travel.
You can also share your itinerary through the app with your work colleagues, which reduces communication issues and keeps everyone informed of when essential meetings are on the schedule. This app helps keep you productive and on task while on your business trip because you see at a glance what's next in your planned day.
You might have some issues with actually converting your currency into foreign currency when traveling, including that there are only a limited number of banks which convert currency. Last-minute travel plans don't always allow enough time to convert. You may find yourself in another locale with different money than your country uses. However, in tourist-heavy areas, they will likely still take the United States dollar and other popular currency in exchange for goods and services.
Elk is a currency converter for those trips that take you outside of your home country. The difference between what your local currency is worth in another country varies daily. You can quickly see if you're being treated fairly and also being fair to others by using Elk to convert currency in real time. The app works with an iOS device and integrates with your Apple watch, putting information at your fingertips.
You may have some downtime during your business trips, so entertaining yourself is a vital part of travel. Watching videos is one way of keeping yourself entertained. Listen with headphones, and you won't disrupt those around you.
If you have a Netflix account, downloading the app is a must for any traveler. However, there may be times when you don't have access to cellular data. You'll want to download a few movies or episodes of shows to your app, so you can pull them up even without WIFI access.
When you do have WIFI access, your viewing options are unlimited. Remember that downloads take up space on your mobile device, so delete files after you've viewed them.
Google Maps is one of the top means of navigating in a car or on foot. If you're in an unfamiliar city, you can pull up the app and figure out what restaurants and stores are near your location and get walking or driving directions to the destination. The maps also integrate with Google Reviews, so you can see what others think about a particular establishment before frequenting it yourself as well as get price ranges.
Google Maps also offers stop-by-stop directions for local mass transit along with departure and arrival times for trains and buses. Never again will you feel overwhelmed by big city subway systems you aren't familiar with. You can pull up the app and figure out the best route to take along with where to get on and off transit.
One of the worst parts about business travel is keeping all those receipts and tracking expenses, so you can get reimbursed or prove your per diem. Fortunately, there's an app that simplifies the process of expense tracking.
The app is free to download. You take a snapshot with your phone of a receipt and describe the expense and submit a final report to your company when you're finished. Even if your company doesn't partner with Expensify, you can track costs for your records in case you accidentally misplace a receipt or to make your final report easier to pull together for accounting.
Be Choosy About Apps
The seven apps above represent some of the most useful ones we've found. While numerous apps for business travelers exist, be selective about which ones you use. The best apps serve a purpose by making your travel experience easier or reducing your workload in some way. Look for apps that expand communication between you and your home office or solve problems likely to arise while traveling.
Newly graduated? Actively seeking employment in the field? Super comfortable in your current position?
No matter what your status, the Go Media team suggests you regularly work to keep your design portfolio up-to-date.
Seasoned designers, we know that this task may seem daunting. However, in order to show beautiful work, you simply have to put the time in. Being methodical about adding work is far easier and more effective, in our view. Slow and steady always wins the race.
We have launched a couple blog posts about what your design portfolio should include. They are:
How to Have the Best Graphic Design Portfolio on the Block: 3 Tips and
How to Create a Graphic Design Portfolio 
Here are five of our most important tips.
Only show your very best work. Your portfolio should be well curated. Less is often more.
Cover all of your bases. If you have excellent work in branding, print, web, illustration, show us. Well-rounded designers are few and far between.
Tell us a story. We love case studies! Show us your thought process from start to finish. Include illustrations, notes and various rounds. Address failures & successes along the way. We love to see how designers move throughout the design process. No matter what the outcome, we will respect you for guiding us along your path.
Put as much time into your portfolio as you did completing the project. If you took eight hours to create a logo for a client, take roughly eight hours to work on that respective portfolio item. Dedicate yourself to mocking the logo up on multiple templates until they look perfect. Write, rewrite, proofread the copy to go along with your portfolio item. Construct a thorough case study as referenced above. If your logo appears in a store, restaurant or other location, go out and photograph it! Take time editing the photos so that they are professional in quality. Gather testimonials on your work if possible. Don't stop until you're proud.
Show that you can work with clients & meet deadlines. Students, this one is for you. If you have not yet had experience in the field, ask your friends and family if they need any design work. This will get you some freelance work in the door and show us that you have experience, no matter how minor, working for clients. Get ready to illustrate the work you've done in your portfolio, as well as discuss how you communicated with them and managed to meet important deadlines.
Here are some portfolios that have inspired us with notes about why we enjoy them.
Ekaterina Oloy
Los Angeles Based Illustrator, Artist and Visual Storyteller
What We Love: Katia's Portfolio is instantly spellbinding. Each project is accompanied by a full case study or accompanying materials that help you relate to Katia's
work. This is the standard that all other portfolio's should be judged against.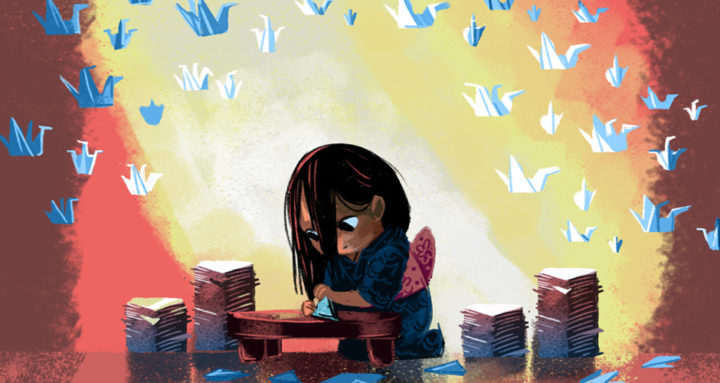 Skinny Ships
Design and Illustration by Richard Perez and Jennifer Derosa
What We Love: The cleanliness and fun spirit of the work. It makes you want to work with them.
Hom Sweet Hom
Hand Lettering by Lauren Hom
What We Love: High-quality, vibrant work that hits you in the face!
Great brand consistency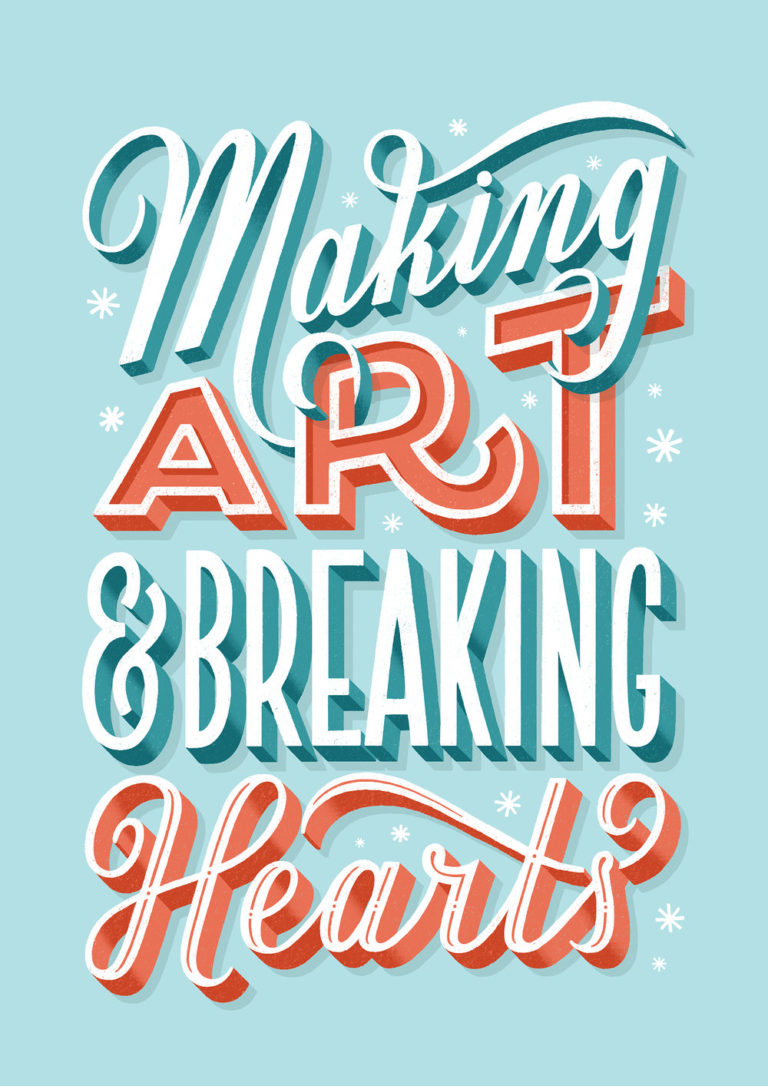 Ron Draper
Artist and Designer living in the UK
What We Love: Nice high-quality, bold imagery. Some portfolio items tell a story of Ron's process.
Jordan Metcalf Studio
South African Graphic Designer
We love Jordan's copy. As you know, we love a story and it gives more substance to his work.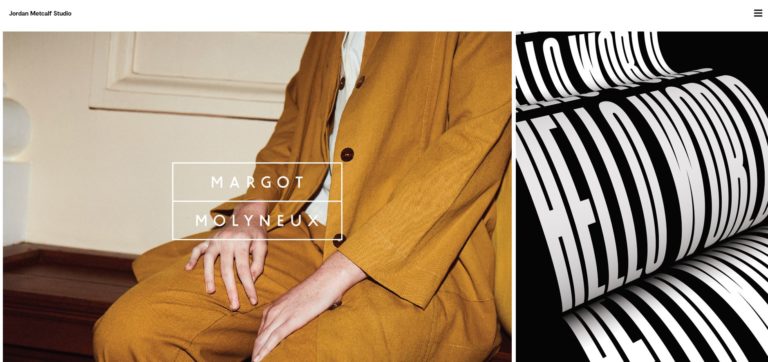 Chuck Anderson
No Pattern Studio – Chuck Anderson
Artist, Graphic Designer, Photographer, Creative Director
What We Love: Chuck's Portfolio is filled with over-sized, juicy imagery.
The quality of his presentation, in our opinion, is simply on another level.
Kate Moross
Designer
What We Love: Kate's bold and captivating presentation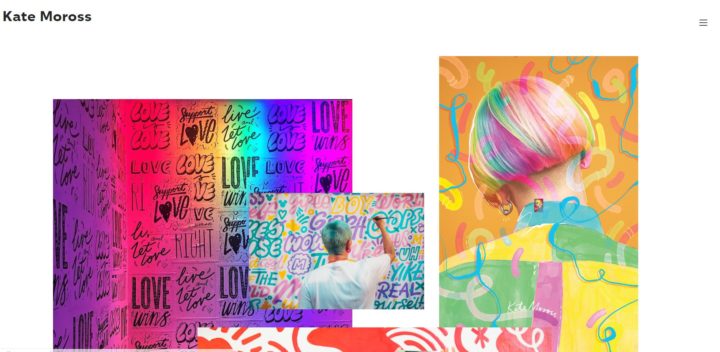 Erik Marinkovich
Lettering Artist and Designer
What We Love: Clean and crisp overall. The work is breathtaking! Copy is simple and straightforward.
Creative Mints
A Boutique Human-Centered Design Agency from Prague
specializing in Branding, UI and Illustration
What We Love: Creative Mints shows a beautiful variety of work in their portfolio
Go Media's Online Portfolio
We couldn't let you leave without bragging about our own graphic design portfolio!
Here at our Cleveland Graphic Design and Web Development Firm, we love showing off the work we do in the areas of not only design and web, but print, illustration and web marketing.
Our Rich Wonder portfolio item is a great example of one of our case studies. We used illustration to help us
explain our thought process through the project.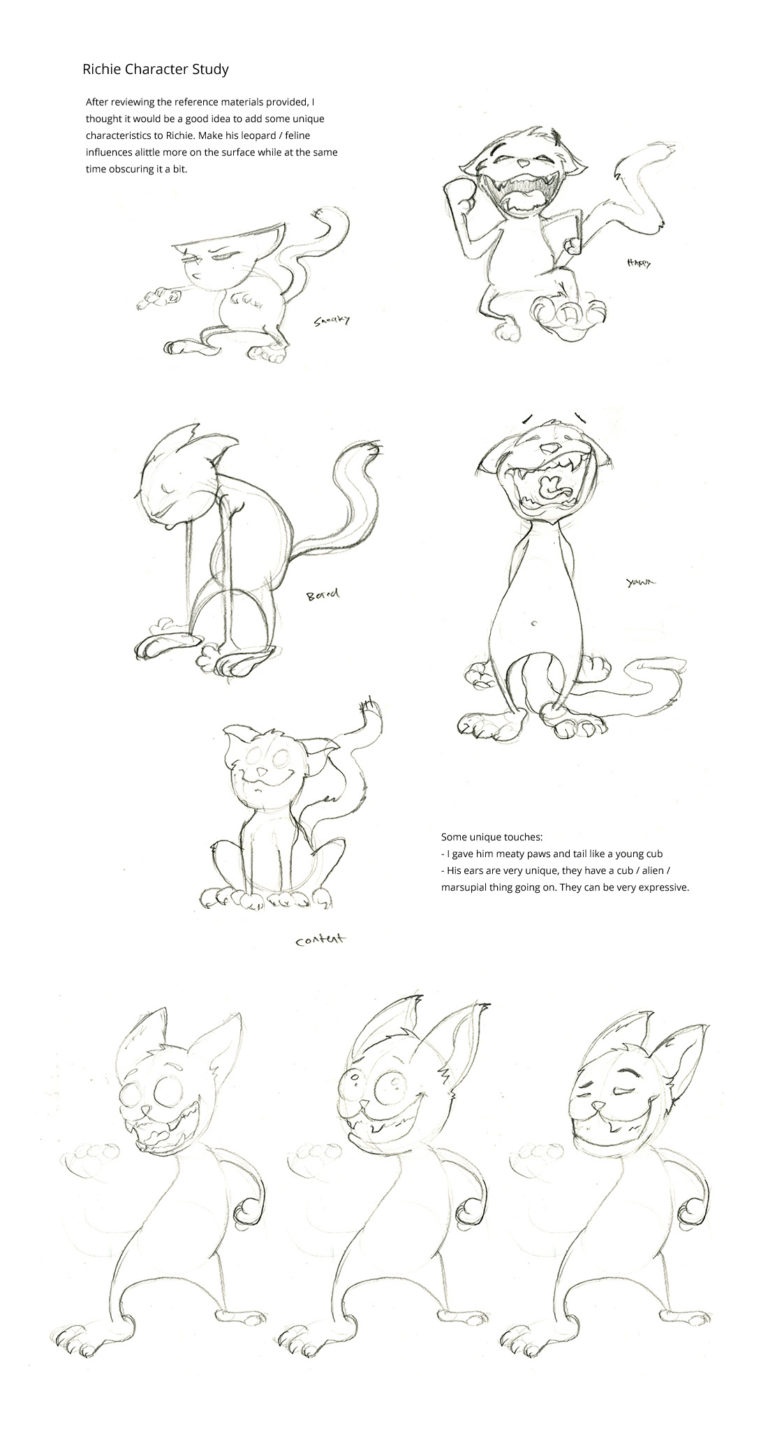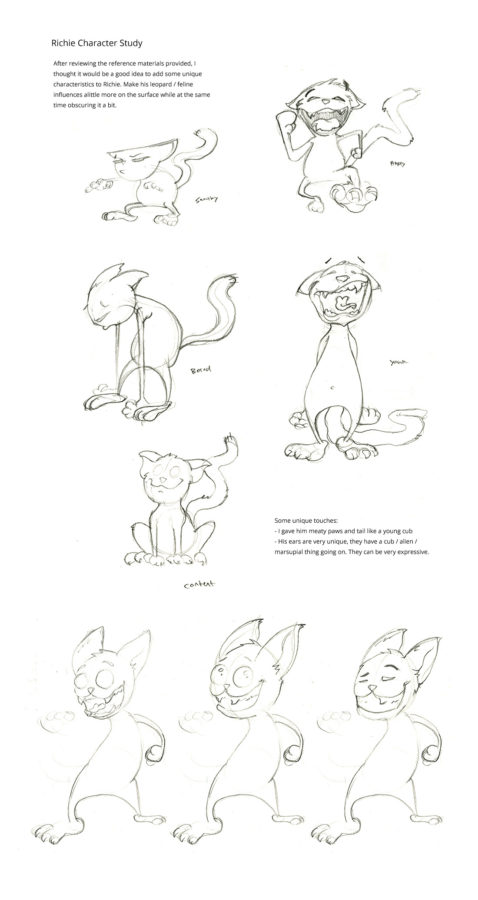 We hope you enjoyed this post and it inspired you to add to your portfolio today!
Remote Graphic Design Team Management & Collaboration
Sometimes it seems that everyone is working remotely these days. If you are a millennial, this is probably not news to you, but if you happen to be older and unaccustomed to working with a remote vendor, here are four suggestions that can make your project and management run more smoothly:
Set Expectations
Remotely produced or not, you want your stuff done on time, and it you have a serious hard stop, you'll need to communicate that early in the process. Make sure your team knows what you need and when you need it. Many remote designers are loaded with projects and will naturally give priority to those customers that express a sense of urgency. If a deadline is missed, be sure to let your vendors know that this can't happen again in the future.
Communication Preferences
Don't think that email is the only way you can communicate with your remote design team. Apps like Slack work great for some people, while others like a more intense project management app like Basecamp, for example.
While simple apps like Slack allow you to directly message your remote design team, more complex platforms like Basecamp will allow multiple people to work on your project and keep the current version available to everyone. Not having to email v.1, v.2 and other project iterations avoids the problem of different persons working on non-current project versions.
Set Communication Parameters
First, understand time zone issues. Many remote designers in India, for example, have a lot of U.S. based clients, and therefore they may have no problem working odd hours so that they can communicate with you at your convenience.
Other times, even in the U.S., someone working for you from their studio apartment in Milwaukee, Wisconsin may not be available at 8:00 a.m. Pacific Standard Time. You and your team need to set parameters for the most efficient and timely communications. Also, make sure you have an understanding about when emails will be returned. If you agreed to wait 24 hours before receiving an email reply, don't get hyper and send panicked emails if the proper time period has not elapsed.
Money and Payment
Ensure that you read any contract before signing it. Make sure that you own any of the design work that you are paying for, and that copyrights will be yours. (You may need to consult a lawyer about this issue.)
Agree upon a currency to be used for payment. Worldwide, most remote designers will accept U.S. dollars, but you may find one that would prefer a cryptocurrency like Bitcoin, so you should be prepared to understand how to buy and pay for items with it.
Do not deviate from payment terms that you have agreed upon, and if your remote designer asks for money earlier than what is spelled out in your contract, that could be a red flag. Also, observe all internet payment security measures, and never give anyone your social security number.
Working with a remote team can be great; just make sure you pay attention to the points mentioned above.
The 90's were a magical time – a time of the Docs, Game Boys, and the sweet, sweet sound of AOL dialing-up. As everything that was once old is new again, the 90's are making a come back.
Design trends from this era can be found in posters, album covers and fonts. As artist Dave Perillo has shown, even some of our favorite old friends are back in action. Deservedly so.
What about 90's design is worth reintroducing, you ask? We created a mood board of sorts to answer this question and hope it helps uncover the truth. Below you'll find 90's posters, graphics, album covers, products, and other elements that may inspire you to create your next design piece enhanced with 90's elements. We have arranged the elements in four categories. We hope you find this helpful. Enjoy!
90's Design
1 – Color like WHOA.
The 90's was at once a wave of color and a dash of grunge. But for this moment, at least, we are rejoicing in glorious brilliance of it all. Think Pretty in Pink (literally), color pops, neon lasers and this 90's cup design that kind of grows on you after awhile. Totally unapologetic!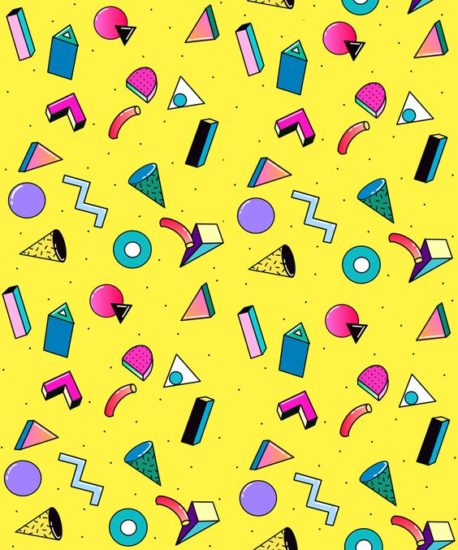 2 – Chunky Fonts.
If you take a broad look at fonts in the 90's, you will see a lot of thick lines and truly unique fonts driven by theme. Oh – and we loved a drop shadow!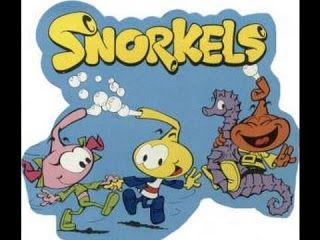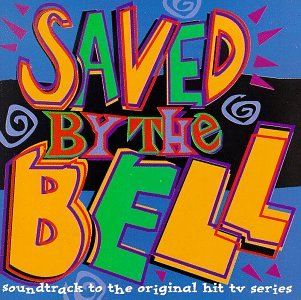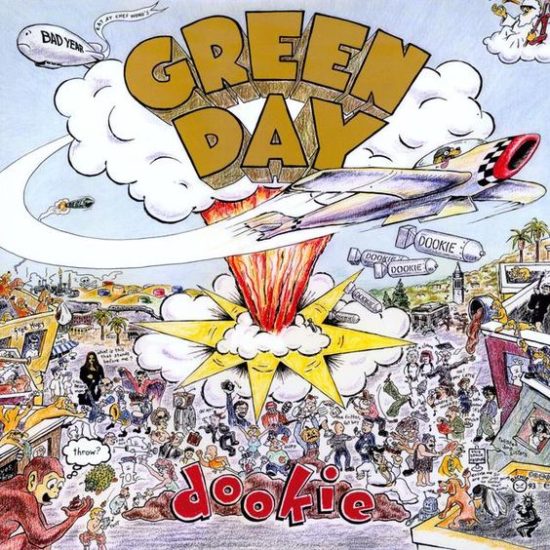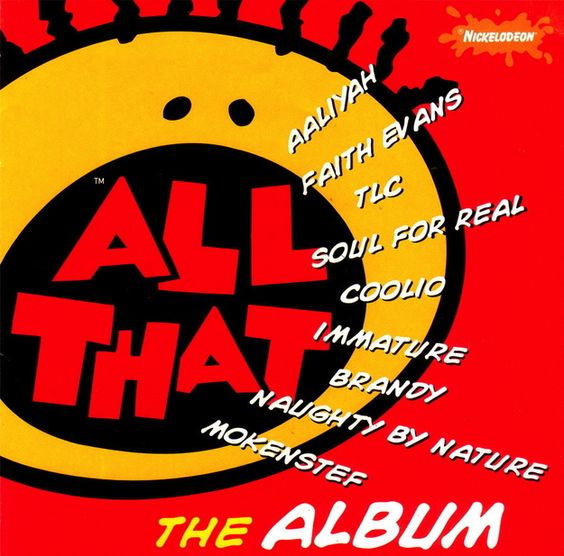 3 – Photo Posters
The focus around many of the posters or album art in the 90's was around one simple graphic or photograph.  Many of these are iconic posters and I think their simplicity speaks volumes.
4 – From Bold & Vibrant to Black & White (and Red)
Though this era gave us a lot of pink, we also saw a lot of stark contrast – black & white – sometimes with pops of red.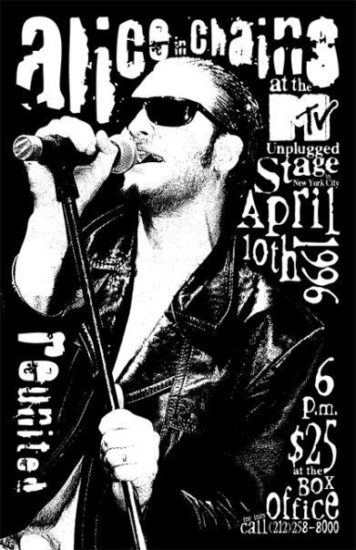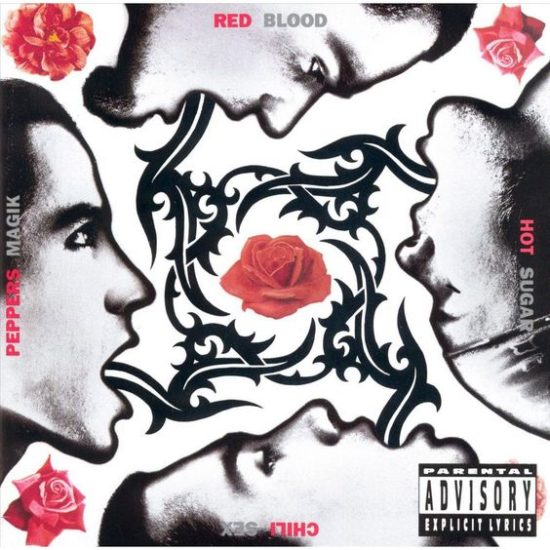 What did you love most about design in the 90's?
For more 90's Graphic Design, head to the Go Media Pinterest Board.