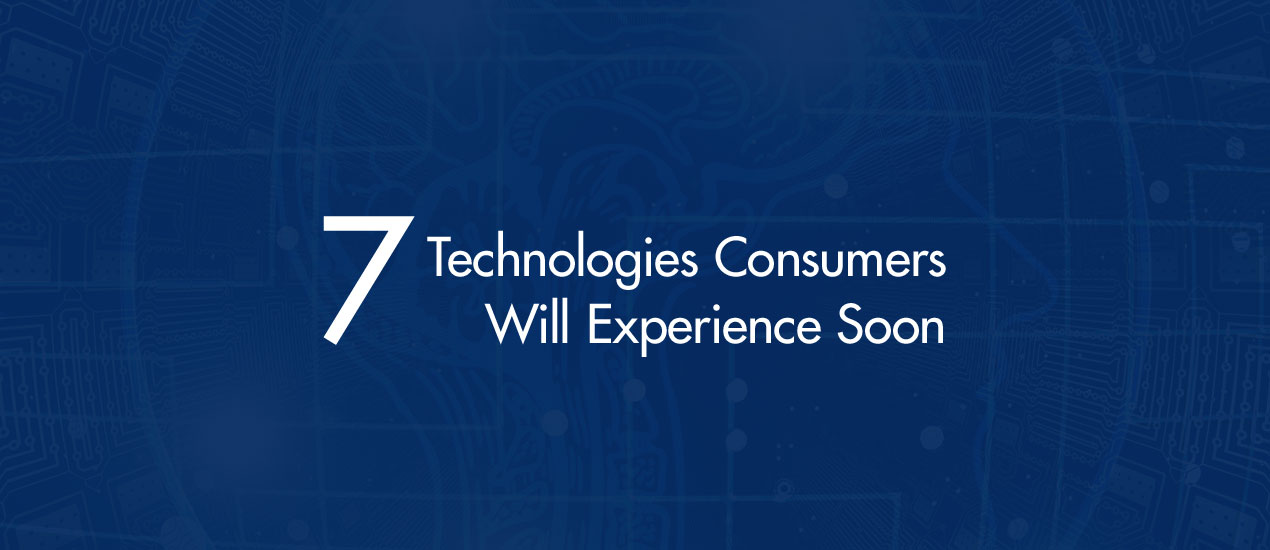 7 Technologies Consumers Will Experience Soon
Technology has more of an impact on our daily lives than at any other time in history. Smart houses and smartphones are the first interactions most people have when they wake up and the last interaction they have before they go to bed. Doctors use technology for complex medical problems, teachers use technology in the classroom and businesses embrace new trends to attract customers.
The rise of the iPhone is an excellent example of how rapidly technology advances. Apple released the iPhone in 2007. At last count, 2.2 billion people own an iPhone just over a decade later. That is one little example of technology taking off and people embracing the smartphone.
In the coming years, some emerging technologies will become more common. Here are seven likely to take off and become a part of everyday life.
1. Speech Recognition
Speech recognition has advanced in the last few years due to the use of devices such as Alexa and Google Home, as well as advances in the way Siri and Cortana respond to voice commands. Consumers are already using this technology here and there, but expect it to become a more integral part of your day. There's no need to navigate to Amazon and click on an item to order. Instead, users will tell their phones or smart devices to place the order.
Speech recognition will start to appear in the ways we navigate our vehicles and interact with devices such as smart refrigerators and washers and dryers. Knowing how to program a device will become a thing of the past, as speech recognition advances and a simple verbal command makes technology work.
2. Cryptocurrency
You've probably heard of Bitcoin and other cryptocurrencies, but may not have used them. As business continues its march toward a global market, expect to see more and more use of cryptocurrency. Already, people are much more likely to use Apple Pay or a virtual credit card than cash. In a study by the German bank Bundesbank, researchers shared that for the first time in the bank's history, cash made up less than 50 percent of all transactions.
As more hackers perfect their skimming techniques, people are reluctant to use debit and credit cards for purchases. Cash isn't always convenient to have on hand, and it's bulky to carry around. Expect to see cryptocurrency rise, both for the convenience and the ability to use it across different monetary exchanges.
3. Driverless Cars
There is already quite a bit of buzz about driverless cars. Could the future of driving be one where humans don't even need a driver's license or the knowledge of how a vehicle operates? Fully automated cars would reduce traffic accidents, allow people to make better use of their time commuting to and from work and save money on fuel use. Liquid silicone rubber (LSR) is one area where advances impact the driverless car industry specifically. Autonomous cars use LSR parts while reducing the cost and increasing the performance of the vehicles. This tech will help make driverless cars affordable for everyone.
4. Artificial Intelligence
The driverless vehicles mentioned above may make you think about the novel-based movie I, Robot with Will Smith, where the computers try to take over the world — and the car he's driving in one scene. Advances in artificial intelligence (AI) mean there are fewer menial tasks for humans to do, and people can focus more on creative and management-based endeavors. Through 2020, expect to see a push toward transparency in how AI functions. People still don't fully trust AI — perhaps because of movies where computers turn on society — and developers are working to figure out how to expose the specific algorithms used for computer decision-making.
As people begin trusting AI more, the technology will take over more and more physical tasks. Although the day where a robot lives in your home and cooks dinner for you may be a decade or more away, the changes are coming. In the future, we may have everything from a robot nanny to a machine which cleans the entire house instead of merely a vacuum.
5. Internet of Things (IoT)
The Internet of Things is growing by leaps and bounds. A few years ago, the idea of connecting all our devices to "talk" to each other may have seemed almost impossibly futuristic, but today, the average home might have a smart thermostat and lights, programmed to turn on minutes before residents arrive home from work. Smart devices range from garage door openers to door locks to ways of interacting with your pets while you're away.
As 5G Internet speeds hit more areas and more devices enter the market, expect to see an expansion of IoT in nearly every field. One significant issue with all of these devices, however, has been that they all run separately, meaning users must keep track of a lot of different things. As Google Home and Alexa improve and expand which products they work with, expect automation of all devices to become simpler.
AI will also begin working with IoT so that devices can automatically set your preferences based on past behavior and best guesses. Imagine a day where you don't even have to set your coffeemaker to turn on. Why? Well, your smart home already knows you get up at 6 a.m. and sets the device for you.
6. Eye-Controlled Technology
Advances in facial recognition and eye-tracking software allow people to interact more easily with electronic devices. Already, the iPhone XS Max recognizes the user's face to open without using a passcode or fingerprint. The user looks at the screen, and the device unlocks, but only for the user through facial recognition. Expect to see more devices using this type of technology in the future. Imagine a car that's impossible to steal because the vehicle recognizes a list of pre-programmed faces before starting.
In the next age of technology, gestures and facial expressions may operate all types of devices, particularly computers and smartphones.
7. Smart Fabric
Imagine wearing a shirt which adapts to your body temperature, keeping you warm or cool based on comfort level. A team of researchers produced a wearable fabric with sensors embedded inside. Solar receptors could capture the power of the sun and heat the material on a cold day. Multiple sensors might track health metrics and notify someone before they have a stroke or heart attack. It could be used to better track the effectiveness of a workout.
The applications for smart material are limitless, such as bedding that maintains an ideal body temperature while sleeping and tracks sleep patterns. Smart fabric might help airlines ensure their passengers are more comfortable and alert flight attendants about any severe health complications, such as blood clots on long flights.
Impact of Technology
Changes in technology impact people's lives. As artificial intelligence advances, jobs will disappear — computers will replace people. Either new jobs that use more human intellect will replace old ones, or people will feel an economic impact. Freeing our time from menial tasks will giving citizens additional hours to read, study, learn new skills — or waste more time on social media than ever before.
Technology changes so rapidly that you may not even notice the shifts. Do you remember a time when you didn't carry your cell phone everywhere, and you went out to dinner with friends instead of sharing a photo of what you had for lunch on Instagram? Technology changes not only the physical aspects of life, but our social interactions. While most technology will make life easier, you must also be aware of potential negatives and work to counteract them for a fulfilling life.