Articles by Month:
February 2016
Insights with an Art Director
Chris Comella, Go Media's Art Director, has come a long way with the company. A member of the staff for eight of its 13 years in existence, he has seen the company grow from a small crew of illustrators elbowing one another in a small 1 bedroom condo to a million dollar business thriving in the CLE.
We sat down with Chris to talk about his role and advice to young designers hoping to follow a similar path.
Heather: What are the steps that led up to your current position as Art Director?
Chris: At Go Media, there has never really been a rigid hierarchy. So, my role more organically came about… I wasn't vying for that next 'title rung' in the creative ladder so to speak, I just over time started to work on and care about more than just the daily, bread and butter client work. Things like evolving our creative process was a big picture item I began focusing on.
In terms of little picture, day to day things – It's important to learn how to better understand and guide your clients, guide your designer teammates to produce the best work they can, and really take ownership and pride of the work that's being produced on a daily basis.  These are all things I find myself mixing up in on a daily basis. Luckily for me, my team is really great and they help make the job really easy.
Heather: In your opinion, what are qualities that make up a great art director?
Chris: There are the tangible things that come to mind, such as having a good foundation of experience to draw from, being comfortable communicating ideas to both clients and the design team, having a strong vision for the work itself and how to go about executing that work. On a daily basis, those are the things that will help make you an effective member of the team.
I also can't help but reflect on some of the intangible qualities of our team which I've come to be proud of. Something as simple as our collective personality, or common way of thinking is something that really gives us our edge. At the risk of sounding like a cheese ball, I'll say that one of our distinguishing traits is that we truly care about the work. Nothing is more of a bummer to me when people aren't pushing their work, or put another way, aren't treating the work in front of them as an opportunity. The art director is in a good position to really instill these 'character' traits because in a lot of ways, they set the tone of the team. And when you make a point to really show an above and beyond way of going about your work, that becomes a benchmark for the team. I can tell you right now, when someone is excited about the work they're doing, it's infectious and it's something that invites the people around you to get in on it. I think those intangibles are something an art director is uniquely suited to observe and guide. Not only instilling those traits directly, but by observing through others what's happening and discovering what they all combine to create.
Heather: The design team here at Go Media is incredibly hard working and cohesive. You really gel and it shows in your work. What do you do on a daily basis to ensure that this team functions so flawlessly?
Chris: Good habits and a rhythm start to form when you have a team humming along on all cylinders. For our design team, you can credit that to two things: The design process itself and the individuals on the team. The process provides a sense of structure and stability, which is a wonderful thing to have when anything from a mascot / character illustration to a gas station rebranding project comes in. The more you work together, the more you're going to understand the ins and outs of how the process benefits the individuals, and vice versa. Over time you begin to tailor how you work, and can adapt to a variety of different situations.
Heather: I really love the way you articulate your concepts to clients, as well as communicate to the other designers. Do you have any advice for newbie designers as to how you developed your communication skills with clients?
Chris: I've been in so many meetings, and what makes me antsy is seeing the slow motion, eyes-squinted, 'yes' nod from the client… That's the, "I'm trying to understand you, but there's something missing here" face. I always try to look out for those little cues. At Go Media, we try to make everything as clear and logical as possible. The goal isn't chat, close the curtain, perform design magic, and reveal your end product. Nor is it to ramp up the designer-speak to try and overwhelm a client with jargon, and over-wrought rationale. Instead, our job is to shed light on how to accomplish seemingly complicated or abstract problems in a creative way.
For young designers, there might be some inclination to go overboard on the designer-speak. While you want to show someone you're really serious about what you do, you want to be sure you're making an effort to be clear and concise. And when it comes to learning how best to communicate, it's all about repetition. To get comfortable, you're going to have to do what it takes – Be prepared for calls, and put yourself out there. The more times you're put in that position, the more natural it will feel. When you're in a meeting, take note of how people are talking to each other – If you notice someone is doing something particularly well, make a note of it and try it yourself the next chance you get. The same works for the opposite. If you don't like a way someone is going about something, make sure you avoid doing it yourself. You can learn a lot by simply becoming a sponge when you're around talented, experienced people.
Heather: You are responsible for some of Go Media's most successful and profitable designs. Can you name 1 of your favorites?
Chris: Man, I have a lot of projects that I'm super proud of, but one that pops into my mind is the Midway – A proposed cycling network for the city of Cleveland. The very first meeting was years ago at this point, and it was just a super exciting idea. Although it still has a long way to go, I was lucky enough to be there to help name it, design the identity, and help launch the awareness campaign. Below are some behind the scenes images including logo, wayfinding, and outreach graphics that were created.
Heather: Any advice for a designer that strives to be in your shoes one day?
Chris: One thing that comes to mind is when you get a project that isn't in your comfort zone and initially feel you might not be the best for it, I would challenge you to seek out an aspect of it that you can sink your teeth into. I personally had felt for a long time that, because I was interested in exploring all different types of projects, that it would lead to a disjointed body of work, or even a vague reflection of the designer I am. But over time I've come to realize that a passion for a wide variety of work (illustration, identity systems, video, mascot, etc.) only serves to broaden my range. Not only that, but it helps broaden the topics I'm genuinely interested in. Using design as a gateway to new interests in life, generally, helps you grow as a person. And I gotta say, it was super vindicating when at this previous year's WMC fest Michael Bierut made a point to drop this knowledge – "I've learned to be interested in as many things as possible…The work I have been really proud of is all stuff that I was really interested in. If you can be interested in as many things as possible, it will up your percentage. "
If you can challenge yourself to truly enjoy at least one aspect of each project that lands on your desk, you'll find that the things you learn will directly apply to the jobs you fall in love with. Changing your outlook will make your work so much better. I really do believe that.
Want to work with Chris and the Go Media team on your next project? Get in touch.
How to Make Photoshop Brushes
In this video tutorial, we teach you how to make your very own Photoshop Brushes. We create ours using coffee stains, but you can use paint, watercolors, or other fun materials you find around your studio.
Ready, set…
Now that you've watched this video, you're all set to make your own. But first, pick up our Coffee Stain Brush Pack. This kit comes with the Coffee Stain Brushes we created in-house, as well as 10 bonus vector elements. You'll also get a PDF guide. The guide gives you instruction on how to install your new brushes, as well as gives you a preview of each brush.
Freelance Workspace Design
The main reason most people are drawn to the freelance lifestyle is because it gives the freedom to work in one's own personal space. There are very few people in the world who actually look forward to walking into a dull cubicle under harsh fluorescent lighting to sit for eight hours a day. Yet, without a mandatory defined workspace, freelancers run the risk of being less productive due to lack of organization and homelife distractions. But we at Modernize have a way to keep your productivity high, all from the comfort of your uniquely styled home. Here are three ways to design your own cool workspace to best meet your freelance needs.
Get Comfortable, But Not That Comfortable
No one is able to produce their best work product when they are uncomfortable. If you're squirming in your chair after just five minutes, then you are going to expend precious energy simply trying to get comfortable. Spend some time test driving ergonomic chairs and find one that best fits your body. And if the chair's ergonomic style isn't your favorite, drape a furry throw across the back to add warmth and intrigue.
Comfort does have its limits, though. Make a point to get out of your pajamas every day before work if for no other reason than it will save you time when you have a last-minute client meeting. Plus, this simple act will begin to transition your mind from personal thoughts to focused attention on your career tasks for the day.
Designated Work Space That Comes With Privacy
In a standard office environment, people want to personalize their space with thoughts of home and loved ones. Now that you are working at home and surrounded by all of those things, your workspace needs to be the opposite. Add any equipment you will need on a daily basis and lots of organization solutions like a filing cabinet or an old library card catalogue, and keep the familial reminders at bay. In no way does this mean that your office needs to be boring. On the contrary, colorful artwork and an open window can do wonders to keep your creative juices flowing.
Even in the tiniest of homes, there is almost always an area you can find to create a designated work space. You will begin to experience an almost Pavlovian response of mental focus by simply sitting down at your desk everyday. If you have roommates, spouses, or children, make sure they understand that when you are in this space, that you need peace and quiet to work. Having very clear rules about your work day will help everyone in the long run.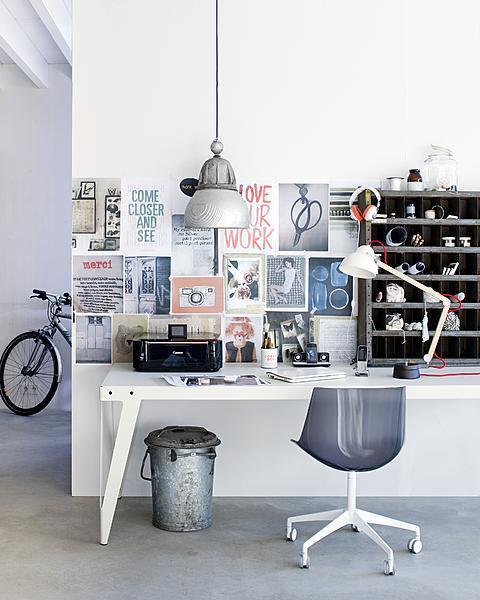 Meeting Your Clients
If you are going to have clients coming into your home, make sure that you have an appropriate area that is clean and professional. Ideally, your home office will have room for an additional chair or sofa, in which case, the entirety of the room's aesthetics should flow. Don't forget to maintain order on your desk with adequate storage solutions that are appealing to the eye as well as functional. An old can, bucket, or mug is a great container for pens and scissors while adding a smaller decorative touch.
It is challenging to focus on a meeting when your dog keeps drooling on your client's knee or a child keeps screaming in the background. So if your homelife spills over a little too much into your client meetings, consider taking those meetings to a coffee shop. Just be sure to have checked out the place beforehand to know that it won't be too noisy and that you will be guaranteed to have seating.
Starting on this new journey into freelancing is an exciting time. Let your office reflect that energy and design it to meet your needs. Of course, everything is a learning experience, so reevaluate your office once you have been working in it awhile and see if there is anything you can change to further enhance your productivity and satisfaction.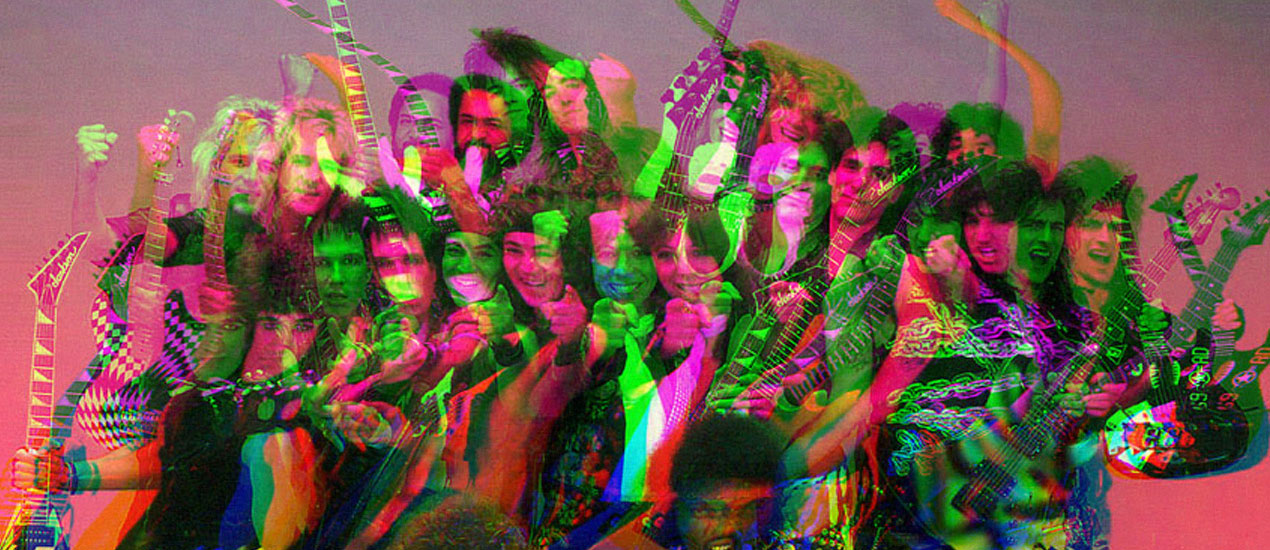 TV Glitch Effects: Makin' Em in PS (& Free TV Glitch Textures, Too!)
So guys, we're kind of obsessed with these tv glitch textures we've been seeing around town lately. So, we created some for you to use and apply to your work right now.
Download: 4 Free TV Glitch Textures by Go Media's Arsenal 
We also thought you might like to learn how to apply your own glitch effect on photos in Photoshop. So stick around and we'll create some magic together.
Ready, set…
Step 1
Choose your photo and open it up in PS.
Something about this photo really called to me. Can't put my finger on it.
Step 2
Press play.
Step 3
Open up your channels panel, then highlight your red panel.
Step 4
From your menu options, select Filter > Distort > Shear
Step 5
Using the points given, create a soft wave.
In the "Undefined Areas," section, select "Repeat Edge Pixels," then select "Ok" to Save.
Step 6
Look back at your channels panel. Make sure all of your colors are selected now. What do you think? Love what you see? Want more cowbell?
If you're craving more glitch, select your green panel and repeat the process we completed in Step 5.
Step 7
And, you guessed it! Feel free to repeat with the blue color channel as well.
Play with it until you're satisfied.
Step 8
Last, let's go Filter > Noise > Add Noise. Crank that up as high as you'd like (Gaussian) and Ok to Save.
Step 8
Boom! You're done! Mock that beautiful art up on a MockupEverything.com or Arsenal template and call it a day. I salute you!
Hope you guys had fun. What freebie textures, what tutorials do you want us to create next? Please let us know in the comments section below!
In this edition of the Go Media Podcast, we sit down with Maurice Cherry, founder and creative principle at Lunch and host of Revision Path Podcast to discuss his view of the state of Diversity in the Design Industry and how he went from a worker at a 'design factory' to starting his own design business in Atlanta, GA.
So you have a dynamic company with a prodigious staff, stellar services and amazing products. Maybe you even have a decent website.
Free Heart Vectors
Valentine's Day is just around the corner and we just can't help but to feel warm and fuzzy. We love our community, after all. Your support and enthusiasm makes our jobs way too much fun!
We wanted to show our appreciation with some love today – in the form of 10 free heart vector elements. They beat only for you <3
Download them now > Go_Media-Hearts_You
Tips for A/B Testing
You may spend quality time in creating a successful website but might still fail to generate the desired outcome.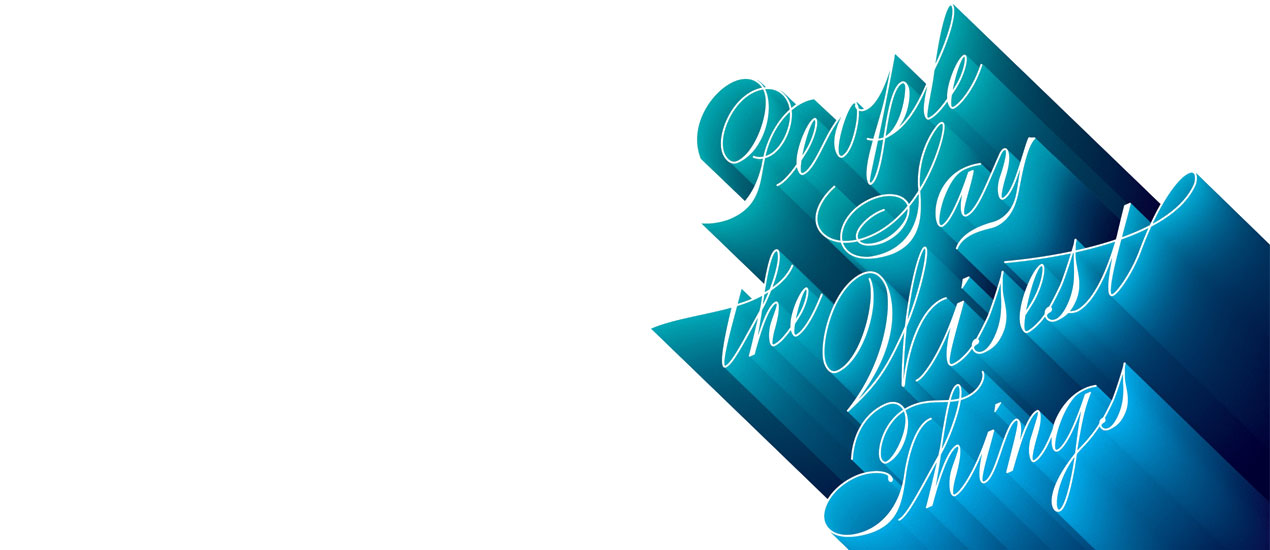 Hand-Lettering and Typography Inspirations
Every so often, we like to get lost in the land of letters.
Importance OF UI and UX While Designing A WP Site
While browsing the web, you most likely would have come across two buzzwords: UI (User Interface) and UX (User Experience). But, there's a possibility that you might not know that both of these concepts aren't new and have been around us since a long time.
Even if, you're familiar with what UI and UX is, you might still tend to use them incorrectly. Both of them plays a significant role in web development and design. In fact, having a better understanding of the UX and UX concepts and how they can be applied to your own project can help you come up with a winning product.
We'll be covering in this post some important aspects about – User Interface and User Experience – that will help you design a great WordPress site.
But Before We Start
Let's have a brief overview of what UI and UX means. Bear in mind, UI and UX are just like "two sides of the same coin" – they both complement each other to create an outstanding product.
What do we mean by User Interface?
User Interface comprises of the physical and technical elements that play a significant role in helping users interact with some product in a seamless manner – be it an app or a website.
To be more precise, UI deals with how UX elements (like the buttons, controls, etc.) are placed and how well your content is framed in a design to help users enjoy a meaningful interaction with the product.
What do we mean by User Experience?
User Experience is about the response of a user concerning their experiences with your product.
Essentially, UX is what how users feel about your product which comprises of their attitude and behavior. Is your website easy to use? Are customers able to navigate throughout the site seamlessly? You need to keep those questions in mind to deploy an optimal UX.
Understanding The Significance of UI and UX in WordPress Design
In this section, we'll talk about how UI and UX matter in WordPress website design.
How UI matters in WordPress website design?
Remember how good your UI plays a vital role in making your WordPress site's design success or failure. Thus, it's imperative that your users can interact with your website design efficiently without any distractions. To create such a design, you need to ensure that your site features a clean, consistent, and responsive layout that can be operated easily by your target audience and customers.
The user interface in WordPress, is basically, the admin user panel and tools in the backend that let users adjust the content and other elements of the design. Therefore, you need to make sure that your WordPress site's admin dashboard is functional with an easy to use UI.
Just imagine that you have two different WordPress themes having the same functionality but different UI's. Needless to say, people will prefer using the site with the UI that is easy to operate and quick.
How UX matters in WordPress website design?
As you may very well know, users spend only a few seconds on a landing page or the homepage of a website to decide whether it's worth exploring or not. And so, how precise your website design is – how well the elements and content are arranged in it – plays a significant role in determining how successful your design will turn out.
It's important that your site visitors overall experience is enjoyable and worthy enough to keep them engaged with your site for a long time. To achieve such an objective, you'll have to give your site a personalized touch to enable users to identify what your site is all about. Most importantly, make your site easy to understand and use. Doing so, will help you connect with your users in an efficient way, thereby reducing the risk of losing those users.
One important thing to keep in mind is that how meaningful your design should not only be limited to the front end (i.e. homepage of your site) but delivering an enhanced backend experience to your users matters as well (except for the case they don't have access to the backend).
Undoubtedly, the WordPress admin panel is relatively easier to operate compared to other CMS systems. But, as your website grows the admin panel is bound to get filled with more options, which can make it difficult to understand. However, you can customize the admin dashboard using the WordPress plugins.
How Can You Improve the UI and UX of Your WordPress Site?
Hopefully, you would have become familiarize with what UI and UX mean and how crucial they are for the success of your site's design. Let us now take a glimpse at how you can improve the User Interface and User Experience to create a perfect WordPress site design.
How to create a good UI and UX?
Some vital characteristics that help in creating a good UI, and UX are:
1. Consistency in Design
Make sure that your design should be consistent throughout the inner pages of the website. That's because a consistent design pattern makes it easy for users to understand your design's UI and interact with it.
Also, consistency in WordPress site design helps in making the design familiar to users, which provides an enjoyable experience for users. In contrary, continuous changes in the design make the design unfamiliar to a user.
2. Responsive Web Design
Considering the current market scenario, wherein people make use of any device (such as mobile device or desktop computers) for accessing the Internet, responsive design will help you deliver a pleasing experience to the user. Creating a responsive web design (aka RWD) is the most critical factor that can make or break your site. In short, having a responsive design and layout ensures that your UID (i.e. User Interface Design) will work well across various devices.
Furthermore, responsive design helps in creating a unifying experience for users, regardless of the device used for accessing the site.
3. Clarity and Intuitiveness
How clear and intuitive your website design is the key to making the design behave just as your users expects it to work. In order to maintain clarity in design, make sure to keep all the elements of your design organized. Clarity in user interface design will help convey your content in an accurate manner, which in turns helps deliver an excellent user experience.
The best way to achieve clarity and intuitiveness in your WordPress website design is to adopt a minimalist approach when creating the design and layout of your site – just like the Google's Material Design. Simply put, avoid using flashy things that can make your website design cluttered.
4. Content-focused Design
Lastly, how your content is visually portrayed in your WordPress user interface design helps add value. Additionally, the content-focused design also plays a vital role in providing a valuable experience to users. Wondering how? Well, a content-focused layout does not include any distractions and thus help in keeping users engaged with your content.
Wrapping Up
So, here in this post, we had a glimpse of the basics of UI and UX and the role they play in making the WordPress website design to be successful. Also, make sure to abide by the above points to improve the user interface design and experience of your users when accessing your site. Most importantly, remember to create your WordPress site keeping users behavior and needs in mind.