Articles by Month:
January 2016
How to Start Your Own Podcast
Hey, it's Bryan from Go Media and today, we're going to dip our toes into podcasting. You've probably heard there's a ton of cash, arms full of lovelies, and loads of listeners just WAITING for you to put your voice into their ears.
Or, you've just got some knowledge that you want to drop and this seems to be a worthwhile way to go about it.
Either way, you're probably asking yourself how to get started, and how can you get started without spending a lot of time and money upfront? That's what I wanted to know about 6 years ago when a few friends and I wanted to start our own podcast.
In this tutorial, we're going to be looking at what equipment and software you should be looking into as you begin your journey into podcasting. Then, we'll go into some tips and tricks on the recording and editing side.
Now, full disclosure: I wouldn't call myself a professional podcaster. I'm not making loads of money doing this, or going to awards shows, or seeing millions of downloads. Actually, that's realistically a small percentage of all of the podcasters out there. And, my arms are empty, still waiting for the lovelies to arrive.
But, as more and more people want to get into podcasting, it's becoming apparent that there really isn't a good "how to" out there. I learned a lot just by trial and error using existing equipment and free software that I had lying around from my days as a solo acoustic.
6 years later, I'm still using a lot of the same techniques and software. But, I've streamlined the process quite a bit so that I can podcast in any location, for any type of situation.
On the professional side, I run the Go Media Podcast. We set up the conference room with three mics so that Bill, Heather and I can talk to each other, as well as our guests over Skype. We run our mics through a mixer that connects to my laptop. With the help of a 5-way stereo audio splitter, we can all connect our headphones to the mixer so we can hear our virtual guests.
On the personal side, I also run 5 other podcasts through the Fans Talk Podcast Family. There, I do a majority of the podcasting with virtual co-hosts over Skype, Google Hangouts, Blab.IM, or whatever else we wind up trying out. And yes, four of the series revolves around the wonderful world of professional wrestling. For those, I connect with various guests from all over the world via Skype.
You know that whole thought about not spending a lot of time on it? Well, I am known to over-extend myself a bit, but it's become a passion, and honestly – how cool is it to know that people actually want to hear what you've got to say? Even if you're talking about professional wrestling while drinking with your best friends? That's awesome.
Equipment I Use For Podcasting
If you're doing a solo show, or meeting your guests over Skype, you can get started with less than $100 worth of equipment. If you want to have multiple people on one side, you could get a 2-3 person setup for under $300.
Headphones
I'm assuming you've already got a pair of headphones that you use and are happy with. Just in case, I use V-MODA LP2s. Luckily, they were a gift I received as a groom's man. Otherwise, I might not have picked these up as they're a bit out of my price range at around $200. Legit, they are the best pair of headphones I've ever owned. They really give me a great, focused sound. And, when you listen to music with these, the experience is amazing.
However, sometimes being connected to my laptop with a cable isn't ideal. If I'm only doing a solo episode, or am the only person on my side as I connect with someone over Skype, I tend to use my Plantronics BackBeat Fit Bluetooth Headphones ($90). I got the green ones. They connect right to my laptop without an issue. While they do come with a microphone, the quality is not great. Not good enough for podcasting, that's for sure.
I didn't buy these specifically for podcasting, but have loved the flexibility it has given me during recording sessions. Since I do a majority of my podcasting at the home studio standing up, not being attached to the laptop with a cable is really nice. I can move around, walk away to get a beverage refill as my co-hosts continue to talk, and I don't lose the ability to hear them.
But, in the end, as long as they aren't leaking audio out into your mic while you're recording, and are good enough to use to listen to music, you should be fine starting out with whatever you have handy.
Microphones & Accessories
This is a hot button topic for a lot of the podcasting industry. Condenser mics vs. snowballs, USB-powered vs. XLR-exclusives that go into a mixer, there are so many ongoing debates, it might be difficult to really find what works best for you and your budget.
I skipped all of that and went with something that seemed to be a good fit for my needs, as both a podcaster AND a musician. As well as someone who might just record with a guest over Skype or might connect with multiple people through a mixer. I wanted to be able to have flexibility without a load of different equipment.
I went with the Samson Q2U Handheld Dynamic USB Microphone. Out of the box, it also comes with a pair of headphones and some recording and editing software, but I never had much use for either. Headphones aren't super comfortable, but in a jam, they can come in handy. And software is dated and really not useful for me, but maybe it could be for you.
Anyways, the Samson Q2Us can connect to either a USB input or can connect with a mixer via XLR. Or both at the same time, depending on how you're recording or what you're recording. It comes with both cables, so no need to have to pick up anything additional. You can plug your mic directly into your laptop or desktop with a USB cable and start using it right away.
Once you choose a microphone, you'll need something to hold your mic for you. I've gone the route of desk stands, as well as boom mic stands which I took from my days as a musician that did semi-frequent shows around town. But, recently, I've fallen in love with my NEEWER Microphone Suspension Boom Scissor Arm Stand. They connect to the edge of the desk and can move around with you. If you want to sit, they can position right in front of you without a problem, and without getting in the way of your hands or your view of your guest, notes, beverage, mixer, or laptop.
I'm also terrible at popping my 'P's, so I doubled up with two air filters. One is the On Stage Foam Ball-Type Mic Windscreen. This wraps around the mic itself, and keeps away any air that might be flowing through the room towards the mic, like fans and heaters. Then, I added a Dragonpad pop filter 360 Flexible Gooseneck Holder, which attaches to the mic stand. This adds a much needed buffer between me and my mic.
Mixers
After months of debate, and knowing that we'd be having multiple people in the studio at Go Media, I decided to pick up a mixer. Specifically, the Behringer XENYX X1204USB Premium 12-Input 2/2-Bus Mixer. At $230, it might be outside of your price range. And realistically, it might be completely out of your needs as well. But, if you plan on sitting in-person with 2-3 other guests and don't want to have to share a mic, this is a good option to have.
And, just in case you're doing a mix of 2-3 guests in the studio with you as well as a guest over Skype, you'll want to pick up a headphones splitter. That way, you can listen to the output from the mixer and everyone will be able to hear themselves and the Skype audio. I use PLAY X STORE®3.5mm 6-Port Multi Headphone Splitter, and at $5.50, it's a really handy. It will split your audio for five headphones and all in stereo. Besides using it for podcast work, Heather and I also use it when we record Designer Face Off.
Pocket Notebook
This goes without saying. I must have something to write notes in. I try and keep track of coughs, Skype drops, or anything else that is either worth looking into removing from the final edit, or follow up questions to ask.
So for me, I go with the Go Media pocket notebook that was made available at this year's WMC Fest. But, use whatever is available: sticky notes, a napkin, a moleskin, back of an envelope, etc.
Computer
You can get started with what you already have. Whether it's the work-provided desktop or your personal laptop, you can do a lot with little.
For the first 4 years, I used my basic, under $200 tower to get the job done, and it did. For a while. Now, I mostly use it for show notes and talking to the live chat, or pulling up wikipedia to fact check my co-host.
Now, I use a Dell Inspiron i15RV 15" laptop. It's got a 1.4 GHz Processor, 4GB DDR, and a 320GB Harddrive. Really, I didn't even buy it for podcasting. I bought it so I could work remotely from the coffee shop. But again, it gets the job done.
I'm a Windows guy. They're easy for me. But, Macs offer a lot of built-in support that's enviable. Garageband specifically. So, by all means, do what feels right.
Software & Apps For Podcasting
If you've got a Mac, Garageband is a great tool for recording and editing podcasts. Windows doesn't have that. But, you can record and edit with some free software. If you want to share files easily between hosts, including some quality cloud-based archiving, you could be looking at about $100 year at Dropbox/Google. If you want stream your audio live, add another $100. If you want to host your mp3s on a social-powered service with some slick, Facebook and Twitter friendly embeds, add another $135.
Audacity
Audacity is free for both PC and Mac. For Fans Talk episodes, we've all become accustomed to recording individually through Audacity. Then, everyone exports their audio to an .ogg file, which is higher quality than an mp3, and a smaller file size than a .wav. It's somewhere in the middle, which is great for file transfer speeds.
Quick Tip: I make sure my recordings are at least above -30db. That way, if there is background noise, which normally hits around -42db and below, it's easier to remove. And, always record about 5 seconds of audio of just your background noise. Keep the mic on and just sit back quietly so that you can isolate that noise when you edit.
And yes, I also edit all of my episodes with Audacity, but we'll get into that in a bit.
Dropbox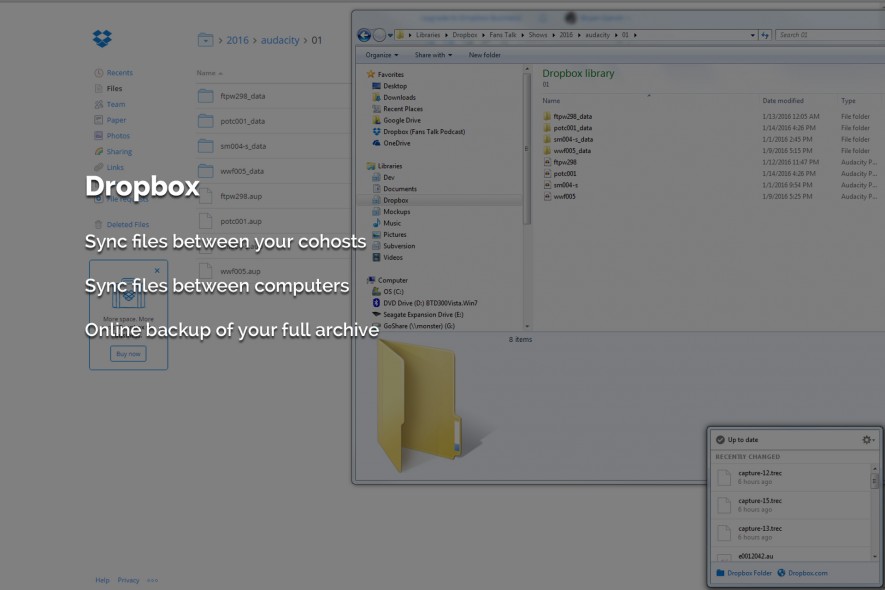 I've been using Dropbox for years to keep all of my PCs synced together. It helps me go from recording on the laptop to editing on a faster system like my desktops at home and at work. It also allows my co-hosts and guests to be able to send me their files. Either they upload to their own organized folder structure, or we share folders. Or, in the case of someone just doing a one-off appearance, I'll have them upload to Dropbox using the new "File Request" feature, which will allow them to upload even if they don't have a Dropbox account.
Dropbox comes in three tiers. The free account gives you 2 GB of cloud storage. For $9.99/m, which is the tier I'm using, you get 1 TB of space. And, for $15/m per user, you can get the Dropbox Business account, which gives you as much storage as you need.
Zencastr
Recording on Audacity isn't for everyone. Nor is it always possible. So, how can you get a solid,  individual track of my guests and co-hosts? While I've tried various Skype recording extensions, nothing came out perfect. Primarily because, technology isn't perfect. Skype could drop at any moment, or the internet could buckle causing the audio to come to me to be really poor and useless.
While a few different sites like this have come out over the last few years, Zencastr is the new kid on the block. It records all sides of the conversation into individual tracks, which streams and saves to my dropbox instantaneously.
And, if you want to eliminate Skype or Google Hangouts, Zencastr just added a VOIP service to it's features. But, keep in mind, this is just in beta. So, it can be a bit buggy.
Zencastr is currently free, but once they get out of beta their plans could range from $10/m to $20/m. Limited to 3 hour shows.
Mixlr
Sometimes, podcasting can easily start to feel like you're talking to yourself or with a friend in a box. You might see downloads grow, but quality feedback, especially for a weekly series, is never guaranteed. I actually don't expect it anymore. However, that feedback is so great. And timely feedback is even better. But, what if you could get instantaneous feedback as you record? That's where a service like Mixlr comes into play.
It's an app that works with PC and Mac, and even your iPhone and Android if you're into that sort of thing.
Depending on how often or long you record, Mixlr will stream your audio and provide you a nice chat from $9.99/m ($99/y) to $49.99/m ($499/y). I use the first tier. There's also a free version and it allows you to stream for an hour at a time.
In Closing
I'm really hoping this helps you start to think about what you need to get started with your new podcast. But after equipment and software, it's time to start recording and editing.
I go in depth about the recording and editing process using Zencastr, Mixlr, and Audacity in my video tutorial on Go Media's Arsenal.
The whole wide world is waiting for you. Best of luck and let us know how it goes!
Sharing Your Vulnerabilities With Kathleen Shannon and Jillian Adel
In this edition of the Go Media Podcast, we sit down with Kathleen Shannon, co-founder of Braid Creative and host of Being Boss Podcast, and Jillian Adel, designer and art director, to discuss the role vulnerability plays in developing a strong and authentic brand. 
Paris Typography
Paris is historically known as a center of beauty and art, inside and out.
Business Plan Workbook Questions for Design Entrepreneurs
Starting your own design firm? Our fearless leader, William Beachy, has created the e-book, Drawn to Business, and accompanying business plan workbook, to guide you through the highs and lows of this exciting time in your life.
Ladies Ghosted Hoodie Mockup Templates
Hello Ladies and Gents! We're back with some brand new hoodies to round out the ladies line of hoodie mockup templates.
Categorized:

Go Media's Arsenal, News

Tagged:

american apparel, cropped, ghosted, hood, hoodie, ladies, lady, sleeveless, sweatshirt, women, womens, zip, zipped
Trends in Mobile App Development 2016
There is no doubt that today, mobile applications play an incredible role in our lives (for almost for all of us, though not all).
10 Steps to Starting a Clothing Line Successfully
Hey Go Media faithful! The other day, we were struck by an email from long time Go Media fan Michael Garcia. Inspired by our t-shirt templates, he decided to start his own clothing company, No Sleep Society.
Introducing Justin Will's Sci-Fi vector pack!
Hello, dear Zine reader! It's Simon on this end of the keyboard for a new tutorial. This time, we'll have a close look at how to use Justin Will's hand drawn Sci-Fi vector pack.
The pack features a lot of the typical elements of a good Sci-Fi story: robots, crazy laboratory contraptions, a ray gun, a spaceman, and more! Each of the vectors has been given extra care in its execution to be unique, yet quickly recognizable.The assets all feature this clean, detailed, yet almost child-like treatment to them.
DOWNLOAD JUSTIN'S SCI-FI VECTOR PACK NOW!
Arsenal Members, you get this pack at no extra charge! (Feels like your birthday, doesn't it?)
Technical notes
We'll be using mostly Photoshop CC for the tutorial, but any version of Photoshop past CS3 should be fine. Note also that I'm working on a Windows-based system, but other than visual appearance and slightly different keyboard shortcuts, that will not have any impact on the process we'll go through. We'll use Illustrator only to open the vector asset, and to paste it in our Photoshop document.
We are going to work extensively with textures. It's a good time to remind you guys of a few base rules, and processes:
Don't know what a clipped layer is? Glad you asked! This means that the layer is only visible/applies to the layer directly below it. You can very quickly do this by holding ALT down on your keyboard and clicking between the two layers. Here's a quick demonstration.
Every time we'll work with textures, we'll follow this simple process: place as smart object, sharpen1, desaturate, enhance contrast with levels, and modify the blending mode.
Placing the textures as smart objects, and using adjustment layers to tweak them, allows us to stick to a non-destructive workflow. We've explored in depth the numerous pros and few cons of such a workflow in this past tutorial: "How to Use Textures The Right Way."
Notes: 1 – accessed through the Filter > Sharpen > Sharpen menu
So, what are we going to build?
Given the comic book/children's book illustration style of the assets, we wanted the final output to fit these realms. After some experimentation, and a dozen thumbnail sketches, here are the two main ideas that came to life: a NASA recruitment poster, and a book cover for a (fake) children's book called "The gentle robot." I worked with color pencils to establish a color palette right away.
The slightly colder blue and green hues of the robot's body contrast nicely with the warmer orange background.
In this concept, the orange space suit of the astronaut contrasts with the colder dark blue and magenta of the deep space behind him.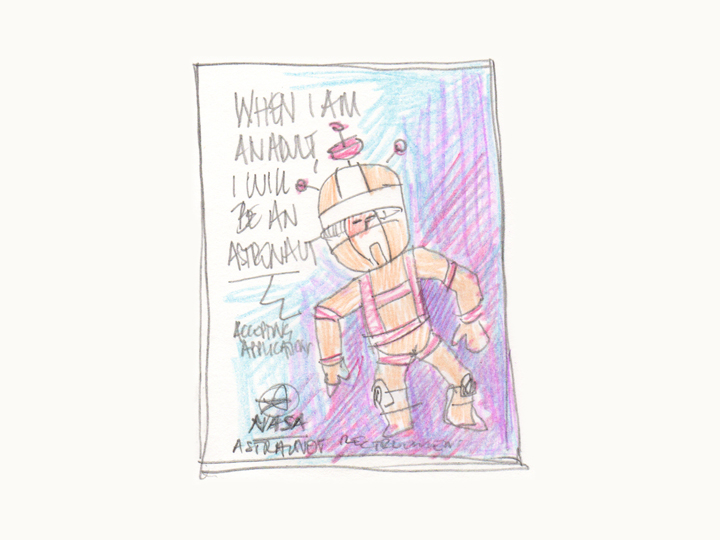 After discussion, we decided to focus on the children's book cover: it felt truer to the asset, and to the desired target audience.
We'll need to grab a few things before we start
Good news! Aside from the vector asset, all the things you'll need for the tutorial are free resources. We also decided to make two textures from the Arsenal available as freebies, so you wouldn't be hindered in the completion of the piece. The assets you'll need to get are textures, available from the Lost and Taken archives, as well as from the Lost and Taken Flickr stream.
The first texture is Grey_Grunge4.jpg, from Lost and Taken's five grey texture pack. Pro tip: grab the whole set, all of these are great.
The next texture is LT_Microscopic35mmFilm_02.JPG, from the seven microscopic film textures pack.
Next, is Vintage_Paper_7.jpg, from the early 20th century paper textures set.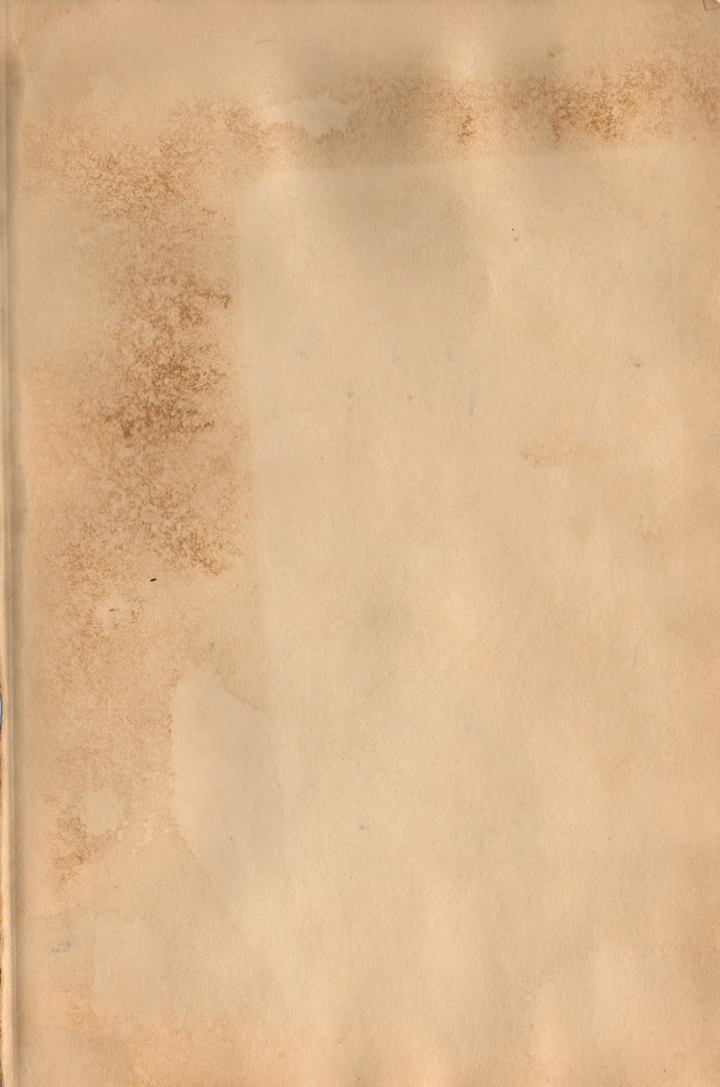 The following asset is DigitalNoise_05.jpg, from the digital noise textures pack.
Next, brown16, from Lost and Taken's Flickr stream. Pro tip: remember to always download the highest possible size, or better yet, the original size, when grabbing textures from Flickr.
Next, free_high_res_texture_455, also from Lost and Taken's Flickr stream.
The last two textures that interest us have generously been made available as freebies by Go Media's Arsenal. Pro tip: become a member today, for access to thousands of design assets, for only $15 a month.
The first texture is vintage-paper-textures-volume-01-sbh-005.jpg, from the Vintage Paper Textures, Volume 1 set.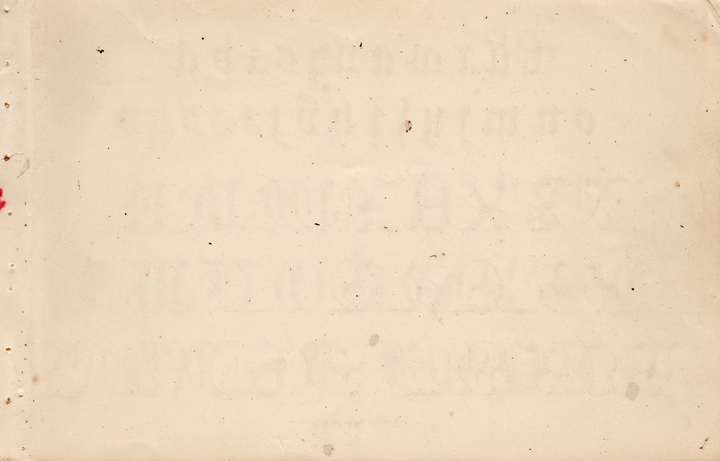 The second freebie is metal-dumpster-textures-021-sbh.jpg, from the metal dumpster texture pack.
Document setup
Since we are working on a book cover, we are going to work within a document with different measurements from our typical 18″x24″. One of the most popular book cover sizes is 6″x9″, which is an aspect ratio of 2:3.
Our document will have a one inch bleed/safe zone around it, to account for trimming and other production constraints. This means that instead of being 6″x9″ on the nose, it'll be 8″x11″.
The next step is to add a few guides. We'll use them to mark the actual cover's size, as well as the center of our canvas. I'm using Photoshop CC's New Guide Layout feature to generate these rapidly.
Note: if you don't have the CC version of Photoshop, you can leverage the power of GuideGuide to accomplish the grid-related tasks quickly. The current version isn't free, but older versions are.
Additionally, we can also add guides to mark a half inch zone within the safe zone. These will help us not to stick our content too close to the edges of the cover.
With that done, we can get started with the real thing.
Building up the background
The first step is to fill the background layer with a pale orange, #fde2c6.
The first texture we'll use is brown16 (5025205871_cab14db56b_o.jpg).
It needs to be placed as a smart object, centered in the canvas, and scaled down to 52%. That way, it will fit well within the final format of the cover (6″x9″).
After sharpening the texture (Filter > Sharpen > Sharpen), we need to desaturate the texture using a clipped hue/saturation adjustment layer.
Next, we need to use a clipped levels adjustment layer to adjust the texture's details.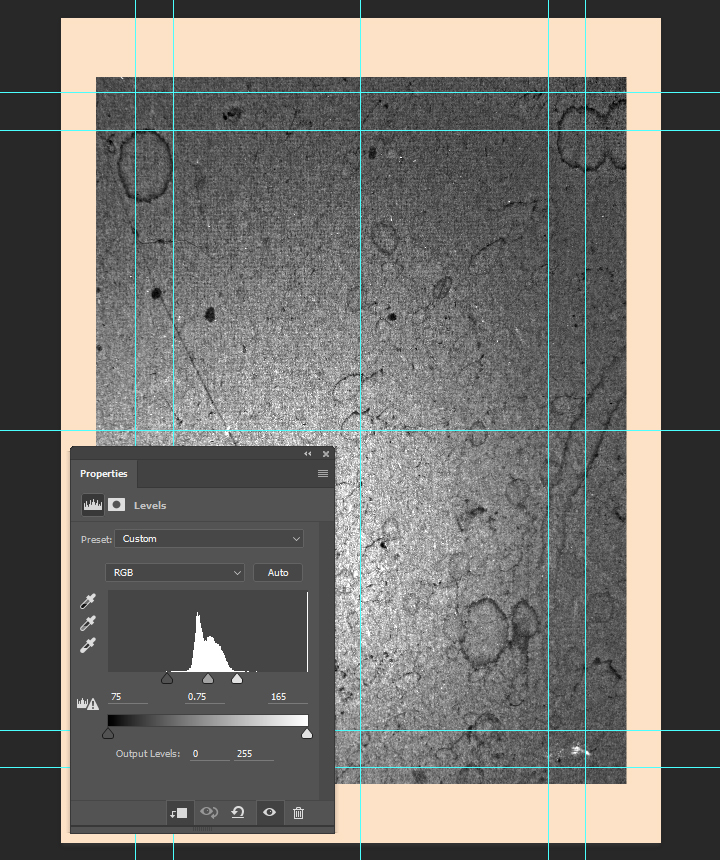 Finally, we need to change the blending mode of the texture to soft light @ 85% opacity.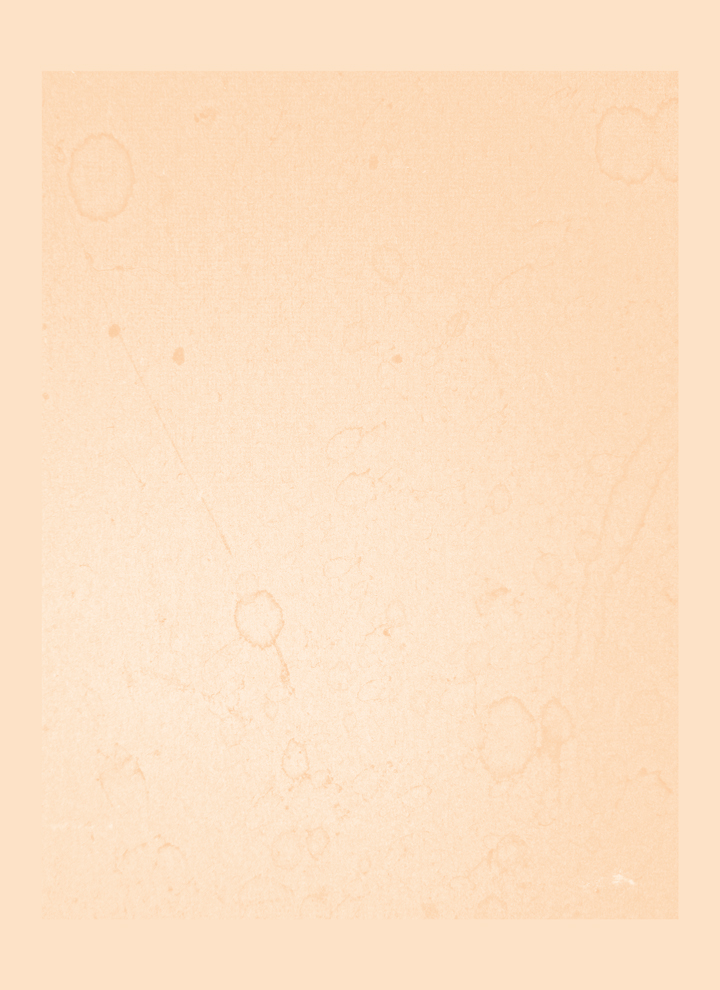 The next texture is LT_Microscopic35mmFilm_02.JPG.
It needs to be centered in the canvas, rotated 90° clockwise, and scaled down to 17%.
After sharpening, and desaturating, we need to use a clipped curves adjustment layer to invert the texture.
The trick to invert the texture is to use the negative preset in the drop down menu.
Then, a clipped levels adjustment layer to tweak the texture.
Finally, we need to change the blending mode to soft light @ 85% opacity.
Our background is set. Now, we need to organize our layers better.
The robot
As we want to build the book cover for a story about a robot, we need to bring the said robot in our piece. Let's open the vector set in Illustrator.
Our robot is second from the left in the first row.
It needs to be placed in our document as a smart object, scaled up to 225%, and located precisely at X: 4″, and Y: 7″.
The next step is to give the robot a bright blue color overlay (#78c8d8).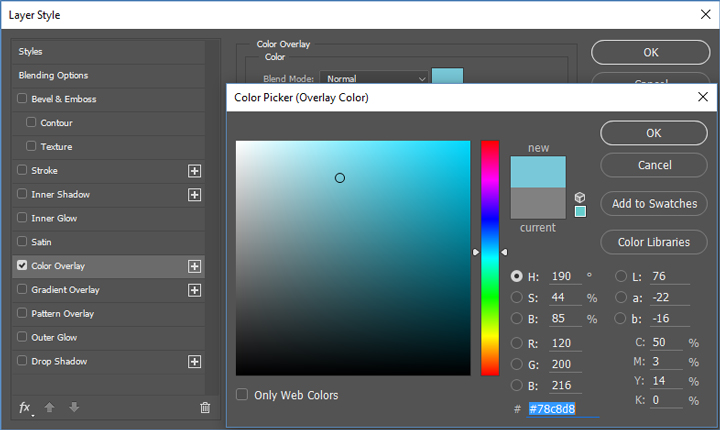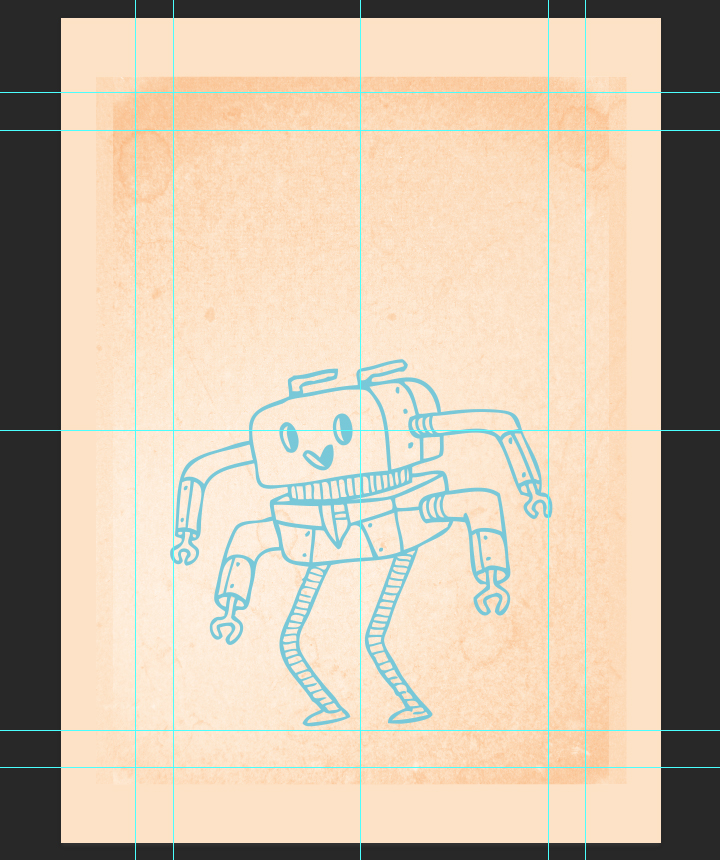 Now, we need to give some additional colors to the robot. Let's start by giving it its main color fill. The robot will be a light blue color, #d6f6f1. We need to create a new layer below the robot's smart object, and to paint the color in carefully, without going over the lines. Given the scale we are working at, a hard, round 100 pixels brush will do just fine. Pro tip: you can use your magic wand (W) to create a selection if you don't trust the precision of your brush strokes.
The next step is to add a secondary color to the robot. We'll fill its "hands" and "sleeves" with a pink hue, #dd86a5. Note that we're filling the area inside the sleeves.
Now, we need to give the robot some depth. We'll do this by painting a green hue (#bad9ab) in select places, where there would be shadows. The exact positions of the shadows don't matter, as long as they are consistent.
Also, a small hard brush (between 12 and 18 pixels), and zooming in at 100%, will both be paramount to paint precisely the small details.
The last thing we need to give the robot is a grounding shadow, otherwise it will look like it's floating in space. We are going to use the ellipse tool (U) for that. The ellipse is 3.75″x0.5″, and located at X: 4″, and Y: 4.35″. Its color is #dd86a5, the same pink hue used for the sleeve and pincers.
With that done, we can organize our layers some more.
Type
A book cover without a title and author name appearing is not often heard of. Our story is called "The gentle robot," and was written by Cassia Ovami (internet high five if you find the real author name hidden behind this anagram).
The two typefaces we'll use for the cover are part of free font families from the Google Fonts project: Open Sans, and Droid Serif. Pro tip: download the whole Open Sans family (Open Sans, Open Sans Condensed), as well as the whole Droid family (Droid Sans, Droid Sans Mono, and Droid Serif).
Once the fonts have been downloaded, we need to  generate three separate text blocks:
"THE" – set in Droid Serif Bold Italic, that is 24 points tall, with kerning set to metrics, and colored in blue #78c8d8
"GENTLE ROBOT" – set in Open Sans Extrabold, that is 48 points tall, with kerning set to optical, and also colored in blue #78c8d8
"CASSIA OVAMI" – set in Droid Serif Bold Italic, that is 24 points tall, with kerning set to metrics, and colored in #dd86a5
Here are the position coordinates for each block:
THE – X: 4″, and Y: 1.65″
GENTLE ROBOT – X: 4″, and Y: 2.30″
CASSIA OVAMI – X: 4″, and Y: 3.125″
There is an obvious gap between the title, and the author name. We'll use this space to add a blue rectangular divider. We'll create it using the rectangle tool (U). The shape is colored in our blue (#78c8d8), and measures 5″x0.1″. It's placed at X: 4", and Y: 2.7″.
With that, our text block is complete.  A bit of layer organization, and we can move on to the finishing touches!
Textures! Textures everywhere!
We'll approach adding textures to the piece in two phases: first, we need to add some textures to the robot, so it doesn't clash too much with the background. Then, we'll add texture that will impact the piece as a whole, visually linking everything together. The process we'll follow is the same as before (place as smart object, sharpen, desaturate, enhance contrast with levels, and modify the blending mode).
The robot
The first texture we'll add to the robot is the first of the Arsenal freebie set: vintage-paper-textures-volume-01-sbh-005.jpg.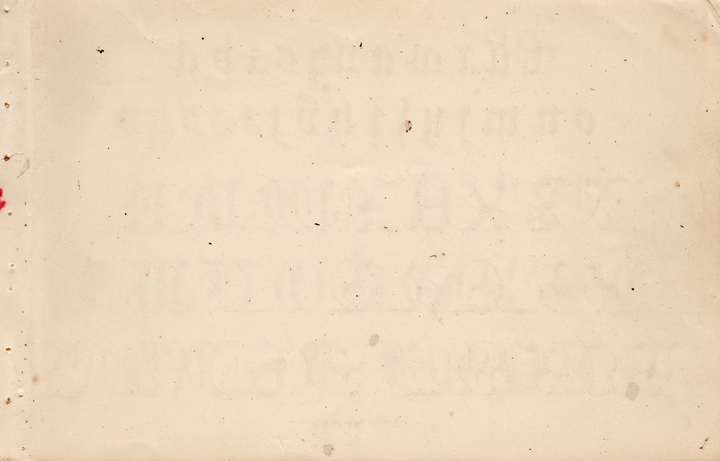 It needs to be placed centered in the frame, rotated 90° clockwise, and scaled up 160%. The layer should be located right above the robot smart object in the layer stack, which is why the title block is still visible. Pro tip: the title block layer group can be turned off for a better view of the texture work.
Clipped levels adjustment layer.
Blending mode: soft light @ 100% opacity.
The next texture is the second Arsenal freebie, metal-dumpster-textures-021-sbh.jpg.
It's placed at X: 3″, and Y: 7.15″, scaled down to 16%. We also need to rotate it from 180°.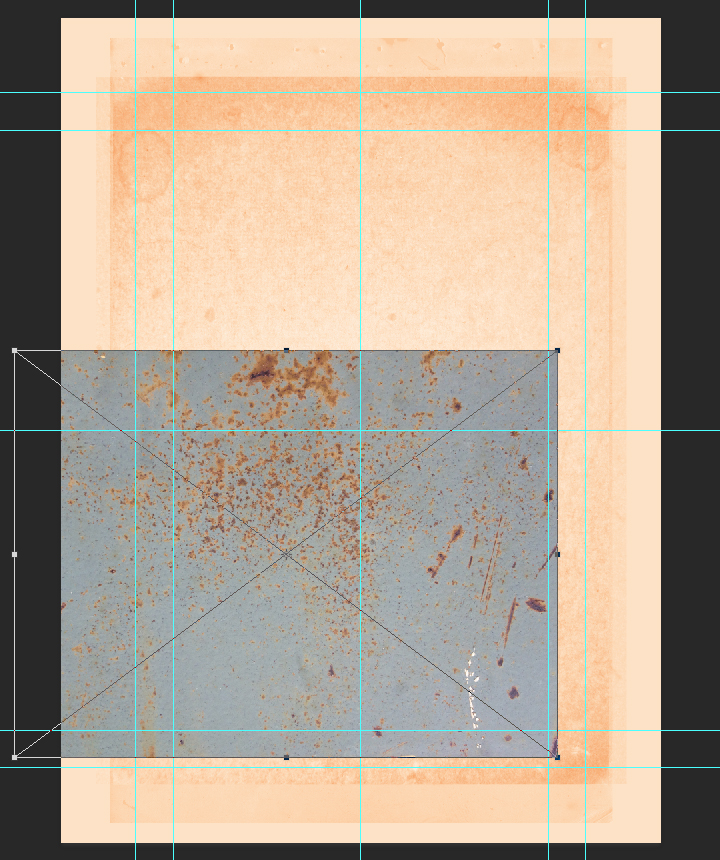 Blending mode: soft light @ 85% opacity.
The last of the three robot texture is Vintage_Paper_7.jpg.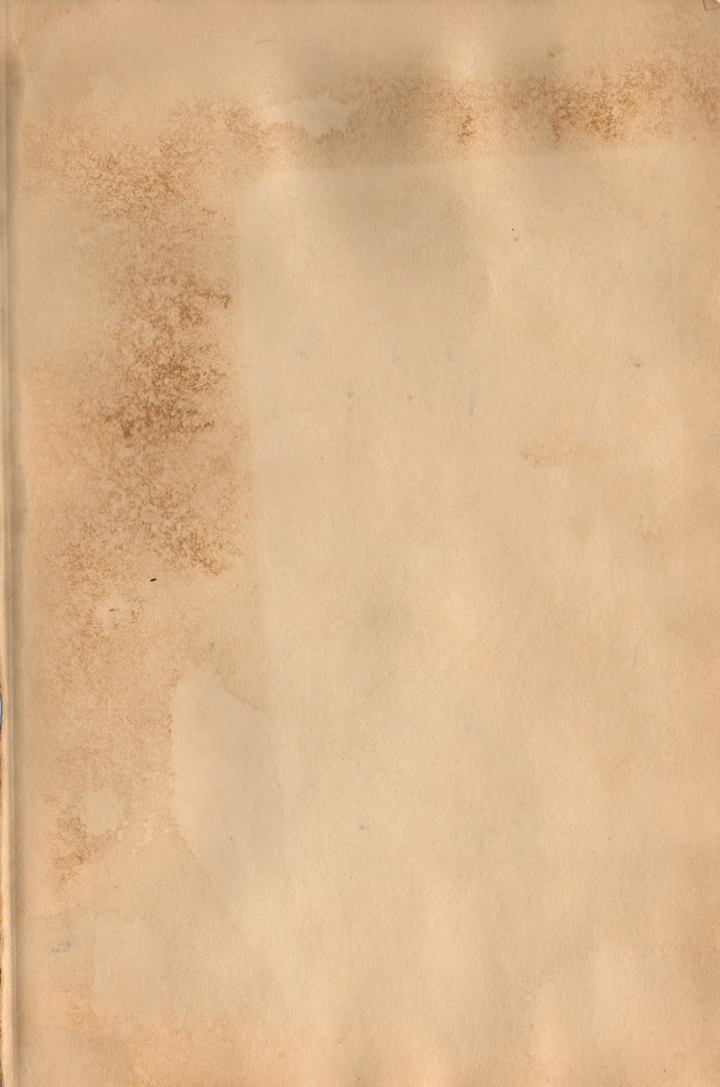 It's placed at X: 4″, and Y: 6″, scale untouched.
Blending mode: color burn @ 10% opacity.
Now, we need to limit the impact of these three textures to the robot and its supporting shadow. First, let's give the textures and their adjustment layers their own layer sub-group.
Next, using the magic wand (W), and with the robot smart object highlighted in the layer palette, we are going to select the empty space around the robot.
Next, we are going to invert the selection (CTRL/CMD+SHIFT+I or Select > Inverse), to select only the robot.
Now, to add the pink supporting shape to our selection, we need to CTRL/CMD+SHIFT+CLICK its thumbnail in the layer palette. CTRL/CMD+CLICK loads a layer's content as a selection. Using SHIFT as the shortcut modifier tells Photoshop to add that to the currently active selection, rather than create a new one instead.
Finally, we can highlight the robot textures layer sub-group at the bottom of the layer palette, and click on the add layer mask button of the layer palette for a layer mask that limits the textures' visibility to the robot. Alternatively, we can use the Layer > Layer Mask > Reveal selection menu.
And with that done, we can move on to the global textures.
Texturing the whole piece
There are three textures in our list that we haven't used yet, and these are the last three we need to add to the piece.
The first of these textures is free_high_res_texture_455.
We'll use it placed centered in the canvas, rotated of 90° clockwise, and scaled down to 52%.
Blending mode: soft light @ 100% opacity.
The next texture is Grey_Grunge4.
It's placed centered in the canvas, and scaled down to 27%.
Blending mode: soft light @ 35% opacity.
Finally, the last texture! It's DigitalNoise_05.jpg.
It's centered in the canvas, rotated of 90° clockwise, and scaled down to 18%.
The only adjustment needed here is a clipped curves adjustment layer, set to negative.
Blending mode: soft light @ 65% opacity.
The piece is now complete. We can organize the layer stack better.
With that done, it's time to save a copy of our document, cropped to the final dimensions of the cover (6″x9″).
After that, we can mock it up, to get a sense of what it would look like once printed.
Wrapping things up
Phew, we're done! I hope that you enjoyed the ride, and that you have learned a few tips here and there to reuse in your own work. If you've already grabbed Justin's Sci-Fi vector pack, I hope that thus tutorial gave you a sense of what you can accomplish with it. If you haven't, I wonder why you still haven't!
DOWNLOAD JUSTIN WILL'S SCI-FI VECTOR PACK
Do you have questions? Suggestions? Ideas on how to improve the workflow presented here? Please do reach out in the comments below!
You should also share your outcome with us, either in the comments below, on our Facebook page, or by tweeting it to us at @go_media.
And on that note, that's all for me today. Until next time!
Categorized:

Go Media's Arsenal, Photoshop, Textures, Tutorials

Tagged:

arsenal, book cover, Illustrator, Photoshop, robot, textures, The Shop, tutorial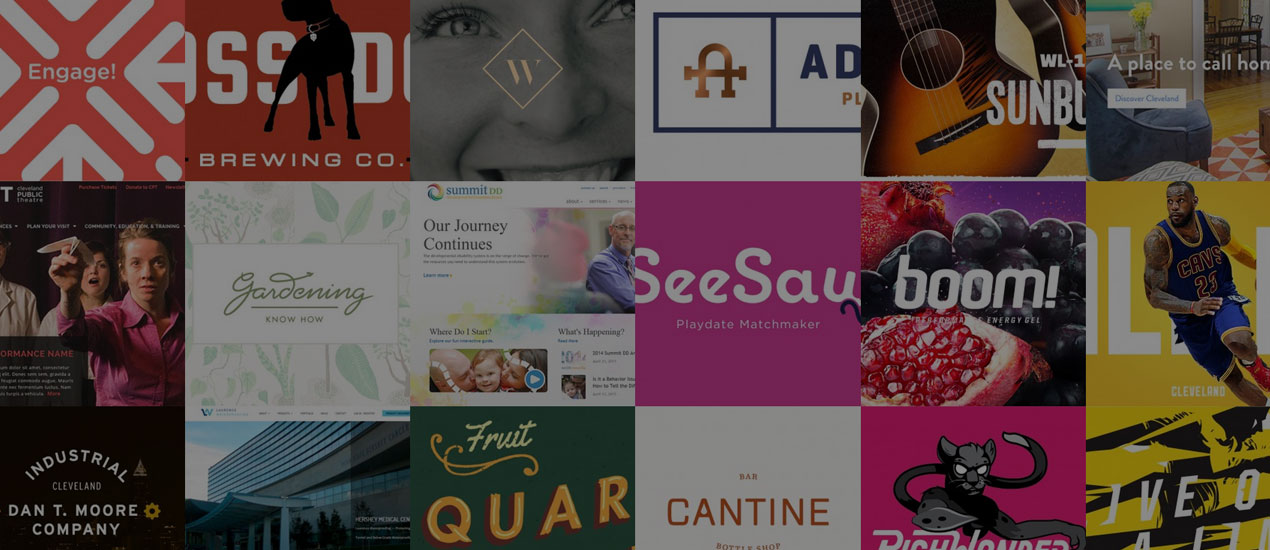 How to Create a Graphic Design Portfolio
An outstanding online portfolio is a must for any creative. Believe us, it's true. When popping open emails from those applying for graphic design positions here at Cleveland design studio Go Media, we're often shocked at the number of folks who do not have an online portfolio, or have one that's outdated or terribly underwhelming. Today, let's all make a commitment to ourselves. It's time to up our game. It's well worth the time and energy. And it just may land you the job of your dreams.
How to Create a Graphic Design Portfolio: Do's and Don'ts
Strongly and clearly show off your skill set through curated examples of your work. Are you an illustrator and a trained photographer? Or an illustrator who takes iPhone photos for fun? If you're the latter, leave the photos for Instagram and focus on what you do best. Be forthright with a potential employer regarding your skillset so that there is no confusion right off the bat regarding who you are and what you're capable of.
Do: Illustrate your strengths.
Don't: Include any fluff.
Keep it simple! A clean, crisp display is compelling. Don't lose us in clutter. Remember, less is more! As you begin to develop a look and feel to your portfolio site, come to recognize you are – in a sense – building a brand.  Maintain this consistency throughout your other platforms to fully develop your identity.
Do: Use minimal colors and fonts
Don't: Allow your site design to distract from your work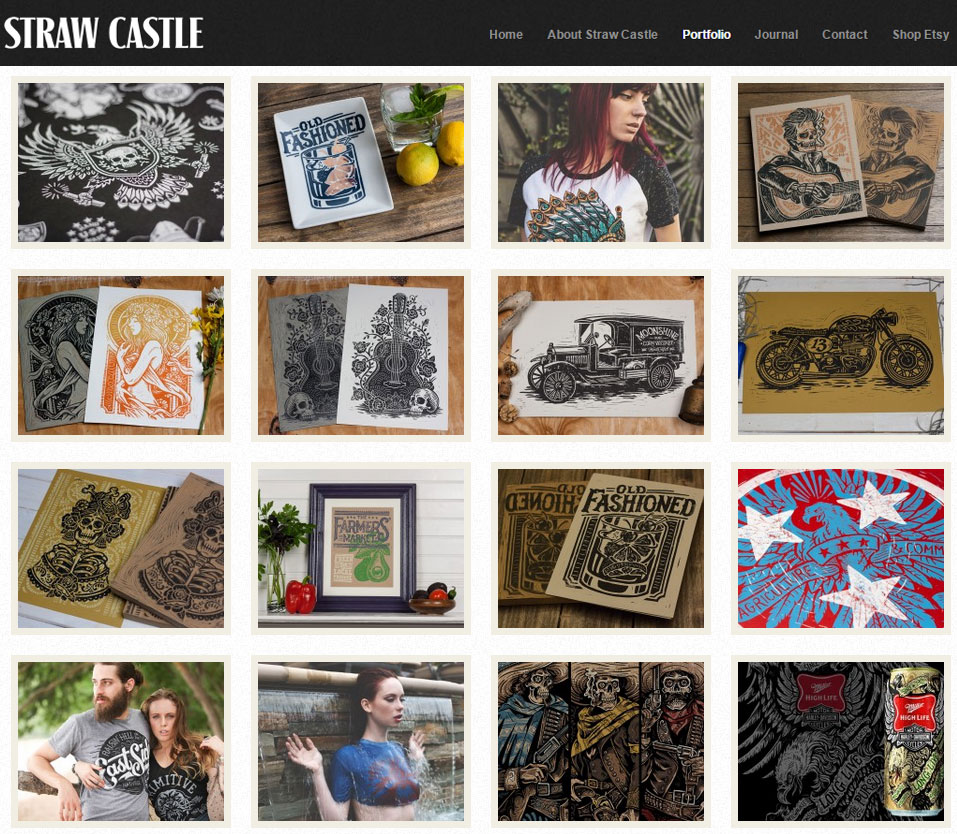 Tell a story. Did you capture some intriguing moments when working on a design project? Use case studies to illustrate your process. This gives us an in-depth look inside your thoughts, inspirations, motivations and achievements.
Do: Start from the beginning! Take us on the entire journey with you and make it an exciting one.
Don't: Hesitate to give insights into challenges along the way.
Do: Give us a healthy dose of successes and a insider's guide to the decisions you made along the way.
Do: Tell us how you solved the problem for your client and wrap the story up in a pretty bow!
Display your personality. Show us what makes you, you – the unique, creative individual and bright light that you are. Aside from the visuals, use an about page to answer our burning question: What will you bring to our creative team? Give us a little business in the front / party in the back here, a little about why you love design and your unique point of view, as well as some fun facts to intrigue us, too. 
Do: Be witty, if you can.
Don't: Be afraid to be a little quirky.
Do: Show your face. We want to see who we're dealing with!
Don't write a novel.
Do: Tell me why I need you in my life. (Subtly.)
Make it easy to contact you! Now that we're ready to meet you, we need to reach out. Please make it easy for us to do so.  A separate contact page is the easiest way to do this. Please include a downloadable resume and working email address!
Do: At the very least, include working email address.
Don't: Forget to check your links! I want to check out your resume and social media links, LinkedIn, Dribbble and Behance, too!
Do: consider adding a contact form, as well as some other information as it applies – address and some questions about the project you're destined to work on together!
Testimonials. If you've gotten some great feedback from clients, don't be shy. Shout it from the rooftops!
Keep it up! Now that you've created a beautiful portfolio, keep it updated regularly, following the guidelines we've set above.
Good luck everyone!
What to Do if You Missed a Graphic Design Deadline
It's not ideal, but there may come a time when – for one reason or the other – you have to miss a deadline. In this unlikely and rare event, you need to be prepared to handle the situation with grace and the utmost professionalism. Let's discuss some "must's," and please share your suggestions with us the comments below!
Face the music head on. As soon as you realize you will indeed have to miss your deadline, get on the phone with your client and let them know. Give them as many details as possible, with as much advanced notice as possible, and be honest about why you are failing to deliver as promised. Let them know what files you will be able to deliver on the deadline (if any) and which files will be missing. Honesty is always the best policy, and this is your best chance at maintaining this relationship.
Own it and apologize. As expected, your client will likely be disappointed. Show empathy during your conversation. Let them know that you recognize that this situation must be frustrating for them. Express to them that you, too, are disappointed and are doing your very best to make it better as soon as possible.
Outline a plan. Provide an exact time and date when the proofs and delivery can be expected in place of the original deadline. (Ensure that this is carefully thought through and reasonable. You must meet this deadline. Period.)
Take immediate action and deliver a stellar next round – something above and beyond their expectations. If needed, ask your team for support and help to accomplish this. All hands on deck!
After delivery, take time to review your timeline for this project. Where did things go wrong? Use this as a learning lesson. Be realistic about your workload and don't overcommit.