Articles by Month:
November 2018
Your company slogan sends a message about who you are as a company and shapes how consumers see your brand. Think about some of the more famous slogans that immediately come to mind, such as McDonald's "I'm lovin' it" or Hallmark's "When you care enough to send the very best." They're catchy, and they sum up the vision of the company in just a few words.
There are more than 30 million small businesses in America. No matter what industry you're in, you likely have competitors. One way to stand out from other companies like yours is to come up with a strong company slogan that explains in a nutshell what you have to offer consumers. There are some key things to remember when you're creating a slogan. Here are six of them.
1. Reflect the Product
Take the time to think about the product or service you sell. How can you describe it in the simplest terms possible? Try to think about what makes your product different from all the others like it out there. Now, add an action that the user takes when interacting with your product.
Skittles uses the slogan "Taste the Rainbow" throughout their advertising. Note in the screenshot above how they even use the slogan in a hashtag on Facebook. The slogan works because it sums up the product with its rainbow-colored candies and also describes the action the user takes — taste.
2. Brainstorm Ideas
Now that you have an idea of what makes a slogan work, brainstorm ideas. Talk to employees and even customers about how they view your business. Ask for one word that they think describes your business.
Once you have a collection of works, write each one in the middle of a large sheet of paper, and start attaching others words with a line and the new word in a circle. Continue until you run out of ideas. The goal is not to stop and think but to let your thoughts flow freely. Involve others in the brainstorming process. You'll likely walk away with several good ideas that may turn into catchy slogans.
3. Play With Words
Think about what words play into what you do and who you are. If you sell beds, for example, think about famous sayings about sleep and rest. Can you use any of these phrases with the brainstorming ideas from the last step? The best play on words is one that's unique but easily recognizable. It takes a lot of work to succeed with wordplay, so be patient, and ask others for feedback.
Reading Truck Body does a good job playing with the words of their slogan and coming up with something that describes what they do while keeping it interesting. Their slogan is "No Body Better." Since they create custom truck bodies, the word "body" describes what they do. They also use the slogan to show their philosophy of being the best in their industry. It's a play on words that has multiple levels.
4. Stay Succinct
The hallmark of a powerful slogan is that it's succinct. Edit your slogan over and over until you get down to the lowest number of words possible. In the example above, Reading Truck Body uses only three words to get their message across. Skittles, which we looked at in our first point, uses only three words as well. Although you can expand beyond three words, the shorter you can keep your message, the more easily people will remember it.
You have less than three seconds to grab the user's interest. Beyond that, they may bounce away to another site, never to return. Make those first few words and images count! Grab the user's attention before they bounce away.
5. Know Your USP
Every product or service has a unique selling proposition (USP). Figure out what makes your company or product stand out from the crowd. What do you have to offer that no one else does? Now, you have to figure out how to summarize your USP and what your company does in as few words as possible. The easiest way to learn how to create a slogan that's multi-functional is to study other slogans. Check out a few well-known examples:
Subway — "Eat Fresh"
Burger King — "Have It Your Way"
John Lewis — "Never Knowingly Undersold"
Notice how each highlights the USP in some way.
M&Ms has gone to characters to help promote their products, but one of their most famous slogans is "Melts in your mouth, not in your hands." The slogan has been used in various commercials and online campaigns for years. It describes the product and the USP perfectly.
6. Remain Honest
Customers need to know that you're reliable. Don't add details because they sound good in a slogan unless you can deliver on those promises. Don't say you're the cheapest in the area if you aren't. Instead, focus on what you know you can deliver and deliver well. It's better to underpromise and overdeliver than to overpromise and underdeliver.
Take Your Time
Don't rush into a slogan that you'll regret later. Take your time to go through the steps, brainstorm, get feedback and allow the slogan to develop over time. If all else fails, call in the help of a professional. If you're on a budget, talk to your local university and see if a marketing student wants to work with you on coming up with a new slogan.
"Blockchain" has become crazy popular in recent years, thanks to the rising value of Bitcoin, Ethereum, and other forms of digital currencies. However, the fundamental technology behind this movement has implications for other parts of the internet beyond just cryptocurrency investments.
User Interface (UI) and User Experience (UX) professionals are beginning to realize how blockchain technology stands ready to revolutionize their strategies and best practices. The age of static HTML websites will soon be gone and replacing it will be a brand new architecture for online platforms.
This article describes some of the key changes that blockchain technology will bring about in the web design world.
Support for Cryptocurrencies
In the early days of the internet, making purchases through a website was seen as a risky activity. Then companies like eBay and Amazon came along to streamline the whole process, with help from payment services like Paypal that offered secure methods for entering credit cards online.
Cryptocurrencies like Bitcoin and Ethereum represent the next evolution in the development of online retail. These days, a lot of the discussion around digital currencies is focused on their changing investment value, so it's easy to forget that these systems can be used online for purchasing and exchanging goods.
As a website developer, you need to consider blockchain platforms when designing the next version of your e-commerce website. Digital currencies should be added as payment options on checkout pages and updated automatically with the latest exchange rates. One of the big advantages of using cryptocurrencies on a retail website is the ability to support micropayments for small purchases like access to a news article.
Distributed Data Storage
Most modern websites and mobile applications are built on the same type of architecture. First, there is a database repository or collection that stores individual records. Then an application layer is created to communicate between the back-end data and front-end interface. The actual visual content lives on a web server that transmits to browsers or devices.
Blockchain technology has the potential to radically change this method of web development. One of the key features of digital currencies is that they operate without a central authority, such as a government or a bank. Instead, their financial ledger is kept on a peer-to-peer network with many nodes that run algorithms to maintain its integrity.
This concept of decentralized storage goes far beyond a simple accounting ledger. Data of all sorts can be stored and accessed in a decentralized, private way using blockchain technology. Instead of relying on a single database endpoint, designers will have the ability to spread information across a series of connected nodes that are guaranteed to keep it safe and readily accessible.
Smart Contracts
The secure nature of blockchain technology is being seen as a legitimate way for companies to verify all types of transactions, not just Bitcoin and Ethereum exchanges. The concept is referred to as smart contracts and represents a major leap forward in how trust is managed online.
Web developers should consider implementing smart contracts into their projects to replace any feature or functionality that involves two parties shifting resources or making agreements. For example, blockchain technology can be leveraged with package tracking, account subscriptions, and other time or location-based activities.
With blockchain integrated into a website's application logic, business users can rest assured that their resources are being managed and transferred appropriately. The key challenge for UI and UX designers is to build a clean interface to present all the moving traffic.
An easy solution for managing smart contract content (especially if you don't write code and the thought of learning WordPress makes you break out in hives) is to deploy an online website builder, where you can drag-and-drop visual elements and quickly test different iterations of emerging blockchain functions. Long derided as a substandard option for building a website, today's generation of DIY site builders like Wix and SquareSpace have become quite sophisticated and now power an increasing number of legitimate sites.  
Identity Management
Online privacy remains one of the most controversial topics in the world today. The average internet user is frustrated with how websites and mobile applications are tracking their personal data and sharing it with government organizations or advertising partners.
Blockchain technology may very well provide a promising solution to this headache. Digital currencies like Bitcoin and Ethereum operate on anonymous platforms through the use of private and public keys. Each investor gains access to a unique digital wallet that is identified with a string of characters, not their name or social security number. As a result, every transaction on these markets is kept secure and private.
As a web designer, you can consider using the blockchain model with how identity management is handled on your projects. For example, if a user subscribes to a newsletter on a website, that action could be tracked within the digital ledger. From there, the information can be traced by the user to understand if and when advertising groups are able to obtain it. Since identifying information is kept encrypted, it reduces the risk of data breaches or hacks.
Embracing Machine Learning and Automation
You should expect digital inventions and ideas to evolve quickly as blockchain technology becomes more widely adopted across the web. The opportunities are endless, especially when you consider how blockchain systems could partner with machine learning and automation platforms to capitalize on their processing power and innovation potential.
A great example of automation in web design is the rise of online chatbots. These are small utilities that are appearing on more websites where users often have common questions but find it difficult to obtain answers. With a chatbot, a website visitor can write in a text window as if they are interacting with a human being and then receive helpful replies in a matter of milliseconds.
What makes this type of interaction possible? It's a combination of engineering knowledge, resource power, and a new way of technical thinking. When you treat user questions and complaints as transactions on a blockchain network, you can begin to visualize trends and patterns and identify ways to quickly respond and resolve such events.
The Bottom Line
While the world of web design and development never stays static for long, the evolution of blockchain technology is poised to shake up the industry in a way that it hasn't been shaken in a while.
We're anticipating BIG changes on both the front and back end of sites. We've just pointed out a few of the possibilities but there are almost certainly going to be more and likely they'll come from unexpected directions. Stay tuned. It's going to be a fun ride.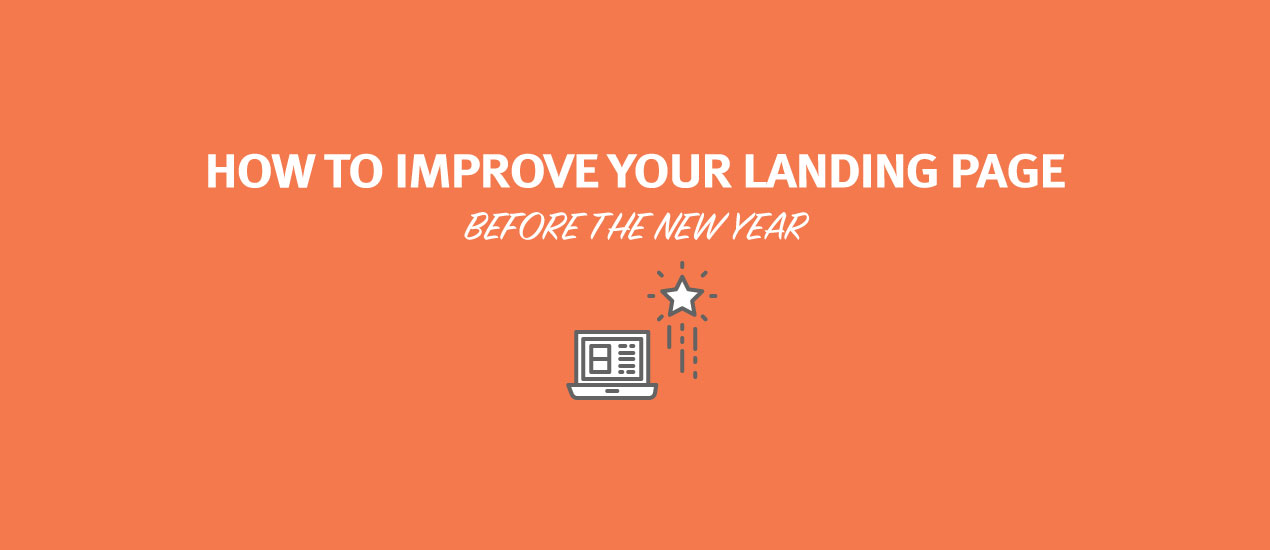 Your landing page is the first impression site visitors have of your business. A landing page has the potential to pull site visitors in and turn them into customers or to drive them away.
Out of the many challenges marketers face, getting landing pages built and testing them ranks in the top five. It's hard to know exactly what your target audience wants and how to deliver. Figuring out how to improve your landing page in the final quarter of the year is a particular challenge because there are so many other competing things that need completed, such as holiday marketing and the logistics of delivering more orders than normal.
Fortunately, there are some specific steps you can take now to improve your landing page before the end of the year and see an instant improvement in results.
1. Offer Something Unique
Give visitors something they can't get anywhere else. What unique selling proposition do you offer that your competitors do not? Think about how many websites there are on the Internet. While they might not all be direct competition, they are all competing for attention. You have to stand out from the crowd and the best way to do that is to offer something unusual that your target audience wants.
Snapchat gets a lot of things right, but adding something truly unique pulls site visitors right in. Among their offers, they tout Snapchat original videos. These are shows you can only view on Snapchat. The model of original shows has been quite successful for companies such as Netflix, so Snapchat is getting in on that action, even though they are not competitors at this point with Netflix.
2. Write Headlines that Hook
Your headline on your landing page says a lot about you. People see your headline when they're searching for a keyword on Google and your site pops up in the search results, for example. Does your headline make them want to click on the link and read more or is it blah and non-descriptive?
The wording of your headlines is of ultimate importance. In one study, researchers looked at the specific wording and tracked which words results in more shares on social media. They found that there were three top phrases in the most shared content:
Will make you – 8961 engagements
This is why – 4099 engagements
Can we guess – 3199 engagements
They studied other wording as well, but these three stood out from the pack with the most social shares, likes and comments.
3. Add a Call to Action (CTA)
The whole purpose of your landing page is to get the reader to take some type of action. In the most recent study we could find, experts estimated that 70 percent of small business websites lacked effective CTA buttons. These numbers may have improved slightly in the last few years as people have learned more about CTAs and why they work, but it is still an area worth upgrading.
There are many elements that go into creating a strong call to action. The best way to improve yours is to make small changes and then do some A/B testing to see what your site visitors prefer. Try different colors, placement, wording and sizes.
Halo Overhead Doors does a great job with their CTA buttons. The minute you land on their home page, you see an orange CTA button above the fold. This button invites site visitors to "get started," and the orange contrasts with the background to make it stand out. At the top right, in the navigation bar are two CTA buttons that read, "Request Estimate" and "Request Service." These buttons target both potential customers and current customers. Further down the page are additional CTAs to capture other users who want to browse, get ideas for garage doors for their homes or see what others have done to update their homes.
4. Post a Video
Most businesses publish about 18 videos per month on average. Videos are viewed more and more by people online, which is why you've seen an influx of them in recent months. Around 55 percent of people say they watch videos online every day. Videos allow you to highlight the story of your business or your unique selling proposition (USP) to site visitors. A video instantly engages consumers.
5. Keep it to One Point
What is your goal for your site visitors? Make your landing page simple and stay on that single point to increase conversions. The fewer places a user can click away and get distracted, the more chance there is that she will instead convert from a visitor to a subscriber or customer.
Bloom has one goal – to get you to order a custom floral arrangement. Everything on their landing page points users to that goal. They show some images of custom arrangements displayed in homes and offer a free design consultation. They then explain the three easy steps you'll take to get a completed arrangement and how it's all customized to your tastes and home.
6. Find Your Pain Point
A pain point is a problem the typical customer experiences that you can solve with your product or service. For example, if you offer a meal delivery service, the pain point might be that a working mom has no time to put a healthy meal on the table and finds herself serving fast food one too many days of the week. Your solution is a healthy meal delivery service she can customize to her family's needs and budget.
Once you find the pain point, you'll be able to address how you can help consumers get rid of the pain.
Improve Your Landing Page
Start with small changes, test them and see how your site visitors respond. Any small improvements to your landing page help conversion rates. With enough small changes, you'll see significant results.
How to Become A Professional Artist with Lindsey Jo Scott
Have you had to urge to leave your full-time position and pursue your love of art full-time? Today, with the help of local artist, Lindsey Jo Scott, we explored what it means to be a professional artist and what taking the plunge involves. Here are some lessons learned from both our and her experiences that we'd like to share with you. Make sure to take the time to watch the Facebook Live chat with Lindsey Jo before you leave, as well as to follow Lindsey Jo on her official site, Facebook and Instagram.
Understand that there may not always be a clear path.
It's romantic to think that there will come a day when you'll know it's time to burst out of the office and into your new creative career. But things aren't often so cut and dry. Some artists blindly take a leap when they feel inspired, while others are much more cautious about transitioning to full-time artist. The recommend is often that you hold onto your day job until your client base is so full that it forces you to quit. The more cautious you are with your business moves and finances, the better off you will be in the long run.
mural work by http://www.lindseyjoscott.com/
And while you're still employed full-time, take notes.
You may very well be working ten jobs, counting down the moments until you can go off on your own and "do this thing," but until then, you have a golden opportunity. You are working for another entrepreneur / business owner, so take notes. Be mindful of how they are running their business. What is working? What is a big old disaster? If your boss or manager tasks you with some big responsibilities, take them and run with them. This is a fantastic chance to get in the trenches early and learn what it means to run a business before having full responsibility. Whatever you do, do not waste this time simply hating on your job and watching the days pass you by. Ask if you can learn about how your boss runs their metrics, how they invoice. Ask if you can sit in on the hiring process and if you can try your hand at designing some of their social media graphics. They'll be impressed and you'll be learning on their time. Win, win.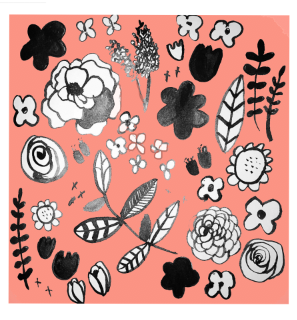 Reach out to other artists for support, to share resources and to mentor/to receive mentor-ship.
Once you're out on our own, it is important that you reach out to other artists in your community for support, to give and receive resources, and to mentor or receive mentoring. Here in Cleveland, our artistic community is thriving and events pop up every other evening for artists, designers, dancers, musicians, poets, writers and more! Look out for these resources in your city on sites like Meetup.com. You can, of course, also find them online – Facebook is a great place to start.
In a pinch, as Lindsey Jo will mention below, podcasts are also a great way to find inspiration without even leaving the house. Some of favorites include:
Art + Biz type Podcasts:
Podcasts she listens to while working: 
_____________________
Good luck, friends! Now, let's meet Lindsey Jo!
Ways to Use Videos on Your Website
You've likely noticed that more and more videos appear online each year. Google now offers an option for videos at the top of search results, and many websites feature videos. Brands use them to market on social media as well.
The number of people using videos online is staggering. About 78 percent of people watch online videos each week, and 55 percent state they view online videos on a daily basis. By the year 2020, 80 percent of all online traffic will be video viewing.
With such strong trending toward videos, you've probably thought about adding more to your website, but you may not know the different ways you can use video to pull in your site visitors. Here are six strong options.
1. Sell Your Product
If the main goal of your website is to sell a product, then a video is a must. One study showed that 80 percent of people remember a video ad from the past month, and 46 percent took action after watching a video. If you want to show off a product from all angles and show the uses of it, creating a product video should be one of your first steps.
Fix Asphalt features a video on their landing page that highlights the asphalt services they offer. They feature processes to fix or complete projects involving asphalt, concrete or pavement maintenance. The video highlights how their service solves a problem.
2. Tell a Story
Does your company have a unique background story? On a given day, in a given minute, about 700,000 Google searches occur, and 100,500 digital words flit by the average person in a day. If you want to stand out, you have to find a unique way to connect with consumers. Telling your own story is one of the best ways to accomplish this goal, and what better way to make it memorable than through a video on your website?
3. Add to the Aesthetics of the Design
It takes the average person just 50 milliseconds to form an opinion about the overall design of your website. Some users form an opinion in only 17 milliseconds. You have the blink of an eye to grab the user's attention. Present them with something that pleases them visually and makes them want to stick around. Adding a video to your landing page gives readers a break from the text and shows something desirable to the user.
Joe's Garage Coffee uses a looping video to show the process of creating their private label coffee and how it's superior to that of their competitors. The looping video adds some interest to the background that immediately shows the user what the company is about and why they're special.
4. Incorporate Embedded Videos
While it might be tempting to add a video to your website and stream it from your server, doing so isn't always the best choice. Most web designers prefer to embed videos from sources such as YouTube, Vimeo or Wistia. You can upload a unique video specific to your business or use one of the videos on their site with sharing permissions. Using other videos to enhance your message expands your ability.
In particular, if you own a very small business, you may not have the budget to create a video that shows how to install a new furnace filter or any other topic. However, someone else may have already produced that video, and you can simply share it. Just make sure the video you share isn't from a competitor.
5. Create Product Marketing Videos
Showcasing a product via video allows the user to see the item from all angles and see if it's for them or not. It's the next best thing to seeing the product in person. This 360-degree view of a product helps consumers decide if the product meets their needs. It should help cut down on returns and unhappy customers too.
Nine Line Apparel does a good job of highlighting their products in videos. Not only do they show the product, but they show it in use. In the video above, the guy keeps dropping his bottle of beer until the Nine Line hoodie arrives. Suddenly, he has a pocket to hold his beer bottle. It's presented in a humorous way. However, the other features of the hoodie are also highlighted, such as the thick material and long sleeves.
6. Provide a Vlog
Your website likely has a blog already. Why not make the content a bit more dynamic and add videos to your blog? You can create videos that go with a blog topic or blog posts that are videos. Topics should help solve a problem for your typical customer, so look at questions you receive on a regular basis, and answer them for readers.
The great thing about adding videos is that you can use them on your website and gain traction via social media. YouTube has a massive audience, as does Facebook, so sharing videos on those sites is a great place to start.
Get Creative
Figure out new and exciting ways to implement video on your site so that site visitors see that you have something special to offer. Whether you add videos as part of your looping background or go into detail about the history of your company, each video adds a different element to your site and makes it more interactive for your users.