Becoming a Professional, Freelance Artist
How to Become A Professional Artist with Lindsey Jo Scott
Have you had to urge to leave your full-time position and pursue your love of art full-time? Today, with the help of local artist, Lindsey Jo Scott, we explored what it means to be a professional artist and what taking the plunge involves. Here are some lessons learned from both our and her experiences that we'd like to share with you. Make sure to take the time to watch the Facebook Live chat with Lindsey Jo before you leave, as well as to follow Lindsey Jo on her official site, Facebook and Instagram.
Understand that there may not always be a clear path.
It's romantic to think that there will come a day when you'll know it's time to burst out of the office and into your new creative career. But things aren't often so cut and dry. Some artists blindly take a leap when they feel inspired, while others are much more cautious about transitioning to full-time artist. The recommend is often that you hold onto your day job until your client base is so full that it forces you to quit. The more cautious you are with your business moves and finances, the better off you will be in the long run.
mural work by http://www.lindseyjoscott.com/
And while you're still employed full-time, take notes.
You may very well be working ten jobs, counting down the moments until you can go off on your own and "do this thing," but until then, you have a golden opportunity. You are working for another entrepreneur / business owner, so take notes. Be mindful of how they are running their business. What is working? What is a big old disaster? If your boss or manager tasks you with some big responsibilities, take them and run with them. This is a fantastic chance to get in the trenches early and learn what it means to run a business before having full responsibility. Whatever you do, do not waste this time simply hating on your job and watching the days pass you by. Ask if you can learn about how your boss runs their metrics, how they invoice. Ask if you can sit in on the hiring process and if you can try your hand at designing some of their social media graphics. They'll be impressed and you'll be learning on their time. Win, win.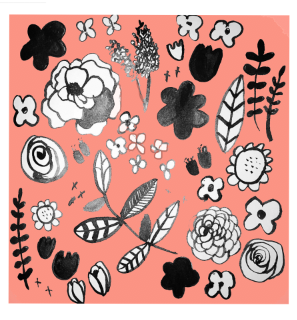 Reach out to other artists for support, to share resources and to mentor/to receive mentor-ship.
Once you're out on our own, it is important that you reach out to other artists in your community for support, to give and receive resources, and to mentor or receive mentoring. Here in Cleveland, our artistic community is thriving and events pop up every other evening for artists, designers, dancers, musicians, poets, writers and more! Look out for these resources in your city on sites like Meetup.com. You can, of course, also find them online – Facebook is a great place to start.
In a pinch, as Lindsey Jo will mention below, podcasts are also a great way to find inspiration without even leaving the house. Some of favorites include:
Art + Biz type Podcasts:
Podcasts she listens to while working: 
_____________________
Good luck, friends! Now, let's meet Lindsey Jo!