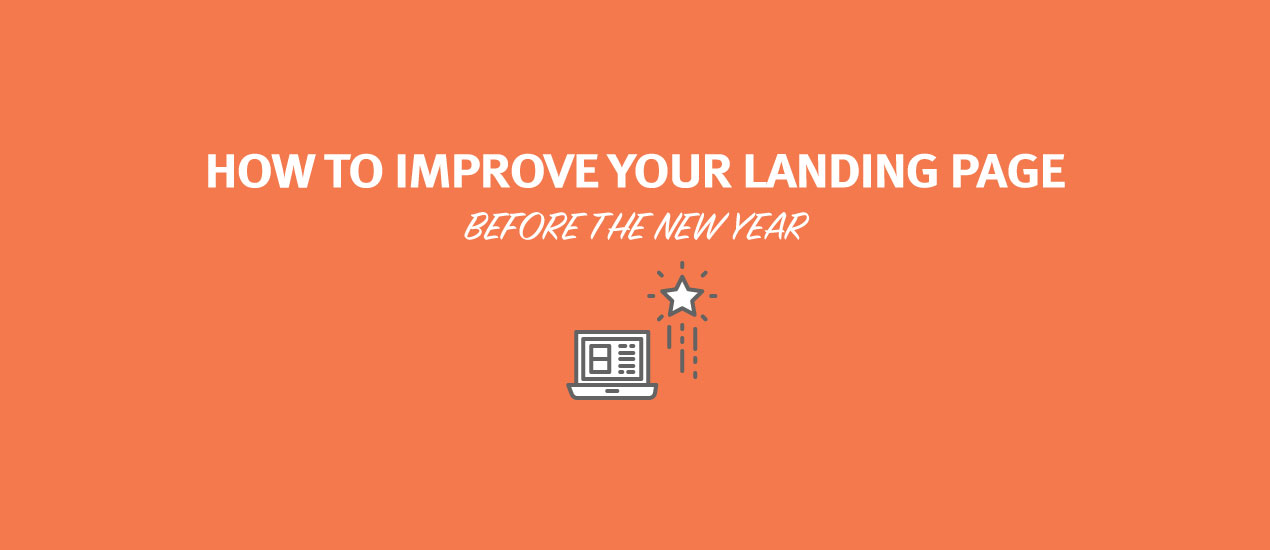 How to Improve Your Landing Page Before the End of the Year
Your landing page is the first impression site visitors have of your business. A landing page has the potential to pull site visitors in and turn them into customers or to drive them away.
Out of the many challenges marketers face, getting landing pages built and testing them ranks in the top five. It's hard to know exactly what your target audience wants and how to deliver. Figuring out how to improve your landing page in the final quarter of the year is a particular challenge because there are so many other competing things that need completed, such as holiday marketing and the logistics of delivering more orders than normal.
Fortunately, there are some specific steps you can take now to improve your landing page before the end of the year and see an instant improvement in results.
1. Offer Something Unique
Give visitors something they can't get anywhere else. What unique selling proposition do you offer that your competitors do not? Think about how many websites there are on the Internet. While they might not all be direct competition, they are all competing for attention. You have to stand out from the crowd and the best way to do that is to offer something unusual that your target audience wants.
Snapchat gets a lot of things right, but adding something truly unique pulls site visitors right in. Among their offers, they tout Snapchat original videos. These are shows you can only view on Snapchat. The model of original shows has been quite successful for companies such as Netflix, so Snapchat is getting in on that action, even though they are not competitors at this point with Netflix.
2. Write Headlines that Hook
Your headline on your landing page says a lot about you. People see your headline when they're searching for a keyword on Google and your site pops up in the search results, for example. Does your headline make them want to click on the link and read more or is it blah and non-descriptive?
The wording of your headlines is of ultimate importance. In one study, researchers looked at the specific wording and tracked which words results in more shares on social media. They found that there were three top phrases in the most shared content:
Will make you – 8961 engagements
This is why – 4099 engagements
Can we guess – 3199 engagements
They studied other wording as well, but these three stood out from the pack with the most social shares, likes and comments.
3. Add a Call to Action (CTA)
The whole purpose of your landing page is to get the reader to take some type of action. In the most recent study we could find, experts estimated that 70 percent of small business websites lacked effective CTA buttons. These numbers may have improved slightly in the last few years as people have learned more about CTAs and why they work, but it is still an area worth upgrading.
There are many elements that go into creating a strong call to action. The best way to improve yours is to make small changes and then do some A/B testing to see what your site visitors prefer. Try different colors, placement, wording and sizes.
Halo Overhead Doors does a great job with their CTA buttons. The minute you land on their home page, you see an orange CTA button above the fold. This button invites site visitors to "get started," and the orange contrasts with the background to make it stand out. At the top right, in the navigation bar are two CTA buttons that read, "Request Estimate" and "Request Service." These buttons target both potential customers and current customers. Further down the page are additional CTAs to capture other users who want to browse, get ideas for garage doors for their homes or see what others have done to update their homes.
4. Post a Video
Most businesses publish about 18 videos per month on average. Videos are viewed more and more by people online, which is why you've seen an influx of them in recent months. Around 55 percent of people say they watch videos online every day. Videos allow you to highlight the story of your business or your unique selling proposition (USP) to site visitors. A video instantly engages consumers.
5. Keep it to One Point
What is your goal for your site visitors? Make your landing page simple and stay on that single point to increase conversions. The fewer places a user can click away and get distracted, the more chance there is that she will instead convert from a visitor to a subscriber or customer.
Bloom has one goal – to get you to order a custom floral arrangement. Everything on their landing page points users to that goal. They show some images of custom arrangements displayed in homes and offer a free design consultation. They then explain the three easy steps you'll take to get a completed arrangement and how it's all customized to your tastes and home.
6. Find Your Pain Point
A pain point is a problem the typical customer experiences that you can solve with your product or service. For example, if you offer a meal delivery service, the pain point might be that a working mom has no time to put a healthy meal on the table and finds herself serving fast food one too many days of the week. Your solution is a healthy meal delivery service she can customize to her family's needs and budget.
Once you find the pain point, you'll be able to address how you can help consumers get rid of the pain.
Improve Your Landing Page
Start with small changes, test them and see how your site visitors respond. Any small improvements to your landing page help conversion rates. With enough small changes, you'll see significant results.