Articles by Month:
May 2017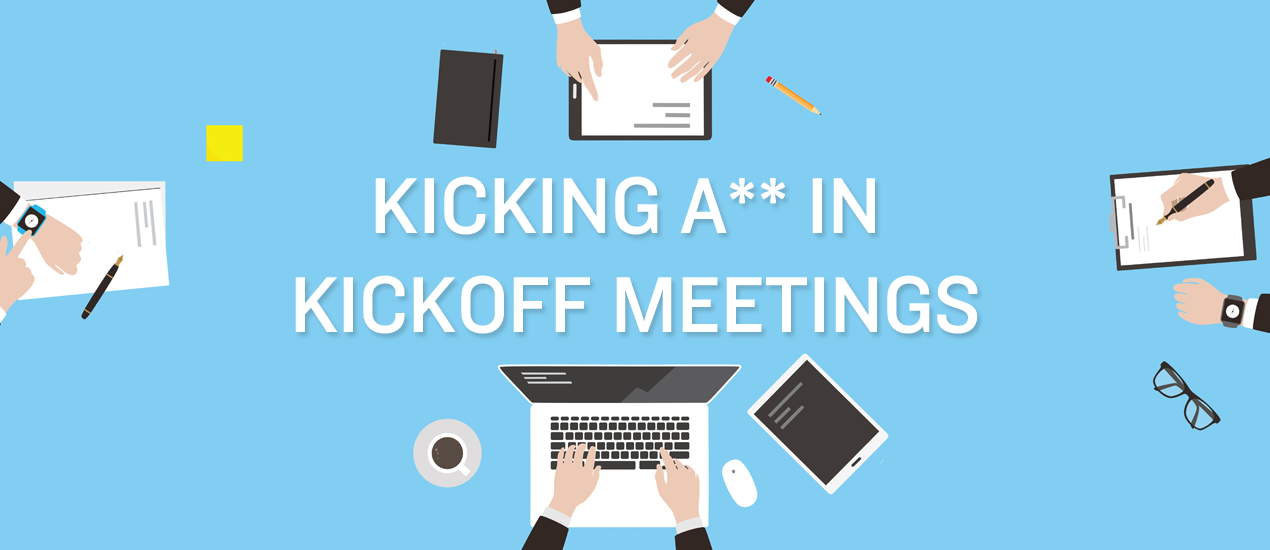 Participating in a Successful Kickoff Meeting
Any great project starts with a great kick-off meeting. For this reason, designers must know what it takes to participate in a successful one, including how to dress, look, act and express themselves. Today, we're sharing some tips we share with young designers about kicking a** in kick-off meetings. We hope they help you, as well.
1. Be Prepared. A designer must read through the proposal, creative brief and do research on the client. You must come across like you KNOW about the project. If a client tells a sales person all about their business, then the designer comes in and asks all the same questions – the client is going to get angry and feel like we're not communicating internally! This is a bad way to start a project off!
2. Have a list of questions ready to go before the meeting. Whether you're selling or having a kickoff meeting – it's easier to participate if you've pre-written a bunch of questions. Coming up with good questions on the spot is hard. Hopefully, as you do your research and read through the creative brief some questions will come to mind. Fortunately, Go Media has been doing this for some time, so we do have a boilerplate document filled with common questions. So, we never have to go in cold, but this is no excuse to not do research. The more detailed your questions, the more it will show the client you give a damn and will help your design process. This is your BEST OPPORTUNITY to start brainstorming design ideas and to pick the customer's brain about what they want. So, take this opportunity and do it RIGHT – because it's easier to get your designs right in the first place instead of having the client displeased and have to do them again!
3. Make them like you! This is a VERY powerful design tool. Did you know that if your clients like you, they are more likely to like the designs you send them? So, how exactly do you get a client to like you? Be friendly. Look for opportunities to connect with them on common interests. If you like fishing and they like fishing and that comes up during the meeting – awesome… talk about fishing for a while! Tell a joke. Show them pictures of your kids… whatever it takes. Get the client on your side!
4. Match the client's body language and energy. This relates somewhat to the previous item. You want to make your clients comfortable! A great way to do that is to match their personality. If they are stiff and all business, you should be too. If they're laid back and want to talk about their kids for an hour – do it. If they talk fast and have high energy, you should talk fast and have high energy.
5. Watch your own body language! You are subtly communicating to your clients based on your body language. Are you focused on them or staring off into space? Are you biting your nails or playing with your hair? Are you slouching in your chair? Sit upright, be alert and LISTEN CAREFULLY. Your body language should be saying: "I care about you! I am alert and listening intently. THIS is important to me."
6. Dress the part. Show your client that you care and kick it up a notch for the kick-off. This is just another way to show your client that you have an interest in their project.
7. Take detailed notes. Unless you have a photographic memory, you're sure to forget something was discussed. Even hand-written notes are unreliable. If you do prefer to hand-write notes go straight to your desk after the meeting and transcribe them onto your computer.
After the kick-off meeting is done, don't forget to sincerely thank your client for their time. Throughout your working relationship, continue to connect with them and show them you care, carrying these tips with you even if you're not face-to-face with your client. Good luck everyone!
WMC Fest Donut Challenge
WMC Event Director Heather and Speaker Stephanie Irigoyen sit down to shove donuts in their faces in the name of this year's festivities.
How to Build a Successful Email List
We all want to create an email list that matters, but doing so takes some know-how. Here are some of our suggestions for cultivating a community of email subscribers.
WMC Fest Drawing Challenge
Today, Weapons of Mass Creation Fest Event Director Heather Sakai is challenging Cleveland-born lettering artist, muralist, and designer Lisa Lorek to a good old fashioned drawing challenged all in celebration of this year's Weapons of Mass Creation Fest. 
Brand Consistency
Building a brand is serious business. One that takes insight, perseverance, personality, and patience.
Hello current and future friends of Weapons of Mass Creation Fest,
If you have yet to hear of us, we are the premier art, design, and music conference in the Midwest. We welcome you to join us for this year's festivities, August 18 – 20th in Lakewood, Ohio. Mahall's, a west-side Cleveland landmark for bowling, good music, good times, and good fried chicken will be our host. If you love design, music and bowling – get ready to party with us!
If you need a little more convincing, here are some reasons we believe a design conference like ours should be in your future: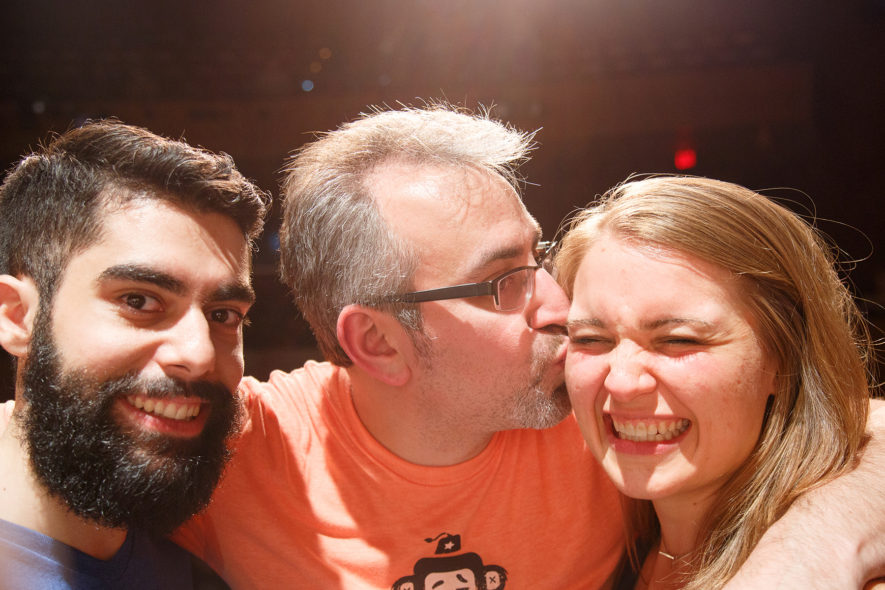 Real Relationships
Conferences are the perfect place to meet like-minded people. While it's often difficult to put yourself out there and attend an event, especially solo, it's so well worth it. After all, there aren't many opportunities to totally geek out with so many folks that love the same things you love, in one space, all at the very same time. It's the ultimate time to bond, build friendships and find your tribe. When you come back the next year, it's your opportunity to renew those friendships and it feels oh so nice. (*Hearts*) I'm biased, but there is something special about our own conference, Weapons of Mass Creation Fest, that brings our attendees close, quickly. Since we provide time for lunches, dinners, meet-ups and parties, there are many opportunities for folks to get to know one another on a personal level. And because the feel of the fest isn't corporate, people let down their guards instantly. This results in friendships that have lasted since year one.
Direct Feedback
If you're looking for feedback on your work or advice about building your business, get yourself to a design conference now! Next, attend as many of the talks, panels and workshops as you can and take notes! Attend meet-ups, hook up with fellow creatives for lunch and dinner. Head to the parties and not only talk, but truly listen.  Soak up all the information you can. Don't be afraid to raise your hand during the Q and A's and be brave enough to ask that speaker you admire the question you're dying to have answered.
Up Your Game
Did you just create a new poster series, start a sticker subscription service or launch a new apparel line? Attending a design conference like Weapons of Mass Creation Fest is a great way to get the visibility you're looking for. You can do this by setting up a vendor booth, hooking each attendee up with promo items (by way of their swag bags), or simply working the room like a champ, all weekend long.
If you're looking to be more visible as a public figure, put in the effort by showing up to as many design conferences as possible. Put yourself out there and show the design community that you're a creative that "takes up space." Make an effort to get to know the conference coordinator(s) and have conversations with them about possibly speaking at a future event. (In person if possible.) Show them you genuinely care about their event.
Battling Burnout
Most of us have faced some amount of burnout at some point in our careers. When you put your heart and soul into what you love to do, it seems inevitable. If you've experienced exhaustion as it relates to your creative career, attending a conference can help. The authentic conversations are really what have helped many of us pull through. At this year's Weapons of Mass Creation Fest, we'll even be holding a panel on this very topic, "How to Battle Creative Burnout." So, there you go.
Paving Your Way
Design conferences are filled with talented, connected creatives that are more than willing to befriend you and help you become a better creative or entrepreneur. If you attend, take the time to form meaningful connections (face-to-face) and then, in turn, give back, opportunities will abound. You do, however, have to put in the work, so make sure you go in ready and willing to chat up speakers, vendors, attendees, and absolutely anyone who is willing to exchange in a conversation. In this creative environment, you never know what magic will come of it.
Kick in the Pants
Inspiration is an overused word, so we've decided to use "kick in the pants," as a way to describe what Weapons of Mass Creation Fest does to us. The three days are so jam-packed with activity, friend-making, and just plain fun, that we come out on the other side a tad bit exhausted, but mostly motivated unlike ever before. We feel like we've gotten a big old kick in the pants to go achieve, pursue our path and ya know, dance like no one is watching.
—
So yeah, we're pretty into design conferences for many reasons, which is why we started our own. We'd love to see you at Weapons of Mass Creation Fest this summer, so please make it a point to come, squeeze every ounce of content out of it and enjoy. Have any questions before you come? Please ask. Hope to see you there!
Categorized:

Graphic Design

Tagged:

art, cleveland, conference, Creative, creativity, design, design conference, designer, party, weapons of mass creation fest, wmc, wmc8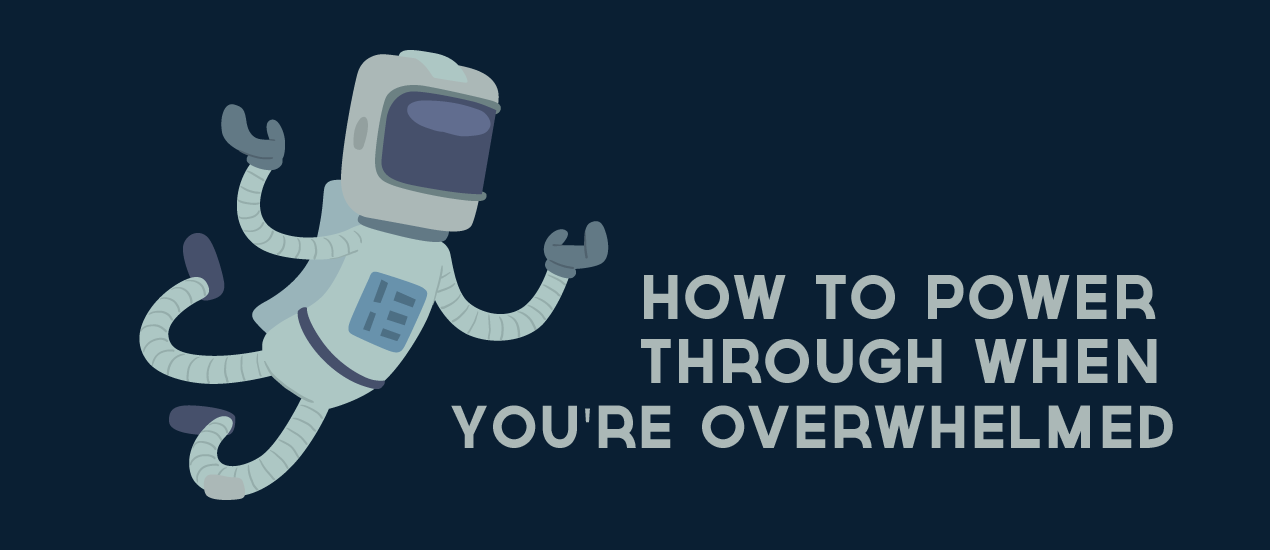 What to do When You're Overwhelmed
Ever find yourself in a situation when you're so overwhelmed with work that you actually feel paralyzed? Us too.
Here are some ways which help us to power through during those times when we're under the gun.
Write it down. No, but seriously. There is nothing better than a to-do list. Sure, Teux-Deux and GoogleTasks are great, but there is no better feeling than physically writing down your list of to-dos. Getting everything down on paper allows you to understand what you're up against and lets you plan accordingly. Making sure to turn even little to-do's into formal tasks will allow for you to feel more accomplished, as crossing them off feels oh-so-good. A brand new planner will really help facilitate this process.
Delegate! For many of us, it's not easy to give up control to other members of our team. The delegation of tasks, however, can be one of the best tools in your toolbox, and one of the most powerful moves to make. Though delegation takes a lot of upfront work, the backend is often smooth sailing.
Try SMART goal setting. When setting goal for yourself, be SMART about it. Goals should be: Specific, measurable, achievable, realistic, and trackable. Too lofty and the anxiety will start to sneak in.
Pump…yourself up. A great tip we found once that we love involves Star Wars (and what great tip doesn't)? When you're distracted, strap on those headphones and motivate yourself with some great music (sans-lyrics) like the Star Wars soundtrack or video game music. It will make you feel like you're taking on the world, one tiny task at a time.
Create consistency. Whether you're a blogger, social media manager, designer, or entrepreneur, there are tasks that you do on a somewhat consistent basis (or should). These might include writing blog posts, publishing tweets or Facebook posts, emailing potential clients or writing proposals. When you feel overwhelmed, these tasks may become unwieldy. Instead, block out consistent chunks of time in your week to dedicate to these important tasks, making sure not to overcommit yourself to anything unreasonable. Remember, quality over quantity always wins.
Phone a friend. In times of desperation, phone a "friend". This not only takes some of the pressure off but also introduces some fresh new life into your work and content. Here at Go Media, we have a great list of extended family on hand at any time, as well as some great freelancers and bloggers who can step in at any time and lend a hand.
Put your blinders on. When you have a huge project to attend to, office chatter, music or small interruptions can be an unwelcome distraction. Besides gritting your teeth to power through, think about what you can do to alleviate some of these disruptions. This could be anything from getting into the office early or using an app to practice the Pomodoro timer (work for 25 minutes, take a 5-minute break). (Try Freedom, Focus Booster or Stay Focused.) You could also try changing scenery and work from home or a coffee shop or completely shut down your computer and work strictly on pen and paper.
Underpromise, overdeliver. Setting expectations is an important part of communicating with clients, family, and friends. When you consistently overpromise something you may or may not be able to deliver upon, you are setting yourself and the relationship up for failure. We suggest setting honest expectations upfront and then overdelivering whenever possible. It's such an awesome feeling all around.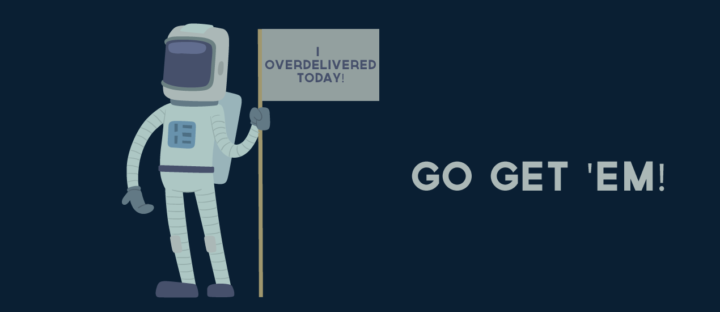 Good luck and go get 'em!