Why You Should Attend a Design Conference (like WMC Fest)
Hello current and future friends of Weapons of Mass Creation Fest,
If you have yet to hear of us, we are the premier art, design, and music conference in the Midwest. We welcome you to join us for this year's festivities, August 18 – 20th in Lakewood, Ohio. Mahall's, a west-side Cleveland landmark for bowling, good music, good times, and good fried chicken will be our host. If you love design, music and bowling – get ready to party with us!
If you need a little more convincing, here are some reasons we believe a design conference like ours should be in your future: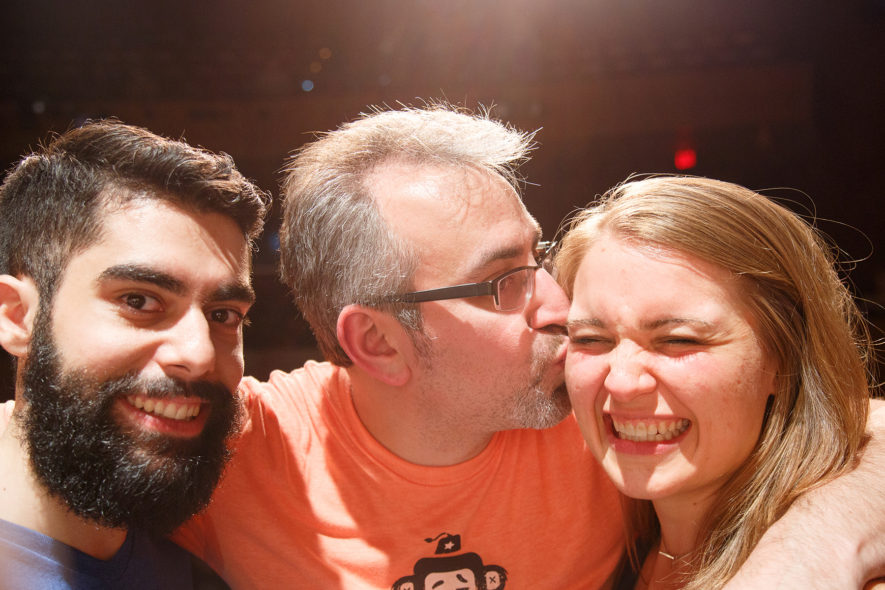 Real Relationships
Conferences are the perfect place to meet like-minded people. While it's often difficult to put yourself out there and attend an event, especially solo, it's so well worth it. After all, there aren't many opportunities to totally geek out with so many folks that love the same things you love, in one space, all at the very same time. It's the ultimate time to bond, build friendships and find your tribe. When you come back the next year, it's your opportunity to renew those friendships and it feels oh so nice. (*Hearts*) I'm biased, but there is something special about our own conference, Weapons of Mass Creation Fest, that brings our attendees close, quickly. Since we provide time for lunches, dinners, meet-ups and parties, there are many opportunities for folks to get to know one another on a personal level. And because the feel of the fest isn't corporate, people let down their guards instantly. This results in friendships that have lasted since year one.
Direct Feedback
If you're looking for feedback on your work or advice about building your business, get yourself to a design conference now! Next, attend as many of the talks, panels and workshops as you can and take notes! Attend meet-ups, hook up with fellow creatives for lunch and dinner. Head to the parties and not only talk, but truly listen.  Soak up all the information you can. Don't be afraid to raise your hand during the Q and A's and be brave enough to ask that speaker you admire the question you're dying to have answered.
Up Your Game
Did you just create a new poster series, start a sticker subscription service or launch a new apparel line? Attending a design conference like Weapons of Mass Creation Fest is a great way to get the visibility you're looking for. You can do this by setting up a vendor booth, hooking each attendee up with promo items (by way of their swag bags), or simply working the room like a champ, all weekend long.
If you're looking to be more visible as a public figure, put in the effort by showing up to as many design conferences as possible. Put yourself out there and show the design community that you're a creative that "takes up space." Make an effort to get to know the conference coordinator(s) and have conversations with them about possibly speaking at a future event. (In person if possible.) Show them you genuinely care about their event.
Battling Burnout
Most of us have faced some amount of burnout at some point in our careers. When you put your heart and soul into what you love to do, it seems inevitable. If you've experienced exhaustion as it relates to your creative career, attending a conference can help. The authentic conversations are really what have helped many of us pull through. At this year's Weapons of Mass Creation Fest, we'll even be holding a panel on this very topic, "How to Battle Creative Burnout." So, there you go.
Paving Your Way
Design conferences are filled with talented, connected creatives that are more than willing to befriend you and help you become a better creative or entrepreneur. If you attend, take the time to form meaningful connections (face-to-face) and then, in turn, give back, opportunities will abound. You do, however, have to put in the work, so make sure you go in ready and willing to chat up speakers, vendors, attendees, and absolutely anyone who is willing to exchange in a conversation. In this creative environment, you never know what magic will come of it.
Kick in the Pants
Inspiration is an overused word, so we've decided to use "kick in the pants," as a way to describe what Weapons of Mass Creation Fest does to us. The three days are so jam-packed with activity, friend-making, and just plain fun, that we come out on the other side a tad bit exhausted, but mostly motivated unlike ever before. We feel like we've gotten a big old kick in the pants to go achieve, pursue our path and ya know, dance like no one is watching.
—
So yeah, we're pretty into design conferences for many reasons, which is why we started our own. We'd love to see you at Weapons of Mass Creation Fest this summer, so please make it a point to come, squeeze every ounce of content out of it and enjoy. Have any questions before you come? Please ask. Hope to see you there!