Articles by Day:
August 26, 2015
Mistakes to Avoid When Designing a Logo
When you think of great products or companies, the visual image that forms in your mind is probably that of their mark; McDonald's golden arches, Nike's Swoosh and Coca-Cola's wave. The inherent value of a quality brand is well established. At Cleveland graphic, web and logo design agency Go Media we've perfected the process of building memorable brands that last.
Our Cleveland logo design experts will ensure that your business stands apart in a competitive marketplace. We love helping folks through their entire branding process, one aspect of which is your logo – the mark or shape you'd use to represent your company.
A logo speaks volume about your brand, so what can you do to ensure it doesn't fall flat on its face?
Here are 7 Mistakes to Avoid When Designing a Kick-Ass Logo
Mistake #1: Not trusting your designer.  
It's absolutely imperative that you choose a solid design firm (*cough – Go Media – cough*) with a great reputation (*cough – Go Media – cough*) for the job. Once you've chosen the firm and meet your designer – trust them. Their life's work is to recognize great design (and the opposite). Heed the advice you receive and remember why you're paying good money for it.
Mistake #2: Not trusting your instincts.
Now that we've told you to trust your designer – understand that this is a collaborative effort. Just as your designer is the expert in their field, you are the expert in yours. You know your customer base better than anyone. Educate your designer about your audience, the environment the identity will live in and your industry before they put pencil to paper. Once proofs are being send out, give your honest feedback. Trust your instincts and feel free to be honest.
Mistake #3: Being Too Emotionally Attached
Already have an existing logo? Recognize the difference between familiar and good. If you've established that your logo needs a facelift, work with a firm that can maintain your brand equity while bringing you the update you deserve. Unsure if your long-time logo is good or not? Talk to your customers, collect candid feedback, reassess.
Mistake #4: Imbuing all of your company traits onto your mark (that's the symbol that represents your company).
In other words, don't try to jam-pack your logo with everything you think your company does or represents. Remember that your logo is meant to be a symbol that represents your company. If your branding is done right*, your customer will fully experience your company in a wide variety of ways (for example, via your website, packaging, commercials and more), so no need to fit it all in here. Trying to bake in all of your brand values, personality, services, etc. and still have a strong mark is nearly impossible.
Learn the difference between logo design and branding here*
Mistake #5: Overly complicating your mark with shapes, color gradients, etc.
Your mark is not a piece of artwork, so hold back on the temptation to add pieces of flair. Avoid too much detail, pull back the reins. The best logos are simple, yet memorable due to their quiet strength. Aim for something unique or unexpected instead of packing on extras that will pull focus away from the heart of the matter.
Mistake #6: Using Insufficient Contrast
We want to see your logo without going cross-eyed. Don't destroy a good thing by choosing the wrong colors for your logo. Learn about contrast and apply the rules appropriately.
Mistake #7: Being Overly Artistic in your Typeface
The number one goal of your typeface is for it to be legible. While it's tempting to get creative with type, hold back and again, remember to keep it simple. If you'd like to infuse a strong sense of style into your logo, do so in your imagery.
Remember: There are many well-meaning, but not-so-hot logos out there in the world.
Remember, your company's livelihood relies your branding, so make sure your logo game is tight. There are no shortcuts to greatness!
Check out out Go Media's Logo Design Portfolio and contact us so that we can discuss your logo design needs.
Lessons from WMC 6
The sixth year of Cleveland creative conference Weapons of Mass Creation Fest came and went (a little too fast), but if one thing's for certain, the fest did not over promise and under deliver. This year, Heather Sakai and Bryan Garvin took over as Event Directors and it's safe to say we all left feeling refreshed and inspired, with our hearts full of good laughs with new and old friends. Let's talk about the takeaways from Cleveland creative firm Go Media's WMC Fest 6.
1. Don't Wait
Waiting around to get your ideas off the ground helps no one. It doesn't help you, it doesn't help the community, it doesn't help your pockets. Antonio Garcia summed it up perfectly, when he reminded us of the great quote by Tony Gaskins: "If you don't build your dreams someone will hire you to help build theirs." We all have ideas, every single one of us. Take action to make those ideas come to life.
[Tweet ""If you don't build your dreams someone will hire you to help build theirs." – Tony Gaskins"]
"But I don't know where to start!" you say. Ask someone! Reach out to your friends, this "network" of like minded individuals we have. What's stopping you?
2. Never Give Up & Don't Be Afraid
As we learned with Debbie Millman, some doors are going to flat out slam in your face. We are not always in our WMC Fest bubble and people can be cruel. Who cares about those people! Know who you are, know that you are awesome and can be just as great – even better than the person who shut you down.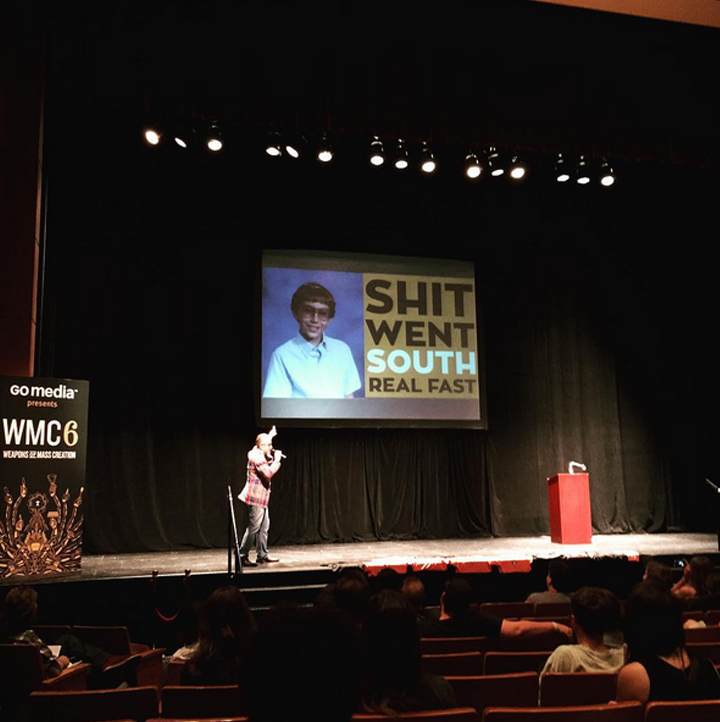 3. Remember Your Passion For Life
Lenny Terenzi and Mike Jones took us on a roller coaster of emotions. We laughed, we cried, we hugged and we danced! Life is going to knock you down. It's going to be mean and nasty and it's really important to just punch life in it's face! We will find what is meant for us when we are meant to find it. Until then, "belly flop into the damn pool!"
The goal isn't to build a network and hope to get something out of someone somewhere down the line. It's to make friends! It's to bounce ideas off of each other, to collaborate, to lift each other up. A true sense of community is much more than saying 'hi' to your neighbors.
4. Be Authentic
Be the person your 12-year-old self would look up to. Have real conversations. We all strive to be authentic, live a great life with a super awesome job. But are we being true to ourselves? Michael Cavotta asked us to name three words that make you, you. Have you figured out those three pillars yet that make you your authentic self? Find out what gets your fire going, what lights you up. You are a badass tripod! Don't fall outside of who you are.
This family started with a small group of people and has blossomed into the brightest peach in the box. WMC Fest 6 was a wonderfully emotional experience — the love was felt and the friendships are real. Only 300 some days left until we are back in the bubble! Stay true, stay weird and embrace your inner Kanye!