Articles by:
Olivia Arnette
Lessons from WMC 6
The sixth year of Cleveland creative conference Weapons of Mass Creation Fest came and went (a little too fast), but if one thing's for certain, the fest did not over promise and under deliver. This year, Heather Sakai and Bryan Garvin took over as Event Directors and it's safe to say we all left feeling refreshed and inspired, with our hearts full of good laughs with new and old friends. Let's talk about the takeaways from Cleveland creative firm Go Media's WMC Fest 6.
1. Don't Wait
Waiting around to get your ideas off the ground helps no one. It doesn't help you, it doesn't help the community, it doesn't help your pockets. Antonio Garcia summed it up perfectly, when he reminded us of the great quote by Tony Gaskins: "If you don't build your dreams someone will hire you to help build theirs." We all have ideas, every single one of us. Take action to make those ideas come to life.
[Tweet ""If you don't build your dreams someone will hire you to help build theirs." – Tony Gaskins"]
"But I don't know where to start!" you say. Ask someone! Reach out to your friends, this "network" of like minded individuals we have. What's stopping you?
2. Never Give Up & Don't Be Afraid
As we learned with Debbie Millman, some doors are going to flat out slam in your face. We are not always in our WMC Fest bubble and people can be cruel. Who cares about those people! Know who you are, know that you are awesome and can be just as great – even better than the person who shut you down.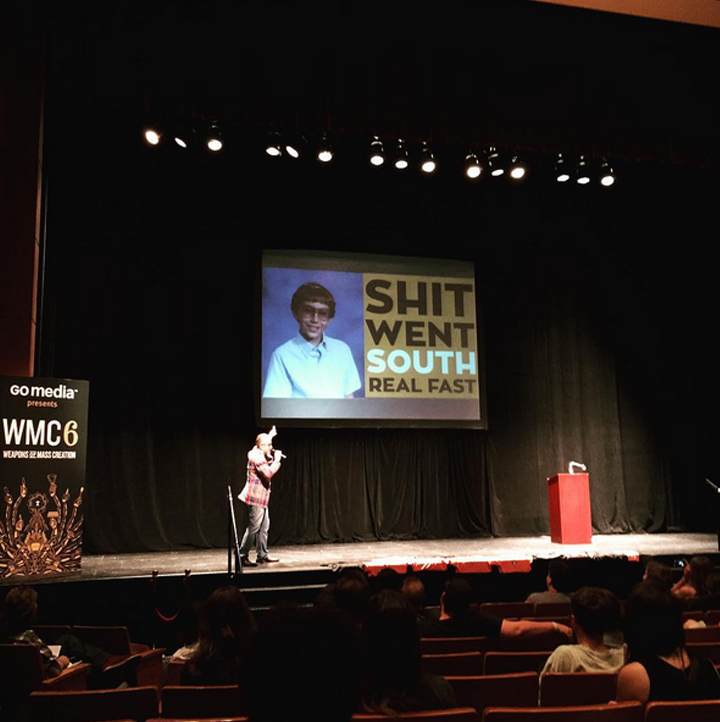 3. Remember Your Passion For Life
Lenny Terenzi and Mike Jones took us on a roller coaster of emotions. We laughed, we cried, we hugged and we danced! Life is going to knock you down. It's going to be mean and nasty and it's really important to just punch life in it's face! We will find what is meant for us when we are meant to find it. Until then, "belly flop into the damn pool!"
The goal isn't to build a network and hope to get something out of someone somewhere down the line. It's to make friends! It's to bounce ideas off of each other, to collaborate, to lift each other up. A true sense of community is much more than saying 'hi' to your neighbors.
4. Be Authentic
Be the person your 12-year-old self would look up to. Have real conversations. We all strive to be authentic, live a great life with a super awesome job. But are we being true to ourselves? Michael Cavotta asked us to name three words that make you, you. Have you figured out those three pillars yet that make you your authentic self? Find out what gets your fire going, what lights you up. You are a badass tripod! Don't fall outside of who you are.
This family started with a small group of people and has blossomed into the brightest peach in the box. WMC Fest 6 was a wonderfully emotional experience — the love was felt and the friendships are real. Only 300 some days left until we are back in the bubble! Stay true, stay weird and embrace your inner Kanye!
Cover Photo courtesy of Patrick Chin
Meeting the Man: Mike Jones
Whew! What a weekend, huh, guys? As this was my first Weapons of Mass Creation Fest, I did not know what to expect. I knew I'd meet some cool people, see some awesome things – but I could've never imagined the magnitude of all of it. Before I get into my time with Mike Jones, let's give a round of applause to the creator of WMC Fest, Jeff Finley, for bringing this to life. The event is truly one-of-a-kind, and the fact that it all started in Cleveland makes me feel profoundly proud.
***
"Have you met theman, Mike Jones?"
I heard that probably 20 times over the weekend. So, I marched up to Vendors Village to find this Mike Jones, and try to snag him for a quick interview. I found him at his booth, Old South Supply Co., with his (equally awesome) partner in crime Lenny Terenzi. I introduced myself and asked if we could chat for an interview at some point, and he said well of course! We can do it right now.
The crew joined forces to create Old South Supply Co. with the idea of giving people quality, hand-crafted goods with a sweet southern flare. Mike is from Georgia while Lenny is from North Carolina. The two have assistance in web development by friend Rob Davarnia, who owns Parse Labs, a web development and design company in Orange County, California. Old South Supply Co. just got its start back in June and had its soft-launch at WMC Fest. Their online store will be up and running soon, and you will be able to purchase anything from t-shirts and hats to drinking glasses and cooking utensils, and there's even a button-down clothing line in the works.
Lenny and Mike met at Creative South (a design conference run by Mike). Mike suggested he and Lenny collaborate together on a lifestyle brand based around how we view the south.
"There are a lot of types of southerners. The two main categories of Southerners that come to my mind the most are "country"– and what I like to call 'the "old money", – both have their following and both are valid!
Mike and Lenny want to make Old South Supply a way for everyone to meet in the middle and service the views and lifestyles of both. The duo handmakes as much as they can and since they're both designers, they definitely get to design everything!
***
A faith-based designer, Mike never seems to stress; He just goes with his heart and a little direction from the Big Guy upstairs. His story begins a year and a half ago, when Mike asked God to let him know loud and clear if he should stay and work at the design firm he knew and loved, or if he was needed somewhere else. He went back inside to finish his day of work and was delivered the message as clear as day. No hard feelings, but it was just his time to go. As they say, as one door closed, another opened.
The very next day, Mike received a call from a fraternity brother he hadn't heard from in 10 years.
His fraternity brother needed a logo and a website. From then on, his freelance career took off. Mike received a phone call, text or e-mail every day for the first four months of freelancing full time.
"I was blown away, like doors were opened just like He said they would," said Mike. "For a year and a half, I have been steady. I don't advertise, it's all word-of-mouth and it's just blessing after blessing. I'm thankful, I get to do what I want to do and I get to do it on my own terms. It allows me to spend more time with my family and do side projects like Old South Supply."
Mike looks back at his experience as design firm invaluable; it's there he recommends finding, and keeping life-long mentors.
"You know what? Don't be afraid to call 'em up. 'I love your work! How'd you do that?' If they share, fantastic, if not fantastic," said Mike. "If someone calls me and asks how I did something, I tell them because your vision of art and mine are different, even if the technique to do it is exactly the same."
Mike's big take-away? With faith on your side, try, fail sometimes, but don't ever give up.
"It is a scary thing. Like what if I fail? Then what do I do? Look, go into it like this. I have this thing that I wanna do. This is my plan B just in case. Worse case scenario, it's not gonna work out. Best case, it's the best thing you'll ever do. Be confident that one of those is gonna go!"
"If you fail, the people that love and care about you thought it was awesome – and if anything, you've made some cool things for your buddies."
__________________________________________________________
More Mike Jones: Twitter | Dribbble | Old South Supply Co.
Creative South Main | Creative South Facebook | Creative South Twitter
Thanks to Patrick Chin for all photography used in this story.