Articles by Month:
September 2007
As of this writing our Go Media User Showcase has 217 entries and 131 members. Here are a couple pieces that I thought put the vector packs to good use.
I wish this one was bigger so I can see the detail, but it looks cool from what I can see:
This uses the radials pack in an interesting way. I think it's a well done shirt design.
Great job you two. Everyone visit their flickr page to see more of their work! And keep posting your designs and you could potentially get showcased!
One of our readers suggested we write a tutorial explaining how to do this cool text effect. On the Dragonforce logo above, the basis of my typography was sketched on paper first and then vectored in Illustrator using the Pen Tool. The process for creating the base logo is not included in this tutorial. Instead, we are going to take the base logo and add that cool "line gradient" effect that you see inside the actual letters. This gives the text an old-school or vintage feel to it. This look is prevalent in wood engraving and sign lettering. You can do this effect with any typeface or font because the principle is the same.
Here are some more examples:
So in order to get this effect, we will need both Adobe Illustrator CS2 or higher and Adobe Photoshop.
You can see the kind of effect we are going to create. This is going to cover the basic technique. But I encourage you to be creative and experiment with different things. That's how you learn! Begin the tutorial after the fold.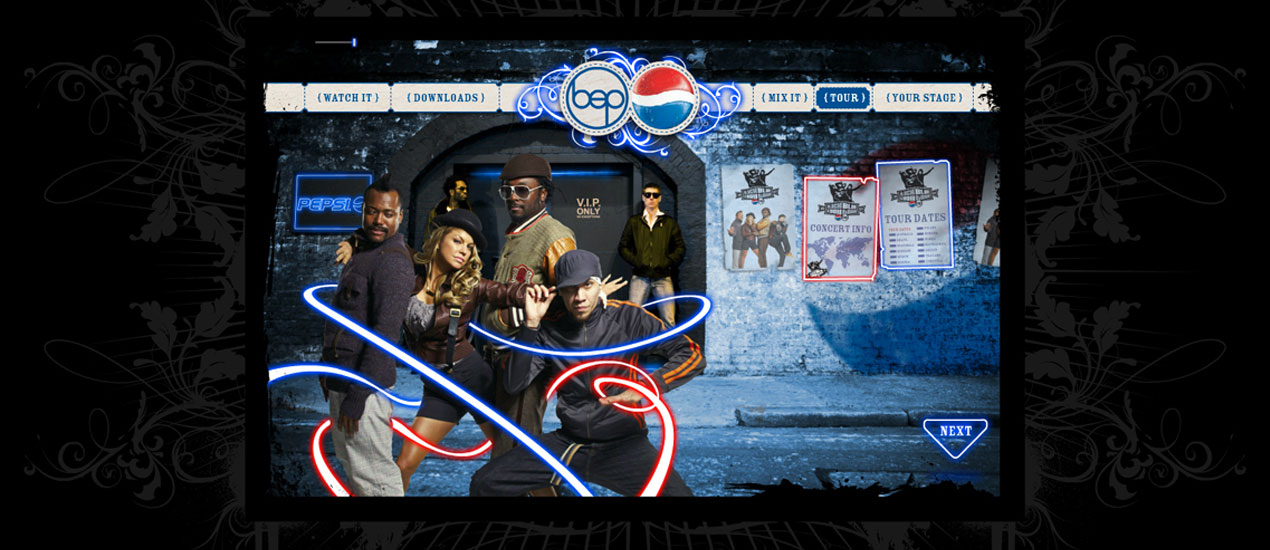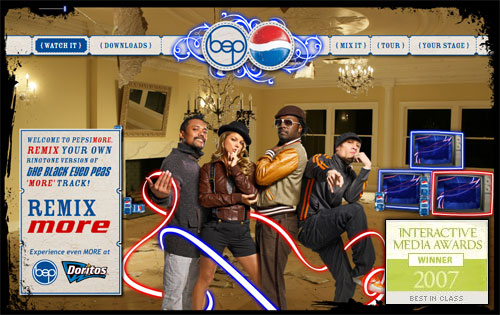 Well, not directly, but the Pepsi More website we built for Damon over at Communicator International won Best in Class in the Marketing category.
Damon and his crew at Communicator were hired by Pepsi to help market their campaign with the Black Eyed Peas. Communicator did what they do best and came up with all the great marketing ideas that formed the foundation for the website. Communicator hired Cleveland design firm, Go Media, to bring those ideas to life. Basically, we took all their ideas and developed the graphics, animation, and technology. They were the brains, while we were the creative production team. We'd like to thank Communicator for hiring us and trusting us with their project and Bernstein & Andriulli for hooking us up together.
The site scored extremely well on all of the judges criteria:
Design
Content
Feature Functionality
Usability
Standards Compliance and Cross-Browser Compatibility
For more information, check out the Interactive Media Awards

Here are some more of the things I've learned this summer at Cleveland Website Design firm, Go Media:
1. Design Fundamentals
I am not officially educated in design, so many of my blunders can be fixed by adhering to basic design rules. If you're in a similar situation, go to the library and order some books on the fundamentals of 2-D design and soak them up. After you think you've got it, try to apply the concepts. One fundamental rule I regularly overlook is watching out for tension points where design elements are too close (to edges for example). I must have a preference for really tight claustrophobic designs – but they usually look better with some breathing room.

2. Today I learned how to make a halftone in Illustrator.
1. Make a linear gradient from black to white in any shape you want by using the gradient in the Swatches pallete.
2. Go to the Effects –>Pixellate and choose Color Halftone. Increase the Max Radius to 15 pts and click OK. Your gradient will now be made up of little circles –this is a halftone. But it is not a vector halftone (yet).
Rule Two: Limit your colors.
Part Two of Seven Easy Principles to Becoming a Master Designer courtesy of Cleveland logo designers, Go Media
Rule Two: Limit Your Colors. Sounds a lot like the last rule of limiting your fonts right? Exactly! We want to limit our colors for the same reason we want to limit our fonts. Reducing the number of colors we use in our design will make the piece feel consistent. Basically, everything will look like it goes together. Just like a sports team's uniform or a company's branding – we want a uniform over-all look to the colors.
As with the font selection, limiting the number of your colors is just a guide not a rule. You could very well have a rainbow of colors in your design and it will look great. But you need to start with a coloring strategy and stick with it. Use your color consistently throughout your design.
For starters lets talk about color values. A color's value is how bright or dark the color is.