Articles by Month:
March 2013
Howdy Readers!
Welcome back to the 8th edition of the "Go Media Guest Pinner Gallery Showcase." If you aren't a fan of ours on Pinterest click this link to start following what we pin. This showcase features the best pins from our Go Media Guest Pinner Gallery, so these images are the ones that you all found and shared with us. If you would like to be added to the gallery send me an email at [email protected] Happy Pinning!

The Showcase
Who is Rockhart Clothing?
Andrew of Rockhart Clothing is a longtime fan of Jeff Finley's book, Thread's Not Dead. Recently he reached out to us here at Go Media, and we were so impressed by what he's doing we decided to feature an interview with him, right here on the GoMediaZine!
Rockhart Clothing's mission is to create designer apparel for gamers that rocks. Their gear is for real gamers who want to be taken seriously. They're adding rock and roll style to the video game apparel market, and finally giving adults a way to show off their favorite games. You won't find any cutesy, cheesy, or lame designs on their site. Only awesome concepts professionally printed on the highest quality garments available. Their motto is, "gamers have grown up and it's time their clothing did too."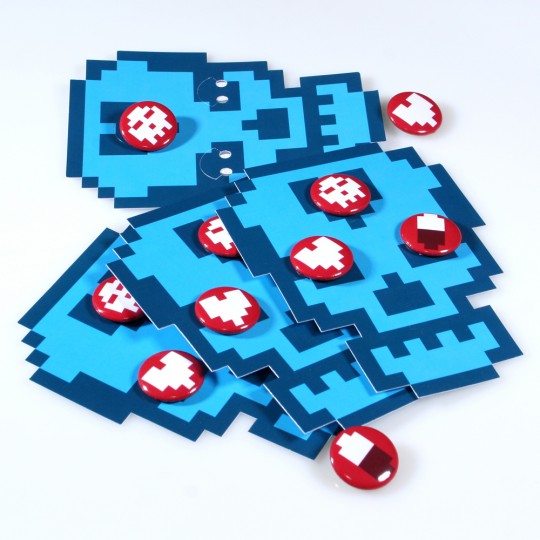 The Interview
Go Media recently had the opportunity to converse with Andrew about his company and we would like to share it with all of you, our readers.
GoMediaZine:
Who are you and what is Rockhart?
Andrew of Rockhart Clothing:
My name is Andrew, and I'm a graphic designer/illustrator/gamer living in Portland, OR. I'm the one-man show behind Rockhart — a retro video game themed clothing line that is styled after rock n' roll clothing and culture.
GoMediaZine:
What made you want to start a clothing company?
Andrew of Rockhart Clothing:
It started when a few of my designs were printed on some tee-of-the-day sites like TeeFury. There was just something so awesome about people wearing a graphic you designed. I saw starting a clothing line as not only a creative outlet, but a way to build something from the ground up that was all my own (instead of relying on other sites to sell my shirts for me). I had always wanted to start my own company, and a video game clothing line seemed to be the perfect fit.
GoMediaZine:
In a world where everyone starts a clothing company, how is yours different?
Andrew of Rockhart Clothing:
My mission is to provide designer apparel for gamers that rocks. I think Rockhart stands out from the crowd by the quality of the designs and the materials used to make the shirts. I try to design something that not only looks cool, but really brings up a feeling of nostalgia about a specific game or system. I only print on fashion fit tees (right now I use American Apparel and Next Level) using discharge inks; which is more than I can say for the horde of uninspired parody shirts which mashup pop culture references and print them on cheap tees using heavy plastic inks which are flooding the market in an effort to make a cheap buck.
GoMediaZine:
You said you read Thread's Not Dead, how did that help or change your plans?
Andrew of Rockhart Clothing:
This book, along with the crowd at Mintees, helped me with choosing a printer, packaging, and setting up the website. I'm positive your guy's advice and expertise saved me hundreds (if not thousands) of dollars in costly mistakes that would have probably killed my brand before it even got started.
GoMediaZine:
Launching a clothing brand is the easy part, how do you plan on growing your brand?
Andrew of Rockhart Clothing:
I want to release new designs more often, as well as non-T-shirt merchandise like custom jackets, art toys, and maybe even home-brew NES carts. But that's just me thinking long term. I have a sketchbook full of ideas and I can't wait to turn them into something cool for my customers. I also have something new coming out very soon… So keep your eyes out for that!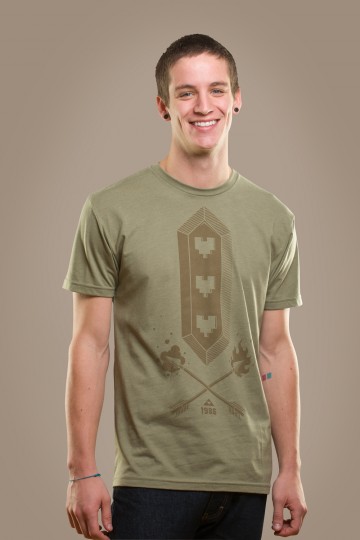 GoMediaZine:
What was the hardest or most challenging thing you've overcome thus far with your brand?
Andrew of Rockhart Clothing:
Promoting my brand has always been the biggest challenge. I've gotten a lot better at it, but you can always be on more blogs, talk to more people, and do more social media to get your brand out there. Speaking of which, you guys should really check out Rockhart's Facebook, Twitter, and Instagram.
GoMediaZine:
What is your favorite part about your brand?
Andrew of Rockhart Clothing:
Well if I really wanted to, I wouldn't have to do laundry for a year; so, that's pretty cool… but I'd have to say the best part is the people I've met through the brand. Customers, fellow retro gamers, or even competitors. It's just fun to talk to like-minded people who are as excited about the same things you are!
GoMediaZine:
If there was one thing you wish was answered in Thread's Not Dead, what is that?
Andrew of Rockhart Clothing:
That's a tough one. The book was very thorough, but I think some more info on selling at conventions, festivals, and even trade shows would be nice. I did a lot of research before my first convention and I still made a lot of mistakes that I made sure not to repeat the next time.
GoMediaZine:
What kind of advice would you give our readers?
Andrew of Rockhart Clothing:
The more work you put in, the more you get out. No one's going to go out of their way to promote your stuff except for you. Sales come from hard work and connecting with people who can help your business grow.
Rockhart Clothing Links
In this episode, Cleveland graphic designers Jeff Finley and Bill Beachy sit down to talk through a chapter from Bill's upcoming book. In that discussion, Bill talks about putting yourself in a position to get hired by a client by putting together a great proposal.
Listen to the Podcast
[powerpress]
Show Notes
We want to hear what you have to say about the podcast.
Sponsor of this Episode
This episode is sponsored by Mockup Everything. With Mockup Everything, you can produce high resolution, photo realistic mock ups of your designs. There are at least 5 new templates released every month. From iPads to billboards to t-shirts: if you have to mockup anything, use Mockup Everything.
WMC Fest is holding a benefit show on March 22nd, 2013 at the Beachland Ballroom. It's the first Weapons of Mass Creation event in 2013.
Go Media Quick Tip: Executing After Inspiration
Comes from ideas pushed in "Execute", a new book by Josh Long. Based on the principle of executing after inspiration. He wrote a book about Drew Wilson who built a Stripe-powered app in 8 days.
We are filled with inspiration and creativity all of the time, and because of that, you should take advantage of it. Clear your schedule and finish what you're inspired to create.
Don't stifle your energy because you think you'll burn out.
Several weeks ago, WMC Fest's Music Director, Jesse Sloan came to Jeff with the idea of doing a WMC Fest-themed show at SXSW. The original thought was prepping it for next year. But, the week before SXSW, Jesse decided he couldn't wait and hopped in a van ready to take SXSW 2013 by storm. So, Jeff created the artwork and got a rush order through to Jakprints. Jesse secured the venue with the help of 1Up PR, and Truth About Music scheduled the bands and put on a last-minute show. Even Wired.com found the event and helped publicize it on their Instagram feed.
What's Go Media Been Up To?
Jeff's been putting more and more hours into WMC Fest and prepping for this Friday's benefit show at the Beachland Ballroom.
Bill's been spending more time with his upcoming book titled, "Drawn To Business: Designed For Success".
Bryan's been prepping the podcast to start streaming the recording live, including a live chat for instant feedback. Expect an announcement on that soon.
The sales team has been bringing in a lot of big projects, which is helping Go Media reach their design sales goals ahead of schedule.
Liz has left Go Media as she moves up in her career. We're happy for her success, but sad to see her leave.
Simon Hartman has been officially hired and will start at Go Media in early April. He was the former Zine editor, but will now help run The Arsenal.
Closing Deals: A chapter from Bill's new book "Drawn To Business: Designed For Success"
"Every battle is won or lost before it's fought." – "Art of War" by Sun Tzu
Starting with a well-designed proposal is an important step in the process of building trust.
Go Media normally gets our leads through the contact form on the site.
We follow that up with a phone call to create that initial personal contact. That call is also to qualify the project: is there a budget that meets their requirements? Do they have real needs that you can fulfill? We qualify before setting up the discovery meeting, so that if the project is outside of our scope, then we didn't waste their time scheduling a meeting that won't go anywhere. A budget is a necessary thing to discuss. If the lead isn't willing to offer that up, find out what they want out of the project, and give them a ballpark figure of what something like that would cost.
After a lead is qualified, we schedule a discovery call with a member of the design or development team. We have a master questionnaire that we try to get answers on before going into the proposal stage. Whether or not you land a lead is determined in that discovery call. Having that budget up front, along with the full project scope, will give you the proper information you need to land the project you're writing the proposal for. Every piece of the proposal needs to be written around the needs of client. It doesn't need to be written from scratch every time, but create a template. Write segments for all services you offer, that way you can plug it in or remove it as needed, and then tailor it to that specific project.
What goes into a good proposal?

A cover letter should include some kind of connection between you and the client. If you have a shared passion or there was a comical moment in the meeting, write about it. Also thank them for coming to you for the project and show that you are excited for the opportunity. This is your introduction to the proposal and to working with them.
In your overview and requirements, include what the client wants and needs, why they want to do it, and why your solution is the right one.
Also share your process. Make sure everyone knows what is expected from the client experience. That way you aren't playing telephone with your sales team. They need to sell what you can do with the energy that you will be doing it with. The client needs to know what the expectations are, and everyone on the team needs to know that ahead of time so those expectations can be either met or exceeded.
For the purposes of the proposal, include a cost estimate that summarizes the main sections of the project.
Since they're reading your proposal and since you know the project, provide some additional related services that might make sense for their project.
Provide samples of your work as well as testimonials.
Always provide some terms and conditions that cover guarantees and how they can accept the agreement and any liability.
Our proposals are our contracts. If they put a down payment on the project, then they have legally accepted the proposal. So, there is no second document that they need to sign.

Choose a program that works best for you. We chose InDesign, because it gives us the most flexibility to design a beautiful proposal, yet it still allows the sales team to edit it easily. Your proposal is a direct reflection of your design ability. It needs to be beautiful and easy to use and understand.
Complete the personal connection by hand-delivering the proposal. The client gets to see your face, they get to shake your hand, and now that they "know you", they're more apt to call you to ask questions or have a conversation with you to negotiate. If it's a huge project, why not travel a long distance. Build the relationship up so that the proposal is not a faceless document.
After you've delivered the proposal, follow up within 3-5 business days. You don't need a specific reason, other than to make sure that they received the proposal and to see if they have any questions about it. Since you reached out to them, even if they chose someone else, it's possible that you still have an opportunity to land the project by negotiating with them.
Links
Credits
Hosts: Jeff Finley and Bill Beachy
Producer: Bryan Garvin
Recorded at: Go Media
Sponsorship Opportunities
Interested in sponsoring the Go Media podcast, either episodically or exclusively? Well, hit us up at [email protected] if you are interested in advertising your business.
What Do You Think?
We want to hear what you think about the latest episode of our podcast and what topics you would like to see covered in upcoming episodes. Comment below with your suggestions.
Ready for More?
Keep learning and listening to more Go Media podcasts!
Vintage Illustrations
Who doesn't love vintage? Not us! There has been a growing trend of vintage inspired designs. From packaging to typography, from posters to web designs, the vintage look is pervasive in the graphic design field right now. This is a showcase of the best vintage illustrations we could find on the web! Some are from yesteryear and others are inspired by those retro designs. You will see everything from packaging, to posters, to book covers, so checkout the showcase below for inspiration for your next design project.
The Showcase
To borrow some wit from the great Groucho Marx: "Before I speak, I have something important to say."
That something important is to announce I'm leaving Go Media after five remarkable years.
Although it's a bittersweet moment, I know that the future of this company is bigger and brighter than any one person. Go Media has truly done some inspiring and meaningful things during my time here — but they're only just getting started.
Because this is a farewell post in disguise, please forgive me while I reflect on some of my favorite moments at this amazing company.
Bill Beachy's Famous Salsa
The summer of 2008 was exactly as it should be in Cleveland — hot, sunny, and full of promise. In those days Go Media was headquartered in Bill's townhouse-turned-office, where we sat elbow-to-elbow, sipping coffee and clicking keyboards.
Our refuge from the heat was the AC and Bill's delicious homemade salsa. During lunch breaks we gathered around the kitchen island (a.k.a. communal feeding station) to gorge on a vat of the cool tomato mixture. It was a refreshing treat and my first true bonding experience. It was also my first glimpse of Bill's overwhelming generosity: what was his, was ours. No strings attached.
The Go Media Softball Team
I can't help but smile when I think of how unapologetically terrible we were — desk-bound designers huffing around the bases after barely bumping the ball into left field. I don't count our losses, though. All I remember now is the camaraderie, competitive spirit, and Heather's bright blue pants (you showed us how it's done, girlfriend).
Paid Days at Cedar Point
Our surprise trips to Cedar Point were just one of the many perks I boasted to friends and family when gushing about Go Media. These short jaunts to Sandusky were Bill's way of saying "Now go have some fun, you nerds!" And fun we had.
Epic Christmas Parties
Gifts, games and goodies — it doesn't get any better than a Go Media holiday party. It's a full day devoted to festivities, including Rock Band blowouts, catchphrase blunders, and a spirited present-swapping game that left Sarah crockpot-less (some people better sleep one eye up this year, that's all I'm saying).
Weapons of Mass Creation
It finally hit me that I was part of something greater when volunteering for WMC. If I could hop in a time machine and rewind it three years, I would reassure Jeff Finley that putting on this festival is worth the hours and the heartache — and that he has no idea just how awe-inspiring it will become.
The memories I have with Go Media are authentic, heartwarming, and rewarding — and from where I stand today, it's humbling to acknowledge the lessons I've learned over the years.
Without further delay, here are my biggest takeaways from working a job that has always been oh-so-much-more than that:
Be genuine and do what you love — the rest will follow.
Never underestimate the power of dependability.
Build relationships, not projects.
Hold yourself accountable when no one else will.
Give back, because you never know who's watching.
Thanks for the memories, my friends. You've helped mold more lives than just mine, and for that I'll remain your fiercest fan.
Typography Is Everywhere
Designers and non-designers alike, everyone experiences typography in everyday life. Whether it's transportation signage, your employer's branding, the letters on the old ballpark facade, the list goes on and on. Some of these letters are new to you and some of them remind you of childhood and times passed. If you do resonate with these characters that you see, would you still connect with them if they were taken out of their surroundings? Would you still be able to pinpoint which H is from the HOLLYWOOD sign and which W is from the Welcome to Las Vegas? More than likely you would. Each of these letters has a very distinct quality about them.
AMPERGRAM allows you to quickly create a message using unique and possibly recognizable letters. Your message could be as simple as "I love you" to your significant other, but upon further review, they notice that each letter is from one of your favorite locations throughout your relationship. Or if you are looking for diversified fonts, but still wanting to type your name using a black font on a white background, that is possible through AMPERGRAM using the filtering capabilities. Having just moved from Cleveland to Brooklyn, NY, I may decide that I want to have a print that says BROOKLYN spelled out, but only using letters from around Cleveland, so I can have a little bit of both worlds.
Use AMPERGRAM.
There are several ways to use AMPERGRAM; through our web app, AMPERGRAM.com, as well as our iOS and Android apps. You can save and share to the AMPERGRAM community gallery or through many popular social networks, save your ampergram as a JPG to your device, or even download a high resolution file to print.
We are going to step through the process in a moment, but if you want to see it all wrapped up in under 40 seconds, watch AMPERGRAM — The Experience below.
The possibilities are endless, and the potential is there. However, AMPERGRAM is only as strong as the users behind it. If you see single letters or single words that catch your eye, capture them, post to Instagram and tag with #ampergram including the photographed character (#H, #3, #?).
Do It Now.
AMPERGRAM is quick and easy to create with, but also very professional and full-featured. From opening the webpage or mobile app, typing a message and sharing within seconds; to clicking on each letter, cycling through all options to fine-tuning your results, even mixing in some word results, it is possible to spend as much or as little time creating an ampergram. It is completely up to you.

Let's begin. We are going to start new, and then choose the smallest cube layout.

From there, we are going to choose the second line to start typing GO. At this point AMPERGRAM is telling us that we can click to use GO as a word or we can ignore that message to keep each cube as single letters, which is what we are going to do.

We then click on the G and we are presented with more information.
If it is the first time you are visiting AMPERGRAM, you will see these hint panels at times. As displayed on this panel, you can find out everything you need to know about the photo and who took it, as well as cycle to the next or choose to filter out specific G's. You can tell from these results, we have two different types of characters. Some are typographic and others are representative (the seal of a juice bottle that resembles a G).
After making our selections, we will then go down to the third line to type the rest of our message. You can use your arrows keys to move from cube to cube as well as space-bar, backspace, return and even CMD+A to select all of the cubes.

If you do not have a keyboard attached, click the keyboard icon in the bottom right of your screen and a virtual keyboard will slide up. This is where you will find special characters like a heart, star, checkmark, etc.

Since we are satisfied with our selections for GO, but we want to make sure this next line only pulls from photos taken in Cleveland, we can specify this from the filter results panel. In the filter by location, we type Cleveland, and select to apply this to only future photos, and click apply. You will see no changes to your cubes, but now when you type, the new photos are only pulled using your filter requirements. If you see a cube that says no results, make sure to widen or remove your filtering parameters.

When we are done editing, click the save|share button in the upper right. This will save your ampergram privately in our system. However, you can make it public in the AMPERGRAM gallery, save it as a desktop wallpaper, share it to any social media network, or even choose to download a high-resolution file for printing.
A Little Behind The Scenes
Adobe Flash With Air vs Learning A New Language
When I first started to develop the Flash website of AMPERGRAM, I knew that if it was going to succeed, that I would have to be able to make it accessible from all platforms. Since I am only a Flash developer, and I did not want to loop in a third party, my options were extremely limited. I would have to learn a new programming language so I could develop for mobile, but then I would probably still have to develop everything twice since I did not know of anything that would work in a desktop browser as well as a mobile applications. My only other solution would be to further research Adobe Air and see if I could package my already existing Flash website into a mobile app.

I proceeded down the route of using Air and I am very happy that I did. I was able to moderately redesign the interface to be more mobile friendly. One way to assist this was by adding a hidden side menu instead of having all of the options in the top menu, giving us more real estate for the cubes.
What To Watch For
During the process I found it necessary to make sure scaling worked from the beginning. Since mobile platforms have every size resolution you can think of, be sure you allow your interface to scale and center appropriately. I am happy to say that as an Android user I was able to make sure AMPERGRAM looks completely customized for all resolutions of Android devices. For iOS it looks great on iPhone and iPod devices but our scaling had slight problems on some iPad versions. Everything is functional currently if you download for iPad, but some visuals are off-centered. A fix is in the works, but all the more reason for me to mention that this should be a point to focus on from the beginning.
As a designer, I know that I am probably speaking to mostly iPhone users. As much as I have been an Android user, I am very accepting of iPhones and enjoy many things about them. However, in the process of developing through Flash and Air, pushing to iOS for testing was quite time-consuming. Every time I would compile the app to Android, it would take any time under 30 seconds. Which is quick enough to allow for an ease of troubleshooting. Find a problem, attempt a fix, test, repeat. It went pretty well. However, when pushing to the iPhone, compiling alone took close to 5 minutes, no matter how complex the app and code. This quickly became the time where I would get up and stretch my legs since I was going to be waiting anyway. Once the 5 minutes were up, I then had to open iTunes, drop the compiled IPA into iTunes and then sync the phone, not to mention all of the issues with mobile provisioning documents and certificates. This process was not fun and I found myself testing mostly in Android for quickness and then only testing milestones on iOS to make sure the code was functioning in a similar way. If you are going to publish on both platforms, I would recommend a similar course of action.
Never Stop
I have been working in Flash for almost 15 years, and I am always learning new aspects of what can be done. I have been working on AMPERGRAM for about 5 months, on nights and weekends, around my full-time job. I am so excited that the app is launched and self-sustaining, but I know that if I want this to be successful, that I have to continue to make the app better, and continue to make myself better. When I was asked so many times over the past few months, when am I going to launch, I continued to answer, "When it is perfect."
I obviously had to launch before then since I now know it will never be perfect, but I am proud to say that I have the ambition to continue to do as much as I can; to continue to add features and functionality and to make it as close to perfect as it can be. If you have the same ambition when working on your projects, that is the best thing you can hope for.
Be sure to visit AMPERGRAM.com, download our apps and tag your letters! Report back here and tell me what you think about it. I would love to know!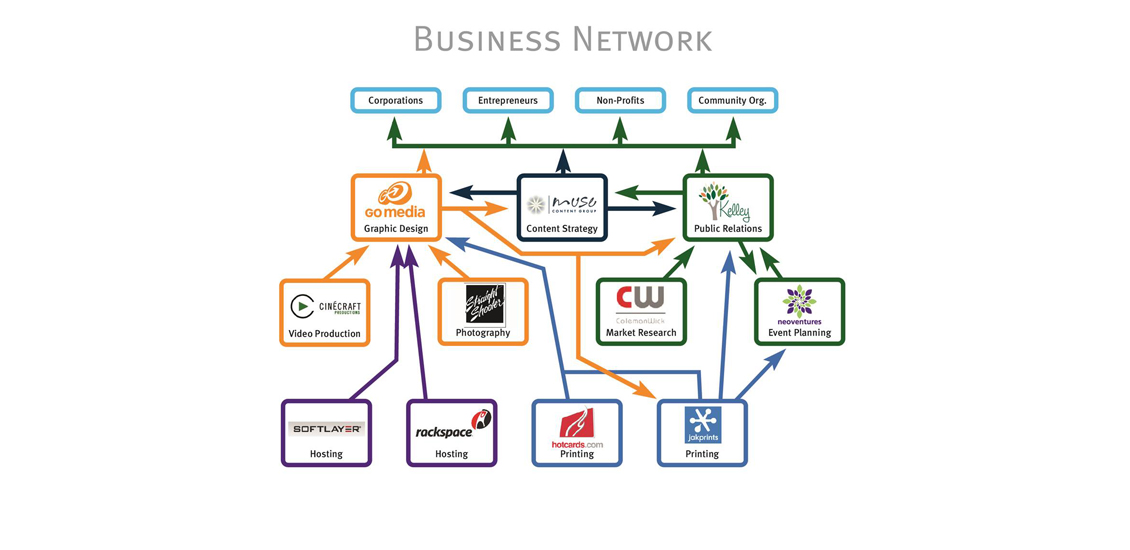 Meet the Go Media Extended Family
Have you met our Extended Family? We collaborate with a community of specialists who extend our capabilities by enabling us to fulfill a wider range of project requirements. These specialists comprise our Extended Family.
By plugging into this community, you can reap the benefits of a full service agency without losing the passion or focused expertise of a specialty firm. We've curated a selection of top class businesses with a passionate focus on what they do best, in order to extend comprehensive, yet expert services from full scope marketing services to intellectual property attorneys.
In our ongoing quest to become a true business ally, we journey alongside you to help you get where you want to go. We believe success isn't just about increasing the bottom line – it's also about designing and implementing strategies to provide top notch customer experiences and form lasting relationships. Because our creativity is fueled by community!
Here's a bit about the Go Media Extended Family:
Jenny Kelley and Lauren Prebel focus on making connections that incorporate you into the cohesive web. We work with your business, non-profit or community organization to create and implement custom, targeted marketing and development strategies that yield results.
Jackie Bebenroth is a Swiss Army Knife of creativity who works with entrepreneurs, agencies, and executives to reach new heights through the power of storytelling.
The Digital Marketing Agency, SageRock Inc., was founded in 1999 to help clients engage customers across an ever expanding interactive marketplace. We do this through multiple channels such as search, social media, and vertical targeting; emerging digital opportunities such as mobile and rich media; behavioral targeting thorough email and dynamic engagement; and refinement of all initiatives through understanding usability and metrics.
Cinécraft produces high-quality video and develops custom eLearning solutions to support the goals of Fortune 1000 companies and medium to large sized businesses.
While in New York, Dan helped Sotheby's auction house convert it's entire cataloging operation to digital photography. In 1999, during the Dot Com boom, Sothebys.com hired Dan to oversee 13 young digital photographers. Dan's expertise here was not in just in Digital Photography, but also in lighting and working with people – skills Dan uses today to help companies in Cleveland get the most out of photography in a digital age.
Tap Packaging Solutions, a domestic manufacturer of quality packaging for over 100 years partners with our customers to provide creative, innovative packaging solutions.
Midwest Box Company started in 1964 as a short-run supplier and has grown to become Cleveland's oldest and largest sheet plant.
Sharon L. Toerek focuses her legal practice at Licata & Toerek on intellectual property law, advising clients across the United States on trademark, copyright, trade secret, non competition, and other intellectual property and business law issues.
Built on years of experimentation, we unleash our creative spirit to provide clients with custom-crafted, cutting-edge, and dynamic imagery.