Articles by Month:
February 2013
Successful Packaging Design
We here at Go Media are no strangers to Packaging Design. In fact, our very own Adam Law wrote an incredible post titled, "5 Tips for Creating Successful Packaging Design." Because of Adam's post, we have received numerous inquiries from companies interested in commissioning us for packaging design. Creating successful packaging designs is a "must have" for any designer. And it's not just about the actual box or label. As a designer you can come up with new and innovative ways to package the actual product so you see you are more than just a graphic designer, you are also a product designer.

Check out the showcase below for inspiration for your next packaging project.
The Showcase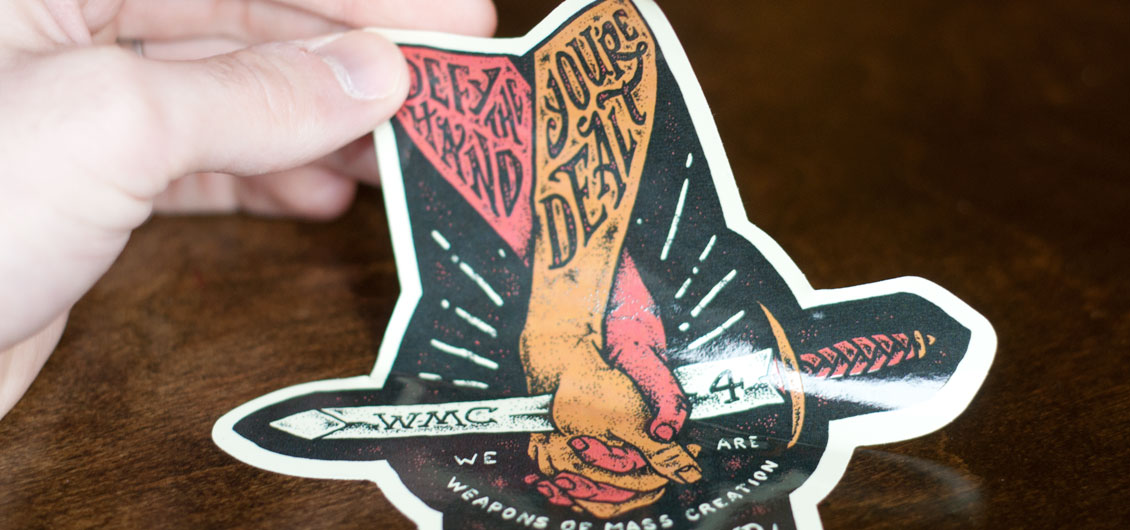 This post is a revealing walk-through behind the design, illustration, and sticker printing process. I'm proud to show off the new artwork I created for the upcoming Weapons of Mass Creation Fest 4 event.  The artwork below is going to be used for stickers, t-shirts, posters, etc. In this post I'm going to show you how I created it and how I set it up to become a die-cut sticker. I got these custom die cut stickers printed at Sticker Robot and they did a great job! Let's do this. Strap yourselves in, this is going to be a fun ride.
Related: Check out this other article I wrote about how to design custom Kiss Cut Stickers for your Band.
Step 1: Sketches!
Way back when I started WMC Fest I used the phrase "defy the hand you're dealt" quite a bit. I wanted to bring that back this year. A couple years ago Brandon Rike created an image for WMC that featured a hand stuck with two arrows. It's a clever way of illustrating the idea behind the phrase. I wanted to expand upon that and combine it with images of friendship, togetherness, and community. Those are frequent ideas people have when they think about WMC. I started sketching and I came up with a pair of holding hands with a sword through them. You know, like we're fighting this struggle together!
Step 2: Photoshop Prep
Since this artwork is going to be used in lots of ways, I created my Photoshop document at 18″ x 24″ at 300 DPI.  Why didn't I use Illustrator you ask?  Just personal preference mainly. This design could have been done in either program to be honest. Since we are setting up the files for CMYK sticker printing, I chose the CMYK color mode. Once I got my new document set up, I copied and pasted my sketch in the document and sized it accordingly.
Step 3: Gathering References
Before I start illustrating, I need to find a reference image for my holding hands. While my sketch is OK, I want the proportions to be accurate. I asked Bill to shoot a photo of my wife and I holding hands. It doesn't have to be perfect, but I want to at least get the pose correct so I can manipulate and illustrate it in Photoshop to my liking. Here is our reference photo:
Step 4: Blocking it Out
After I placed my reference photo into my document, I rotated it and cut out just the arms and hands. The rest of the photo is unnecessary. I also went ahead and blocked in some additional reference like perfect circles, real fonts, starburst lines, and framing for the die-cut sticker.
Step 5: Start Illustrating
I reduced the opacity on my reference to something like 25% so I could start drawing on top to create the illustration. I use my Ye Ole Wacom Intuos 3 tablet and my brush settings are below. There are better drawing tablets out there, but this has served me well since 2006!
Step 6: Hand Lettering
Once my outlines are created, it's time to start drawing the type. Now it took me many tries to get the letters correct for "Defy the Hand You're Dealt." My sketch itself wasn't detailed enough so I had to improvise a lot. I knew I wanted "defy the hand" on the left arm and "you're dealt" on the right arm. It was just a matter of making the letters fit! It was a lot of trial and error. Some tips for your own lettering would be to block in the letters first. Try a rough draft and get the letters in there how you want. Then you can turn that layer's opacity down and draw it again over top while being more creative with the letter forms. Since I don't have a very steady hand (often a little jittery from coffee and anxiety) my letter forms are not perfect. They're a little wobbly, which is ok considering my entire design will be slightly imperfect.
The rest of the lettering was easier because I had a font to base it off of. For the words Cleveland, I set my reference type up with ITC Caslon and warped the type and got it into place. Then I drew over top of it my own custom version of it. For the dates, I loosely based my letters on the font, I drew it in rather quickly. Check it out: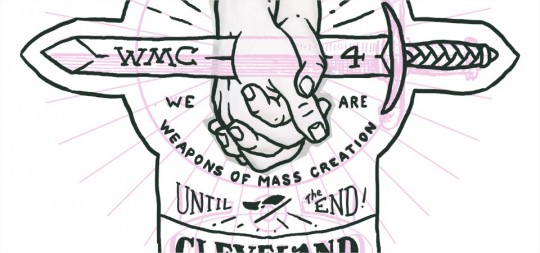 Step 7: Shading and Stippling
Once the drawing was complete, I printed it out and used a good old fashioned light box. I placed my outlined drawing down first, then placed a blank sheet of paper directly on top. The light box allowed me to see through the paper so I can have precise detail when stipple shading. I used a set of fine-detail Micron pens. There is no shortcut to stipple shading, believe me I've tried!  I actually tried using my Wacom tablet to do this, but I didn't get as natural and consistent results. So I went analog for this! To be honest, stipple shading is much easier using Micron pens and doing it on real paper than trying to do it digitally. My intention was to scan my shading into Photoshop onto a different layer. Then I could do whatever I wanted with it!
One trick to note: I did a separate scan for any stippling that would be "highlights" or "distressing" on my image. For example I did the stipple shading on my text on its own piece of paper and scanned it separately. That way I could change its color easier. I did the same for all the abstract dots that fill the background. In the end those were going to be lighter than the background, but it is still nice to have it on its own layer.
Step 8: Coloring!
Now that I had my outlines and shading complete, it's time to fill it with color! I knew I wanted to go with my tried and true WMC Fest color palette. With my outlines and shading layers on top, I made a new layer underneath everything for each element. I started with the left arm first and colored it with the WMC pink color. Then I made a new layer and started coloring the right arm an orange color. By having the outlines on a layer above your colors, all you have to do is get close and color between the lines. It doesn't matter what kind of brush you use, I'm just painting in solid colors. To make sure I'm using the same consistent colors throughout the design, I use "color overlay" layer style on each layer.
Also, since I made my background dark, notice how I changed the colors of "we are weapons of mass creation" and "until the end" to something brighter. Also, take a look at how I colored the little flag in the middle and the rays shooting out from the center. I just selected those layers and changed the "color overlay" setting to the color I wanted. No additional coloring needed.
Here is what our design looks like without any outlines on top.
And here is our finished design when we turn back on the shading and outline layers. Note: you might see some subtle distressing on the type. What I did for that was duplicating some of my stipple shading layers and placing them strategically on top of the type. Since the shading layers are the same color as the background, I was able to achieve a slightly distressed look.
Step 9: Prep for Die-Cut Sticker Printing!
The design is done! Now I just need to send it to print! But before that I had to make sure I was adhering to the specs that Sticker Robot calls for on their website. They actually screen print their stickers, but use a CMYK simulated process print. They literally screen print tiny dots of Cyan, Magenta, Yellow, and Black to get the exact colors in your design. So all I had to do was send them a high res CMYK .tif file and they did the rest. No complicated color separation work for me!
The trickiest part in setting this up for print was creating the die-cut layer. This was just a single color outline that on a separate layer that tells the printer where to cut the sticker out from the background. Since we aren't going for traditional square-shaped stickers here, you need to specify the shape of your sticker!
It's pretty easy. See below:
One thing to note was that there should be at least a 1/8″ safety area separation from your artwork to your die-cut line, and an additional 1/8″ bleed  area beyond your die-cut line. This will ensure your sticker has enough room to move around slightly on the press.
Another cool thing with Sticker Robot is they are one of the few sticker printers that allow you to print a grayscale design on the back of your sticker! To set this up with my custom shape sticker, I mirrored my sticker shape horizontally and designed the sticker back. I used a collage background I designed for the festival last year as my background and added our website URL. The only catch is the design had to be black and white. Check it out:
Step 10: Print up the Stickers!
The design was sent off to Sticker Robot and here's a few photos they took of the sticker printing process, from film to packaging:
Film for the black plate.
Film is printed for each color. Cyan, Magenta, Yellow and Black. The film will be used to expose the screens.
The film is exposed.
A bright light is used to expose the film through the emulsion to the silkscreen itself. Each color will have it's own screen.
Silkscreen Sticker Printing
A squeegee pushes ink through the screen onto the vinyl substrate, one color at a time, one sheet at a time.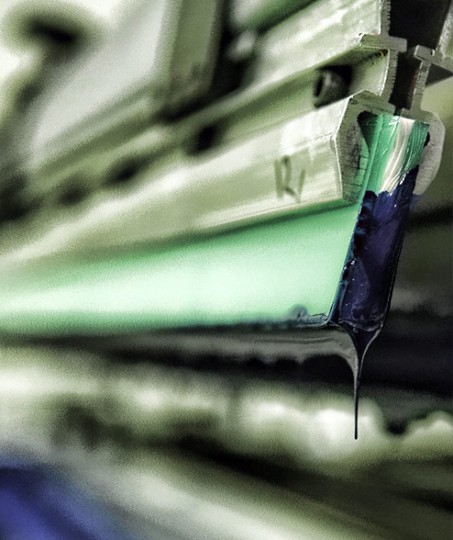 Cyan and Magenta Ink
The cyan and magenta ink have been laid down. Next will be yellow, then black and finally 3 coats of clear UV protective ink.
Silkscreen Quality Ink
Silkscreen ink is notoriously thick and durable, typically 10-20 times thicker than digital ink. This is magenta:
Magenta, Cyan and Yellow
The basic colors are coming together… we're just missing the final color, black.
Black ink is laid down…
Now it's starting to look like a sticker!
Sticker Diecutting
This is a tedious process, where each sticker sheet is literally cut one at a time – a truly custom sticker. See the video below that shows the process on creating die cut stickers.
Sticker Packaging!
Here are the final stickers. WMC here we come!
Conclusion
So there you have it, that was how I created the artwork for the 2013 Weapons of Mass Creation Fest and how the stickers were created. You can get your own screen printed, die-cut vinyl stickers created with your designs through Sticker Robot. If you want to attend the upcoming WMC Fest and see a ton of great bands, speakers, and designers, tickets go on sale soon at http://wmcfest.com.
Website Design
When Go Media got it's start in 2003, we primarily did illustration work. As the times changed and the market made increasing demands for web and interactive work, we adapted and began creating websites to meet the clamoring of clients. We would never forget our roots, though, and we infuse our illustration sensibility into many of the websites we design.
Now for many of you out there, especially the UX and Front-End Designers of the world, the visible look of the website is important but not nearly as important as the functionality and interface design. The showcase you will see below features the intersection of illustration and web design and that is the focus of the sites we have featured. Keep scrolling to get inspiration for your next website design.
The Showcase
Fonts Used:
Brushes Used:
Introduction
Last year, I was commissioned to create a poster/flyer for a heavy rock venue in the UK. The instructions I got were that they wanted something "edgy" and "hardcore". Punk rock artwork is something that I typically do and I had created similar images for bands in the past, so it was the perfect project for my particular skillset.
The Ink Stage
I started the project with a few thumbnail sketches of a man in a mask surrounded by various surreal and bloody elements. The band had just released a record called the Nightwatchman and I wanted to create my image based on this plague era image of a masked man.  I always produce my illustration projects in this manner; creating the rough layout and concept idea before jumping headlong into any ink drawing. It helps me to cement the idea in my mind before I start any inkwork. I have little concern over "how good my thumbnails look." I merely need to put some ideas down on paper. In fact, I don't even use a pencil to sketch and create most of my thumbnails in biro on whatever bit of paper I have handy!
The next step in my process is to gather all the reference materials I need. Because I barely do any pencil sketching apart from a very basic outline, I rely on solid reference materials. Some of these I find online and some I create myself (an iPhone is a seriously useful tool for taking reference shots)
The reason why I don't pencil sketch is because I like to ink on a clean canvas without the distraction of pencil marks. This makes the need for good reference more important and I always have the copies of my reference materials in constant view. To ink my artwork, I use three kinds of ink pens; a Paper Mate Flair pen, a medium Sharpie, and a Pilot Fineliner for the finishing details.
Illustrating directly in pen creates a particularly "energetic" style.  The fact that you are forced to edit and rethink the composition as you go is very liberating; if I make a mistake and I have to adapt the artwork to incorporate the mistake. The errors you make become as much a part of the illustration as the intentional ink lines.  It also generates the thick, black, and "dirty" style that I like.
The Digital Paint Stage
After creating my Photoshop canvas as an 8.5"x11"mini-poster (300dpi in CMYK mode), I scanned, dropped, and resized my ink drawing onto my Photoshop canvas. 
Once the scanned image was on my artboard I used my curves menu to consolidate the black and white in the layer and get rid of any loose grey pencil lines and uneven black (insure that the channel is set to CMYK and use the settings below as reference.)
The next step was to knock-out the white in my black layer.  I used my eyedropper tool to sample the white in this layer. I then went to select>color range and brought up my color range menu. To select all the white in this layer, I used the fuzziness toggle bar to ensure that all the white areas in this layer were selected.
After okaying my color selection, I deleted the selected white from my black layer.
The next step in the process was to start painting the piece. For this project I used a pack of watercolor splatter brushes (see top of article) – adding them to my default wet brush menu. I love this brush set that very closely mimics a loose watercolor paint style.  I also find the wet ink brushes particularly useful for digital painting in a very natural paint style.
I used a limited color palette of yellows, pinks, blues and browns to create my image; using the lightest to darkest tones first, and gradually moving into the central face image. Each major color layer was separated, starting with my "yellow layer". Once my yellow layer was created, I used a selection of my watercolor splatter brushes to add random splatter shapes. I set my brush opacity to 70% to mimic a more "watery" effect
The painting process I use is very "free" and "casual" I separate each color layer and try to put colors down as fast as possible without thinking about it too much. The watercolor splatter brushes are ideal for building this type of loose paint texture. I ensured that each color layer was set at least to 50% opacity in this artwork and built realistic textures by turning the opacity down on particular brush strokes.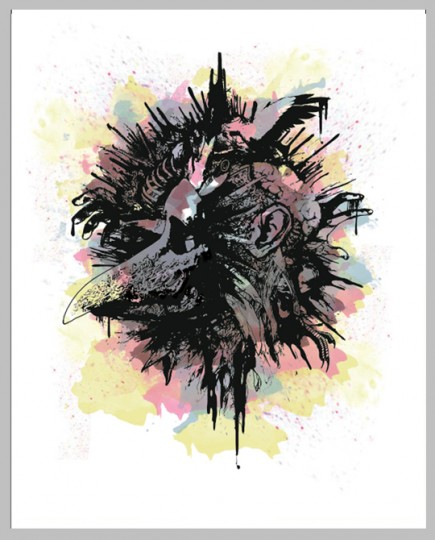 As well as using the watercolor splatters, I built texture using various wet brush effects to add splatter details in each individual layer.
To finish the background portion of my digital painting, I added a very opaque white layer (27%) and brushed in some white to tone down some of the harsher paint areas and knock-out the darker shades in the central character area.
For the main mask and face image, I created a new layer and painted my central character.
Once the central character was painted and the white highlights added, I wanted to add some finishing touches of dripping ink to complete the illustration. After creating a new layer, I drew some basic lines with a wet brush.
I selected these lines with my magic wand and using the warp tool (edit>transform>warp) bent and curved them to mimic the flow of dripping lines.
I then created a new layer called "small drips" and using the same technique as before for individual lines, drew and warped thinner lines to finish the paint project.
The Copy and Info Design
The big challenge in this particular project was the amount of copy they required on the poster; the client's intent was to use the artwork as both mini-posters and flyers and they were very adamant on the copy elements they wanted to include.
With this in mind, I figured that I'd create a simple layout that compartmentalized all the copy elements in the head and foot of the artwork.
After re-sizing my artwork to free some space up in the head and foot of the piece, I created a new group and added a new layer. In that layer I drew a simple square with my polygonal lasso tool.
I then simply flooded the marqueed area with a solid black using my bucket fill tool to create a cut-out "punk-rock" style graphic.
I created a new text layer and used the font Boston Traffic to give my copy that stenciled punk rock vibe – laying the copy element inside the cut out shape.
The other font I used in this design was Birth of a Hero to further the destroyed and distorted look. After creating a new layer, I then continued this design approach by creating another cut-out shape with my polygonal lasso tool.
Again, I flooded this shape in black with my bucket fill tool. I then copied and flipped this same shape (edit>transform>flip horizontal>flip vertical) and placed it below my copyline.
I then added new text layers to finish off my header copy.
After creating a new layer, I repeated the process of drawing a shape with my polygonal lasso tool and bucket-filling with black. With this particular shape, I went back to my polygonal lasso tool to draw and delete a section from the top of my shape.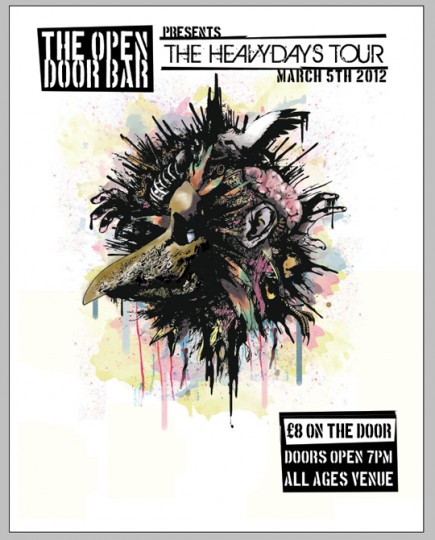 I then added new copy layers using my stencil font.
Using the band font styles I was supplied, I added new layers and built a text treatment in the lower left of my design.
I then copy and pasted the cut-out layers from the design header and used them in the footer copy to add some design synergy.
To complete my punk rock layout and to create some extra-footer space, I added a new layer to create a border around my design. Using the polygonal lasso tool again, I drew a cut and distorted shape around my design.
With my selection still active I then flooded the border by first inverting my selection (shift+ctrl+i) and then using my bucket fill to make it a solid black.
To complete my design, I added the remaining copy to the foot of my layout.
Howdy Readers!
Welcome back to the 7th edition of the "Go Media Guest Pinner Gallery Showcase." If you aren't a fan of ours on Pinterest click this link to start following what we pin. This showcase features the best pins from our Go Media Guest Pinner Gallery, so these images are the ones that you all found and shared with us. If you would like to be added to the gallery send me an email at [email protected] Happy Pinning!

Guest Pinner Badge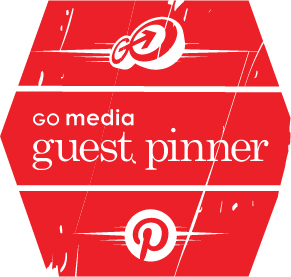 Thanks to the amazing Dan O (one of the regular contributors to this Pinterest board) recently created a gorgeous badge for all you "Go Media Guest Pinners". How cool is that?! Click the button below to download the badge.
The Showcase
In this episode, Jeff Finley and Bill Beachy sit down with Jesse Sloan and Todd Gauman to talk about Weapons of Mass Creation Fest. Plus, they share what makes a great design conference and music festival.
Listen to the Podcast
[powerpress]
Show Notes:
Sponsor of this Episode
This episode is sponsored by Mockup Everything. With Mockup Everything, you can produce high resolution, photo realistic mock ups of your designs. There are 10 new templates released every month. From iPads to billboards to t-shirts: if you have to mockup anything, use Mockup Everything.
Go Media Quick Tip: Landing Projects with Good Proposals and Communication
Mark on your calendar 3-5 days after you've delivered a proposal to follow up. See if they have any questions or concerns with the proposal or estimate. It'll usually start a conversation which will give you another opportunity to land the project.
Find out why you were or weren't chosen. Why did they decide with another company? Or, what was it about you and your proposal that sealed the deal? By doing this, you can find out what adjustments you can make on future proposals that might make for a better experience.
Sometimes, spec work is okay.
What's Go Media Been Up To?
We'll be having our annual Year in Review company-wide meeting this month. We'll be heading out of the office for the day and going up to Punderson State Park for a day of reviewing last year, setting goals for 2013 and some general team building and fun. Lots of prep has been put towards that.
Bill's been spending more time with his upcoming book titled, "Drawn To Business: Designed For Success".
How Did Weapons of Mass Creation Fest All Start?
The idea for WMC came out of an ad campaign we were going to run for The Arsenal. We flew in artists that we admired to our studio for a photo shoot to feature them and their work with the tagline, "I am a Weapon of Mass Creation." However, the photo shoot became a secondary part of the event as everyone was sharing stories and sketches and just enjoying the company of other artists in the community. They all wanted to do this again at some point. Simultaneously, Jeff Finley wanted to start an art/music fest. We combined the two ideas into one, thinking it would be great to bring in artists and let them share their stories while having a bunch of bands to see. Boom, WMC was born.
Todd and Jeff were connected by Jenny Kelley, from Kelley Green Web. Todd came from NeoVentures, his own event planning business.
Jesse Sloan was brought in to organize and schedule bands. Jesse and Jeff were connected because Jesse was a fan of Jeff's illustrations and wanted to work together with him. He also plays in the band Cherry Cola Champions.
The first fest, which could have been called "Jeff Fest", was a punk rock music fest with Jeff's favorite artists and designers. He even screened a few films from some of his favorite directors.
The third year, Joseph Hughes was brought in officially after volunteering the year before to organize and schedule speakers. Joseph was able to sell the fest from a fan's perspective. So, he was able to tell speakers why it's important and why they should be involved in ways that Jeff couldn't.
Creativity doesn't just have to live on the West Coast or the East Coast. We want to make Cleveland a destination for creativity and inspiration.
What's Coming in WMC Fest 4?
WMC Fest 4 will be in Cleveland Public Theatre in Gordon Square. Instead of having each part of the event isolated at different locations, this year everything will be under the same roof. There are multiple stages in this amazing theatre. One place to buy tickets, one place to enter into the community experience.
Another huge change is that there will be more seating for all speakers. So, no need to save your seat. You can get up after a speaker, go see a band, come back later that day and still be able to find a seat.
Hopefully no more power failures. We've hit power failures at every Fest so far. But, CPT was built for simultaneous events.
At Cleveland Public Theater, there will be a bunch of different spaces inside of a beautiful 101 year old building. You like beautiful decay? It's here in this "fun house of design". 1 theater dedicated to bands, another for speakers. Featured music acts will also be on the main stage. There will also be an outdoor stage for music again this year. The design gallery space will be a huge upgrade this year. We'll also be doing video and audio streaming of the event, as well as putting on live podcasts throughout the event. Rumor has it that Adventures in Design will be coming to Cleveland to do a live podcast…
WMC has been very organic with it's growth. But, we constantly have been trying to outdo ourselves each year without spreading ourselves thin.
Melissa Olson and Katie Dawson are helping Jesse organize this year's band list. Music options will be changing as well. Not just one or two genres. Alternative and punk will still have a presence like always, but we're opening our minds to jazz, alt-country, big-band, etc. It's not about bringing in bands that everyone's heard of. It's about bringing in up and coming creative leaders into the community.
Question of the Month
From a financial standpoint, an event like WMC Fest costs anywhere from $75,000 to $150,000 to put on. Go Media puts in a portion of that cost and, at times, has barely broken even. Over the last 3 years, we've depended on our Kickstarter fund to help support this event. However, some fans questioned our annual usage of the fund raising platform, so we're considering dropping it. But we're not sure!
So, we ask you now: for an event in it's 4th year, is it acceptable that we are still using Kickstarter as a fund raising platform? 
In the meantime, we'll be doing a benefit show on March 22nd, 2013 at the Beachland Ballroom. It's the first Weapons of Mass Creation event in 2013.
Links
Credits
Hosts: Jeff Finley and Bill Beachy
Producer: Bryan Garvin
Recorded at: Go Media
Sponsorship Opportunities
Interested in sponsoring the Go Media podcast, either episodically or exclusively? Well, hit us up at [email protected] if you are interested in advertising your business.
What Do You Think?
We want to hear what you think about the latest episode of our podcast and what topics you would like to see covered in upcoming episodes. Comment below with your suggestions.
Ready for More?
Keep learning and listening to more Go Media podcasts!
The State of America
A few months ago, Simon Birky-Hartmann, former GoMediaZine author and manager, pointed me to the 1st in "The State of America" print series by Julian Montague and I knew we had to feature Julian and his project on the GoMediaZine.
Julian's project has been featured all around the best graphic design blogs and it is likely that many of you have already seen some of the prints in his series. But if you have been out of the design loop for a minute, you are missing out on the beautiful minimalist design and colorful images. And who doesn't want to see how their state will be represented.
The Interview
Go Media recently had the opportunity to chat with Julian Montague about his "The State of America" series.
GoMediaZine:
Tell us a little about the project and what motivated you to create the series.
Julian Montague:
The State of America series is a set of 50 prints that depict one of the official state insignia for each of the 50 states. All states have some selection of "official" things, state birds, minerals, amphibians, trees, etc. These are voted on by state legislatures and are often the result of campaigns by school children. It is a very mixed bag of things, seven states have the Northern Cardinal as there state bird, only three states have an official crustacean, and so on. What interested me about them as a collection of subjects to draw from was that they allowed me to alternate between the familiar and the obscure.
GoMediaZine:
Tell us about yourself.
Julian Montague:
My activities are split between my art practice and my graphic design practice, however, there is a lot of crossover between the two. For my graphic design work I operate under the name Frazer/Montague Design. This is a partnership I formed with fellow Buffalo, New York designer Betsy Frazer in 2010. For my art related activities I use the name Julian Montague Projects. Where it gets complicated is that I use a lot of graphic design in my artwork, for example I made a series of faux book covers that are part of a multifaceted project about the intersection of animals and architecture. That work has received some attention from the design community as well as the art community. I also have an ongoing blog project where I try to post a modernist book cover everyday (I have posted 1400 covers since 2009). The fact that I design fake book covers, blog real book covers and design real book covers leads to some confusion at times. I consider the State prints to be on the graphic design side of what I do.
GoMediaZine:
How did you connect with PrintCollection.com and how did you decide how to approach each print?
Julian Montague:
Print Collection is based in Buffalo where I live. I've known Doug Levere (the founder of Print Collection) socially for a few years. He was familiar with my work and he approached me about doing something for the site. We talked about it and came up with the state insignia as the subject matter. He gave me a great deal of freedom in regard to the choices and the illustrations, there were a couple notes here and there but for the most part we were on the same page.
GoMediaZine:
How has the response been since you showcased the first prints on November 5th?
Julian Montague:
I've been really happy with the response, the first set of 21 were part of a FAB.com sale which was a great start, but things really got going after we released the second set of 29 on December 13th. I think all 50 make a better story. It's been really gratifying to have design sites that I love post about the series. I was particularly happy to see It's Nice That, Dwell magazine, Flavorwire and Aisle One post about them. In making these images I was hoping to make them cool enough that someone would want to buy one just because they liked the design and not because they are connected to a particular state, but, from a lot of the comments I've read, it seems that people feel strange buying a print of a state that they don't have a personal association with.
GoMediaZine:
From reading your bio on your website, you seem to have participated in many gallery showings and given talks/lectures. Could you give some advice to aspiring designers? As well as advice to seasoned veterans on how to get their work out there more?
Julian Montague:
Most of my exhibits have been from the art side of my career, the art world works a bit differently from the design world. But the best general advice I can give is to stay active online. We are lucky to live in a time where there are platforms to show one's personal work, you have to take advantage of it. I'm pretty active on Flickr and Pinterest and by having a blog with daily design related content I've been able to make a lot of people aware of my other activities. Also, you can reach out to people that you think might be interested in what you do. It usually doesn't hurt to try. But never, ever walk into an art gallery (at least in New York) and ask if they want to see your work, they hate that.
GoMediaZine:
Are there any other projects you are currently working on that you would like to talk about?
Julian Montague:
Right now I am working on new faux books and posters for a show this summer in France. I would like to do more open edition print series like State of America, so hopefully I will be starting the next one soon.
GoMediaZine:
I noticed from your bio that you exhibited at SPACES Gallery, could you tell us any interesting stories about your time in Cleveland and how the exhibits went while you were here?
Julian Montague:
I did a residency at Spaces Gallery for six weeks in 2005 as part of the SPACES World Artists Program (Most of the artists in the program are from more exotic locations). At the time I was working on a long-term project about stray shopping carts. In that project I developed a system of identification for stray shopping carts based on the situations in which you find them. It involves a lot of photography and text. So my mission in Cleveland was to document stray carts and then have an exhibit at Spaces. This involved me exploring every nook and cranny of Cleveland and its suburbs by bicycle. As it happened, this was in January and February of a particularly harsh winter so most of the time I was up to my knees in snow. Poking around vacant lots on Lorain Ave. in the dead of winter is not everyone's idea of a good time, but at least I can say I saw way more than just the Rock 'n' Roll Hall of Fame. I did enjoy my time there and met a lot of interesting artists and great people. Obviously coming from Buffalo to Cleveland was not exactly culture shock, same lake, same weather, same ethnic make-up, etc. A lot of the work I made there is included in my book The Stray Shopping Carts of Eastern North America: A Guide to Field Identification, which was published by Abrams in 2006.
Gallery
Links
Logo Design
Your logo is a visual representation of everything your company stands for. And with a statement like that, who wouldn't be overwhelmed? It can be a difficult undertaking to sum up you or your clients' entire brand identity in just an image or logotype. So where do you begin? Inspiration is the first thing that comes to mind. Here at Go Media we often ask clients to send us some logos they like to get a sense of their aesthetic taste. Of course we have an in-depth discovery meeting where we glean as much information about their company to create the most representative logo for their brand.
The Showcase
Source: mr-cup.com via Go on Pinterest
Source: designspiration.net via Go on Pinterest
Source: gomediazine.com via Go on Pinterest
Source: 25.media.tumblr.com via Go on Pinterest
Source: designspiration.net via Go on Pinterest
Source: designspiration.net via Go on Pinterest
Source: designspiration.net via Go on Pinterest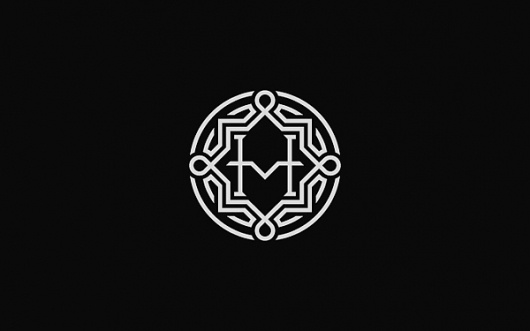 Source: designspiration.net via Go on Pinterest
Source: designspiration.net via Go on Pinterest
Source: inspirationfeed.com via Go on Pinterest
Source: by9.tumblr.com via Go on Pinterest
Source: designspiration.net via Go on Pinterest
Source: vintagemeohmy.com via Go on Pinterest
Source: vintagemeohmy.com via Go on Pinterest
Source: inspirefirst.com via Go on Pinterest
Source: designspiration.net via Go on Pinterest
Source: inspirefirst.com via Go on Pinterest
Source: abduzeedo.com via Go on Pinterest
Source: graphic-exchange.com via Go on Pinterest
Source: designspiration.net via Go on Pinterest
Source: ohbeautifulbeer.com via Go on Pinterest
Source: graphic-exchange.com via Go on Pinterest
Source: designspiration.net via Go on Pinterest
Source: inspirefirst.com via Go on Pinterest
Source: designspiration.net via Go on Pinterest
Source: inspirefirst.com via Go on Pinterest
Source: ffffound.com via Go on Pinteres
Source: dribbble.com via Go on Pinterest
Source: theindigobunting.blogspot.com via Go on Pinterest
Here are some quick tips on using Google Chrome's fantastic Developer Tools. Let's get right to it. Bring up Developer Tools with Control + Shift + i (i for inspect), or just right click (almost) anything on a page and choose Inspect element.
A Better Way to Clear the Cache
Sometimes Chrome seems to tenaciously hold onto cached files. The old way of clearing the cache and reloading was to do a Control + Shift + Delete to bring up the Clear Browsing Data window, check off the appropriate items to be cleared, hit the clear button, and finally refresh the page. This process is a bit clunky.
Instead, simply click and hold the refresh button. As long as you have the Developer Tools panel open for the page you're refreshing, you'll see a little dropdown menu that allows you to clear the cache and do a hard reload all at once. This is very handy!
Docking and Undocking the Developer Tools panel
By default, Developer Tools will be docked to the bottom of the window.
You can dock it to the right side of the window by clicking the docking icon, located in the lower left hand corner of Developer Tools.
Alternatively, you can undock Developer Tools, giving it its own window entirely. Just click and hold the docking button, then choose the Undock icon. (The docking button will cleverly let you toggle between your last 2 docking preferences with a single-click, and will require the press and hold technique to access the third choice). I prefer the undocked option when I need to do a lot of window re-sizing. For instance, when working on responsive designs.
Dropdown Menu Tip
OK, time to kick it up a notch. Manipulating CSS using the Elements > Styles panels is a great way to preview CSS changes.
Sometimes it can be a pain to modify the CSS for elements nested within dropdown menus or other UI elements that require hovering. Sure, you can right click an item and choose Inspect element, and the element will be selected within Elements panel. That part is pretty straight-forward. However, once you move your cursor off of the element that you're inspecting, the dropdown menu (for example) will collapse. At this point, you could manually start working your way up the HTML tags within the Elements panel and use the Toggle Element State icon to apply the hover state to your menu item's parent, but this is tedious.
Here's a better approach:
Hover over the item that you want to inspect, and choose Inspect element. This will highlight the targeted element within the Elementspanel.
Now for the real magic. Hover over the item again. This time, right click it. Don't choose anything on the context menu that appears. Instead, move your mouse over to the Developer Tools window/panel. Now the dropdown menu will remain opened and the targeted element will be selected within the Elementspanel. It's now much easier to change the styles of the targeted item as well as its siblings while keeping them all in view.

Right Click > Inspect Element > Right click desired item, then move mouse over to Developer Tools without selecting anything in the context menu.
Console Quick Tips
1.) When you're on the any of the panels within Developer Tools, you can use the Esc key to quickly toggle the JavaScript console.
2.) With the console focused, you can clear its contents with Control + L. This is handy when you have youtube or vimeo videos embedded on a page via iframes, as they tend to add noise to the console.
3). The console is handy for seeing any errors that a script may be generating, but there's way more to it than that. For example, it can also be used to run JavaScript snippets.
Example: Show an alert box.
alert('This is neat!');

If the page is using a JavaScript library such as jQuery, you can use that in the console as well. Give it a shot!
Example: Using jQuery, change the color of all links to MidnightBlue.
jQuery('a').css('color', 'midnightblue');
Move Elements Within the Page
You can easily move elements around on the page by clicking and dragging them within the Elements panel. This can be handy when experimenting with the order of elements within lists and menus or for moving entire sections of a page around.
Wrapping up
I hope you were able to find something useful here. For a more general overview of Developer Tools, take a look at the official documentation. Feel free to share any quick tips of your own in the comments. Cheers, and thanks for reading!