Articles by Month:
July 2011
Welcome!
Dear readers, welcome in the first installment of our new, weekly post series: #gmzinspiration. Quick reminder of the concept: each week, you tweet us inspiring stuff, along with the #gmzinspiration hashtag. On the following Monday, we will pick and choose from there and make a wrap up post of that content. See the announcement post for more details.
The good stuff
The Momentus Project
A collaborative project curated by Evan Stremke, which goal is to illustrate key moments of American History. I can already tell you that we'll hear more about this soon on this blog.
More on the Momentus Project website.
Badass stickers concepts from James White
More to be seen on the Signalnoise blog.
A new poster from Signalnoise
Read about the creation process on the Signalnoise blog.
The Dark Knight Rises teaser poster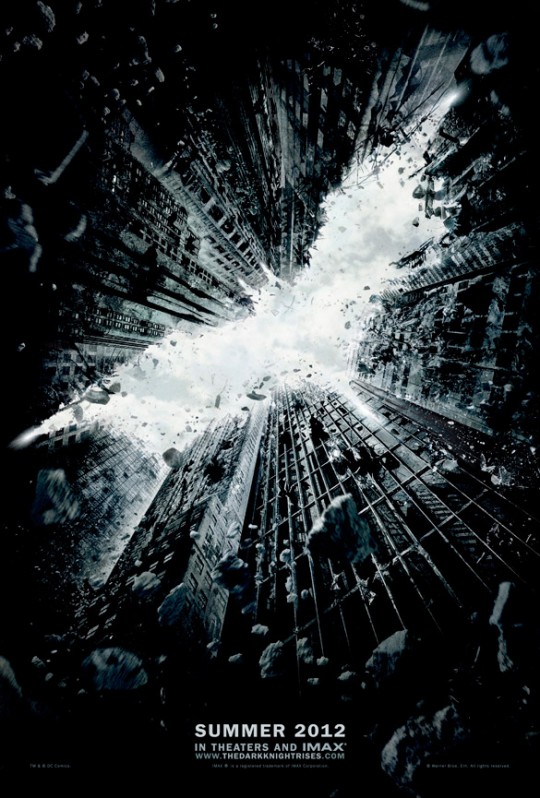 ALAD #326
I Know How – #ALAD326 – Watsky – 4AM Monday (Diddy 'Coming Home' Remix)
Luke Beard resumed his ALAD project.
Kawaii Harry Potter by Jerrod Maruyama
Seen at Dribbble.
Bad design destroys poster by the Tenfold Collection
As a warning against the evils of bad design, Tenfold designed these limited edition posters and want to make sure they get in the right hands.
Get it on their store.
That's all folks!
This conclude our first installment of the #gmzinspiration series. Remember to share with us what inspires you for next week's post!
We're pretty excited to announce the winner of the print giveaway we put together in the 13 Spade introductory post!
And the winner is…
We used random.org with the number of comments of the post (minus our own), and the winner is…
Dusty Rhodes
So Dusty, we'll be in touch shortly (or you can be faster than us and shoot us an email), and we'll go from there. Thanks again to everyone who entered the giveaway by commenting, who shared the post with their friends and to the ones who submitted art to be featured on 13 Spade.
Hello readers! Today, I want to share with you my impressions after trying out App Cooker, an iPad app that assists in the process of conceptualizing and planning mobile apps. It has been created by Hot Apps Factory, a French studio.
This is a new exercise for me, for various reasons:
I've never reviewed an app before
I just recently became the daily user of an iPad
The starting point
Well, it's quiet simple: devices like the iPad make for a really exciting support for various apps, built to answer various needs. It's just logical to  think about using the device itself to conceptualize the app you want to develop for it.
Starting from there ("having an app conceptualizing/mockuping tool that runs on the platform you're designing for"), the folks at Hot Apps Factory came with App Cooker. They also kept in mind 10 principles "for good iOS design":
The app
First of all, the app is visually gorgeous. I will not deny this. The visual experience is neat and consistent. The attention to details makes me believe it's probably someone with a mild OCD that took care of making sure everything was looking good.
There are 5 key screens to let you access the 5 key tools included in the app.
The map idea screen
Think about it as a notebook, with built-in tools to help you develop your app concept. The evaluation tool on the left side of the screen aims to help you evaluate the potential success of your app concept through various indicators. The right side of the screen features a "mission statement" box, as well as the type of app chart (entertainment vs. serious vs. tool vs. fun). It also let's you export stuff in PDF, which comes in handy to share the information along with dev team members, etc.
The mockup tool
The mockup tool is.. extensive. So extensive I kind of got lost.
The mockup engine supports live orientation, simple linking and mixes together the real Apple UI, bitmap drawing, vector shapes, text and images. The mockups come to life under at your fingertips without a single line of code.
This presentation from the mockup tool makes it sounds a bit easier than it really is in my humble opinion. The tools are precise and complete; however, this particular aspect isn't user intuitive. It was more difficult to use than I expected it to be, but it is still a good tool. It may take you a little while to understand what's going on with this portion of the app.
There are many pre-made bits of interface that are direct calls to iOS functions. There's an interaction with Dropbox in the event you want to synchronize your iPad with resources you'd be creating using another device (think Ps/Ai). But I personally got the same feel I had the first time I opened Photoshop without knowing anything at all about it: I was overwhelmed.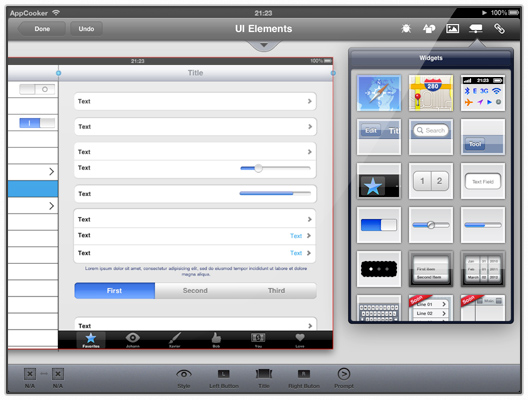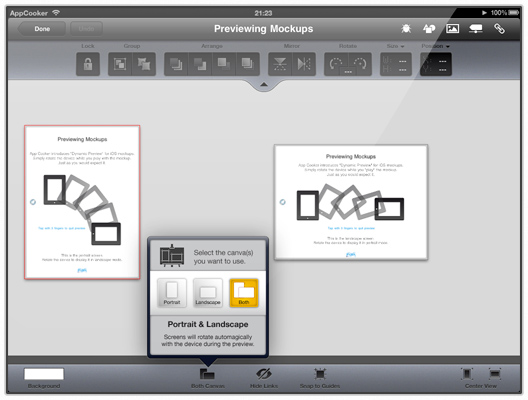 I do believe that after a bit of learning and a more intensive use of App Cooker, things would definitely start to flow easier. I personally haven't managed to satisfyingly include the app in my workflow, but that's also because of me.
The app icon design tool
The App Cooker team reminds you that the icon is one of the primary marketing asset of your app. The design tools are similar to the ones available in the mockup tool, with the same exporting to PDF and image file abilities.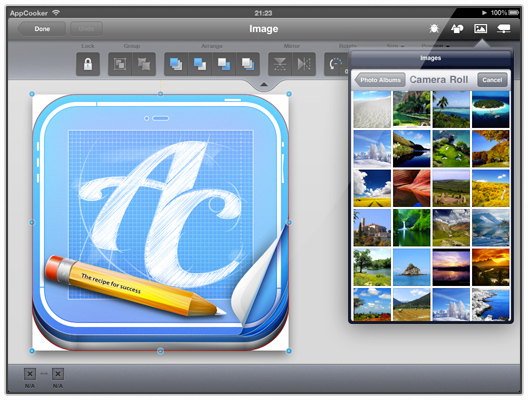 The pricing tool
The pricing tool is really straight forward: it helps you to price your app and to do some financial projections out of its sales price, the investments, etc. It supports multiple currencies, scenario variations…
The store info helper tool
This last tool helps you to get ready everything you will need to fill the app info page on the iTunes App Store. From categories to blurb, to advices on the name length, it is once again a throughout tool.
My impressions
I will say it once again: this is a amazingly complete and powerful tool. For my level of knowledge and interest in app design, it is maybe even a bit too complete and powerful. But for app designers and for people serious about the app prototyping business, it's a must try to the least.
I was a bit disappointed to see that a few features are still to be implemented within the next months, but on the other side, it shows that this tool still has ways to keep growing and maturing. Given its quality and potential at release, it's awesome.
App Cooker is available on the iTunes App Store for $19.99. If you acquire it, we would love to read your feedback and observations about it in the comments.
Written and designed by: Raji Purcell
Edited by: Deborah Singer
Photography: Caroline Moore
My mind was buzzing with creative inspiration from the opening talk by Jeff Finley, so I was very anxious for another designer to speak. However the next speaker was not a designer but rather the head of a printing company. As most designers know, when dealing with print (or in this case apparel design), a strong relationship with a good printer as well as an understanding of their process is crucial. With this in the back of my mind, I was pleasantly surprised by how interesting and valuable the talk was.
Jacob Edwards is the founder of Jakprints in Cleveland, OH. His effect as the second speaker at WMC Fest was nothing short of impressive. For years I've been seeing Jakprints ads in Juxtapoz Magazine, flaunting their beautifully technical t-shirt prints. This gave them an almost legendary status in my mind, which Jacob lived up to when he displayed many of their shirts during the speech. Recently, I had the opportunity to take advantage of their services. I was very satisfied with the results.

Here's what happened:
Edwards began his speech by detailing Jakprint's range of services for individuals and companies alike, explaining that they have a vast array of products to choose from. He even gave an example of a unique product called a Favicard, which is a social networking business card that looks like a favicon and has a QR code on it.

He explained that Jakprints was started due to his personal need for printing. He was in a band and wanted some cool shirts but was turned off by the high cost and mandatory quantity every printer required. Instead of going to a printer, Edwards made his own shirts and created a catalogue that he brought on tour. He eventually spent so much time fulfilling orders from his catalogue that it became his business. Edwards' mission became supporting the artist and their brand by offering them any sort of printing service they need, with the exception of design.
One of our decisions when we started was to not do any design ourselves. We whole heartedly believe that our job is to support all of you," Edwards said.
He then switched gears and turned to the real meat of his talk. Instead of giving the whole history of Jakprints he began a show and tell about what JakPrints offers to artists, designers, and bands. He discussed the importance of designing with the medium in mind from the get go. With this, he also outlined the different services that Jakprints has to offer to it's clients.
You get creative and you can either start smart or just start. And whatever that result is going to be in the end, you or your client will have to deal with it."
Edwards recommended clients to start by identifying the audience (men, women, toddlers etc). He then recommended identifying the genre of the audience (punk, metal, pop, etc.). After you establish this you can begin looking at the actual object you are printing on. This may seem like a no brainer process because you are printing on a shirt, however places like Jakprints offer 60 different styles of shirt to print on. You then ask yourself what kind of shirt is right for your audience and genre of audience.


After determining who your audience is and the style of shirt you want for your design, it is important to then understand the limitations of the product. Edwards stressed this point and explained a mistake a lot of people make is designing a shirt and mocking it up on a product that it can't be printed on. Even worse would be the mistake of showing this mock up to a customer and everyone falling in love with something impossible. So knowing your design's parameters in context to the shirt style/material is important. The most important point that Edwards made was,
"If you can make a shirt work in black and white, you win!"
Essentially saying that if you can make your design work in one color you will have one of the most flexible designs, able to be printed with multiple processes, and on any type of shirt.
Edwards then discussed the eco-friendly side of screen printing which Jakprints also offers. In his opinion, a client is either eco-friendly or not. He feels if you are going to do it, go all the way.
Less is more, and less is always going to have less of an impact."
He also explained that going green involves doing the math. For example using a water-based ink for 12 different colors is just as harmful as using a plastisol ink.
Edwards closed the talk by advising the audience to keep in mind how costly it can get to have a variety of products. He explained that designs should be kept simple in order for them to be produced on different products.
I definitely walked away from his talk with insight about t-shirt printing that I never had before. I feel now, as a designer, I can make wiser decisions next time I design a t-shirt. Edwards' talk really helped me consider the planning that should be involved with designing apparel.

Listen to the Talk
As I watched every talk, I kept Garage Band open on my MacBook and recorded everything I could. So the quality of the mp3 below may not be the best, but you can get an idea of what it was like from my perspective in the front row. Bootleg version!
[download#72#nohits]
Hello dear Zine readers! Jon and Simon here.
Today, we're taking our editor hats off for a minute or two and putting on our independent artist hats instead. We want to tell you guys about a project of ours that means a lot to us: 13 Spade.
What the heck is 13 Spade?
Designed, coded, developed, and curated by Jon Savage and Simon Birky Hartmann of the design firm Studio Ace of Spade, we are working tirelessly to offer the best ecommerce experience around for our customers and our artists. We believe in the power of design and art, and can't imagine the world without it.

13 Spade was born one chilly November day in 2010 when we noticed that all of the wonderful art around us was made by relatively unknown artists. After talking with some of these artists, the project gained much support. It slowly started snowballing into a project ten times the size we had imagined.

We're still working ourselves to the bone to feature more artists, and don't worry – there's plenty more unique work on the way. If you know of someone who would like their work to be featured here or someone who would like to help fund the project, head to our contact page.

— From the 13 Spade about page
So, in short, it's an online store. For our stuff (posters, art prints…), but also for other talented artists and designers.
Why is it different from, let's say, Society 6?
At first, when we decided to start selling some of the posters that we made and got some positive reviews we thought, "Let's just put them up on Society 6 or Imagekind and they'll take care of everything for us."
Then, we saw how much markup these services were adding on top of the base price of a poster and said, "Not a chance. This isn't fair." I mean, an 18″x24″ canvas print through these two websites can cost above $100. And we're not even talking about framed prints. Since we actually want our people to buy the posters without going broke, we decided to not go that route.
We went on the hunt for a printer. After an extensive search, we found the good folks over at Valley Screen Process in our area (Northern Indiana). These guys used to be specialized in RV printing (and more specifically screen printing: it's the first time I see screens that are that huge), but when the economy tanked in 2009, they decided it was time to diversify the markets they were working in and started to also do giclée printing.
We met with them, they were interested and supportive of our idea (providing quality printing on the tightest budget in order for us to be able to also print the work of other people). We also got a grant from our alma matter to actually fund the printing and decided it was time to get the site up and running.
We want to empower other artists
So the goal is, once more, to get our stuff out there but not just that. We realized that most of the people we know in our community (local and online) do amazing stuff, but no one knows about it. They don't have either the time or money or knowledge to get their stuff online (or all of these at the same time). So we decided to open the door to them.
The rest of the story
As we were finding the printer and getting our stuff printed, something else happened: Jeff invited us as one of the featured studios/designers at Weapons of Mass Creation Fest this year.
So we decided to do something crazy: to put together 13 Spade and a refreshed web presence for the Studio at the same time and before the Fest. Which gave us 2 weeks to design and code 2 websites. We did it, since 13spade.com and studioaceofspade.com were live at 2:30 AM on Friday, June 10th. The Fest pre-show was the same day, except four hours away in Cleveland.
We then drove from Goshen, IN to Cleveland OH, to WMC Fest and officially declared 13 Spade open that same day.
Cool story bro, but what are you selling?
The people that follow Simon on Flickr, Behance and Dribble probably saw some most of the pieces that we're selling. Most of them got a quick touch up for some details though.
Whale and Pine
Whale and Pine was an online art gallery and art collection curated by Camilo Bajanaro of Ph7labs. Sadly, it is no longer. Anyway.

Last year, Whale and Pine organized a poster contest to bring more artists in. The contest theme was pretty loose.

This poster was our second submission. Our goal was to embody the Whale and Pine brand as much as possible, while still putting our stamp on it.
God is Awake
The God is Awake print is an homage.

God is Awake is a musical project from Goshen, IN whose members are friends. Ben, the singer/composer/guitare player of Wilson's Reservoir and Grant, the engineer/producer behind Electric Angel Studios, teamed up to create this post rock and experimental band.

When they completed their Voire Dire EP, they granted us the privilege to listen to it before anyone else (you can listen to the track An Adder is Hatched, extracted from the said EP, on their facebook page).

Since we were really thankful for this and amazed by the result, we created this little poster as a thank you to them.
The right to arm bears
The United States of America's Constitution has 27 amendments. The first 10 of these, the Bill of Rights, include a controversial amendment dubbed the 2nd amendment.

The text of this amendment is as follows:

A well regulated Militia, being necessary to the security of a free State, the right of the people to keep and bear Arms, shall not be infringed.

— From Wikipedia's Second Amendment page

This amendment has been the source of many controversies over the years, as some US citizens see any gun control law as an attempt by their government to limit their individual freedoms, enunciated in the Bill of Rights.

Artists and comedians already explored the subject, such as Obey Giant (Shepard Fairey) with his 2nd Amendment Solutions print.

One day at the Studio, someone made that wordplay (I support the right to arm bears!) and we couldn't help it but start to sketch the thing. Then, as 13 Spade's grand opening came closer, we decided to go ahead and finish this poster as a special treat for the opening. And I wanted to draw a bear too.

So we looked for an angry bear, drew a lot and here we are!
Get shit done
Oh boy, this is a delicate one, because some people might get offended (like we care in the first place).

I mean, we all remember these (lame?) motivational from the 80s and 90s that were done with bad stock photography and/or bad illustration and messages, right?

When we moved into the Bricolage in Goshen, IN, we knew the people in this shared workspace were mostly entrepreneurs and small business owners. Think about it as a concentration of like minded people. We also discovered these people to be highly motivated and not afraid by the number of hours you need to put in in order to get or keep their businesses going. Hence the (un)official motto of the place: get shit done.

At first, we did that kind of a joke and as a warm up one day. Then we did a second version, but we felt we were going away from the bold simplicity of the first one.

So here it is, the "new" version of the ultimate motivational poster. Hang it above your desk and go back to work.

Ah also, if you're offended by that poster, well, we're deeply sorry for you. Accept our condolences. A cure of George Carlin might help though.

— From the Get shit done product page on 13 Spade

Broadcasting
Broadcasting is an 9″x12″ poster done for Signalnoise's Retro Poster Competition. We chose to go back in time and advertise for what must have been the cutting edge radio station at that point.

This poster and the Air Traveling one were done for a specific occasion: a contest.

Not any contest. It was the Signalnoise Retro Poster Competition.

Since the number of entries was unlimited, we just ended up doing a triptych. We started with Broadcasting, followed by Air Traveling and finishing with Music Collecting.

We realized afterward that the size of the contest entries wasn't matching the ones we selected for 13 Spade, so we recreated them from scratch (keeping your resources folder of a previous project helps tremendously in that case).

— From the Broadcasting product page on 13 Spade
Air traveling
Air Traveling is an 9″x12″ poster done for Signalnoise's Retro Poster Competition. We chose to go back in time and advertise for what must have been the cutting edge means of air transportation at that point.

This poster and the Broadcasting one were done for a specific occasion: a contest.

Not any contest. It was the Signalnoise Retro Poster Competition.

Since the number of entries was unlimited, we just ended up doing a triptych. We started with Broadcasting, followed by Air Traveling and finishing with Music Collecting.

We realized afterward that the size of the contest entries wasn't matching the ones we selected for 13 Spade, so we recreated them from scratch (keeping your resources folder of a previous project helps tremendously in that case).
That was the complete collection of our work on the site.
We also feature some breathtaking photographs from an Ethiopian friend we met through college, Abi Tsigie.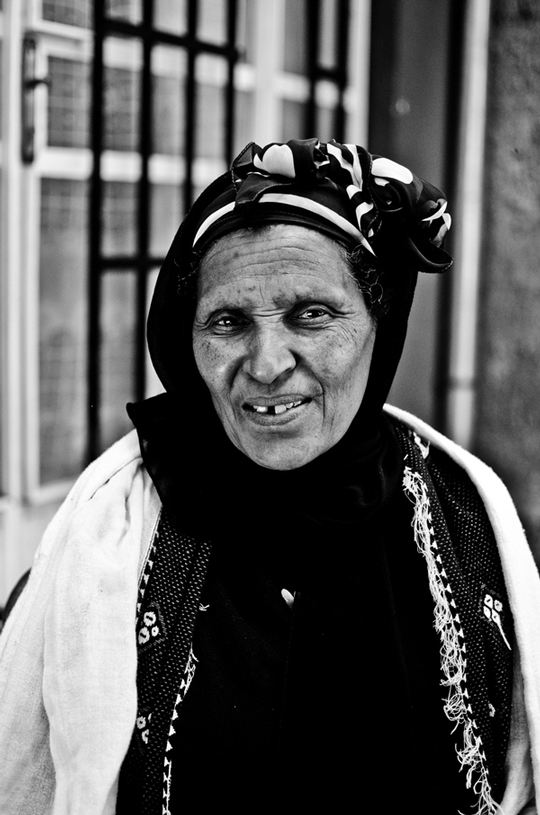 Kristen Szappanos is also a close friend of ours, and she takes beautiful pictures as well.
Then, we also have some hand-made jewelry. The ones that saw us at WMC Fest know what it is, for the others, take a look:
These earrings demonstrate that everyday life objects can be transformed into something absolutely beautiful. Every pair is hand-made with surgical steel clasps to avoid any allergy problems. Multiple brands available.
More info is available on the earring page of the shop.
The fun part: a giveaway
Now, all of this is pretty sweet and nice, but since you took some of your time to read all of this, we wanted to thank you guys by throwing a little giveaway together. The winner will get the print of his/her choice.
Just comment below to be entered. We'll choose someone randomly on Tuesday, July 26th and announce the winner here.
Now what?
Well, there's one thing you could do for us. If you like the project and the concept behind it, please talk about it. Share it on facebook, tweet about it, email your friends… And obviously, buy stuff :-) Because this is our first print run, the big posters are printed on canvas. There are 10 of each that were printed. The next run is unlikely to be printed on canvas again. Which makes them a very limited edition.
Also, we've been inviting other artists and designers to be guests on the store. We can already tell you that the next invited artist will be [REDACTED]! We're pretty pumped about that, as you can guess.
You can find 13 Spade on its dedicated website and on Facebook. We're likely to mention stuff about it on the Studio's twitter handle too. We hope you're as excited about the project as we are, and we'd love to keep the discussion going. Just give us a shout.
This is the first of many posts featuring the artists and designers involved at Weapons of Mass Creation Fest 2011. Some very cool people. Today we're featuring Glen Infante, designer and illustrator and founder of I Love the Hype. If you were (or were not) at the gallery at WMC Fest, you must have noticed (or missed) two things:
One of the tables had a (free) claw game on it.
The picture of the nude smurfette on the wall.
Both of these belonged to iLTHY. Clearly, they've got an interesting little setup that you just have to take notice of.
Glen Infante, founder of I Love the Hype (iLTHY), has become an established figure in the Cleveland music scene as the designer behind rappers Machine Gun Kelly, Chip Tha Ripper, and Kid Cudi, among others. From being a designer at HotCards.com to developing a website to generate funds for a billboard of LeBron James to try to keep him in Cleveland, Infante has proven himself to be a versatile and capable designer. His intent was never even to start a business, but to sell shirts on RealCavsFans.com. However, by January of 2010, iLTHY was a legitimate company and one of the top artistic forces from the Midwest.
When asked what he thought of WMC Fest, he acknowledged that he hadn't had the opportunity to be part of something like this and didn't know what to expect, but that he wished it would happen more than just once a year, explaining that he got to be a part of something that wasn't purely client work and "I feel like an artist again."
When asked to describe his work, he described it as "cartoon-y" and "bright" and expressed a love of vibrant pieces. He went on to say "My art is very simple. I don't do a lot of intricate artwork…very thick lines, not a lot of detail…I can do a lot of detail, but I really don't have the patience."
For you designers who aren't so into drawing things with a pencil, it's ok. While Infante can, he mentioned "I don't really like to draw with my hands a lot, but if I do, it'll be a quick sketch and I try to make that quick sketch the coolest quick sketch I can make."
It's not surprising then that when asked about where he draws inspiration for his work, he described watching cartoons with his father when he was a kid and how it often came back to what caught his interest during his childhood. "I'm bringing all that stuff back."
What I learned:
Don't use filters. You'll lose street cred and look n00bish.
Don't get sidetracked. You could lose a lot of time and delay a great career.
If you're good at art, do it a lot. You'll always have that talent, but when you get older, you'll start forgetting things. Keep it fresh.
Showcase as much as you can. Just show off your art.
Just make things. A lot of things. It's the best way to become great at what you do.
Check out Glen at gleninfante.com, follow him at @ilovethehype, tumble with him at gleninfante.tumblr.com, and buy stuff at ilthy.com.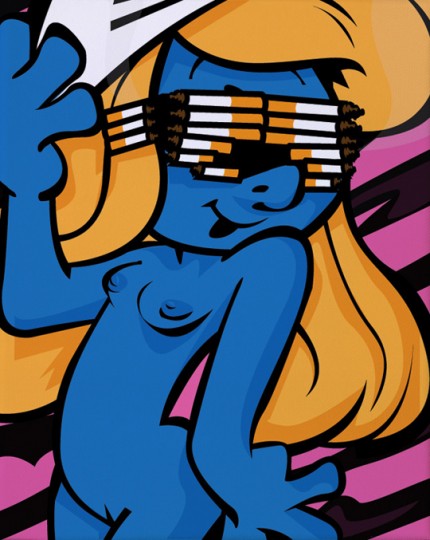 Also, I managed to snag a picture with him.

And July is here
Hello, Zine readers! July is here. It's officially summer time. Hopefully, it means you can have a bit of time off to recharge your batteries, enjoy the sun, experiment with your creativity…
My goal here is to take care of the "recharging the batteries" part by providing our monthly dose of inspiration straight out of our Flickr pool. So, while your AC provides a bearable temperature (ours is broken at the moment) and while the ice cubes melt in your drink, sit back and enjoy the ride.
The showcase
Once again, awesomeness is at the rendez-vous. Remember, I'm trying to feature pieces as diverse as possible. If you're not picked this time, please try again ;-) Also, since last month's post was pretty concise, I decided to make this one a tad more extensive.
Something  cool happened
Ladies and gentlemen, we're excited. While Weapons of Mass Creation Fest 2011 was almost a month ago, there's a way to relive it! The talented Aaron Freeder put this short together, under the supervision of Jeff, to "give you a taste of what WMC is all about."
Here's how Jeff introduced the film on Facebook:
Today I'm unveiling something awesome that I cannot wait to share. In the weeks since the 2nd ever Weapons of Mass Creation Fest ended I've been collaborating with up-and-coming filmmaker Aaron Freeder on a short film about the fest. This short is almost 6 minutes and gives you a taste of what WMC 2011 was all about without being a traditional recap or highlight reel. You'll see… Just watch.

— Jeff Finley, WMC Fest founder/organizer
If you see yourself in the video, please comment (here and on vimeo), we'd love to hear a bit about your impressions. Also, some stills of the film:
Then another cool thing happened
The other awesome thing that happened is related to all the great taglines we could hear in the week end's talks and presentation. These are great pieces of advice. They are also some really inspiring slogans, and some of our designer friends couldn't help it but to do some art around them. Some of these are actually in the film, some not. The amazing people that contributed to this typographical exercise are: Brandon Rike, Jana Kinsman, Amanda Buck, Richie Stewart and Erin Fuller.
Amanda Buck
Hi! I'm Amanda Buck, a visual communication designer living and working in Greensboro, AL. I focus on a range of projects, including graphic design, publication design, branding, identity design, information graphics, web design, and letterpress. Previously, I was a founding member of PieLab, a participant of Project M, a co-founder of Pecans!, a designer at the branding agency Ologie, and a proud Buckeye at The Ohio State University. Currently, I work with a selection of great clients around the country, while also pursuing self-initiated art and design projects.

— From Amanda's About page
Erin Fuller
Terminally unfancy. Unassuming and unassumed. Designerd. Music junkie. Collector of vintage mugs. Lover of anything orange.

— From her About page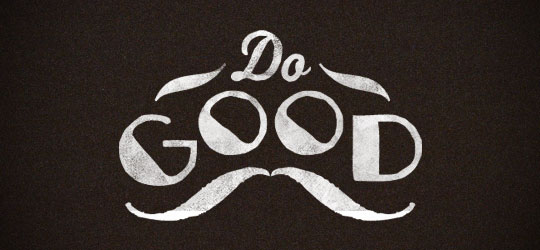 Jana Kinsman
Designer, illustrator, and vintage bike enthusiast living in beautiful Chicago.
Follow me on the Twitter: @reallylikeit
She's also part of Quiet Strong:
Quite Strong is a collaborative made up of five female Chicago-based creatives. Professionally we are graphic designers, art directors, web developers and illustrators. Personally, we are dreamers, crafters, lovers, bikers, nerds and wanna-be foodies. We love Chicago, we relish creativity, and we want to share what we're into with you.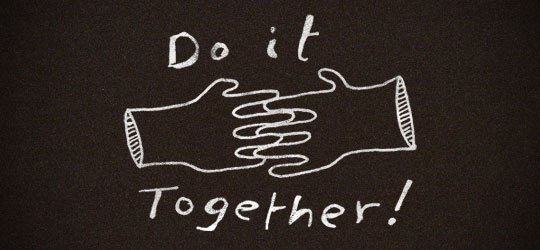 Richie Stewart
I grew up just outside Boston, MA in the epitome of suburbia. I fell in love with skateboarding and punk rock at a very young age. Being involved in these communities opened my sheltered eyes to a whole other world around me. My approach to design and illustration is very much fueled by these early influences.

I have blue-collar blood pumping through my veins. I infuse that natural work ethic, with a D.I.Y. attitude into every aspect of my life. I work honestly and take great pride in what I do.

— From his About page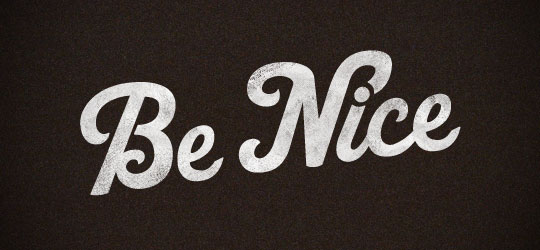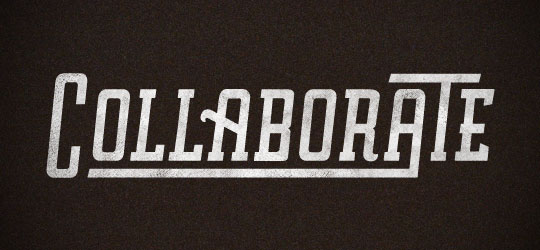 Brandon Rike
Dayton-born rocker and graphic designer Brandon Rike has always been into art. "That is my number one thing," says the erstwhile vocalist of the band Dead Poetic. "I was one of the kids who could draw… When I was little, all I ever wanted to be was an artist."

He's certainly accomplished that goal on a number of levels – all of them grassroots. Currently on hiatus with his former post-hardcore band, he understands the strength of referrals: Dead Poetic ultimately arrived on cable channels MTV2 and FuseTV because of years of brawny, word-of-mouth buzz.

Now a full-time designer, Rike is taking his love of music and graphic arts to a new level with his company, Dark Collar. His highly successful business revolves around designing the band merchandise you find at concert venues and retail lifestyle companies (such as Spencer's) across the country.
Also, Brandon did so much more than these. I wish we could share them all, but the post would be 10 miles long. He told us via twitter today they'd be up on his portfolio soon.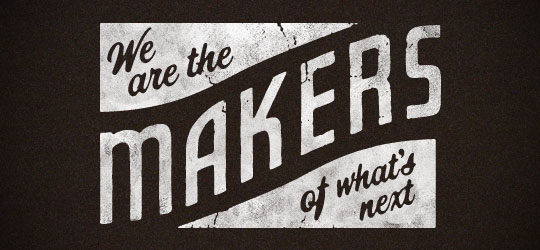 This is the occasion to thank all of you who came to WMC Fest, again.And we'd like to warmly thank Brandon, Jana, Amanda, Richie & Erin for their patiently crafted type that makes this world a happier place.
Readers of the GoMediaZine, we listened and heard you
After our call to you guys for improvements, one of the main suggestions was for more regular content. We are working hard to get tutorials and tests and other goodies together for that.
The other way we'd like to provide more of that recurring and high quality content to you is also by creating a new post series on the Zine: the Weekly Inspiration. Think about it a bit like the Daily Inspiration in place at Abduzeedo.
How is it going to work?
Well it's quiet simple actually. From Monday to Thursday, just tweet us (@Go_Media) sweet and inspiring stuff: photos, drawing, posters, architecture, you name it. In order for us to figure out what is what in the flow of information, use the #gmzinspiration hashtag. On Fridays, we'll pick and choose from the links you sent over and publish the content here on the Zine. How's that?
We're pretty excited to launch this, and looking forward to what you have to share with us and the world!