App Cooker review
Hello readers! Today, I want to share with you my impressions after trying out App Cooker, an iPad app that assists in the process of conceptualizing and planning mobile apps. It has been created by Hot Apps Factory, a French studio.
This is a new exercise for me, for various reasons:
I've never reviewed an app before
I just recently became the daily user of an iPad
The starting point
Well, it's quiet simple: devices like the iPad make for a really exciting support for various apps, built to answer various needs. It's just logical to  think about using the device itself to conceptualize the app you want to develop for it.
Starting from there ("having an app conceptualizing/mockuping tool that runs on the platform you're designing for"), the folks at Hot Apps Factory came with App Cooker. They also kept in mind 10 principles "for good iOS design":
The app
First of all, the app is visually gorgeous. I will not deny this. The visual experience is neat and consistent. The attention to details makes me believe it's probably someone with a mild OCD that took care of making sure everything was looking good.
There are 5 key screens to let you access the 5 key tools included in the app.
The map idea screen
Think about it as a notebook, with built-in tools to help you develop your app concept. The evaluation tool on the left side of the screen aims to help you evaluate the potential success of your app concept through various indicators. The right side of the screen features a "mission statement" box, as well as the type of app chart (entertainment vs. serious vs. tool vs. fun). It also let's you export stuff in PDF, which comes in handy to share the information along with dev team members, etc.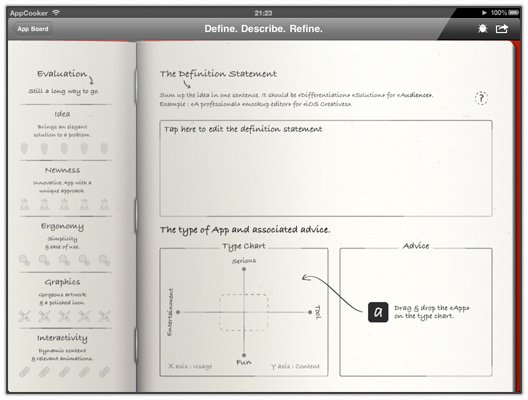 The mockup tool
The mockup tool is.. extensive. So extensive I kind of got lost.
The mockup engine supports live orientation, simple linking and mixes together the real Apple UI, bitmap drawing, vector shapes, text and images. The mockups come to life under at your fingertips without a single line of code.
This presentation from the mockup tool makes it sounds a bit easier than it really is in my humble opinion. The tools are precise and complete; however, this particular aspect isn't user intuitive. It was more difficult to use than I expected it to be, but it is still a good tool. It may take you a little while to understand what's going on with this portion of the app.
There are many pre-made bits of interface that are direct calls to iOS functions. There's an interaction with Dropbox in the event you want to synchronize your iPad with resources you'd be creating using another device (think Ps/Ai). But I personally got the same feel I had the first time I opened Photoshop without knowing anything at all about it: I was overwhelmed.
I do believe that after a bit of learning and a more intensive use of App Cooker, things would definitely start to flow easier. I personally haven't managed to satisfyingly include the app in my workflow, but that's also because of me.
The app icon design tool
The App Cooker team reminds you that the icon is one of the primary marketing asset of your app. The design tools are similar to the ones available in the mockup tool, with the same exporting to PDF and image file abilities.
The pricing tool
The pricing tool is really straight forward: it helps you to price your app and to do some financial projections out of its sales price, the investments, etc. It supports multiple currencies, scenario variations…
The store info helper tool
This last tool helps you to get ready everything you will need to fill the app info page on the iTunes App Store. From categories to blurb, to advices on the name length, it is once again a throughout tool.
My impressions
I will say it once again: this is a amazingly complete and powerful tool. For my level of knowledge and interest in app design, it is maybe even a bit too complete and powerful. But for app designers and for people serious about the app prototyping business, it's a must try to the least.
I was a bit disappointed to see that a few features are still to be implemented within the next months, but on the other side, it shows that this tool still has ways to keep growing and maturing. Given its quality and potential at release, it's awesome.
App Cooker is available on the iTunes App Store for $19.99. If you acquire it, we would love to read your feedback and observations about it in the comments.