Articles by Day:
July 26, 2011
We're pretty excited to announce the winner of the print giveaway we put together in the 13 Spade introductory post!
And the winner is…
We used random.org with the number of comments of the post (minus our own), and the winner is…
Dusty Rhodes
So Dusty, we'll be in touch shortly (or you can be faster than us and shoot us an email), and we'll go from there. Thanks again to everyone who entered the giveaway by commenting, who shared the post with their friends and to the ones who submitted art to be featured on 13 Spade.
Hello readers! Today, I want to share with you my impressions after trying out App Cooker, an iPad app that assists in the process of conceptualizing and planning mobile apps. It has been created by Hot Apps Factory, a French studio.
This is a new exercise for me, for various reasons:
I've never reviewed an app before
I just recently became the daily user of an iPad
The starting point
Well, it's quiet simple: devices like the iPad make for a really exciting support for various apps, built to answer various needs. It's just logical to  think about using the device itself to conceptualize the app you want to develop for it.
Starting from there ("having an app conceptualizing/mockuping tool that runs on the platform you're designing for"), the folks at Hot Apps Factory came with App Cooker. They also kept in mind 10 principles "for good iOS design":
The app
First of all, the app is visually gorgeous. I will not deny this. The visual experience is neat and consistent. The attention to details makes me believe it's probably someone with a mild OCD that took care of making sure everything was looking good.
There are 5 key screens to let you access the 5 key tools included in the app.
The map idea screen
Think about it as a notebook, with built-in tools to help you develop your app concept. The evaluation tool on the left side of the screen aims to help you evaluate the potential success of your app concept through various indicators. The right side of the screen features a "mission statement" box, as well as the type of app chart (entertainment vs. serious vs. tool vs. fun). It also let's you export stuff in PDF, which comes in handy to share the information along with dev team members, etc.
The mockup tool
The mockup tool is.. extensive. So extensive I kind of got lost.
The mockup engine supports live orientation, simple linking and mixes together the real Apple UI, bitmap drawing, vector shapes, text and images. The mockups come to life under at your fingertips without a single line of code.
This presentation from the mockup tool makes it sounds a bit easier than it really is in my humble opinion. The tools are precise and complete; however, this particular aspect isn't user intuitive. It was more difficult to use than I expected it to be, but it is still a good tool. It may take you a little while to understand what's going on with this portion of the app.
There are many pre-made bits of interface that are direct calls to iOS functions. There's an interaction with Dropbox in the event you want to synchronize your iPad with resources you'd be creating using another device (think Ps/Ai). But I personally got the same feel I had the first time I opened Photoshop without knowing anything at all about it: I was overwhelmed.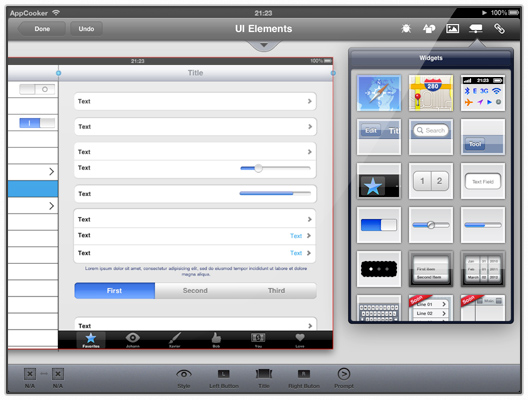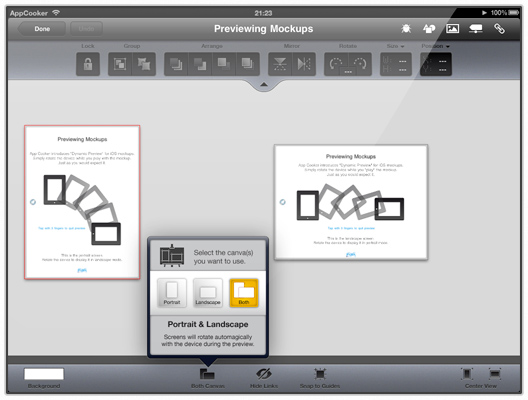 I do believe that after a bit of learning and a more intensive use of App Cooker, things would definitely start to flow easier. I personally haven't managed to satisfyingly include the app in my workflow, but that's also because of me.
The app icon design tool
The App Cooker team reminds you that the icon is one of the primary marketing asset of your app. The design tools are similar to the ones available in the mockup tool, with the same exporting to PDF and image file abilities.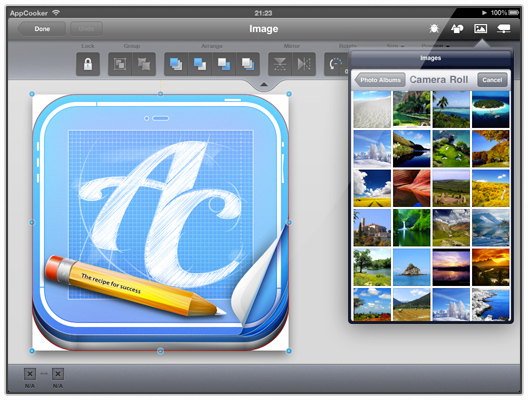 The pricing tool
The pricing tool is really straight forward: it helps you to price your app and to do some financial projections out of its sales price, the investments, etc. It supports multiple currencies, scenario variations…
The store info helper tool
This last tool helps you to get ready everything you will need to fill the app info page on the iTunes App Store. From categories to blurb, to advices on the name length, it is once again a throughout tool.
My impressions
I will say it once again: this is a amazingly complete and powerful tool. For my level of knowledge and interest in app design, it is maybe even a bit too complete and powerful. But for app designers and for people serious about the app prototyping business, it's a must try to the least.
I was a bit disappointed to see that a few features are still to be implemented within the next months, but on the other side, it shows that this tool still has ways to keep growing and maturing. Given its quality and potential at release, it's awesome.
App Cooker is available on the iTunes App Store for $19.99. If you acquire it, we would love to read your feedback and observations about it in the comments.
Written and designed by: Raji Purcell
Edited by: Deborah Singer
Photography: Caroline Moore
My mind was buzzing with creative inspiration from the opening talk by Jeff Finley, so I was very anxious for another designer to speak. However the next speaker was not a designer but rather the head of a printing company. As most designers know, when dealing with print (or in this case apparel design), a strong relationship with a good printer as well as an understanding of their process is crucial. With this in the back of my mind, I was pleasantly surprised by how interesting and valuable the talk was.
Jacob Edwards is the founder of Jakprints in Cleveland, OH. His effect as the second speaker at WMC Fest was nothing short of impressive. For years I've been seeing Jakprints ads in Juxtapoz Magazine, flaunting their beautifully technical t-shirt prints. This gave them an almost legendary status in my mind, which Jacob lived up to when he displayed many of their shirts during the speech. Recently, I had the opportunity to take advantage of their services. I was very satisfied with the results.

Here's what happened:
Edwards began his speech by detailing Jakprint's range of services for individuals and companies alike, explaining that they have a vast array of products to choose from. He even gave an example of a unique product called a Favicard, which is a social networking business card that looks like a favicon and has a QR code on it.

He explained that Jakprints was started due to his personal need for printing. He was in a band and wanted some cool shirts but was turned off by the high cost and mandatory quantity every printer required. Instead of going to a printer, Edwards made his own shirts and created a catalogue that he brought on tour. He eventually spent so much time fulfilling orders from his catalogue that it became his business. Edwards' mission became supporting the artist and their brand by offering them any sort of printing service they need, with the exception of design.
One of our decisions when we started was to not do any design ourselves. We whole heartedly believe that our job is to support all of you," Edwards said.
He then switched gears and turned to the real meat of his talk. Instead of giving the whole history of Jakprints he began a show and tell about what JakPrints offers to artists, designers, and bands. He discussed the importance of designing with the medium in mind from the get go. With this, he also outlined the different services that Jakprints has to offer to it's clients.
You get creative and you can either start smart or just start. And whatever that result is going to be in the end, you or your client will have to deal with it."
Edwards recommended clients to start by identifying the audience (men, women, toddlers etc). He then recommended identifying the genre of the audience (punk, metal, pop, etc.). After you establish this you can begin looking at the actual object you are printing on. This may seem like a no brainer process because you are printing on a shirt, however places like Jakprints offer 60 different styles of shirt to print on. You then ask yourself what kind of shirt is right for your audience and genre of audience.


After determining who your audience is and the style of shirt you want for your design, it is important to then understand the limitations of the product. Edwards stressed this point and explained a mistake a lot of people make is designing a shirt and mocking it up on a product that it can't be printed on. Even worse would be the mistake of showing this mock up to a customer and everyone falling in love with something impossible. So knowing your design's parameters in context to the shirt style/material is important. The most important point that Edwards made was,
"If you can make a shirt work in black and white, you win!"
Essentially saying that if you can make your design work in one color you will have one of the most flexible designs, able to be printed with multiple processes, and on any type of shirt.
Edwards then discussed the eco-friendly side of screen printing which Jakprints also offers. In his opinion, a client is either eco-friendly or not. He feels if you are going to do it, go all the way.
Less is more, and less is always going to have less of an impact."
He also explained that going green involves doing the math. For example using a water-based ink for 12 different colors is just as harmful as using a plastisol ink.
Edwards closed the talk by advising the audience to keep in mind how costly it can get to have a variety of products. He explained that designs should be kept simple in order for them to be produced on different products.
I definitely walked away from his talk with insight about t-shirt printing that I never had before. I feel now, as a designer, I can make wiser decisions next time I design a t-shirt. Edwards' talk really helped me consider the planning that should be involved with designing apparel.

Listen to the Talk
As I watched every talk, I kept Garage Band open on my MacBook and recorded everything I could. So the quality of the mp3 below may not be the best, but you can get an idea of what it was like from my perspective in the front row. Bootleg version!
[download#72#nohits]