Articles by Month:
May 2011
Organizing your design files – Or ELSE!
Design file names and folder structure are a key ingredient to your success as a graphic designer.
Ok, here's the scenario; a client calls you because he just picked up the presentation your firm designed from the local Kinko's and they've found some typos. Also, they've decided to change some images.  They have their meeting in one hour and they need you to make changes and e-mail over the revised presentation. They'll need fifteen minutes to print it and fifteen minutes to get to the meeting. That leaves you thirty minutes to make the changes – no problem!
But wait! The designer who put this presentation together is home sick.  Again, no problem! These are simple changes, you're a capable designer. This should be no problem at all. But when you sit down to open the presentation you realize you're in big trouble. There is no clear folder structure. There are six different versions of what you THINK is the presentation.
Content files, images, design files and the presentation files are all mixed up in one huge mess. Which file was approved? What file was sent to the printer? You start opening the latest files hoping one of them is the approved version of the presentation. But when you open the latest files there are missing image and you don't have the proper fonts installed on your computer! Panic starts to set in as you rush over to your fellow designer's computer.
It's been fifteen minutes already and you're still trying to make heads or tails of all the files. When you fail to deliver the revised presentation on time your client drops you. Your business goes bankrupt and your girlfriend leaves you. Within six months you're addicted to heroin and living on the streets.
DON'T LET THIS HAPPEN TO YOU.
Now, this is just one scenario where having an organized file structure is important to your career as a graphic designer. Has this happened to you yet? If it hasn't, just wait, it WILL! And I'm afraid no diet, exercise or drug can possibly prevent this from happening to you. No, what you need is a file naming and folder structuring system!
Yes, this article is on the subject of how you set up the folders and name your design project files. I know what you're thinking: "BOOOOOOORRRRRIIIINNNNGGGG!!" Ok, yes, I'm not going to lie. This article will probably be a little boring compared to our normal articles. But this is important stuff! And I promise that if you read this article, you'll learn some useful stuff and be glad that you took the time.
Before I go any further let me throw out this disclaimer. The systems and concepts I'm about to discuss were developed by Go Media in house over the course of 14 years in business. What works for us may not work for you. Or perhaps someone out there has an even better system or ideas in mind. If so, PLEASE COMMENT at the end of this article. We would LOVE to hear how other firms approach this issue.
So, without further ado, let's dive into how Go Media structures its folders. For starters, all of Go Media's design project files are held on a single server that we affectionately call "The Beast" (the actual name has been changed to protect the innocent – us.)  On the Beast we have a folder called Clients. This folder has exactly what you would expect – a long list of folders with names like Nike, American Greetings and Lincoln Electric. Pretty simple so far, right?
Within each client folder we have a folder for each project that we do for them. An individual project would be something like a logo design, website design or brochure design. Now, if a client orders a full stationary set like business cards, letterhead and envelopes, we will typically put this together into one project. Each project folder is named with the project number and the project name.
So, for instance, a project folder might be named: "3186_business_stationary".  Now, you'll notice that I used underscores instead of spaces in the name of that folder. It's not actually necessary in this case, but all folders that will be put on the web and all file names put on the web cannot have spaces. So, I find it's a good habit to get into – using underscores instead of spaces. So, let's take a quick look at what our folder structure looks like so far:
Sometimes a client's folder will include a folder or two that are not related specifically to a project. For instance, you may acquire a client that already has all their branding done. You'll be using that branding for a variety of their projects, so you won't want to hide those branding assets inside of a specific project folder. In this case you'll want to have a folder inside the client's folder named something like Branding or Assets.
Another example is our client Lincoln Electric. We design welding helmets for them. They have about 4 different models of helmet that we've built templates for.These templates are used for all their projects, not just one. So, we have a Helmet Templates folder in their root client folder for easy access. You'll notice that I start the names of these non-project folders with an underscore. This insures that they will stay at the top of the list of folders for easy access. Also, you'll notice that the project numbers being at the front of the project folder names also has a nice side effect; it keeps them in chronological order. Let's look at that client folder again:
Now, I know what your next question is: "Where do your project numbers come from?" WARNING: gratuitous product plug coming…  …now!
Go Media uses a project management software that we developed internally called Proof Lab. The Proof Lab is the ultimate design project management software. It allows you to manage projects, tasks, post proofs for clients, track time, share files and much more. Proof Lab will shortly be available as a hosted service that you can use! But all you need to know right now is that each project in Proof Lab is given a project number.
Every design firm has their own project management systems, but most will have a numbering system to go along with each project. It's important that the naming conventions and numbers on your folders coincide with what's in your company's project management system, whether that's Proof Lab or something else. Here is a screen shot from inside Proof Lab:
Hhhhmmmm…  I think that image above is the world exclusive sneak peek at the project queue in Proof Lab. There will be more on Proof Lab to come soon.
At Go Media we try to match the project number and the project name exactly between the Proof Lab and our folder structure. This just makes good sense. Still easy enough so far, right? Ok, well now is where things start to get complex – the individual project folder structure. It will be easiest if I just show you first, and then explain after. So, here ya go:
So, this is the extent of the folder structure we used for many years. Here is a quick breakdown of what the folders are. The Ai folder is filled with Adobe Illustrator files; Fnl contains all final approved files. In most cases these were the print-ready files for all print projects. Ind is In Design files.
And really, when it comes to any software, you could have an associated folder with that software. What I'm showing here is just our bread-and-butter software. But if we had a project in Power Point, for instance, we would also have a PP folder in there. Mgmnt is all files related to managing the project. This might include things like a timeline, the project proposal or a non-disclosure agreement. Prf is where we save our proofs. Psd is Photoshop files. Rsc is resources. Resources are where we keep anything we may need on the project like images, content, logos, etc. And Web is, well, web. This web folder has always had sub-folders, but I won't go into that now.
This folder structure served us well for many years. But when our projects grew in size, we realized there were still some problems. We were confusing which files were old and which files were approved. We were mixing up client content files with previous outdated content. And, we didn't even have any file naming conventions. So, each designer would name their project files differently which invariably lead to confusion.
So, let's start first with that – the naming convention for the files. Here's a break-down of our current system:
And now let's look at our expanded project folder: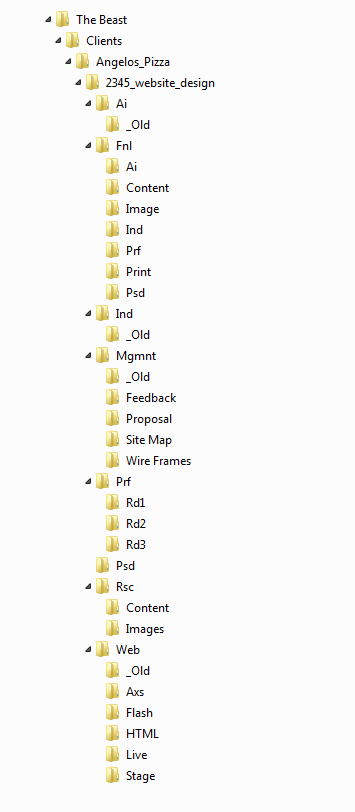 Whoa! – I know. It IS a beast isn't it? Well, it only looks this big and complicated because I've got every folder expanded, and this file structure assumes a fairly large project with lots of different software being used.  Obviously, you will only create the folder structure that you're going to need.
All of the _Old folders you see are like mini-trash cans. When we're on version 8 of a design and the folder is looking cluttered, we like to move versions 1-7 into the _Old folder. We don't like to delete them because you never know when a client will suddenly ask for something they saw two weeks ago. The Fnl folder stands for Final. Basically, every proof, design file, piece of content, etc, that is approved by the client gets moved into this folder. So, there is essentially a mirror copy of the folder structure within the Fnl folder. The Print folder within the Fnl folder is where we save our print-ready files.
The file structure within Mgmnt should be fairly self-explanatory. In the proofs folder you'll notice that we break the proofs down into rounds (Rd1, Rd2, Rd3). It's just easier to find the proofs you're looking for when you have them broken down in this way. Another folder that we sometimes put into the Prf folder is a Crit folder. The Crit stands for critique. This folder holds proofs that we're going to do an internal critique on before we show the client.  That Psd folder should have an _Old folder in it – sorry missed that one. The Rsc folder is for Resources. Resources are generally broken down into content and images.
Other random items can just go into the root Rsc folder.  Within the Web folder, the  Axs folder is a place for all login credentials or access details; this is convenient when you're trying to keep track of stage or testing site details, client accounts, etc. Flash is all source and SWF output for Adobe Flash files. HTML is a folder for all static markup; clean, without CMS implementation.Live is a folder for all final web files for the live site, possibly including database backups. Stage is a working copy of a site after static HTML has been integrated into a CMS.
Again, this folder structure is fairly large, and you would normally only create the folder structure that you're going to need. For instance, a business card design project's folder structure would look something more like this:
In some instances you need even less. But in our experience, you never know when a design project is going to spiral up in size, so we like to start a little over-kill on the organization so it's there for us when we need it. There is even a neat trick for auto-creating these file structures, but I'm getting ahead of myself.
I am anticipating another question: "This seems like a great system for client work, but what about Go Media internal work?" Well, we've learned that we need to treat our own internal projects just like client projects. So, we actually have "Go Media" as a client in the Client folder. And all internal work is put in the Proof Lab and given a project number – just like our client projects. This is really the only way to keep it all organized.
Now, I know your next concern; "Isn't it a complete pain in the butt to create these folder structures each time you start a new project? I mean REALLY, what a pain in the butt." Well, yes, if you manually created these folder structures for each and every project you would probably waste a lot of time. But we believe in working smarter, not harder.
So, we've installed a little piece of software called AutoHotKey. Then one of our developers here wrote a little script designed to auto-generate these folder structures. I would give you a quick tutorial on it, but AutoHotKey, and the script we've written is a little tricky. If you have a programmer in your company, just explain what you're trying to do and I'm sure they'll be able to help.
Or another not-so-elegant solution are the these: [download id="70″]. Just double click the one you want to use and it will auto-generate a project folder structure for you. Then you'll just have to rename it and drag it into the appropriate client folder.
Once you have these naming conventions and folder structures in place you will quickly find them to be second nature. Your brain will work more efficiently, your company will work more efficiently, and you can spend the money you save with efficiency on a Proof Lab account – which will result in even GREATER efficiency, more savings, your company will get out of bankruptcy, your girlfriend will come back to you, and you'll kick that nasty heroin addiction. Congratulations – your design files, and your life, are now organized!
One last request for comments on this post. I am very interested in how other designers approach the organization of their files!
It's that time of the month again
Yep, it's time for another installment of our Flickr group showcase. And once again, you guys are not making this easy because the work that's in there is just so great.
Remember that I'm trying to pick a variety of content that illustrates the numerous sensibilities expressed in there. Sorry if I didn't pick your art this time, keep up the great work!
The showcase
See you next month!
See you next month for a showcase that might or might not be WMC Fest themed.
Also, please don't hesitate to invite your designers and artists pal to join the group and post their art as well!
Hello GMZ readers! If you're looking for the video from last Thursday's live broadcast, you've come to the right place.
We wanted to summarize some of the things that were said during Jeff's live broadcast about his ebook Thread's Not Dead. First, the recorded version of the broadcast. Since it was a big first time for all of us, we ran into the unavoidable technical difficulties, but oh well. In the end, it all went rather well and smoothly.The recorded videos, however, might have a few gaps here and there. I also wish we could have a recording of the chat window to follow along.
The video is divided into 10 parts – which happened unintentionally (darn you, UStream!). To save you time, here's what each part is about.
The longest part with the most information is Part 10.
Jeff answered questions about the book itself. It seems like there was and is a strong interest from people to buy a physical copy of the book, which is awesome. Jeff is working on that. In the mean time, there are TND stickers and an affiliate program to check out.
The second part of the broadcast went on to talk more generally about the design industry, how to start your own apparel line, but also Weapons of Mass Creation Fest (since it happens in 20 days or so). There's a lot of great content in there for you to discover. We could go on for a while about what was talked about, but figure that you'd probably rather just sit back and relax while watching the video.
Go Media president Bill Beachy sits down to give you some daily inspiration and advice. Bill shares his years of experience building Go Media into the company it is today. Topics in this video series include Getting Started, Happiness, Humility, Patience, Flow, Focus, Productivity, Business Systems, Courage, Eating Well, Obstacles, and Creativity.
For more information about Bill Beachy, check out his bio on gomedia.us. Bill is currently accepting opportunities to speak at your event, university, or business.
View all episodes of Daily Inspiration here
Sponsored by Weapons of Mass Creation
The Daily Inspiration video series is brought to you by WMC Fest – a grassroots event put on by Go Media to inspire and enable the creative mind. It takes place in Cleveland, OH on June 11 and 12, 2011 and will feature 20 speakers, 20 bands, and 20 designers in what aims to be the premier event for artists/designers in the midwest.
Hope you enjoy the video!
Or download the podcast
[powerpress]
Categorized:

Business Philosophy, Graphic Design, Small Business

Tagged:

advice, art, cleveland, complacent, courage, focus, happiness, help, humility, leadership, lull, patience, podcast, productivity, starting out, strategy, tips, video blog, William Beachy
How are you feeling right now? What are you thinking? Are you suddenly excited and passionate, yearning for adventure? Or did a Zen-like calmness just pervade your being? Maybe your mind is on money. Or, if not that, you're considering your health and how you can live in harmony with the natural world. On the contrary, you say? You were simply entertaining thoughts of fun, youth, and celebration, but now, for some strange reason, are more focused on fantasies of royalty and luxury? Fantasies that are quickly dispelled by new thoughts of an earthy, tribal simplicity? So just what's going on here?! And why am I suddenly feeling so curious and amused, but annoyed by eye-strain?!
Effects of Color on the Mind
Let us fade back to black for its capacity to imbue some seriousness to a hue. What the above examples represent are the psychology of color and the well-established fact that, while there is definitely an element of subjectivity here, most of us associate certain emotions with certain shades in ways that can be measured and manipulated. It's not a new insight.
In fact, using colors to alter our psychological and physical states is an old practice – a very old practice. Both ancient Egypt and China employed chromotherapy, a treatment in which the patient was placed in a brightly colored room depending upon the "doctor's" diagnosis.
Got a patient who needs better circulation? Put her in the red room. Got someone who needs to purify his body? He'll go in the yellow room, thank you. Got a guy that needs to heal his lungs and increase his energy levels? To the orange room with him, please. (Chromotherapy sounds primitive to us 21st century types, but, personally, I'd take it over leeches and a mercury-laced tincture any day.)
The Role of Color in Web Design
Not surprisingly, the psychological effects of color play a big role in web design, and the color scheme you choose can also have an effect on the hosting plan you choose. After all, a user's first impression of a website is almost always a visual one. And, whether fair or not, a user will often judge a site not by the content of its characters but by the colors of its screens. Therefore, with a gazillion and one other websites that a visitor could be viewing instead, getting the color scheme right – and keeping that viewer's interest – is crucial.
This is particularly true for online retailers who, unlike their brick-and-mortar counterparts, cannot stimulate their customers' senses across the spectrum by having soothing music coming from unseen speakers, soft fabrics hanging from closely packed racks, and a cutie hawking perfume behind the makeup counter. Instead, an online retailer has two main ways to set the mood for his or her virtual store: the words and the colors.
As for the former, keep them short and simple and, for the love of God, use spell check. As for the latter, particularly for those who don't know their warm colors from their cool ones, there are some very helpful sites on the web ready to come to the aid of the color-scheme challenged.
Tips For Using Color on Your Site
The key is to remember that, while we rightfully strive to be a color-blind society in the real world, color still very much counts in the virtual one. So, with that said, here are some helpful tips.
The first and most important – other than never using red and green together at any time other than Christmas – is to remember the needs of your target audience. If, say, you're a medical supply retailer selling devices for fecal management in colostomy patients – and I happen to know someone who really is, by the way – then you don't want a website with lots of light and dark browns, despite their overtones of tribal earthiness. (The retailer's website is a very sober and professional-looking light grey and blue background with a dark green font.)
The two main rules of thumb are connotations and common sense. For example, if an online retailer wants to sell sailboats, try a white and light blue background with a deep, sea blue font. If you want to sell herbs from your organic garden, try a dawn's-early-light-peach for a background and dark green for a font. Along the borders, you could splash some bright purples, yellows and oranges to represent the many marigolds you plant to keep those pesky aphids away.
If someone wishes to advertise his or her no nonsense business, say an accountant for example, then business suit blue and grey on the borders with black text over a white background could be used. It's visually boring, yes, but black on white is also the easiest to read and is a scheme that has a no-funny-business sincerity.
As for common sense – apart from not using lots of browns if you're selling colostomy supplies – make sure to avoid color schemes that will cause eye-strain. For example, try reading this. It's not fun, is it?
A website that uses hard-to-read color combinations will not only look like it was designed by your ten-year-old, but will drive away potential customers concerned about their vision. If you're an online retailer, here's a little mnemonic for you: If it's hard to read, your patrons will flee.
In conclusion, a successful online retailer not only offers a good product at a competitive price, sending it out quickly to a satisfied customer, but the successful online retailer also has something of an artist's eye, an awareness of humans' conditioning to colors and the power of hues to affect our moods and, by extension, what we buy.
Your Turn!
Need help using colors more effectively in your next design project? Try this color wheel by our friends over at Canva. This is a great resource to help you use color combinations with ease. The resource also speaks more about the topic of color theory. Thanks, Canva!
Weapons of Mass Creation is a month away!
Oh boy, oh boy. I don't even know where to start. I'm so excited about WMC Fest you know.
The amazing lineup
I'm pretty sure you're aware of the lineup and schedule by now? If not, here's a reminder:
Speakers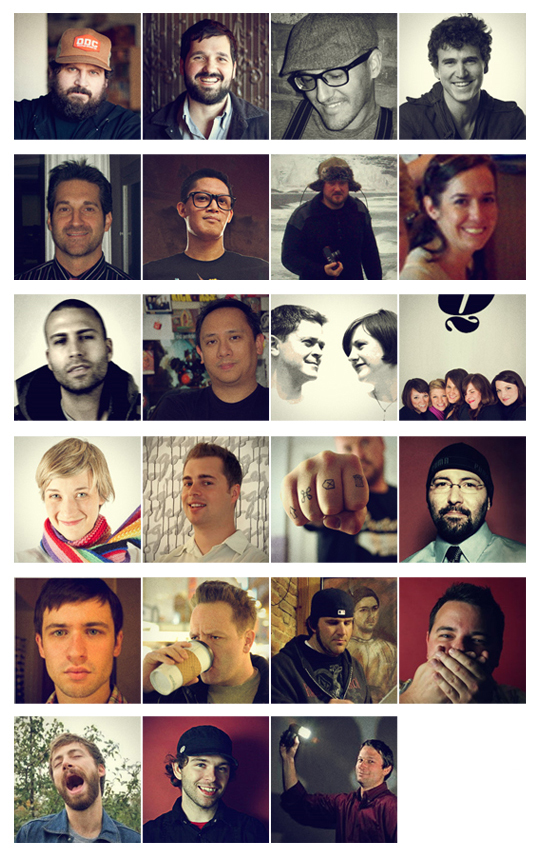 The speakers include many of the good folks from Go Media, but not only. It would be too easy to just do namedropping, but I have to admit it's really tempting. I mean, Aaron Draplin, Mikey Burton, Alex Cornell… These people, although coming from various backgrounds and experiences, share the same drive to deliver the most fantastic stuff. And the best in that is that they love to speak about it. If you will be looking for me, I'll be sitting in the first row of the Reinberger Auditorium.
Bands
I heard Mose Giganticus and The Lighthouse and the Whaler at last year's WMC Fest. It was pretty amazing. I missed Dave Dondero's set, and I've been told I shouldn't have. I'm looking forward to Signals Midwest (remember Max the intern?). I'm sad Spraynard and Lavis Blake won't make back this year, but oh well…
I think I'll need a clone to be able to watch all of these guys light the Happy Dog on fire.
Designers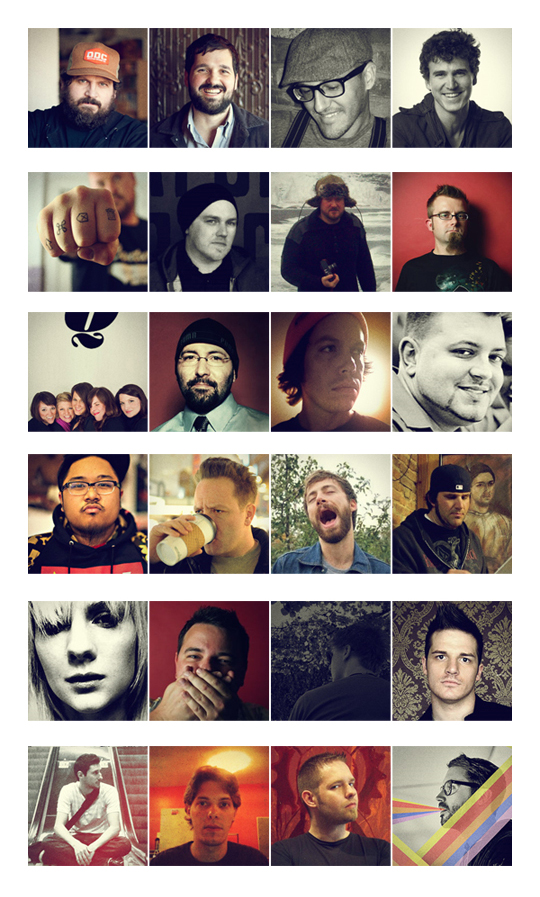 The art show will be at the same level as the rest: pure greatness. Some of the people that inspired me to become a designer (Angryblue for instance) are going to be there, show stuff and hang out. There's also going to be some of the people I discovered while surfing too much on Dribbble, like Mikey Burton… We'll also have Dan Cassaro (remember the 50 and 50 project?). And finally, let's not forget the winners of the portfolio contest. It's going to be just amazing. Oh, and we'll be there too. I hope that the Wall Eye Gallery has a big room.
Did you remember to Make a Pledge to WMC Fest?
We're grateful that so many people volunteered, offered venue space for free, etc, etc. However, as one can guess, putting such an event together will cost a lot of money. That's why we opened a Kickstarter fund. As I'm writing this, we already have 126 people that have pledged some money to help us. Will you dare to join them?
We can't do this without your help. And if you back WMC Fest, you can get some pretty rad stuff in exchange. Money is only taken out of your account at the end if we meet our funding goal.
We're looking forward to seeing you all there, listening to your stories and adventures in the design world, and drooling over the amazing stuff that's going to happen.
[Edit #1 – 5/10/2011 – 2:20PM]
The live page is, well…live! Hope to see you all there on Thursday (May 12th) for an awesome live session with Jeff. Check it out.
Ladies and gentlemen, we have the pleasure to announce something awesome.
By now, you all know that Jeff released his first ebook – entitled Thread's Not Dead – about the apparel design industry.
If not, here's a friendly introduction to its content:
TND – What's Inside…
What if the most prolific and influential people in the modern t-shirt design scene got together and discussed everything they wish they knew when they started?
That's exactly what we have here.
Inside these 10 chapters is 117 pages of essential strategy pulled from the success and failures of some of the best in the biz.
Key topics include design, freelancing, band merchandise, personal branding, marketing, sales, printing & production, retail, e-commerce, and more.
Well, the cool thing is that Jeff will be doing a live broadcast (à la James White) of an hour or so (hey, there are clients as well that want their projects to get done…) on Thursday, May 12th 2011 at 2:00 PM EST.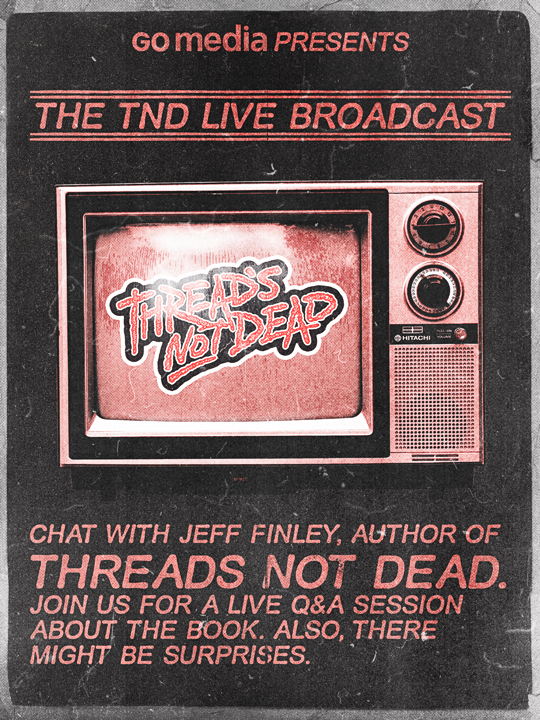 The broadcast will be held at http://gomediazine.com/live. This is subject to change, but keep watching this post for updated information. For the people familiar with the Signalnoise Broadcast, you know how it works. For the others, there will be a convenient chat window where you will be able to ask your questions, probably in the 2nd half of the show.
We can't wait to see you all there!
(Also, if I were you, I would stick around until the end, because there might be some stuff you'll want to be aware of. But I won't tell more, hehe.)
Intro: We often dream of living in a fantasy land. Creating such a fantasy in Photoshop is really great fun. In this tutorial we will be creating an imaginary world where we will be covering interesting topics such as the use of two point prospective, utilizing references for a better result, new and advanced tools of Photoshop CS5, and a few additional tips for image manipulation.
Preview:
Tutorial Details:
Program: Adobe Photoshop CS5
Difficulty: Beginner, Intermediate
Estimated Completion Time: 1hr
Resources:
Model : Model
Brushes : Clouds , Clouds 2 , Abstract Glow , Planets.
Desert Plants: Plant 1 , Plant 2
Bamboo : Bamboo
Pyramids : Pyramid Reference, Pyramid
Hill : Hill
Step 1:
Open a new canvas in Photoshop with Width=2560, Height=1440. Then, draw a rough sketch of the set that we are going to create. This sketch will be assist us during the process of analyzing components that we will be creating during this tutorial.
Step 2:
Import the image of the model onto the canvas  and place the model to the right side of the canvas as shown.
1) Now to clone the empty portion of the image, create a mask around the empty portion as shown using the Selection Tool (M).
2)In this step we will be using the new Fill tool with the Content-Aware option available in Photoshop CS5 and above. The Content-Aware option can intelligently clone the selected area by referencing the surroundings.
Hold Shift+Backspace to open the Fill Tool, then set Use dropdown to Content-Aware, press OK, and within few seconds you can see the magic of this great feature.
3)After the Content-Aware/Fill finishes it's work you may find a few overlaps as indicated in the image. In order to cover these errors select the Clone Stamp Tool(S) and make sure the errors are perfectly covered.
Step 3:
According to the sketch we drew in the first step, we need to place few elements behind the model. Hence create a selection around the model using the Pen Tool(P) . Then separate the selection into a new layer by pressing Ctrl+J.
Step 4:
Now import the image of the Ancient Wonder Pyramids and then by using the Move Tool (V) and transform the image to fit the prospective we're working with in our main file.
Step 5:
The original pyramids are in the color of the desert sand. But here, the location is similar to a white desert; hence, we must change the pyramids to the color of our image.
1)With the pyramids layer selected go to Image>Adjustments>Black and White (Alt+Ctrl+Shift+B) and set the values as shown.
2) Now brighten the pyramids by setting the Exposure levels to Exposure=+0.52, Offset=+0.0673 and Gamma Correction=1.00.
3) In this step, observation plays a key role. Open the Curves(Ctrl+M) and color-correct the pyramids by referring the sand color carefully. The result of the curves should be as shown.
Step 6:
In this image the pyramids are located far from the model, hence they should be blurred in order to accurately emulate the depth of field in the image.
With the 'pyramid' layer selected add a Gaussian Blur(Filter>Blur>Gaussian Blur) of Radius=1.5px.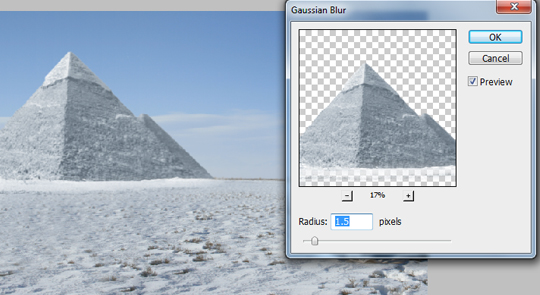 Step 7:
Generally when any huge structure is seen from a far distance, the base appears to be mixed-up with the color of the surroundings, making it almost invisible. Check the following image for reference (Thanks, iStockPhoto).
Now, by using the Eye Dropper Tool, select the color of the sky just above the horizon and paint the base of the pyramid as shown using the Soft Brush(B).
Step 8:
Adhering to perspective is very important while working on Matte Painting or Set Extension. It makes our work easier in placing an image or creating an object which fits perfectly with the perspective of the main image.
1) Select the Line Tool(U) to draw the prospective lines. For this image we will be using two point prospective, hence make two points on the horizon and draw the prospective lines as shown.
2) In this step we will be creating the outline of the flying triangles. Draw two inclined lines as shown from the vertical line that we drew in the previous step.
Step 9:
1) Now by using the Pen Tool(P) create a selection in the shape as shown within the triangle and paint the left side of the triangle with the color #f1f2f6. The reason for using this color is because this part of the triangle is exposed to sun, and we want to match the lighting.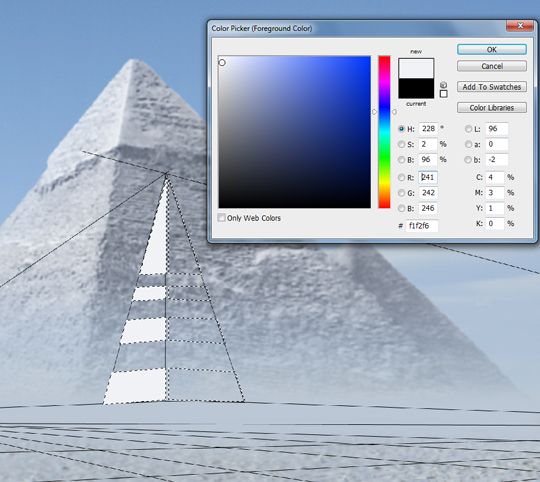 2)The right side part of the triangle depicts the slightly shaded part of the triangle, hence paint it with the color #cdd2da.
3)Now add some shadows to the triangle as shown to provide more depth to it.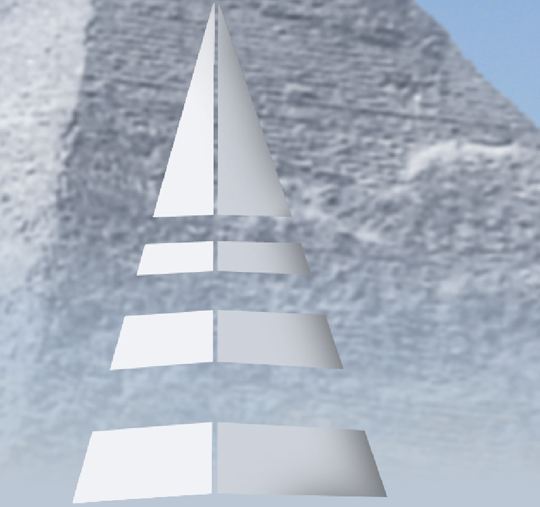 Step10:
1) To create the frame for the triangle, select the image of the bamboo stick from it's original image. Cut the stick out and place it in a new layer.
2)Turn the image into Black and White by using Image>Adjustments>Black and White and set the values as shown.
3)Now import the image of the bamboo onto the working canvas and place it as shown using the Move Tool. Duplicate the bamboo image to complete the frame.
Step11:
Draw a vertical line using the Line Tool to represent the size of the second triangle, then draw the prospective lines to it as shown. Following this method can limit the number of lines to be drawn for the prospective and make it easy to concentrate on the required area.
Step12:
Repeat the 8th and 9th steps to complete the second triangle.
Step13:
1) To create a flag on the top of the second triangle, create a mask in the shape of a randomly waving flag as shown using the Pen Tool (P). Then fill the selection with color. We liked red, but feel free to get crazy and choose something else.
2) Creating the shadows to the flag can give a natural depth for folds. Using the pen tool create a mask as shown and shade the masked area using the Soft Round Brush with black colour.
3) Similarly, follow the previous steps and complete the shading of the flag as shown.
Step14:
In this image, the camera focus is concentrated on the model. Since the second triangle appears to be far from the model it should be blurred in order to maintain the depth of field. Add a Gaussian Blur of radius 1.8px to the second triangle.
Step15:
The flying triangles are not stationary and thus should be given some Motion blur to indicate the movement. To get this effect, create a mask on the left edge of the triangle as shown and set the Feather Radius of the mask to 14px.
Then add a Motion Blur (Filters>Blur>Motion Blur) of Distance 17px and set the angle to -4.
Step 16:
Repeat Step 15 to the flag to make the flag look as if it is moving with the turbulence of wind.
Step 17:
Repeat Steps 14 and 15 for the first triangle. But, since this triangle is closer to the model, the Gaussian blur should be 0.8px.
Step 18:
Duplicate the second triangle without the flag and place them as shown according to the sketch.
Keep increasing the Gaussian Blur value with the increase in distance of the triangle from the model.
Step 19:
In this step we will be using an advanced, yet easy way to cut an image with fine detail using the newly updated Refine option in CS5.
1) Import the image of the desert plant that we are going to place on the left side corner of the image as illustrated in the sketch. Then by using the Lasso Tool (L) select a rough mask around the plant.
2) Now open the Refine Edge (Alt+Ctrl+R), and paint the selected area using the Refine Radius Tool to get a quality result. Set the output to new layer to get the result without any layer mask.
If you like to change the mask in any circumstances you can set the output to New Layer with Layer Mask.
3) Place the desert plant image to the left side, bottom corner as shown.
Step 20:
Repeat the previous step with the second desert plant and place it near the first desert plant to complete the bush.
Step 21:
In this step we will be adding another mountain beside the original one. Here we consider the original mountain as our reference and try to get the same effect.
1) Import the image of the mountain onto the canvas and erase the base of the mountain using the Soft Eraser.
2) Now add a Gaussian Blur of Radius=1.3px to the mountain to match the focus of the original mountain.
3) Color-correct the mountain by referring the original mountain to get the following result.
Step 22:
Deserts are never calm; they have sand flying with the wind. Creating this effect can give a completeness to our manipulation.
Create a new layer on top of all the layers and create the sandy fog using the fog brushes with whitish color.
Step 23:
We previously said that the triangles are flying in air, and since the sun is shining bright we need to create shadows for them.
1) Using the perspective lines we drew before, create the shadows as shown.
2) Since the triangles are flying by some distance from the ground, the shadow doesn't have sharp edges because of the slight interference of sunlight. Add a Gaussian blur of radius=5.0px to the shadow, then reduce the opacity of the shadow to 51%.
3) Follow the same procedure for all the triangle shadows.
Step24:
Create a planet on the right side as shown using the planet brush with white color, and then reduce the opacity of the layer to 61%.
Final Result:
Hello, hello!
Today, I am pleased to introduce you to the winners of the WMC Fest Portfolio Contest we had going. The prize is a spot at the WMC Fest design show!
We had a total of 114 submissions. The jury decided to award the spots to 5 lucky winners. Here they are, along with the piece that earned them the spot!
Brandon Minga
MINGAdigm
Visit his portfolio at http://www.brandonminga.com/
Maarten Kleyne
Crossing the Rubicon
Maarten's website is to be visited! http://www.mkleyne.com/
Janée Meadows from Janée Meadows Illustration
Paloalto gig poster
Janée is an "Los Angeles based, award winning, illustrator and graphic designer". Visit her website at http://janeemeadows.com/
Andy Hayes from Hucklebuck Design Studio
Westcott House Event Poster
Hucklebuck Design Studio has a sweet horizontal website: http://hucklebuckdesign.com/
Mat MacQuarrie
George St. Pierre
Finally, Mat has a portfolio full of awesome pieces. You might have seen some in the Flickr group already. http://www.matmacquarrie.ca/portfolio/
Congratulations to the winners! Thanks again to all the participants. If you didn't win this time, remember there will be other occasions. Also, you should go check all the entries that have been submitted.
See you at WMC Fest!