Thread's Not Dead – The live broadcast!
[Edit #1 – 5/10/2011 – 2:20PM]
The live page is, well…live! Hope to see you all there on Thursday (May 12th) for an awesome live session with Jeff. Check it out.
Ladies and gentlemen, we have the pleasure to announce something awesome.
By now, you all know that Jeff released his first ebook – entitled Thread's Not Dead – about the apparel design industry.
If not, here's a friendly introduction to its content:
TND – What's Inside…
What if the most prolific and influential people in the modern t-shirt design scene got together and discussed everything they wish they knew when they started?
That's exactly what we have here.
Inside these 10 chapters is 117 pages of essential strategy pulled from the success and failures of some of the best in the biz.
Key topics include design, freelancing, band merchandise, personal branding, marketing, sales, printing & production, retail, e-commerce, and more.
Well, the cool thing is that Jeff will be doing a live broadcast (à la James White) of an hour or so (hey, there are clients as well that want their projects to get done…) on Thursday, May 12th 2011 at 2:00 PM EST.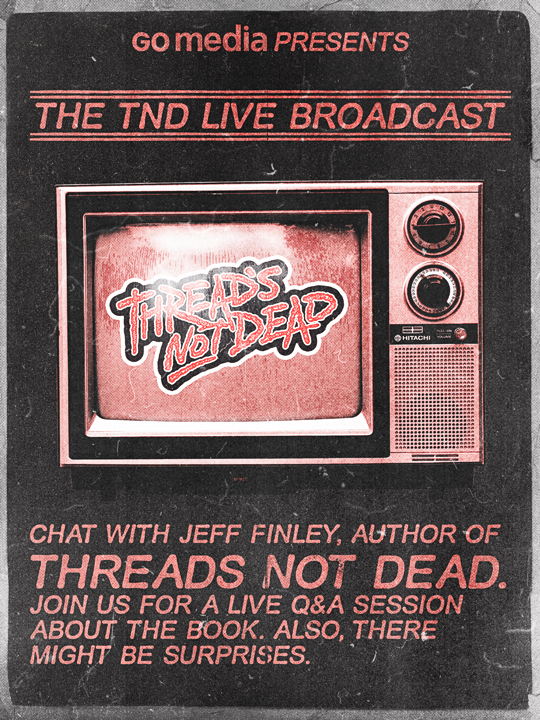 The broadcast will be held at http://gomediazine.com/live. This is subject to change, but keep watching this post for updated information. For the people familiar with the Signalnoise Broadcast, you know how it works. For the others, there will be a convenient chat window where you will be able to ask your questions, probably in the 2nd half of the show.
We can't wait to see you all there!
(Also, if I were you, I would stick around until the end, because there might be some stuff you'll want to be aware of. But I won't tell more, hehe.)