The Surreal World of French Illustrator McBess
Hello there! Simon here today, with an interview of the fantabulous (yes, it's a word. I just decided that it would be so.) illustrator McBess. We are stoked because Go Media/Weapons of Mass Creation is sponsoring FITC Toronto, an event where he'll be speaking at. This means you should go.
Without any further ado, here's the interview!
GoMediaZine: GoMediaZine readers, meet McBess, McBess, meet the GoMediaZine readers. Could you tell us a bit about yourself, since your about page is a bit short?
McBess: Hoy GomediaZine, my name is McBess, I'm a French guy and I live in London because French people are stressing me out. I'm director at The Mill, and I do illustration and music and I try to mix those two together.
GMZ: I saw on your blog a video that gives us a sneak peak at your illustration process. Could you give us a bit more insight? Is everything hand drawn? Do you draw digitally too (tablet…)?
McB: Most of what I draw is straight on photoshop with a tablet indeed, but I like to use pencils, rotring and poscas to switch techniques, keep things fresh. I don't really have a lot tricks, but I do prefer to work on photoshop for big and complicated illustration, I always fear the moment when you do something wrong with ink and there's no coming back.
GMZ: Who are the Dead Pirates? Could you tell us more about your work with the music industry?
McB: The Dead Pirates is my band, it's the band I've always been drawing about in my illustration, but last year we actually put the band together with some close friends. We don't really work with the music industry, we're not signed or anything, we record on our own with our money and sell our mp3s. Right now it's composed of 5 guys, my brother and I  play guitar and sing, a bassist, a keyboard and a drummer. We tend to play rock, sometimes a bit hard, chubby rock.
GMZ: FITC Amsterdam, FITC Toronto… Woaw. That's cool! Could you tell us what it means for you to be invited to speak at such events? Have you done speaking engagements before? If so, why are you doing them? Is this something every designer should consider doing to further his or her career? What are the benefits you get out of it?
McB: Well it means a lot to me that people think I could say something interesting ahah, I've never done it before and I was quite intrigued, now I'm shitting myself. I enjoy talking  and meeting people, but I think it also pushes you to think real hard as to what you can give, what you can add to the mixture, if you do have an interesting point of view, I hopefully have that, who knows… I'm not sure yet about the benefits, but it's an experience so I want to try.
GMZ: Could you give us an idea of what your presentation will be about?
McB: Well the title of my presentation is "Making contrast with details", which is a challenge for me, I love details and I tend to put a shit load of it but it can be harsh on the composition or the dynamic of the image. So I'll try to explain ways of working in very small portion of the image without forgetting the big picture, and I'll  also explain the process I use from thinking about an image to the final piece.
GMZ: Ever heard of Weapons of Mass Creation? What do you think about a design community based more on lifting each other up, kind of a global fraternity, rather than cut throat competition? Would you make it to the event this June?
McB: I did not hear about Weapons of Mass Creation, I'm not really a community guy or a team player, but I'm also against competition especially in art field I just don't understand it. I do like collabs though, I just don't see myself making it a habit.
GMZ: Is it weird to be a French guy interviewed in English by another French guy?
McB: It is weird indeed, you've got a very good accent, I did not realize you were French.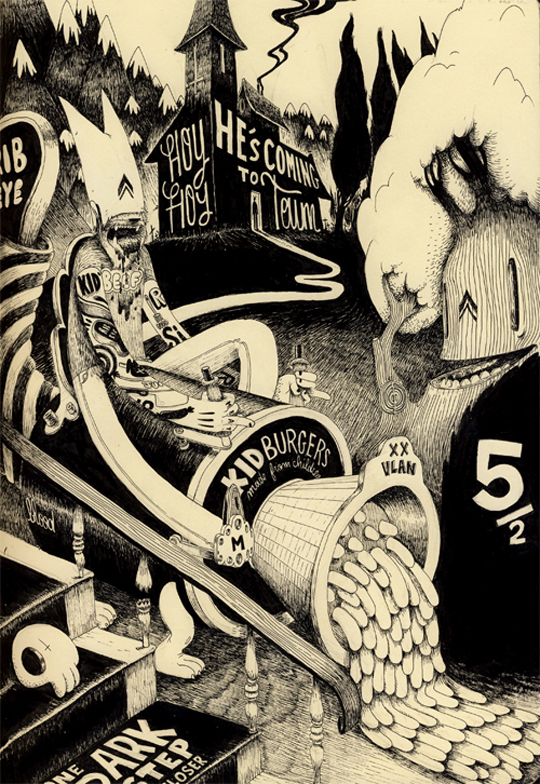 GMZ: A goodbye note for the readers? A goodbye doodle maybe?
McB: Well dear readers I bid farewell, you are beautiful people.
Curious about McBess? Check out his website, his blog (it's a Tumblr! Follow!) and also his demo reel: