Articles by Month:
November 2009
Dave is a guy that has always impressed me. He manages to run a site that produces all its own video and audio content, play in 5 different bands, do freelance design/coding, and have a social life. This interview probes deep into his brain and covers everything from being an entrepreneur, a designer, and a musician. Something a lot of our readers, including myself, struggling with keeping them balanced. — Jeff Finley
GoMediaZine: Tell us about who you are and a little info about IYMI site. Do you do it from your apartment? Who else is part of IYMI?
Dave: Hey, I'm Dave Garwacke and I run this little website out of my apartment in Clinton Hill, Brooklyn, NY. IYMI is a support mechanism for the bands I love. I figured if I archived enough footage and created enough content, people would start to notice some of these bands on a more global level.
I get a lot of help from friends, especially these 4.
Eric Ayotte and Dominic Armao contributed heavily to the Series section, and have stepped up to record a handful of shows on the site. Jeff Ledellaytner has helped me out so much with technical advice and creating bumpers for each section. My roommate and great friend Katie Pallatto has also been a godsend in helping me with Pink Couch recordings and filming the bands that I've been in.
GoMediaZine: Why did you start IYMI? Were there any other sites out there like it? I remember punkrockvids.com was out there for one… Did you know about it? If so, what was your opinion of those other sites?
Dave: I started the site about 3 years ago when I saw a complete lack of documentation of the scene around me. I lived in a house in New Paltz, NY where we had tons of bands come through, but we never really thought to catalogue what we had done. When I came to New York, I decided to make sure that people saw how amazing some of these bands are.
As far as shows go, I never really checked out sites like punkrockvids. What really drove the site was France's La Blogotheque and their Takeaway shows. I loved the idea of showing the bands in a different way that wasn't a music video, but was still visually interesting. It got rid of the visually interesting part and focused on the awkward times in between. If you haven't checked them out, you should. They are doing some awesome things over there, and their high contrast look is being copied all over the web.
GoMediaZine: How was IYMI designed and developed? Who designed it? Who coded it? Is it based off WordPress? Custom developed?
Dave: The website started off as a WordPress theme designed by IAMWW. After a while I decided that WordPress was way too limiting, and that I couldn't write, so I moved over to custom backend that I coded.
IYMI is on it's 3rd 4th iteration right now, and I think it's the most stable it's ever been. The backend runs off of PHP and a large MySQL database hosted by a MediaTemple DV, which helps with a lot of the load. I have a lot of fun adding modules to the site, and utilizing jQuery to spiff the site up. Recently I added in a Vanilla forum and WordPress Blog, which shares a unified login throughout the site.
Currently I've decided to jump back on the all WordPress bandwagon, and started developing the site locally. It's going to take some time to merge all the tables, but in the end it'll be a lot leaner, and meaner.
GoMediaZine: Tell us about Twin Cuts, the design collective you share with Pat Schramm, one of my favorite drummers.
Dave: I approached Pat and Jeff [Rosenstock] about pooling together our work into a single portfolio. I figured it be a good way to present ourselves, and all share our collective contacts. Unfortunately, no one could really project manage, or deal with money. Currently we are all working on projects alone, and sort them out as they come through the contact system.
GoMediaZine: What kind of bands/artists have you featured that people would know about? What about some of your favorite "unknown" features?
Dave: Some of the bigger bands that have been on If You Make It have been The Bouncing Souls, Maps and Atlases, Kevin Devine, Good Old War, Bridge and Tunnel, Defiance,Ohio, Andrew Jackson Jihad and Bomb the Music Industry.
There are couple of awesome videos/bands that people need to check out including Ultra Dolphins, where the guitarist plays a second drumset while fingertapping out his parts. The Brainworms video is also amazing from ABC No Rio. All the Kickball videos are also great and they were also some of my first. Francois Virot of Clara Clara did an amazing Pink Couch for a song called Dummies, which everyone should watch. His playing/singing style is definitely different and really interesting.
GoMediaZine: What made you start the intimate musical sessions known as the Pink Couch?
Dave: After filming a couple of shows, I realized that the majority of the audio sounded like trash. I needed to have some way of controlling the sound, so I took one look at my big ugly couch, invited some friends over and started filming. I figured the couch could be iconic, and saw an opportunity to provide something different. I pulled a lot of inspiration from what La Blogotheque was doing.
GoMediaZine: Tell us about the short film series… That's the part I know least about and truthfully don't have as much of an interest in. Why should I be interested?
Dave: The short film or series section is mainly filled out by work from my friends, Eric, Dom and Jeff, who are all extremely creative and funny. A lot of the videos are from a DVD they put out last year, where they had to make 31 movies in the 31 days of October. They competed with a team from Gainesville, FL, headed up by Chris Clavin of Plan-It-X Records.
Between Resistance & Community: The Long Island DIY Punk Community from Joe Biel on Vimeo.
A lot of the time, the Series section gets shelved and neglected. Fortunately I'm trying to remedy that by starting to contact people who want to fill in the cracks. I'm hoping to fill that section with programs that are updated often. It'd be great to have some interviews, music lessons, and a cooking program. Right now I'm working with some friends on a write-in cooking show that could be produced and edited quickly and feature music from the site and the local scene.
GoMediaZine: What's the Gadabout Film Festival? How does it relate to what you do and why should we care about it?
Dave: Eric Ayotte started the Gadabout Film Fest about 7 years ago as a way to bring great short films to some places that would never see them. With the advent of YouTube, there is so much junk shoved down people's throats that they sometimes miss the gold. I can't imagine eating gold to be that great, but Eric does an amazing job at making it palatable. He travels around the country with videos from all over the world and created a community amongst some amazing filmmakers.
Eric is a great friend, and has always been a supporter of what I've been doing with the site. Right now he is working on a monthly short film movie challenge called "Instant Gratification". You can find out more at gadaboutfilmfest.com
GoMediaZine: You also play drums in multiple bands and always going to shows. Tell us how you balance your time with work (where do you earn your money btw?), bands, IYMI, and still have time to have a social life both online and off?
Dave: My one dream in life is to sustain myself through my work on this site. Unfortunately that idea is looking less and less likely. It's a lot of hard work to maintain and update the site on daily basis. To offset the cost of the site, I do freelance work for a small boutique firm called 3 Rings Media, which is based in Manhattan. I usually have a lot of work coming through, but never projects that take up too much of my time.

Photo by Twinkleaira
Another way I balance the time is through merging all of my work together. I work on record label sites (like Plan-it-x.org), and record covers, go to and play local shows where I film for the site. IYMI is basically a calendar of my life at any given point, you can see the places where I've been, and pick apart the gaps when I'm too busy to bother with it.
With the free time that I have left, I spend it on playing in a bunch of side projects. I don't really have the time to be in anything full time, so it's nice to be in something that's low pressure and sporadic in nature. Unfortunately I have to play in 5 bands to approximate the output of one normal group.
Currently I play drums for Kudrow, Thousandaires, Halo Fauna, State Lottery, and The Golden Age of Radio. I also used to play with Air Raid Barcelona and He's A Cop?! during my years in New Paltz.
Halo Fauna – Blame a Bird for your Shortcomings from If You Make It on Vimeo.
GoMediaZine: If you could get anyone to play on IYMI for a pink couch, who would it be?
Dave: I have always wanted to have John K. Samson of the Weakerthans over. I recently contacted their guitarist Stephen Carroll, about coming over during their recent jaunt through New York. Unfortunately it did not work out, although I was just as happy to see them play in Brooklyn.
My list of must-haves include Mike Kinsella of Owen, Ted Leo, Hutch Harris of the Thermals, and Ben Gibbard of Death Cab for Cutie. When I first start IYMI, I had a link to email and tweet Ted Leo, but I took it down soon after realizing how annoying it could be. Some day Ted… some day.
GoMediaZine: I consider you a pioneer of documentary, especially in the punk scene. It reminds me of the Decline of Western Civilization films by Penelope Spheeris where she documented a certain aspect of the underground punk scene as it was at that point in time. It wasn't trying to say anything, just documenting the scene. Have you seen the Decline films? Do you have any inspirations for continuing to document the punk scene? What are your ultimate plans for this type of venture?
Dave: I have seen those films, and it's a real complement to be compared to them. Outside of the bands I choose to shoot, I'm not trying to interject my feelings into the things I capture. Hopefully in the future, someone will look back and be able too look back on the site with fond memories.
My ultimate plan for this is to have the Pink Couch Sessions be more regular, and put them out twice a week, all year long. Financially it's nowhere near that point, but I can still try.
GoMediaZine: Do you plan to make a feature length documentary on the scene? With more than just live shows – like talking heads, interviews, the what and they whys? I've been waiting for the Plan-it-X documentary to come out, but I can see you actually doing something of your own and releasing it.
Dave: As much as I would love to do something like that, I don't think I have the time or patience for something of that magnitude. As far as the scene goes, the goal of IYMI isn't to localize a group of music, but to generate interest for bands that I believe in or whose music I love.
As far as filming goes, I am talentless. Work on IYMI is just scratching the surface of what you can do with video and audio. I'd love to work on larger scale project, but it'd be in more of a producer/director capacity. I have a bunch of friends who are great at this kind of stuff, it's just coming up with an idea to base it around.
GoMediaZine: Where do you live and how would you describe the music scene you're involved in locally? From my perspective, it seems like a great scene – lots of musicians and friends playing in each other's bands. Tell me about your local music scene.
Dave: For the duration of IYMI, I've been sequestered in the small hamlet of Clinton Hill in Brooklyn, NY. The scene here is pretty crazy and all over the place, I mean it's New York. We have a group of friends from all over the state that tend to recycle themselves into new bands all the time, but slowly we're pulling in new people from outside our friend circle.
There are tons of awesome bands in New York, and there are shows every single night here, especially if you have broad musical tastes. I would name some of them, but it seems almost pointless, because I have 100% chance of forgetting someone.
Currently we have a handful of great spaces to play in the Brooklyn area, which we are eternally grateful for. Some of the places that regularly host shows include the Silent Barn, Death By Audio, The Glass Door, Tompkins, Lulus, Tommy's Tavern, 538 Johnson, The Fort, The Boneyard and many more.
GoMediaZine: A drumming question – how long have you been drumming? Where do you get your inspiration? How do you learn new techniques? Any advice for an up and coming drummer in the scene?
Dave: I started drumming 15 years ago, when I started playing snare in concert band. I never really took it too seriously, even though I went on to play in the high school marching band. Once I moved to New Paltz, I started practicing more, and bringing together everything I learned. I get a lot of inspiration from friends and my brother. If I had a 1/10th of the skill my brother has at the guitar, I'd be happy.
Kudrow – Favreau from If You Make It on Vimeo.
Drums are all about tempo, you can play the craziest parts, but if you speed up and down to much it'll never matter. The most important thing to do is play to a metronome and work on your sense of rhythm. I need to follow my own advice.
GoMediaZine: Songwriting questions – In all of your bands, how have YOU been involved in the actual songwriting process. Do you normally come to practice with material or do your band mates? How do you then integrate your drumming into the music. Do you typically write music or lyrics first? Talk to me a little about your songwriting techniques.
Dave: My main contribution to the song writing is mostly in the form of tweaking parts. I never really have anything, but I tend to have a lot of ideas on how to transition between parts, and work out rough spots. My main objective is to try and force myself to play something different on each song, although with 5 bands, it's getting sort of hard. Prog-metal time?
GoMediaZine: By playing in bands, touring, and doing IYMI, you've met a lot of people, some good, some bad. In general what's your outlook in the scene itself? Are you jaded? What disappoints you? What gives you hope?
Dave: I've been around the US a couple times with Halo Fauna a couple of times, and it's always been a mix of good and bad. In the end though, I just love spending time with my friends and meeting new people. Generally I'm pretty happy with the way things are going, as social networking increases, it seems like the distance between bands, people and their respective scenes decreases.
It's exciting to keep contact with the people you meet on tour, and I think it makes everything more personal. Working on IYMI has helped me interact with a whole new set of people all over the world who I would never meet, or interact with.
GoMediaZine: If you could change 1 thing about the punk scene, what would it be and why?
Dave: I wish we could all get along. Friends?
For more information on Dave, the bands he plays in, or his site ifyoumakeit.com, send him an email or follow @ifyoumakeit on Twitter.
GoMediaZine: Hello Henry, for those who aren't familiar, can you tell us about yourself? Do you work alone, or with a team?
Henry Jones: I am a web designer, developer, blogger, and an entrepreneur. I have been designing and developing for the web for about 8 years now, but it wasn't until recently that started blogging and got the entrepreneur bug. I am actually working on finishing up my last client contract within the next few months, at which time I will officially be a full time blogger. This has been my goal since I started blogging in early 2008.
Up until this month I have worked alone, which has been very stressful at times, but now I am getting some help from my wife. Our youngest child just started preschool, so she now has free time to help me with a lot the tasks that don't necessarily require design skills, but have to be done.
GoMediaZine:Let's talk more about your entrepreneurial bug.  What have you done with it?  (hint: what sites have you started and have worked on)
Henry Jones: Well, it actually began a couple of years ago when my brother and I started GoodWidgets.com. It was a site that allowed people to easily create cool photo widgets and embed them on their blogs, and it was my first attempt to make money directly from a site. We held on to it for about a year and then sold in 2008. In a years time I've sold a total of 3 websites. The other two being DesignReviver.com and CardObserver.com. It's very fulfilling to launch a site, grow it, and then sell for a nice profit.
GoMediaZine:I remember when Card Observer first came on the scene, I was impressed. I was surprised to hear you sold the site about 6 months after you launched it. Why did you sell it? Was this your intention from day one? Can you tell me about your experience designing the site, launching it, and the work you put in before you sold it?
Henry Jones: I originally got the idea for Card Observer about half a year prior to actually following through and creating it. I was noticing a lot of blogs doing roundup posts of really cool business cards and they were all getting popular. This was a sure sign to me that a gallery dedicated only to business card design would be a hit. I did some research and was pleased to discover that there wasn't already a gallery like this out there. So after several months of procrastination, I finally launched it and it immediately went viral, pulling in over 60,000 pageviews on the second day.
Card Observer was built on WordPress, which made development quick and painless. I created a custom theme that was very minimal so that the site design wouldn't get in the way of the business card designs. Although it has been modified a bit by the new owner.
My intention from day one wasn't to sell the site, but I'm always open to selling a site if it makes sense. In this case it did. The money made from Card Observer allowed me to focus more on growing Web Design Ledger, which was the direction I wanted to go.
GoMediaZine:Anyone can sell a site, but not anyone can sell a 6-month-old site for $50,000. What are the characteristics of a 50k website?
Henry Jones: Actually it was $55,000, but who's counting. :) There are several factors that go into making a site attractive to potential buyers, but the most important is the amount of money it brings in, and the potential to increase that amount. A typical rule of thumb for pricing a site is 2 to 3 times yearly revenue. Card Observer was making $2900 per month in revenue.
Another factor that made Card Observer appealing to buyers was how easy it was to update the content. It only required about 15 minutes per day to add new business cards to the gallery, which would leave a lot of time to spend growing it and thinking of more ways to monetize it. Having a good design also plays a role in selling a site. I think people are willing to pay more money for a site that looks great.
GoMediaZine:What are your plans for Web Design Ledger? Do you plan on selling it as well? If not, why hold onto it?
Henry Jones: The ingredients for success may vary from niche to niche, but yes, those three ingredients have worked well for me when selling design related sites.
I plan on keeping Web Design Ledger. It's grown much faster than I thought it would and has really blossomed into a valuable resource for web designers. It's also coming up on it's one year anniversary, so after investing so much time it would be difficult to give it up. I've become attached to the site and the readers. Going forward, WDL will serve as a "flagship" blog and as a launching pad for new sites.
GoMediaZine:What are the advantages of selling your site as opposed to keeping the monthly revenue from ads or subscriptions?
Henry Jones: I actually think there are more advantages to keeping a site. When you hang on to a site you have things like: steady income, future equity growth, and an audience. By selling you lose all of that. Other than having one less site to manage, the only advantage to selling is possibly getting up to three years revenue in one lump sum. However, this can be a huge advantage depending on how you use that money.
Getting the money from Card Observer was big for me because it allowed me to quit taking client work and focus on growing my business as a full time blogger. The decision should really come down to your own business goals.
GoMediaZine:That's good advice. If I were to start a new site with the intention of selling it, what should my priorities be? How long does it typically take?
Henry Jones: Actually, I would say that your priorities shouldn't be any different than if you were building a site without the intentions to sell. Just focus on creating great content and adding value to the niche you are in. If you do all the things necessary things to grow your site, the traffic and money will come.
The amount of time it takes depends on how hard you work and how much money you want to make. I could have held on to my sites longer and grown them more, which would have meant making more money from selling.
GoMediaZine:Do you have any plans for new sites in the future?
Henry Jones: Yes. I have several sites planned. I'm hoping to have 3 going by the end of the year, and would like to eventually have a large network of sites.
GoMediaZine:How do you find a buyer? Who pays $50,000 for a site? Can you give us a few links to learn more about flipping sites?
Henry Jones: The three sites that I've sold were all posted on SitePoint Marketplace which is now Flippa.com. It's basically a place for selling and buying websites. I've discovered that the types of people that buy websites does vary. I've sold to companies that want to add another property to their network of sites, and I've sold to individual entrepreneurs that aim to make their money back plus more within a short period of time.
I thing whether you're going to flip a site or keep it, your focus should be on building great content and building traffic. A few of my favorite sites that offer great tips on how to grow a site are ProBlogger.net, Performancing.com, and DoshDosh.com.
It's nearing the end of the year. Americans are out hunting turkeys and folks around the world are pinching pennies in preparation for the winter holiday season. So, I'm curious:
Where are you spending the most in your freelance business? Where do you think you could afford to save a bit? Should you cut back on a few subscriptions to magazines or web services? Buy year-old computer gear instead of the latest & greatest? Or hey, maybe business is booming and you could care less about expenses right now.
Whatever the case, cast your vote in the poll and share your thoughts in the comments!
*Update: Two categories were added late, and so are horribly unscientific: Insurance & Travel.
Foil stamping is always a fan favorite, due to the elegance and high visual impact that it can provide. Foil stamping (also called hot stamping, dry stamping, foil imprinting, or leaf stamping) can be used to add flair to products like business cards, book covers, gift cards, office folders, and a whole host of professional or personal items. Instead of using plates or inks to print words and shapes, foil stamping uses dies, or sculpted metal stamps.
Foil Stamping: How it's done
The heated dies seal a thin layer of metallic leaf/foil onto a surface. The foil comes in a wide roll, large enough for several passes, backed by mylar. The hot die works similarly to a letterpress. Once it's heated, the die presses the foil against the substrate material with enough pressure that the foil sticks only in the intended places, leaving a slight imprint.
Foil leaf is available in every imaginable color and pattern. Rarer types of leaf come in matte, pearlescent, holographic, opalescent, or glossy finish. There are also semi-transparent foils that allow an under color to show through. Not only does it provide a uniquely vibrant image with depth, but foil stamping can be applied to a much more diverse selection of substrates when compared to ink. Businesses typically use foil stamping to identify folders, cards, signs, and magnets with their logo. The reflective and unusual treatment is sure to catch the eye of your potential customer!
Hard drive failure. Not something creative people think about often. At least not until it's happened to you. I went from not even considering a "backup solution" to being (probably) overly cautious and redundant about my backup setup for the Mac and all my creative files.
Yes, you need a backup.
The first step to getting a backup system in place is to realize you do need one. Many people have probably even used a Mac and bought a new one with no hard drive failures at all. Most likely you could go years never even needing a backup. Why spend all that money on something that may never happen? Precisely because it only needs to happen once for you to realize how important it is to do this. Save yourself the heartache and learn from my pain.
Oh, and keep in mind that dragging your files to your "backup" drive and then deleting them from your main hard drive is not a backup; the files are only in one place—there's only one copy of them. You want a minimum of two copies of all your files.
Hardware
The hardware side is pretty simple: either some internal hard drives (if your Mac supports them), or some external hard drives (FireWire or USB 2.0). Most (non-iMac) desktop Macs since the G4 lineup support up to 3 additional hard drives internally. Users with an iMac or a MacBook/Pro (or any Apple laptop) with need to go the external hard drive route.
As far as purchasing drives, if you go the internal route you only need to consider the connection interface—older Macs (and PCs) used the ATA interface; newer Macs use the higher-speed SATA (Serial ATA) connection. You can find tech specs for Apple products here. For external, I usually go with FireWire drives since they can be daisy-chained together. This means you only need one FireWire port as additional drives hook into the previous FireWire drive. FireWire drives also allow you to boot your Mac up from them, so they are my preferred external drive connection.
Where to buy
Seems many people have hard drive preferences, so the choice should be made by reviews on Amazon or my preferred geek/gadget supply store, NewEgg.com. Personally, I go with Western Digital drives after having too many problems with Maxtor and Seagate. Never had an issue with any Western Digital drives. However, other's mileages definitely vary. The only real criteria is that the drives are reliable.
You'll see a bunch of nerdy numbers for the specs: cache, RPM, etc. For the most part, a 16MB cache and a 7200 RPM should be more than sufficient and is mostly standard anymore. In reality you don't really need a fast drive for backups. As far as storage size, I would go with drives that are twice as large as the drive you will be backing up (more on that later). At the very least, it should be the same size of the drive you'll be backing up, for obvious reasons.
Formatting
Hard drives are not PC/Mac specific—any compatible drive will work although you may need to reformat the drive. The hardware is all the same. PC-formatted drives will work on a Mac, but in general it's recommended that you format for the Mac unless you have a specific reason for not doing so. And if you do, you are probably informed enough that you don't need to read this post…
Drives are formatted using OS X's built-in Disk Utility. Follow the drive manufacturer's installation and setup instructions, and if they do not cover Mac formatting, check out this article for details. Also, this article on formatting and partitioning a hard drive is also useful.
Setting Up Your Backup
So now you have your new drive(s) installed. How does one back stuff up?
This is the real meat of the post. I've had many different systems in place, and feel the current setup is perfect for an individual user. I'm going to rough out the overall setup, then go into details:
"Failsafe" backups with OS X 10.5's Time Machine
Bootable, differential "clone" backups of my startup hard drive
Differential "clone" backups of my other hard drives (I keep all my art on it's own separate internal hard drive)
Offsite backup
Now lets go into details about each of these backup methods, and why I use multiple systems.
"Failsafe" backups with OS X 10.5's Time Machine
OS X 10.5 and newer includes the "Time Machine" feature which essentially monitors your entire hard drive(s) and keeps as many versions of your files as it has hard drive space for. Time Machine is unique in that it saves multiple versions of your files, so you can revert back to and older version, say for example when you intended to save a Photoshop file using "Save As…" but instead did a regular save, overwriting the file unintentionally. With Time Machine you can easily go back to previous versions of the file and "restore" that earlier version. You can even save the newer version right alongside the older one (or replace it). Time Machine monitors your drives and performs the backups on the fly. No backup to "schedule".
This is super handy for those small mistakes. If you were to only run one backup, I would recommend Time Machine as the software is free (it comes with any Mac running OS X 10.5) and it covers not only backups, but earlier versions of your files. In the case of Time Machine, since you are able to not only back up files but also save earlier versions of those files, the bigger the drive you use with Time Machine the better.
Time Machine also uses some code voodoo so you aren't saving actual earlier copies of all your files, but references to just the changes (or something similar). In this way, far less disk space is needed. But the larger the hard drive, the more earlier versions you can have on hand.
Time Machine has saved my butt many times.
Bootable, differential "clone" backups of my startup hard drive
Differential? Clone? Wha…?
By "differential", I just mean a rotating, 'every/other' backup. Here's how it works: I have a startup drive of say 500GB. My backup drive for this drive is 1TB (terabyte, or 1,000 Gigabytes). My backup software runs a "cloned" (or "mirrored") backup every morning to one of the two 500GB partitions on the 1TB backup drive. Then, once a week on Sunday my backup software runs another clone backup on the other 500GB partition.
Why do I do this? Because if some problem creeps into my boot drive, my backups will also contain that problem. By having a separate backup that lets me go back a week further, it's insurance that I may be able to revert to a setup before the problem started. Sure, it might not be far enough back in time, but it's just a bit of extra security that could really come in handy. I'm a bit paranoid, I know.
The "clone" backups are what they sounds like: your hard drive is cloned to the backup hard drive. Just copying the files isn't good enough if you want to actually start your computer from your backup drive—you need to clone it to do so, so that all the hidden system files are also copied.
Why would one need to boot up their Mac from their backup drive? Picture yourself wrapping up the final tweaks to an 80-page magazine, and having your hard drive fail. All your files are safe with Time Machine, but you can't start up your Mac without reinstalling the System software, and then reinstalling all your graphics software, entering license codes, etc. We're talking potential hours of work, just to get back up and running.
With your clone backup, this is an exact copy of the drive you were just using (and just failed on you). Since hard drive failures are typically physical in nature (i.e. something broke), the bootable backup is exactly what you need here. You can boot a Mac right from an external FireWire drive. Boom, you're back in business to meet the deadline, and you can sort out getting things back to normal later when you have more time to do so.
As a minimum, I would suggest a combo backup of both Time Machine and this differential cloned backup method. This should cover almost all situations you could run into, and will get you either back to the old file or get your Mac back up and running in almost no time at all.
Differential "clone" backups
Same as above, but no need for these drives to be bootable. Again the differential approach allows for one further step backwards in case something got really screwed up. Technically these do not need to be "clones", but it's not going to hurt anything to back up this way. Typically the backup method you want to use in all of these situations is an incremental backup, which means that during the backup process, only the files which have changed will be backed up (or deleted), saving huge time for all backups after the initial backup.
One thing to consider with the "clone" backups: deleted files on the main drive will also be deleted on the backup drive. This is referred to as mirroring. Most backup software has settings to allow the "backup" drive to keep files even if deleted on the main drive, but keep in mind that since there is now only one copy of them, they are not actually "backed up". For me, hard drives are cheap enough that I never throw any files out unless I am totally sure I will never need them ever again. It's just safer overall that way.
If you only have one hard drive to back up, then this step is optional. Another use here would be to back up your backup drive for an added level of security. However if it is also your startup drive, you'll want to make sure the backup is also bootable.
Offsite backup
There are two ways to go about offsite backups: either an upload method like Mozy.com, or the "sneakernet" version where you have yet another cloned backup hard drive which you physically move to a location outside your home/studio/etc. to another location. Some even go as far as renting a bank deposit box for this, but your parent's house will work fine as well. The idea here is fire or other disasters. All the backups in the world will not mean a thing if they are all at your location and there's a fire.
Backup Software & Services
There are lots of backup software applications for the Mac, and I have purchased quite a few. My recommendations are purely the ones I have found to be easy to use and reliable, with features I like. I am sure there is other great backup software out there, but these are the ones I use currently for my backups.
SuperDuper!: SuperDuper! entered my arsenal when I learned about the need for bootable clone backup drives. This is it's primary function, and it does it well. On the plus side, it will mount your backup drives (and unmount them when done backing up) as long as they are plugged in and have power. Also, backups can be scheduled. The downside: scheduled backups only run if the Mac is awake, so you'll need to set a wake timer in the System Preferences (Energy Saver -> Schedule… button) so it can do it's thing.
ChronoSync: I started using ChronoSync to synchronize files from my MacPro to my MacBook, and back before version 4.0 there was no bootable backup option which it now has. However ChronoSync works great for syncing files, so I am sure the new bootable clone drive features lives up to the quality. Honestly I have yet to use the bootable clone in ChronoSync since I already had SuperDuper set up, but it might be a nice all-in-one solution of you need both backup and sync features. ChronoSync has a feature to wake your Mac for scheduled backups.
Apple's Backup (part of the MobileMe service): I use Backup & MobileMe for some rudimentary offsite backups of main data files—Address Book, iTunes library (the database, not the music—the music files get their own backup locally) and other system files such as preferences and such. Mostly I backup databases and other small-ish files that won't take forever to upload to a remote server.
Mozy.com: Mozy is one of many offsite backup services available to Mac users. A free account is available, but with limited drive space offered. Paid accounts can get more storage space at reasonable costs. The downside to any online offsite backup is bandwidth—it's going to take not only a very long time to upload everything, but downloading of your backed up files will also take some time. However these backups are not about speed, but about security.
Other Mac-friendly offsite backup services include BackJack, Carbonite and Crashplan. I have only used Mozy, and while it worked sufficiently well overall it wasn't something I felt a need for, especially to pay a monthly fee. For now I use Backup/MobileMe for my basic offsite backups since I am already paying for the service and storage space.
You're Covered
Following all the steps above should protect you from just about any type of catastrophe that could affect your files, whether a hard drive failure or some sort of fire or natural disaster.
Most people have never dealt with a hard drive failure, and therefore a backup system is not on their mind. Let me tell you, eventually it will happen to you. Backing up is only helpful if you do so before you need it.
If I had to recommend one solution for most Mac users, I would suggest running Time Machine. That has the broadest protection and the least amount of setup and technical knowledge needed. Most users have one hard drive, so one additional drive for Time Machine will suffice.
The next step would be to run the scheduled bootable clone of that same drive — that way you have two backups of your hard drive, and can boot from the backup in an emergency. Throw in Time Machine and you have the added bonus of accessing earlier versions of files.
Users with additional drives beyond the hard drive that shipped with their Mac will want to look into backing up those drives as explained above.
The added bonus of having a robust backup system in place? You can work with an eased mind that pretty much nothing you do can screw things up too bad. Think of it as the ultimate "Undo" for your entire digital life.
—
Welcome to part two of designing a vintage poster. If you missed part one, be sure to catch up! Last week's tutorial covered most of the heavy lifting: concept, color, and composition all took place in Illustrator using elements from Vector Set 16.
Today we're going to take our design into Photoshop for some tender love & care. We'll learn about adding tactile character using Photoshop's Bitmap filter, applying Spray Paint Textures for a handmade urban vibe, polishing with motion blur, and finally adding selective contrast with the dodge and burn tools.
Phase Four
Giving your design a face lift in Photoshop
Now before we get started in Photoshop lets open a new file and set size to 15×20 300 dpi.
Next place the jpeg of the poster into this new file.
Step One
Duplicate the layer three times, simply hold down alt and drag layer up.
Label and set first layers opacity to 70% simply hold down alt and drag layer up.
Author's Note: It is important to properly name your layers so you don't get confused.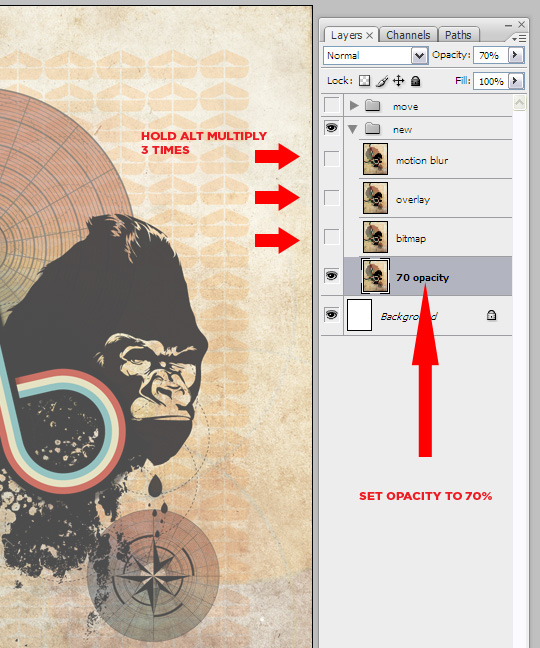 Step two
Next create a bitmap, select bitmap layer and click image mode gray scale. You will get three pop up notices just click first button for all three, and let's move on.
Step three
You will see one single layer. Click on image, mode and select (bitmap).
Step four
Set to 300dpi, halftone screen hit OK.
Step five
Set frequency to 35 or 45, set shape to round for best results.
Author's Note: Feel free to try other things change up the shape and experiment with different settings.
Step six
Now convert bitmap back to gray scale. Click to Image>Mode>Grayscale
Step seven
Now convert grayscale back to RGB. Double click on layer and name it bitmap. Now select everything using ctrl + A. Copy the bitmap layer using ctrl + C.
Step eight
Now that we've got our bitmap image we need to apply it to our original design. Go to the history pallet and revert back to before you created the grayscale image. This will bring back all your original layers. You will want to replace the old bitmap layer with the new one. Just delete the original and ctrl + V to past in new layer. Change the fill to 59%.
Phase five
Adding spray paint texture
Lets add some spray paint from Spray Paint Textures, Volume 1 to spice it up a bit. I enjoy using these to give the design some character.
Step one
Place the spray paint above the compass rose size to your liking.
Author's Note: You can play around with different colors and transparency effects.
Step two
Set to darker color and opacity to 75% make sure its above the opacity layer.
Step three
Duplicate the layer move into place as show above.
Author's Note: Use the erase tool with a soft bursh and opacity set to 35 and erase around square till lines are gone.
Phase six
Adding light and aged effects
Step one
You will need to download the aged action to continue the tutorial.

[download#62#nohits]
Step two
First create a new layer and name it "Light Grunge". This is the layer that we'll be using to add the aged effect.
Step three
Create a new layer fill it with black
Step four
Filter, render, lens flare
Step five
105mm prime, move to into position as show above set brightness to 118%
Step six
Step seven
Alright, now it's time to use that aged texture action. Load it up and play it. See that? We took a standard lens flare and made it a little messy. Now, let's do it again by hitting play a second time.
Step eight
Set the light grunge layer blending mode to Screen. Now change opacity to 75%. See how adds realistic aging effects?
Phase seven
Adding light and aged effects
Step one
Select the motion blur layer we created earlier. Open the motion blur dialog by clicking Filter>Blur>Motion Blur. Set angle to 48% and distance to 999 pixels.
Step two
Set our motion blur layer blending mode to Screen. Lower opacity to 61%. We're almost there!
Phase eight
Adding dark contrast
Step two
Select the burn tool. Use it like a brush on some dark areas that you'd like to make even darker. Keep experimenting until you've achieved contrast that looks good to you.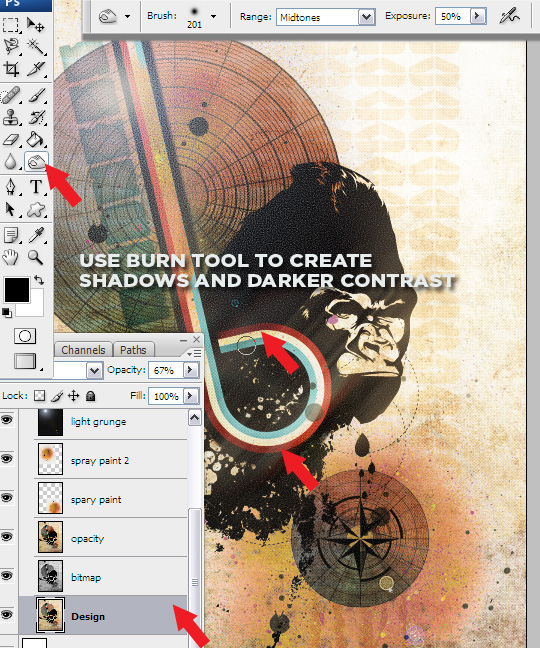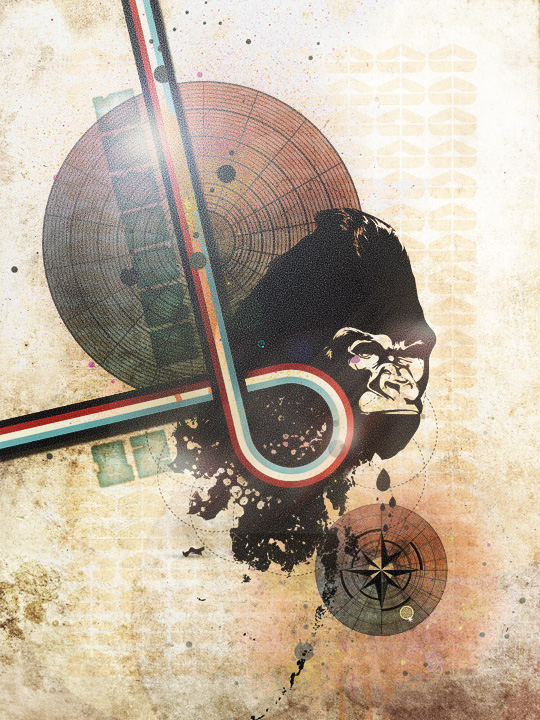 That's it! We're done! I hope you had a good time taking our Illustrator design to the next level with Photoshop. The final results may very, I took it a bit further using the same techniques. Have fun Designing your own madness.
Self-promotion is a must for any self-employed or freelance graphic designer or illustrator. This installment of Blank Canvas asks our readers: how do you promote your services?
Cold calls? Mailing lists? How do you use the internet for your marketing? Social networking? What works best? What have you tried and abandoned? What services or methods do you recommend as the most effective?
I'll start things off with my own approach. The bulk of the promotion I do for my illustration services is online. The main thrust of this is by proper, Google-recommended search engine optimization. Nothing shady, just good practices for the content of your website. And by content I am referring to the text content. People search using words, so you need those words to be on your website.
A big part of this is not just on my own website and blog, but also being an active participant in online design & illustration communities and artist/designer blogs, collectives and related websites. I also create accounts on as many relevant online portfolio sites as I can and I regularly submit my work to photo-sharing sites such as Flickr.
One drawback to this approach is that I am limited to clients who are searching for an illustrator. Certain portions of the industry such as children's publishing, editorial/spot illustration for magazines and websites and apparel design/illustration are most likely not out there doing a Google search for illustrators. This is where a direct-mail marketing approach or cold-calls might fare much better.
The upside to this approach is that you have built-in interest from the potential client. Typically these clients are starting up a new business, which also has the potential for additional design work for branding and other marketing materials for the client's new company or service.
For the past year I have been considering a direct-mail approach, but currently my online marketing keeps me busy enough that it hasn't been a priority.
One aspect of reaching out to larger companies that is a big lure to me is the added exposure of your work which can come from working with a larger company, as well as the name-dropping you can do when promoting your services to future clients. I do have some "dream clients" I would like to work for, which is the biggest impetus for me to strike out with this approach. I love the clients I work with, but getting some "street cred" is appealing.
And getting an "in" with a larger company also has the added benefit of ongoing work. If they like your work, you're likely to get more of it. Probably keeps the stress levels somewhat lower.
Your turn — Go Media wants to hear from the readers, please let us know in the comments section below how you handle your self-promotion and marketing. Go!
Font Sleuth is an interesting new font browser application for Mac OS X. The first thing I noticed about this app—pretty darn fast. No font manager I have ever used is lightning fast when it comes to previewing fonts. Font Sleuth however was close. Give it a few seconds to load the fonts on screen and you're scrolling.
Font Sleuth has a very spartan interface, focusing pretty much on the previews of the fonts. There is a slide-out drawer for creating groups where you can store collections of fonts in your desired groupings.
There's no auto-activation plugins, no metadata sorting. This is purely a font browser. What I like most about it is the size of the previews in both the main window as well as the Groups drawer. If Font Sleuth fits your needs, $12 seems a more than reasonable price for this utility software.
Here's an overview of the main features offered in Font Sleuth:
View And Activate Uninstalled Fonts
Select any folder of fonts and view them in their font faces. Font Sleuth can optionally display fonts contained in folders nested within the selected folder. Activate uninstalled fonts with a single click.
Create Font Groups
Create font groups visually by dragging fonts from Font Sleuth Viewer to the Groups Drawer. Group fonts according to your own criteria to make font finding even faster.
Browse Fonts Quickly
Use Font Sleuth's display window to go through your fonts. Try different combinations of display attributes such as text color, size, alignment, and style.
Run Font Slideshows
Run slide shows of installed fonts, uninstalled fonts, and your custom font groups. Adjust duration, text color, size, alignment, style, sample text phrase, and background color even while the slideshow is in progress.
Save Favorites
Keep a list of sample text favorites and access them from any font display window.
Save and Print
WYSIWYG Font Lists
Save and/or print WYSIWYG list of installed fonts, uninstalled fonts, or your custionfontfontfoKeep a list of sample text favorites and access them from any font display window.
You can download a 20-day trial of Font Sleuth here.