Design a Vintage Poster, Part II
Welcome to part two of designing a vintage poster. If you missed part one, be sure to catch up! Last week's tutorial covered most of the heavy lifting: concept, color, and composition all took place in Illustrator using elements from Vector Set 16.
Today we're going to take our design into Photoshop for some tender love & care. We'll learn about adding tactile character using Photoshop's Bitmap filter, applying Spray Paint Textures for a handmade urban vibe, polishing with motion blur, and finally adding selective contrast with the dodge and burn tools.
Phase Four
Giving your design a face lift in Photoshop
Now before we get started in Photoshop lets open a new file and set size to 15×20 300 dpi.
Next place the jpeg of the poster into this new file.
Step One
Duplicate the layer three times, simply hold down alt and drag layer up.
Label and set first layers opacity to 70% simply hold down alt and drag layer up.
Author's Note: It is important to properly name your layers so you don't get confused.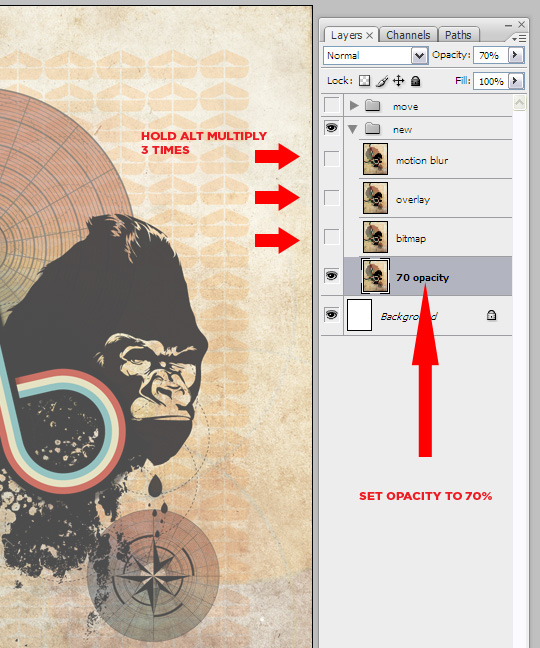 Step two
Next create a bitmap, select bitmap layer and click image mode gray scale. You will get three pop up notices just click first button for all three, and let's move on.
Step three
You will see one single layer. Click on image, mode and select (bitmap).
Step four
Set to 300dpi, halftone screen hit OK.
Step five
Set frequency to 35 or 45, set shape to round for best results.
Author's Note: Feel free to try other things change up the shape and experiment with different settings.
Step six
Now convert bitmap back to gray scale. Click to Image>Mode>Grayscale
Step seven
Now convert grayscale back to RGB. Double click on layer and name it bitmap. Now select everything using ctrl + A. Copy the bitmap layer using ctrl + C.
Step eight
Now that we've got our bitmap image we need to apply it to our original design. Go to the history pallet and revert back to before you created the grayscale image. This will bring back all your original layers. You will want to replace the old bitmap layer with the new one. Just delete the original and ctrl + V to past in new layer. Change the fill to 59%.
Phase five
Adding spray paint texture
Lets add some spray paint from Spray Paint Textures, Volume 1 to spice it up a bit. I enjoy using these to give the design some character.
Step one
Place the spray paint above the compass rose size to your liking.
Author's Note: You can play around with different colors and transparency effects.
Step two
Set to darker color and opacity to 75% make sure its above the opacity layer.
Step three
Duplicate the layer move into place as show above.
Author's Note: Use the erase tool with a soft bursh and opacity set to 35 and erase around square till lines are gone.
Phase six
Adding light and aged effects
Step one
You will need to download the aged action to continue the tutorial.

[download#62#nohits]
Step two
First create a new layer and name it "Light Grunge". This is the layer that we'll be using to add the aged effect.
Step three
Create a new layer fill it with black
Step four
Filter, render, lens flare
Step five
105mm prime, move to into position as show above set brightness to 118%
Step six
Step seven
Alright, now it's time to use that aged texture action. Load it up and play it. See that? We took a standard lens flare and made it a little messy. Now, let's do it again by hitting play a second time.
Step eight
Set the light grunge layer blending mode to Screen. Now change opacity to 75%. See how adds realistic aging effects?
Phase seven
Adding light and aged effects
Step one
Select the motion blur layer we created earlier. Open the motion blur dialog by clicking Filter>Blur>Motion Blur. Set angle to 48% and distance to 999 pixels.
Step two
Set our motion blur layer blending mode to Screen. Lower opacity to 61%. We're almost there!
Phase eight
Adding dark contrast
Step two
Select the burn tool. Use it like a brush on some dark areas that you'd like to make even darker. Keep experimenting until you've achieved contrast that looks good to you.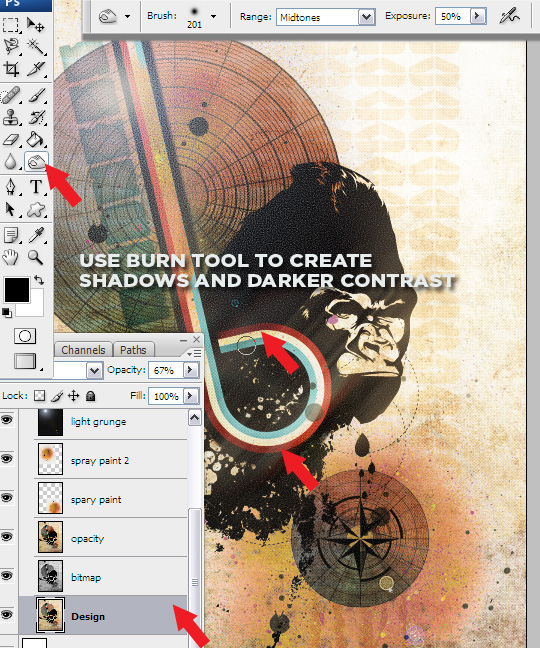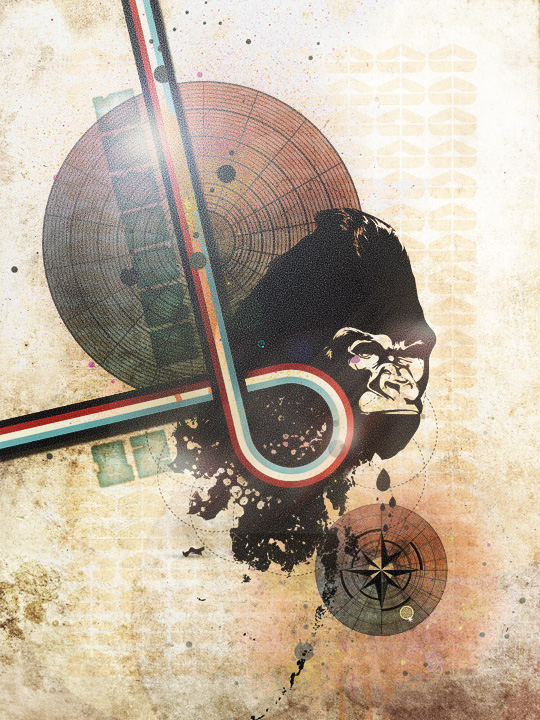 That's it! We're done! I hope you had a good time taking our Illustrator design to the next level with Photoshop. The final results may very, I took it a bit further using the same techniques. Have fun Designing your own madness.