Articles by Month:
April 2009
This tutorial will try and show an alternative way of using the watercolor texture files (as most of you know, you can download Go Media's watercolor texture pack here, or you can try and make some of your own by painting them and scanning them into a digital format) in order to give some color to your line-art.
The usual approach when using these textures is to make them into a background of sorts for the line art. And that is great with some pieces, but less effective in some other cases. This method will focus more on giving the line art another dimension by shading it and creating some volume, while using the watercolors for a more original effect.
But, let's start with the beginning. First, we need some line art. I usually start with a rough sketch, be it on paper or directly in PS, AI, or other design software. For this particular piece I used a sketch I drew in blue ball-pen…So, after scanning it, this is what we got.
It's of little importance how good or bad the sketch looks at this stage, since now comes the inking…and in this case, along with the inking, I added some elements to my composition, while removing others – what can I say, it's not like this composition was that good to keep all of its pieces.
A good reading is provided by this tutorial on how to ink a sketch.
I used AI, with a 3 point brush, with the sensitivity for the pen pressure set to 3, then expanded everything.
If you are using AI CS4, you can also use the Blob Brush, which has the major advantage of letting you draw shapes directly, and, also, it lets you use the Eraser tool just as you would use it in a raster graphics software, such as Photoshop. This is how the finished inked piece turned out.
As you can see, I tried to vary my line-weight in order to suggest different places of focal interest. Also, I added some more elements in the upper sides of the design – as it was meant to be a t-shirt design. I noticed that using such a shape actually makes the shoulders look wider in contrast with the waist-line, which gives a pleasant effect for both men who get to look more manly and women, who get to look more slim. Win-win situation, don't you think?
Fun stuff left aside, now we have a vector line art that can be exported/scaled/ colored etc.- if you have the possibility, try and use a vector-based software for your line-art, as it will save you a lot of trouble later on.
My "weapon of choice" for the next part is Adobe Photoshop, and this is where the watercolor textures come into play!
Now, create a new document (don't forget to use a proper size for t-shirt printing purposes, I would recommend at least a 2400px X 3200px X 300 dpi) and let's get that line art into the new document.
Use File/Place, then select the saved .ai file and resize/place it according to your needs on a new layer.
Next, I filled the background layer with white, in order to have better contrast with the line art and also because this was the color I intended the t-shirts to get printed on. Also, you can rasterize the line art layer and adjust its color to full black.
Now, create a new layer under the line-art layer but above the background layer. Select a hard brush, pick a nice color and start shading. Yes, actually, that's the main part of the process. You need to select a lighting source (I picked the top-left corner) and draw the shadows on each element of the composition. This can take a while, but after we're done with this, it's easy as pie! Here you can see the way it looks after I added those shadow strokes, and you can also see the way I marked the light's direction, in order to have consistent shading throughout the piece.
Now, there are two ways of bringing the watercolor texture into our piece. One uses selections, the other one uses masks. I will show you the one that uses selections for this tutorial –those of you who are proficient with Photoshop can clearly see how the mask could be used to achieve this, and, considering the fact that the result is similar, either way works!
First thing's first, so we need to get the watercolor texture in the document we're working on. I used Go Media's freebie watercolor texture and copy/pasted it into my document, on a different layer. Then, because the texture was too small to cover the whole area of my document, I just pasted it all around, on different layers set on multiply. This way, the white became transparent and I got one big watercolor splat. After I merged all the watercolor layers, I had something like this:
Next, an important step follows: In order to select all the contents of the "shadows" layer (the bright blue one), you need to hold CTRL (CMD for Mac users) and click the layer in the Layers box. Now we have a selection that contains all the shaded area, and in order to fill that area with the watercolor texture, we pick one of the selection tools (any one of them works, be it Rectangle Marquee tool, Magic want tool, Lasso tool, etc.) and right-click on the document. Then, we need to pick "Select Inverse", which will select the area around the shadows.
We're almost done. Now, we make sure that we are working on our watercolor texture layer in the Layers box, and then we press Delete. That gets rid of all the excess watercolor texture and leaves only the parts that coincide with our shaded areas. Now, you can go wild and change the colors of your shading. Using CTRL+U, the hue/saturation correction tool, we can now pick from a huge range of hues and nuances.
The results can vary a lot, depending on how you position the watercolor texture, depending on the colors you choose and you can even combine more watercolor textures in order to get more colors in the mix – you could say this is a great procedure for getting unexpected results. I opted to convert my piece to 3 colors only for easier/cheaper printing, using halftones (but that's a whole different tutorial) and this is what I got:
Don't forget to mock the design on a T-shirt template for extra-presentation points!
I hope you learned something new from reading this and I want to thank you to those of you bearing with me until the end!
My t-shirt is up for voting at Design by Humans, so give it a vote!
Somehow a whole half a year has zipped by since the last User Showcase Highlight Post, and that is a travesty. In the meantime you've more than doubled the number of images (now weighing in at 2,481) and gained 321 more members.
Here's a selection of the pieces that caught my eye after flicking through a few dozen pages of artwork submitted by the cool folks in the Showcase Pool.
This first image is my favorite image of a great series of similar works by arg1986. Yes, it may feature grunge, but I think it all comes across very purposeful. I also enjoyed the presentation; much less tired than the artist holding the poster up to cover his or her face.

This second selection is a great illustration and t-shirt mockup by mike-friederich. It's the little things about this design that I enjoy – the time spent on the fine linework of the furry dude, the frenden-esque wood grain, the green light from the crazy eyes bouncing off the fingers.
Nice.
If you get the chance, check out Mike's full portfolio, but be prepared for your retinas to explode into overload mode.
Honorable Mention
Psicodelicia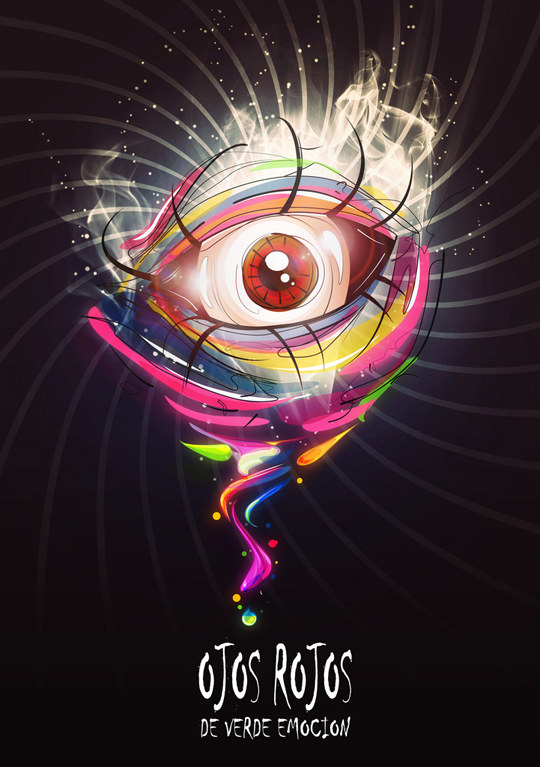 I like the colors & tangible movement surrounding the eyeball in this piece, but I could do without the swirl background & hastily applied typography. Still, Psicodelicia stood out among the images around it.
Congratulations to everyone who is part of the showcase! What does everyone else think about these selections?
1. Video Copilot
Everyone who works within After Effects has heard of Andrew Kramer, so it is no surprise that he is at the top of this list. Andrew is a god when it comes to cutting edge tutorials in motion graphics and visual effects. His Sure Target preset has revolutionized the way you work with 3D cameras and the Demon Face and Car Hit tutorials have swept away novice After Effects artists and spun them into a frenzy of wanting to make cool videos. The Video Copilot blog and forums are a huge hit, and the products the website and team provide continue to be groundbreaking. Make sure you take a peak if you haven't already. Get updates via twitter on VCP stuff by following @videocopilot.
2. GreyScaleGorilla
Nick Campbell aka "The Gorilla" runs GreyScaleGorilla.com, a blog focusing on Nick's life as a Motion Designer at Digital Kitchen in Chicago. Nick tries to get a GSGcast (what he calls his video blogs) out every day… and this guy couldn't be more full of useful information. Expelling knowledge of After Effects and Cinema 4D, he has videos on "How to be Creative and Get Paid" to tutorials, to just random stories and projects he has done in the past. His new 5 Second Weekly Projects have become a huge hit in the mograph community prompting everyone to get out there and "make cool shit!" as Nick puts it. This is another everyday stop for me, as it should be for you. You can follow Nick's twitter @nickvegas.
3. AE Tuts
AEtuts+ launched a couple of months ago, but it is already gaining steam very fast. With over 40 tutorials already published, they are becoming a very popular site with lots of great information. Part of the Envato Network and a sister site to the ever popular PSDtuts+, Nettuts+, Vectortuts+ and Audiotuts+, you know things are gonna be great. They have articles, tutorials, presets, freebies and a bunch of other stuff as well. Best thing about this site, is it is community-based, so you can write articles or publish a tutorial yourself! Run by Lloyd Alvarez of AEscripts.com (further down) you can follow their twitter @AEtuts.
4. Video Hive
The Hive is the official blog of VideoHive.net, the online marketplace for motion design elements, .AEP projects and stock footage. The Hive is run by Michael Capitelli, and it is full of tons of techniques for making better work. When I say that, I mean that whether you shoot still photography, video, work only in After Effects as a motion designer, or composite as a VFX artist, there is something on this blog for you. Make sure you follow their twitter @VideoHive.
5. AE Portal News
AE Portal News is your best bet to find the most updated news in the After Effects world, hand down. Run by Rich Young, this blog has daily updates of sales on plugins, when AE tutorials are posted, and extensive insights to all kinds of different aspects of After Effects, not to mention there is a gigantic humungo link list to anything and everything After Effects in the sidebar. With over 4 years of information all archived, there is usually an answer to a question posted somewhere in the depths of this blog.
6. Mograph.net
Mograph.net is a great community for asking questions, posting work, and just hanging out with fellow mographers. Attracting the professional community from around the world, you can always count on getting a professional answer or insight to something that you post. Most of the people on the board are industry professionals, and know their stuff. I highly recommend this site if you have questions, looking for feedback on a work in progress, or just want to have an intelligent converstion.
7. ProLost
Stu Maschwitz, owner of the late VFX compay, The Orphanage, has worked on a ton of movies including The Spirit, Pirates of the Caribbean, and Sin City, as well as many others. Well known by many in the mograph/vfx community, Stu aka @5tu on twitter, and his blog ProLost has become a great resource for production tips, photography insight, and lately he has taken a lot of interest to the HD video aspects of the new DSLR cameras. Even though his blog isn't updated daily, I highly recommend following @5tu on twitter for his daily endeavors and awesome tweets on production tips and the like.
8. The Hypa Blog
The Hypa Blog, run by Tim Clapham, Cinema 4D professor at FXphd.com and the upcoming host of the new Making It Look Great 6 training dvd has a great blog about Cinema 4D and its uses with motion graphics design. Cinema 4D and After Effects go so well together, and this is a great blog for tips and tricks within Cinema 4D. With over 11 years design experience, Tim and Hypa.tv have a lot to bring to the table. You can follow Tim on twitter @hypatim.
9. Motion Works
Speaking of Making It Look Great, the man behind the series, John Dickinson has a killer site as well, with a fresh redesign a couple months ago. Motionworks, is one of those sites I have followed since I started in motion graphics, and he continues to impress me with what he puts out. Working as a motion designer at Foxtel Box Office in Australia, JD demonstrates techniques, tips and tutorials that we all can benefit from. John's work is great, and is always getting better. His niche of work is mostly of what a lot people are looking to learn from… motion design for advertising and television. JD's is a must bookmark site, you can also follow him on twitter @John_Dickinson.
10. AE Scripts
Llyody Alvarez, as I mentioned before is the editor for AEtuts+, but before that was even thought of, he created AEscripts.com. His site, a renowned location to find cutting edge scripts for After Effects such as Magnum the Edit Detector or the amazing BG Renderer, has become one of the first places you think of… hence the name, AEscripts.com. You can also find links to other AE and scripts site, as well as possibly buy Lloyd a beer if you are feeling generous! You can follow Lloyd and AEscripts.com on twitter @aescripts.
11. Motion Script
If you haven't messed around with scripts in your workflow, you are really missing out. They are a huge timesaver. Here is a another site called Motionscript.com, run by Dan Ebberts, which provides scripts and expressions as well as lots of documentation on how to create your own. Scripting is hard work, but there is some amazing stuff that you can make. This is a must-see site if you are looking to get into expressions and scripting.
12. AEnhancers.com
Alright, bear with me, this is the last scripting resource! I know a lot of people shy away from them, but they really are a great add-in to After Effects. The AEnhancers site is in forum-form, and has library, discussions, requests, and tutorials on how to use and how to make scripts. This site also has an expressions library as well so make sure you check that out as well.
13. Graymachine
Harry Frank is a pro with Trapcode Particular, and his site, Graymachine, really displays that. Recently featured in the User Gallery for Trapcode Particular, Harry's site continues to be a great resource for downloads for Trapcode Form, Particular, and useful articles on working in the business. Undergoing its third redesign, and Harry relocating to Los Angelas to work for Truxton Pictures, we can expect some great things from him in the coming months. You can follow Harry on twitter @graymachine.
14. Base80
Base80 is a pretty cool blog with a nice table of contents. Its almost like a never ending book of techniques for Cinema 4D. There are a ton of quick tricks and tips for working faster, smarter, and more efficiently within Cinema 4D and Xpresso. You can follow Base80.com on twitter @base80.
15. Creative Cow
Did you really think that the Creative COW wouldn't make this list? It is possibly one of the biggest sources of information on the internet to deal with any motion graphics, graphic design or video platform. If you are one of the few that haven't wandered the COW, they have a multitude of tutorials on any program you could want along with 11 podcasts, a magazine (online and print), training DVDs, and a good 100 or so forums crawling with professionals. This is one community to bookmark, because if you can't find an answer to a question anywhere else, this is where to come to speak to the gods.
16. MaxAfter
When I first saw MaxAfter.com, I thought… oh a Video Copilot copycat, but holy cow was I wrong. Shaoib Khan produces some very cool looking animations like the earth from the movie "Knowing" and the bullet from the movie "Wanted". Shaoib uses mostly After effects and 3Ds Max (see where he got the name?) to create most of his tutorials, but mainly After Effects.
17. Maltaannon
Maltaannon aka Jerzy Drozda Jr. has a ton of great tutorials on his site as well as what he likes to call CE's or CustomEffects. They are like plugins, but coded differently. Anyways, he just came out with CETextRamp, which creates color ramps at the top and bottom of your text, no matter if you resize or whatever. Point is, Maltaannon is full of cool techniques, tools, and some cool information. He has just started another site called fineCG.com that deals in Motion Design/Visual Effects. You can follow Maltaannon on twitter @maltaannon.
18. Ninja Crayon
Ko Maruyama, who also runs Mac Animation Pro, is Ninja Crayon. This is a daily/weekly update in the world of motion graphics and visual effects. What plugins are on sale, what things are being given away in Cinema 4D land… that kind of thing. Ko also has a huge collection of 300+ After Effects tutorials he has created over the years, and that list is ever growing. He is well versed in the ways of the C4D as well, and he has some good tutorials over at his Vimeo channel. You can follow Ko Maruyama on twitter @ninjacrayon.
19. Motionographer
Possibly one of the best sites to look to for inspirational videos, Motionographer has daily updates of insanely spectacular works of video art. I like to check here every day to see what the popular post houses are cooking up, and what I can expect to see on the television when I watch my primetime. Motionographer also has articles, jobs, and forums for you to join in the discussion. To get the latest updates from Motionographer, follow them on twitter @motionographer.
20. Pro Video Coalition
I like Pro Video Coalition a lot. You know why? Because they have a sub-channel for everyone. 3D, Post Production, Motion Graphics, VFX, Audio, Cameras… the list goes on. Each channel has a seperate set of blog posts that get updated, but on the PVC mainpage, those posts are reflected throughout the entire site. PVC is community based being contributed by some of the top names in the industry.
21. The Mograph Blog
I found The Mograph Blog from a tweet about the post on Mastering The Render Queue. From there looking through the posts, I realized I had just hit a goldmine of awesome tips. Run by Chris Kelley, The Mograph Blog dabbles in and out of After Effects and Cinema 4D, with a few tutorials here and there. You can follow The Mograph Blog on twitter @themographblog.
22. Red Giant Software
If you are a mograph artist, you have probably encounted Trapcode Particular a few times or the rest of the Trapcode Arsenal… or perhaps you are more partial to Primatte Keyer Pro? Either way you roll, they are owned by Red Giant Software, and the Red Room Blog is where its at. News on Trapcode Particualr v2.0, new tutorials, and news about whats going on with the company and the plugins they develop. This is a good site to frequent every few days to see what is new or what is up and coming. You can follow Red Giant Software on twitter @redgianttweet.
23. Studio Daily
Studio Daily is a one stop shop for finding job boards, mini-sites, inspiration, tutorials, training, and lots more. They are a very up to date news resource posting reviews on software, behind the scenes reports on movies and commercials and give you a great look into the going ons of the mograph/vfx world. You can find Studio Daily on twitter @studiodaily.
24. AE Freemart
One of the best places to find free tutorials, presets, plugins or anything else you might want for After Effects is Toolfarm's AE Freemart. The site has been around for a while, and it has accumulated a ton of free stuff over the years. You can find links to tutorials or presets on outside sites complete with descriptions on what it is. Things like Nahuel's AutoTitles Preset or brand new video tutorials by Rob Birnholz are just a few of the many lovely gifts the AEFreemart comes bearing. You can get updates from Toolfarm as well as AEFreemart on twitter by following @toolfarm.
25. Adobe TV
If you want to go to heart of where some of the best training can be found, you are going to want to check out Adobe TV. With libraries of training on every Adobe product available, and constantly updated every day, this is one resource you will never grow old of. Online seminars that are held monthly are recorded and put up for later viewing on Adobe TV as well, as lectures and demonstrations given at live seminars. You can follow Adobe TV on twitter @AdobeTV.
26. General Specialist
Even though Jonas Hummelstrand doesn't update his blog much, when he does, you always remember why you bookmarked him. A swedish mograph/visual effects artist, Jonas works within the full Adobe Creative Suite, as well as Cinema 4D, 3Ds Max and Maya. His blog, aptly named "General Specialist" provides a look into the mind of a person who knows his stuff in this business. He has some great posts about RED cameras, building custom camera jibs, and lots more. You can follow Jonas on twitter @hummelstrand.
27. Digital Tutors
Most people have heard of Digital Tutors' training DVDs, but a lot of people aren't aware of theyir library of 500+ free tutorials available online. The Daily Dose isn't really a blog, but is updated daily with a free tutorial, technique, or tip in one of 19 software categories, plucked directly from their training DVDs. Lately they have been getting an After Effects tutorial or two in each week, and the rest are usually based on a 3D program. But we all love free, so we can't complain!
28. VisualFXtuts
Alright, I know this may seem like a shameless plug on my part, but even if this wasn't my site, I think it should be on this list. VisualFXtuts.com is run by me, Topher, and is a site that collects all the tutorials in the mograph and visual effects blogosphere and posts them to one direct location. Checking around 200 sites, almost daily, you can just bookmark here, and link directly to where the tutorials are located. Also posted are presets, free stock footage, .AEP and 3D project files, textures, and pretty much anything else you could want. You can follow VisualFXtuts.com on twitter @visualfxtuts.
You've just been given a project and the client has made a list of demands that will surely result in a total design failure. Your integrity as a good designer is on the line… …WHAT DO YOU DO?
Manage the client's expectations BEFORE the project brief is even written. In an IDEAL world, the battle over a client's expectations is begun during the very first meeting. This often means that the sales person – not the designer – must start this fight. This is not an easy task. Most clients come to a design firm with some idea of what they want. And a sales person's job is doubly difficult because they're busy trying to sell too. The added task of managing a client's expectations is often times in direct conflict with making the sale.
What a client wants to hear is: "Wow, brilliant idea. We can execute that design, no problem." not: "These ideas suck. You should let one of our designers make something better." But whenever possible, a sales person should start by hyping the designer's expertise and suggesting that the client should open their mind to a design that may not fit exactly with what they have set in their mind… …in an ideal world that is.
Talk to the client immediately. So, the sales person did their best, but the project brief is still chock full of horrible ideas. Don't hesitate. Don't start designing. Don't pass go. Do not collect $200. Proceed directly to your phone and call the client. This conversation needs to take place immediately. Now is the time to get the client on your side. Pitch your ideas, explain why your ideas are better than theirs.
Give the customer what they ask for. Or, more to the point: Give the customer what they EXPECT. Now, I know this statement is a bit of hot button, at least it is at Go Media. Let me explain.
Imagine that you pull into a McDonald's drive through and you order a Big Mac. You pay your money and leave. As you drive down the street you open your bag and inside you find a McChicken sandwich and a note: "I know you ordered a Big Mac, but this chicken sandwich is much healthier for you. So, you should eat it instead." How would you feel? Personally, I would probably be feeling rage boiling up inside of me. "Son of a BITCH!" I'd be thinking. "I JUST PAID!!! I asked for a Big Mac… nobody said anything to me when I ordered and now I have a fricking McChicken sandwich. I already PAID for a frickin' BIG MAC. Who are they to tell me what is best for me?"
Is the note wrong? No, not necessarily. A Chicken sandwich IS healthier than a Big Mac. I probably SHOULD eat the chicken sandwich. That's not why I'm mad. I'm mad because I had an expectation. And the jerks at McDonald's just insulted me by ignoring my request and essentially saying to me: "You don't know what's best for you." Well, isn't that arrogant! They don't know every aspect of my life. Maybe I'm dying of cancer and this Big Mac is my last meal.
In the same way, we must respect our customers. Yes, many customers are idiots that ask for retarded design things that are probably bad for them. But we STILL must pay them the respect of not immediately assuming that we know what is best for them.
Have you researched their customer base? Do you know their entire marketing plan? Have you used their product? And if you're going to do something different than what they asked for, you need to manage their expectations BEFORE you start showing them proofs. If you don't follow directions you're going to piss them off 99% of the time. So make the call and have the conversation. Pay them that respect at least.

Show them. Ok, so you got the customer on the phone, they still think they know best and want it THEIR way. Remember: your design integrity is on the line. We can't give up yet.
Here is where your mettle is tested. How far are you willing to go to defend your integrity? Sometimes you have to spend your own time (unpaid by the customer) to mock up a SECOND design. This will give you the opportunity to actually SHOW them the better design.
It's important to make your design the second of two. The first one still needs to be your best version of what they've asked for. In this way you haven't insulted them. It would be like having that McDonald's employee show you the beautiful, juicy chicken sandwich and saying: "Are you suuuuure you want to eat that greasy burger? Look at this tender juicy chicken sandwich. I have the Big Mac ready for you if you really want it, but this chicken sandwich has half the fat and calories!"
Accept the challenge. Nothing is impossible! So, nothing you've said or showed them can change their mind. They still want their list of demands met. So, you have to ask yourself: How good of a designer are you? The client has just presented you with an amazing challenge. They've given you a long list of demands that would normally result in a horrible design.
So, do you accept this challenge of giving them what they ask for AND still making a good design? It may take a lot of extra work and mental strain. But that's what we're paid to do – to come up with solutions to problems. Are you going to work the challenge or do you just give up – declare the client an idiot and walk away frustrated.
The choice is yours. If you are quick to give up, maybe you're not as good of a designer as you think. Time to get behind the mule and plow.
No beans, what now? You've done everything in your power to make a good design. You've pitched them on your ideas. You've shown them a better solution. You worked their horrible ideas for hours and hours. You're at the very end of your rope and the design still sucks. What now? What do you do? Do you "sell-out" and give them a horrible design, or do you stick to your principles, refund their money and tell them politely that you refuse to work with them?
Well, if you're on your own this is a personal choice. Thousands of "starving artists" live meagerly and never budge on their design (artistic) principles. Some designers may even become rich and famous by sticking strictly to their principles, always doing their work 100% their way with no compromise.
In my experience, designers are still subject to the golden rule: the person with the gold makes the rule. Translation: At the end of the day, the paying client makes the final decisions. The designers that get their way most of the time, are the ones that are the BEST at pitching their ideas and selling them to the customer. If you want to do things your way – I suggest working very hard on your people skills and practice the art of pitching!!
William Beachy
I always try to do good design, despite the challenges my ignorant clients give me. I pitch good ideas when I have them, but I also pick my battles. At the end of the day I have a mortgage, staff payroll, and a pile of other bills to pay. I don't feel like I've sold my soul to the devil if I execute a bad design for pay.
Some people dig ditches or clean sewers to make a living. I'm a graphic designer. Most of the time I'm very proud of the work I do, but occasionally it's a dirty job too.
Oliver Barrett
I believe that when a client comes to us for work, they aren't just paying for the final product. Aside from the obvious production work, they're paying for research, conceptualization, and our opinion. I like to see what improvements can be made to a client's idea in order to achieve the best results possible. I like to approach each project as if it could be a potential showcase piece, so I want it to be as good as possible. Sometimes that involves pushing the client in a new direction.
I like to think that I'm pretty good at pitching new ideas and getting the client excited, but sometimes the client doesn't want to change. You have to learn when you can influence the client to move in a new direction and when to back off and give the client what they want. I find the best way to influence a client is call them on the phone and talk about what you'd like to do with their project, in addition to showing them what they had originally asked for. After talking on the phone, send them a follow up email with some samples so that they can get a rough visual of what you had talked about on the phone.
Keep in mind that you should maintain a genuine level of enthusiasm (without sounding like a complete fraud) when talking to the client about a new idea. You want them to get excited about it. Then, when you post your proofs, make a few statements about why your concept is more effective.
This is not a fool-proof system, and don't be surprised if the client just sticks with the original idea.
Adam Law
In my opinion this isn't a discussion about design integrity as much as it is a comment on a larger problem within the graphic design field. It is my experience that clients do not generally understand what a graphic designer is, what a graphic designer does, or how a graphic designer works. I cannot recall how many times I've been called a "Graphics Designer" (note: there is no "S"). If someone cannot get my job title correct, I have little hope that they are going to be "on board" for the entire design process let alone understand how the concept I am pitching them is a better, and in most cases less cliché, idea.
So the problem actually becomes: "How do I educate the client about design and help them make more intelligent decisions?" This can be a really tough issue to tackle. Most people become insulted if you call their ideas dumb, even though they may in fact be unintelligent, and will become less responsive to your suggestions if they feel insulted. I have also run into the problem of clients being resistant when you attempt to explain the process to them, as they feel you are telling them they do not understand what you are doing. Even though it is often the case that they do not understand what you are doing.
It really becomes a process of holding a client's hand and convincing them to trust you and to allow you to do your job in the manner that works. The process is always a two way street as you must also allow a client to educate you on their needs and how a client thinks at the same time as you are showing them how your process works. At the very least you have to convince them to let you at least try your idea, even if it's on your own time as Bill suggested.
However, I have to disagree with Bill's analogy of the Big Mac and the Chicken Sandwich because that suggests you are getting garbage in the end either way. Either of these would be cookie cutter solutions to a problem, in this case hunger, that aren't going to consider a person's specific needs. Rather I propose that you give the client filet mignon rather than a Big Mac if allowed to properly work through the design process.
The client gives the designer (chef) their input (how they like their steak cooked) and then trusts the designer (chef) to create a great solution (meal). You never hear a person telling a chef which spices to use or how long to cook the meat on each side. If they wanted that much control the chef would probably ask them why they came to the restaurant when the customer obviously could meet their specific needs better than the chef could. Each solution (steak) is unique to the client's problem (needing a meal) and no two solutions are ever the same (every steak is unique no matter how many times you've prepared the same cut of meat). It is when a designer is fully trusted by a client and allowed to work through the complete process, that the end result is the highest quality product possible.
When considering the financial implications of the design process, "Selling out" is not a term that correctly applies to the circumstance because that term does not have enough depth to describe the situation. What is really happening is the client is not getting what they paid for because of their own self sabotage. The blame cannot be placed on a designer when they have not been given the opportunity to do their job and come up with a creative solution to the design problem.
We are not simply purveyors of "cool". Designers do not make things "look cool" or "look slick". If this is what a client wants they may be better suited for 99 Designs or Crowd Spring. In fact, the term "cool" should never be uttered in the context of design. The end result may be considered cool by the masses, but the designer's job it to come up with a creative idea that solves a client's design problem. Nor should a solution ever fall into a specific style (after all style = fart according to Sagmeister) or be trendy. Every solution must be unique to a client's specific needs and fully non-formulaic.
In the end after all your attempts to educate and persuade the client to buy into the process of design and the validity of your ideas fail, then like the chef you must allow them to attempt their solution on their own. That person may get what they want in the end, but it will never be all it could be if properly executed. Not to mention if they are that difficult and unwilling to listen, then do you really want them as a client at all?
Jeff Finley
Here's a bit from Adam Law:
"We are not simply purveyors of "cool". Designers do not make things "look cool" or "look slick". If this is what a client wants they may be better suited for 99 Designs or Crowd Spring. In fact, the term "cool" should never be uttered in the context of design. The end result may be considered cool by the masses, but the designer's job it to come up with a creative idea that solves a client's design problem. Nor should a solution ever fall into a specific style, after all style = fart according to Sagmeister, or be trendy. Every solution must be unique to a client's specific needs and fully non-formulaic."
While I wholeheartedly agree that every solution should be client specific and non-formulaic, I must offer my slightly different opinion on the matter. We get a lot of requests from clients to make them "look cool." This is that fuzzy area between art and design. The fact of the matter is, when something is well-designed and well-thought out, people say it's "cool." I think the primary discrepancy is that "cool" is a subjective term and is very vague. The word "cool" itself does not describe their needs. What I personally think is cool may not be what the client thinks is cool. This is where communication is important.
When a client wants to be "cool" they really mean they crave that feeling of being admired by their peers. They want to achieve greatness and become successful. They don't want to look cliché. They want to be regarded as a trendsetter.
Also, style, in my opinion is very important. Style alone should not be confused with being trendy. Sure, if a client specifically asks for something "shiny, glossy, web 2.0" they are requesting a design based on style that happens to be a cliché trend. What they SHOULD be describing is the feelings and responses that they desire in their customers. If they are looking for a friendly, pleasant user experience with easy and obvious calls to action, then perhaps a shiny and trendy web 2.0 style would be fitting. Sometimes being trendy is just what the doctor ordered. Sometimes trends exist because they work and are looked at as standards.
Also, as an artist/illustrator, we often get hired because of our style and technique. The way we execute ideas becomes a trademark that clients ask for. They see something in that style that resonates within themselves and makes them feel good. Style is in everything we do. It's personality. Branding.
But my point is, we as designers need to understand how to translate a client's visual style descriptions into executable solutions that help the client achieve what they want. Whether that is more sales, to appeal to a specific audience, to land XYZ as a new customer, etc.
Tim Boesel
When a client says "jump" designers say, "how high?!" I believe many clients know what they want from the start. Either the client has provided an example or has come up with a rough (a.k.a. terrible) concept on paper. Even with all the direction in the world, clients can (and most likely will) shoot a designer's concept down, no matter how strong the idea is.
When coming up with a strategy to combat clients' so-called "design block," the best line of defense is to listen to everything they have to say. Then, educate the client why or why not their design might or might not work. Shedding new light on an old idea will most likely help you win over a client.
A word of advice: it is best not to piss off a client or argue with them. Usually, if you shed new light on a client's old idea, they will most likely see your vision as the best solution. However, don't completely throw out a client's idea, no matter how bad it is. Most clients take pride in their designs and want you to help bring their ideas to life, not destroy them. All egos aside – if it wasn't for clients and their "wonderful" (yeah, right) ideas, you wouldn't have a job.
If all else fails and you find out the client is "two-faced," (i.e. one minute they love your idea, the next they have no money or drop off the face of the earth) then you don't want them as a client anyway.
Even if you poured your heart and soul into the client's project or woke up in the middle of the night saying, "this will work, listen to me @$$hole," you have to put up the white flag. It's time to suck up your pride and live to fight another day. In the end, you're the designer. You have fought the good fight for years and you know what works and what doesn't work. After all, you're fighting for clients – not against them.
In conclusion, I believe my integrity as a designer is validated. I approach each project – no matter what size – working towards the best possible outcome. At the end of the day, if the client chooses something other than my idea, I can accept that because I know I put all my effort into the project, and that's the best I can do.
Katie Major
It wasn't too long ago that I graduated from design school with a built in ego the size of an elephant. I remember very clearly my design instructors drilling into my head "YOU'RE THE genius, don't let a client have a say in what you do". One of my favorite analogies a professor told me was that you won't go to a doctor and tell them how to fix your broken leg; you trust that they know what they're doing.
Something I had to learn the hard way is that this type of client relationship comes from a mutual respect that has to be earned. If you parade in with your genius idea, thinking you're master of the universe, that is going to turn off the client so fast you won't have a chance to even talk about your idea before they reject it. This has been a struggle for me because my knee jerk reaction to a client's bad idea is "don't you trust me?! I went to design school, you didn't. How can you come to me with these horrid ideas?" I am still learning how to best approach this situation with humility and learning how to sell my ideas to people. I realized once I showed the client how awesome the potential was for the project they trusted me 100% through the rest of the design process.
Part Seven of Seven Easy Principles to Becoming a Master Designer.
Ok Folks, This is it; part seven of seven. I've hopefully convinced you to limit your use of colors and fonts, taught you to provide sufficient contrast, suggested that you properly space your elements and let you in on the secrets of adding depth and motion to your design. Now, the last principle in this rapid-fire guide to becoming a master designer is composition.
In truth, the order I've given you these seven principles is probably ass-backwards. The composition is the first and most important part of your design. So, let's just pretend that you are starting your design right now – from scratch. This is the point at which you want to be thinking about your composition.
Each of the previous six principles dealt with very specific rules and techniques. Composition is the broadest and most difficult principle to explain because it encompasses EVERYTHING.
So, what exactly is a design's composition? Let's go the cheesy route of providing a textbook definition.
First let's review the definition of the word 'composition.' Dictionary.com defines composition as


1. the act of combining parts or elements to form a whole.
2. the resulting state or product.
Ok, that's simple enough. The composition is simply what you get when you put your pieces together. It says nothing of function or quality. It just is what it is.
Now, design as defined by dictionary.com: Design is:


1. to prepare the preliminary sketch or the plans for (a work to be executed), esp. to plan the form and structure of: to design a new bridge.
2. to plan and fashion artistically or skillfully.
Ok. Great, so, if we combine those two definitions to form a definition for design composition, it would sound something like this:
Design Composition: To skillfully and artistically combine parts or elements to form a whole.
Wow. That sounds GREAT. So, what have we learned? Um… not much. I think we already KNEW that we were here to put all our design elements together into an artistic design (whole.) What we're after is how to make a successful design composition. So I guess we'll have to define what a successful design is.
Fortunately for us, design is not simply "art;" a highly charged and subjective subject. Designs serve a very specific function. The function of a car's design is to safely transport humans from one location to another. What if we designed a car with square wheels and a huge metal spike extruding from the steering wheel pointed directly at the heart of the driver? Would that be a good car design? No, probably not.
So, how do we define a successful design composition? Well, if we have successfully achieved the FUNCTION of the design, then our design is good. And who defines the function? Typically this is the client. The client tells you (the designer) the function (purpose) of the design. Then it's your job to design (whatever you're designing) accordingly.
Now – how do I give you a lesson on composition if the function is not set? Well, I will have to speak in generalities. Then you will have to apply these general concepts to your specific project. And since the composition is dependent on the function, well, we should probably start there.
Make sure you have a solid understanding of the design's goal: Read your project scope carefully. Make sure you fully understand what your client is trying to do. Ask plenty of questions if you have to. This part includes the boring stuff like dimensions, resolution and printing (or manufacturing) processes. All of these affect how and what you design.
Understand who the target market is: If you're trying to communicate a subversive counter-culture message to a young male demographic, your composition may include a strange layout with hard-to-read fonts and bright colors. Or if you're trying to communicate where the cafeteria is to old people, your composition should probably utilize a large easy-to-read font printed in black, centered with an arrow on a white background. What's my point? Your composition will also depend on your target market.
Know your history: Once I have these two items taken care of, I like to do some research on the design history of the company and industry I'm doing work for. As much as possible I LOVE to feed visually and compositionally off of the past. My thought process is this: "understand how they've gotten to where they are today, then help them transition into a better designed future."
Make some quick sketches: Hopefully at this point I'm starting to get some rough ideas floating through my head of what needs to be in the design and, at least a rough concept of how I might want to put it all together. Before I give myself an opportunity to over-think anything, now is the perfect time to do some quick sketches. These are very fast and very rough. They're just enough to communicate where all the elements go, how they work together. This gives me an opportunity to quickly ideate and maybe deal with some contrast issues. Let's look at a few composition sketches for a poster and a flyer I did.

The Golden Ratio: As I'm going over all of these systematic approaches to the relative question of good design composition, you surely must be thinking: "Bill, c'mon isn't there some grand universal rules to help guide my layout? Isn't there a FORCE which surrounds us, binds us and will help guide me to properly arrange my design elements?" Well, I want to say no. There is no design 'force' that you can tap into if your design midi-chlorian levels are high enough. However, there is an ancient design standard that has been used throughout the ages – going all the way back to the birth of civilization. It's known as the Golden Ratio.

I can't possibly get into a full explanation of the Golden Ratio here, but to summarize: people noticed certain patterns that repeated in nature. They tried to quantify this repetitious behavior in nature and came up with phi, or more precisely: 1.6180339887. If you'd like to know a little bit more about the Golden Ratio I suggest you hit up the oracle: http://en.wikipedia.org/wiki/Golden_ratio
So, how does the golden ratio apply to your design composition? Well, basically – you want to use this measurement to help space your various design elements. Once again, I can't go into great detail in THIS tutorial, but here is a downright amazing example of the Golden Ratio being used by the Greeks to build the parthenon:

The rule of thirds: In my opinion the "rule of thirds" is simply a bastardized (simplified) version of the Golden Ratio. Basically, you want to divide your composition into thirds vertically and horizontally. Where the lines meet should be your focal points. By avoiding a centered design you add some motion and interest.
Balance without symmetry: "Great! The Golden Ratio," you're thinking " Now, are there any other universal 'truths' about design composition?" Well – not so powerful as the Golden Ratio is the concept of balance. Without getting trapped in a symmetrical composition many artists and designers try to achieve balance in their designs. Basically, if you have a large dark object on one side of your composition, then you should have a large dark object on the opposite side of your composition. Once again, try to do this without making it symmetrical. You want to achieve balanced asymmetry.
Test it! Yes, that's what I said, TEST IT! As we've already established that design is a discipline of accomplishing a specific goal (the design's function) – we can certainly test whether or not the design works! This can be done as simply as walking around with a print of your design and asking people's opinions. Or it can be done very scientifically with case studies and double-blind testing. How much time and energy you have available to test a composition may depend on your budget. But you may be surprised at how much information you can get by just watching a few individuals interacting with your design. This is particularly true when dealing with design ergonomics. What are the results? Does your ad get people to the mall? Can people easily navigate through your website design? Can people figure out how to work your stereo design? Put some real warm blooded people in front of your design and ask them to interact with it.
"Gosh Bill, this is fairly extensive." You may be thinking to yourself: "Seriously? Studying the target market? Studying the history? Double-blind testing?" Your project may not have that type of budget. Or perhaps you simply don't have the time. Well, I understand your problem. And what I've described here is the most ideal of design scenarios. In truth, most of this stuff I just do in my head. If the budget is extremely tight (which it often is) and I have limited time, the design process looks something like this:
Me "carefully reading the project brief" is actually me just having a short conversation with the client. "Understanding who the target market is" is just me having a basic understanding of my client and the rest is a bunch of stereotypical assumptions about his/her demographic. "Studying the history of my client's design" is usually me just looking at their current website or marketing materials. My "sketches", well, those rarely make it onto paper. I do them in my head. Then I jump right into slapping all my design elements together. And I don't often get the chance to measure out the Golden Ratio. I know not to center my focal point, and I just move pieces around until they look good. Once again, I'm making some assumptions and using my design intuition. Testing – well, that's usually me just showing the client proofs. If I like it and they like it – we assume its close enough for rock 'n' roll.
So, I hate to demystify the design process by simply saying "I do it in my head." But it just depends on the situation you're dealing with. Most clients have tight deadlines and limited budgets. If they see "3 hours for research" on their bill, you'll probably get yelled at. It's a constant challenge to teach our clients about good design practices and why they should spend a few extra bucks to let us do our job properly. But we try.
Well, that's it folks. I hope this last lesson has been helpful and not too ambiguous. And generally, I hope you have enjoyed this 7 post series. There is obviously no substitute for PRACTICE PRACTICE PRACTICE.
If you missed the rest of the series, here they are:
Become a Master Designer: Part 1: Limit your Fonts
Become a Master Designer: Part 2: Limit your Colors
Become a Master Designer: Part 3: Contrast, Contrast, Contrast
Become a Master Designer: Part 4: Spacing is your Friend
Become a Master Designer: Part 5: Depth
Become A master Designer: Part 6: Motion