Articles by Month:
November 2008
Interested in starting your own clothing line? Or maybe you just want to get an edge on some of the other designers on the major social t-shirt sites. Either way, there is a world of resources to be discovered that can help you do both.
This post will help you find all the tools and resources you need to start your own clothing line. By doing so, you will be entering the ranks of such super stars as P Diddy, Martha Stewart, and that model who sells clothes at K-Mart.
In the links below you will find resources for t-shirt designers all across the web. While a number of the tools and tutorials can be found right here at Go Media, we have also included a great number of other off site resources. After all, this wouldn't be the ultimate resource for t-shirt designers if we just stuck to this site now would it?
Well, maybe it would, but that's for another day. So, here you go, the ultimate collection of resources for t-shirt designers.
Books
This collection of books and e-books can teach you just about everything you wanted to know about printing shirts, cutting shirts, selling shirts, and more.
Thread's Not Dead – $47 – Amazon
Widely considered the "Bible" of t-shirt design, this is a must have.
Full for Design (Website: $37)
One of the most up to date e-books about starting your own online clothing line.

Generation T: 108 Ways to Transform a T-Shirt (Amazon: $10)
Teaches you a bunch of really cool ways to cut up your shirts to make them even more unique.

300% Cotton: More T-Shirt Graphics (Amazon: $20)
The third in a series of books that showcase the art of t-shirt designs.

Simple Screenprinting: Basic Techniques & Creative Projects (Amazon: $20)
Includes over 20 different screen printing projects on shirts and other surfaces to help you learn how to screen print.

T-Shirt Factory (Amazon: $17)
A showcase of over 300 outstanding t-shirt designs.

Vintage T-Shirts: MORE THAN 500 AUTHENTIC TEES FROM THE '70S AND '80S (Amazon: $17)
A celebration on popular vintage t-shirt designs from the 60's and 70's.

Vintage Rock T-Shirts (Amazon: $20)
Showcases fan made and non-commercial use t-shirt designs used to promote singers and bands.

Print Liberation: The Screen Printing Primer (Amazon: $17)
The complete DIY guide for learning how to make your t-shirts.

Photoshop CS3 for Screen Printers (Amazon: $30)
Teaches you how to use CS3 to create better images for screen printing.

Do It Yourself Screenprinting (Amazon: $8)
Uses drawings and illustrations to teach you step by step how to screenprint.

How to Print T-Shirts for Fun and Profit (Amazon: $40)
The best book on the business of starting your own t-shirt company.

Where to Sell Your Designs
Social t-shirt sites are popping up all over the place these days. This is great for both professionals and wannabe professionals because it offers more outlets for you to sell your designs. But, which of these t-shirt sites are worth getting involved with? Below are some of the more popular t-shirt communities.
Threadless
One of the original t-shirt community websites.

Design By Humans
T-Shirt community site that works on public voting.

Red Bubble
Artistic community where you can upload your design and Red Bubble takes care of the rest.

Cafepress
Upload your design and Cafepress will market, sell, print, and mail your shirts for you.

Big Cartel
This is a cool site that lets you create a really nice online store in just a few minutes. I highly recommend this one.

Spread Shirt
This is another site that is extremely similar to Cafepress.

Odicca
No public voting here, Oddica gives artists 41% of each shirt sold.

Tee Tonic
Allows you to submit your design to be voted on.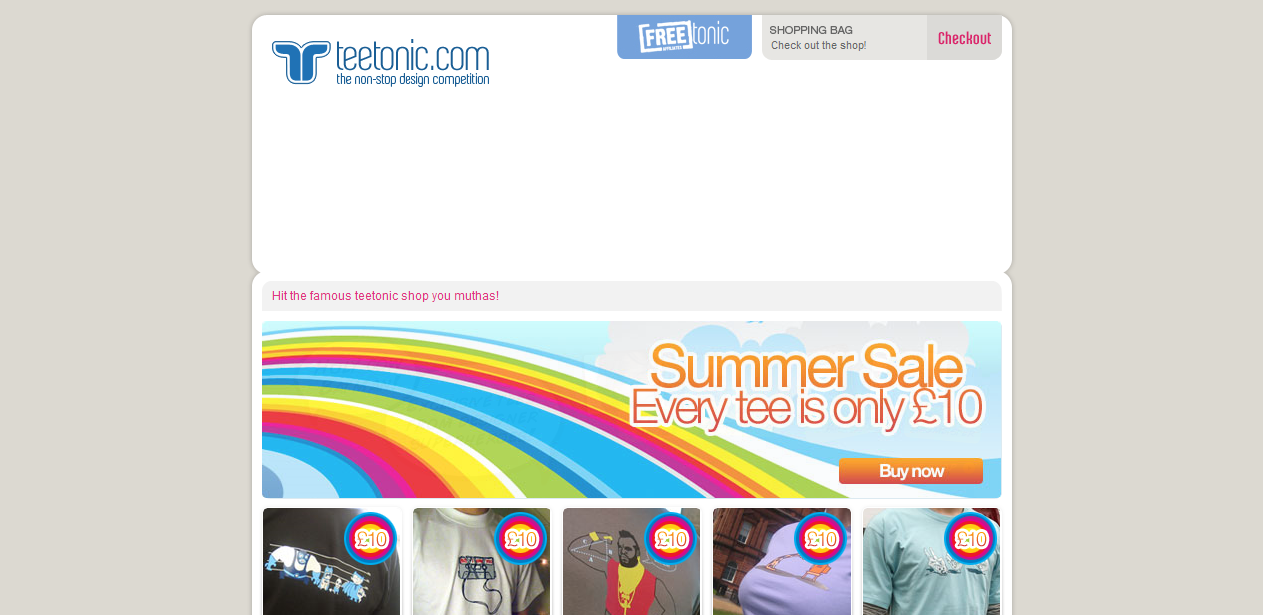 La Fraise
This is kind of like the French version of Threadless.

Enclothe
These guys don't accept unsolicited designs, but they are always on the look out for new artists. Feel free to send them a link to your portfolio.

Blank Clothing, Vectors and Templates
Spend any time looking for these online and you will realize just how hard they are to find. Luckily we've created an awesome blank t-shirt pack. If you have happened to miss this, you should seriously check it out. Aside from the product shout outs, there are also some round ups of free t-shirt vectors and more.
Included in this list are some great site for finding quality vectors, both free and paid, for helping you create your killer design.
Inspiration
Are you having a tough time coming up with an idea for your next t-shirt design? Then check out this collection of some of my favorite t-shirt designs. These designs have come from a variety of designers and websites. Hopefully they will get your creative juices flowing.
Zombi Zombie

The Old Man in the Sea

The Audacity of Joke

Altitude Sickness

Pen Tool Sun

Royal Hush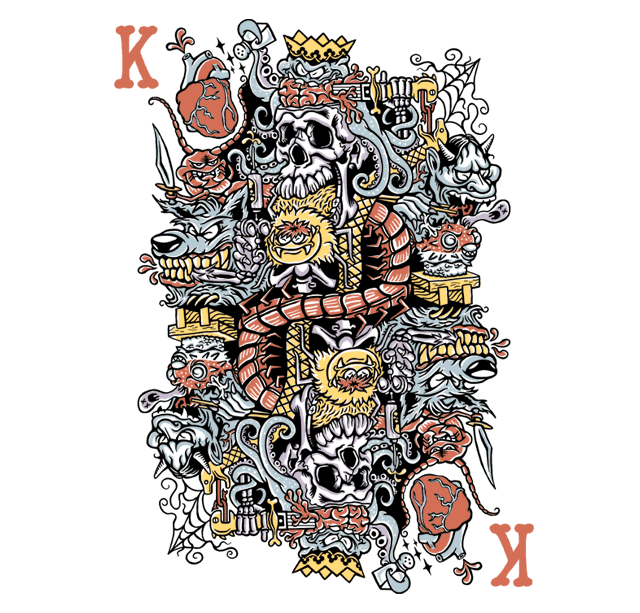 Ninjas vs Luchadores

Flowing Inspiration

Amazon Addiction

Tutorials
Looking to up your t-shirt design skills? Or maybe you are just learning the ways of the business. In this collection of tutorials everyone from the advanced designer to budding newbie should be able to find something interesting.
Add to the List
What do you think? Do you have or know of any other great tools and resources for t-shirt designers? If so, lets us know by leaving a comment below.
The Grid
Now that you have your font pretty well figured out it's time to get into the computer. First things first, setting up Illustrator. I like to first turn on the grid. This is the easiest way to transfer your font from the grid paper to the computer. To turn on the grid go to "view" under the menu bar, then "show grid". Once you have the grid on you should turn on the rulers (also under "view"). Make sure to adjust your rulers to points instead of inches or whatever your default is. Just right click on the ruler and select "points". The reason you want to be working in points is because that is the measurement system that fontlab uses too. Now what I do next is to figure out the height of my cap height, ascender height, median, baseline, and decender.

Now as a little refresher from our last tutorial remember that the cap height is just under the ascender height. The median is about 60 percent the total height between the baseline and ascender height. Might need to use a little math here; take your total height and times that by .6 and that is going to be your median. This isn't an exact rule but traditionally that is where the median is placed. The height of your characters should be about 700 points high. I've noticed that sometimes when you import a character very small fontlab doesn't perfectly paste the character's nodes. If you have a character with lots of rounded areas sometimes fontlab will paste nodes weird. There is only a slight difference but it can be a bit annoying. Make sure you NEVER scale up your font once you get into fontlab.
\
The Font Toolbox
Alright, now that you are all set up it's time to get crackin'. How I start out is making a font "toolbox". What I usually do is make a variety of different forms that I'll use for the rest of the font. This way you make sure that all the forms are completely the same. Here is an example of a font "toolbox" that I use to make Usonia. Amazingly you don't need that many pieces to create a font. If you are making a script font a toolbox probably isn't going to work well. What you might want to do is simply scan in the grid paper and trace directly into Illustrator.
Every font is different with different accents you may want to add to the characters. The best thing to do is to figure out what pieces you'd like to use pretty regularly and make the shape. The key here is usability, try and make the shape as usable for as many characters as possible. These are the types of shapes I make: stroke, serifs, shape that connects strokes, additional accent pieces. There isn't a hard and fast rule to making certain shapes, just make pieces you see yourself using a lot. Cool, now we are good to go onto putting together the letters.
So what I do at this point is refer back to my drawn shapes I made before, this is basically like my blueprint for the characters. What I do is copy and paste the pieces out of the toolbox I think I'll need to start arranging them into the characters. If you find that you need to make a stroke make sure that you expand the stroke so that it turns into a shape. To do that go to "object" then "expand". A little window will pop up that asks if you want to expand the fills the strokes. Just click OK.
As I am working on a font these are some of the most common tools that I use:
Transform: Sometimes you want a shape to not change size, just orientation. Use "object" then select "transform" from the drop down menu. You'll have all your options there to pick whatever you'd like to do. It's a lot faster than trying to completely redraw your shape!
Direct Selection Tool (open arrow): I use this tool a lot if I want to delete or move particular nodes.
Pen tool: I use this a lot to make extra pieces. I like to make rounded parts of my letters a lot so I most often use the pen tool for those. If you want to make a rounded corner then click in one place on your canvas, then try and pick a place diagonally away from that point and hold down your shift key and drag and it will use only 90 and 45 degree angles to make the curve.
Zoom tool: Really zoom into your font to make sure that all your separate pieces are lining up right. I usually zoom into my font for fine tweaking whenever I am moving a piece into place.
Once you have assembled all your pieces together you're almost done. Make sure that all your strokes are expanded and you're ready to merge the shape together. If you don't expand your strokes you will run into issues since fontlab doesn't read strokes, only shapes. It will see a line but nothing filling in that line, so strokes in fontlab just look invisible. So now that all of our strokes are expanded we can merge the shape. Open up your pathfinder tool. There are several different options you have here. The one you will most commonly use is "merge". This one takes all the shapes you have selected and merges them into one shape. To help avoid problems later on its best to just merge in Illustrator and get the font looking EXACTLY how you want now. I only like adjusting kerning (space between letters) in fontlab.
Now let's say you want to make a grunge looking font. Grab one of our grunge vectors and you can overlay that on your letter. Now with both selected click in the pathfinder tool "minus front". Generally this should work for you but honestly I've noticed this tool is a little funny. If this doesn't work or subtracts pretty much your entire letter then try another tool or select only part of your letter with the direct selection tool and try it then. Sometimes a process of elimination works best.
Ok now that you have all of your shapes together it's time to do a little cleaning. So what I've noticed with the merge tool is that it will add extra nodes sometimes to the shape. What you have to do is zoom way into your letter and, using your pen tool, delete these extra nodes. This may seem sort of tedious but sometimes fontlab can make your letters look jagged so getting rid of these extra nodes leaves you with a smooth curve. What we're trying to do is make sure that the font is as PERFECT as possible before you get into fontlab. Once you get into fontlab, believe me it's all downhill from there!
So once you have done all of these steps for every character you're probably pretty tired! Making a new font is a LOT of work. So take a quick break, and grab yourself a little snack! Once you're fueled up it's time to make your characters huge! I've noticed that fontlab has a default size of 700 points tall. So you could start out at that size. Make sure you grab ALL of the letters and special characters and size them all at the same time. You spent all that time getting them perfect, the last thing you want to do is size them up individually and then they're all different sizes. Amazingly you can really tell if some letters aren't the exact same size. Keep in mind that it doesn't matter if you go outside the canvas area, since you're not printing this it doesn't matter if the characters are all inside of the live area. Usually when I size up my fonts they go pretty much to the end of the entire work space! What I usually do is turn on my rulers and put guides at 0 and 700 so I know exactly how large to make the letters. Well that is pretty much it for Illustrator.
Now we're ready to get into fontlab so get ready for the fourth and final installment sometime next week!
Discounts
Last week Go Media's Arsenal released Tennery & Ladies Short Sleeve Templates. This week Go Media has two major resources to announce – Vector Pack 13 & Fingerpaint Textures! To celebrate the new packs, we're sharing the discount code usually reserved for existing customers only. So, when checking out, just use the code: thirteen to get 15% off the already super low price. We know times are tough, but that shouldn't mean you have to go without the latest design resources! Hope this discount helps. Be sure to use it right away because the code will expire in two weeks, on November 28th.
Freebies
It wouldn't be Vector Pack season if there wasn't a freebie involved! Here are seven pieces from the new Vector Pack 13 – my favorite from each pack. Each set has a lot of variety, and it was hard to pick a favorite! Definitely check out the real thing over at the Arsenal.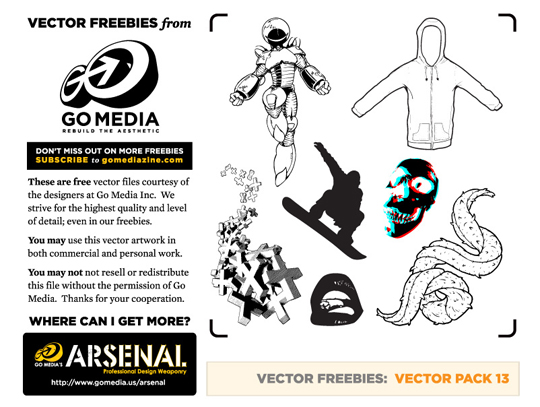 [download#29#nohits]
BONUS: We're also giving away two hi-res freebies from the new Fingerpaint Texture pack! If you've downloaded either of the Watercolor Texture Packs, you know how useful these things are.
[download#30#nohits]
Hey Everyone! There have been some requests to see updates on the office construction. We ARE in the new office! Everything is not done yet – but it's about 90% done. I'll try to keep the text in this post fairly light and just show you as many pics as possible. You'll notice there is lots of extra room. I wanted to make sure we built a space
Watch out! It's Big November at Go Media – and that not only means tons more awesome design resources to spice up your upcoming projects, but a whole new & improved Arsenal.
We're kicking it off with the Tennery Typeface and latest installment of Apparel Templates.
Tennery

I remember when Oliver started working on Tennery last summer. I was a big fan of it even in the early stages, and I think it shaped up into an incredible typeface. It's really unique and yet totally applicable – and comes with three weights plus oblique versions. The lower case 'y' in Tennery is one my favorites. Definitely worth checking out.
Ladies Short Sleeved Templates
You may remember that last month the Ladies Long Sleeved Template Pack was released. Jimiyo wrote a pretty sweet tutorial about his process for mocking tees back then, but he was actually using an early version of our Ladies Short Sleeved Templates . A lot of you commented wanting to know when those would be available. Well today is the day!
We listened to your feedback about our first Apparel Template Pack and made a lot of changes for this latest version. They're now in PSD format (no more Tiffs!), have layers that make it even easier to change the shirt color and new highlighting (in addition to shadows). The biggest change is probably how much easier it is to paste 'Your Art' right into the shirt area. No more mask dragging. Just paste & go.
Arsenal 2.0
Finally! We're getting really close everybody. We've totally outgrown the current Arsenal, and we're pretty pumped to be able to do a better job giving you fresh design ammunition. So get excited for more reliable downloads, forums, better search, and user accounts!
We're opening the flood gates on new design resources. Look out for a ton of new stuff this month!