Articles by Month:
October 2011
It takes a positive perspective to start a new company. And as a lifelong entrepreneur, I'm the very first person to advocate starting your own business. The up-side of being the owner of a successful business is amazing. And even in failure there is a wealth of knowledge to be gained. But, before you cut a check to your favorite designer, you owe yourself a reality check. It would be my pleasure to provide you with a startup-smackdown.
Your product is not special. And your financial projections are funnier than most Adam Sandler movies. And if you don't build your company properly you'll destroy your credibility, health, and friendships.
Let's assume you've got it in your head that your new T-Shirt Co will be bigger than TapouT. I know right, you actually believe that. Smack yourself back into reality by asking yourself this simple question. Why would anyone buy your T-Shirt? What makes you special? Does your design contain wings, skulls and chains? Smack yourself harder this time – think Tyler Turden smackdown. Guess what! Your design is not unique, compelling, or special.
First rule of Startup… Get A Story, Get A Life.
Unless YOU have a compelling story to share why anyone should care about your crappy T-Shirt and it's lame design, you've got nothing.
Don't despair. Think! Do you have something in your past or current life that you can spin into a story? Were you working out at the gym, forgot to paste on the Old Spice and repelled your future girlfriend? Then, after you got home and smacked yourself – your brilliant business idea hit you back. Bake the deodorant into the shirt. ("it's in the computer" – zoolander) After becoming a bathroom chemist you stumbled onto the perfect scent for your new line of t's. Thus, SmellyT's was born. Your first instinct is to run to your local lawyer and whip up a New Co., register trademarks, and maybe even a patent. Don't! I'll explain why in a future lesson.
Lesson Summary: You are the story. If you don't have one, get one.
Now that you have a unique story, you need to start telling it. Continuing with TapouT as our success model, understand these guys sold shirts out of their car trunk at local MMA events. If you own a car you have your storefront. Before we go further, understand selling is your next lesson. Don't fantasize about selling a million shirts a month at this stage. Sell 100 and that is traction. You're pretty depressed and isolated so you've only got two friends. That means 98 strangers bought your shirt. Success! Do you see why putting together psycho financial projections will ruin your credibility? Your excel file has you selling a million shirts but in the real world you sold 100.
Lesson Summary: Sell first, and then figure out how to scale.
Marketing is a key component to selling. So whom are you going to sell your SmellyT's to? Make a list of five potential markets that would be interested in smelling good while wearing your shirts. Here's my fictitious list:
– Bums
– Athletes
– Construction Workers
– Firefighters
– Garbage Men
Okay, so now you have a list of potential markets. Systematically remove each market based on the level of competition in the space. Using the athletes group we can break that into MMA and you'll find TapouT. And they are first so you will be last. Remove the athlete's category.
Bums! No money equals no sales. Remove the bums.
Construction workers. Now this is interesting. These guys love t-shirts and work up a killer sweat. Let's look closer. How do we find these guys? Local unions, yes. But that seems like a lot of red tape. There must be policies about marketing to these folks. Even if you got a foot in the door you'd be spending more time talking than selling. Let's mark this category as a maybe and circle back.
Firefighters is our next potential market. Hum! Lots of them. They wear shirts with logos and large fonts. They sweat like hell, and they just so happen to be easy to find. I think we have got something here. Long shifts, hot firehouses. They like to workout in their downtime. I bet these guys like wearing the same style shirt day in and day out. That means they will probably be repeat customers.
Let's skip garbage men and review the lesson: Be king of one hill. Get laser focused on your customer before trying to scale.
Summary Points:
1. Every good company is built on a unique passion that takes the form of a story. Work on crafting your story. It need to be genuine, and resonate with your target market. Tapout is a great example. These guys passionately followed MMA even before it was popular, selling t-shirts out of their trunk. THAT'S a great story.
2. Don't waste time counting money you haven't earned yet. Focus on selling. You have a lot to learn. This is real the real work begins. Pack your shirts in your trunk, hit the streets and make one sale. Repeat until you've learned what process works very well. Only then should you work on financial projections, get loans and scale rapidly.
3. Mass marketing is expensive and ineffective for a start-up. In order to advertise effectively you need to first identify your market. One piece of major consideration when deciding on a market is the competition. So, you're going to have to do some research. Once you've selected a market you can create compelling marketing that speaks directly to one audience that isn't being addressed. That's a recipe for success.
Part Two coming soon will feature:
4. Securing funding
5. Living lean
6. Scaling success
Want to learn more about winning in business? Want to smack around your competitors? Get in touch with the Startup Smackdown team.
About the Author
Mike Greeves is the creator of the Startup Smackdown and the founder of HyperStrike.com, Workout-x.com and immortals-workout.com. Mike built his technology startup using grinding persistence, making it into the leader position in a down market by outsmarting the competition. Mike serves as an advisor to a number of Silicon Valley startups.
Go Media president Bill Beachy sits down to give you some daily inspiration and advice. Bill shares his years of experience building Go Media into the company it is today. Topics in this video series include Getting Started, Happiness, Humility, Patience, Flow, Focus, Productivity, Business Systems, Courage, Eating Well, Obstacles, and Creativity.
For more information about Bill Beachy, check out his bio on gomedia.us. Bill is currently accepting opportunities to speak at your event, university, or business.
View all episodes of Daily Inspiration here
Sponsored by Prooflab
The Daily Inspiration video series is brought to you by Prooflab – a client and project management app built and used by Go Media for designers.
Hope you enjoy the video!
Or download the podcast
[powerpress]
Categorized:

Design Community, Graphic Design, Graphic Design, Graphic Design Inspiration

Tagged:

advice, art, cleveland, complacent, courage, focus, happiness, help, humility, leadership, lull, patience, podcast, productivity, starting out, strategy, tips, Video, video blog, William Beachy

A presentation
Hello folks. Simon here. Today, I want to introduce you to the visual world of Flickr member Les Brûmes (The Mists in English). I came across her work via some inspiration post on Abduzeedo or another blog out there a while ago, and haven't stopped following it since then. I invite her to add her work to the Go Media Flickr pool, which she does regularly.
Linda is a visual artist from Quebec, Canada, born in 1965. I don't think I'll be able to let you know more, for the only reason that I don't know more. She politely declined my interview request, explaining that it was pretty hard for her to put words on her own work.
The reason why I wanted to share her work with you is quite simple: it's beautiful. She mostly work using the collage technique: assembling bits and pieces of images, text and other elements to create often dark and mesmerizing works of art. Each of her pieces has various layers of meaning.
Alongside her photography work, that I'll showcase some examples as well, she managed to build a coherent yet extremely varied body of work.
Her photographs are really poetic, giving a new and almost dream-like dimension to the environment of day to day life. It seems to me there are other underlying themes in her work, such as death, time that passes and can't be recovered, aging…
The selected works
Some of her photo series
"Octobre et ses dentelles"
"Dans notre maison, il y a…"
"Les liens"
"Eau"
"Noir et blanc"
Some additional notes
This concludes this feature of Linda's work. I hope you liked it and had as much interest discovering her universe than I did. Also, you should check out some of her texture sets…
Hi, I'm Franz — a London-based freelance graphic designer and founder of the design blog Fudgegraphics. As a personal project, I create a new desktop wallpaper each month featuring the current calendar month. It's a pleasure to share some insights into the creation of  "Rise – June 2011 Calendar Wallpaper".
Something that I want to make clear from the start is that this is not a step-by-step tutorial, but rather a case study showcasing some of the techniques used. It wasn't easy writing this article, mostly because all of my personal designs are what I like to call "happy accidents". Hopefully you'll learn some new tricks and techniques in Photoshop. Most of all, I hope to inspire you to experiment with your own ideas.
I've used some of my personal photographs to create the design which is why I won't be able to make them available. The first two photographs were taken at PS1 in New York when I visited in 2009. Browsing through my photo library I thought that these images would make a great starting point to experiment with different blending modes and see what I can come up. So, let's get started.
Part 1: The Base Photos
We'll start with the yellow corridor photo. Open it in Photoshop and duplicate the layer by pressing Cmd (Ctrl) + J. If you take anything from this article, let it be this keyboard shortcut. It's such a timesaver! Next, we import the green corridor photo. The idea was to blend the two photos together, in order to do so I duplicated the layers and changed the blending modes as well as opacities. In the screenshot below you can see the actual layer order with their respective values. Soft Light, Screen & Multiply are my go-to blending modes and this design was no different. This stage of the process is very experimental and you should try out which combinations of blending modes and opacities work for you.
Not entirely happy with the overall feel of the design, I decided to add one more photo to the mix. This one was taken in Central Park during the same trip to NY. A simple Soft Light blending mode at 20% was all it needed to give it some more organic randomness.
That's more like it. Now select the whole canvas using Cmd (Ctrl) + A and hit Cmd (Ctrl) + J. This handy shortcut combo copies a merged version of the visible design and pastes it into a new layer. Using a black & white adjustment layer I created a desaturated version of the design on a new layer. Move the colour layer on top and drop it's opacity to about 50%. This wraps up the first part.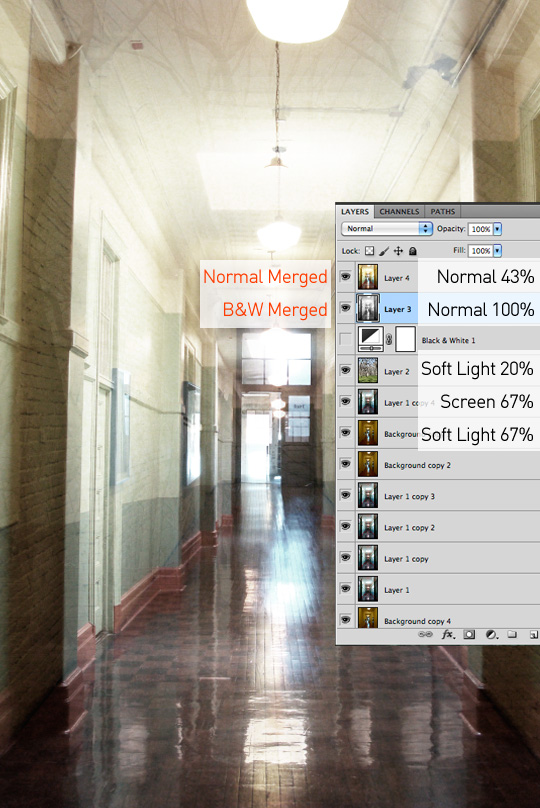 Part 2: Desktop Wallpaper Design
Next we create a new document at 2560×1440 (this is the largest the wallpaper will be and allows us to crop it down to smaller screen resolutions). As a seasoned wallpaper designer I have a Photoshop template file at hand with all the guides for different resolutions in place. This is available to download at the end.
We'll start with a blurry blue/green background. There's many ways to achieve this effect, I opted to use a yellow scenery photograph as the base file. Working with photos always add a more realistic randomness to your design. The screenshot below shows how a Gaussian Blur combined with a Hue Adjustment Layer (set to colorize) turns a landscape photograph into a nice background. Note that the photo and adjustment layer are linked, but not merged into one layer. This allows for subtle colour tweaks as we built up the layers. It's always best to work in the least destructive way so that you can go back and easily make changes.
The image below shows the colour that I liked the most.
Part 3: Combine the files
It's time to import the previous image of the "corridors mashup" as I like to call it. The easiest way to do this is to select all with Cmd (Ctrl) + A and copy (merged) using Cmd (Ctrl) + Shift + C. In the wallpaper file hit Cmd (Ctrl) + V to paste it into a new layer. Convert the new layer into a smart layer which ensures that we never lose any detail! Align the layer so that you can see the bottom half and change its blending mode to Soft Light at 50%. Duplicate. Now move the top half into frame. Duplicate once again and this time use the Free Transform tool (Cmd/Ctrl + T) to scale the image up.
Another technique I use is to invert the image using and adjustment layer combined with a mid-opacity Soft Light blending mode. As said before, this is all very much experimental and each photo will require different opacity levels and blending modes. Don't be afraid to overdo some of the effects, you can always go back and reduce the opacity of layers as you build up.
Below you can see a breakdown of the layers order. Once I had the overall feel I was going for I inspected each layer individually, changing the opacity and trying out different blending modes. That's a thing I always do, just making sure that I got the best possible result. Sometimes a 5% opacity change makes a huge difference.
It's always a good idea to keep your Photoshop file tidy(ish) as you work. So take all your current layers and put them in a group called "Background".
Part 4: Adding Shapes
Next up we'll add some squares to the design. Use the shape tool draw a black rectangle. Set the layer's opacity to 20%. Duplicate and scale down. Repeat until you have 4 squares. Select these layers and align them at the bottom right. That's your upper left quadrant. Group the layers and duplicate. Rotate by 90 degrees. Use the move tool (V) to place this in the top right quadrant. Holding Shift while moving will ensure that you only change the horizontal position, not the vertical one. Repeat these steps until you have the four quadrants. Go back into your layers and hide (don't delete) some of the squares. The image below shows my selection.
Put all the different quadrants layers into a new group and set its blending mode to Soft Light at about 60%. This will add some more contrast to the centre of the design.
I made a few more tweaks to the background such as reducing the opacity of a few layers. The key, as always, is to experiment. I can't stress this enough. The resulting background design is shown below.
Part 5: Mountain Tops
While I was happy with the overall feel of the design, there was still something missing. A quick search on a stock photography site yielded a nice photo of a mountain top. In order to keep with the symmetric theme of the design I took the mountain top photo, duplicated it and flipped it along the vertical axis. Using a Hue/Saturation as well as Curves Adjustment layer the background (sky) was brightened until it was white. Now all that was left to do was to set the blending mode to Multiply to knock out the white parts and blend the rest of the mountain nicely into the background.
The last graphical element to be added are the circles. Just like with the squares, these are simple shape layers with different colours and set to different blending modes at a low opacity.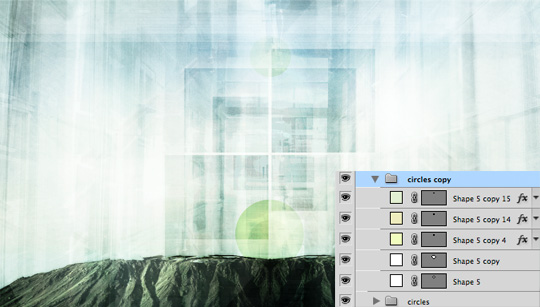 With the design pretty much done I realised that the squares were a bit too prominent for my taste. That's an easy fix though. Simply select the squares layer group and reduce its opacity. The preview below shows a few extra layers which I won't go into. These are very subtle additions and don't use any new techniques.
Final Wallpaper:
There you have it. This is the final wallpaper design featuring the June 2011 calendar. It's available without the calendar in most common screen resolutions (including for the iPhone and iPad). If you like it you can download it here.
I really hope that you enjoyed this case study and maybe learned a new trick or two. Feel free to ask questions in the comments. I'll check back often and will do my best to answer them.
Bonus: Wallpaper Photoshop Source File
If you've been inspired by this case study and want to design your own desktop wallpaper then I got a present for you. Exclusively on GoMediaZine you can download the psd file with all the guides for different screen sizes. The following resolutions are included: 2560×1440, 1920×1200 (suitable for 1440×900), 1600×1200, 1280×1024, iPad and iPhone 4 (retina display).
[download#77#nohits]
Written & Designed by:Raji Purcell
Edited by: Jon Savage
Photography by: Pablo Contreras
How does design set the standards and affect our surroundings? How does this in turn change the overall mood of people? As a designer, what power do I have to influence culture and make the world feel a certain way?
All of these questions I've certainly gone over in my head. I've heard my teachers gloss over them. My friends and I have discussed them in brief over dinner. But it took Ken Hejduk's talk at WMC to make me really consider it as deeply as I should have. It's one of those things you hear a hundred times, but then someone new says it to you and it clicks. Ken made a light turn on it that day. His talk wasn't a lecture, it was more someone presenting a discovery they had made. We all seemed part of the discovery together.
Ken not only gave a deeply fascinating talk that day, but was very open to discussing pretty much anything and everything with me for what seemed like a good half hour extra. It was great to talk to someone so approachable and really get inside his head. I'll talk more about how he finds inspiration, and what advice he imparted to me at the end of this article.

Who Is Ken Hejduk?
Ken is a part owner of Little Jacket, a design firm in Cleveland Ohio—where he was raised and eventually attended Kent State for design. His skills range in every medium of design to furniture building, and he's even been a chef! In a few words I'd say he's soft spoken, passionate, and wise. Someone I was certainly happy I had decided to talk to.
Here's What Happened:
It would appear that the Weapons of Mass Creation speakers were doing nothing but getting better and better. I sat feeling like such a child of design, allowing the more experienced and wiser to give me more advice and inspiration than I knew what to do with at times.
From here it only got better. When Ken Hejduk took the stage, he immediately took a different stance by beginning to talk less about design. He referred to design as a thing that people do on their computers by themselves. He talked about it as an entity that influences culture and the masses on every level.
Ken opened saying:
"I thought I'd talk a little about not the general state of design, but whether or not design matters."
I felt that posing this question seemed incredibly crucial to how this entire talk would influence me. Right away he got me thinking about what he was saying and trying to answer that question for myself. The fact that he too asked himself this often, gave me relief and a commonality I would not otherwise feel with such a design veteran.
Ken continued to explain that sometimes we do work and we kind of wonder what happens to it and whether or not it was meaningful. His conflicted feeling was only augmented further by the cheap feel of advertising. He questioned the impact of design, and what its purpose is.
Ken Hejduk at WMC Fest 2011 from Go Media on Vimeo.
Continuing from this Ken fervently pushed that, "Initiative matters," and that when, "…you take the time to care, people notice." At this point in time the talk became very attention grabbing for me as he discussed Little Jackets' new hires and how zealous they are about their work, going above and beyond by taking the time to really explore problems with each project. Further piquing my interest he talked about discussions he had with various industry professionals about what it takes for a design student coming out of school to get a job.
"A good portfolio is expected, its when you take the initiative to put yourself in situations to make yourself better, challenge the status quo, look harder for an answer. That's the type of things that other professionals are looking for."
A good piece of hard hitting truth for me to think about since this will be my position come May.
Ken then began to discuss the opposite of worrying about getting hired — creating something for yourself. Such was the case with Little Jacket, which started out when Ken and a few other grad students (including Mikey Burton) decided that they wanted to learn to screen print and make some gig posters. And, like many other designers such as William Beachy and Jeff Finley, this is how they got their start.
"Before we knew it the phone was ringing and we were scrambling to come up with a name, and file papers so that we could legally collect money. In grad school we had started a business. Really it was just a stupid little creative initiative that dictated our path for us. Saying alright you don't really have to look for a job out of school you just created something for yourself."
Just another one of the many times I'd hear a story like this at WMC and be frustratingly inspired to do the same. I supposed then that this theme of creating something for yourself or teaming up with friends would become an overarching theme. Maybe a key to success if such a thing exists.
Ken continued his story of the origins of Little Jacket, explaining that after they acquired many jobs for musicians they started sending out hand made promotional packets to get work outside of the music industry. As they got new and different projects, design started to take on meaning to them. They were making things around them better, and contributing to worthy causes like an adult spelling bee to raise money for charity. Eventually, much to their surprise they even got Roger Frank, a designer with far more experience than them, to join their forces.
Ken then switched gears to get into the main subject of his talk. Explaining that just after Jeff Finley asked him to speak at WMC Fest, Ken and his wife had made a trip to Toronto, Canada. This is where a revelation grew inside of him.
"It just blew me away… I was blown away by the attention to detail of so many places. I'm in the middle of this dense urban area and there was a field of flowers and it was amazing. I thought to myself, that's smart, that's good planning, that's good design."
Soaking in the aesthetic quality of the atmosphere of Toronto had inspired Ken and filled him with creative energy. He took to the city like a detective, and dissected what made it a great city to him. He found that it was the little things. The small initiatives that improved the quality of life overall and were a parallel to the kind of qualities that made a good designer in his eyes. Attention to detail, and going above and beyond. As if the atmosphere and well planned out areas for people weren't enough to inspire Ken, he picked up Toronto's weekly circular called the Grid. Ken could not believe how well it was designed for something so local.
"This is when it hit home to me that when you set a certain standard, everybody follows. Every last infographic, every little illustration, every block of type, everything was done with so much care. I couldn't really believe it."
With this in mind and frustrated by his local design community he decided to move back to Cleveland, feeling as though there was a sort of design renaissance happening there and the standards are being raised.
To further push his point, Ken discussed a collaboration project he did which involved a survey asking younger people what would make Cleveland cool. What he found was that all of these people who weren't in any way designers really wanted high design things. And what they determined was that smart (design, planning, transportation, etc) was equivalent to being cool. Stating that even though design is a broad field and most of the people in the audience are graphic designers, he felt as though we still make a large impact on what surrounds us. Many feel that they do not have the power to make any change in the community because they don't have a voice or that somehow the government is surprising their ability to do anything. However as creatives we are the ones that change culture and influence what is around us.
The cities where there are microcosms of intellectual, cultural community is where the most design innovation happens. The successful cities are those where the creative class spurs regional economic growth. Embracing the creative class is important, but we as creatives must take to initiative.
"The world around us — even the small world around us, needs to be better."
It's the designer's job to ask, "Do we want to look at something poorly designed or well designed?" We have to say that we're not going to settle for bad design, we want something more unique or innovative. This creates places where the community wants to gather and that, in turn, makes the environment better.
"That's where design and initiative do matter. So, you should give a damn and you should raise the standards, because slowly you'll change the world around you."
I had the great opportunity to talk with Ken Hejduk after his presentation. It was a great experience for me and I couldn't have been more appreciative that he took the time to just chat about life and design. We probably talked for a good thirty minutes, but I asked him two questions I wanted to put in my article. I first asked from where he draws inspiration; secondly, I asked his advice for young designers like me.
Inspiration:
Ken shared with me that a lot of inspiration, for him, comes from history. Ken told me he is fascinated by anything with a long history, such as a city. And, the cultural stories that come out of that. Beyond that his wife, kids, and the people around him are what inspire him daily. He also often looks at old, simple designs for inspiration.
Advice:
"Don't be afraid to fail. Just try things. It's okay to fuck up."
Thanks for chatting Ken!

Listen to the Talk
As I watched every talk, I kept Garage Band open on my MacBook and recorded everything I could. The quality of the mp3 below may not be the best, but you can get an idea of what it was like from my perspective in the front row. Bootleg version!
[download#76#nohits]
Yo! Jesse Jusek here with my very first post for the GoMediaZine! I recently had the opportunity to do an interview with illustrator/designer Chris Parks of Pale Horse Design. Chris has been creating bold and vibrant illustrations and design work for companies such as Hasbro, DC Comics, Wired Magazine, World of Warcraft, Harley Davidson, Iron Fist, Red Bull, and Dean Guitars.
Ladies and gentleman, Chris Parks!
GoMediaZine: First let's ask the real tough questions! Who are you and what do you do?
ChrisParks: My name is Chris Parks. I am an illustrator / graphic artist and I run a design studio called Pale Horse in Tampa Bay, Florida.
GMZ: How did you first get interested in design/ illustration? Has it always been something that you have been passionate about or, was it more of a gradual realization?
CP: I've always just wanted to make a living doing something I enjoyed and not hate getting up every morning. Fortunately, I found my passion for art and design early in life and have been doing my best to master it ever since.
GMZ: We have all worked on things we have LOVED to do; what was your most favorite project to have worked on/been a part of? What set that apart from everything else?
CP: I've recently started working with a movie company called Indomina in Beverly Hills and have just completed a movie poster illustration that will be coming out soon. The project is for a really fun Chinese martial arts / fantasy movie release. I've always wanted to get into creating movie posters, so I'm really excited about that one! I've also recently had the opportunity to create artwork with Hasbro for some of their brands like G.I. Joe, Star Wars, Transformers, Kreo and Tonka. It's always a lot of fun working with names that were a big part of my childhood. Those projects are definitely in the labor of love category!
GMZ: I know for a lot of designers have various ways of fleshing out their ideas; mind maps, sketches, notes or, even straight to the computer. What is your creative process like? Where do you typically draw inspiration from?
CP: My best ideas usually come when I'm not trying too hard to come up them. After some initial inspiration, I usually start with a good amount of research on the subject and digital layout sketches before getting started on the final artwork. My preferred illustration method is drawing with my Wacom Cintiq tablet, using Adobe Photoshop and creating typography in Adobe illustrator. A lot of my inspiration comes from travel and a fascination with various cultures, early art religion and mythology. I often take the most interesting elements from each and mix them together to create new imagery combined with my own elements and style. When I get a new idea in my head, I can't wait to get back to the studio to start drawing it up.
GMZ: There can sometimes be a lot of obstacles involved with being a creative professional. What has been your biggest challenge? How did you overcome it?
CP: I'd have to say that the hardest part is mixing creativity and artwork with the fact that you also have to run a business, pay taxes, make payroll deposits and keep up with all of the other things that come along with owning a studio space. Making art is the fun part and all that other stuff sucks! I've gotten a lot better at it over the years and the best thing I've done was to hire a good bookkeeper to keep me in line and make sure everything is taken care of.
GMZ: Music seems to be a HUGE influence on what people do, and how they do it. Do you have a favorite artist/genre that puts you in the zone? If so, who/what is it?
CP: My favorite music genre is stoner rock / metal. Bands like Big Business, Clutch, Torche and The Sword usually do the trick. I also listen to a ton of audio books and pod casts while I'm working late nights.
GMZ: What was it like for you, working as the Graphic Design Director, at Robrady Design?
CP: It was definitely crucial to get the design agency experience under my belt before venturing out and opening my own studio. At Robrady, I managed the graphic design department for four years, designing instrument panels and speedometers, graphics and colorways for watercraft, logos, consumer packaging, websites and product graphics. Some of the clients I got to work with were Yamaha, Polaris, Segway, AT&T & Dell. The coolest project was designing the logo, graphics and instrument panel for a fully electric superbike called rMOTO. It went from drawing, to clay sculpture, to working prototype all inside the studio. That bike is wicked fast!
GMZ: When you set out to go solo in 2006 what was the deciding factor? What made you realize that this is what you wanted to do?
CP: During my time at the design agency, I spent my spare time (nights and weekends) creating t-shirt graphics, logos and typography for surf and skate brands and anything else I could get my hands on. I really enjoyed the freelance work I was doing and though it was a huge risk to step out on my own, I valued the creative freedom and opportunity to be my own boss far more than the steady paycheck. It's definitely a constant hustle, but I wouldn't have it any other way!
GMZ: How soon after launching Pale Horse Design did you start to attract big name clients? How did it affect business?
CP: I've been freelancing full-time for 5 years now and I feel like I'm just starting to figure things out a bit and bigger clients are now finding my work on their own. It's really a great time to be an illustrator and clients of any size can work with really small studios like mine. I'm amazed every time!
GMZ: Is there advice you would give anyone who wants to start their own company in graphic design/illustration?
CP: Get a good bookkeeper and accountant early on. It will make your life a lot easier in the long run. Also, don't treat artists in your field as competition. Befriending and collaborating with other artists that you respect goes a really long way. I can't tell you how many times I've got projects or clients from other artist friends, casually putting in a good word here and there.
GMZ: What projects do you have coming up or, are you working on now that you are really stoked about?
CP: I've got a new exhibit in the works that will be opening in November this year called "Serious Sh!t". The show will be a 3-person exhibit with myself, Horsebites and EmBear. I can't wait to unleash the new series with these killer artists!
GMZ: Everyone has their own particular style and yours seems to have some very unique characteristics, both in subject matter and technique. How would you describe your work to someone who has never seen it?
CP: My style has developed and evolved over time and comes from a combination of different elements. Since I got my start in graphic design and creating screen-printed artwork for t-shirts, I tend to emphasize layout, use a lot of detailed, black linework and a limited, bold color pallet. I think that this, mixed with the fact that my first studio location was shared with a tattoo shop and that I create pieces both for clients and various gallery exhibits every year makes my work what it is today. I'd say that it's a mix of bold, colorful and detailed illustrations, combined with high-level typography and graphic design elements.
GMZ Lastly, if you could have any super power, even a really obscure one, what would it be?
CP I think time travel would be really rad!
If you like what you see check out more of Chris' awesome work on his portfolio, or scoop up some badass merch at his store. Thanks for reading!