Articles by Month:
June 2011
Written & Designed by: Raji Purcell
Photography by: Pablo Contreras
This is the first of many articles to come in a series of write-ups on the talks given at Weapons of Mass Creation Fest: Weapons Declassified. With this series, I hope to distill the essence of each speaker's talk and give an insight into what it was like to attend an amazing event such as this.
Here's what happened:
Still early in the day, just around noon, the Reinberger Auditorium was beginning to fill with eager WMC Fest-goers; all waiting to witness Go Media's very own Jeff Finley officially kick off the fest. Jeff walked on stage right at his scheduled time, stated his name, welcomed everyone, and asked "How many people really couldn't sleep well last night", not forgetting to include himself.
Admittedly, I also could hardly sleep the night before. As if it wasn't enough to meet such awesome designers during my internship at Go Media; I also had the pleasure of meeting a handful of the other designers who would be speaking and displaying their work at Wall Eye Gallery this year, and was about to meet other heavy-hitters from all over the country that I respect very deeply.
"I'm an artist and designer. I would call myself a Weapon of Mass Creation, because that is what I live for. Every single day I am creating something."
Continuing his speech, Jeff expressed his excitement (which rivaled, if not surpassed my own) and showed off some slides of his amazingly meticulous and textural illustration and design. He told of how he got his start in the rock poster scene and how that, in turn, inspired the fest's co-mingling of design, art, and music. Jeff has attended, sponsored, and volunteered at many different festivals from South by Southwest in Texas, to the Fest in my home-state of Florida. He explained to everyone that he didn't want to just do the same thing, he wanted to make it his own by bringing in his favorite bands, artists, and designers to Cleveland.
"Inspired by DIY Punk Rock culture, I said I'm just going to do it and do it my way."
Elaborating more on the criteria he used in picking the speakers and designers at WMC, Jeff outlined the roles of a Weapon of Mass Creation: Artist or Designer, Developer, and Entrepreneur.
He pushed this concept further, by urging everyone to get out and meet other designers in order to collaborate. He cited the efforts of such designers as Jessica Hische who create their own side projects not for money, but for notoriety (a suggestion that would be echoed by nearly every speaker to come). Jeff stressed that, though "we're all in the same industry, and we're all competing for the same clients, we should still collaborate and share secrets". He spoke about how more established designers should share with up-and-coming designers; whether this be in the form of a tutorial, or just being a mentor. He expressed that WMC Fest is a great opportunity to do just that: to meet designers and become their mentor, or collaborator.
I feel that he couldn't have been more dead-on about this.
Over the course of two days (not even including the mixer the night before) I met designers that I had previously only known because of their amazing work online – people that many outside the design community have never heard of, but that I treat as if I were meeting Picasso.
According to Jeff, designers like myself and the others around WMC Fest meeting will help grow our design community and economy.
"I feel like the economy within the art and design community is so prosperous…we all support each other's businesses and each other's projects. We're all supporting each other's economies just within the design community."
Jeff praised the WMC community for being full of self starters that take matters into their own hands, regardless of their job situation, and encouraged others to do the same. He said his personal catch phrase is "Defy the hand you're dealt," pushing for others to not wait for opportunities- but to make them! This was such inspiring advice right off the bat. Especially for me, being one of those up and coming designers- nearly graduated from school and looking to establish myself in this arena of design. I felt very motivated to do more with my skill set.
Jeff continued to speak about his aspirations for growing WMC Fest and the possibility of it being twice as big next year. He sent us off with the declaration that we should use the fest as an opportunity to party and celebrate each other and each other's work. With that; it was official.
I had the opportunity to speak with some other people in the crowd about Jeff's speech and WMC in general. I met Andrea Knapp, a high school student and aspiring artist/designer. She told me being a follower of Go Media, the tutorials in the GoMediaZine and the Arsenal, she was really inspired to see Jeff talk.
I also met a college grad and fashion/craft blog owner named Amanda Johnson who felt it was "inspiring to be with other self starters." She also felt motivated "to work on all the things in the back of her mind."
I felt a common bond with Andrea and Amanda in that I was just like Andrea in high school eagerly making art and following Go Media. Amanda made me remember that I too should be thinking about all those ideas I have in the back of my head too.
I started feeling that creative hunger that I love. I could tell this was the start of a great series of talks.

Listen to the Talk
As I watched every talk, I kept Garage Band open on my MacBook and recorded everything I could. So the quality of the mp3 below may not be the best, but you can get an idea of what it was like from my perspective in the front row. Bootleg version!
[download#71#nohits]
There's a lot of recaps being posted around the net from those who attended the 2nd ever Weapons of Mass Creation Fest last weekend. And I love it. I love seeing their photos and their stories. I wanted to post a recap, but not like everyone else of course. I wanted to post a recap from my perspective, the organizer of such an event. Coming off what I've been calling the best weekend of my life, I think I'm finally ready to put it into words.
This won't be a play-by-play of what happened and not a list of who did what. We have articles coming up that will be more in-depth, but for now, this is just my take as the organizer of WMC Fest.
The Raffle
But first, let me announce the winners of the raffle we had at WMC Fest. People stopping by the Go Media table in the gallery were able to buy tickets for the raffle. The winners are below:
Grand Prize: Adobe CS5 Master Collection
Winner: Michael Nilsen of Brecksville, OH
1st Prize: Ten Ton Training DVD Collection
Includes Ten Ton Photoshop, Ten Ton CSS, Ten Ton Dreamweaver, and Ten Ton Zen Cart
Winner: Tyler Powers of Ravenna, OH
2nd Prize: Thread's Not Dead ebook by Jeff Finley
Winner: Alyssa Welch of Moken, IL
Congratulations to the winners! We will be in touch regarding your prize. For those of you who didn't win, we're sorry – maybe next time!
So let's start form the beginning
Two years ago I had the entrepreneurial seizure to start a fest. A music fest at first, but after successfully throwing the Weapons of Mass Creation photo shoot party with some of our favorite artists, I decided to combine the two. Let's bring back those artists, but add bands and call it Weapons of Mass Creation Fest. Thus the idea was born. Click that link if you want to dig deeper into the values and motives for starting the first one.
Here's an interiew I did with Jay Delaney of Create the Map. This was taken during WMC Fest and describes a lot of what I'm going to say here. It's quite long, at 26 minutes, so you might want to listen to it while you work.
Setbacks and Doubters
In May 2010, the first WMC Fest happened. While it was amazing we pulled it off, we had some pretty major setbacks. We had to overcome such obstacles as losing our venue with 30 days left, our keynote speaker canceling the day before, and people questioning how "DIY" I actually was by combining commercial art with some pretty staunch anti-capitalist bands and fans. I also had doubters here at Go Media as I spent lots of on-the-clock time putting on a fest that was largely my own brainchild and interests. It was not a fest that was dreamed up from the labs of Go Media, it was a pure passion project of my own that bled into Go Media. Of course, if we all checked our passions at the door, Go Media wouldn't be where it is today. That's one thing that makes Go Media great, we care about our employees' passions and our company is structured in a way that allows for personal passion to bleed into the work day.
But the big question still remained. How can Go Media be a design firm AND also put on what people were describing as "Cleveland's answer to SXSW?". Seriously, this was hard! Talk about expectations.
Community Involvement
The answer was outside help and community support. We wouldn't have been able to put on WMC 2011 without incredible help from people OUTSIDE Go Media. Firstly, if we were going to make 2011 work, we had to divvy up the workload. We were passionate about art/design and we needed someone equally as passionate about music. That's where I found Jesse Sloan. Jesse contacted me years ago about doing work for his band Bethesda and while we never actually did, we stayed in touch over the years. He wanted to get involved in WMC Fest and told me he had put on A.R.M. Fest (a diy music fest) in the past. He had experience in planning something like this and also shared a lot of the same interests in music. I got along great with him and trusted he would do the music portion right. In fact, he ended up doing it better than I ever could have!
Teamwork. Collaboration. No joke.
If it wasn't for Jesse taking the music portion of WMC Fest and treating it like his own baby, we wouldn't have been able to book nearly half the bands we did this year. I had collaborated with some awesome members of the community for 2010, but this put it at a whole new level. I was unloading the entire workload of booking bands, paying bands, and dealing with all the stuff that goes along with it. That left me free to focus on booking speakers, curating the gallery show, and, well… everything else. It was still a lot of work, but I saw the vision and I just had to get there.
Seeing it all Come Together
I'll skip all the boring details and get into the payoff. The night before I was a mental wreck and not able to sleep. My wife Kim was stressing out as well thinking of things at the last minute. I got there to set up early the next day and Aaron Draplin rolls up early in his van and gives me a big ole bear hug. This was a great sign – my biggest speaker is here, and early! Fuck yes. My volunteers started showing up on time. Fuck yes. I explained the confusing-as-hell ticketing process, but they seemed to understand. I was so worried about this. But our first attendee showed up and I watched my volunteers get them in with ease. I was thinking "why did I imagine this would be so hard?" Everyone was smiling and excited, and even when there was a mess up, people didn't care. They wanted things to work and were really forgiving! The volunteers were bright enough to figure things out when I wasn't around, which to my delight made me able to enjoy the fest.
The Experience
So like I said, I had such awesome volunteers – and thanks to my wife Kim for making sure I had all the positions covered! This allowed me to roam free and be where I WANTED to be, not where I NEEDED to be. I could sit down and watch the speakers that I worked so hard to bring in. And if I felt like it, I could roll over and watch bands play at the Happy Dog and feel insanely proud that Jesse was able to pull off his portion. I don't know how to describe the feeling of it coming together. It's like graduating high school – you work so hard, and this is the pay off.
So I watched some amazing speakers, to which our intern Raji Purcell will profile each one on this site. Stay tuned for that. And I got to see some bands that I never even heard of that were fascinating to see. One of the hidden benefits of letting someone else book the bands who has better taste and passion for it than you do, you get to see some amazing bands you never would have discovered otherwise. In fact, Pitchfork even listed WMC Fest on their summer calendar. Fuck yes I say.
The Design Gallery was ridiculous. So many awesome designers in one place – ok that's not that new. Designers gather at conferences all over. But everyone here was buzzing because it felt like OUR OWN graphic design summer camp. We all did it together and it was like a big fat family reunion. And that's exactly what I'm looking for in a fest!
What to Expect Next
Like I said above, we've got some post fest articles coming your way. Profiling the speakers and their talks, the design gallery, and maybe the music portion. If you attended and took photos, please add them to our WMC Fest 2011 Flickr Pool.
I've always had a strange combination of passions – art and business. I don't think these two areas of interest are typically held by one person. But for me, they are. So, it was no surprise that when I started Go Media I was consistently thinking about the business systems side of being a graphic designer. How do we keep track of our projects? How do we track our time? How do we deliver proofs to our clients? I was anxious to start building these systems for Go Media.
The Zip Line
The first real attempt at building a project management system for our design firm was a zip-line. At the time (2002), our firm was just two guys operating out of the first floor of a beat-up old house. The zip-line was, literally, a metal cable that I strung across the dining room where we had our desks. From this zip-line, I hung clear plastic envelopes that held copies of invoices that I had typed up in Quickbooks. The details of the project would be on both the invoice, and a sheet of paper that I had at our meetings. Any client documents that needed to stay with the project were also placed in the envelope.
This seemed like a fairly simple and effective project management system. The problem was that this system was overkill for a firm comprised of two designers. I was spending a ton of time taking notes, typing everything up, printing it out and hanging it on the line. About 50% of the time, I was the one doing the work – there was no point in me documenting everything. I already knew what I had to do! And the other 50% of the time, I could have simply spun around in my chair and told Wilson directly what work he had to do. Essentially, it was a system larger than our firm. We learned then that company systems must grow with your firm. When you're small, you won't need many policies, procedures and systems to manage your design services. But as you grow, and get bigger – you'll slowly need to add more and more. So, we took the zip-line down and went back to our previous project management system – talking.
The client problem
Simultaneous to this project management system failure, we realized that we WERE having problems delivering proofs to our clients. For whatever reason, I still can't understand why, our clients were having a hard time receiving and opening .jpeg proofs from us through e-mail. Perhaps their ISP's thought our attachments were viruses. Perhaps they had malware laden computers that wouldn't let them open .jpegs. I can only imagine. Whatever the reason, we had a problem that we needed to fix. The first solution was that we started posting images to the internet, then sending a link. This worked much better, but we were posting all these images manually. I'm not even talking about using a service like Flickr or Facebook. I mean, we literally built a web page for every single proof and posted them online.
Prooflab, v1
It wasn't long before we realized how ridiculous this was, so – we built the original Prooflab. It was a very simple online tool. We would fill out a form and select our proofs. Prooflab would build a web page with our proofs on it and send us a link. We would then forward that link over to our client. From there, the feedback loop was just as if we had e-mailed the proofs. The client would either e-mail us or call us with feedback.


As we grew and changed over the next three years, it was becoming apparent that we would once again need to develop a system for managing our projects. Our staff had grown from two to six. We had switched from flat-rate billing to hourly billing. We were landing larger projects and we were gaining a large number of out-of-state clients. All of these things presented us with challenges that we thought we could solve with some web-based software.
The hunt for pre-built software
Our very first thought was to build our own web based system that would allow everyone within Go Media, and our clients to log into a central website where they could review their projects, proofs, communicate, log time, etc. etc. But then we realized how much time and money it would take to build our ideal solution. So, we scrapped that idea and decided there surely must be some web-based software already built for running a design firm. We probably spent about three months doing research on what software was available for running a design firm. There were indeed a variety of solutions out there. Today there is probably three times as many options.
Unfortunately, nothing we found worked the way that we ran Go Media. And had we decided to use one of these other project management solutions, it would have fundamentally changed who Go Media was. At the end of the day, a business is its systems. Despite the many hours and expenses involved in building a system like this – we knew we had to do it. There was no other way to capture our unique corporate culture. We believe strongly in legendary customer service, transparency, infusing the design process with fun, and open communications between designer and client.
Prooflab, v2
It took us about a year and a half to build Prooflab version 2. It was a major leap forward in functionality from Prooflab 1. There was nothing earth-shattering about the functionality, but it was structured and functioned exactly as we ran Go Media. So, in that regard, it was special.


The basic structure of the site was as follows – both the client and the designers would log-in through the web. Once logged into the system, they would see a projects queue (a list) of all their projects. The list would include things like project number, title, client (or designer), status and deadline. You would click on a project to see the project details. The details of the project included items like: general description, project specs, hours logged, correspondence, proofs and design team. From there, the user could post/review proofs, send an e-mail or edit/request changes to the project. Oh, we also had a file repository. But that part of the system was so poorly designed and so buggy, that I don't think we ever really used it. The system also sent out standard e-mail notifications. These covered general alerts like: "You've got Proofs," "You've been assigned a new project," and "You've got mail."


Prooflab V2 was far from perfect. It was horribly buggy, parts were poorly designed and we found that we simply didn't use some parts. But, despite its many warts, it was a huge success. It was much like a slow and buggy computer. On one hand it could frustrate the heck out of you. But on the other hand, you couldn't live without it. Assigning projects, organizing specs, logging time and posting proofs became an organized and efficient process within the company. And, to my surprise, our clients loved it. They went out of their way to tell us how much better their design experience was now that we had the Prooflab. Some clients even asked how they might be able to use Prooflab for their own company. It seemed there was a need in many industries for project management software.
The Prooflab version two hasn't changed much in the last five years. We fixed a few small bugs and turned off some capabilities that we never used. We realized early on that the next generation of Prooflab would require a complete overhaul. So, we kind of stopped trying to fix and improve it. However, we did continue to take notes on how we could improve it.
Prooflab, v3
About two and a half years ago we really started serious work on Prooflab V3. For about a year I would get a third of the way through the redesign then realize it could be better. I would scrap what I had been working on and start over. Finally, on about the third go at it – things started to click. Of the utmost importance to the version 3 upgrades was the fundamental structure with which Prooflab handled the organization of the information. Additionally, we were constantly asking ourselves how we could keep the interface as simple and ergonomic as possible. The system had to be so simple and intuitive that a baby could use it. And yet, it had to manage very complex projects and piles of information. With this in mind, we tried to build intuitive layers of information; giving the user only what they need at any given moment with a clear path to more information.
As of today (June 16, 2011) we estimate that we are about ready to start internal beta testing of the new prooflab. Assuming all goes well, perhaps we hit the market two months after that (maybe in August some time?).
Hello there! Simon here.
Here's a bit of inspiration goodness with our monthly Flickr pool showcase. This post might be a tad less extensive than our other episodes, because there's going to be loads of goodness to see and hear at Weapons of Mass Creation Fest this week-end. Let's say we're just trying to avoid the overflow.
Once again, if your piece didn't make the cut this time, please try again next month. Sometimes, it's also about perseverance.
Update: We're giving away an awesome Wacom Intuos 4 tablet. Read on for details!
It's so close I can feel it
Weapons of Mass Creation Fest is this weekend! I can't believe it's already here. This post serves to give you a taste of what's to come. If you can't attend the fest here in Cleveland, that's ok, we'll be streaming live thanks to the great people at Vivo.
We've been talking about it for so long here that you should know all about it. We even had that post at D minus 30, remember? In the event you do not remember anything, or that you just found out about the Zine and Go Media, here's a quick summary:
Now in its 2nd year, WMC Fest is quickly becoming a must-attend event for creatives in the Midwest. Its goal is to inspire and enable the creative mind and will feature 20 speakers, 20 designers, and 20 bands over the weekend. Put on by the Cleveland based creative agency Go Media and a host of volunteers, it's got that homegrown, indie vibe that sets it apart from other major conferences. Come to WMC Fest to network, collaborate, get inspired, learn new tricks, and meet new friends! At the cost of only $15 or less, you can't miss it!

— From the WMC Fest website, press page.
Now, since that snippet has been written we have updated information:
There will be a total of 22 speakers. Hunt the facebook events of their interventions!
We'll have 29 bands total (including the 4 bands of the Friday night Pre fest bash)
There will be 24 designers and studios showcasing their art
And the final cost at the door is $10/day for speakers and $5/day for bands. The Design Show is free.
The Giveaway: Win a Wacom Intuos 4 tablet
To help us promote WMC Fest, we're giving away a brand new Wacom Intuos 4 tablet! Donated by the fine folks at PunchTab. To enter, just follow the instructions on the widget below.
The speakers
Aaron Draplin (Draplin Design Co. Topic: Aaron Draplin of the Draplin Design Co. presents "Tall Tales From A Large Man."), Mikey Burton, Dan Christofferson (Big Cartel. Topic: Flyer the death guild), Alex Cornell (ISO50/Firespotter), Todd Saperstein (VMCAD. Topic: Taking the Journey, Map or Compass), Mig Reyes (Threadless/Humble Pied. Topic: Staying Scrappy, Making Stuff.), David Gensler (The KDU. Topic: The KDU : Global Talent Army), Stephanie Rexroth (On The Vine Creative. Topic: Green+Screen=NewLIFE: ecoDesigner's Guild case study), Ken Hejduk (Topic: Why you should give a damn), Jenn + Ken Visocky O'Grady (Topic: Eventually Everything Connects), Quite Strong (Topic: Strong to Quite Strong), Jessi Arrington (WORKSHOP, Topics: 1. Less Good More Better, 2. Life As A Design Project, 3. How To Have Rainbow Birthday Parade), John Paul Walton (Retronynms. Topic: Beyond Check-Ins: Location Based Game Design), Joseph Hughes (Northcoast Zeitgeist. Topic: Embrace Frustration), Bill Beachy (Go Media), Oliver Barrett (Go Media. Topic: "Holds Barred" – living the life of a designer…..and the quest for the belt.), Aaron Sechrist (OK Pants. Topic: "Holds Barred" – living the life of a designer…..and the quest for the belt.), Steve Knerem (Establish the Front Line. Topic: Illustration and the design industry), Dan Cassaro (Young Jerks. Topic: Expressive Type and the Therapeutic Power of Dad-Rock), Jeff Finley (Go Media), Paul Sobota (Paul Sobota Photography. Topic: Crying Wolf; Trusting Images Now), Jacob Edwards (Jakprints. Topic: Information you can sWEAR by).
The designers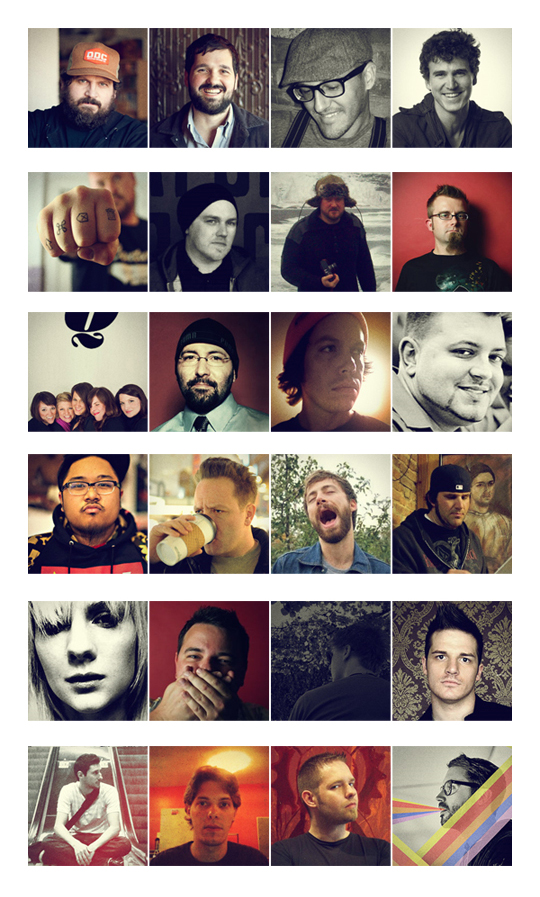 Go Media, Steve Knerem, Jeff Hulligan, Dan Christofferson, Dan Cassaro, Glen Infante, David Gensler, Angryblue, OK Pants, Brandon Rike, Studio Ace of Spade, Hucklebuck Studio, Nate Utesch, Dan Cassaro, Barton Damer, Brandon Minga, Maarten Kleyne, Janee Meadows and Mat MacQuarrie.
Note: there's no cover charge to enter the design show at Wall Eye Gallery!
The bands
Gregory and the Hawk*, David Dondero*, Bethesda*, Humble Home*, Memoryhouse, Lower Dens, Nana Grizol, Monokino, Field Mouse, Arrah and the Ferns, Annabel, Mose Giganticus, She Bears, Two Hand Fools, Before the Eyewall, Lowly the Tree Ghost, Shivering Timbers, Signals Midwest, American Werewolves, The Lighthouse and the Whaler, Busman's Holiday, Esquire Mackentyre, Nights, Tom Evanchuck, _node, Red Sun, Cherry Cola Champions, Comfort Clouds & Galagozy/Zeleny Duo.
Note: the band marked with an asterisk (*) will be playing at the Pre Fest Bash on Friday night.
There are so many amazing bands playing this year at Weapons of Mass Creation Fest that it's hard to know who to see. I'm sure there are a few bands on our list that you're wondering who they are and what they sound like. We've put together a sampler of over 20 songs for you to download and/or stream. Enjoy!
Grab the WMC Fest Band Mixtape
Location and Venues
The event takes place in three venues in the Gordon Square Arts District of Cleveland, OH. The strip on Detroit Avenue features lots of great shops, restaurants, art galleries, and theaters.
Speakers
Reinberger Auditorium
5209 Detroit Ave.
Cleveland, OH 44102
NOON-8pm, $10/day
Art/Design Show
Wall Eye Gallery
5304 Detroit Ave.
Cleveland, OH 44102
NOON-8pm, FREE Admission
Bands
Happy Dog
5801 Detroit Ave.
Cleveland, OH 44102
NOON-11pm, $5/day
Can't make it to the fest? Watch it live!
Thanks to the amazing folks over at Vivo Live, you will be able to watch the festival live this year! Just tune in at wmcfest.com/live, and be merry.
Well, well, well, that sums it up…
Don't you think? We'd love to have you out, we're expecting lots and lots of people out this weekend. If you have any questions and want to get up to date information, you can go on the WMC Fest website, but you should also follow @wmcfest and @jeff_finley on twitter. Be sure to check the schedule too to avoid time conflicts and miss the people you want to see.
We hope to see you there!
Go Media president Bill Beachy sits down to give you some daily inspiration and advice. Bill shares his years of experience building Go Media into the company it is today. Topics in this video series include Getting Started, Happiness, Humility, Patience, Flow, Focus, Productivity, Business Systems, Courage, Eating Well, Obstacles, and Creativity.
For more information about Bill Beachy, check out his bio on gomedia.us. Bill is currently accepting opportunities to speak at your event, university, or business.
View all episodes of Daily Inspiration here
Sponsored by Weapons of Mass Creation
The Daily Inspiration video series is brought to you by WMC Fest – a grassroots event put on by Go Media to inspire and enable the creative mind. It takes place in Cleveland, OH on June 11 and 12, 2011 (this weekend!) and will feature 20 speakers, 20 bands, and 20 designers in what aims to be the premier event for artists/designers in the midwest.
Hope you enjoy the video!
Or download the podcast
[powerpress]
Categorized:

Business Philosophy, Graphic Design, Small Business

Tagged:

advice, art, cleveland, complacent, courage, focus, happiness, help, humility, leadership, lull, patience, podcast, productivity, starting out, strategy, tips, Video, William Beachy

This is NOT simply another type foundry
Hello dear readers. Today, I want to talk about the Lost Type Co-op.
If you want to be cynical about it, you could say it's just another type foundry. Well, you'd be wrong. The cool thing about the LTC is its model:
The Lost Type Co-Op is a Pay-What-You-Want Type foundry, the first of it's kind.

— From the LTC about page
Other than meaning that you can get fonts for $0, it also means that its sales model is based on trusting the customer to understand the value of the product. It's more or less the honor system: you want it, you love, you know what to do, right? Some of the artists that use Bandcamp distribute their music in the same manner, The Dresden Dolls being a good example. It also allows the buyer to attach a value that could go beyond what the creator attaches to his/her font.
The project in their own words
While the success of the project depends a lot of its contributors, it also rests on the concept developed by its creators: Tyler Galpin (@TylerGalpin) and Riley Cran (@RileyCran). I had the chance to chat with them about the Co-op via email. We talked about who they are and how the project came to life.
Could you guys introduce yourselves to the readers of the GoMediaZine?
I'm Riley Cran, I'm a Freelance Graphic Designer/Illustrator.
I'm Tyler Galpin, a entrepreneur and Web/UI designer running my own shop.
Could you guys give me some background on the project itself, how it came to life and how it works?
Riley : I proposed the idea of a pay what you want foundry to Tyler sometime in December, but nothing really came of it until we had a chat one night about vintage script type logos. I posted the vintage Ball Jars logo, which I had remembered admiring. And on the old 1940's print ad was some subtitle text that read 'Glass Jars' in some really peculiar and gorgeous custom lettering.
Tyler : I remember having a design geek-out about how incredible the type was, and how it would be killer to have that . Over the next 24 hours, inspired by that initial set of letters, Riley designed the whole typeface, while bouncing ideas off me. I was in charge of designing and building the website that we would use to distribute it.
Riley : I think the original copy read something like 'we did this to test the boundaries of sleep depravation', which couldn't be more true. We were blown away by the overwhelmingly positive response to this initial offering, and immediately began to take the concept more seriously.
Can you talk a bit about the great people that already submitted stuff?
Shortly after the release of Muncie, we started contacting our design buddies in the community, and talking to them about designing fonts for Lost Type. Andy Mangold had already begun distributing Pompadour Numerals for free through his site, so he was one of our first stops. Ryan Clark had been selling Liberator through his own site.
A big part of this initial push, was to assemble a lot of our friends' fonts that were already completed, or nearing completion, and create a single venue for them to be distributed in. Many of the fonts were designed specifically for Lost Type, which was a real honor. Folks like Alonzo Felix and Dan Gneiding worked over the following months to create their entries.
We ended up scouring the web, everywhere from Dribbble, all the way to professional font designers, to create the fonts we currently offer and the many more entries coming down the pipe.
The whole thing really was a team effort. We had some of our close friends like Jay Schaul, Rick Murphy, and Tim Boelaars design and develop specific additions to the site, and they did an amazing job. With Riley and myself at the helm, it was just a matter of putting together the pieces in a way that would appeal to our target audience: type lovers, the world over.
Do you have a favorite font out of the ones that are already in the roster?
We kind of encourage a lack of competition in the site and our model, so we can't say we really prefer any font over another.
Riley: Personally, I'm pretty fond of Deming, it's very charming. Ryan Clark's Liberator seems to be very popular, we're already seeing it in use around the net, quite a bit.
Tyler: I'd have to say that Tightrope is one of my favorites – quirky but totally reminiscent of the incredibly colorful circus posters of old. Though I'd have to say that all the fonts are my favorite (I'm such a sell-out). As for the ones we're currently cooking up – we can't say anything except that there are some great additions coming very soon.
What does it take to have a font one designed to be made available through the Co-op?
We prefer to distribute fonts that are 'untreated' (no pre-fab grunge, no pre-made type treatment trickery), are readable, and have somewhat of a vintage/classical background or inspiration. There is a really rich history of typography, we're really standing on the shoulders of giants, and designing around hundreds of years of innovation in readability and style. A lot of free fonts seem to experiment with a departure from these traits, and tend to take it too far.
If you're interested in distributing a font, you're welcome to contact us: we like to think we're pretty friendly.
Ever heard of Weapons of Mass Creation Fest? Will we see you there this year? In the future?
Tyler: I have definitely given it a serious look, but unfortunately the timing didn't work out for either of us this year. There is a great lineup of folks and friends both attending and participating – we'd love to make plans for next year's, for sure.
How is the Co-op launch and maintenance influencing your own work as designers?
It's been distracting, but in the best possible way. Most of our post-launch energy is put into additions to the site itself, and upcoming font submissions, which you should see shortly. We really had to start setting time aside before launch to sit down and toss ideas around. This was especially crucial for getting some sort of unified game plan in place. We find that it is a great breakaway from our client work, and we're having a blast the whole time.
A goodbye note for the readers?
We have been so pleased and humbled by the community's reception to our little pet project. Everyone has been super supportive of the whole thing and that is something we'd love to thank you all for. It is inspiring motivation to keep pushing forward with great new type releases, exciting features, and some goodies along the way. Thanks for having us, Simon.
These guys are very welcome.
The typefaces
As I'm writing this article, the Co-op offers 12 fonts.
Highlands, designed by Tyler Galpin/The Lost Type Co-op — Ministry of Art
Highlands is a charming slab-serif that draws inspiration from National Park posters of old. Versatile in its character, it makes for great headlines.
Check out the dedicated page for info about the charset and such.
Pompadour Numerals – A Rockabilly Numeral Set, designed by Andy Mangold
Pompadour is a chunky, display numeral set inspired by the 1950s Rockabilly Hairdo. The numbers, which each fit perfectly inside of a square, are best used a large sizes.
More info on the font page.
Onramp, designed by Michael Spitz
A Bold addition to any project, this ultra readable sans serif radiates 'badass'. Font includes an extensive set of accent characters, and symbols not found in most faces.
Additional information is this way.
Canaveral, designed by Riley Cran
A squat serifed font for maximum clarity in tight spots. Released on the same day as Space Shuttle Endeavor launches for the last time!
Tightrope, designed by Alonzo Felix
Featuring heavy serifs and subtle curves, it recalls old-fashioned print styles found on posters and broadsides promoting traveling circus troupes. Prior to WWI and talking pictures, circuses were a national pastime crossing the country coast to coast by train.
Deming EP, designed by Mike Fortress
Deming is a great display face that can be used in sizes both big and small.
Further data about the font can be found over here.
Liberator, designed by Ryan Clark
Liberator is from a bygone era, when our grandparents fought for the freedom we enjoy today. Its bomber-inspired face provides a masculine punch to any project or design.
View more about the typeface on its page.
Nelma, designed by Missy Austin
A delicately crafted display font with a lot of character, Nelma is perfect for setting beautiful type with an impact.
Extra info available on the font page.
Pigeon, designed by Dai Foldes
The typeface follows the humanist model of Ludovico Arrighi's italic type from Renaissance Italy, but its calligraphic details have been simplified to create a friendly voice. Pigeon also incorporates some of the "sparkle" that gives drama to the Dutch Baroque types of Johannes Fleischmann, referencing the nobility of letter-writing.
Find more about Pigeon on its page.
Ribbon numerals, designed by Dan Gneiding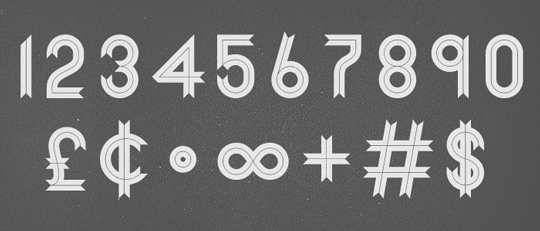 Great for strong visual representation of any number you can imagine. Includes many alternates, as well as special punctuation. This number set is a must-have for those who want to stand out.
More information about Ribbon on its own page.
Saturn V, designed by Eric Mortensen
A heavy-duty, lowercase slab-serif inspired by the monumental Saturn V rocket that carried men from the earth to the moon.
More info is available on the font page.
Muncie 2.0, designed by Riley Cran
The font that kicked this whole thing off, originally designed in 24 hours, and now back (new and improved).
Extra information is on the font page.
Final words
I have yet to use all of these typefaces but I'm pretty sure that if you were browsing Dribbble these last days, you could certainly spot some of these…
I'm curious to hear what you think about the typefaces of course, but also about the Co-op's business model. Do you think it's a model that should be considered more by the creative industry? Or what about a "minimum price" model?
And obviously, head over to the Lost Type Co-op's website, browse through their font collection and reward the talented people that created these gorgeous typefaces!