Weapons of Mass Creation Fest Preview
Update: We're giving away an awesome Wacom Intuos 4 tablet. Read on for details!
It's so close I can feel it
Weapons of Mass Creation Fest is this weekend! I can't believe it's already here. This post serves to give you a taste of what's to come. If you can't attend the fest here in Cleveland, that's ok, we'll be streaming live thanks to the great people at Vivo.
We've been talking about it for so long here that you should know all about it. We even had that post at D minus 30, remember? In the event you do not remember anything, or that you just found out about the Zine and Go Media, here's a quick summary:
Now in its 2nd year, WMC Fest is quickly becoming a must-attend event for creatives in the Midwest. Its goal is to inspire and enable the creative mind and will feature 20 speakers, 20 designers, and 20 bands over the weekend. Put on by the Cleveland based creative agency Go Media and a host of volunteers, it's got that homegrown, indie vibe that sets it apart from other major conferences. Come to WMC Fest to network, collaborate, get inspired, learn new tricks, and meet new friends! At the cost of only $15 or less, you can't miss it!

— From the WMC Fest website, press page.
Now, since that snippet has been written we have updated information:
There will be a total of 22 speakers. Hunt the facebook events of their interventions!
We'll have 29 bands total (including the 4 bands of the Friday night Pre fest bash)
There will be 24 designers and studios showcasing their art
And the final cost at the door is $10/day for speakers and $5/day for bands. The Design Show is free.
The Giveaway: Win a Wacom Intuos 4 tablet
To help us promote WMC Fest, we're giving away a brand new Wacom Intuos 4 tablet! Donated by the fine folks at PunchTab. To enter, just follow the instructions on the widget below.
The speakers
Aaron Draplin (Draplin Design Co. Topic: Aaron Draplin of the Draplin Design Co. presents "Tall Tales From A Large Man."), Mikey Burton, Dan Christofferson (Big Cartel. Topic: Flyer the death guild), Alex Cornell (ISO50/Firespotter), Todd Saperstein (VMCAD. Topic: Taking the Journey, Map or Compass), Mig Reyes (Threadless/Humble Pied. Topic: Staying Scrappy, Making Stuff.), David Gensler (The KDU. Topic: The KDU : Global Talent Army), Stephanie Rexroth (On The Vine Creative. Topic: Green+Screen=NewLIFE: ecoDesigner's Guild case study), Ken Hejduk (Topic: Why you should give a damn), Jenn + Ken Visocky O'Grady (Topic: Eventually Everything Connects), Quite Strong (Topic: Strong to Quite Strong), Jessi Arrington (WORKSHOP, Topics: 1. Less Good More Better, 2. Life As A Design Project, 3. How To Have Rainbow Birthday Parade), John Paul Walton (Retronynms. Topic: Beyond Check-Ins: Location Based Game Design), Joseph Hughes (Northcoast Zeitgeist. Topic: Embrace Frustration), Bill Beachy (Go Media), Oliver Barrett (Go Media. Topic: "Holds Barred" – living the life of a designer…..and the quest for the belt.), Aaron Sechrist (OK Pants. Topic: "Holds Barred" – living the life of a designer…..and the quest for the belt.), Steve Knerem (Establish the Front Line. Topic: Illustration and the design industry), Dan Cassaro (Young Jerks. Topic: Expressive Type and the Therapeutic Power of Dad-Rock), Jeff Finley (Go Media), Paul Sobota (Paul Sobota Photography. Topic: Crying Wolf; Trusting Images Now), Jacob Edwards (Jakprints. Topic: Information you can sWEAR by).
The designers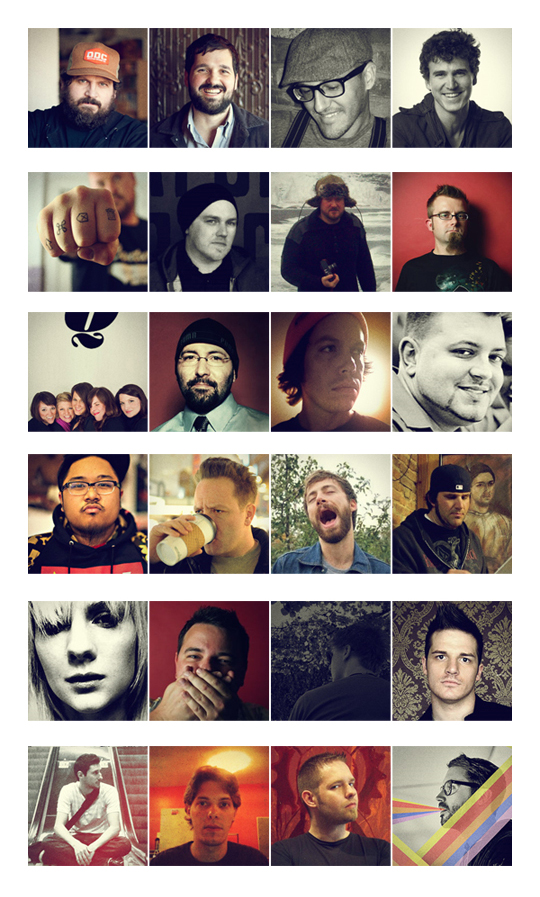 Go Media, Steve Knerem, Jeff Hulligan, Dan Christofferson, Dan Cassaro, Glen Infante, David Gensler, Angryblue, OK Pants, Brandon Rike, Studio Ace of Spade, Hucklebuck Studio, Nate Utesch, Dan Cassaro, Barton Damer, Brandon Minga, Maarten Kleyne, Janee Meadows and Mat MacQuarrie.
Note: there's no cover charge to enter the design show at Wall Eye Gallery!
The bands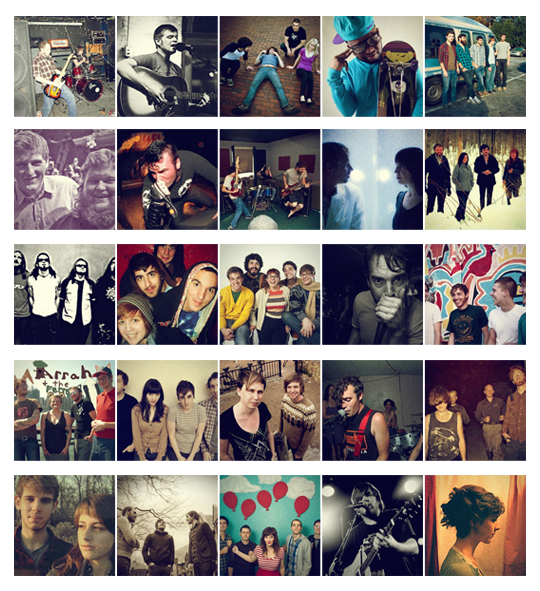 Gregory and the Hawk*, David Dondero*, Bethesda*, Humble Home*, Memoryhouse, Lower Dens, Nana Grizol, Monokino, Field Mouse, Arrah and the Ferns, Annabel, Mose Giganticus, She Bears, Two Hand Fools, Before the Eyewall, Lowly the Tree Ghost, Shivering Timbers, Signals Midwest, American Werewolves, The Lighthouse and the Whaler, Busman's Holiday, Esquire Mackentyre, Nights, Tom Evanchuck, _node, Red Sun, Cherry Cola Champions, Comfort Clouds & Galagozy/Zeleny Duo.
Note: the band marked with an asterisk (*) will be playing at the Pre Fest Bash on Friday night.
There are so many amazing bands playing this year at Weapons of Mass Creation Fest that it's hard to know who to see. I'm sure there are a few bands on our list that you're wondering who they are and what they sound like. We've put together a sampler of over 20 songs for you to download and/or stream. Enjoy!
Grab the WMC Fest Band Mixtape
Location and Venues
The event takes place in three venues in the Gordon Square Arts District of Cleveland, OH. The strip on Detroit Avenue features lots of great shops, restaurants, art galleries, and theaters.
Speakers
Reinberger Auditorium
5209 Detroit Ave.
Cleveland, OH 44102
NOON-8pm, $10/day
Art/Design Show
Wall Eye Gallery
5304 Detroit Ave.
Cleveland, OH 44102
NOON-8pm, FREE Admission
Bands
Happy Dog
5801 Detroit Ave.
Cleveland, OH 44102
NOON-11pm, $5/day
Can't make it to the fest? Watch it live!
Thanks to the amazing folks over at Vivo Live, you will be able to watch the festival live this year! Just tune in at wmcfest.com/live, and be merry.
Well, well, well, that sums it up…
Don't you think? We'd love to have you out, we're expecting lots and lots of people out this weekend. If you have any questions and want to get up to date information, you can go on the WMC Fest website, but you should also follow @wmcfest and @jeff_finley on twitter. Be sure to check the schedule too to avoid time conflicts and miss the people you want to see.
We hope to see you there!