Articles by Month:
May 2009
The following 5 short cuts will save you in expensive pain medication from staring at your screen for far too many hours. I know they've saved me in the past. Here's a little video I did for this article to grab screenshots and such. We won't be learning how to do this today, but maybe in a later tutorial I'll show you how to do something neat.
5: The Null Object
If you're using a camera, you should probably be using a null object. Period. To create one just go to Layer>New>Null Object.
This will create a layer that is basically, well, a null, a nothing. It's essentially a point in space that is far easier to animate than moving a camera around by itself. It's also incredibly useful for using a particle system like CC Particle World, or Trapcode Particular which I will cover in a moment.  Make sure to remember to turn on your 3D layer switch making it look like this. See it now has the 3D gizmo handles.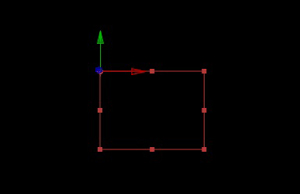 To set it up as a controller, or a dolly for your camera movements, alt+click the position of the Camera layer, and pick-whip the position of the null object. That will create an expression to tie the positions together, which we will go over in a minute. Another excellent use of the Null Object is to twirl down your camera options, and select the Point of Interest, Alt+Click the stopwatch and pick-whip the position, this will ensure that your camera keeps it's "eye" on your effect that is also tied to the Null, you can then move the camera freely around your 3D environment.
To re-cap, Null Objects are useful because:
They provide an object to tie tracking data for motion tracking your film.
They act as a "controller" or "dolly" for your 3D camera movements.
Useful for controlling the movement of all sorts of particle systems.
4: Pre-Comps
Pre-Compose, Pre-Compose, Pre-Compose! If you can get away with it. Most of the time you'll end up with a composition that looks like this, which albeit is a simple example.
When in fact, you could have a composition that looks like this example, which would be a nightmare to wrangle without nested compositions.
The pro's of using Pre-comps are as such:
Smaller list of layers
Some effects just won't work right as an adjustment layer applied to the top of the layers, you'll have to pre-compose them and then apply the effect directly to the pre-comp layer.
You can easily Alt+double click on the pre-comp layer and make any adjustments you need to and it will automatically update in your main comp.

Using the "continuous rasterization" button will allow you to use a composition as a 3D layer as long as all of the layers inside the composition are 3D, your camera can then move around that composition in 3D space.
3: Expressions
Yes, they're terrifying, much like clowns, but they are useful, unlike clowns. I am not a coder, at all. I run shrieking in terror at the very thought of using HTML or JavaScript, look at my website, [shameless plug alert!] if it weren't for WordPress I wouldn't have one. These tiny snippets of code can save you tons of time and headache. Usually they come packaged with presets that are widely available. I am by no means a master of expressions at all, I'll admit, but if you're serious about using After Effects, you should at least learn a few.
Here are two you will probably be using the most:
wiggle(x,y) :: this is often referred to as the "wiggler", what it's going to do, is change the value of the property by the yevery x seconds.
So If it's attached to the position of say, the emitter of  a particle system, it will move that point in 3D space in a random direction at the given interval. Remember that this is in seconds, not frames. This expression can be used for not just the position, but for just about any parameter in your composition.
The next one is the other one I find myself using in almost every composition.

temp = thisComp.layer("null").transform.position; [temp[0], temp[1], temp[2]]
You'll be using this and not knowing it if you follow my advice on null objects and is automatically generated when you pickwhip the position of one layer to another.. This is telling the layer to copy the coordinates of the x y and z axis. In After Effects' bizarre 3D coding system, X=0, Y=1, Z=2. Some things can get kind of tricky when dealing with these coordinates and sometimes will have to do two separate expressions, one for xy and a second for z, like in this screen shot.
For more help with expressions check out the Adobe Livedocs Site.
2: Project Folders/Simple Organization
I am probably NOT the best person to be telling people to do this, since I'm horrible at it, but organization is pretty helpful. Especially on larger projects. I do tend to keep all of my source files, video, images, sounds and that sort of thing in separate folders for easy navigation. Compositions sadly don't usually get that kind of treatment though, and sometimes they are lucky if they get named something other than Comp1 and Comp2 before I do the final render. Organize your projects, it will save you precious time when you accidentally delete a piece of footage from a comp and then wonder what happened to it, remember, it still stays in your project window!
Also, Color Coding your layers will help you stay organized and only takes a second.
As you can see, I have all of my text layers pre-composed in that "sandstone" color, the background elements have been coded yellow, etc etc. Simple, yet effective!
1: Keyboard Shortcuts
If you've worked on just a few AE projects, you've realized that they take a very, very, very long time. You might not think about it, but a few keyboard shortcuts will cut that time down a few seconds at a time, and could possibly shave an hour or two off of your project time, if you consider how much time it takes to navigate through some of the horrendous, maze like drop down menus.
A few handy ones:
Set beginning or end of work area to current time: B[beginning] N[end]
To preview your current composition just tap the spacebar to start it, tap it again to pause it.
To start a RAM preview, hit 0 on your numeric keypad.
Cycle through your Camera controls with the C button, surprising, I know.
Cmd/Ctrl+U will bring up your keyframes of a layer or at least that's what the documentation says, and that's what people say, but I found that on my Mac, that just tapping U will do it, like this.
Cmd/Ctrl+Y will create a new solid layer, Ctrl+Alt+Shift+Y[Command+Option+Shift+Y for Mac] will create a glorious new Null layer.
Cmd/Ctrl+Shift+C will Precompose your selected layers.
To see the effects control panel of the selected layer tap Cmd/Ctrl+Shift+T
Don't forget about your Effects and Presets Palette hiding right over there:
After you search for your effect, just double click it to apply it to your selected layer[s].
The standard Adobe shortcuts for Selection[V] and hand tool [H] still apply.
For more shorcuts just check out the Adobe livedocs here.
Well I hope this helps you save valuable time and expensive pain medication from slamming your head into your desk. Part 2 will be dealing with Filters and Presets, both built into AE CS3 and 3rd Party.
Twitter is quite a social media juggernaut as of late. It's getting to the point that one has to have a Twitter account. And what good is a Twitter account without a link to it? And what better way to link to your Twitter account than with a cool blue bird character illustration? This tutorial will walk you through the steps from sketch to vector in creating an original cartoon-style character vector illustration.
I currently work in Adobe Illustrator CS4, but most of the steps here can be retro-fitted to earlier version of Adobe Illustrator — or to alternate vector art graphics software. This tutorial also assumes you have a working knowledge of Adobe Illustrator, the basics of creating vector paths using the pen tool, and the basic vector art tools. What follows is a walkthrough of a method to go about creating cartoon-style illustrations in vector art giving them a clean, yet hand-drawn look. Hold on to your Beziér curves, and let's get started…
When Bill Beachy and Chris Wilson approached me about designing the new Go Media headquarters, needless to say I was honored by the invitation to be involved in such an exciting project. Given that Go Media has become synonymous with great design, I knew that this would be a project that would yield some great results.
Project Goals:
Create a brand-conscious environment with an industrial feel that embodies the aesthetic of Go Media and is befitting to the spirit of its mission.
Achieve a sense of familiarity throughout the space with a recognizable color palette that is relevant to the Go Media brand. Design an environment that will excite and inspire its staff and clients.
Incorporate elements that are exclusive to Go Media, while providing an easy-to-navigate floor plan. Feature an abundance of metal and wood to give the interior an industrial, modern feel.
1. Concept Development:
Before any ideas are presented to the client, it is helpful to first establish a rough visual design language by sketching preliminary thumbnails to get initial thoughts onto paper. Through this process of thinking through the rough forms, basic materials, and some details, the big idea starts to take shape. These rough sketches are then assembled and converted into cohesive concepts that are then presented to the client.
Sketches


Concept Development

2. The Floor Plan:
One of the primary goals when designing the floor plan was to achieve a sense of openness throughout the office space and be easy to navigate. Initially, in the first two concepts, clean-lined, rectilinear forms were presented. Given the irregular shape of the building, careful consideration was placed on the allocation of space and appropriate clearances between forms. The introduction of curved elements proved to be the appropriate direction to reach a final approved design.
The workstations and project managers area needed to have division from the rest of the space, but not be isolated completely. This was achieved thru the use of half wall partitions with clear glass panels mounted on top. This helps to divide the spaces yet stays true to creating an open environment and adds to the progressive look of the design.
One of the details outlined in the brief was to re-use some of the existing parts of the building in the new design. To deliver on this request, a sliding door from the second floor was used on the back wall of the office to add a bit of interest to this area. Additionally, a wall mural was specified for the back wall, and creative liberty was given to Go Media to come up with a dynamic design.
Plan concepts


Final Plan

3. Elevations and Reflected Ceiling Plan:
Once the floor plan was approved, then we moved on and started laying out the wall elevations and providing detailed dimensions for the build-out. A ceiling plan was created with fixture specifications that were intended to add to the overall industrial look of the environment.
4. Details/ Project Managers Area:
Upon entering the office, clients are greeted at the project manager's area. To help draw attention to this area and designate it as one of the architectural highlights of the space, the following features were incorporated: The partition walls were lowered to 36" height and metal grating and decorative metal panels added to the outside of walls; a free-floating circular soffit comprised of wood and metal was suspended from the ceiling with pendant lights projecting through the soffit; a dark circular pattern was stained into the floor to pick up on the geometry of the ceiling detail.
Two areas with which I needed assistance were the structural details of the floating countertop and suspended ceiling soffit. Thanks to project architect, Charles Beachy, structurally sound solutions were designed to fit within the overall aesthetic of the environment.
Project Manger's Area

The Conference Room:
An additional focal area of the office that features an in-wall aquarium housed in custom maple built-in cabinets, open ceiling, and a square soffit that matches the look of the project managers area ceiling detail. To create a sense of privacy, yet stay consistent with an open feel, an abundance of glass was used on exterior walls, room-divider aquarium was incorporated that can be viewed from both sides, and the suspended soffit was designed with an open grille look. The finishing touch on the conference room is the Go Media logo burned into the top of the table.
Conference Room

5. Putting it all together:
After months of conceptualizing, providing multiple versions of the floor plan, and detailing, all of the construction documents are nearing completion and the client is undoubtedly anxious to see what everything will look like together. The final step, from the designer's standpoint, is to create a 3D illustration of the entire environment.
Establishing an architectural perspective illustration is a 3-part process, I tend not to stray from this process as I've found it to be a very efficient way of getting the job done.
Create a rough geometric block-out in SketchUp and set up your final view.
Overlay the block-out to create a final line drawing.
Render the scene with preferred medium. The architectural illustration process will be explained in detail in a later blog.
At this point, all of the colors have not been finalized, so a few color concepts had to be presented before the final palette was approved.
Illustration

Special thanks to Go Media for trusting me to create what I believe will be a functional and aesthetically pleasing environment for them.
Hi folks!
We just released brand new collection of high quality vectors in Vector Pack 15!
It includes @oliverbarrett's suggestion for Arabesque, a mind bending collection of Op Art, a detailed sequel in Ornate 2, Graffiti, Fashion, Dee Jay and some authentic Architectural Design Elements.
This was a fun vector pack. I went through and picked out my personal favorites from each pack to share with you guys & gals in this free sample. Download and play!
Grab the free Vector Pack 15 sampler by clicking below!
[download#40#nohits]
We're doing a crazy promotion this month that not many people know about. For all Twitter followers on the @Go_Media profile, we will be posting a new tweet every day with a unique discount code for a particular product on Go Media's Arsenal. It's valid only for that day.
There are still plenty of days left in the month of May, so chances are you'll find a discount on something you've already planned on getting. Whether it's vectors, t-shirt templates, brushes, or a new font.
To get the discounts, simply follow @Go_Media on twitter!