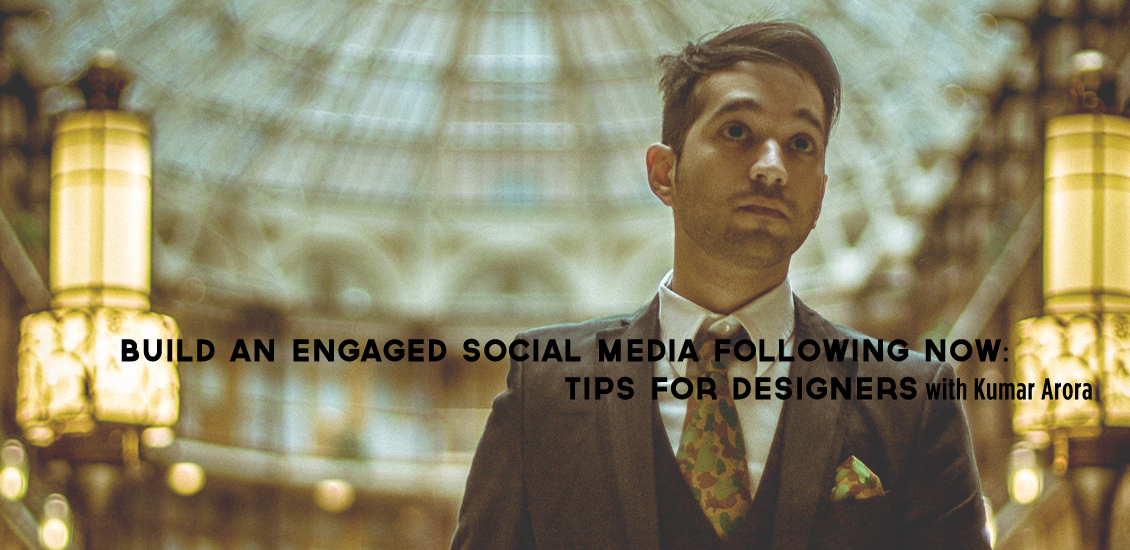 Build An Engaged Social Media Following Now: Tips for Designers
How to Increase and Engage your Followers
Entrepreneur and Marketing Connoisseur Kumar Arora knows social media like the back of his hand.  Fellow Clevelander and start-up wonder for ventures including Rogue Eyewear, iLTHY, Black Rose Entertainment Management Group and ICTech Ltd., Arora has an impressive history in the field. A few things in Arora's backpocket? Developing campaigns for Coca-cola, Verizon, Redbull, Live Nation, Puma as well as starting on grassroots and viral campaigns for performers like Machine Gun Kelly, Jay Sean, DJ E-V. He is no stranger to growing communities at a rapid-fire rate.
Arora has a few suggestions for designers, like himself, who yearn to gain a following too.  In an age of #followme and #tagforlikes though, he reminds, "developing a community that cares is always better than having a group of people who don't engage." A great way to get started for example is to use an online service that allows you to buy 50 instagram likes for all your posts, but let's not spoil the list. Ready to attract a loyal, genuine and true following? Here are Arora's 10 tips and tools to becoming a master of social media:
1. Keep consistency in usernames 
This is a big one that I don't always see with small startups. Maybe its because its hard to get the same name in the pool of social media platforms, but having the same name makes it easy to find or reference. Say if your name is Pepsi, you aren't going to have an Instagram called @pepsi_co,a twitter thats @pepsico, and a Facebook username that is PepsiCola. Keeping consistency makes it easier and continues on the brand building. I always advise people that your name is equally if not as important as your message.
2. Identify your Market
People tend to forget social media isn't always about telling the whole world what you are up to. Rather than sharing a post or an image to everyone you know, why not look to those who are actually interested? Create a community and understand your audience is the key for quick and instant success.  After that, those who follow you will eventually become your influencers and help share your information. There are also other tools out there to find the right base, a personal favorite is Little Bird.
3. Develop a strategy
Good campaigns are always backed behind a full out strategy. Plan out your tweets, choose when to post, and create proper imagery to boot along side it. If you can't think of relevant content, then you need to try to seek new material to keep the momentum going. Larger companies might plan months ahead, but a small business should at least spend a few hours a week thinking about what they can share on their platforms.
4. Don't spam
In this day and age, we spend more and more time on the internet. Last thing we need is to see our favorite brand spamming us about something we don't care about. That and our attention spans have only gotten smaller with the amount of information that hits us. People these days cycle through so many pages on Facebook in one minute that they don't have time to click on something that doesn't give them any return.
5. Content
In the end, its always about delivering meaningful, quality content. Keeping things fresh, exciting, new, and most importantly, something you can share. After that, its up to your existing base of followers to interact, contribute or spread your own information. People don't want to hear about the same thing over and over again, and they certainly want to engage with you in some way..after all: social media is just another form of communication. It's a two way street.
6. Offline Marketing
Your twitter handle is the new physical business card. Sometimes leaving a lasting impression with someone can get an instant follow, and possibly even a mention. While some may say this can be a slow process, its the best for any startup to get some traction. Individuals can't continue to hammer away on a campaign solely just by sitting at a computer. It's best to try to cover all your bases along by reeling in your physical followers along side your virtual ones.
7. Social Media Integration
Just as important as it is to keep uniformity between your usernames, its also good to connect these platforms with each other. You may find that if your Instagram followers have spiked, you can pass on some of your followers to join you on Facebook as well. A lot of companies lately have been trying to work on Instagram, so they are using their massive followers on Twitter and Facebook to lead them to Instagram. A great example is to host a contest on Instagram, which you can then share with your followers on other platforms.
8. Ads
This is an easy one, but the higher your visibility (to the right crowd) the better your chances that you'll get some returns. You need to be careful though, as the wrong ad to the wrong audience can yield little to no engagement. It's always best to A/B test any ads so you can to see which one works best. Always remember you can continue to change them as you go, rather than leaving the same ads up for a period of time.
9. Track your performance
Not getting any retweets or shares? Maybe its time to change things up. Always continue to seek out what works and what doesn't can help in the long run to develop your voice. That, and its always good to check in once in a while on your performance. Some I recommend are: Cyfe, Ubervu, or some of the free monitoring tools like Hootsuite or Tweetreach.
10. Take the next step up
Besides social reach tools, there are plenty of available marketing tools out there as well for small to mid sized businesses looking to take the next level up. Managing your own social media can almost become a job in itself so it's always great to have a few extra tools to do things one person can't do alone. Sometimes if you have the budget it's not always wise to just throw them into solely into social media advertising, but platforms to help drive more engagement. Some I've used in the past include Extole, Wildfire by Google, and Referral Candy.
Have any tricks up your sleeve that you can share? Which of these 10 worked for you? Share with us in the comments below!