Articles by Month:
June 2019
The last six months of any year seem to pass at lightning speed. Once summer hits, there are marketing promotions to run, gearing up for back-to-school and then the holidays are right around the corner. Before you get caught up in the rush of Black Friday preparations, take a little time and evaluate your end-of-year needs.
There are more than 1 million retail establishments in the United States alone. That number ebbs and flows, of course, as businesses open and close each year. Part of outpacing the competition and ensuring your cash flow remains high throughout the last two quarters includes paying attention to the needs of retail businesses in general and assessing how your brand measures up.
Here are six things you should assess before the end of the year and see what adjustments you need to make before the new year arrives.
1. Prepare Your Holiday Marketing Campaign
Well before November arrives, you should already have a full marketing campaign in place. Once the busy season hits, you'll have little time for planning social media posts, which items to get in stock and what to put on sale. Instead, use the summer months — which are typically slower for most retailers, unless you're in a tourist town — and plan how you'll reach your target audience.
Think about some of the better-known retailers. One example of a store that often prepares for the holidays well in advance is Macy's, with their famous Thanksgiving Day Parade. In addition to the parade, they tell compelling stories through videos and print campaigns that tie into their message of "Believe."
Macy's also hosts an annual fundraising event for the Make-a-Wish Foundation, which ties in nicely with the other elements of their campaign. If you can find a purpose you believe in and tie into it with your marketing, those who support the same cause should respond positively.
2. Create a Retail Business Map
For retailers, foot traffic can make or break you. Choose the wrong location for your store, and you risk not making enough sales to afford the rent. A retail business map shows potential foot traffic in the area and even what times of year are busiest. For example, if your store is near a college campus, you might be busy when school is in session, but lose out during what should be the busiest time of year because everyone goes home for the holidays.
3. Beef up Your Content
If your retail business doesn't yet have an online component, it should. Studies show people often begin searches online, even if they're planning to visit a local store in person. One easy way of beefing up your content through the end of the year is adding a content marketing system and managing contributors to your site. Happy customers, employees and management can all contribute to your blog.
In a recent survey of marketers, 74% of business-to-consumer marketers felt their content marketing campaigns were successful. However, you must know your audience well, create unique content and market that content in the right places. Accomplishing that feat requires diligence toward internal data about your specific audience.
You've likely seen people post their dollar store craft ideas on Facebook and Pinterest. Did you know Dollar Tree maintains a blog with tons of DIY ideas for crafts, decorations and even recipes? Every suggestion on the blog uses items you'll find in Dollar Tree stores. You don't have to spend a fortune to have fun, and they prove that with their blog posts, which hit their target audience perfectly.
4. Revisit Quarterly Budgets
Now is an excellent time to revisit your budgets for Q3 and Q4. Is there enough money left in the coffers for advertising, ordering extra inventory and paying seasonal helpers? If not, you may need to revamp your budget. During your slow time, you should also begin mapping out your first-quarter budget for the next year. Remember, you'll be crazy busy once the holidays hit, and the new year arrives right on the tail end of the most hectic shopping season. Preparing for your first quarter now saves you valuable time later. You can always adjust as needed.
Toward the latter part of each quarter is a smart time to look at the budget for the next quarter. Make sure everything is in order and still makes sense based on your goals and profits. If you feel overwhelmed with this task, hire an accountant to help you out. A financial professional may see opportunities to save money you would never spot. You can hire an accountant on a contract basis to come in occasionally, or employ one full-time.
5. Update Software Now
Do you need any major software upgrades? Perhaps you plan to implement a new point-of-sale system before the holidays hit. It makes much more sense to update your systems now when you aren't as busy and work out any bugs. If updates won't be available until just before the holidays, considering delaying the updates until after the first of the year. People will only wait in line for so long. If your POS system is down or having issues, you risk losing sales. Once customers leave your store, it's unlikely they'll return.
6. Order Inventory
Based on sales so far and what customers are saying, what will the hot products be for the holidays? Think about gift sets and items people can pick up quickly during last-minute shopping. Not only should you begin increasing stock — within reason — on those items, but think of ways you can make them easier for your customers, such as pre-wrapped gift sets and baskets aimed at specific audience segments, such as Dad, Mom, boyfriend and best friend. The easier you make shopping for your customers, the more they're likely to buy from you.
A word of caution here: Many business owners have spent a small fortune stocking up on inventory for the holidays, only to find they're stuck with stock they can't sell. Make sure your sales for the last few years justify the inventory you're ordering, or have a backup plan for how you'll move the items if they don't sell. Cash flow issues plague many small businesses, so be cautious about the inventory decisions you make.
The Secret to Success
Planning is the secret to ending your year on a successful note. The more planning you put into your last two quarters, the easier your marketing and sales will be when the time arrives. Spend a little time prepping now, and have the best year you've ever had in your retail store.
A business to many (B2M) model sells goods and services to both consumers and other businesses, so is a mix of both business to business (B2B) and business to consumer (B2C). Meeting the needs of such a diverse set of clients is challenging.
There are about 30.2 million small businesses in the United States. Some of those businesses are B2B, some are B2C and others take on many faces. Trying to serve many different markets in the same niche requires a bit of finesse and attention to detail. There are some specific things on which you can focus that will make your B2M better than you ever imagined.
1. Know All Your Target Audiences
As a business that serves a variety of audiences, you must take the time to dig deep into the analytics of the different audiences you serve. Develop buyer personas for each different demographic. Although marketing campaigns might hit on more than one audience at a time, you still need to ensure you speak to specific people. Look for areas of commonality among your different audience segments, so your marketing speaks to all your buyers.
Facebook's model is an excellent example of how a business serves both other businesses and consumers at the same time. They offer services for business owners, such as advertising and business pages. However, they also serve consumers, offering features for them such as online groups, free profile pages and games.
2. Dig Into Your ROI Reports
What goods and services bring the best return on investment (ROI)? While you expand your customer base by becoming a B2M company, it doesn't help your profits if you don't make a decent ROI for one segment or the other. Knowing which audiences spend the most money and on what also allows you to predict what inventory you might need and ramp up marketing campaigns around specific seasons.
3. Segment Your Website
If you don't want to have multiple landing pages, you can simply segment your site into sections that serve your different buyer personas. This works particularly well with service-based industries. You might even make the transition as simple as offering a section for consumers and one for business owners or adding details to listings about how to buy in bulk as online retailers such as Office Depot do.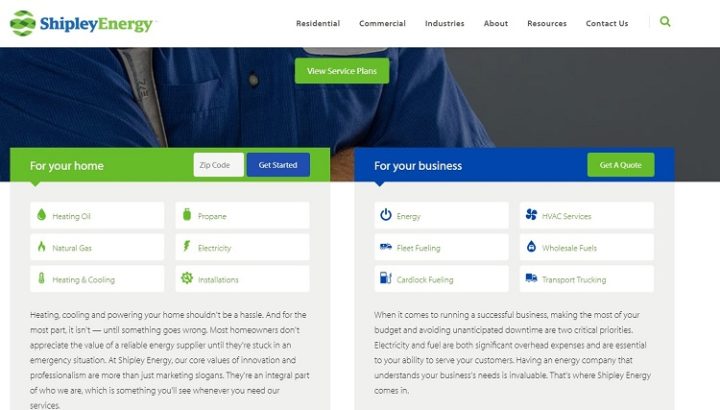 Shipley Energy creates a sales funnel for both segments of its buying audience. They offer a section titled "For Your Home" with an invitation to enter your zip code and click on the type of information you'd like to purchase (heating oil, propane, natural gas, etc.) On the other side of their home page, the column reads "For your business" and offers different information geared toward business owners, such as fleet fueling and wholesale fuels, and offers a free quote. Although the two segments look similar, the information contained is quite different.
4. Cross-Train Employees
Make sure your customer service staff is cross-trained to handle questions and problems from both the B2B and B2C segment. Calls get routed to the wrong department, or some customers will have a personal need of your product as well as business needs. Your employees should all feel comfortable answering any questions that might come their way. The only way to ensure your employees are fully versed in B2M needs is through extensive training and asking them to work in different departments from time to time.
5. Meet Everyone's Needs
Figuring out how to meet the needs of one audience without disrupting another is a balancing act. Think about some of the direct sales companies out there. If they sell their products online, their sales consultants may suffer. However, the ability to sell to the general public is a tempting proposition that's difficult for many multi-level marketing (MLM) companies to resist. One way some companies get around this is by matching buyers with consultants. However, MLM isn't the only industry which must balance the needs of many.
Think through each aspect of your services to B2Bs and make sure they don't violate the needs of B2Cs and vice versa.
Sony Pictures discusses their product placement policies and are pretty well known for placing products in their films. At the same time, they must create entertaining films which aren't too advertisement based. They've set some standards for the types of products they'll place in order to protect their audience (consumers). For example, they won't advertise tobacco products.
6. Adjust Your Marketing
While there are ways of reaching both audiences at the same time, marketing to B2B and B2C is quite different. Marketing to businesses requires educating your audience and showing them you're an expert. On the other hand, consumers want to know you can meet their needs or solve a problem. The ROI is also skewed. With consumers, they typically buy one of an item, while business owners may buy in bulk and spend much more money. A more expensive advertising campaign aimed at B2B may have a higher ROI because of the average sale.
The only way to come out ahead with your marketing efforts as a B2M is with careful tracking of costs and results. When the ROI is significant, repeat those efforts. When the results fall flat, find something different.
Perspective Matters
When it comes to running a B2M business effectively, the way you view your audience segments makes a huge difference. Know your customers and all the little details about them so you can meet their needs and give them a positive experience with your brand. Serving multiple segments isn't just possible but might be profitable. However, you must be highly organized and ready to adapt to any market changes.