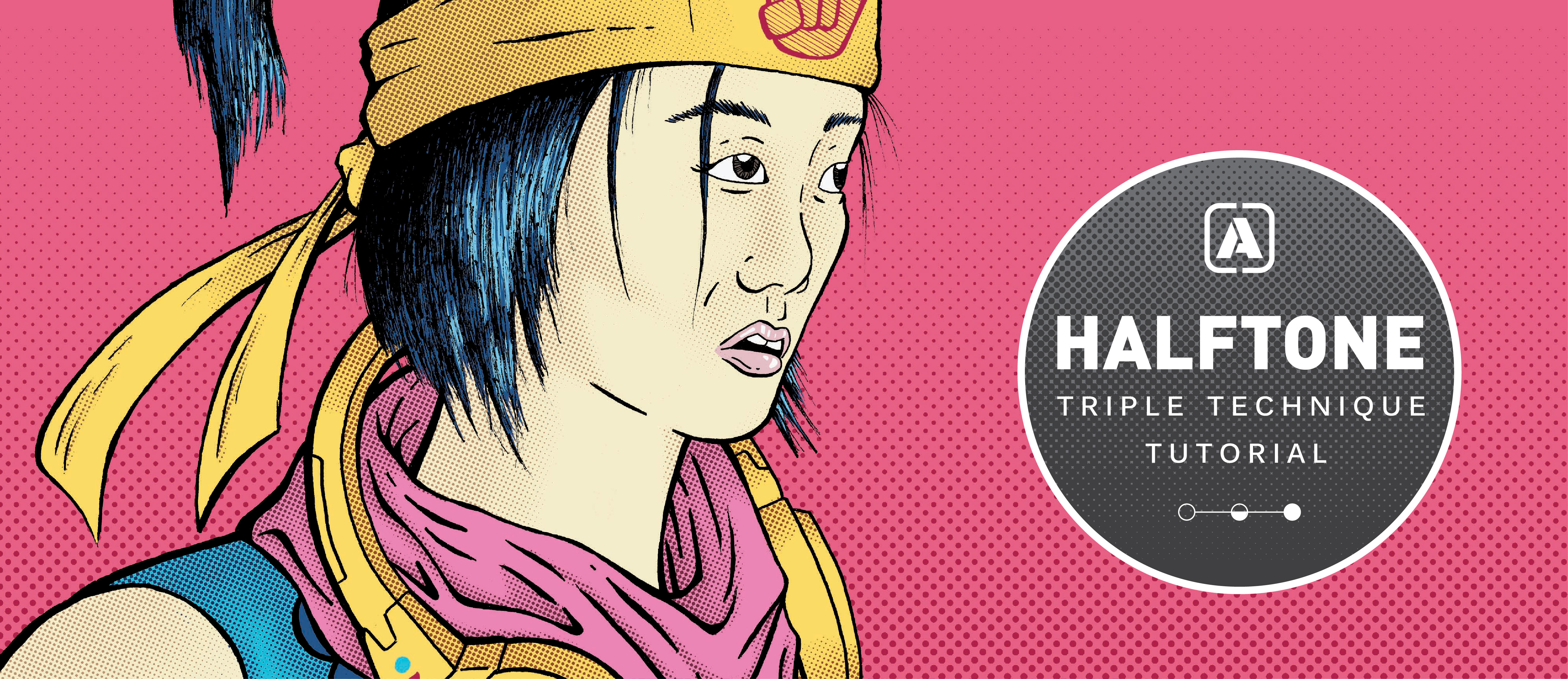 Introducing the Halftone Triple Technique Tutorial!
Halftone Tutorial for Photoshop and Illustrator
Say it three times fast…
Halftones: those cool little dots that create lovely tonal values, yet still maintain that flat, graphic look. If you search "how to do halftones" on Google or YouTube, you'll find that there are a number of ways to achieve this effect. Here at the Go Media's Arsenal, the best site for design resources on the planet, we tasked our designer Jordan Wong to find the best methods to share with you!
The Halftone Triple Technique Tutorial (check out that alliteration) brings you not only step-by-step instructional videos on three different techniques in both Adobe (CS5) Illustrator and Photoshop, as well as working resources. By learning through example illustrations, custom-made by Jordan Wong, you will soon be creating masterpieces and getting asked left and right, "How did you make those sweet halftones?"
Learn these three techniques
Dot & Line Pattern Swatches Technique
Create line and dot pattern swatches along with how to fully customize them for your aesthetic needs. This technique is great for a uniform look and creating solid shaded areas. (15 minutes)
Gradient to Halftone Technique
Using the Color Halftone Effect, turn gradient-filled shapes into beautiful tonal halftones. Give your vector illustration gradation and depth with those little fun dots. (1 hr, 28 minutes)
Brush Tool Shading to Halftone Technique
Prefer to work on a drawing tablet or fancy Wacom Cintiq? Excellent. Use the brush tool to create controlled values of gray, which is then transformed into precise halftone shading. (1 hour, 40 minutes)
Resources Included
The Halftone Triple Technique Tutorial includes:
Introduction video
Step-by-step instructional videos (qty 4) outlining the three different halftone techniques – Brush Tool Shading to Halftone, Dot & Line Pattern, Gradient to Halftone Techniques  (3 hours, 23 minutes of content!)
Line & dots pattern swatches (an AI file of pre-made swatch patterns for your usage)
Quick reference guides on halftone settings and appearances
Full working files of the example illustrations!