Adventures in Design: Episode 331 "LIVE from Ohio" WMC Fest 6 Keynote Performance
Adventures in Design Live from WMC Fest
We here at Cleveland creative agency Go Media, producers of design conference Weapons of Mass Creation Fest were beyond honored to have Mark Brickey of the Adventures in Design Podcast as a keynote speaker for WMC Fest 6. As expected, Mark did not disappoint. If you weren't present to experience AID Live from WMC Fest, it was truly magical. But you're in luck – you can listen in now over at Adventures in Design!
Here's a summary of what you'll enjoy when you listen in >>
Episode 331 "LIVE from Ohio"
WMC Fest 6 Keynote Performance.
First Ever Circle of Trust Meet Up from Jakprints.
PART 01 – WMC Fest 6 Keynote Performance
Our friends Go Media hired Mark Brickey to deliver the keynote presentation for Weapons of Mass Creation 6. With a packed house, full of the most Circle of Trust members ever to assemble in one room, Adventures In Design brought in the A game! Hear Brickley's keynote speech on becoming the best version of yourself by using the power of Kayne. WMC fest emcee Aaron Sechrist of OKPants.com sits in as sidekick for the evening shedding light on the day's events and making light of all weird places Mark steers the ship. WMC Fest founder Jeff Finley joins the stage to talk about disconnecting from projects that define your professional identity and shares with us his 2 year journey of personal development. Last but not least Dustin Lee joins us to talk about how passive income changed his life when he needed it the most.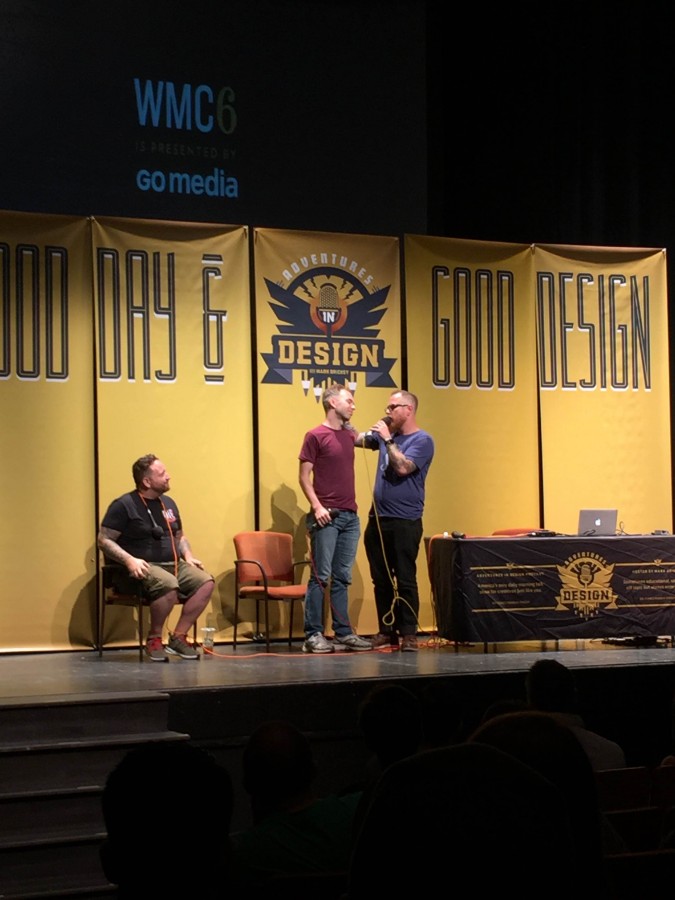 The Circle of Trust (Paid Subscriber Content)
PART 02 – First Ever Circle of Trust Meet Up from Jakprints.
There has never been a bigger supporter of this project than Jakprints. With so many Adventures In Design listeners setting up shop in Cleveland for the weekend it was the perfect storm to take the show to the mothership and have the first ever Circle of Trust meet up. Always, one to offer the best customer service, Mark let the audience pick the night's topic! Listen to this special Circle of Trust content (for members only) where we get a step by step break down to creating passive income and tiered earnings. Finally we had the time, space and place to go into the dirty details on changing your professional and personal life.
Enjoy and thanks to Mark Brickey for being awesome!
Follow AID on Twitter | Instagram | Facebook
Join the Circle of Trust