Articles by Day:
July 30, 2013
In this episode, we sit down with WMC Fest Speakers Nick Disabato and Caroline Moore. We talk to Nick about his experience as an interaction designer and publisher from Chicago. And we talk to Caroline about her experience as a photographer for both metal shows and weddings. Simon joins us once again to give us the low down on a new texture pack that's now available at The Arsenal.
Listen to the Podcast
[powerpress] [iframe width="100%" height="166″ scrolling="no" frameborder="no" src="https://w.soundcloud.com/player/?url=http%3A%2F%2Fapi.soundcloud.com%2Ftracks%2F103123813&auto_play=false&show_artwork=true&color=ff7700″]
Show Notes
Sponsor of this Episode
Cover art for this episode was also created using Dustin Schmieding's Wireframe Sound Wave Texture Pack. You can find this vector pack and more at arsenal.gomedia.us
Links
Credits
Hosts: Jeff Finley and Bill Beachy Producer: Bryan Garvin Recorded at: Go Media
Sponsorship Opportunities
Interested in sponsoring the Go Media podcast, either episodically or exclusively? Well, hit us up at [email protected] if you are interested in advertising your business. Or, take part in our blind auction.
What Do You Think?
We want to hear what you think about the latest episode of our podcast and what topics you would like to see covered in upcoming episodes. Comment below with your suggestions.
Ready for More?
Keep learning and listening to more Go Media podcasts!
Dustin does it again!
The Valleys in the Vinyl founder (who just released some cool neon textures) is back with a vengeance. After the microscopic fingerprints textures and the fractal space pack, he has yet another very unique set ready for us today.
Introducing the Wireframe Sound Wave Texture Pack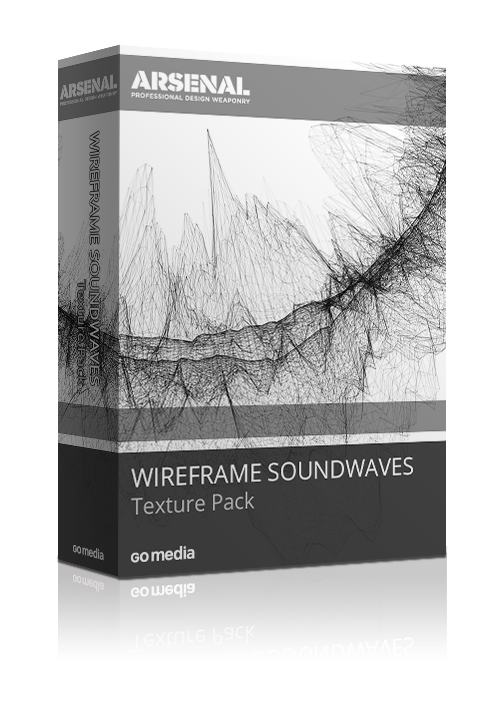 The pack includes 15 unique textures, coming in both JPGs and transparent PNGs (30 files in total).
The "subject" at hand this time is a series of renders of a 3D element that looks like a sound wave, taken out of these cool Winamp visualization plugins we were crazy about in the early 2000's (remember Geiss, WhiteCap, or G-Force?). I'd say Winamp is a strange piece of software. I personally use Foobar 2000 to play my music… but I digress. Let's have a look at the files instead.
The content
These could be used to quickly add a digital feel to a piece, contrasting with a nature scene for instance. Here's a quick example I put together in two minutes way too quickly, using this photo as my base:
Want to download the PSD to see how I colored the textures and edited the image? Follow this link to my Dropbox.
Conclusion
These are versatile and can give that unique finishing touch to your design. You know you should grab them while they're hot.
On that note, that's all I have for today. Until next time, cheers!
— Simon, the Arsenal Manager
PS: we're prepping a cool goodie for next week. Stay tuned.