Why We're Totally Geeking Out About This Year's Weapons of Mass Creation Fest
WMC Fest 2015 is next week!
Weapons of Mass Creation Fest is so many things to so many people. At its core, it's a three day design conference created and sponsored by creative agency Go Media. But it's also a family reunion and a huge opportunity to just shamelessly geek out with like-minded, kindred spirits. We cannot wait and are counting down the moments 'til we kick off on August 7th.
Here are some reasons why we're totally geeking out about this year's WMC Fest – the best design conference ever!
"Two words: Michael Bierut." – William Beachy, Go Media President, Ink Wars participant
"I'm really looking forward to seeing a part of Cleveland that didn't exist when I left town 40 years ago. Also, I'm looking forward to feeling like the oldest person in Cleveland and perhaps getting a tattoo." – Michael Bierut, WMC Fest speaker
"This will be my third consecutive WMC Fest and what a journey it has been. From curious onlooker in 2013 to vendor in 2014, to event sponsor AND vendor in 2015, The energy, inspiration and community gives me the recharge I need without fail." – Lenny Terenzi, Screen Printer and Graphic Designer, Ink Wars Host and Sponsor of WMC 2015
"We're most excited to get face time and one-on-one interaction with other designers. If there's one thing we've discovered, creating a network of common minded people is essential, and showing the work at WMC Fest is just a way to start that conversation." – Christopher Gray, Half Hazard Press, WMC Fest 6 Sponsors
"I'm most exciting to meet and mingle with all of the great folks that will be at the fest! This year, we have a great mix of WMC veteran supporters and fresh faces. To watch people from all over the country with different backgrounds create an amazing energy together is truly inspiring." – Lauren Hudac, Director of Happy Relations at Weapons of Mass Creation Fest
"I get amped anytime I have the opportunity to go to a new place, and meet new people. At WMC Fest, I can't wait to talk to some of the industries most innovative creatives, and hear people speak such as Mike Jones of Serve Studios." – Wesley Hoffman, WMC Fest Workshop leader
"Because it's going back to its roots – not trying to be something everyone thinks it should be – but is going back to what we all want to show up to! I am excited to be back in Cleveland – to hug necks with everyone!" – Mike Jones, WMC Fest Sponsor and Speaker
"I'm so pumped to see some familiar faces from last year and some brand new ones! I can't wait to check out the new venue at Playhouse Square and see how the fest has changes from previous years. Mostly, I'm excited to recharge my creativity with everyone!" – Olivia Arnette, WMC Fest Intern
"8 artist on 8 feet of canvas with a mystery theme, man what is better than that? Create on the spot within a time limit! Can't wait!" – Will Kesling, Lean Dog, WMC Fest Sponsor
Tickets to Friday's Festivities, including Ink Wars
"We are looking forward to exploring, supporting, and connecting with creative minds whose stories we're excited to celebrate and share. Creativity is raw, emotional, and vulnerable and this event brings people together through those experiences – making WMC very different from a standard stuffy conference." – Miranda Boisvert of Rebel.com, Sponsor of this year's Ink Wars
"The Widen team can't wait for the creative invigoration that awaits us at WMC. What could be better than spending three straight days with hundreds of conceptual thinkers who all want to solve a problem?" – Nina Brakel-Schutt, Widen, WMC Fest Sponsor
"We are "geeking out" about WMC Fest because this year we have created an interactive augmented reality video booth.  If that's not geeky enough sounding it's better to hear what it does: Pose with your friends and custom AR props based on the WMC. We are excited to see people interact with the booth and share their video clips on social media with friends. We also look forward to all the inspiration that the festival brings every year. Between all the speakers, art, meeting new creative people, some drinks….  I always walk away feeling re-charged and very inspired." – Ian Ziegler, Photonic Studio, WMC Fest Sponsor

"We're excited to be a part of this epic, energizing event and hope everyone has a wonderful time." – the PSD2HTML team, WMC Fest Sponsors
"We are incredibly excited for this weekend that will inject innovative ideas and creative energy into our community." – the City of Cleveland Dept. of Economic Development, WMC Fest Sponsors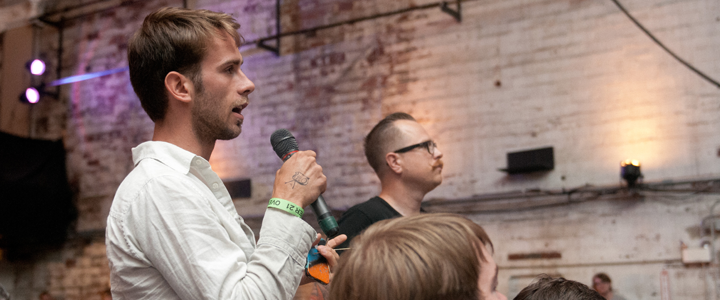 "There is a buzz in the air, an energy that is palpable. I can't wait to soak in all the positivity and authenticity that WMC Fest was founded upon." – Heather Sakai, WMC Fest Co-Director
"I'm looking forward to meeting everyone in person that I've talked with Google Hangouts during the last 8 months. So many new faces join the community this year. So many positive vibes coming out of everyone we've talked to." – Bryan Garvin, WMC Fest Co-Director
Why are you amped to come out to this year's WMC Fest? Share with us in the comments below!
And if you haven't purchased your tickets yet, come and experience 3 life-changing days with us August 7 through 9th at Playhouse Square's Allen Theatre. Saturday tickets are sold out, and Friday and Sunday tickets are on their way to selling out, so hurry and grab those.