Witness 20 Creatives Sharing their Struggles and Successes: the WMC Fest 4 Videos
WMC Fest Speakers Bare their Souls
Jeff Finley, founder of WMC Fest, said it best: "Something about the WMC Fest stage, people stand up there and start spilling their guts. It transcends career. They took off their band-aids and showed us all their wounds, and it's okay because they know they'll be supported and taken care of. They will be loved."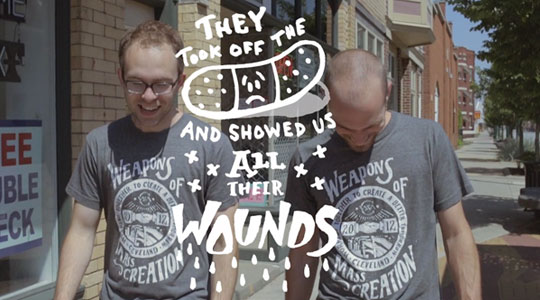 Whether you were there in the crowd, or did not have the fortune to be, you're in luck. We've collected all of the WMC Fest 4 speaker videos for you. They're available below, as well as on our Vimeo channel.
Here, you can gobble up the generous, heartfelt, honest stories of John Jennings, Alonzo Felix, Timothy Goodman, Ann Friedman & Dylan Lathrop, Lisa Congdon, Rena Tom, Christen Carter, Stewart Scott-Curran, Caroline Moore, Adam Garcia, Valerie Mayen, Grace Dobush, Jon Contino, Nick Disabato, Jacqui Oakley, Kern & Burn, These are Things, Troy Deshano, Stephanie Landes Burris and Brandon Rike. Here, you can feel like you're not alone.
Enjoy and we can't wait to see you all at WMC Fest 5, coming up August 15 – 17 at the Cleveland Public Theatre. Sincerely, Your friends at Go Media, the best source for Web Development in Cleveland
Head to the WMC Fest page here:
John Jennings: The Souls of Black Comix
Alonzo Felix: Fieldwork
Ann Friedman & Dylan Lathrop – A Picture and 1,000 Words
Lisa Congdon in Conversation with Rena Tom: Illustrating Gertrude Stein
Christen Carter (Busy Beaver Buttons) – How I Learned to Stop Worrying and Love the Work
Stewart Scott-Curran – How to Find the Devil in the Detail Without Selling Your Soul
Caroline Moore – How Punk Rock Made Me a Better Entrepreneur
Adam Garcia – The F Word
Valerie Mayen – Emotional talk at WMC Fest 2013
Grace Dobush – The Sound of One Man Networking
Jon Contino – The Rise of the Underdog
Nick Disabato – Too Uncomfortably Personal to Share at Professional Conference
Jacqui Oakley – The Substance of Style
Kern & Burn – Quit Jobs. Start Projects.
These are Things – How We Learned to Stop Worrying and Enjoy The Ride
Rena Tom in Conversation with Lisa Congdon: Building Your Dream Job
Troy DeShano – The Best Decisions Rarely Make Sense on Paper
Stephanie Landes Burris – What I Learned About My Job from My Eight-Year-Old Self
Brandon Rike – Betray the Institution
Our WMC Fest speaker videos are also available on our Vimeo Channel.
Header lettered by Mary Kate McDevitt