How to Land & Maintain Big Clients: 11 Absolutely Essential Tips
Cover image includes work from Go Media for Dawn, Pepsi and Lincoln Electric. For more of our work click here. 
Landing Big Clients
One question we're always presented with here at our Cleveland based website and graphic design firm Go Media is: "How do you land big clients?" After all, don't we all want to work with big name clients and live the dream? As you can imagine, it's not so easy. Landing those big name clients takes time, hard work and hustle. Here are some pro tips we've learned, with some additional thoughts from a few of our friends.
1. Put Yourself Out There.
Easy enough, ey? Rule number one is simple, effective, essential. But listen: you simply must dedicate time to networking.  It's easy to value, yet put on the backburner when you're going a mile a minute. Once you've carved out the time, assure you're getting out in the community and building genuine relationships with folks in your industry.
Genuine being the key word. Get out, hang out in real-world places where like-minded individuals spend their time and not only gain a new hobby, but solid, meaningful relationships.
"In sales, it's incredibly important to build relationships. Most people have a negative view of the typical salesman or woman – no one likes the feeling of 'being sold,' reminds Go Media Account Manager Lauren Hudac. "If you build trust, you're more likely to establish a relationship that lasts."

Photo courtesy of Mytton Williams
Bob Mytton, Partner and Creative Director of Brand and Consultancy Firm Mytton Williams reminisces about his first client, and the importance of personal relationships. "One of our first major clients was Clarks shoes. We were asked to review their identity and complete implementation across everything from business cards to their lorries and packaging. It all started through various personal connections. Before setting up Mytton Williams I worked at Newell & Sorrell, a brand and design firm. I had built up some good relationships with various clients. One of them left and joined Clarks and passed on our details. I went down for a presentation to meet the Design Director. It turned out he had close associations with Pentagram, where I had got my first job as a junior designer. I think we spent most of the meeting talking about working at Pentagram. He liked our work, we sent a proposal and got the job. Looking back it was relatively simple. Being only a short drive away helped and meant we worked closely with the design team there for many years, designing work that not only helped increase sales but ended up winning several major design awards. A wonderful project."
2. Think Big.
But, you think, I'm only one person, or I'm a freelancer! How can I take on a giant, big name client? You must simply think, and act just as mighty. Thinking, acting and speaking confidently will take you a long way.
Jen Lombardi from Cleveland design firm Kiwi Creative states, "In the past, we were hesitant to approach big-name clients because we automatically assumed they'd want to work with a large agency. Not the case! Small studios can be just as creatively effective as large firms, so don't sell yourself short. You have to be in the game to win the game, so put yourself out there! You might be surprised at the results."
3. Strategically Contact.
Go Media President William Beachy's advice? Get a game plan together regarding who to contact. Here's a hint: the best contact is probably not the owner. Instead, "Find someone else internally who you'll be able to connect with – an art director or marketing director of a smaller department – versus attempting to take on the head of the corporation. Start a conversation through email, LinkedIn, Twitter, whatever works."
Another route? Attempt going through an Artist Rep or Advertising Agency instead. Bill notes, "Big clients tend to have existing relationships with ad agencies and design studios already. Since these big clients aren't always looking to change, you can go directly to their agency and look for sub-contracted work."
4. Communicate through a Genuine Email.
Once you've researched who to contact, brainstorm how you'll connect. Recognize that a short, informal email might be much more effective (and genuine) than any flashy marketing material you may create.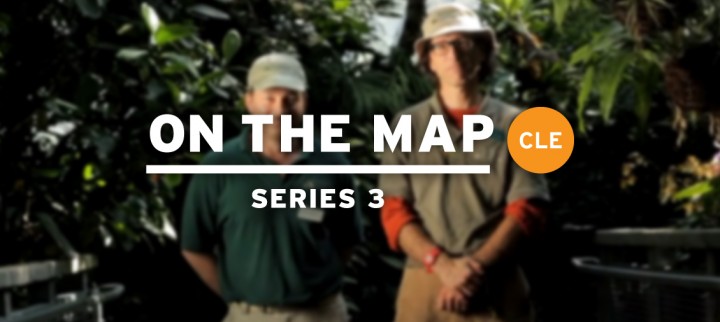 5. Throw an Event for Your Dream Client.
How can a client turn down an invitation to an event you're throwing in their honor? Here at Go Media, we've created a video series, On the Map, which highlights area businesses. After all, we love showing off our great city and building relationships while we're at it.  The highlighted business owners receive free publicity, no strings attached, and we all have a great time.
OTM – Ginko from Go Media on Vimeo.
6. Work on Spec (if needed)
For the most part, we caution against working on spec, as we find most clients that make that request are untrustworthy.
Notes Beachy in his book Drawn to Business, "An exception would be very large, well-funded companies that have outlined a formal contract to be won. For instance, when Nike wants to hire a new advertising firm, they will outline their needs, put a dollar amount on the advertising budget and invite select marketing firms to present their ideas. In a case like that, the competing advertising firms will absolutely do tons of work mocking up ads, even producing TV commercials to help sell their ideas. Technically, this is work on spec. If they don't land the contract, they don't get paid a dime."
"Similarly, Go Media was recently asked to do a presentation in hopes of landing a contract to develop ten property websites for a large real estate company. As part of our pitch, we mocked up several different homepage designs to help sell our ideas. In a case like this, I knew this would be a massive project with a potential massive payout. In my estimation, it was well worth the time. We ending up winning the contract and learned afterward that we were the only firm that did mock-ups. But this was the exception to the rule. Generally, I would advise young designers and small firms to avoid doing work on spec."
7. Be patient and build your portfolio.
Dan Morgan, Cleveland photographer and owner of Straight Shooter Photography reminds us to "Be friendly, firm and VERY patient." While you wait to amass your dream client roster, "Keep many examples of work you have done, even remotely similar to what you are looking for. If you don't have any samples make them up, create assignments for yourself, for your portfolio, that illustrate a variety the type of work you are looking for. Always pay attention to your phone and e-mail messages, and respond immediately."
8. Make a Great First Impression.
Notes Beachy in Drawn to Business, "How you perform on the very first project is absolutely critical. More specifically, your first set of proofs will establish in the mind of your customer whether they can relax and trust you to do great work, or if they're going to have to look at everything you do with a critical eye. If you're working with a new client, the first project is the most critical time in that relationship."
9. Focus on Quality and Consistency, Always.
Once you've landed that big client, your focus for maintaining your relationship is simple: quality and consistency, notes Pete Maric of Triplet 3D, Inc.
"Clients hire you because they know you can deliver what they are looking for and to a certain quality. Once the relationship is established, and the client loved your work on the first project, you can bet on receiving more work in the future (most of the time). When the new projects come in, you have to maintain consistency in all aspects of your business; from estimating, billing, doing the creative work, and how you communicate with your client. If you've ever read the book The E-Myth, the last thing a client wants is their experience with your company to be completed different every time they hire you. Obviously, the creative services you offer should be custom-crafted and unique to the client's project, but all other right-brain aspects of your business should be systemized and consistent. This includes how you answer your phone, the tone you use in your correspondence, how you deliver your projects, after-project follow up- and all of this should be reinforced on your website and marketing materials. Consistency rules!"
10. Treat Your Client with Fairness.
Maric also reminds us that fairness is vital in healthy and long client relationships.
He notes, "Years ago, maybe 2-3 years into working as a freelance designer/illustrator, I was hired by an architecture studio to create two illustrations of a new restaurant they had designed. Being as green as I was at the time, after meeting with the architects and reviewing all of the plans, I verbally gave them a cost estimate for the work. Without even hesitating, one of the architects says to me 'be fair to us, be fair to yourself'- that simple! 'Be fair to us, be fair to yourself' is one phrase that has stuck with me to this day. I am so glad to have done that project just for those few simple, yet powerful words. I truly feel that 'landing big clients' and maintaining long-term quality relationships is as simple as treating people fairly all the time. In the end, it's really not about business-to-business or business-to-consumer, it's people-to-people! If your client knows that you care about them and their projects, and you treat them fairly every time they come through your door, you are golden! Expect work for years to come."
Dan Morgan, reminiscences of a time when fairness paid off for him in a long-standing client relationship. He says: "Soon after I returned to Cleveland from New York City, in 2005, I made it my business to go to every possible networking event I could manage. By chance, I ran into an old client at an art Gallery / Coffee Shop. He was no longer working at the Ad Agency that he used to hire me for; he recently started working for a company called Ideastream Consumer Products. I always provided him great service for a fair price.  Because of that, I have continued to do consistent work for the company since."
11. Last but not least, always say 'Thank you!'
"Always thank clients for their business," notes Hudac. "A hand-written note still goes a long way.  Here at Go Media, we write a thank you note for every project, big and small. For bigger projects we land, we send a really fun Go Media moleskine package. All the time I hear how much clients appreciate this gesture."
____________________________________________________________________________
Want more advice on Landing Big Clients and how to start your own million dollar design firm? Buy Go Media President William Beachy's book, Drawn to Business.
Many thanks to contributors Mytton Williams | Kiwi Creative |
Straight Shooter Photography | Triplet 3D