Introducing the Awakened T-Shirt Design Pack by Jeff Finley
How to Design a Great T-Shirt:
We're proud to introduce a brand new product to the Arsenal today: the t-shirt design pack.
This product includes everything you need to design a great t-shirt. The pack includes vector illustrations, a tri-blend t-shirt mockup PSD and the completed original vector design. As a bonus, we're including a free chapter of our popular ebook Thread's Not Dead: The Designer's Guide to the Apparel Industry.
The first pack was created by our very own Jeff Finley. Jeff's pack, Awakened, focuses on sacred geometry and enlightenment. We think it's pretty darn divine.  Check out what's included.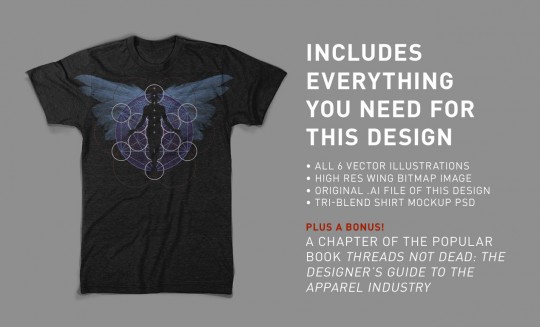 For more great products, such as mockup templates and vectors, head over to the Arsenal!
Love the t-shirt and need it NOW?
Buy it on Society 6!
For more on t-shirt design, check out these GoMediaZine posts –
The Fundamentals of Great T-Shirt Design
Newbie's Guide to Beautiful T-Shirt Mockups
Starting Your Own T-Shirt Line. Part I: Start Up
Starting Your Own T-Shirt Line. Part II: The Creation of Your Art and Working with a Printer.