Articles by Month:
August 2011
Writing design articles has been my passion for over 3 years now; although I have been writing since I was very young. I taught writing for a few years, which I enjoyed almost as much as the actual writing itself, until my husband, a self-taught designer and jack-of-all-trades, got me interested in design a few years back. Soon after I had the opportunity to write about design professionally.

I have learned a lot over the past years, simply from the blogs of designers much more talented than I in this department, and now I love nothing more than to help other designers take their work to the next level with helpful hints, tips, tutorials, roundups, free content, and more. This is where writing for GoMediaZine comes into play; I have been very impressed with the rich content that this blog provides to designers for quite some time now, and am very honored to be a part of adding readily accessible valuable knowledge to the design community.
Every time you sit down to write about design, you have the opportunity to make a difference. This would mean that every
bad design article you post is not only a lost opportunity, but also damaging to your credibility in the design world. Considering how big and influential the online design and creativity circle is these days, one mistake can really put a dent in your writing reputation.
Owning a blog requires you to take even greater responsibility with your blog content. The wrong headlines, irrelevant topics, and poorly cited information and resources are just a few mistakes that bloggers can make, hurting their chances at growing their own community of readers.
Whether you own a blog or simply love contributing helpful knowledge, there are a few key elements that your writing needs to contain in order to better the design community at large.
Write well
Grammar
Know the basics of good writing. You need to follow the rules of proper grammar not only because it will make your English professor proud but also because it will make your writing clear and easy to understand. If it has been too long since you took that English class, then take the time to review some of the more important grammar rules. The 20 Most Common Errors from EasyWriter.com or Do You Make These 7 Mistakes When You Write from Copyblogger.com are two great articles with which to start.
Headlines, Introductions, and Conclusions
Make your headline interesting and attention-grabbing. It should turn a prospective reader into a loyal reader. For instance, avoid vague and boring titles such as "Best Flower Illustrations." Instead, your title should be as informative as possible and include powerful words (best, incredible, stunning, etc.), such as, "25 Best Vector Flower Illustrations from 2010." For more help, check out 7 Ways to Write Smashing Blog Post Headlines.
Once you have your reader's attention, keep him or her reading with a helpful introductory paragraph. It should tell your reader what the article is about and what he or she can expect. After the main body of your article, end with a bang: an impactful and memorable summation of the main point you want to get across. Check out How to Write an Introduction for help with starting off articles with a bang. For more advice on conclusion writing, read 5 Tips for Writing Great Conclusions.
Write with substance
Original topics
No one wants to read the ninth article on the same topic. So be original and write about something new. Sometimes the best way to find article topics is by reading other blogs; however, do not fall into the trap of simply reproducing what you see. Instead, let your research inspire you to come up with new topics.
Controversial topics
When perusing the web, you may come across the opinions of other designers with which you disagree. Write an article that gives your own opinion on the matter. You can even be controversial. It's a good thing if people react to and discuss your article, but be sure to include a link to the article of your inspiration if you reference it in your own discussion.
Relevant and useful topics
Don't be original or controversial just to have something to say. Your article should still be relevant or useful to your readers. Knowing your audience is the best way to write content that will keep them coming back to your blog. Sometimes knowing who you are writing for is easy when your blog is focused on a niche field. For instance, your blog may be about business cards, which means that you need to stick to topics that only relate to business cards. However, if you own a broad design site, your topic range can be quite large. To make it easier for yourself, you may want to limit your blog posts to topics such as beginning design tips or resources and inspiration.
Showcase wisely
When showcasing work, show only the best. How do you know which are the best? Keep the following in mind:
The best designs are usually from respected and well-known artists, hot up-and-coming artists, or award-winning artists.
Know who these artists are by keeping up with blogs of respected designers.
Peruse sites such as Flickr or DeviantArt for finding talented artists.
When you've found an artist you like on an art submission site, follow the link to his or her personal website to more fully research him or her.
Be informative
The best blogs include all of the necessary information needed to properly credit a work of art used or another article referenced. Doing the same in your articles will not only take your work to a new level of professionalism but also will help you avoid copyright issues. It is best to cite as many of the items below as possible.
For works of art include:
title of the design.
the name of the artist.
where he/she is based.
the URL to his or her website or online portfolio.
Be sure to also include a brief description of the piece if possible. Tell the story behind the artist's work or explain what makes the art worthy of display.
When referencing another article include:
title of the article.
the author's name.
the date published.
the URL to the original location of the article.
Always be sure to link back to the original location of an article or piece of art. While it is not wrong to link an image to another roundup post, it is common courtesy to give credit where it is due.
Say it with JPEGs
The right resolution
Make sure that the images you use in your article are of high resolution (not blurred or pixelated). Image editing software, such as Photoshop or Gimp, allows you to resize an image to a size you desire for your post.
Choose wisely
Always be sure that images are appropriate for your audience as well as relevant to your article topic. The point of images is to improve your post with visuals that help drive your point home. If you include images just to have them, you risk becoming sloppy with your image choice and cluttering your article with unnecessary content.
Say it your way
Professional writers use the term "voice" when referring to your personal style of writing. Almost no one has a strong voice when they begin writing; some have a voice but are afraid to let it show. If you are a writer for hire, using your own voice may not always be appropriate, especially if your client desires a certain writing style.
Developing your voice
The best way to learn your writing voice is to write, a lot. Allow yourself to experiment with different styles and find which one is most natural to you. For instance, you may find that an ironic tone is your style or you may decide that writing exactly like you talk is easiest for you. In the beginning, mimicking different styles is one of the best ways to discover your own voice, especially if you have no clue where to begin. Simply read some of your favorite blogs and try writing in the same tone as the authors. Let trusted friends read your experiments and give constructive pointers. Write on topics about which you are passionate, and you will develop your personal writing style much faster.
Appropriate use of your voice
The best writers know their own voice well enough that they can use in varying degrees. With enough writing, you will be able to do the same. The point is that no matter how often you will get to use your voice in its fullness, you will be a better writer knowing your personal style of writing because even in a very formal document, a slight amount of personal style will prevent dry writing.
Improve the design community
In every field, it seems that you can find two types of blogs online. There are those blogs whose owners use an industry (usually one the blogger knows just enough about to make it by) to make them a quick buck. Then there are the blog owners who, while they also need to make money, truly desire to give back to the community. Join the respected design blogs by writing articles that offer unique, fresh, and quality content to the community. Make every article you write count by giving each one the time and thought needed to make reading it worthwhile to your fellow designers. Your reputation and readers will thank you.
Go Media president Bill Beachy sits down to give you some daily inspiration and advice. Bill shares his years of experience building Go Media into the company it is today. Topics in this video series include Getting Started, Happiness, Humility, Patience, Flow, Focus, Productivity, Business Systems, Courage, Eating Well, Obstacles, and Creativity.
For more information about Bill Beachy, check out his bio on gomedia.us. Bill is currently accepting opportunities to speak at your event, university, or business.
View all episodes of Daily Inspiration here
Sponsored by Prooflab
The Daily Inspiration video series is brought to you by Prooflab – a client and project management app built and used by Go Media for designers.
Hope you enjoy the video!
Or download the podcast
[powerpress]
Categorized:

Business Philosophy, Graphic Design

Tagged:

advice, art, cleveland, complacent, courage, focus, happiness, help, humility, leadership, lull, patience, podcast, productivity, starting out, strategy, tips, Video, William Beachy

It's August 18th 2011 and it's sunny out there
But we're on the GoMediaZine, not on the weather channel. So I'm going to switch back to design. This month's Flickr pool showcase is full of great things. I also had the pleasure to spot a few new people posting. The group is 1848 members strong as I'm writing this. W00t! There, I said it.
The showcase
It's always a pleasure to browse through that collection of fantastic artwork. It gets harder each time to not feature all of it.
Remember that if you didn't make it this time, it's nothing against you or your art. There's just so much to show! Please, by all means, try again next month. And the month after. And so on.
Written and designed by: Raji Purcell
Edited by: Jon Savage
Photography by: Caroline Moore
Until starting my research for these articles, I hadn't heard of Quite Strong. But, after extensively looking at their work (more than a few times), I developed a strong appreciation for each member's style. Individually, the ladies of Quite Strong have unique genres and incredible talents. But, as a group, their talents and strengths pull together into a cohesive and balanced aesthetic.
Who is Quite Strong?
Quite Strong is a creative female group who believes in strength in numbers without disregard for individuality. The duality of recognizing them as Quite Strong, and recognizing them as individual designers comes with the territory. Any of these five women could have easily stepped on stage and talked for a full thirty minutes solely about their own work and experiences.
However, they spoke together and shared how their individuality serves the group and community they live in. There is a sense of respectable modesty in that. Their words proved that this modesty, openness, and love for community carries over into every facet of their existence as designers and human beings.
Heres what happened:
Quite Strong was third to talk on Saturday and they drew in a large audience in the auditorium. As the early afternoon was fading out, WMC Fest-goers started arriving in greater numbers. Designers of all levels began to gather with excitement to see Quite Strong's collective talk. Mig Reyes and crew ready to support their fellow Chicago designers, had promptly took seats to the left of me, at the front of the auditorium.
Jana Kinsman, the resident illustrator at Quite Strong, took the stage first explaining Quite Strong's history of formation. Not surprisingly their creation was the product of their community building. The members of Quite Strong felt a desire to have a shared space which could be used for freelance projects, art projects, or hanging out. After a morning meeting over brunch, they were set to go.
"By the end of brunch we had a name and a dot com, mostly because Katherine already owned quitestrong.com and didn't know what to do with it."
This entire notion was nothing short of inspiring. Creative friends were getting together to — at the most basic level — create a place for their own creativity to flourish side by side. This was one of the many moments during WMC that I thought to myself, "Why don't I do this too?"
I was further impressed by the speed at which they passionately started this goal. In two weeks, they had their space. Most of us wouldn't have finished day-dreaming about this in two weeks; but, the ladies of Quite Strong had it done and started in nearly the blink of an eye.
Jana continued, saying that once they had everything all set, they immediately began thinking about the community. They asked themselves how they could use Quite Strong to be more involved. They pushed this further, contemplating how they could empower other women in their community, and the creative community as a whole.
Jana continued on the subject of community engagement by explaining that the best way to help your community is not to "donate money, or like it on Facebook", but to be involved with it in person. One of the coolest, most down-to-earth ways Quite Strong does this is with their open studio every third Thursday in a month. And, you can bet that if I lived in Chicago, I'd be attending quite frequently. The open studio is open to absolutely anyone who wants to drop by.
"Beers, Cheez-Its, and tacos are almost always involved in various combinations. The open studio nights are an opportunity for us to meet all the new faces coming, and then for the new faces to meet all the other people in the design community. For a newcomer it might seem like an intimidating scene to get into, but really it's not. We're all humans and we all like Cheez-Its."
Jana further discussed Quite Strong's openness and willingness to help the community by talking about a recent student portfolio review they hosted along with with Mig Reyes, and a few other designers. This was at the request of a group of students in Ohio, funded by no one, and powered through community. No doubt, it was a valuable, maybe even once in a lifetime opportunity.
Understanding that they are all in the same boat, Jana explained that creating support for one another was more productive than creating a feeling of unnecessary competition, or putting on an air of superiority. Jana closed her portion of the talk by highlighting that their doors are always open, and they will respond to anyone that contacts them — especially students.
Katherine Walker, a designer at VSA Partners and Quite Strong (the only part-time member) came up next. She began by explaining that because of her need to keep balance and having a full time design job she doesn't freelance with Quite Strong. However, she gets involved in their projects with a cause.
She elaborated, saying that Quite Strong gives her an outlet to work on projects involving issues she has passion for. Through the group, she designs with a voice for activism in the community.
Touching on Quite Strong's work for activism, Katherine cited one of Quite Strong's first projects. The project was for a group dedicated to helping victims of LGBT hate crimes called Out For Justice. This was an opportunity for Katherine to support something she believed in. It was a job for a righteous cause that could be not only gracious, but satisfying.
Actions such as these strike at the core of design. Design goes deeper than simply developing product appeal to attract more consumers. It can serve the purpose of giving a face to cause. Due to Quite Strong's commitment to community and their open-door policy, they are frequently sought after by non-profits and smaller organizations.
"Teaming up has allowed us to make more of an impact, and in return … my day-to-day has become more meaningful."
Katherine then switched subjects and fed the general curiosity that comes when you hear the name Quite Strong. She explained that most believe their name is a critique of the female role in design. She did not dispel this myth, but pointed to their name's true origin — a line in Meet The Parents.
"How's Your portfolio?"
"I'd say strong to, quite strong."
At this moment, I realized that I loved the balance Quite Strong keeps between being serious about the design but at the same time not taking themselves too seriously. They have a great sense of humor.
Katherine then introduced Elaine Chernov as "the beautiful lady that connected the dots". Elaine began her portion of the talk by discussing her time in design school where she became dually passionate about advertising and women's studies, two subjects she'd come to find almost contradictory because of advertising's rampant objectification of women. But, instead of just becoming a bystander, she decided to become part of the advertising field so that she could make the difference.
This notion struck a nerve, as a young designers know that one day, they may have to steer an ad campaign in a certain direction. This is exactly why thoughtful people are needed as designers.
Elaine light-heartedly touched on that whenever we hear of female groups, our minds jump to Amazonian women beating men with sticks. She denounced this as their perspective. Quite Strong, she explained, is conscious of cultural imbalance and seeks to change that through collaborative strength. They are aware of the fact that the majority of art directors, speakers at design conferences, and designers (even the ones that target women) are male.
They aren't getting angry, they are getting equal — which is a vital distinction to make.
They seek to empower female designers to make a change inside and through the industry. Against the convention that has been engrained in society, they are accomplishing their goal. More and more women are becoming interested in design and excelling at it.
"It's not bitches rule, boys drool. It's just a different variety of creative work."
In order to further promote creative women Quite Strong has, what they call, the Lust List on their website. This serves as a database of female creatives in an array of different fields.
Victoria Pater came up next to discus the power of the design community alongside Quite Strong's newly found independence for four of the five members, explaining that four of the members are now full time freelancers at Quite Strong and have left their full time day jobs. This is possible when designers support and take care of each other. Victoria also explained that she is able to take on bigger freelance projects because of the available assistance and different talents of the other members of Quite Strong.
Jennifer Sisson, the web developer at Quite Strong, was the final member to speak. Jeniffer's role in Quite Strong is to bring internet life to the beautiful designs of Quite Strong's visual designers. Though she expressed she feels like an interloper of sorts on the community of visual designers, she uses her close connection to visual designers as a method to learn more. She urged every designer to engage more with developers.
Jennifer closed out the talk with lessons that they have learned as a freelance collective:
Never take anything personally. Everyone has a different a different opinion.
Know your skills and work it. Collaborating is about using everyone's unique skills.
Start small-ish. Don't overwhelm your budget, but dream big.
Just start—any project you might be thinking about.
Support eachother. Engage your community in a positive way. Collaborate.
Jennifer ended by saying "We are Quite Strong, and so are you."

I had the opportunity to speak with some other people in the crowd about Quite Strong's talk and WMC in general. It became evident to me that Quite Strong had resonated with a lot of the attendees because even later when I asked people about the person that had just spoke they would say things like "actually, can I comment on Quite Strong?"
Mig Reyes (another speaker at WMC) told me to write in all caps with a period,
"THEY KILLED IT."
Cassie McDaniel a first time WMC Fest-goer from Toronto said "It was refreshing to see women in a [design] conference."
Amanda Ragusa, another young designer like myself said, "It is nice to see a group of women doing what they do for their community. It's influential as a young designer to see how far they've come."

Listen to the Talk
As I watched every talk, I kept Garage Band open on my MacBook and recorded everything I could. So the quality of the mp3 below may not be the best, but you can get an idea of what it was like from my perspective in the front row. Bootleg version!
[download#73#nohits]

A presentation of the project
A collaborative project in which a select group of designers, illustrators, and artists create visual interpretations of the most defining moments in United States history as a way of informing others of our proud, yet sometimes troubled and forgotten past.

— From the Momentus Project website
The curator's interview: words with Evan Stremke
GoMediaZine: Evan, could you introduce yourself to the Zine readers as they might not know you?
Evan Stremke: I'm a designer and writer (and sometimes comedian depending on who you ask), currently living in Madison, and working at Planet Propaganda.
Can you give me some background on the project itself, what sparked it and how it works?
EK: The Momentus Project was born out of an admittedly strange obsession with United States history. Any attempt to trace this fetish back to a specific moment in my life leads me straight to my mom's life-long infatuation with John Wayne, specifically the film 'Chisum'. I myself am captivated by another (perhaps more historically significant figure), John F. Kennedy. His assassination sparked my previous self-directed project Invitation to an Assassination. While designing the project myself was an enjoyable challenge, I became interested in seeing how others might handle a similar task. And so the Momentus Project was created.
Did you give any constrains to the roster of designers? There's a fantastic sense of unity between each submission.
EZ: I set certain limits for submissions with regards to colors and size. I'm a huge fan of black and white photography, and that color palette (or lack thereof), just made sense in a historical context. Obviously the size and orientation were also controlled to make sure they translated easily to a specific size of paper I have in mind in hopes of one day making each piece available as a print.
Any favorites so far?
EZ: This is going to sound like total bullshit, but I honestly love each submission equally. One of the most exciting things about this project has been hearing about the lengths each contributor has gone to research their respective events, and I truly believe that it shows. Each piece is unique, and sheds light on how the contributor interprets the event and its lasting effects. And that's really what this whole project is about. That, and making awesome shit.
I saw on Dribbble that you were working on the JFK assassination, will it be your own contribution, or is more part of the Invitation to an assassination series?


EK: The piece I posted on Dribbble about the Kennedy assassination is part of my contribution to the Momentus Project. Given my obsession with JFK, it seemed like the most obvious choice for an event.
Did this curation work nurture you as a designer? If yes, how?
EZ: Curating this project has been no easy task. Choosing contributors was fairly straightforward as I tapped a number of friends I've made in the community, as well as a few whose work I've admired deeply for quite some time. This project served as an opportunity to reach out to those designers and make further connections. Though that's not to say there weren't hurdles. The amount of interested contributors honestly shocked me, and I had to turn away a number of individuals who I consider close friends. And then there was the whole sexism thing which was a ton of fun.
What's coming up next? Like, art wise and for the series itself? A store à la 50 and 50?
EK: I've been in talks with the contributors about one day making their pieces available as prints. There are some logistical issues I need to iron out, but I'm crossing my fingers. As I've been receiving each submission, I'm realizing that there are certain events in United States history that were left off this list, and it kills me a little inside to know that I didn't add 'The Creation of the Transcontinental Railroad' to the list, as well as a number of others. I've been examining a list I generated awhile back, and odds are that I'll be adding a few more and looking for additional contributors. Beyond the Momentus Project, I'm working on a little something I'm calling 'Machination', though I'm keeping a tight lid on that one for now.
A goodbye note?
EK: Simply put I just want to thank everyone for their kind words. I've had a great time organizing the project, and I'm incredibly thrilled that people seem to be enjoying the work being produced. Obviously I have nothing to do with each final submission as it appears on the site, so the contributors deserve all of the credit and respect. I know there have been a few issues regarding the integrity of the process, but I'm hoping everyone just sees the project as what it was intended to be, which is simply a collection of amazing designs and illustrations (and a little history lesson as well).
The pieces and the artists
I. The revolutionary war
Considered by many to be the spark that ignited the tinder of American independence, the Revolutionary war was fought between the Kingdom of Great Britain and the thirteen British colonies in North America that opposed the Stamp Act of 1765. Eventually the formation of the Continental Congress provided Americans the capacity with which to organize the Boston Tea Party in 1773. British General Thomas Gage took notice, and two years later sent waves of troops to fight the battles of Lexington and Concord in which the Americans reigned victorious. The Americans finally cut all ties and any chance of reconciliation when, in 1776, they formed a new nation: The United States of America.
A piece by Jon Contino
II. The Declaration of Independence
"We hold these truths to be self-evident, that all men are created equal, that they are endowed by their Creator with certain unalienable Rights, that among these are Life, Liberty, and the Pursuit of Happiness." This, the second line of the United States Declaration of Independence, is considered one of the most well-known sentences in the English Language, but it took the Continental Congress nearly an entire month to draft and ultimately agree upon their intentions for the new nation before fifty-six delegates finally signed off on the document. A moment that occurred on July 4, 1776, marking the United States' official separation from Great Britain. A day that we celebrate and know now as our Independence Day.
A piece by Ellis Latham-Brown
III. The Ratification of the Constitution
The Continental Congress, responsible for drafting the United States Constitution, failed to realize they didn't actually have the authority to impose it. Because of this, the Constitution needed to be ratified. In September of 1787 the Continental Congress debated over the Constitution before submitting it to the original thirteen colonies, nine of which would need to vote in favor of it if it were to pass. A handful of ratifications were approved almost immediately, but Massachusetts required further clarification. This debate eventually gave way to the first ten amendments, or what we know to be our Bill of Rights. The final document was approved by all colonies nearly one year later in July of 1788.
A piece by Erik Hamline
IV. The Louisiana Purchase
As the ink on the United States Constitution was drying, the young nation was experiencing somewhat of a growth spurt. As settlers expanded Westward, it was imperative that the United States maintained control over land that was vital to international trade. This included what is now the state of Louisiana, as well as fourteen other states. The only thing standing in their way was the fact that there were no provisions set forth in the Constitution outlining the acquisition of territory. Also, French emperor Napoleon Bonaparte. Unable to defend the territory during his war with Great Britain, he sold the land for 15 million dollars. In the end, the United States more than doubled in size.
A piece by Emory Allen
V. The Lewis & Clark Expedition
With their eyes set on the Pacific Coast, Meriwether Lewis and William Clark were commissioned by then President Thomas Jefferson to set out on what has become perhaps the most influential American-led expedition in the history of the United States. Their objectives were to study plant and animal life, the geography and topography of the land, and how the region could be exploited for economic purposes. Wanting to open up a trade route with Asia, Lewis and Clark headed toward what is now Fort Clatsop National Memorial in Oregon, all the while accompanied by a fifteen year-old Shoshone Indian, Sacajawea, who served as a translator for the various Native American tribes they would encounter along the way.
A piece by Blake Suarez
VI. The Trail of Tears
In an act that many modern historians have described as genocide, the Trail of Tears was the massive forcible relocation of several Native American nations from their native lands in the southeastern region of the United States. Because of Andrew Jackson's commitment to these efforts, nearly 50,000 Native Americans were removed from their homes over a period of six years, in which time over 4,000 died from disease and starvation. As slavery became a booming industry in the South, white settlers felt the need to expand their operations. It's because of this necessity that the newly formed boundaries of these Native American nations were continually subject to rezoning and cession.
A piece by Matt Riley
VII. The Dred Scott Case
Born into slavery in the late 18th century, Dred Scott was eventually purchased by Army Major John Emerson who later died in 1843, leaving Scott in the care of Emerson's widow Eliza Emerson. In 1846, Scott sued Eliza Emerson for his freedom, but the suit was dismissed because Scott was unable to prove that he was in fact a slave. Scott was granted a new trial which began in 1850, this time against his new owner John Sanford. Again, the court ruled against Scott, and in 1857 the Supreme Court ruled that slaves were not to be considered citizens, had no rights, and were not protected by the Constitution. To this day the Supreme Court has yet to officially overturn the Dred Scott case, but parts have been overruled by the Fourteenth Amendment.
A piece by Jay Schaul
VIII. The Battle of Antietam
The bloodiest single-day battle in American history was fought on September 17, 1862. Taking place on Northern soil during the Civil War, the Battle of Antietam resulted in a total of roughly 23,000 casualties from both the Confederate and Union Armies. After tracking Confederate General Robert E. Lee into Maryland, Union General George B. McClellan launched the first attack at 5:30a, and both sides continued to battle until 5:30p that night. On the morning of September 18, a truce was reached between both sides, and Lee withdrew his troops back to Virginia, a tactical error in that most historians recognize this as the technical definition of losing a battle.
A piece by Glenn Thomas
IX. The Emancipation Proclamation
Less than a week after the Battle of Antietam, the bloodiest day on American soil, President Abraham Lincoln issued The Emancipation Proclamation. Lincoln used his authority as Commander in Chief to suspend civil law in states that had rebelled against the Union, allowing the executive order to proclaim the formal emancipation of all slaves throughout the Confederate States of America that did not voluntarily return to the Union by January of 1863. Once issued by Lincoln, the Emancipation Proclamation was never challenged in court, and upon implementation the proclamation granted immediate freedom to 50,000 slaves, with 3.1 million of the nation's 4 million slaves soon following.
A piece by Richard Perez
X. The Birth of the National Parks
Triggered by westward expansion, the national parks idea began picking up steam in 1864 when several California state leaders dedicated themselves to protecting the natural wonder known as Yosemite Valley. Shortly after acquiring the valley as a state park, more parks began taking shape across the nation. In Wyoming, Yellowstone became the first national park when it was established by the United States Congress and signed into law by President Ulysses S. Grant in 1872. Since that time, the National Parks Service has grown to maintain over 84.4 million acres across 450 specially designated areas including parks, monuments, memorials, recreational areas, military parks, and more.
A piece by Dan Cassaro
XI. The Wright Brothers Take Flight
Born just four years apart, Wilbur and Orville Wright grew up building bicycles before testing a series of kits and gliders they had designed in the early 20th century to test the limits of human flight. Many of their gliders failed to meet the Wright brothers' expectations, and each model began performing more and more poorly as the years went on. Faced with a harsh reality, the Wrights constructed their own wind tunnel for researching airfoils as well as measuring lift and drag, and were able to correct earlier miscalculations. And on December 17, 1903, Orville Wright piloted the brothers' new glider model which flew 120 feet in 12 seconds in what is considered the first sustained flight of a manned aircraft.
A piece by Nate Utesch
XII. The Women's Suffrage Movement
As early as 1848, women began campaigning for equal rights on the political landscape during the Seneca Falls Convention. When black men were granted the right to vote by the passing of the Fifteenth Amendment, women's suffrage advocates such as Susan B. Anthony began campaigning on a federal level with the National American Woman Suffrage Association. After a suffrage bill was defeated in the House of Representatives in 1915, Anthony pushed harder to get it passed before the election of 1920. Because of this pressure, President Woodrow Wilson called a special session of Congress, and on August 18, 1920, the Nineteenth Amendment was ratified, making it a law throughout the United States.
A piece by Kristina Collantes
XIII. The Stock Market Crash
In an era when it seemed like the United States could do no wrong, a small number of red flags had popped up, yet had subsequently been ignored by experts as well as the general public, warning of a potential stock market crash. Despite a period of declining real estate values, many speculated that the market could sustain higher price levels for various goods. And on October 24, 1929 (also known as "Black Thursday"), the New York Stock Exchange collapsed as stock prices plummeted and continued to do so for over a month. It remains the most devastating stock market crash in United States history as it acted as the genesis of the Great Depression, with the market finally recovering after World War II.
A piece by Alex Perez
XIV. The Attack on Pearl Harbor
Known as The Hawaii Operation to the Japanese, the attack on Pearl Harbor became the catalyst for World War II, the most widespread war in recorded history. The surprise military attack took place on December 7, 1941 as a preventative attack to keep the United States from interfering with Japanese military exercises in Southeast Asia. Launched in two waves, over 350 Japanese fighters sunk four US Navy battleships, three cruisers, three destroyers, destroyed 188 US aircraft, killing 2,402 men and wounding 1,282 others. Historians speculate that an aborted third Japanese wave could have crushed all hopes of a counter attack by the United States in the Pacific theater. The following day, the United States declared war on Japan.
A piece by John Soat
XV. The Creation of WWII Internment Camps
Shortly after the United States declared war on the Empire of Japan, President Franklin Delano Roosevelt issued Executive Order 9066, resulting in over 110,000 Japanese and Japanese Americans who lived on the western coast of the United States to be excluded from the states of California, Oregon, and Washington, except those moved to "War Relocation Camps", because of their possible ties to a war enemy. Camps were surrounded by armed guards who had the power to shoot anyone who attempted to leave an exclusion zone. In January of 1945, the order was rescinded, and internees began to leave the camps immediately. In 1988, President Ronald Reagan issued a formal apology on behalf of the United States Government.
A piece by Christopher Haines
XVI. The Bombing of Hiroshima
For more than six months in the latter stages of World War II, the United States and its allies had continuously fire-bombed sixty-seven Japanese cities in an attempt to force a surrender as outlined in the Potsdam Declaration. However, the Empire of Japan stood strong and ignored the ultimatum, leaving President Harry S. Truman with only one device: dropping a nuclear bomb known as "Little Boy" on the city of Hiroshima. Over 166,000 people died as a result of the bombing, with more than half being killed immediately from severe nuclear burns. In the following months, tens of thousands succumbed to radiation poisoning. Nine days after the initial bombing, Japan announced its surrender to the allies, officially ending World War II.
A piece by Chaz Russo
XVII. The Marshall Plan
Named after then Secretary of State George Marshall, the Marshall Plan (officially known as the European Recovery Program), was an aid program which sent monetary support to European economies to help slow the spread of Communism after World War II. Over the course of four years, $13 billion was given to those countries that had joined the Organization for European Economic Co-Operation on top of the $12 billion given to Europe between the end of the war and the beginning of the Marshall Plan. Within four years, the economy of every European country to receive funding had surpassed pre-war levels. The initiative was offered to the Soviet Union as well, but they refused to accept it.
A piece by Matt Braun
XVIII. The McCarthyism Movement
In the post-World War II United States, Wisconsin Republican Senator Joseph McCarthy lead the charge in accusing thousands of Americans of being communists, or communist sympathizers for well over a decade. These Americans became the subjects of highly aggressive, and often times illegal and unwarranted investigations into their loyalty toward the United States. The majority of these citizens were government employees and politicians, as well as those in the entertainment industry. Many were wrongfully imprisoned and had their professional careers tarnished. To this day, the term "McCarthyism" is used to describe any unsubstantiated accusations of disloyalty toward the United States.
A piece by Matt Lehman
XIX. The Bay of Pigs



Within three months of the Kennedy presidency, a CIA-trained force of Cuban exiles was sent to invade and overthrow the Cuban government and their leader Fidel Castro. Prior to the invasion, rumors of the attack circulated not only through Cuba, but throughout the world, and only three days after launching the invasion Cuban armed forces defeated the exile forces and took many of them prisoner. JFK disavowed any US involvement in training the exiles, and refused to take any action that would result in their release until a deal was struck with the Cuban government years later. Many prisoners were so desperate to get word to their families that they released messages in bottles in hopes that they would reach the US shore.
A piece by Scotty Reifsnyder
XX. The Civil Rights Movement
The African-American Civil Rights Movement began to pick up steam in 1955 as it set its sights on restoring voting rights in Southern states, as well as seeking to desegregate much of the nation's public services. Through the efforts of eminent advocates such as Malcolm X, Rosa Parks, and Martin Luther King, Jr., the Civil Rights Movement became less about political equality, and more about freedom and dignity. In what is perhaps the most famous Civil Rights protest, nearly 300,000 demonstrators marched on Washington to hear Martin Luther King, Jr. deliver his famous "I Have a Dream" speech. Less than a year later, the Civil Rights Act of 1964 was passed, banning discrimination based on "race, color, religion, or national origin."
A piece by Jon Ashcroft
XXI. The Assassination of JFK



On November 22, 1963, while traveling in a motorcade through the streets of downtown Dallas, Texas, President John F. Kennedy was shot and fatally wounded by an assassin later believed to be Lee Harvey Oswald. The assassination lead to a ten-month investigation by the Warren Commission which concluded that Oswald acted alone in the killing, a fact contested by a vast majority of Americans since 1966. A funeral was held three days later on John F. Kennedy, Jr.'s third birthday, in which representatives from over 90 countries attended, including the Soviet Union with whom the United States was at odds with during the Cold War. Kennedy's death has been the subject of much controversy and debate ever since.
A piece by Evan Stremke
XXII. The Vietnam War
The Vietnam War saw heightened involvement from the United States in the mid 1960s as the US government viewed participation in the conflict as a way to prevent the spread of communism throughout the world, specifically to South Vietnam regarded at the time as a US puppet state. United States troop levels tripled twice over in as many years with total troop numbers reaching over half a million throughout the duration of the war. US forces were finally withdrawn in 1968 after the Tet Offensive, a successful, yet ultimately disappointing attack which stunned the United States Military. The war officially ended with the North Vietnamese army captured Saigon, and both North and South Vietnam were reunified one year later.
A piece by Tim Boelaars
XXIII. The Moon Landing
In a 1961 address to the United States Congress, then President John F. Kennedy expressed his desire for landing men on the moon saying "I believe that this nation should commit itself to achieving the goal, before this decade is out, of landing a man on the Moon and returning him safely to the Earth." And though the President didn't live to see his dream realized, NASA's Apollo program, with Neil Armstrong, Michael Collins, and Buzz Aldrin crewing the Apollo 11 lunar mission, fulfilled Kennedy's wish by being the first humans to set foot on the surface of the moon on July 21, 1969. Since then only five Apollo missions have landed men on the Moon, the last being in 1972.
A piece by Mark Weaver
XXIV. The Watergate Scandal
On June 17, 1972, five men broke into, and stole money from the Democratic National Committee headquarters at the Watergate complex in Washington, D.C. A federal investigation by the FBI connected the burglars to a slush fund for the 1972 Committee to Re-elect the President. Through a series of interviews with Nixon staffers and members of his administration conducted by the Senate Watergate Committee, it was discovered that a tape recording system in Nixon's office captured audio of his attempts to cover up the scandal. Though he fought to keep the tapes a secret, the US Supreme Court ruled that he must hand them over. Facing impeachment, Nixon became the first and only president to voluntarily resign.
A piece by Shed Labs
XXV. The Invention of the Internet
Beginning with point-to-point communication between mainframes, the Internet dates back as far as the 1950s with the development of computers. Several decades later in 1982, the Internet Protocol Suite was launched, introducing a world-wide network of fully interconnected networks. In the early 1990s, commercial service providers allowed public access to the Internet as restrictions on the use of network traffic were lifted. Since that time, the Internet has had a radical effect on global cultural, economical, and political landscapes alike. It's estimated that in 1993, the Internet transmitted only 1% of all telecommunications information, a figure which had grown to more than 97% by 2007.
A piece by Bobby McKenna
XXVI. The Oklahoma City Bombing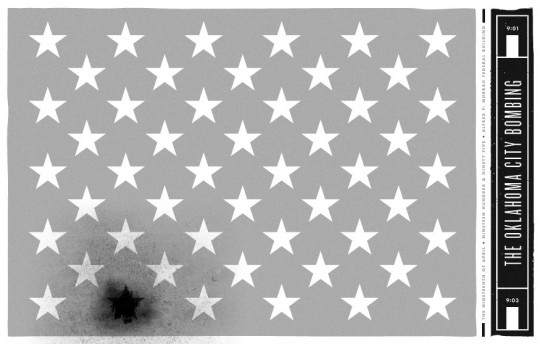 Just over an hour after an explosion at the Alfred P. Murrah Federal Building claimed the lives 168 American citizens, Timothy McVeigh was stopped by an Oklahoma State Trooper for driving without a license plate, and unlawful possession of a weapon. What quickly became the largest criminal investigation in US history eventually concluded that McVeigh and his accomplice Terry Nichols did in fact carry out an American attack on American soil when they were tried and convicted in 1997. McVeigh admitted to timing the explosion to go off on the second anniversary of what he believed to be the US government's "mishandling" of the Waco Siege. Six years after the bombing, McVeigh was executed by lethal injection.
A piece by Scott Hill
That's all (so far) folks!
Thanks for taking the time to read more this great project. Feel free to add your observation about the pieces in the comments. Also, any moments you would have added? Removed? Interpreted differently?
Link recap
The artists and their piece
The ones still to be unveiled