Articles by Day:
March 12, 2008
This tutorial is another special series written guest author Sean Hodge from aiburn.com and Connection Cube. He is an expert in Drupal, which I am totally not familiar with. He intrigued me when he told me that the majority of the bands on Sony's record label are powered by Drupal. Drupal is basically an open source CMS, and I was interested in learning more about it. So that's why he's writing this tutorial for us. You can learn along with me!
Read the introduction – What's Drupal and why?
Read Part 1 – Design it Illustrator
Read Part 2 – Slicing it Illustrator
Read Part 3 – XHTML
Read Part 4 – Theming Drupal
Read Part 5 – Drupal Admin
Introduction
In our last tutorial we covered the setup of our band website. We now have a brochure style site in place that could be used to promote GoBand or add community building functionality to. We'll wrap up this series by looking at the resources Drupal has to offer to build on this foundation and extend what we have setup.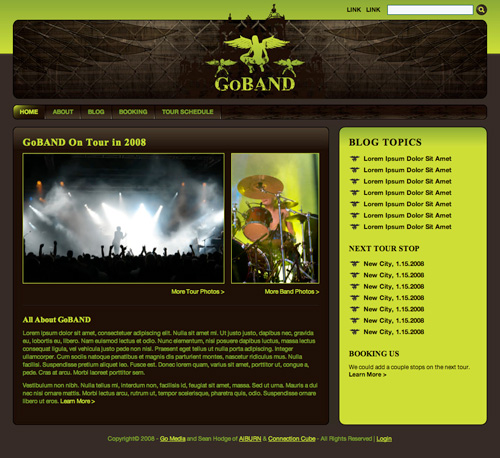 Recommended Modules
There are a handful of Drupal Modules that will help any website. Here is a list with some explanation of what these modules do.
Go Media recently finished a job for Subscript, the more "boutique" little sister brand of Triple Five Soul. They wanted a blog format so they could post news, pics, and videos and such. The site is pretty minimal. Check it out:
Go there and buy their clothes. Although it might set you back a few bucks, it's not cheap.