Happy Dog Illustration and Design Tutorial
A Local Cleveland Business Promotional Poster Design
Today's tutorial comes from Weapons of Mass Creation 2013 designer and fellow Clevelander Lucy Williams. Lucy is a freelance illustrator and a recent graduate of the Cleveland Institute of Art. Follow her process as she designs a poster for local Cleveland favorite hangout, Happy Dog.
Tools and Technologies You'll Need
Micron Pens
Clearprint Vellum Paper
Exacto Blade
Electric Eraser
Adobe Photoshop 5.5
Adobe InDesign 5.5
Scanner
Clear Your Mind and Your Workspace
I always start a new project with a clean workspace.  It may not seem like an important step to mention, but I like to not only clear my head but also the space I work in.  This allows me to breathe freely and get my creative juices flowing without outside clutter taking over my work area.
Reference and Inspiration
If you have good reference it usually means you'll have a pretty good final product.  I always try to do as much research as I can before I start on a project.  This means gathering photos, information, and in this case actually visiting Happy Dog to take my own pictures.
Sketches, Ideas and Ideations
These are my original scanned images that were done on vellum paper with a fine tipped micron pen (my favorite materials to use). A lot of times I sketch out rough drawings that I don't even end up using. Like the dog image here, I didn't even end up using. I decided he was too literal and the image didn't need him.
Draw and Scan
I wanted to have this poster pretty cluttered because the Happy Dog is full of cool old stuff, music, all walks of life, music, art and fun! After scanning my original images, I then separated each image and individually cleaned them up in Photoshop, saving each image out as a PNG file with no background.
Choosing the Right File Format
After scanning, cleaning up, and perfecting each individual image, I save them each as PNG files. I choose a PNG format because they have no background and can be easily positioned in InDesign without trouble.
Organization and Composition
When I got into InDesign I placed each image into my workspace and organized them. (Most designers might use Photoshop for this step – but I like InDesign better.) Keeping images separated allowed me to make adjustments as needed. When I was finished organizing – I saved the image out as a JPG and moved them into Photoshop.
This is what the no color version looked like in Photoshop:
Textures and Background
I am a huge fan of textured backgrounds. Mainly because I like making my work appear as if it could have been done completely tactile.  You can scan textures into Photoshop or create textured brushes.  I found this one on the Internet; it's concrete.  I flattened the image and did a little editing to soften it up. I then placed it behind my image to create a nice textured gritty look to my poster.
Color and Corrections
Coloring this poster was really fun! I knew I wanted a nice mixture between bright and subdued colors, so I went for bright pink and dull blue.  In order to get the textured background on my colored image, I flattened the background and began to fill in the places I thought needed colored. In order to get different shades of pink, I brought the opacity down on my color swatches and used different tolerance levels to get the gritty look I wanted. Playing with different levels is also a good way to bring up the saturation of your colors.  I also used the levels tool (command L) as a final step to get my colors just where I wanted them.
Color Tests: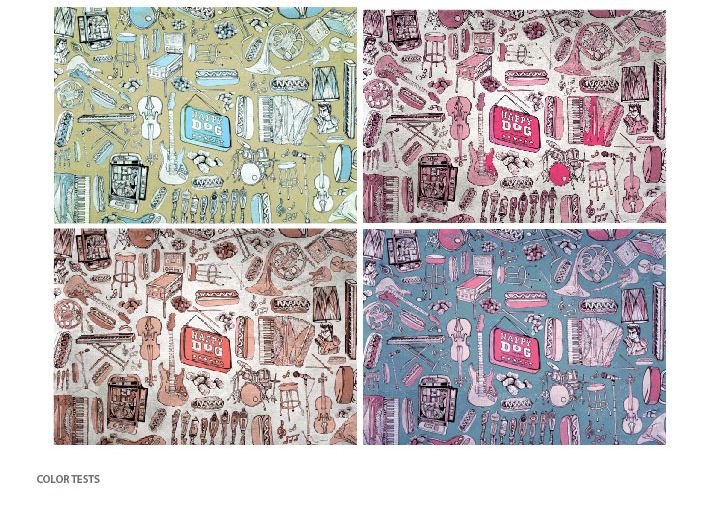 Here is the final result!
Printed Digital Artwork!
 Learn more about Lucy!
Lucy Williams | Lucy Williams Tumblr
| Lucy's Happy Dog Project on Behance
Subscribe to the GoMediaZine newsletter