Tutorial: Designing a Digipak Layout for Campfire Conspiracy
I'm going to show you how I designed the digipak for my band Campfire Conspiracy's debut album.
If you've been following along I've written design tutorials about art I've created for the bands I've played in. You've probably seen the band logo tutorial I wrote a year ago about our occult-looking logo.
I'm happy to say that we have released our debut full length album "Secrets". Listen to it while you read the rest of this article.
The art direction for the album wasn't based on an overarching theme behind the music. Since this is our first album, it's mostly a collection of all the songs we've written up to this point. There's no dominant story behind the music, it's mostly us figuring out what kind of band we want to be. It's a collection of songs reminiscent of 90s punk rock.
The song "Prelude" is about about an imminent midlife crisis. The song "Back to the Grind" is about the work-week routine that we all seem to fall into. The songs "Secrets" and "You Won't Find Me" are songs laced with mystery and intrigue. And "I Don't Care Anymore" is just a fun take on apathy.
My artistic direction for the band is starting to become more esoteric and symbolic. It's only a matter of time before the music starts to align.
Check out this video where I describe the art direction for the logo.
Designing A One-Color-Logo from Jakprints, Inc on Vimeo.
For the album, I knew I wanted something simple and iconic. And I wanted to get more mileage out of the logo. So I took the stencilized version and made it the centerpiece of the cover. Our original idea was to cut out the logo out of a piece of metal and then light a fire under it for some cool photography. We couldn't find a good solution for that so we decided to come up with something a little simpler. I took care of it in Photoshop!
Now, if I had the budget, I would have die cut the cover, but I just had to fake it in Photoshop with an inner shadow.
Since we're a punk rock band in the city of Cleveland, we thought an urban campfire might be more appropriate. We knew we wanted to shoot some band photos in a dirty alley with a burning barrel. We knew we wanted to catch our logo on fire and see what happened.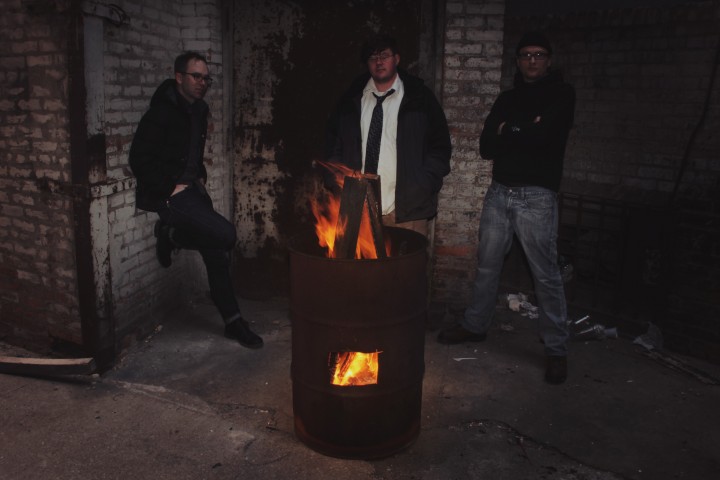 Designing the Digipak Layout
I downloaded the Digitpak templates from Discmakers and opened them up in Photoshop where I did most of my layout. Why did I go with a Digipak and not a CD Jewel case? Because it was cheaper and jewel cases seem to break over time.
Notice I had to design the top part upside down. Well, I designed it right-side-up but flipped it for the final art.
The back of the layout I made sure I included the following details:
Track listing
Bar code
Band photo
Artist name
Album title
Website link
Photo, recording, and mastering credits
Band member listing
We worked with artist and filmmaker Keith Teneyck who was just as excited about lighting our logo on fire as we were. We tried taking lighter fluid and creating the logo on the concrete. But it didn't turn out as perfect as we thought!
With all these flaming logos, I thought it would be cool to use a progression of how burnt they were. So the disc itself is the flaming logo, but underneath it on the tray is a completely torched and melted version. It made for a great texture!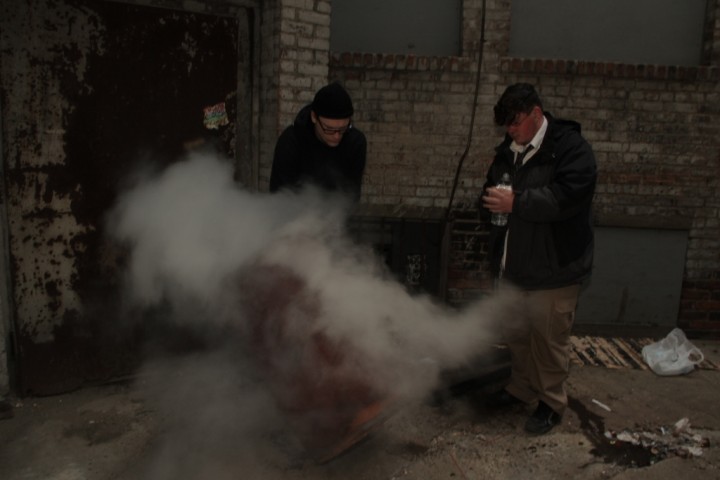 Digipak Manufacturing
We sent the files off to Discmakers short run manufacturing and got 100 made. We are still a small band and this was enough for us. They had this cool 3D proof feature that really helped me see how my design would look once it was printed. I noticed that the spine text was off and things weren't lining up right, so I revised my design and resubmitted. Then I was good to go!
That's pretty much it. It should give you some insight into my thought process! If you want to purchase the physical copy of this album, you can buy it here for $10.
If you like Campfire Conspiracy, find us online!
Campfire Conspiracy on Spotify
Campfire Conspiracy on Facebook
Campfire Conspiracy on Bandcamp
Campfire Conspiracy on Twitter