40 Excellent Art, Illustration and Poster Inspirations from our WMC Fest Designers
Entering its fifth year, Weapons of Mass Creation festival has drawn comparisons to TED and SXSW, but stands apart as the premier art, design, and music event in the USA. The three day event, which takes place August 15-17, 2014 at the historic Cleveland Public Theater, will bring together more than two thousand attendees that have traveled to Cleveland for the diverse array of speakers, artists, and musical acts. Those in attendance–creative professionals, entrepreneurs, musicians, artists, students, and fans alike–will gather to learn, get and give inspiration, collaborate, network, and celebrate their passion for art, design, music, and entrepreneurship.
One of the most captivating elements of WMC Fest is the magnificent gallery of art, design and illustration on display each and every year. Featuring up and coming local and national talent, expect to see some inspiring work.
While we wait for the magic to unfold, here is some inspiration brought to you on behalf of our 21 WMC Fest Designers. Enjoy.
Dan Kuhlken and Nathan Goldman were both drawn to music, film and design at an early age, but didn't combine their talents until 2005 when the duo founded a design studio with the goal of fusing these creative avenues. The pair has found a niche in linking a personal and unique aesthetic to the world's most talented and iconic musical artists, brands, and businesses.
With dynamically different skill sets ranging from fine art to film production, Dan and Nathan bring diverse talents and artistic perspectives to every project. DKNG Studios strives to provide their clients with the image and recognition that they deserve.
Two Arms Inc. is a Brooklyn based husband and wife design team specializing in custom illustration and typography, with a range of clients including: Moma Design store, Time out New York, Nike SB, Jack Daniels, Maxim Magazine, Jameson, and Warner Music Group.
You can easily spot The Little Friends of Printmaking in a crowd—their inky hands and clothes are a dead giveaway. Their work is just as distinctive. JW & Melissa Buchanan first made a name for themselves through their silkscreened concert posters, but soon branched out into further fields, designing fancy junk for whoever would pay them money. In addition to their work as illustrators and designers, they've continued their fine art pursuits through exhibitions, lectures, and artists' residencies, spreading the gospel of silkscreen to anyone inclined to listen. Their awards include honors from the Art Directors' Club, American Illustration, and Communication Arts; their work has been published in the books New Masters of Poster Design [Rockport], Juxtapoz: Poster Art [Gingko Press], and Handmade Nation [Princeton Architectural Press], among others.
Oliver is an artist and designer who cut his teeth designing band tees in his early 20′s. He now hates both bands and tees. His work is fueled by energetic linework and a whole lot of snark.
April (a.k.a. Ape) began screen printing shirts for fun (and let's be honest, in defense of her home state) shortly after graduating with a BFA in Fine Arts Printmaking from Kent State in 2008. When traveling, the question 'where you are from?' would inevitably and repeatedly crop up, and more often than not April would get a smart aleck comment about Ohio and Cleveland from her questioners. In response to this, the in-your-face "YEAH I'M FROM OHIO" tee was born. April posted a photo on social media, and the request for tees started rolling in. This was the seed leading to the founding of her screen printed art and apparel company, APE MADE, in 2011.
Daniel Danger is an artist and printmaker working out of New England. Daniel runs Tiny Media Empire, a production and design company based out of MA, focusing on fine art screenprints, limited official posters for movies and bands, and video production design. He is the guitarist of the band Some Stranger (Robotic Empire records) and as well as fronts the band A City Safe From Sea (Magic Bullet records). 
Valerie Jar is a freelance designer/illustrator located in Salt Lake City. She is inspired by art deco, vintage signs, hand-lettering, tattoo art and people. 
Jon Hicks and Katie Maurer of Plum City Press, share a love for design, art, music, rye whiskey, and screen printed posters. Graduates from Cleveland State University, in design and printmaking, the two met when Jon, who has worked with the music industry since 2001, saw an art piece made by Katie, and started a conversation with the always successful "do you do your own printing?" They now pull screens in their studio, combining multiple layers of photographic halftones, illustrated characters, hand drawn patterns, and bits of alchemy.
Justin Carolyne is a full-time Graphic Designer from Cleveland, Ohio. The crux of Justin's art talent is centered around print and media, in particular, apparel design. If he is not working the daily 9-5 grind, Justin can be found burning the midnight oil with his cofounded company, Legioned Media, which offers all forms of apparel design to a wide array of musicians and artists. Justin in a nutshell: graphic designer, musician, and an enjoyer of a good joke and a good beer.
Daniel Nyari was born in Romania, lived in Austria before moving and settling in New York City. Growing up he spent his days playing soccer when outdoors and drawing indoors. When he realized he couldn't become a professional soccer player he was determined to follow a path in the Creative Arts studying fine art, film, graphic and web design along the way. By process of elimination he decided to follow the path of the field most intuitive to him; illustration. Daniel draws his influences from post-impressionism, De Stijl, Web Design, and Nutella. His clients include ESPN, Wired, GQ, Microsoft, MLS and has been featured in the New York Times, FourFourTwo, The Telegraph, The Guardian, and Süddeutsche Zeitung.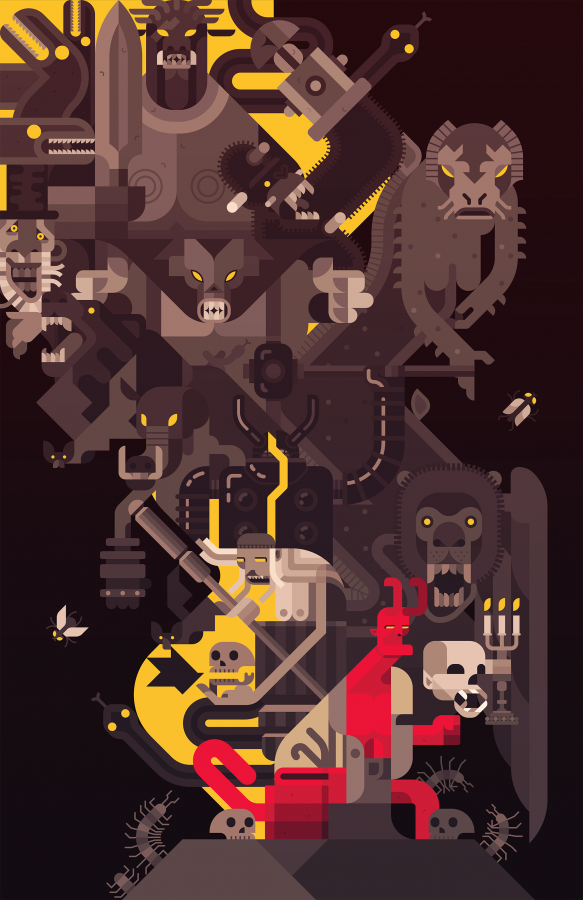 JP got his start setting up music events and screen printing posters in his hometown of Palmer, Massachusetts. JP loves the need for creative problem solving that comes along with everything from coding a website to setting up a cross country art tour to printing posters. Boneyard spends most of his free time wrangling and producing the National Poster Retrospecticus, a traveling show of over 300 hand-printed posters.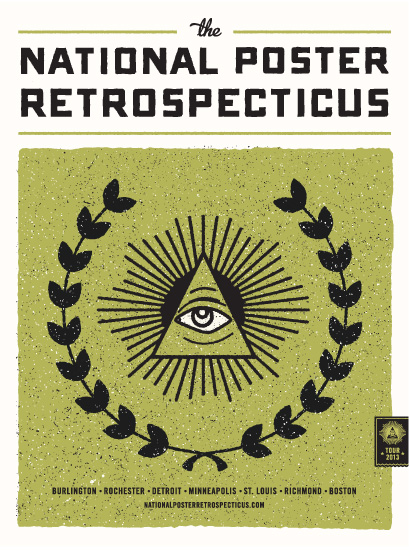 The Bubble Process is a two-man design and illustration firm built on this foundation: good food, good music, good times. In 2006 we, (Sean Higgins and Nicholas Rezabek), decided to make our dream job since no one else had made it for us, so here we are doing exactly what we love. The two of us met in 1999 at Kent State University and have been best buds ever since. We live apart, (Cleveland, OH and Brooklyn, NY) but come together via the World Wide Web (virtually inseparable – pun intended!), passing files, ideas, notes and jokes with digital ease and style. We have 2 BFAs under our belts and 4 eyes, 4 hands and 2 bellies above them.
Landland is a very small graphic design and illustration studio in Minneapolis, Minnesota that was started by Dan Black, Matt Zaun and Jessica Seamans in early 2007.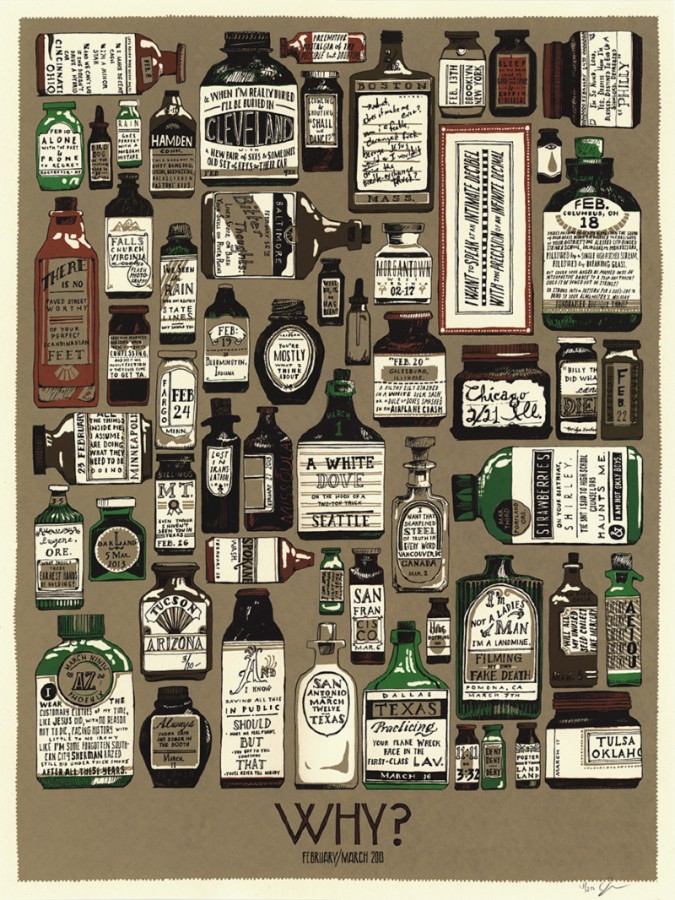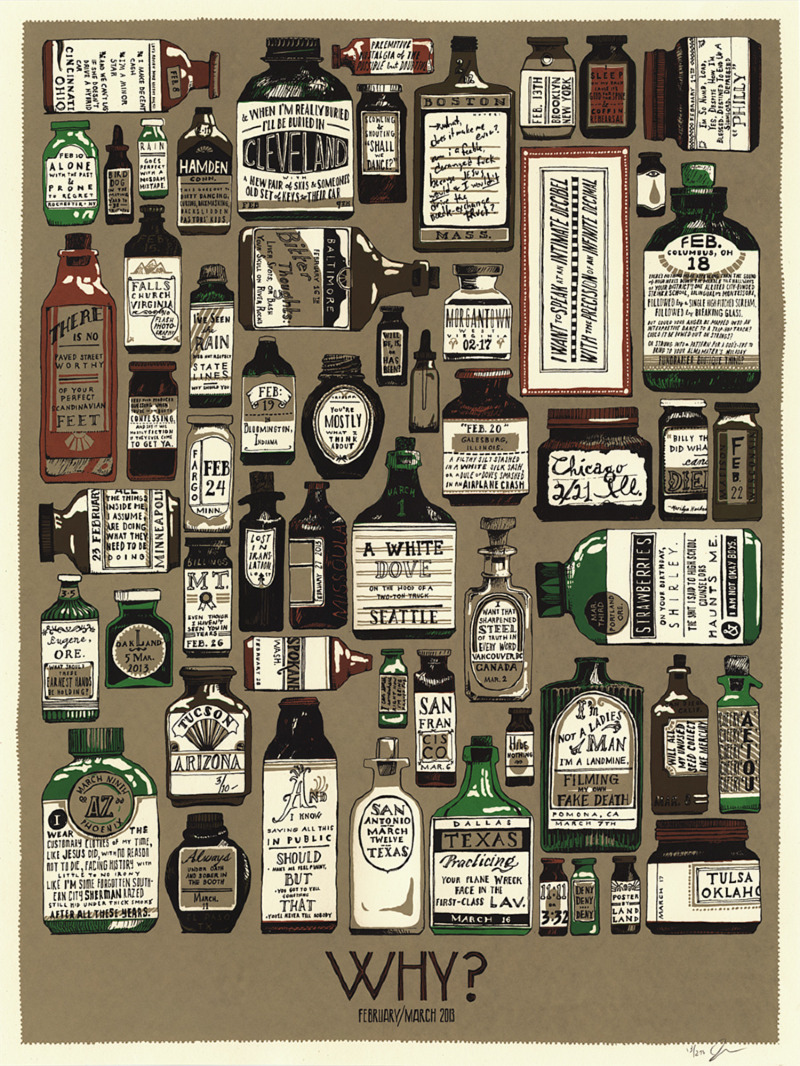 Meghan Minior is an artist, event coordinator, and musician living in the woods of Leverett, Massachusetts. Her screen printed posters were featured in the National Poster Retrospecticus 2013 tour, and she has been recently showing her work locally at the Headquarters Gallery in Northampton, Massachusetts. Meghan has been an active volunteer at Flywheel, a local non-profit, all ages art and music space for over ten years, and many of her screen printed posters are from a variety of events that she has booked there. She helped organize Ladyfest Easthampton in 2011, and The Pioneer Valley Zine Fest in 2012. She is a featured musician in the Feminist Playing Cards deck put out by Homoground and currently plays in the bands Ampere, Siamese Twins and Longings, as well as many other projects over the years.
Scott Williams is a Chicago-based graphic designer who has been making things around town a little more beautiful since 1996. He's created numerous show posters for the Annoyance Theatre, I.O. and the Second City in support of Chicago's talented comedy and improv community. For the past five years, Scott has been designing gig posters, and has been commissioned by artists including Sharon Jones & the Dap-Kings, Black Joe Lewis & the Honeybears, Charles Bradley & His Extraordinaires, JC Brooks & the Uptown Sound, JD McPherson and Numero Group. Scott is also a part of Soul Summit—a three-man DJ collective that hosts a monthly dance party at the Double Door in Chicago's Wicker Park. As Art Director for Soul Summit, he creates a fresh poster for every party.
Jason Munn's work has appeared in numerous exhibits and publications. A selection of his posters are part of the permanent collection at the San Francisco Museum of Modern Art and Denver Art Museum.
After receiving her BFA from the University of Iowa and her MFA at the Savannah College of Art and Design, Kelsey Cronkhite is happy to have landed in Cleveland to continue her creative journey. She currently works at American Greetings as a product designer in the stationery department and runs her studio and blog Pinegate Road on the side. She believes that all our next steps are found by taking a second look at our process and that "because I like to" is reason enough to create.
Laura Baisden is an illustrator and designer. She first started printmaking at Cleveland Institute of Art in 2004. In 2006 – she moved to Nashville to learn letterpress, and stuck it out until she landed a job at the historically infamous Hatch Show Print. Currently, she works full time at Hatch designing and printing posters for artists and venues all over the world. In her off time, she creates linocut carvings of animals and other illustrations. Laura was thrilled to work with John Boilard designing and printing the National Poster Retrospecticus: Nashville poster, in which she was able to combine her love for carving with the historical archive and unique aesthetic of Hatch Show Print.
Born and raised in Chicago, Joe Van Wetering enjoys pizza, television and Tetris. Inspired by the contrasting visions of pop culture and nature, Joe explores the continuously developing relationship between color and space, creating abstract visions of everyday life through his artwork.
Ariel Cotton is an artist, inventor, and interaction designer. Her work straddles the boundaries between art and technology—ranging from painting and drawing to interactive electronic installations and devices. Cotton attended The Cooper Union on a full-tuition scholarship to study art and design, and while she was there, she also took electrical, computer, and mechanical engineering courses. Cotton has had two solo exhibitions in the last year and is about to host a third one in Brooklyn, New York. She has also participated in group shows at locations such as the MoMA, the Brooklyn Museum, and NYC Resistor. Cotton is also a toy inventor who is the process of licensing and patenting two inventions. When she isn't inventing or making art, Cotton works professionally as an interaction designer, web developer, and illustrator. Cotton currently resides in Brooklyn, New York.
See you at the Fest!