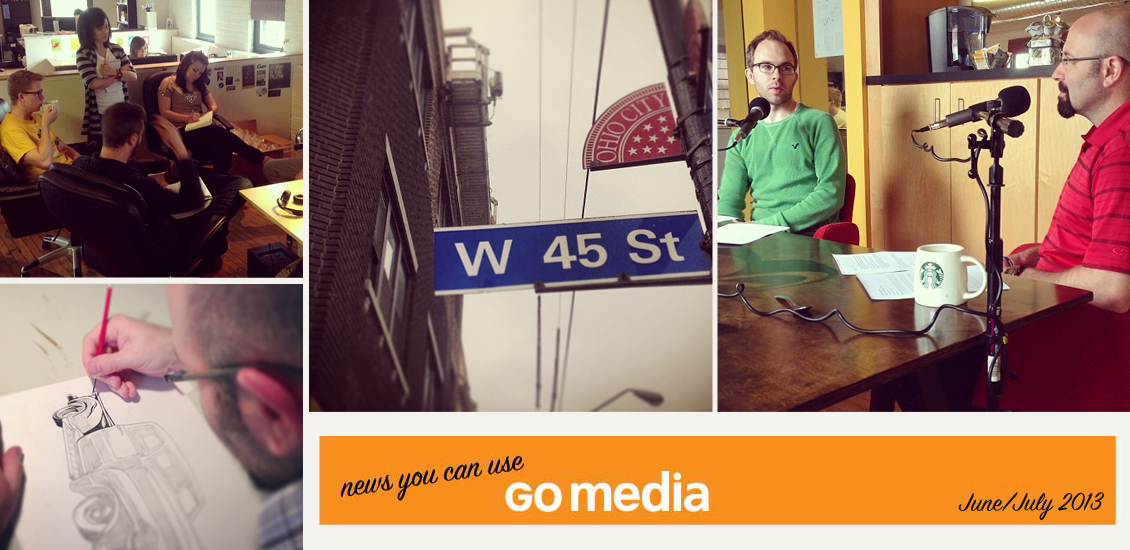 What's Go Media Been Up To?
Well Hello!
All's well here at Go Media!
Storefront renovations are moving along swimmingly, with progress apparent every single day!
The Countdown is On!
We're counting down the moments until Weapons of Mass Creation Fest 2013!   We're busy assuring that our awesome Kickstarter backers get their handsome rewards, responding to speaker, designer, band and sponsor questions as well as collecting goodies for promotional tote bags.  Last but not least we're tying up the seemingly thousands of other loose ends that come with planning the best-fest-in-the-Midwest!
Intern Mania!
Interns have taken over our office this summer!  Four awesome additions, including Carly Utegg from Edinboro University in Edinboro, Pennsylvania, Alex Miller from Kent State in Kent, Ohio, Kyle Saxton from Virginia Commonwealth University in Richmond, Virginia, and Nathaniel Scramling from Virginia Marti College right here in Cleveland, have descended upon Go Media to help us out in a multitude of ways. These four talented students have assisted with the Arsenal, Mockup Everything, Bill Beachy's book design, our storefront's upcoming window designs as well as varying client projects.
Now let's see…
What The Team Has Been Up To:
Finishing up the identity for Cantine, a Bar & Bottle Shop opening in Broadview Heights 

Identity & Website designs for the upcoming Ditka Dash,  a fun run commemorating Mike Ditka (former coach of the Chicago Bears) and the retirement of his jersey in December of this year.
Invitation and collateral designs for this year's NEOSA CIO Symposium
Continued to sift through resumes and portfolios for our open Front-End Developer position.
Continued to push projects forward using Foundation 4 from prototype/wireframes to front-end development.
Fell in love with Sass.
Worked with Jeff to use Soundcloud for the Podcast, but finding it difficult to find the actual download file to bring into Blubrry. So, we're now just hosting in two locations (Amazon S3 and Soundcloud).
Ran our first official live recording of the Go Media podcast as we interviewed Mark Brickey on Episode 11.
Put out Episode 12 with the help of Simon.
Prepping vendor/gallery layouts and logistics for WMC
Keeping team morale high as we get closer to the fest date
Getting people hyped for the fest, less than a month away
Designing new posters, flyers and postcards to go out.
Finishing album artwork/layout for Signals Midwest's new record
Helmet designs for Lincoln Electric
Playing some shows with Campfire Conspiracy, getting ready for our WMC Fest show August 18
Starting a new personal blog at makermistaker.com
Writing upcoming  tutorial about coming up with an occult logo design
Arsenal customer service
Bookkeeping
Payroll
Proofreading GoMediaZine posts and email campaigns
Shipping out WMC Merch and rewards to Kickstarter backers
Finished writing zine post which compared QuickBooks to FreshBooks
We are thrilled to welcome Sandra Vilevac as the newest member of the Kelley Green Web team! She will be starting August 1 and we are greatly looking forward to her contributions to both KGW and the GO Media Account Services department!
We attended the Greater Cleveland Partnership Annual Meeting which featured some notable speakers and inspiring videos. There are so many amazing things happening in our city and we can't wait to see how it all evolves!
Managing our ongoing client & team interactions (client meetings, internal reviews, new project set up, monitoring overall project progress / ensuring deadlines are met)

Prep & planning for the following new projects: including

Branding & Web Design for Ditka Dash
Branding & Web Design for Law Firm Ghost Writer
Print Design for COSE's NEOSA CIA Symposium
Branding for Fly Nation
Branding for Athlete Originals
Print Design for F.C Sturtevant
Web Design for FMC
We're putting a tremendous effort into the Arsenal v3,  as we want it to be amazing and chase down the last bugs
We've brainstormed a bunch of cool ideas for the launch plans for Bill Beachy's upcoming book, Drawn to Business
And a bunch of miscellaneous things including:

Some WMC Fest IV and Arsenal cross promotions and contest(s) (more to come)
Some WMC IV art
Some analysis following our survey
A lot of customer support
Kyle Saxton, Intern
Nathaniel Scramling, Intern
 _______________________________________
That's it for now from us at Go Media. Until we meet again: